The holidays are rapidly approaching! Shopping for a foodie this holiday season? We put together a special Holiday Gift Guide for the food lovers in your life. These preferred gourmet collections are the perfect Christmas gift ideas for friends and family who love to entertain, cook, or just love to eat.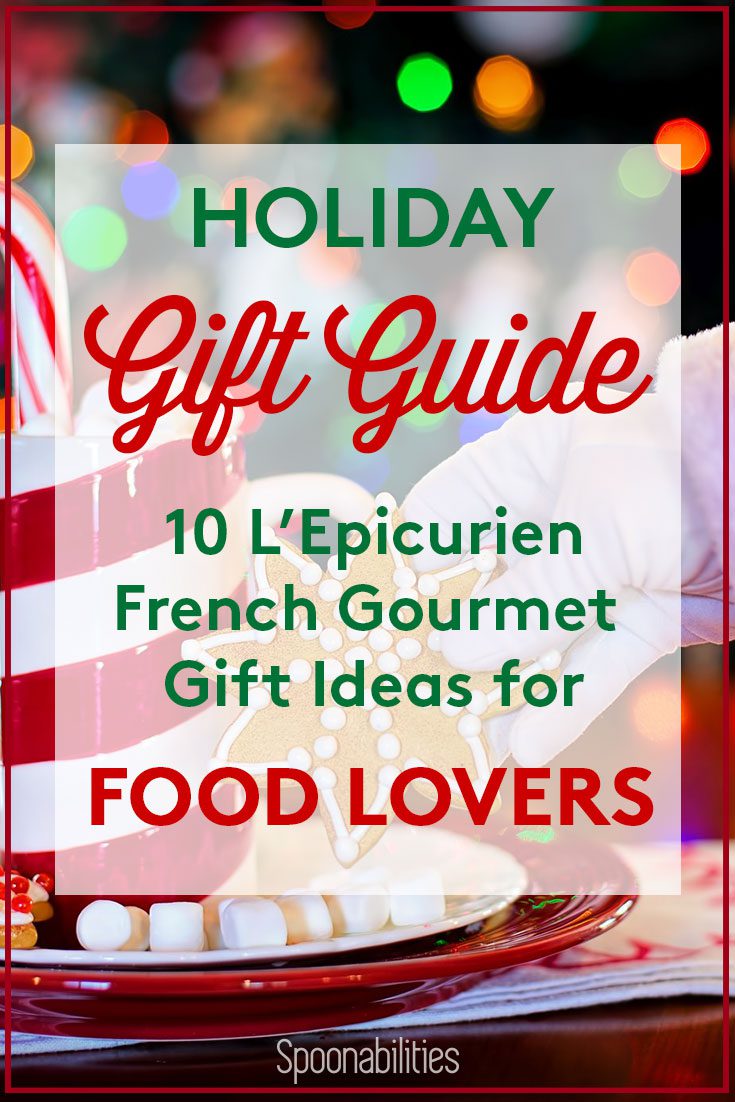 Whether you're shopping for your mom, dad, brother or sister, friend, co-worker, favorite hostess, or "secret santa," we suggest the most delicious collections of French jams, preserves, confits, and spreads from L'Epicurien. Any of these fine gourmet items will delight your favorite foodie!
Top 10 Recommendations for the Perfect L'Epicurien Holiday Gifts
This is a special set of preserves and jams that are truly all about the Holidays. Use these spreads for shortbread, mousse, and all of your Christmas and holiday pastries and desserts.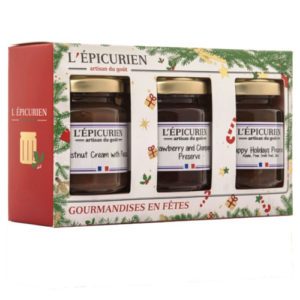 This perfect Christmas gift set includes:
Christmas Jam: This culinary delight is filled with mendiants, raisins, hazelnuts, almonds and spices, such as cinnamon, star anise, cloves, coriander, anise and ginger, to apples and pears. A perfect winter jam to enjoy with afternoon tea.
Chestnut Cream with Chestnut Pieces: This Chestnut spread contains pieces of chestnuts to create a rich and creamy spread. It is delightful in mousse, custard or fondant.
Champagne & Strawberry Jam: Sweet strawberries and dry champagne, two of our favorite things! Spread it over a toasted baguette or croissant, or spoon it over ice cream for a well-deserved treat.
$27.99Add to cart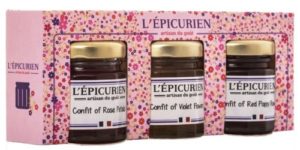 This is the perfect gift for your favorite foodie who is all about Springtime. With this gift set, your friend's cheese board will look and taste like Spring! And who doesn't love a touch of Spring, especially in the Wintertime? The three different floral confits will mean that there is something for everyone. Each gift set contains one jar of Confit of Violet, Confit of Rose, and Confit of Red Poppy.
$14.99Add to cart
The Mini Cheese Confit Set is truly a cheese lover's dream and the perfect gift for the cheese lover in your life.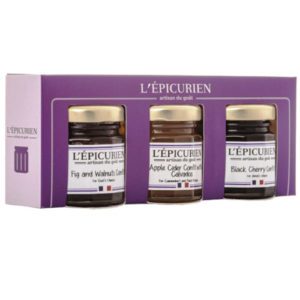 It is a perfect selection for your "secret santa" who loves to entertain, especially with a Wine and Cheese Party. Each set contains one jar each of:
Fig and Walnuts Confit: Superb in a baguette toast together with goat or blue-veined cheeses. The rich flavors of this confit are delightful.
Black Cherry Confit: The power of cherry is best with the sturdiness of sheep cheese. A great classic.
Cider, Apple and Calvados Confit: A perfect match for aged Camembert, mature Livarot and vintage Pont l'Evêque. This confit lets apple declare its undying love to these cheeses.
$13.99Add to cart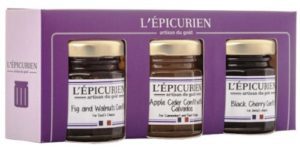 The L'Epicurien Mini Preserves Gift Set makes an excellent gift for almost anyone!
The boxed gift set contains Strawberry, Black Fig, and Apricot Preserves, and is sure to please the jam-lover in your life.
$13.99Add to cart
A true truffle lover's gift set, these spreads are all fantastic with warm brioche, pasta, and risotto.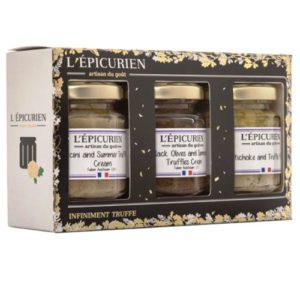 Each set contains:
Ceps and Summer White Truffle Cream: Delicious with brioche bread, on pastas, risottos or on filet mignon.
Artichoke Cream with Truffle: Enjoy it cold on toast with your cocktails. Enjoy it hot with fine pasta; or even better use it as a stuffing for home-made ravioli – it's delicious!
Artisanal Black Olives and Summer Truffles Pesto: It will liven up your pastas or risottos. You can also use it with sweetbread or to stuff poultries. To fully enjoy its distinctive taste, you can simply put it on toasted bread and eat it chilled during the aperitif.
$39.00Add to cart
We have also put together our favorite jars of preserves, jams, and spreads that we love to gift to our friends and family for the holidays. Each individually selected jar is sure to please every gourmet foodie on your holiday list.
#6 Very Berry Jam Gift Options
These "Very Berry" preserves are a perfect complement to a peanut butter and jelly sandwich. Use on toast or biscuit, pastry, or cookie. Enjoy as a topping for angel food cake, pancakes and French toast, and mix into your oatmeal or yogurt. Select any or all from Very Strawberry Jam, Wild Blueberry Jam, and Seedless Raspberry Preserve. All it takes is one spoonful of these jams for your taste buds to start dancing.
#7 Sweet & Sunny Jam Gift Options
Vine Peach Jam: Full of flavor and made with the highest quality peaches. Enjoy this culinary delight by mixing it in yogurt, on toast or shortbread cookies, as a cake filling, or make thumbprint cookies.
Pear Jam with Apricots & Honey: This jam has the flavor and texture to stand up on its own, with fresh pears, apricots, and a touch of honey. Add this delectable jam to toast, pastries, croissants, or cookies.
Apricot Preserves: Rich in flavor, this classic is delightful mixed into a fresh fruit salad, on bagels, English muffins and bread, and as a glaze for pork, poultry or prawns. Your favorite foodie will be pleasantly surprised by the number of ways to use this jam.
#8 Tapenade Party Gift Options
Tapenade with Dried Tomato & Basil: Whether you want to slather it onto a toasted French baguette, or mix it into some pasta, this Dried Tomato & Basil Tapenade will not let you down. You can also pair it with a cheeseboard for a hors d'oeuvres plate that is easy and delicious.
Artichoke Pesto: The perfect accompaniment to any Mediterranean or Italian meal. Use artichoke pesto as the filling for ravioli, spread it on a pita, or mix it with other dips to create unique flavors. This gourmet pesto is an excellent pairing with many different pastas, baked chicken, and broiled fish.
#9 Sweet Tooth Gift Set
Salted Butter Caramel Spread: The salted butter and caramel combine magically to create a caramel spread that is a perfect addition to your ice cream sundae. This is one of our favorites! Try it as a base to a unique cocktail. It will take all of your self-control to not eat this caramel sauce straight from the jar.
Chocolate & Coconut Spread: A Spoonabilities favorite! With its winning combination of dark chocolate and coconut, this spread can be added to many things, or eaten straight out of the jar. Try this Chocolate and Coconut spread over ice cream, use it as a dip for biscotti, or eat it by the spoonful!
Chocolate & Hazelnut: is one of the best chocolate and hazelnut spreads you will ever come across. This spread is divine. Spread this chocolatey goodness onto farmhouse bread, dip slices of apple or pretzels in it, or served with it ice cream.
#10 Fig Lover's Gift Set
Fig & Almond Confit: Delicate white figs are paired with almonds in this delightful confit that is both sweet and nutty. Enjoy this confit with cheese, and with chicken and pork. Your favorite foodie will enjoy exploring the different ways to use this confit, as it is very versatile.
Fig Mustard: This delicious mustard will bring a slightly sweet taste to whatever it is added to, and can be paired with cured meats, ham, turkey, cheddar cheese, roasted pork, or use it in your next grilled cheese to add a slightly sweet kick.
Spiced Fig Chutney: will transport your taste buds to the French countryside. This chutney is both sweet and savory, providing you with a great balance of flavors. Perfect for a cheeseboard, charcuterie plate or spread onto a chicken sandwich, this chutney will enhance everything it touches.
More French Gourmet Holiday Gift Options
We hope you found a few appropriate options for your friends and family who always have food on their mind. If you added some of the above items, and still need a few more, we recommend selecting from these wonderful French gourmet products. Along with those above, they will all ship from the same location so your shipping cost will be less. Also if you have any questions, or need more recommendations, we are here to assist you.
If French food is not your taste, check out our other two gift guides full of Greek Gourmet Gift Ideas and Kitchen Tools, Appliances & Tableware.
Just shoot us an email and we'll help you pick the best gift for that "hard to shop for" person in your life.
Happy Holidays,
Geoffrey & Carlos