Our family of jams, preserves and fruit spreads from L'Epicurien is growing! We are so excited to welcome Wild Blackberry Preserves and Raspberry Seedless Preserves to our pantry of already delicious gourmet jams.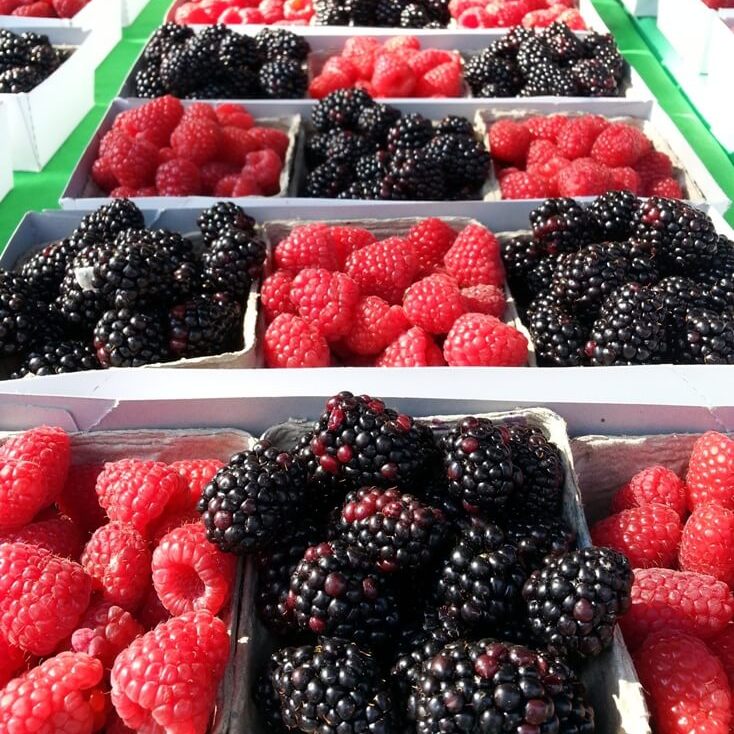 Since we first launched Spoonabilities, the Pear Jam with Apricots & Honey Preserves, and Apricot Preserves from L'Epicurien have been our most popular jams. And rightly so. Each one is delicious served on toast, bagels, muffins, breads, crackers, and, well, just about everything! And they add depths of flavors to so many recipes – from main course dishes to desserts and even smoothies and frozen treats.
Blackberry Preserves & Raspberry Preserves Join the Family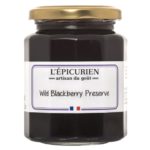 Each jar of Wild Blackberry Preserves, one of the newest additions to the Spoonabilities family, is jam-packed with chunks of robust, fresh, sun-ripened blackberries. L'Epicurien selects gorgeous, ripe, tender blackberries that burst with flavor. We've already declared the Wild Blackberry Preserves to be our favorite jam to use for a truly gourmet PB&J sandwich. Try the Blackberry Preserves as a delightful topping on your favorite cheesecake, dolloped over ice cream, mix in with your yogurt or cottage cheese, and spread over a crusty bread. We know you're going to fall in love with it!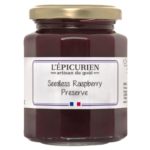 The deliciously crafted Raspberry Seedless Preserves, our other newest member of the L'Epicurien line, contains the juiciest, sweetest, freshest raspberries that are harvested when they are perfectly ripened and glowing with color. You will love the Raspberry Preserves as a glaze on top of a warm, baked brie. Use it to top waffles, pancakes and French toast. With so many delicious ways of using the Raspberry Seedless Preserves by L'Epicurien, be sure to keep an extra jar in your pantry!
History of L'Epicurien Preserves
In 1982,
Bernard Le Gulvout
revived a delicatessen in Saint-Mandé, France under the name L'Epicurien, with the ambition of being an "Artisan du goût" (Artisan of taste) for his customers. In the mid 1990s, he settled down in a fruit production region, the Languedoc-Roussillon, to lead the development of his company. He was joined by his two nephews, Xavier in the early 2000s and Benoit in 2012.
L'Epicurien, an artisan family company,
is equipped with modern handcraft production facilities that enable it to produce quality, authentic, gourmet jams.
L'Epicurien makes handmade extra fruity jams and specialties in open cauldrons using fruit that has been carefully selected for its taste, freshness and ripeness. The fruit is sweetened with cane sugar and preserving the richness of colors and flavors. All their jams contain a high percentage of fruit, between 55 and 70%, to ensure outstanding quality.
Best Selling L'Epicurien Preserves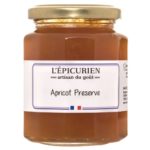 L'Epicurien Apricot Preserve is a true delight. Rich in flavor, this classic is wonderful on pastries, shortbread cookies, or mixed into a fresh fruit salad. This Apricot Jam by L'Epicurien is delicious on bagels, English muffins and bread, and as a glaze for pork, poultry or prawns. You'll be pleasantly surprised by the number of ways that you can use this jam, but your favorite way might be as simple as eating it out of the jar. Customer Pick! We have also made Ginger Apricot Chicken and Apricot Cheesecake Muffins. This is our favorite jam. Once you've tried it, I know it will become your family's favorite jam too!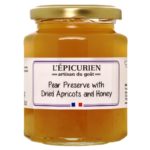 Pear Preserve with Dried Apricots & Honey by L'Epicurien is created with the best ingredients and no preservatives or additives. This jam has the flavor and texture to stand up on its own, with fresh pears, apricots, and a touch of honey. Add this delectable jam to toast, pastries, croissants, or cookies. We love this fruit spread to top fruit tarts, pancakes, waffles and French toast. Try mixing it in with your favorite vanilla ice cream to create a super easy semi-homemade gourmet dessert, or it makes a great filling for crepes. You're going to love it!
We hope you've enjoyed learning about the history of the L'Epicurien Preserves. We hope too that you will try one or all of these delicious fruit spreads from L'Epicurien, which are also available in a Gourmet 3-packs.
ALL L'Epicurien Gourmet Products make a wonderful gift for your special friends and family members. Geoffrey's mother and aunt can't get enough of the Apricot Preserves and Raspberry Preserves. They spread them on toast every morning.
Let us know which is your favorite. We love hearing from our customers!
Happy Jamming!
Geoffrey & Carlos