We are thrilled to be welcoming several delicious, bold flavors of Pepperlane Preserves to our gourmet pantry. Each jar of these jalapeno jams is where jalapeño peppers transform and come alive with a taste explosion of "sweet with a kick."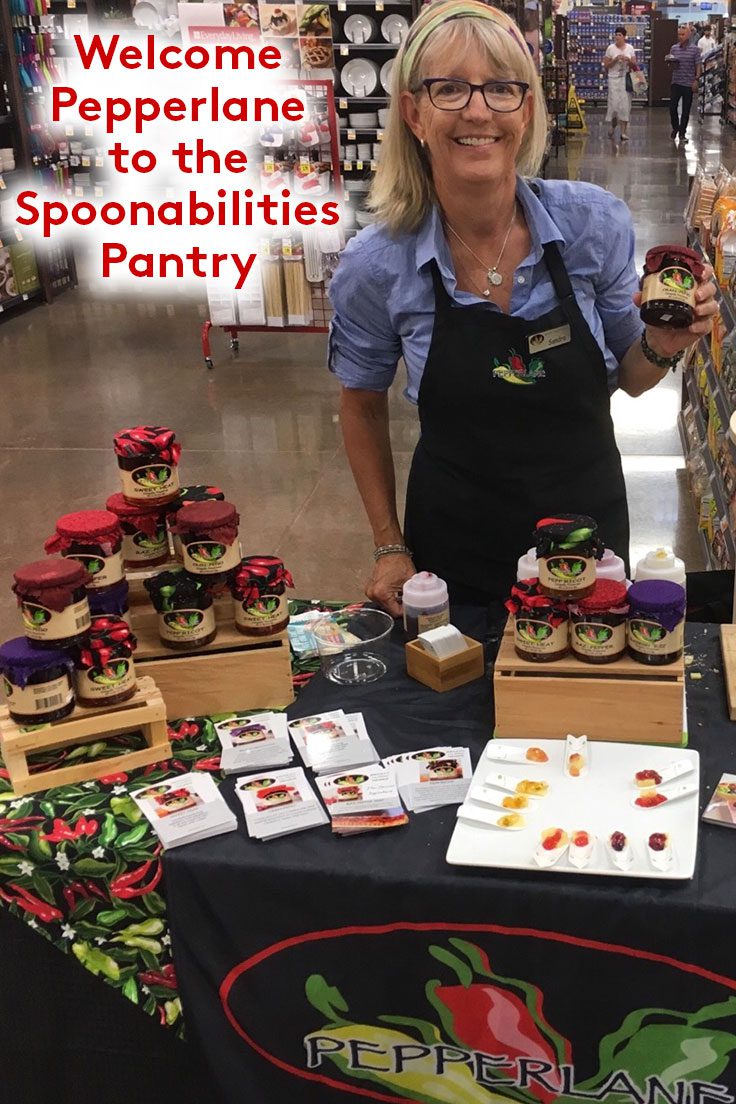 Pepperlane uses the finest, quality ingredients to create truly the most unique flavors of jalapeno-based preserves that can be enjoyed all year long. Known as the "condiment with a kick," Pepperlane Preserves are used by fine restaurants, chefs and gourmet cooks all around the world, many who claim that it is their "secret ingredient" for sandwiches, meat glazes, dipping sauces (especially in Asian-inspired dishes), and salad dressings.
Pepperlane has been making jellies and preserves since 1990. In 2009, Roderick and Sandra Weese joined Pepperlane as co-owners and in 2014 became sole-owners of Pepperlane. Their commercial kitchen is located in the Wasatch Mountains in Midway Utah, a place Rod and Sandra have called home for many years.
Five Pepperlane Preserves You Can Buy Online
Here are the new gourmet preserves from Pepperlane that you can find for purchase in our Jams, Preserves and Fruit Spreads section of our online shop:
| | |
| --- | --- |
| | Ginger with a Snap Preserves: Pepperlane mixes the bold taste of ginger with habaneros for a one-of-a-kind, tastes-like-homemade flavor combo fitting for all types of Asian cuisine and beyond. |
| | Hot Blooded Orange Preserves: Feel the delicious kick from Pepperlane combining the crisp jalapeño heat with the deep magnificent crimson flesh and taste of blood oranges. Try it as a sauce or glaze on duck, pork or stir fry. |
| | Mango Django Jazz Preserves: A smooth composition that hits all the right notes. Pepperlane blends the jazzy, warm flavor of habanero with juicy, sweet mango. Give this gourmet jam a try on fish tacos or on your favorite fish. |
| | Peppers in Pineapple Paradise Preserves: By combining jalapeños with sweet pineapple, Pepperlane Preserves has created a tropical taste with heat and flavor. This gourmet pineapple jalapeño jam is a great addition to a ham sandwich, or as a dipping sauce. |
| | Raz-Pepper Preserves: Raspberries are one of the world's most favorite foods. Mixed with jalapeños, this mouthwatering Jalapeño Raspberry Jam our most popular and best-selling flavors. We love this jam! |
Recipes we've already made with Raz-Pepper Preserves
We love love love Raz-Pepper Preserves as a glaze over grilled pork chops. Our Jalapeño Raspberry Glaze for Pork Chops Recipe is a quick and easy recipe that will have your taste buds celebrating with every bite. The Jalapeño Raspberry glaze is drizzled over straight-off the grill pork chops. The flavors from the delicate, sweet yet zesty zing of the raspberry pairs perfectly with the contrasting spicy kick of jalapeño. You will definitely want to keep this recipe handy!
Other recipes we have already made with Raz-Pepper Pepperlane Preserves are:
We hope you enjoyed learning about our newest additions to our gourmet pantry that are available for you to purchase, and hope you add a few varieties to your pantry too. Try adding Pepperlane Preserves to your favorite recipes to elevate the familiar to fabulous. The possibilities are endless!
If you enjoyed reading a little about Pepperlane, why not check out some of our other recent announcements like New Greek Products from Hellenic Farms, and Black & Bolyard Brown Butter: Welcome to the Spoonabilities Gourmet Pantry.
Stay tuned!
We are continuously restocking and adding new and exciting gourmet items to our pantry. Stay in touch with us so that you are updated with all of our newest additions, especially since Fall is just around the corner. We love keeping you in-the-know so that you too can have the best quality items for your Fall entertaining and get-togethers with family and friends.
Until next time, as they say… "Some like it HOT." We sure like things muy caliente! How about you?
Stay caliente, my friends,
Geoffrey & Carlos