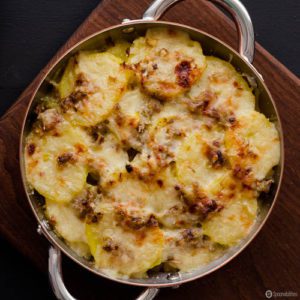 Leek and Potato Gratin Recipe
Yield 6
Leek and Potato Gratin is the perfect side dish to complement any dinner for special occasions, and holidays like Thanksgiving and Christmas. This recipe is simple with a rich, creamy taste from the beautiful combination of gruyere & parmesan cheese, milk, and other spices, and the deliciously sweet flavor of Organic Honey Dijon Mustard.
Adapted from Cooking Light
Ingredients
2 1/2 cups whole milk
1 1/2 pounds Yukon Gold potatoes, peeled and very thinly sliced
2 garlic cloves, smashed
1/4 teaSpoon nutmeg
1 bay leaf
2 teaSpoons Organic Honey Dijon Mustard Click to buy in our online shop
1 TableSpoon unsalted Olive Oil - Eleon Click to buy in our online shop
1 large leek or 2 small leeks, trimmed, halved lengthwise, and sliced (about 2 1/4 cups)
1 teaSpoon Sea Salt with Oregano and other herbs, divided. Click to buy in our online shop
1/2 cup Gruyère cheese, shredded
1/4 cup Parmesan cheese, grated
1/2 teaSpoon freshly ground white pepper
Instructions
How to Make It
Preheat oven to 375°F.
Combine milk, potatoes, bay leaf, 1/4 teaSpoon salt, and garlic in a large saucepan; bring to a boil. Reduce heat and simmer 5 minutes or until potatoes are almost tender.
Drain in a colander over a bowl, reserving 1/2 cup milk mixture.
In the milk mixture, add nutmeg and simmer for a few minutes. Before removing from the stove add mustard, stir well. Set aside.
In a 12-inch nonstick frying pan set to medium, heat 4 TableSpoons of the olive oil. Add the leeks, a 1/4 teaSpoon of the pepper and a 1/4 teaSpoon of the Sea Salt with herbs. Stir to coat the leeks with the oil. Stir occasionally until the leeks are tender - about 4-8 minutes. Remove pan from heat; place leek mixture in a bowl.
Arrange half of potato slices in a single layer on the bottom of a gratin dish; top evenly with half of leek mixture. Sprinkle with 1/2 teaSpoon Sea Salt and 1/4 cup of Gruyère cheese.
Repeat layers with remaining half of potatoes, remaining half of leek mixture, remaining 1/2 teaSpoon salt, and remaining 1/4 cup Gruyère.
Drizzle with reserved 1/2 cup milk mixture; sprinkle with Parmesan. Cover pan with foil; bake at 375°F for 25 minutes.
Remove foil from pan, not removing pan from oven. Turn on broiler and broil for 5 minutes or until bubbly and golden brown.
Remove pan from oven, sprinkle with pepper; cool. Cut into wedges and serve.
Notes
Vitamin A 9%, Vitamin C 38%, Calcium 25%, Iron 6%, Vitamin B12 10%, Vitamin E 2%, Vitamin K 5%
Courses Side Dishes
Cuisine French
Amount Per Serving

Calories 229

% Daily Value

Total Fat 10.2 g

16%

Trans Fat 0.1 g

Cholesterol 23 mg

8%

Sodium 461.5 mg

19%

Total Carbohydrates 25.7 g

9%

Dietary Fiber 2.7 g

11%

Sugars 6.1 g

Protein 9.6 g

19%
Recipe by Spoonabilities at https://www.spoonabilities.com/potato-gratin-recipe/