Greek Antipasto Gift Set | Roasted Red Pepper & Tomato Dip, Roasted Crushed Eggplant & Greek Olive Tapenade
$34.99
This Authentic Greek Antipasto Gift Set from Navarino Icons includes:
Roasted Red Pepper & Tomato Dip
Navarino Icons brings to your table this authentic Greek Roasted Red Pepper & Tomato Dip, made with the finest quality ingredients, and produced and hand-harvested by local farmers. Roasted and packed immediately after picking for a fresh, delicious and nutritious dip, it's all-natural, no preservatives, low in sugar & gluten free. Perfect to pair with crisps, chips, crackers and fresh, crunchy vegetables.
Roasted Crushed Eggplant
This real eggplant purée is made with only the finest quality produced straight from the sun-drenched farms from the Peloponnese in Greece.
This eggplant puree is tasty & versatile. Add this puree as an ingredient to create the famous Melitzanosalata recipe (Traditional Greek Eggplant dip) just add some fresh squeezed lemon juice and extra virgin olive oil from Navarino Icons Eleon Greek Estate Grown EVOO. Use as a tasty spread on crudites, bread or crackers. No preservatives, additives or colorings. Gluten-­free.
Greek Olive Tapenade
Made with kalamata olives and green olives, this tapenade has a sweet flavor with mildly spicy notes. A traditional local recipe of handpicked and finely chopped olives in extra virgin olive oil with red peppers, capers, carrots, grape must & herbs. All natural, gluten-free.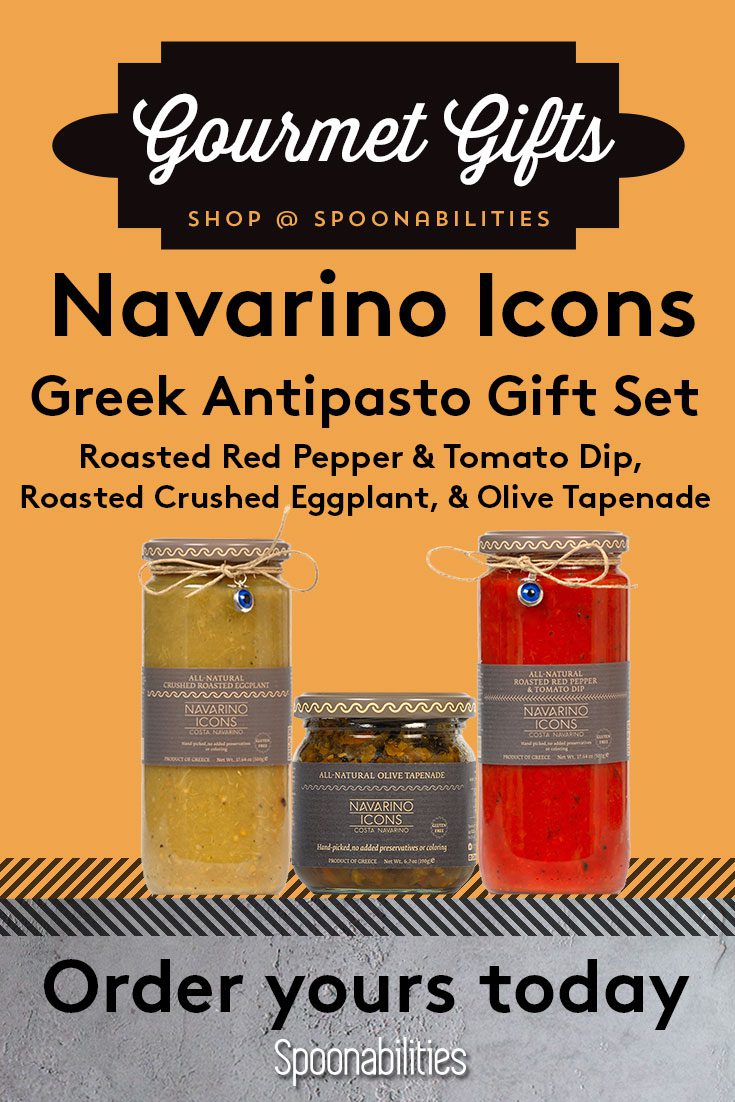 Additional Information
| | |
| --- | --- |
| Weight | 7 lbs |
| Dimensions | 10 × 6 × 6 in |
| Producer | |
| UPC | 5200357801069, 5200357801076, 5200357801595 |
| Brand | Navarino Icons |
All-Natural Roasted Red Pepper & Tomato Dip
Pulp of Roasted Red Peppers, Tomato Paste, Pulp of Greek Golden Peppers, Olive Oil, Sugar, Salt, Vinegar, Garlic, Citric Acid.
Navarino Icons Roasted Crushed Eggplant
Pulp of Roasted Eggplant, Salt, Citric Acid
Greek Olive Tapenade
Kalamata Olives, Green Olives, Extra Virgin Olive Oil, Red Peppers, Carrot, Capers, Grapemust, Herbs