Just in time for holiday gift giving! We have the most delicious gourmet gift collections from Hellenic Farms that you (and your favorite foodie) will love. These Greek food gift ideas are the perfect gourmet products that we have carefully selected for the gourmet food lover in your life.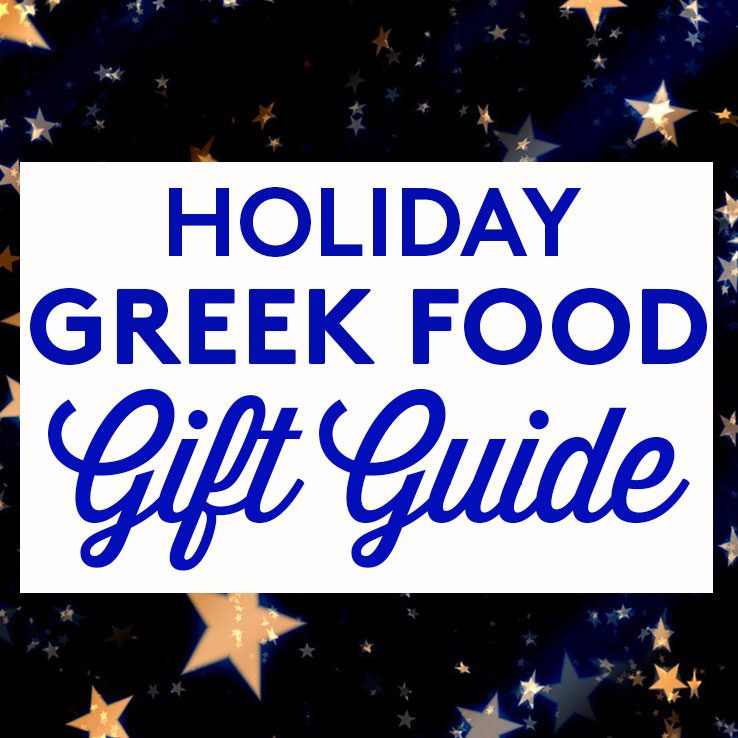 Purveyors of the finest Greek gourmet foods, Hellenic Farms is our premier importer and supplier of premium food products from all over Greece. As a 100% woman owned business, Hellenic Farms prides themselves on their ability to source products that are unique, chic, and freshly grown and produced in accordance with old Greek traditions.
We recently closed our gourmet product shop and no longer carry the products below. BUT WAIT! We are still partnering with Hellenic Farms, our Greek product supplier, and they agreed to give you a 10% discount when ordering directly from them! The link above and links to the products below will take you to more information about receiving the discount.
Top Recommendations for the Perfect Greek Food Gift Ideas: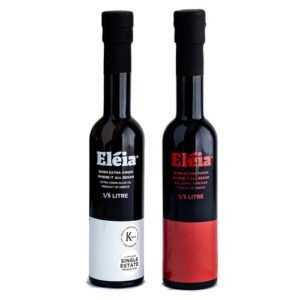 Enjoy both the premium Greek Olive Oil and Balsamic Vinegar with your favorite crusty breads or drizzled on salads. The Eleia Greek Olive Oil & Vinegar Gift Set includes one bottle each of:
Eleia Extra Virgin Olive Oil: Sourced from Koroneiki olives, this exceptional EVOO has a highly fruity and intense aroma as well as a well-balanced taste that infuses wild herbs and a peppery finish.
Eleia Balsamic Vinegar: A sweet balsamic vinegar which has been aged for two years in oak barrels.
---
The Authentic Greek Antipasto Gift Set from Navarino Icons is a true gourmet lover's delight!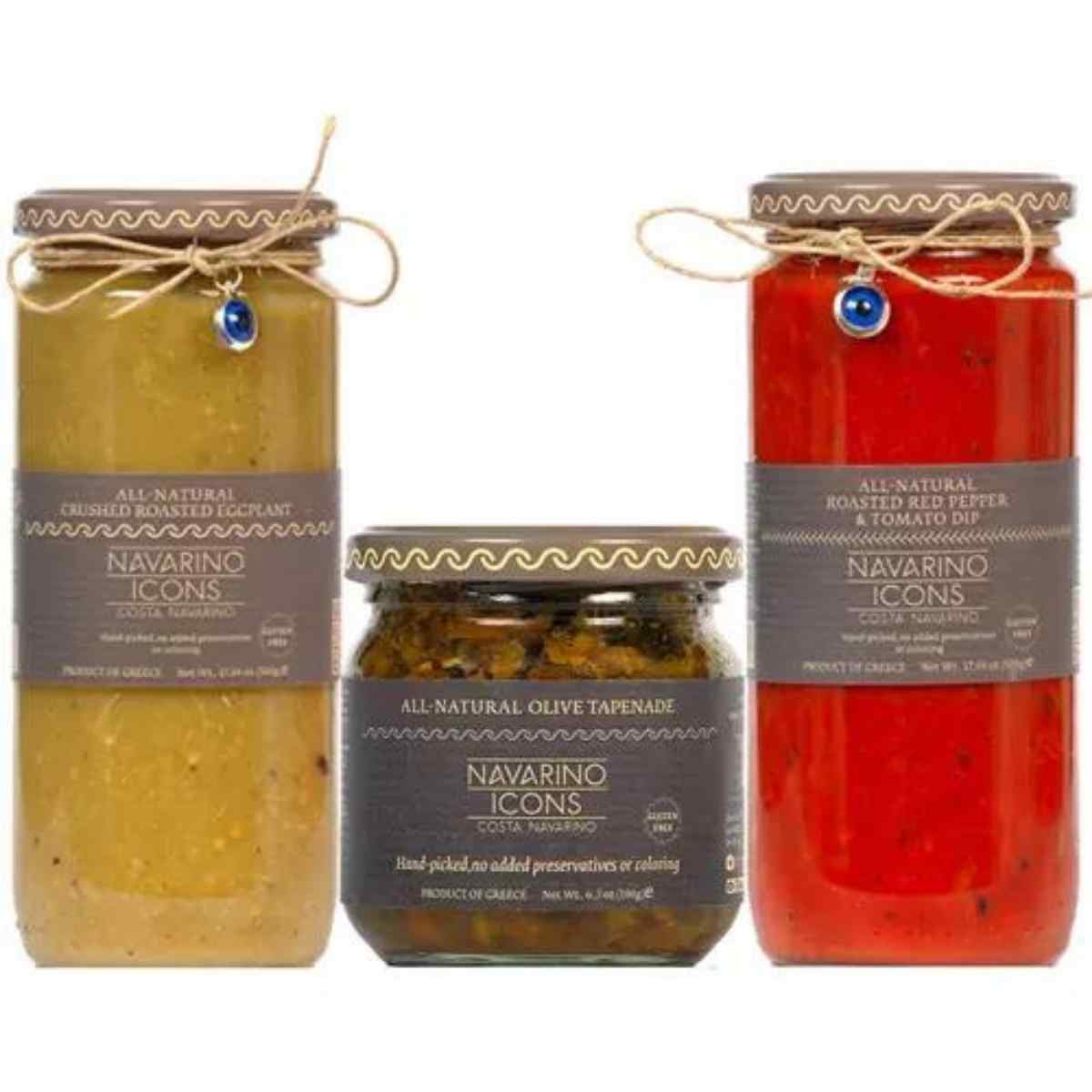 All natural, no preservatives, low in sugar and gluten free. Perfect accompaniments to crunchy veggies, crackers, chips, and crusty, artisan breads, each set includes one jar of:
Roasted Red Pepper & Tomato Dip: Made with the finest quality ingredients, the peppers are roasted immediately after picking for a fresh, delicious and nutritious dip.
Roasted Crushed Eggplant: A delicious, versatile eggplant purée produced straight from the sun-drenched farms of the Peloponnese in Greece.
Greek Olive Tapenade: Made with Kalamata and green olives, this tapenade has a sweet flavor with mildly spicy notes. A traditional local recipe of olives, EVOO, red peppers, capers, carrots, grape must & herbs.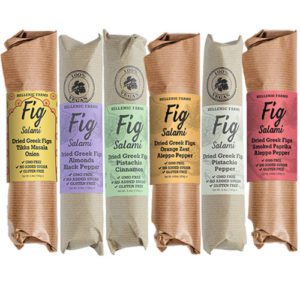 Not just for the vegan in your life! Made with the finest quality 100% Greek figs and Aleppo peppers, these salamis pair well with all of your favorite cheeses.

Each variety is GMO free, has no added sugars, and is gluten-free. These healthy snacks are the perfect wine and cheese companion, or addition to your holiday party or grazing table.
This set of six salamis contains:
Vegan Fig Salami with Pistachio & Pepper
Vegan Fig Salami with Smoked Paprika
Vegan Fig Salami with Orange Zest
Vegan Fig Salami with Tikka Masala Onion
Vegan Fig Salami with Almonds & Black Pepper
Vegan Fig Salami with Cinnamon & Pistachio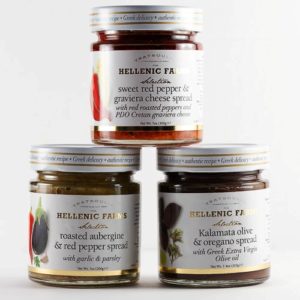 A wonderful assortment of delicious Greek spreads.

Your favorite gourmet foodie will love each one's unique and authentic Greek taste served on pita wedges, crackers, or crusty bread. Contains one jar of:
Roasted Aubergine and Red Pepper Spread: A heavenly creation of roasted eggplants, Greek extra virgin olive oil, roasted red peppers, vinegar, salt, garlic, and parsley.
Sweet Red Pepper and Graviera Cheese Spread: Red roasted peppers, P.D.O. Cretan graviera cheese (sheep and goat's milk), Greek Extra Virgin Olive Oil, capers, vinegar, salt, and herbs and spices are blended together to create a true Greek gourmet delight.
Kalamata Olive & Oregano Spread: Created with the finest Kalamata olives, Greek EVOO, salt, vinegar, and oregano.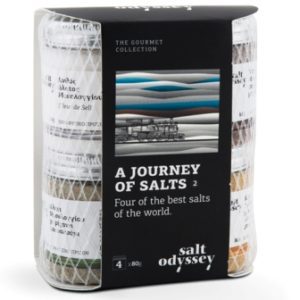 Four of the Best Salts of the World Edition by Salt Odyssey. A perfect gift for the gourmet home chef! This set includes each of the four finest salts:

Beechwood Smoked Sea Salt: Best gourmet, multi-awarded salt available. Made by naturally smoking pure sea salt in real beechwood for 140 hours, which creates a powerful, intense, deliciously rich smoked salt.
Himalayan Salt with Turmeric & other spices: Sea salt from Messolonghi with turmeric, mustard, curry, and sumac. Ideal for chicken, rice, grilled meat, pasta & dressings.
Messolonghi Sea Salt with Oregano and Sesame: A superior clean, fresh and certified organic sea salt combining the aromatic flavors of Mediterranean herbs with the fantastic taste of grilled sesame seeds. The perfect "put-it-on-everything" ingredient.
Prime Sea Salt (Fleur de Sel): All natural and unrefined, this is the purest & tastiest of all sea salts. Skimmed off by hand from the salt ponds of Messolonghi, these luxurious, clean-tasting crystals surprise chefs & food professionals.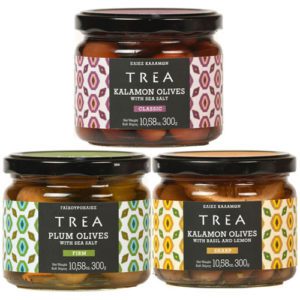 A perfect gift for the olive lover on your holiday list. TREA Olives are carefully hand harvested, and naturally ripened in the Greek sun and salty air. TREA Olives are traditionally cured in brine with sea salt, vinegar, and oregano that allows them to naturally season. The Greek Olive Trio includes one jar each of:
TREA Plum Olives with Sea Salt: Greek Green Olives, Sea Salt, Vinegar, and Oregano.
TREA Kalamon Olives with Sea Salt: Greek Kalamon Olives, Sea Salt, Vinegar, and Oregano.
TREA Kalamon Olives with Basil & Lemon: Greek Kalamon Olives, Sea Salt, Lemon Juice, Lemon Slice, Basil, and Oregano.

We have also put together some Greek food gift ideas that we love to gift to our friends and family for the holidays. Each individually selected jar is sure to please every gourmet foodie on your holiday list.
#7 The FIVE Estate Balsamic Vinegar
A special gift of the highest quality Greek Balsamic Vinegar for somebody who deserves the VERY BEST.
FIVE Estate Balsamic Vinegar: This truly gourmet balsamic vinegar is obtained from select Semillon white grapes of Drama, Greece, and is aged for six years in French oak and chestnut wooden barrels which allows the balsamic vinegar to fully connect with the wood and deliver a delicious bouquet of aromas.
#8 Perfect Peppers Holiday Gift Options
The perfect peppers for salads, sandwiches and a gourmet appetizer plate. Your favorite foodie will love this Perfect Peppers gift set!
Greek Green Peppers: The peppers are cultivated in Northern Greece and have a mild, delicate flavor. We highly recommend these peppers for your homemade salsa.
Greek Roasted Red Peppers: Made with the highest quality sweet, fire-roasted peppers that are packed in a vinegar brine. Grown in fields of Northern Greece, the red peppers are picked at peak ripeness and immediately fire roasted to preserve their high nutritional value and taste.
Roasted Red Pepper & Tomato Dip: Part of the Antipasto Gift Set above, this Roasted Red Pepper Dip is a wonderful gift for the red pepper lover in your life.
#9 "Sweeter Side" Greek Treats
Your gourmet foodie will love this unique set of olives. Both are made with the finest Kalamata olives and just a touch of sweetness. This set includes one jar each of:
Navarino Icons Sweet Olive Treat: A traditional Greek product made with Kalamata olives that are stuffed with almonds, prepared in a syrup made of honey, fresh orange juice, wine, herbs and spices.
Pasteli Bars: An authentic ancient Greek energy snack bar made of the finest sesame seeds and the region's finest pure honey.
More Greek Food Gift Ideas
We hope you found a few appropriate options for your friends and family who always have food on their mind. If you added some of the Greek food gift ideas above, and still need a few more, we recommend selecting from the wonderful Greek gourmet products Hellenic Farms has to offer. Along with those above, they will all ship directly from Hellenic Farms so your shipping cost will be less.
If Greek food is not your taste, check out our other gift guide full of Kitchen Tools, Appliances & Tableware.
Also if you have any questions, or need more recommendations, we are here to assist you. Just shoot us an email and we'll help you pick the best gift for that "hard to shop for" person in your life.
Happy Holidays,
Geoffrey & Carlos