Gin Violette Cocktail is a fun and colorful cocktail with a floral and herbaceous note. The drink is made with gin, Crème de Violette, red wine, egg whites, lemon juice, and simple syrup. This alcoholic beverage is exceptionally smooth with a delicate floral note. Read on to learn what is dry-shake, why we double strain this cocktail, how to make the stunning froth, and exactly what Crème de Violette tastes like.
Hello my friends. For this week's cocktail recipe, I am bringing you a fun and colorful cocktail with a floral note. When I select a drink or food, what first inspires me is the color and what I can create to provide you a visual experience. This Gin Violette Cocktail gave me a full vibe of color, spring/summer feel and inspired me to take well-lit photos.
If you've been following my photos, I usually don't work with flowers in photo shoots because when I tried in the past, I haven't been successful. This time, I'm super happy with the final result. At first, I was planning to photograph this drink only for our Instagram followers, but after I saw the photos, I fell in love.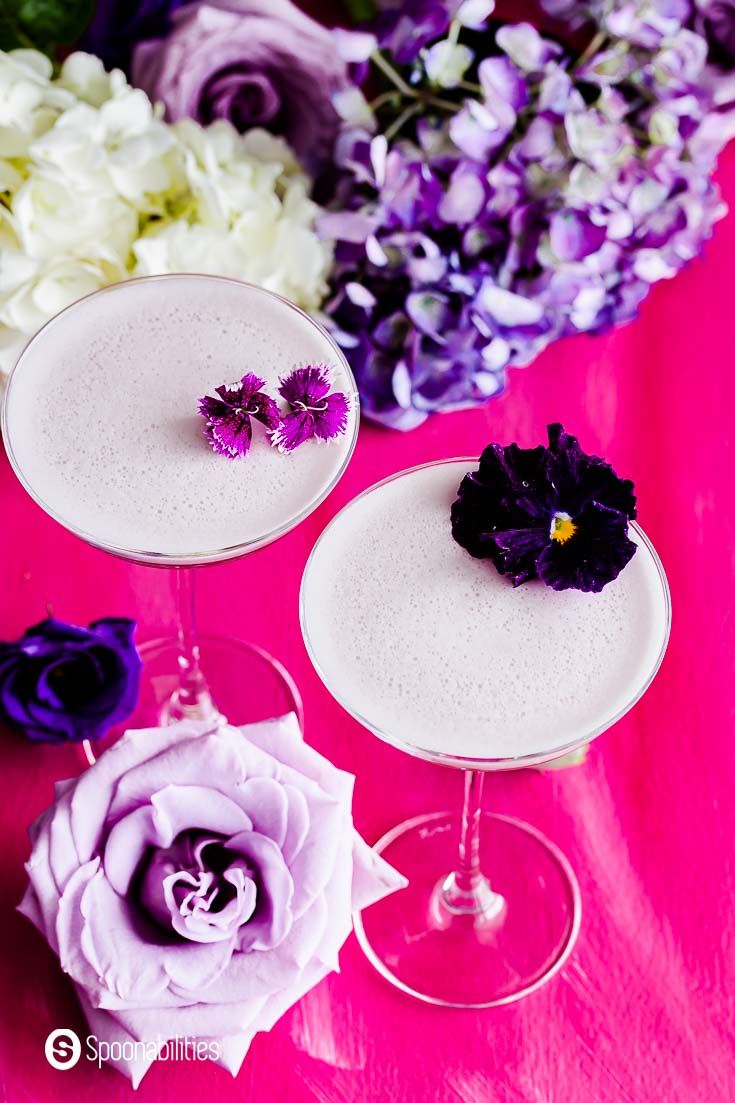 Selecting the Right Gin for your Gin Violette Cocktail
I used to drink only vodka cocktails, but since I tried some good gins I have been making more gin inspired cocktails. The botanical taste of gin provides me with a better drinking experience than vodka. The kind of gin that you use will affect the final taste. I started drinking Hendrick's, but recently our friend Russ introduced us to Citadelle Gin, and I'm totally hooked with its fantastic herbaceous, aromatic, and delicate flavor. Note: No brand sponsors this post.
Recently, we watched the "How it's Made" program on TV and they were showing how gin is produced. The main ingredient is juniper berry which has tart, floral, and unusual flavors. Each gin brand has its own proprietary formula for how they want to accentuate the characteristic flavor of their gin. The result is a delicate balance that allows the flavors and aromas to intermingle in perfect harmony.
Watch the video below giving a tour of the Citadelle production from the POV of the main ingredient, the juniper berry.
Like this recipe so far? Be the first to know when we release new ones!
---
The Gin Violette Cocktail is exceptionally smooth and floral. The beautiful color is a combination of the crème de Violette and red wine. But, let's talk a bit about Crème de Violette.
About Crème de Violette Liqueur
Crème de Violette is a low-proof herbal & spice liqueur made from an infusion of violet buds and blossoms. The flavor profile is citrus and herb notes with a floral flavor. This liquor is used to make cocktails and the most common alcohol base used to mix with this liquor is gin, but it's also used with sparkling wine, cognac, and brandy. The most famous cocktail using this liquor that you've probably heard of is the Aviation. Crème de Violet is a perfect complement to herby gin, and the Gin Violette Cocktail exudes sophistication and elegance!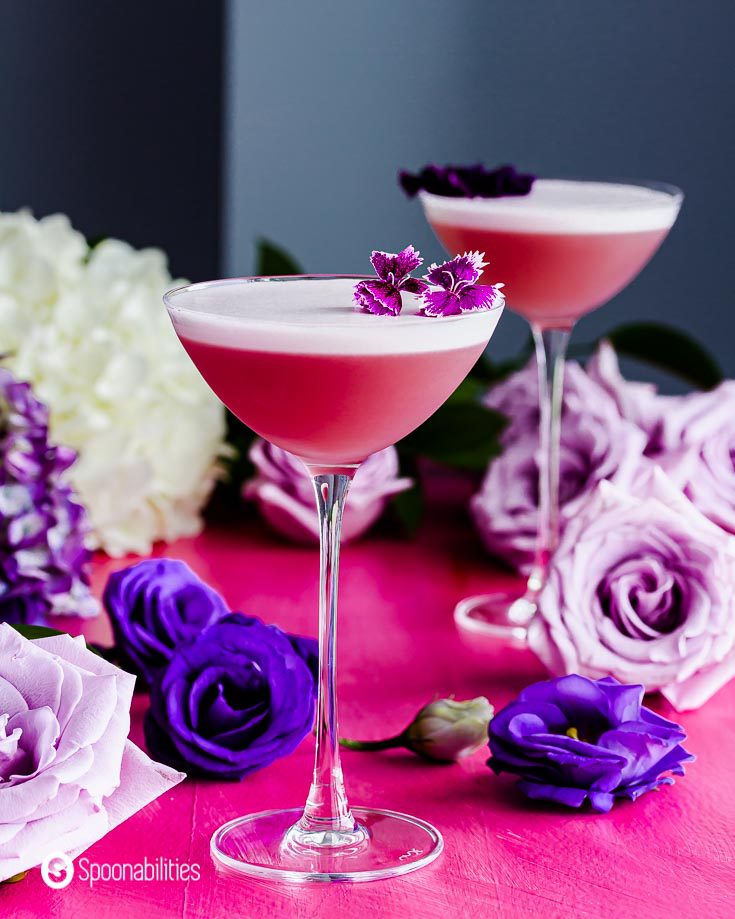 How to Make a Gin Violette Cocktail
This cocktail recipe is simple and easy to make. First, you need simple syrup. If you don't have any, you can make it in less than five minutes using a small saucepan at low-heat. Add equal parts water and sugar, and stir until the sugar dissolves. Let it cool and pour into a bottle or mason jar. I use these bottles from Luigi Bormioli.
Ingredients for this Gin Violette Cocktail are egg whites, gin, Crème de Violette, lemon juice, dry red wine, and simple syrup. In a cocktail shaker, add all the ingredients but without ice. You will dry-shake for 30 seconds, then add the ice and shake for 30 more seconds. You will double strain, first with one hand holding a Hawthorne cocktail strainer on top of the shaker, and with the other hand pouring the liquid on top of the glass using a fine mesh strainer. Garnish with edible flowers and enjoy.
Why do We Use the Dry-Shake and Double Strain Methods?
This cocktail uses the method of dry-shake. A dry-shake is when you shake the ingredients in the cocktail shaker without ice. (Obviously not "dry," it should be called the "warm-shake" but I didn't name it.) Dry-shake is used with any cocktail involving egg whites. This method ensures that the egg white combines with the other ingredients, resulting in a beautiful frothy texture. After dry-shaking, ice is added and the mixture is shaken for a second time before being double-strained and served. Double strain by using both a Hawthorne cocktail strainer as usual, and also use a fine mesh strainer. Fine straining the liquid will remove any ice shards. Double-straining will give you a silky smooth and particle-free cocktail.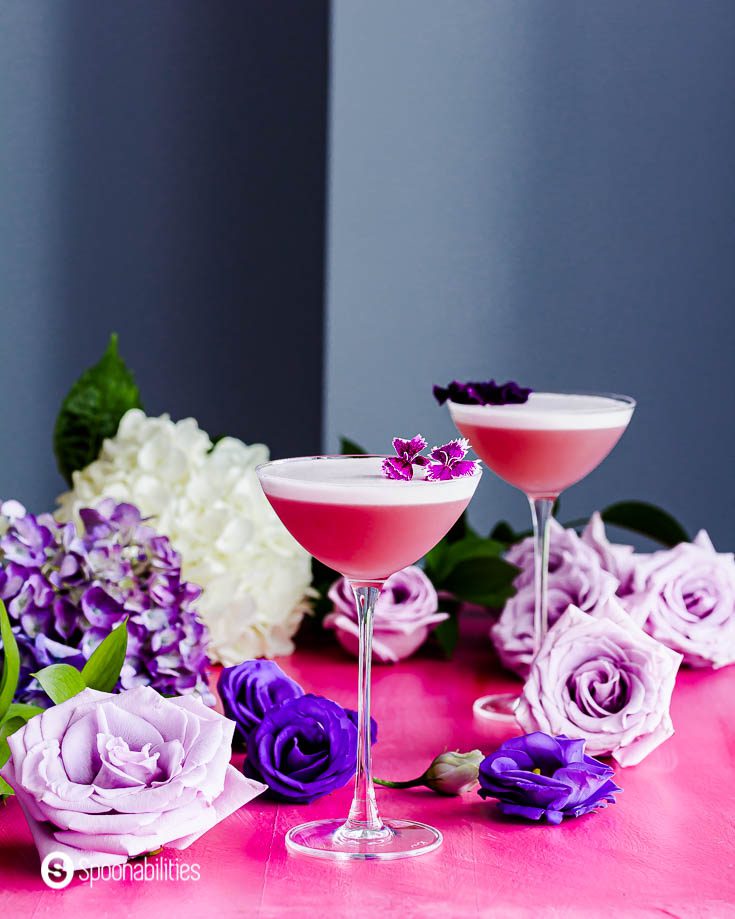 Why Shake Cocktails Before Serving?
When you utilize the appropriate shaking techniques for your cocktails, it results in the tastiest beverages with the silkiest smoothness. The idea of shaking is to achieve two main things: chilling and dilution. If not drinking a cocktail "on the rocks," you want to both make sure it's cold, and also allow the ice to dilute the alcohol slightly, not to mention mixing all the ingredients together well. Shaking a cocktail in the bar shaker also makes sure the final drink is well aerated which makes it lighter and give it slightly more volume (similar to why you sift flour when making a cake). With a few exceptions, most alcoholic drinks with juice, syrup, egg, or cream need to be shaken. The general rule is if the libation includes an opaque ingredient, it gets shaken.
You can also make this Gin Violette Cocktail with the Reverse Dry Shake Method. Shake all the ingredients except the egg whites with ice for 30 seconds. Remove the ice with a bar spoon or a julep strainer, re-seal, and shake again for 15 seconds. I haven't tried this method yet because it seems like more work to fish the ice out. Also some people say to pour the cocktail straight into the glass, and some say to use the fine mesh strainer. I prefer the dry-shake method, and the double strain.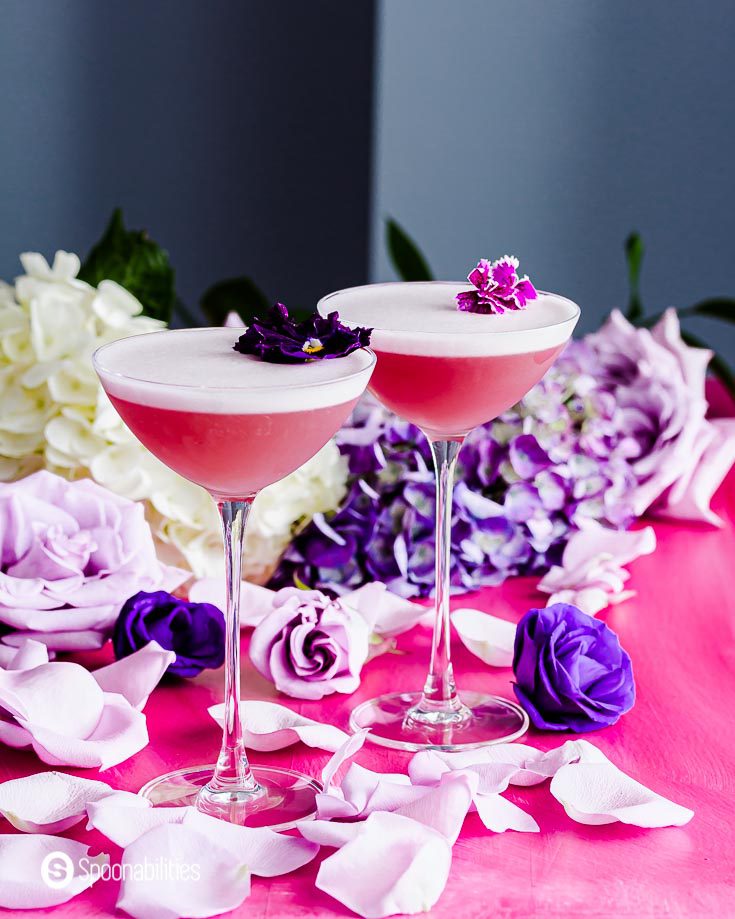 Why Add Egg Whites to the Gin Violette Cocktail?
The addition of egg whites to a drink produces a silky-smooth texture and mouthfeel with the additional pleasantry of a beautiful frothy head. The reason behind the dry-shake is because it takes a lot of extra effort to break down the egg white proteins until they become a light froth. If you shake with the ice for a long time to get the froth, your drink will be more diluted, and the result will be a weaker/watery drink. If you are vegan, substitute the egg whites for aquafaba. It will give you the same frothy finish. The only difference is that the color of the froth with egg whites will be white like meringue, and with aquafaba will be more off-white. In the French martini cocktail, we use aquafaba.
I hope you enjoy making this Gin Violette Cocktail this weekend. Let us know below in the comments how it turns out for you. Also, share your creations with us via social media by tagging @Spoonabilities on Instagram and using the hashtag #Spoonabilities.
Wishing you Tasty Happenings,
Carlos Leo
Your Recipe Concierge!
Interested in More Delicious Cocktails? Here are 10 more from our current collection:
Print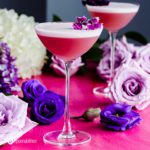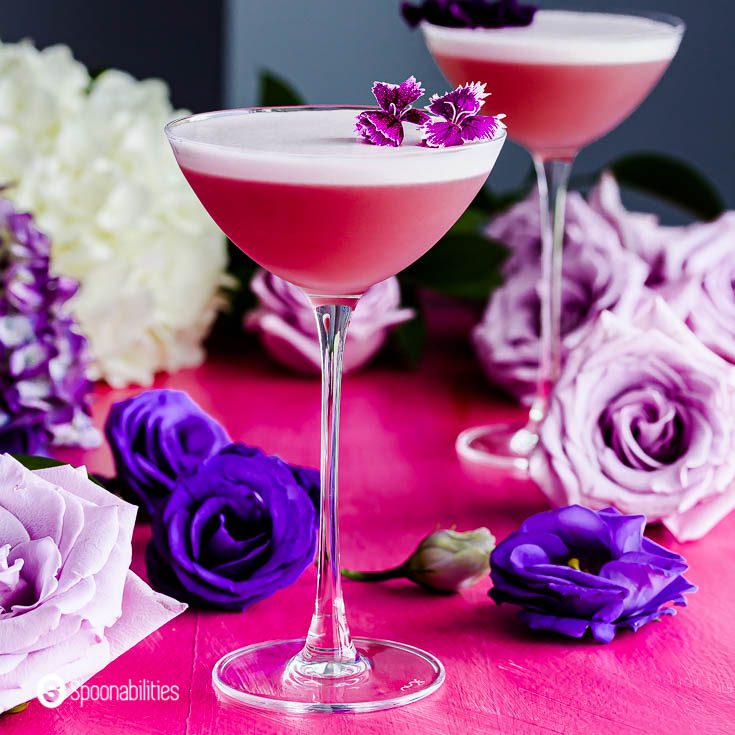 Gin Violette Cocktail
---
Author:

Carlos Leo

Total Time:

2 minutes

Yield:

2

cocktails

1

x
Description
Gin Violette Cocktail is a fun and colorful cocktail with a floral and herbaceous note. The drink is made with gin, Creme de Violette, red wine, egg whites, lemon juice, and simple syrup. This cocktail is exceptionally smooth with a delicate floral note.
---
3

ounces

gin

½

ounce

Crème de Violette

½

ounce

dry red wine

5

ounces

lemon juice

1

ounce

simple syrup

2

pasteurized egg whites
---
Instructions
Combine the egg whites, gin, lemon juice, simple syrup, dry red wine, and crème de Violette in a shaker. Shake 30 seconds. Add ice and shake 30 more seconds.
Double strain using a hawthorne strainer and pour through a fine-mesh strainer into a cocktail glass, and garnish with an edible flower.
Equipment
Notes
We partner (affiliate links) with Drizly delivery service, so if you don't have the alcoholic ingredients you can have them delivered.
Drink responsibly. If you are under the legal drinking age limit for your state or country, this recipe is not for you. Sorry.
Prep Time:

2 minutes

Category:

Cocktail

Method:

shaken

Cuisine:

International
Keywords: alcoholic beverage, shaken cocktail, alcoholic drink, cocktail with foam head, gin drinks
Recipe Card powered by
Available via these affiliate links:
Disclaimer: Links that open in another site, i.e. Amazon, may be affiliate links where at no additional cost to you, we may receive a small commission should you decide to purchase the item. Read our Disclosure Policy.