Have you ever wondered how to plan a wine and cheese tasting party? Geoffrey and I decided to have a small Wine and Cheese Tasting Party with some of our closest friends. This idea originally came up when we were writing our goals for last year. But we never did it and we wanted to close out the year accomplishing this goal. We want to start the new year with clear and actionable goals, and one is the establishment of a fun and easy Wine and Cheese Tasting Party every few months.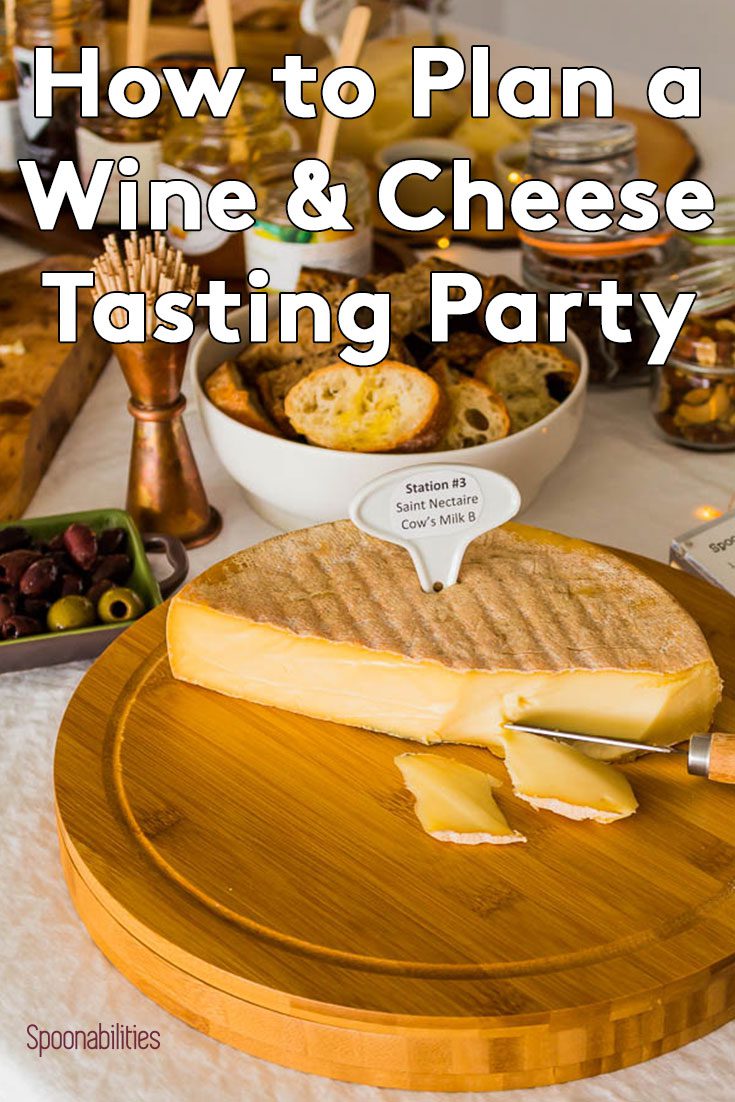 Blog post contains affiliate links. Read our Disclosure Policy
Some products below have been re-tested and changed since the original party
The main idea of why we want to do these small get-togethers is to have another excuse to be more sociable, and of course to have our friends over to give them a taste of our fruit spreads, jams & tapenades. Before we continue with the details about our wine and cheese party, if you are vegetarian, you may want to first check out our How to Build a Mediterranean Mezze Platter write-up, and if you are vegan, our Vegan Appetizer Board instructions.
The pre-planning for this event was not as easy as I thought because although we have thrown many holiday parties, this was the first wine and cheese tasting party we have ever done, and of course I have to make sure to choose the right cheese that pairs well with each wine and then match our Spoonabilities products. It was a first for us. But, this is the experience that we give ourselves so that we can bring the easy solutions to our readers and customers.

During the last couple of months, I saw in Pinterest some stunning charcuterie boards and cheese boards from the simple to the busy. I wanted to replicate some of these cheese boards, but I wanted to also keep it simple. I decided to separate the cheeses into five stations each showcasing a cheese and wine selection, and various food accompaniments around the station. The breads, toasts and crackers each were in separate bowls with a stonewashed linen napkin of earth and green tones of color. In the center of the table was a wooden tray with our preserves, fruit spreads, and tapenades. Each jar was displayed with a wooden spoon to go along with the chic & rustic look for which I was looking.
Our plan was to have an interactive wine and cheese tasting party so that we all together could match and discover different flavor combinations. The rule was that everyone had to start with station #1 and then work their way around to station #5.
The idea was to go to station #1 to taste the cheese with the matching bread, wine and our jams, fruit spread and tapenade suggestions. Then continue similarly for the other four stations. After our guests made the first trip around the whole table, they were free to taste any combination. Some people liked to keep moving around. Others preferred to stay at one station.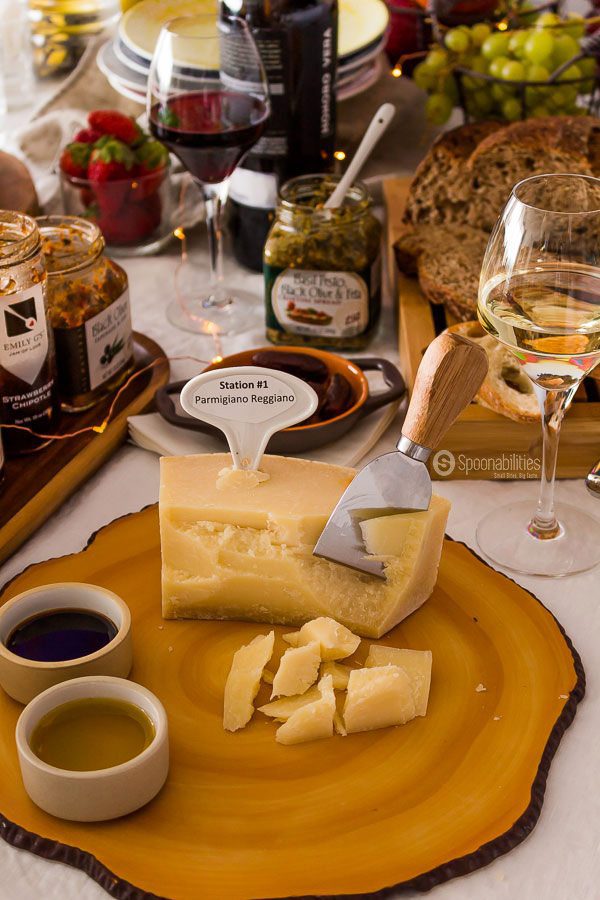 Note: It's very important to take the cheeses out of the refrigerator an hour before the party starts. This process will allow the cheese to be at room temperature when your friends arrive.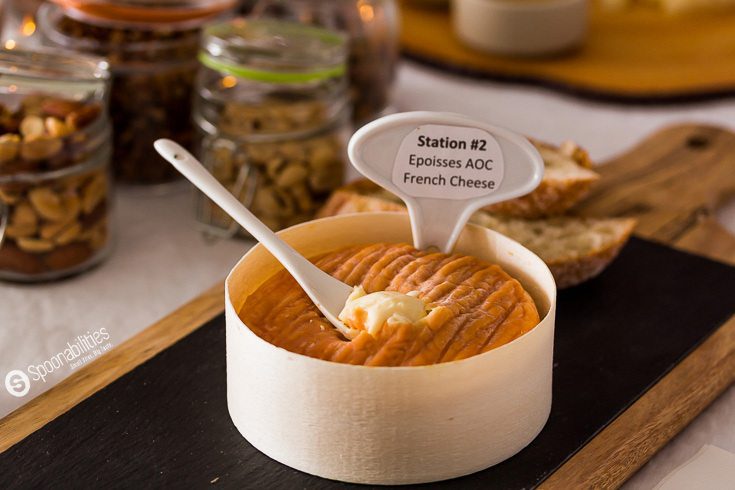 Like this recipe so far? Be the first to know when we release new ones!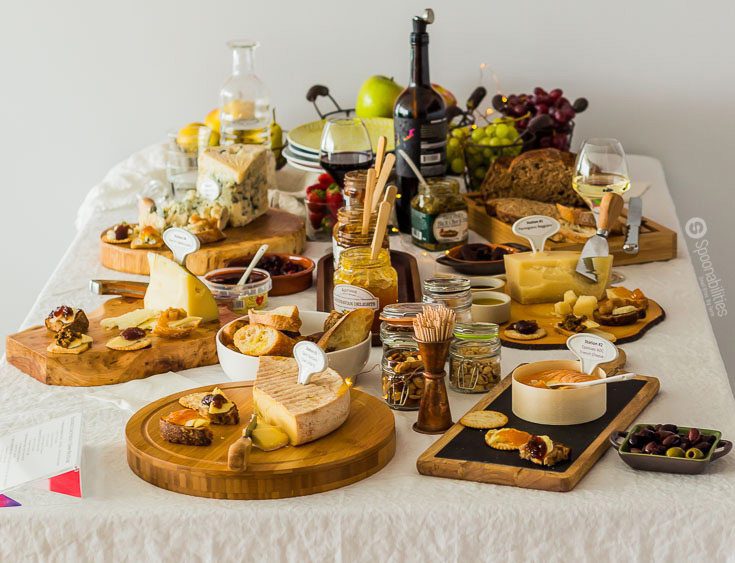 Planning a Wine and Cheese Tasting Party
The Cheeses
When having a wine and cheese tasting party, it's always great to give people a wide variety which will not only give people options, but also give them many different taste experiences. The selections "should" be a combination of the following factors but always finding a balance between each of them.
Country: where the cheese is made
Texture: creamy, soft, semi-soft, semi-hard or hard.
Time: Fresh, aged or blue cheeses
Milk: cow, goat or sheep
Flavor: Mild or strong flavors
Our Cheese Selection was:
Country: Spanish, Italian & French
Texture: creamy, soft, semi-soft, semi-hard & hard
Time:Aged and Blue Cheese
Milk: cow, goat & sheep
Flavor profile: Mild and strong flavors
Special note when serving cheeses:
If you serve hard or semi-hard cheeses, cut a few slices or chunks off. This helps your friends to feel more inviting to start, and will give them a sign of how to eat the cheeses. Also, you will want to have at least one cheese knife per block of cheese, and many cheese knife sets are available.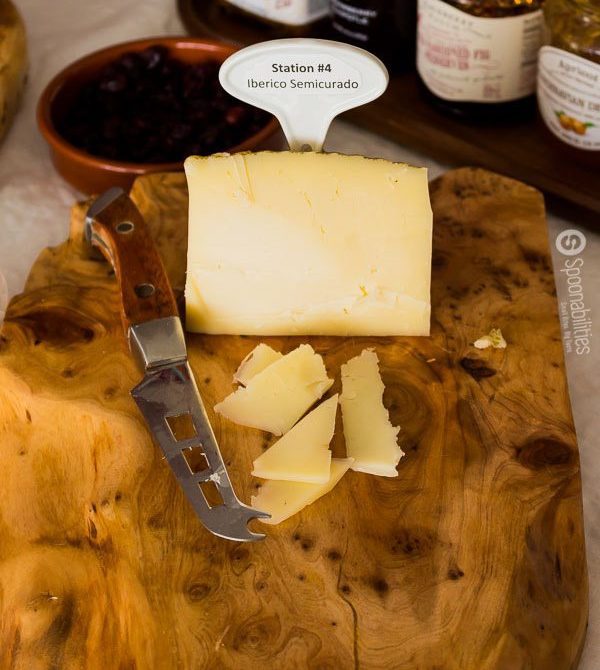 Cheeses and pairings from the Spoonabilities pantry:
L'Epicurien Apricot Preserve
L'Epicurien Apricot Preserve
Semi-hard Cheese - Iberico - aged 3 months, cow, goat & sheep milk semi-hard cheese, Spain
L'Epicurien Apricot Preserve
Apple Caramelized Onion
Black Fig Preserves
I selected these flavor matchings based on my research of some articles and blog posts. Of all the pairing we did, the one that was a universal favorite matching flavor was the Black Fig Preserves. The other flavors were matched based on my analysis, using as a guide one product or flavor mentioned on those other sites.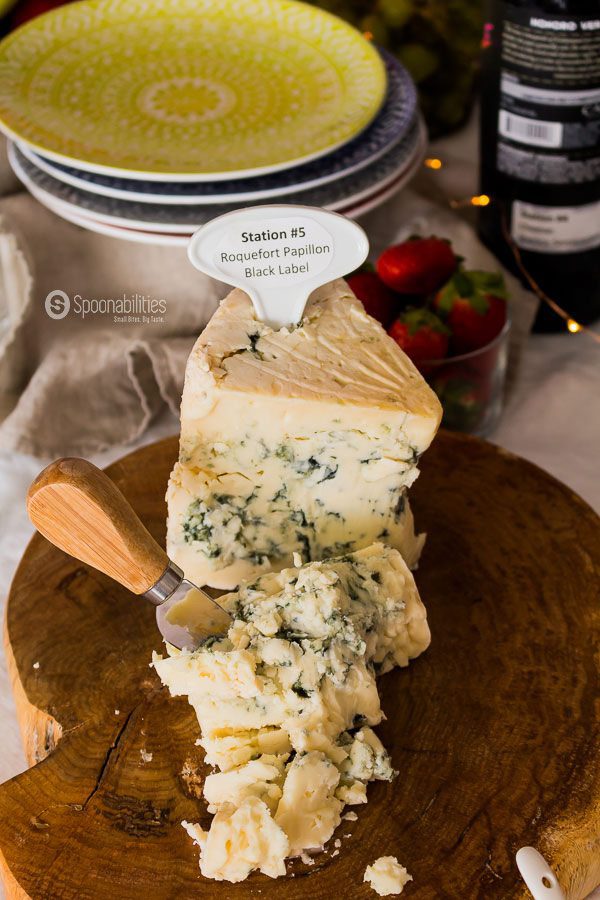 The Wine for your Wine and Cheese Tasting Party
We selected Spanish, Italian & French cheeses and the obvious option for wine is to choose the wines from the same countries. So, I selected wines from Spain and France, and one of the wines is from California but with French grapes. If you need some help selecting wines, like we did, here's a great infographic to help you out.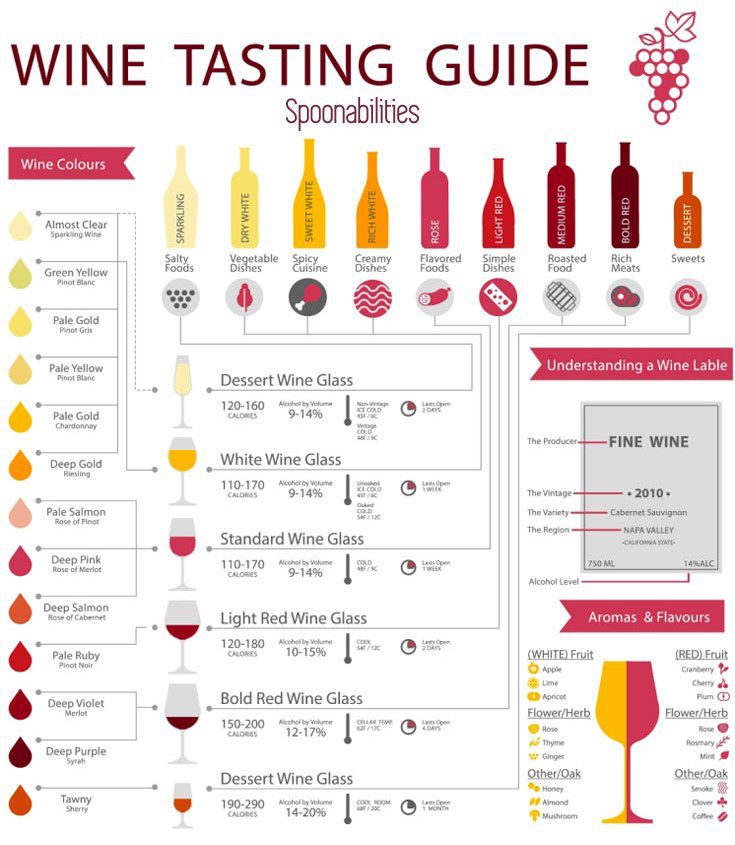 Our Wine Pairing:
Soft Cheese - French Cheese Epoisses AOC
Red wines: Cabernet, Sauvignon, Barolo, Red Bordeaux and Pomerol
White wines: Gewurztraminer, Chardonnay & Riesling
Our pick was: Cloud Break Chardonnay from California.
From the maker: Cloud Break Chardonnay is ripe and full-bodied with delicious aromas and juicy flavors of pineapple, tropical fruit, and toasty oak, balanced with creamy overtones for a lingering, memorable finish.
Creamy Cheese - Roquefort Papillon Black Label cow's milk blue cheese, France
Wine wines: Sauternes or Muscat
Fortified wines: Tawny Port, Madeira, and sherry
Our pick was: Cheval Quancard Premiere Cota from France.
From the maker: An appealing straw yellow color. A complex nose of prunes, honey and apricot jam. A well-balanced wine on the palate, full-bodied, heady and rich in sugar. A pleasant, fresh finish with hints of candied fruit.
Semi-Soft Cheese - Saint Nectaire Cow's Milk B
Red wines: A red Burgundy or Pinot Noir, a fruit young Syrah from Rhone, a Chardonnay from Auvergne, dry or medium - dry (demi-sec) Chenin Blanc
Our pick was: Pine Ridge Chanin Blanc-Viognier
From the maker: Pine Ridge Chanin Blanc has an Intriguing blend delights the nose with a charming bouquet of enticing aromas of fresh Meyer lemon, fuzzy peach, ripe honeydew melon and yellow plum, mingled with touches of citrus blossom and white tea. The clean, vibrant palate enters with juicy pomelo, sweet lychee and honeyed tangerine fruits, balanced by vibrant acidity and hints of yellow apple and key lime pie that last through the crisp and refreshing finish.
Semi-hard Cheese - Iberico - aged 3 months, cow, goat & sheep milk semi-hard cheese
Red wine: Medium or savored young red wine
Red Rioja
Our pick was: Honoro Vera Garnacha
From the maker: Honoro Vera Garnacha exhibits greater aromatic complexity, richness with mineral and blueberry notes leading to a savory and spicy wine nicely balanced and very easy to drink.
Hard cheese - 24 month Parmigiano Reggiano - cow's milk hard cheese
Wines like Pinot Grigio, Pinot Blanc, Riesling, Sparking wines
Our pick was: Marques de Monistrol Brut Cava
From the maker: Marques de Monistrol is from Cava, Spain. This offers friendly apple and stone-fruit aromas. This is a prototypical Brut Cava with modest peach and nectarine flavors. The finish is fruity, clean and pleasant. Drink with ease or blend into a sparkling wine cocktail.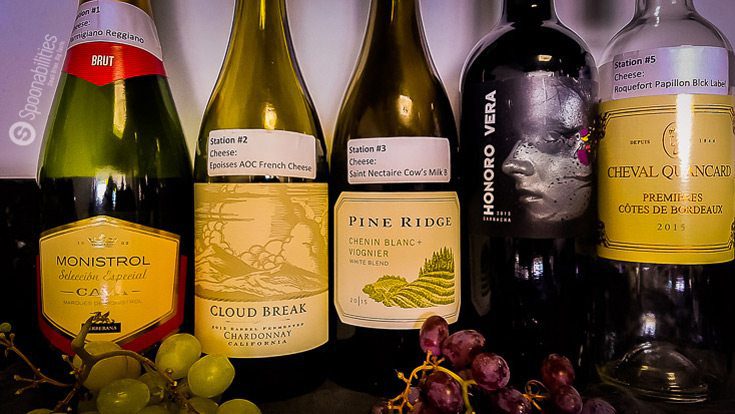 Personalized Wine and Cheese Tasting Party Accompaniments
I added to the table a wonderful accompaniment of fruits, nuts, olives, etc. to enhance the flavor of the cheese and create a contrast between each station. They also help to give surprising flavor enhancement as well as cleanse the pallet after tasting each different cheese. These accompaniments are the bridge between cheeses.
Balsamic vinegar and olive oil for

Parmigiano Reggiano

Quince paste for

Iberico cheese

. Great pairing!!
Black and green olives. I marinated them with a smoked flavor extra virgin olive oil from Spain
Green and dark red grapes
Nuts including pecans, walnuts, and almonds
Fresh fruits like apples, pears, and strawberries
Dried fruits like sour cherries and pitted dates
I had a station of Spanish charcuterie from the producer Fermin Iberico. I displayed salami, chorizo, pork loin and ham
Bread Selections for your Wine and Cheese Tasting Party
Some people just add any crackers or bread to their wine and cheese tasting party, but the bread selection is very important to create texture and a balance of flavors. Here is my selection:
Sourdough country style bread

for the Parmigiano Reggiano, French Cheese Epoisses AOC, and Roquefort cheese.

French Baguette

for Parmigiano Reggiano, French Cheese Epoisses AOC, Saint Nectaire Cow's Milk B, and Roquefort cheese.

Walnut Cranberry Bread

for the Spanish cheese Iberico. This bread was a surprising HIT with my friends. A whole loaf of this bread didn't last too long on the table.
I didn't serve

Rye bread

, but this is a good option for the Roquefort cheese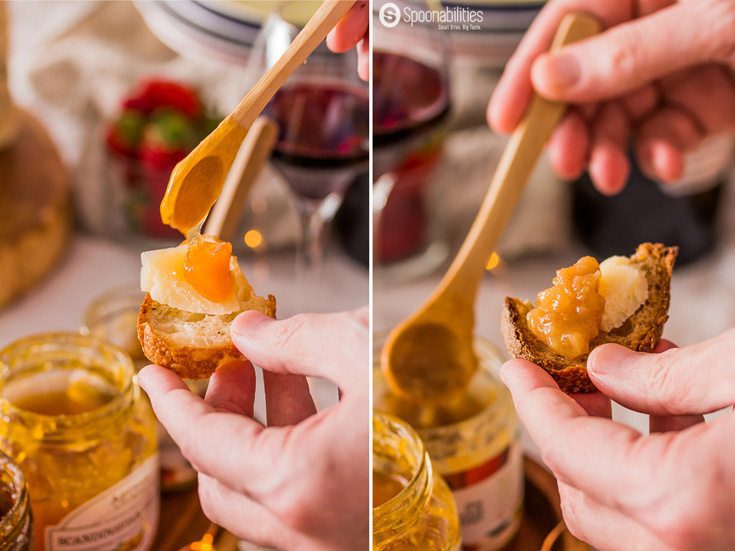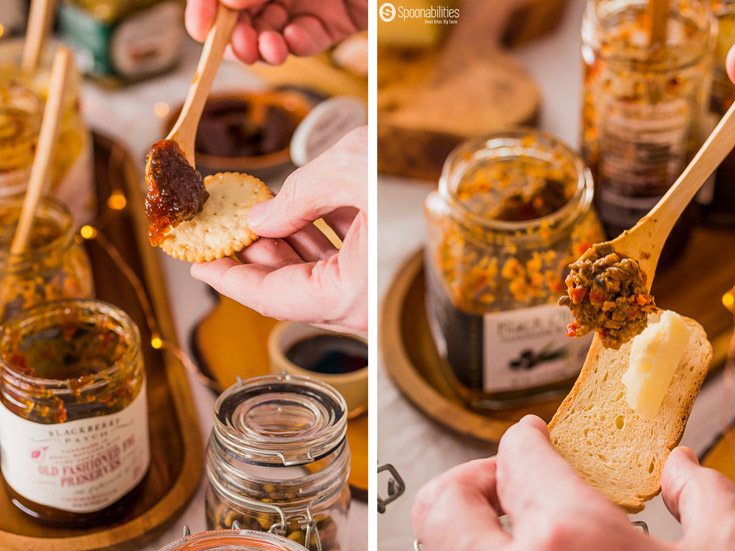 Everything According to Plan
The plan was to have the whole wine and cheese tasting party set up around 6:30pm to give me time to take all the pictures before our friends arrived. But the time flew pretty fast and I wasn't able to take any pictures because by the time we were done setting up, friends were almost arriving. The next day I re-created the table, and it was beautifully arranged as the evening before. I was lucky that some of my friends took a few pictures from the actual tasting. I'm including some in this post.
During the tasting party, we asked our friends at the end of the night to give us feedback about the event. We gave them a survey with the option to fill out the review in a sheet of paper or with QR scan code to go to the product page review and add the comment directly on Spoonabilities.com.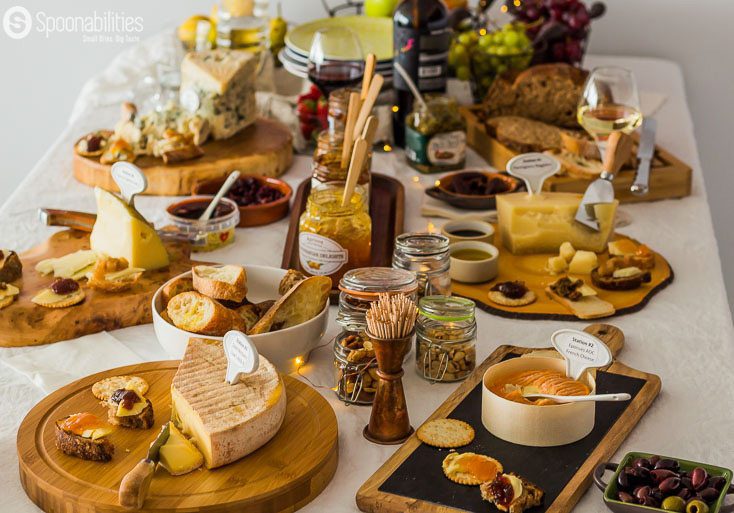 Our Wine and Cheese Tasting Party Pairing Review
The next day Geoffrey and I sat down after the photo shoot and thoughtfully tasted each combination that we suggested with the cheeses and our fruit spread, jams and tapenade. (I know, it's a tough job.) Here is our review of what worked well and what didn't.
Station 1-Parmigiano
Station 2- Epoisses AOC
Smelly soft cheese with very strong taste. Geoffrey's favorite
L'Epicurien Apricot Preserve gets lost with this cheese.
Very Strawberry Jam is a good balanced and PERFECT Also, this is Geoffrey's favorite jam for this cheese.
Station 3- Saint Nectaire
The texture and flavor are similar to Brie.
Apricot is a good balance.
Black Fig Preserves is Carlos's favorite with this cheese. It works well together.
Station 4- Iberico
Kalamata Olive & Oregano Spread works nicely
Black Fig Preserves gave nice balance. Gives cheese a slightly sweet flavor. Delightful taste.
Very Strawberry Jam is strong for the cheese (Geoffrey). For Carlos, it was a good match
Apple Caramelized Onion spread is good match.
Best pairing was Kalamata Olive & Oregano Spread and Apple Caramelized Onion Spread
Station 5- Roquefort blue cheese
L'Epicurien Apricot Preserve - The cheese is too strong for this jam
Apple Caramelized Onion Spread is too light for the cheese
Black Fig Preserves very nice balance.
Best pairing is Fig Preserve
For me the best pairing jam for all the cheeses is the Black Fig Preserves, and the Very Strawberry Jam. We are excited for the next tasting party to find out what new combinations and matches we can create, and see if our friends love them too. By the end of our tasting process, our goal is to have our own recommended signature Spoonabilities cheese boards. We did recently put together some Charcuterie Board Ideas which we highly recommend you check out as well.
Carlos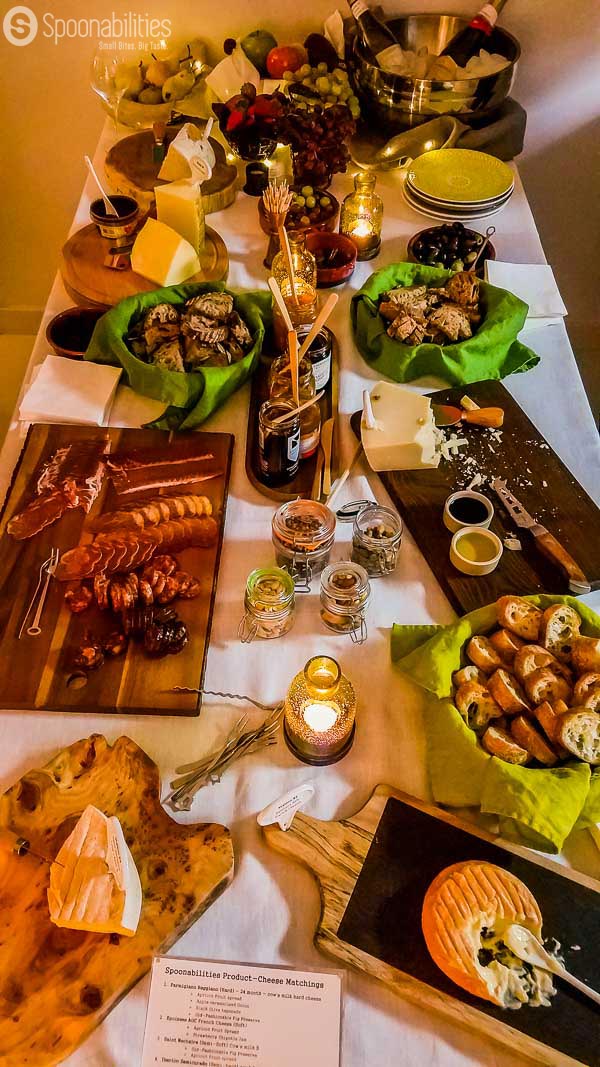 [products ids="3020,48841,41771,50241"]