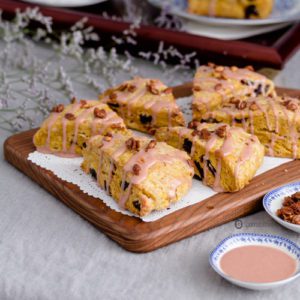 Cherry Pumpkin Scones with Blood Orange Pumpkin Spice Syrup Glaze
Yield 8 large scones
This fall-inspired Pumpkin Scone recipe is elevated with sweet & tart dried cherries. These scones are moist, soft but still slightly crumbly, and drizzled with a sweet and citrusy glaze made with blood orange and pumpkin spice syrup. The final touch is a sprinkle of roasted spiced pumpkin seeds.
Ingredients
For the Scones:
For the Glaze:
2 cups powdered sugar
2 teaSpoons finely grated blood orange peel
2 TableSpoons blood orange juice
4 TableSpoons Pumpkin Spice Syrup
[for alternative glaze, use regular orange juice, orange peal, and omit the syrup]
For the Topping of Pumpkin Spice Pepitas:
1 teaSpoon pumpkin pie spice
2 TableSpoons Pumpkin Spice Syrup
1/2 cup salted & toasted pepitas
a pinch of salt
1 teaSpoon sugar
Instructions
The day before:
In a large bowl, stir together flour, brown sugar, baking powder, pumpkin pie spice, baking soda, and salt.
Using a pastry blender, cut in the 1/2 cup butter until mixture resembles coarse crumbs.
Add dried cherries and toss well. Set aside.
In a small bowl, stir together the egg, buttermilk, vanilla paste and pumpkin.
Add the pumpkin mixture all at once to the flour mixture. Using a spatula, stir just until combined.
Turn dough out onto a well-floured surface. Knead dough by folding and gently pressing it for 10 strokes or until dough comes together and is smooth. Be careful not to overwork the dough.
Wrap the dough in plastic and keep it in the refrigerator overnight.
The next day:
Preheat oven to 425 degrees F.
Roll the dough on a floured pastry board into an 8-inch wide and 1½"-thick circle. Cut into 8 wedges.
Place scones on a large baking sheet lined with parchment paper.
Brush scones with buttermilk and sprinkle with raw cane turbinado brown sugar.
Bake for 20-25 minutes or until golden. Insert a toothpick into the center, and if it comes out clean with no wet crumbs, they are ready.
Remove scones from baking sheet. Let cool for 5 minutes before spreading with glaze.
 For the glaze:
In a small bowl, stir together powdered sugar, Pumpkin Spice Syrup, blood orange peel, and the blood orange juice until well combined.

For alternative glaze, omit the Pumpkin Spice Syrup if you don't have this ingredient, and you can also use regular orange juice and orange peal.

Spoon glaze over warm scones, spreading evenly. Sprinkle with some of the pumpkin spice pepitas and, if desired, additional blood orange peel. Serve warm.
Pumpkin Spiced Pepitas:
Preheat oven to 325 degrees F. Line a small baking pan with parchment paper; set aside.
In a small bowl combine pumpkin pie spice, Pumpkin Spice Syrup & salted & toasted pepitas; mix well to combine.
Spread the mixture in the prepared baking pan. Sprinkle with 1 TableSpoon sugar and salt.
Bake for 15 to 20 minutes or until light brown and crisp, stirring every few minutes.
Let cool on baking sheet. Makes 1 cup.
Notes
TIP: I freeze the pastry cutter and bowl to help the butter to stay cold.
Store remaining Cherry Pumpkin Scones in an airtight container for up to two days (if you don't eat them by then).
You can make the Pumpkin Spiced Pepitas the day before also
Store remaining pumpkin spice pepitas in an airtight container at room temperature for up to 2 weeks.
Use sugared pepitas on cheesecake, muffins, salads, or just to snack on.
Courses Breakfast
Cuisine British / American
Amount Per Serving

Calories 531

% Daily Value

Total Fat 16.4 g

25%

Trans Fat 0.5 g

Cholesterol 50.8 mg

17%

Sodium 270.1 mg

11%

Total Carbohydrates 90.2 g

30%

Dietary Fiber 2.7 g

11%

Sugars 54.2 g

Protein 8 g

16%
Recipe by Spoonabilities at https://www.spoonabilities.com/pumpkin-scones/