Recently we attended the Fancy Food Show, which is the biggest Food show that we have ever seen.  Even after three days of meeting potential new producers, we still had to rush through the aisles to finish before they closed. We found a lot of great products like olive oils, jams & spreads to sample, and recipes to test before announcing their inclusion at Spoonabilities.com.
Today is the first day off after the show. We didn't make any formal plans to fully take advantage of our day in New York, but we sure ended up having a fun-filled day. I woke up around 7:00 am and I went to have my first cup of coffee at a restaurant next to our hotel "The OUT NYC", which has since been closed. Being there was the perfect inspiration for me to do some reading and create our fantastic food adventure around NYC.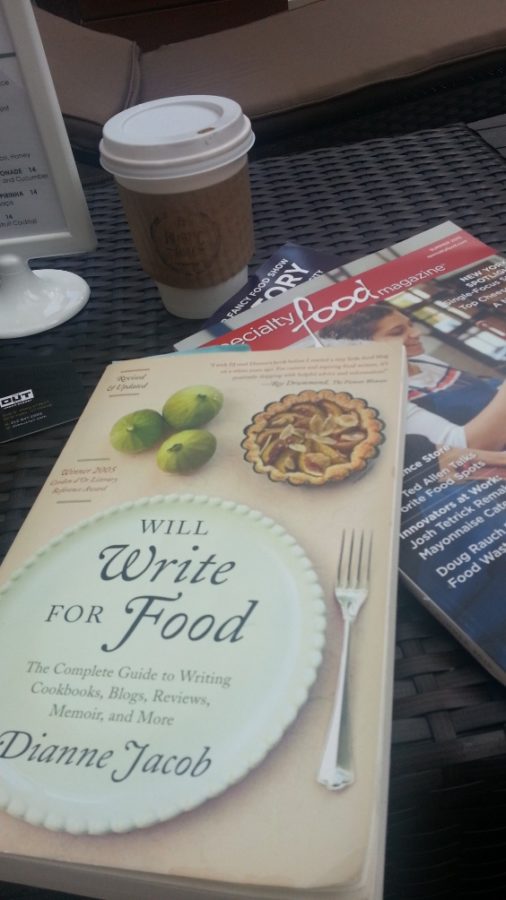 The restaurant is called Rustic Table. I am in love with their whole concept of farmhouse / vintage décor, and farm to table inspired food and processes.  I was so excited about the restaurant that I took Geoffrey for breakfast. We had a healthy & rustic meal.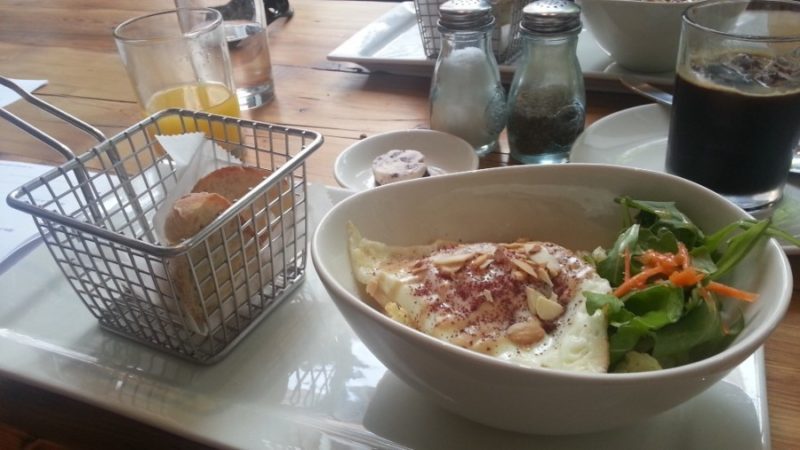 To start, I ordered a freshly squeezed orange juice and an iced Espresso. Then the main attraction arrived - "The Veggie." This was a delicious earthy dish with the light texture and flavor of the cauliflower, the richness of the potato with a very clean taste, and topped with an organic over-easy egg, complemented by raw tahini and crushed almonds.  Breaking the yolk and watching it run through the dish was an element that gave me such excitement, and it gave a buttery taste to the nutty flavor of the tahini. The second part of this bowl is the "Arugula" which gives a fresh, lightness and peppery taste to the dish.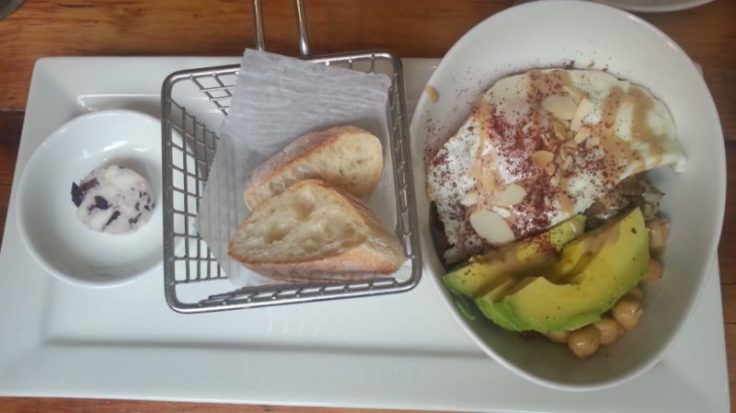 Now, Geoffrey's dish was something very different with a meaty, bold and richer taste than mine. He ordered the "Early Lunch." The base of this dish was prime brisket with a layer of chick pea and an organic over-easy egg, drizzled with raw tahini and crushed almond. In this dish, the "star power" is the Avocado.  In my opinion, you can NEVER go wrong adding extra slices of Avocado, which with their creamy and buttery taste, made all the ingredients the perfect combination within this dish.
After this amazing breakfast, we were ready to start our culinary adventure in Brooklyn, and began right in the center of the Jewish neighborhood of Williamsburg. We commenced our tour at the corner of Grand St. and Bedford Ave., and then walked north towards Berry Street on our way to Green Point.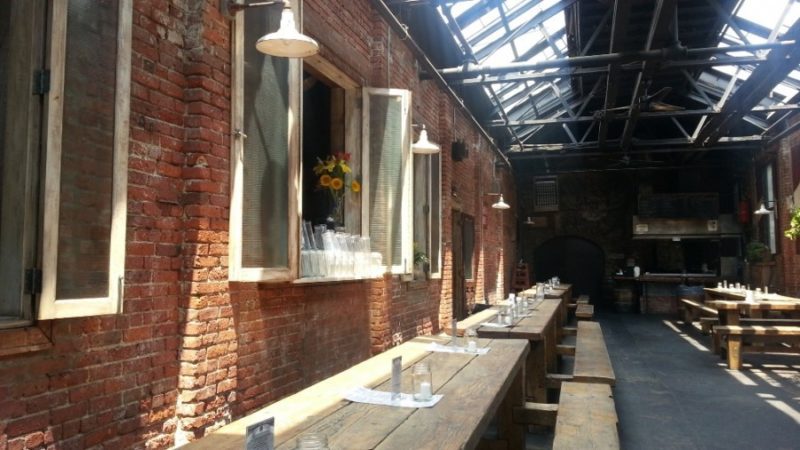 On our way there we found this amazing GermanBelgium beer hall called Radegast Hall & Biergarten.  I fell in love with the unique rustic décor, and the interesting people – which were super friendly.  YES, in NYC!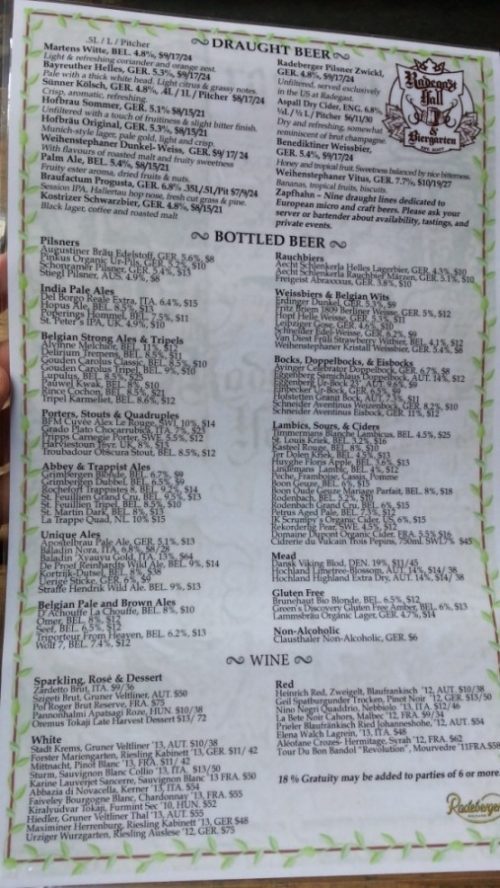 We walked up to the bar, and with so many selections, didn't know what to order.
We asked the bartender for a recommendation and he gave us 3 samples to try.  We LOVE free samples!  Carlos is the king of samples… but that is another story.  We both chose to order a Martens Witte from Belgium. Delicious!
The food area was all the way in the back of the long "beer garden," and was self-service style.  So I walked back, ordered, and came back with Kielbasa sitting on top of a bed of sauerkraut, sitting on top of French fries.  Fat free?... not so much!  The gourmet experience was in their house mustard which was a tangy mouth-watering vegetable blended mustard.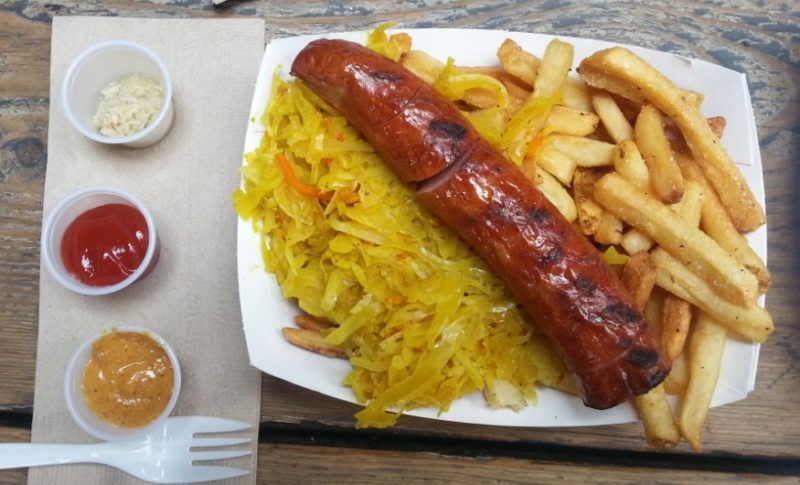 After we left the bar we continued our walk towards Green Point and decided to search for authentic Polish Pierogi. On our way there, we found this industrial looking street with very cool rustic, vintage and industrial stores and by the end of the street was the pier where the people take the East River Ferry with an spectacular view of lower east side of Manhattan.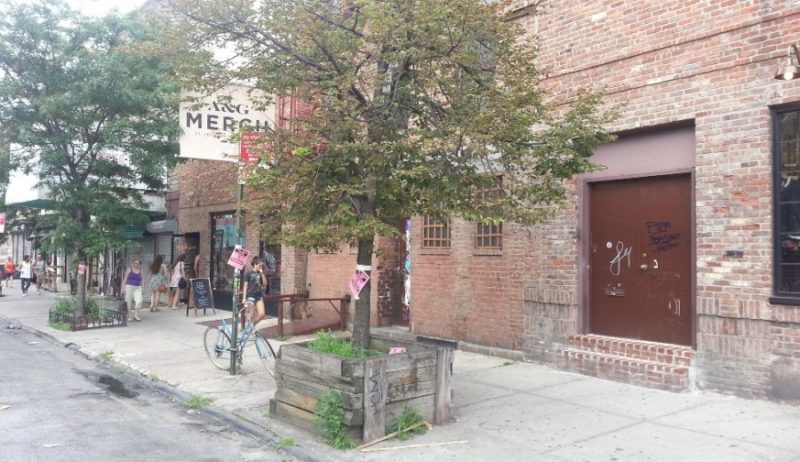 On with our search for Pierogi.  There was one place that Geoffrey found on the map, but it was way too far away. So, we decided to just walk in the right direction and see what happens. Most of the time, I don't have a sense of how the city streets are organized. We walked for over an hour trying to find an authentic Polish restaurant, but we spent most of the time walking around the area without finding what we were looking for.  Of course we didn't have a particular place in mind, so were just walking around aimlessly enjoying the city.
After this long walk we finally found this very traditional Polish restaurant call "Krakowska Relax" which when I first saw it, I thought that it was a massage parlor.  Don't you know, it was the place that we first saw on the map that was way too far away.  I guess we did walk a lot!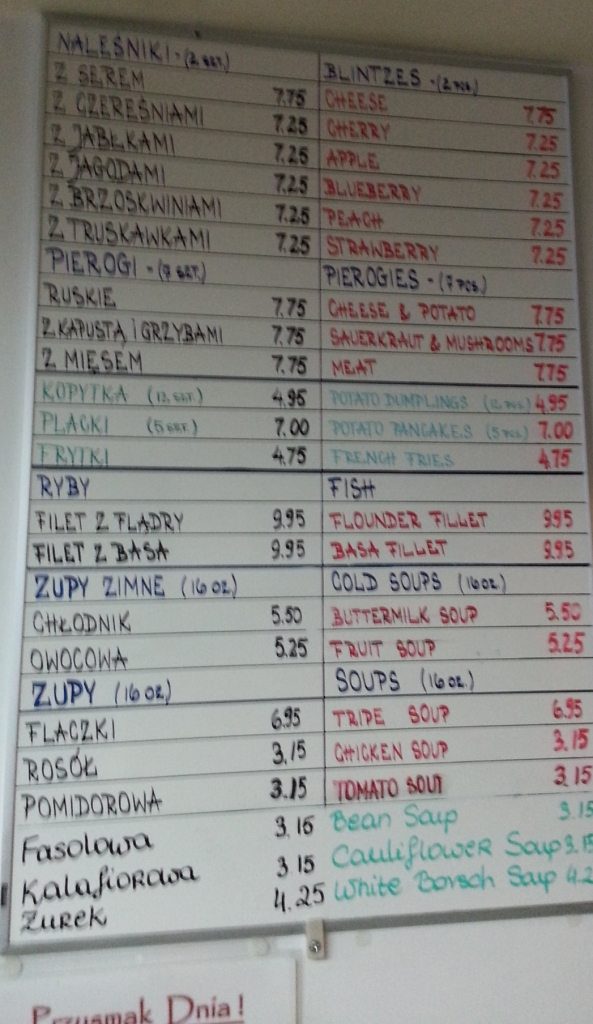 The menu was in Polish and English but the only conversations that we heard were in Polish. We were in the right place.  I told Geoffrey to take care of the food and I would get a table.  I felt as if I was in a city in Poland.  All the people around us were having conversations in Polish.  The funniest part was when the server was calling out orders that were ready to be picked up, she was only speaking in Polish.  We had no clue what food she was calling out, or when our food would be ready.  After a while, Geoffrey said "well, we just have to wait until she calls out an order and nobody else goes to pick it up. Then, it must be ours!"   That's exactly what happened.
Geoffrey picked up our food and started walking back to the table. I was thinking that he would order one plate to share, but as always - a lesson that we never learn - he ordered two plates each with 8 pirogues and a big scoop of sour cream.  The pirogues were fried with onions and pure European butter. They were delicious with crunchy crispy edges and a buttery, creamy potato and cheese filling.  Again, definitely not fat free.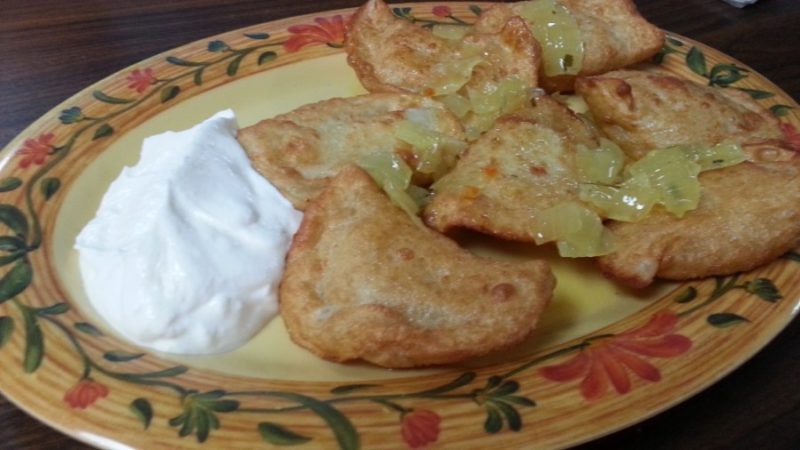 Our next stop was the neighborhood of Dumbo, with a priority stop at the Jacques Torres store to have our well deserved dessert for this long day. Geoffrey has a chocolate cookbook signed by Jacques Torres.  At one point he was thinking about becoming a pastry chef.  He still makes fabulous desserts (the few times he does) and makes great Christmas cookies every year.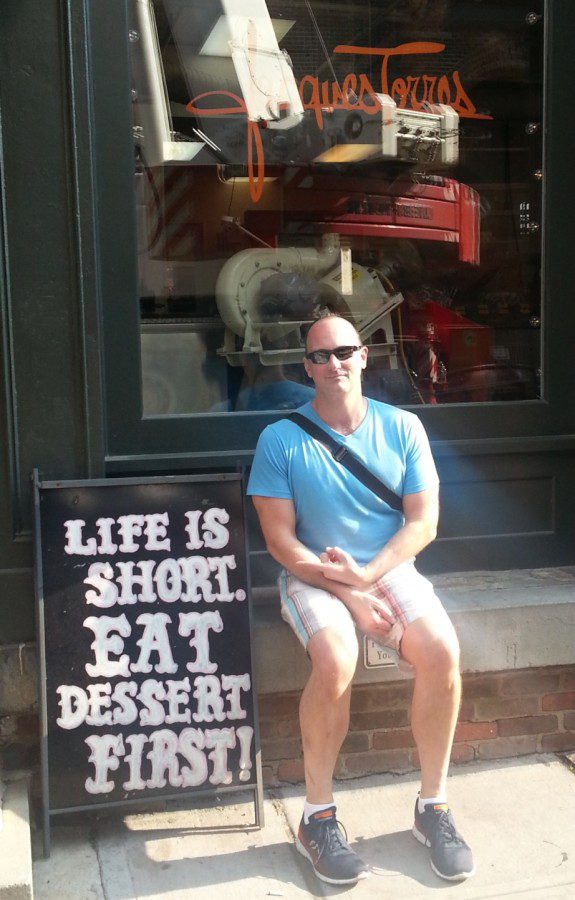 Stopping by the store was an important rest spot since we were in the area already. We ended up with 6 pieces of different flavored truffles, cookies, Cannele, and wash it all down with a hot Mocha.  Again, not fat free.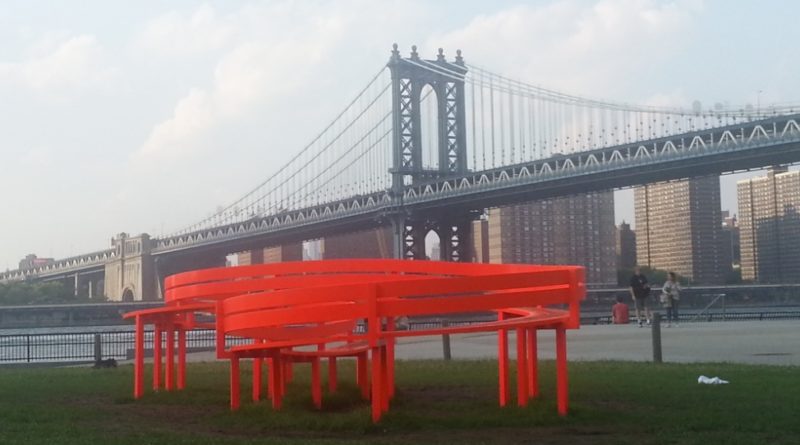 I hope you enjoyed the ride with us through our culinary tour in Brooklyn. If you would like to receive more stories of our travels, new small bites with big taste, join our newsletter "Tasty Happenings"