This Blood Orange Cocktail brings the best of our favorite citrus to your glass — the colorful blood orange. Orange flavored vodka, blood orange liqueur, fresh blood orange juice and ginger beer come together for a drink as handsome as it is thirst-quenching. We're also taking a look at the most popular blood oranges in the market, garnishes, and the difference between Solerno and Cointreau.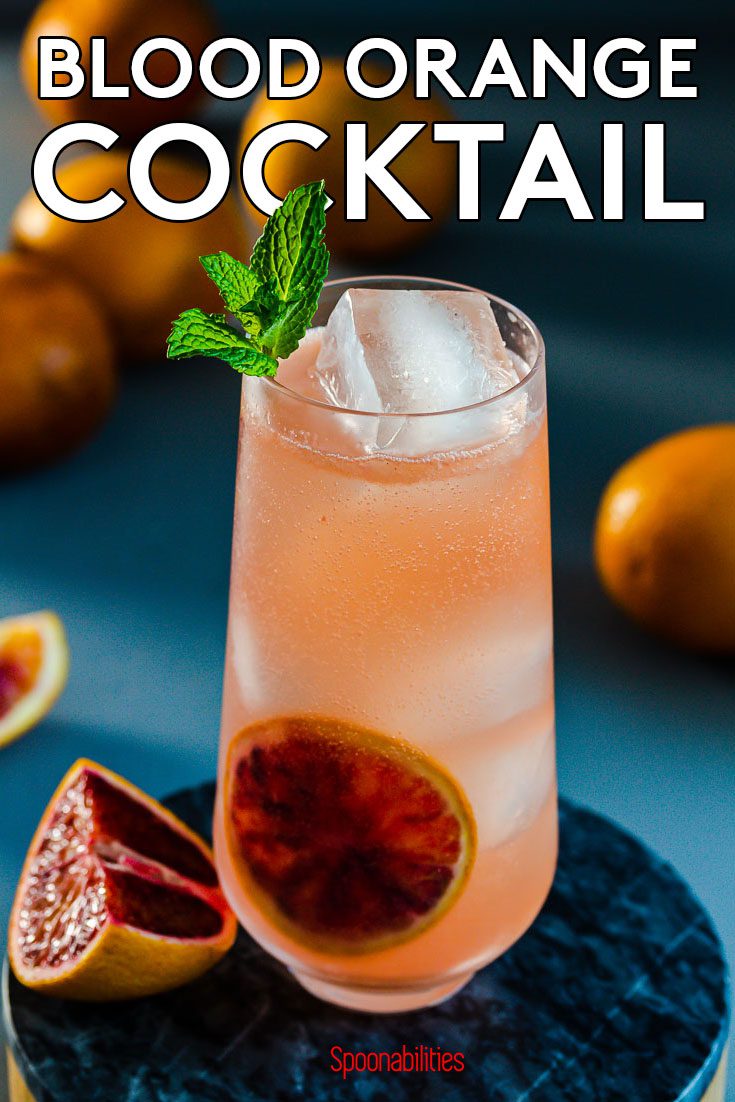 Blog post contains affiliate links. Read our Disclosure Policy.
This post is not sponsored by any product or brand.
Hello my friends. Is it 5 o'clock already? Because it's time to make another fantastic cocktail. Today, it's all about blood oranges, and that's quite special because the crimson-colored citrus fruit needs more recognition.
Super easy and fun to build, today's alcoholic drink is a celebration to the red-hued citrus fruit, and a well-deserved one. It was time the scarlet orange had a place in the bar! You and your friends will love this blood orange cocktail. It's simply perfect for outdoor get-togethers and lunch alfresco.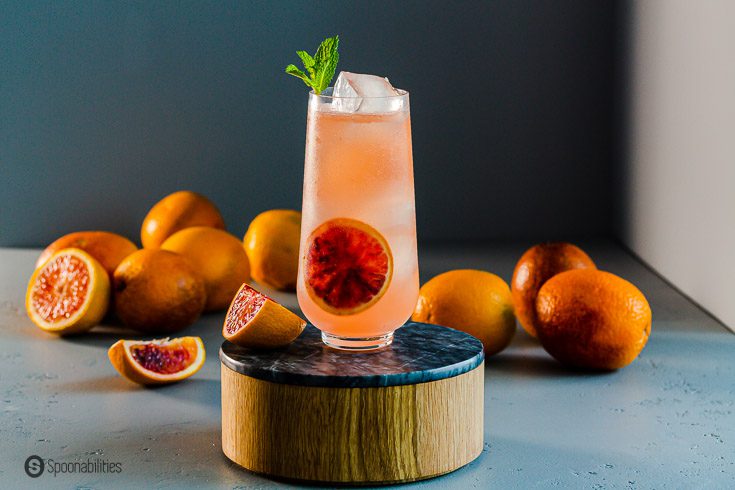 My inspiration for today's cocktail comes from the Moscow Mule, a rare cocktail breed and one hard to define. You'll find all types and flavors of the Moscow mule cocktail on the web, and they're all based on some fruit or citrus. Perhaps their most identifiable traits though, are their fizziness and the fact that they're kissed by the warm aromas of ginger.
So, when I decided to make a cocktail with some amazingly ripe blood oranges Geoffrey brought home the other day, I knew I had to marry the sweet and tangy fruit with some ginger beer I've been waiting to use. Let's take a closer look at today's recipe.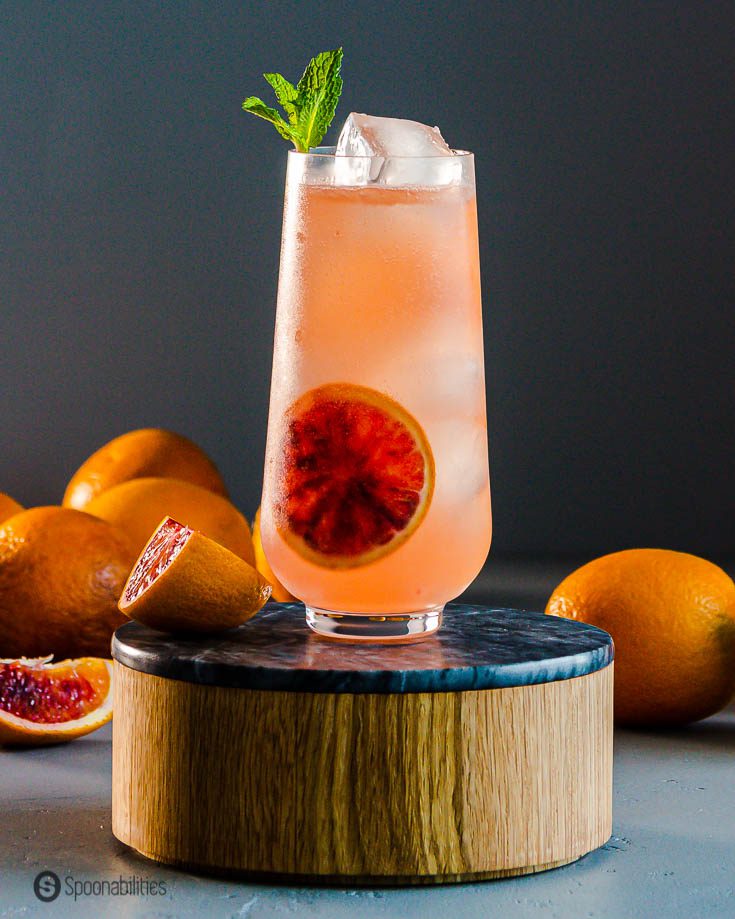 How to Make a Solerno Blood Orange Cocktail
It all starts with fresh blood orange juice. This is the soul of the drink, and we'll amp it up with some Stoli Ohranj vodka.
A while back we discovered this awesome blood orange liqueur called Solerno. It's made with native Sicilian Sanguinello blood oranges, and it's one of our go-to liqueurs these days!
Some simple syrup and a splash of lime juice balance things out, and then we'll top our drink with ginger beer for the most refreshing blood orange drink ever.
Note: Make sure you add the ginger beer after mixing your drink in a shaker. Add it before shaking, and your shaker's cap will pop up making a complete mess. Trust me on this one.
Like this recipe so far? Be the first to know when we release new ones!
---
How to garnish your Blood Orange Cocktail
Elevate your cocktail with the right garnish. The most appropriate way to garnish your drinks is to use whatever flavor is in the cocktail, but you never go wrong using fresh herbs like mint. I'm using a slice of fresh blood orange inside this citrus cocktail, and a sprig of mint on top, but you can cut it in wedges. I also love to use dehydrated blood orange slices. Dehydrating fruits is a great way to preserve fruits like blood orange that has a short season, and you can enjoy all-year-round garnishing your cocktails.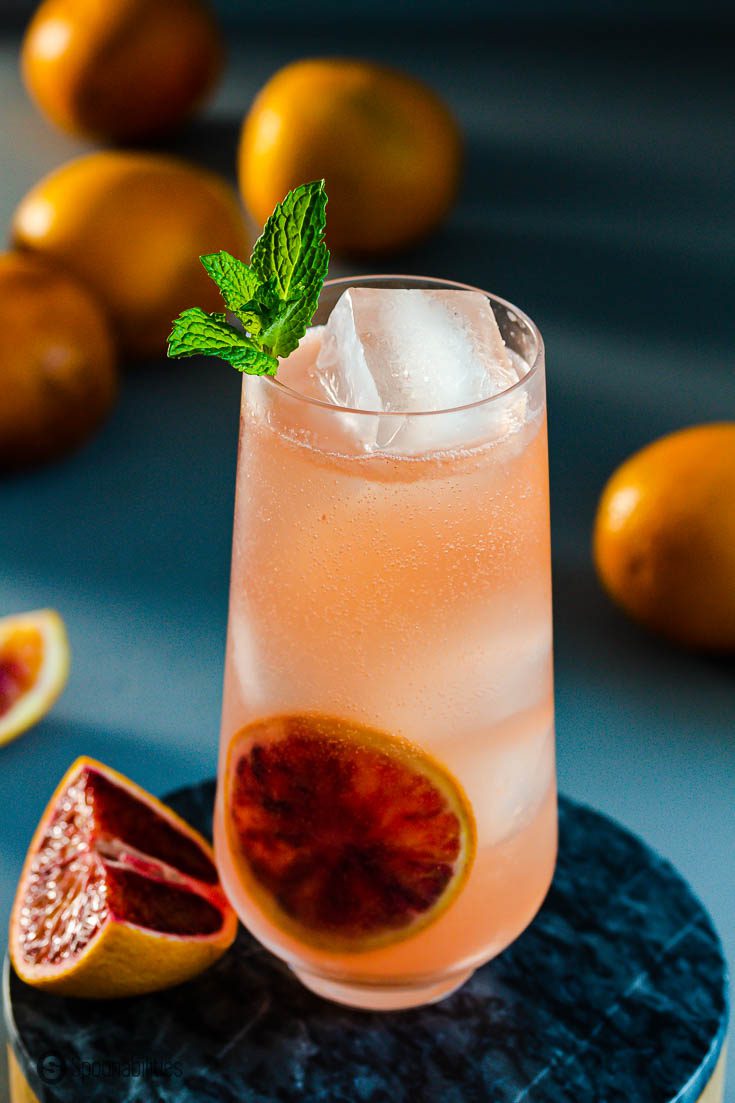 Learn some more about Blood Oranges
Location: Blood oranges are native to Southern Italy, and they're particularly found in Sicily.
Color: What gives these fruits their red hue? Although not usually found in citrus fruit, blood oranges contain lycopene and anthocyanins, pigments commonly found in many flowers and other non-citrus fruits.
Benefits: Blood oranges also are packed with powerful, healthy antioxidants that have anti-inflammatory properties to help fight heart disease and prostate cancer, and to decrease the risk for stroke and macular degeneration.
Taste: Although somewhat difficult to describe, the flavor of blood oranges is a cross between an orange and a raspberry.
Types: There are three main types of blood oranges out there:
Moro. These are the darkest and most intensely flavored blood oranges, native to Sicily. They can be so red they look almost black, and they're the most bitter blood oranges too.
Sanguinello. This noble Sicilian variety is widespread in Spain and grows nicely in the US too. Bright red and sweet, sometimes they have a dreamy sunrise color gradient. The Solerno liqueur we're using for our cocktail is made with Sanguinello blood oranges.
Tarocco. This blood orange is not as brightly colored, and it's harder to find, but it's the sweeter of the bunch. This one is often seedless, which makes it prettier when dehydrated or used as a garnish.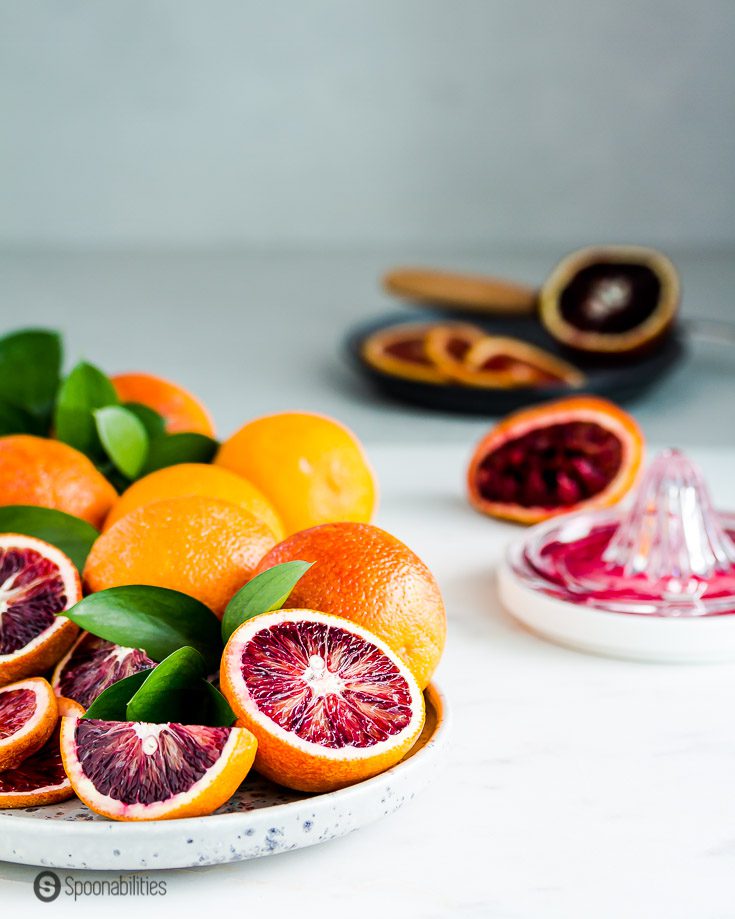 What is Ginger Beer?
Ginger beer is a soft drink and the grown-up version of ginger ale with a more adult flavor profile. Ginger beer is not fermented like other beers but is instead carbonated. This ginger beer typically contains less than 0.5 percent alcohol and is not classified as an alcoholic beverage. Ginger beer is an excellent mixer for cocktails, and as mentioned, one of the most famous ginger beer cocktails out there is the Moscow mule. Today's blood orange cocktail leans toward a "blood orange Moscow mule" but is over the top better.
Difference between Solerno Blood Orange Liqueur vs Cointreau Orange Liqueur
First of all, Solerno is ultimately the only blood orange liqueur in the world. Any other blood orange alcohol you find will actually be blood orange "flavored". Solerno liqueur is made from citrus distillates in which blood oranges and zest are macerated, while Cointreau is made from regular orange peel. The alcohol level of Solerno is 59.8%; Cointreau, an orange liqueur made from sweet and bitter orange skins, is 40%. Triple sec, a liqueur made from orange skins, ranges in alcohol content from 15% to 30%, depending on the brand.
Want to try more Blood Orange Cocktails?
We are building a collection of the best cocktail recipes using Solerno blood orange liqueur and so far, we have the following:
Now we're ready to make ourselves some colorful, citrus based cocktails - Blood Orange Cocktails - an homage to the blood orange. Try it, and you might never want to use regular oranges in your drinks again!
I hope you get a chance to make this Blood Orange Cocktail with Ginger Beer. Did you make this or another recipe? Tag @Spoonabilities on Instagram or add a photo or comment on Pinterest, so we can find you! And we love to hear from you in the comment section below.
Carlos Leo
Your Recipe Concierge!
Print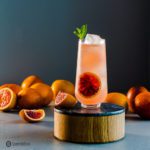 Blood Orange Cocktail with Ginger Beer
---
Author:

Carlos Leo

Total Time:

5 minutes

Yield:

2

cocktails

1

x
Description
A refreshing blood orange cocktail with blood orange juice, Solerno Blood Orange Liqueur, vodka, and ginger beer! An easy to build, beautiful and restoring cocktail.
---
2

oz

Stoli Ohranj vodka

2

oz

fresh blood orange juice

1

oz

simple syrup

1

oz

fresh lime juice

8

oz

ginger beer
---
Instructions
Shake ingredients except ginger beer with ice in a bar shaker.
Strain into two tall glasses over fresh ice, fill with ginger beer, and stir to incorporate.
Garnish with a blood orange slice and a fresh spring of mint.
Equipment
Notes
We partner (affiliate links) with Drizly delivery service, so if you don't have the alcoholic ingredients you can have them delivered.
Drink responsibly. If you are under the legal drinking age limit for your state or country, this recipe is not for you. Sorry.
Prep Time:

5 minutes

Category:

Cocktail

Method:

Shake

Cuisine:

International
Keywords: ginger beer cocktail, blood oranges, orange juice, vodka cocktail, Moscow mule, refreshing cocktails,
Recipe Card powered by
Available via these affiliate links:
Disclaimer: Links that open in another site, i.e. Amazon, may be affiliate links where at no additional cost to you, as an Amazon Associate I earn from qualifying purchases, should you decide to purchase the item. Read our Disclosure Policy.