Blood Orange Vodka Soda is a unique, light, and refreshing cocktail that is a balance of vodka, Solerno blood orange liqueur, elderflower liqueur, and club soda. Read on to find out the unusual place we found it, how to make it, and some pro tips to play with the color and sweetness of this alcoholic drink.
Hello friends. Today we are sharing with you a new cocktail that we discovered this year at the movies. Yes, I said cocktails at the movies. About a year ago, a new movie theater opened up in downtown Miami called Silverspot Cinema. It is a very posh, VIP film and food experience. We knew it would be splurge because it's not cheap. But we said we would go and check it out as a treat. Well, we got spoiled and it's the only movie theater we go to now. They have 18 theaters, about six on each 3-story theater-bar-food area, within a nine story complex. So no matter what movie you are seeing, you feel like you are in your own little VIP area. The "lobby" of each floor includes food you can order with a waiter or at the counter, personal tables to eat, and a full bar with specialty drinks. Inside the theater, the seats are huge, soft-cushioned chairs that recline all the way back, and waiters are available to take your order and bring your food to your seat. Now you see how we got spoiled.
Video How to make Blood Orange Vodka Soda Cocktail
Trilogy Classic becomes the Blood Orange Vodka Soda Cocktail
The first time we went, we walked up to the bar and ordered their signature cocktail called the Trilogy Classic. It was composed of vodka, blood orange liqueur, elderflower liqueur, and club soda. We never had blood orange liqueur before and loved it. We asked the bartender what it was and he showed us the bottle, and of course we took pictures of the drink menu so we knew what was in the drink. We've made it a few times here at home and perfected it enough to share with you now as the Blood Orange Vodka Soda Cocktail.
What is Blood Orange Liqueur?
Once we discovered there was such a thing as "blood orange liqueur," we did some investigating and testing (drinking). Blood oranges are something that Carlos has been intrigued by, often searches for, and buys whenever he finds them. He's already made Cherry Pumpkin Scones with a drizzle of blood orange & maple syrup glaze, Vodka Blood Orange Cranberry Martini and a Solerno Cocktail called the Blood Orange Star Ruby, and Blood Orange Margaritas which we will be sharing with you at a later date. So when we had this Blood Orange Vodka Cocktail, we knew we had to make it at home and eventually share with you.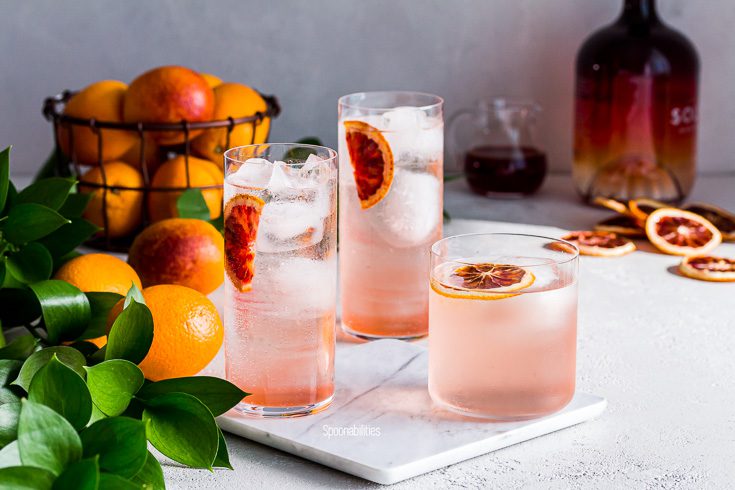 Solerno is made in Sicily (Italy) and is the world's original blood orange liqueur. As far as we can tell, it is the only blood orange liqueur in the world. Cointreau now has a blood orange version, but it is not a substitute for Solerno. It's just a blood orange Cointreau version. Solerno is a premium liqueur made in small batches from Sicilian Sanguinello blood oranges in three separate copper still distillations. The first distillation is the meat of the Sanguinello orange, the second is the orange's zest, and the third distillation is Sicilian lemons which helps give the liqueur balance. Solerno is clear in color, has a full body, and an intense sweet blood orange flavor.
Like this recipe so far? Be the first to know when we release new ones!

Making a Blood Orange Vodka Soda
Making the cocktail is fairly easy. All you need is 2oz vodka, 1oz elderflower liqueur, 1oz blood orange liqueur, and 4oz club soda. Just pour all the alcohol and club soda in a glass with ice and stir. Then you can garnish with either a dried or fresh slice of blood orange, or regular orange if you don't have real blood oranges. It's that easy.
PRO TIP #1: Adding color to the cocktail
The color of the drink will be clear. The blood orange liquor is not really an orange color. However, to get a nice pink or orange color to the drink, add some blood orange juice, or you can use regular orange juice. Just make sure you strain the juice so you don't get any pulp. You will need to experiment a little to see what color you want your final cocktail to look like. For these pictures, Carlos just used about 6-7 drops – maybe half a teaspoon of blood orange juice. I think that created a wonderful light color.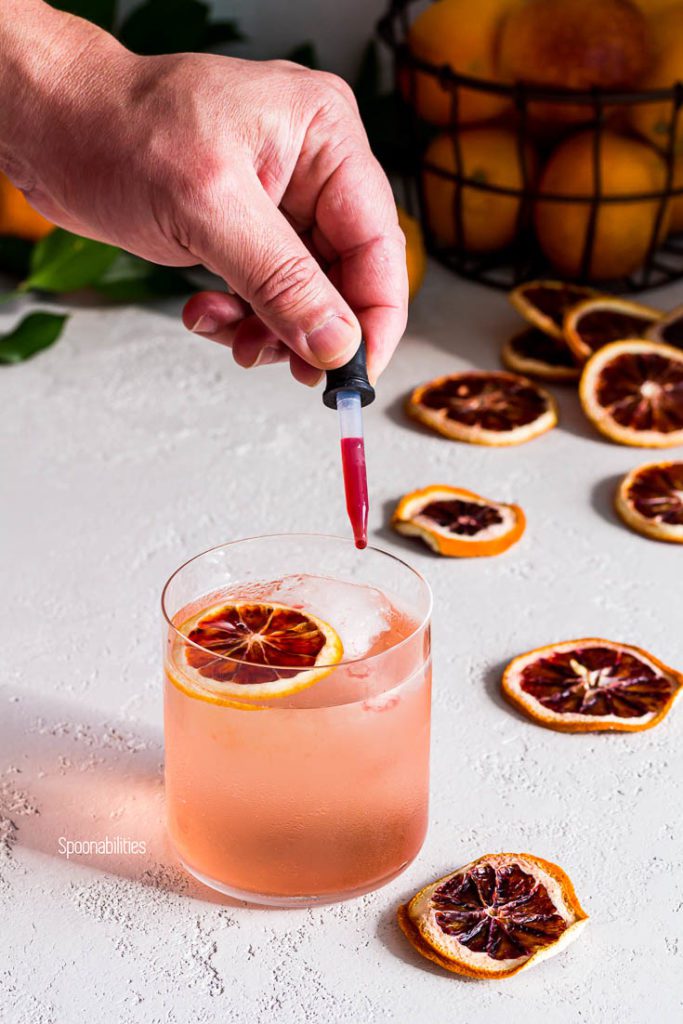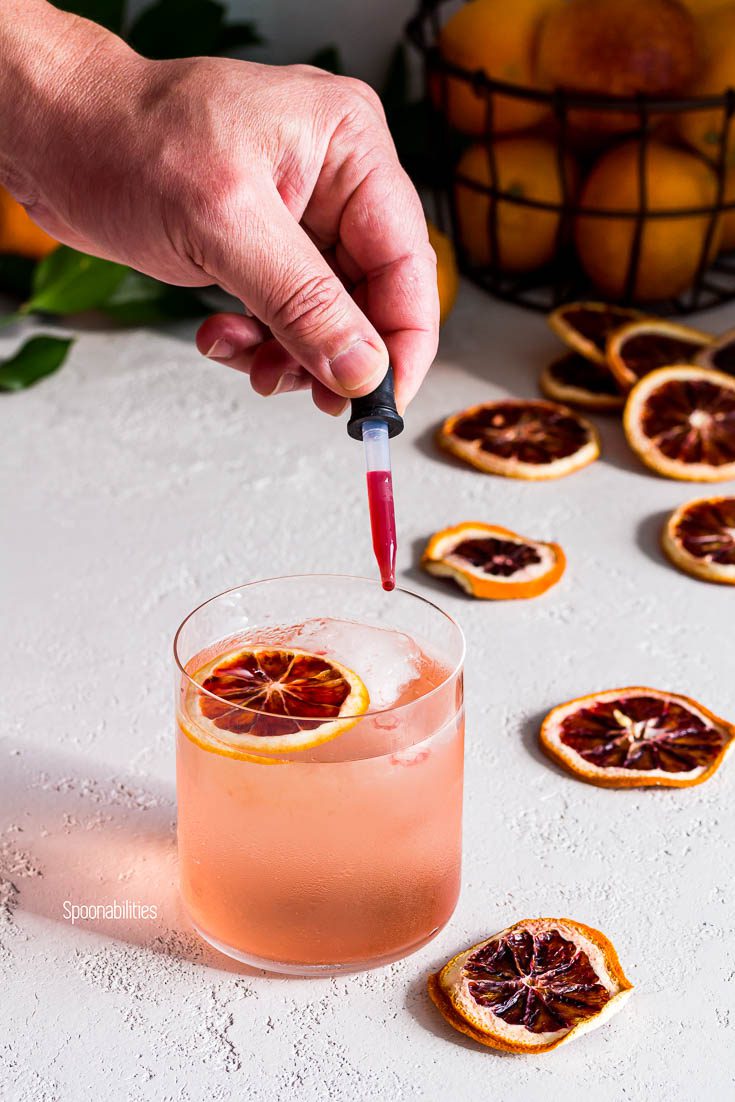 PRO TIP #2: Adjusting the sweetness
If you like your drinks a little on the sweet side, instead of club soda you can use lemon-lime soda (aka Sprite or 7-up), or a combination of club and lemon-lime soda.
What else can you make with Blood Orange Liqueur
As I mentioned earlier, we made a Blood Orange Margarita which we will share at a later date. Solerno is perfect in the margarita, as well as in a cosmopolitan, or mixed with prosecco. Try it as a substitute in any of your favorite cocktails where another (regular) orange liqueur such as triple sec, Grand Marnier, or curacao is called for. Let me know in the comments what your favorite cocktail is that you will make with blood orange liqueur.
The Blood Orange Vodka Cocktail is a wonderful, refreshing and unique drink that will perk up your taste buds. Although you will want to savor every sip, you definitely will want a second round. Luckily with this recipe you can make this at home and have as many rounds as you like. Be sure to invite some friends.
Wishing you Tasty Happenings,
Geoffrey
Looking for more Vodka based Cocktails?
Here are a few related recipe ideas you might enjoy:
Print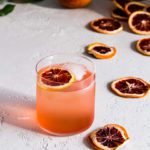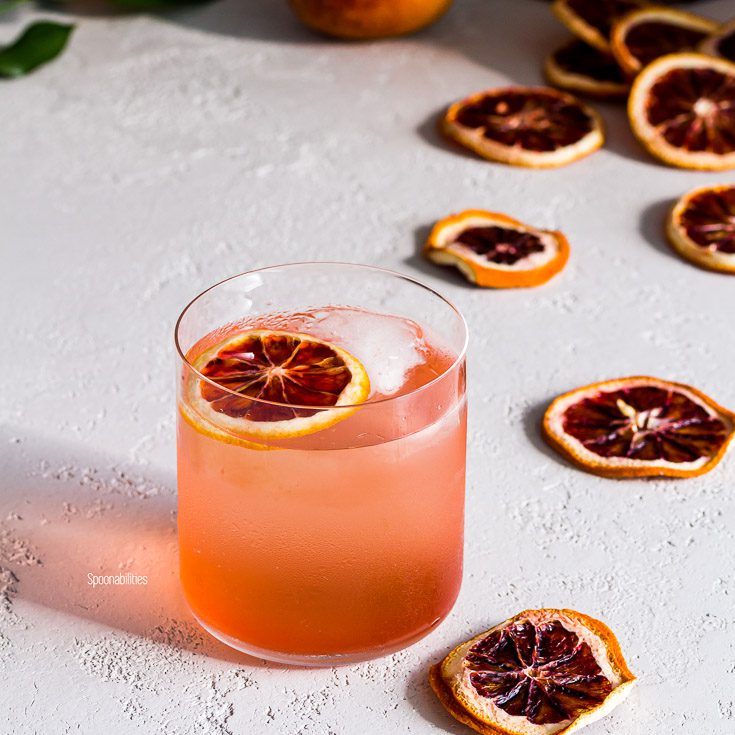 Blood Orange Vodka Soda Cocktail
---
Description
Blood Orange Vodka Soda is a unique and refreshing cocktail that is a balance of vodka, Solernoblood orange liqueur, elderflower liqueur, and club soda. Read our recipe post for where we found it (a movie theater), how to make it, and some pro tips to play with the color and sweetness.
---
---
Instructions
Pour all the ingredients in a tall glass with ice and stir.
Garnish with dried blood orange or fresh blood oranges.
Equipment
Notes
For sweeter version, instead of soda use lemon-lime soda, or half soda and half lemon-lime soda
If you have fresh blood oranges, squeeze some strained juice into the drink for color. The more juice the darker the color
Prep Time:

2 minutes

Category:

cocktail

Method:

mixing

Cuisine:

Cocktail
Keywords: easy cocktail, Solerno cocktails, alcoholic drink, blood orange flavor cocktail
Recipe Card powered by
Available via these Amazon links:
Disclaimer: Links that open in another site, i.e. Amazon, may be affiliate links where at no additional cost to you, we may receive a small commission should you decide to purchase the item. Read our Disclosure Policy.