Prickly Pear Margarita is an easy twist on the classic. The agave-based drink gets yet another cactus ingredient with homemade prickly pear syrup, and it's delicious! Learn how to make this fruity margarita on the rocks, a frozen margarita, and a big batch pitcher of this tasty warm-weather drink.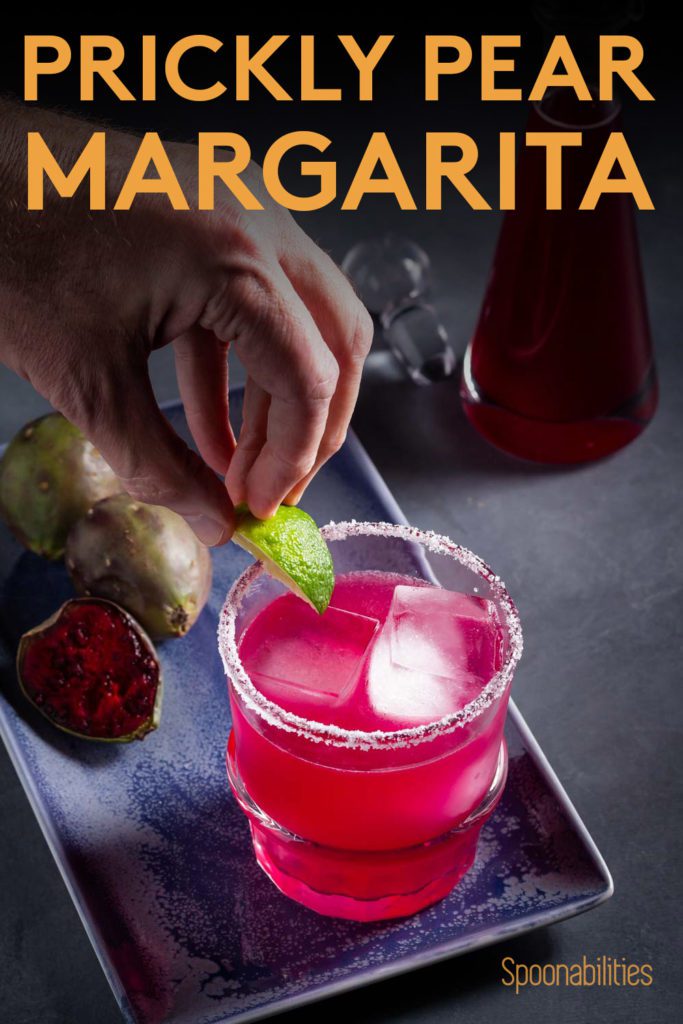 Hello my friends. Just when I thought I knew the margarita well, this most famous tequila-based drink found yet another new way to surprise me. Today we pay homage to the agave spirit, this time with the fruit of a cactus. Prickly pears are these exotic, spiny fruits that look like something you don't want to grab with your bare hands, and you really shouldn't unless you know what you're doing!
The fruit's thorny personality might make it look a bit hostile, but that's no reason we shouldn't add it to our cooking repertoire, particularly in the mixed drink department. Yes, prickly pears are unlike any other fruit, but they're delicious. And once I distilled their flavor as an easy-to-make prickly pear syrup, a world of possibilities opened, including making these prickly pear margaritas.
Watch How to Make a Prickly Pear Margarita Video
What goes into a Prickly Pear Margarita?
This might be an exotic version of the Mexican classic, but it's still very much a margarita, so you'll need tequila.
I've been asked, what is the best tequila for margaritas? I've realized the best Tequila is Blanco or white tequila since there's no place for oaky scents in such summery drinks. Instead, you want that agave aftertaste permeating your cocktail. Then, you want a tequila that's not overly expensive, but not cheap either. As long as it's made 100% with agave, you'll be just fine.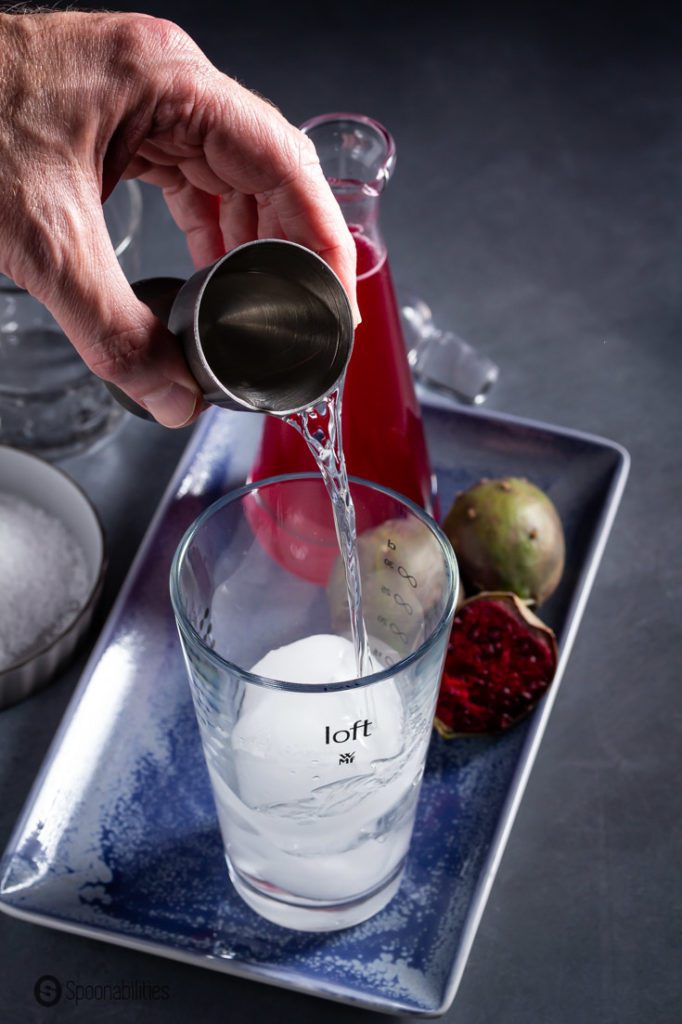 Then you need orange liqueur (aka triple sec), and for this one, my favorite is the French Cointreau; it's not only deliciously citrusy but also boozier than most other alternatives, just saying.
Of course, you'll also need freshly squeezed lime juice, sea salt for the rim of the glass, and today's secret ingredient: prickly pear simple syrup. And the cool thing about this syrup is that it's straightforward; just prickly pears, sugar, water, and a splash of lime juice. Check the prickly pear syrup recipe and watch the video on how to cut the prickly pear cactus fruit correctly so you don't hurt your fingers.
Like this recipe so far? Be first to know when we release new ones!
How to make Prickly Pear Frozen Margaritas?
Making frozen margaritas doesn't get any simpler than this... just throw all the ingredients as per the recipe card in the blender with ice and as easy as that you have a frozen margarita in seconds.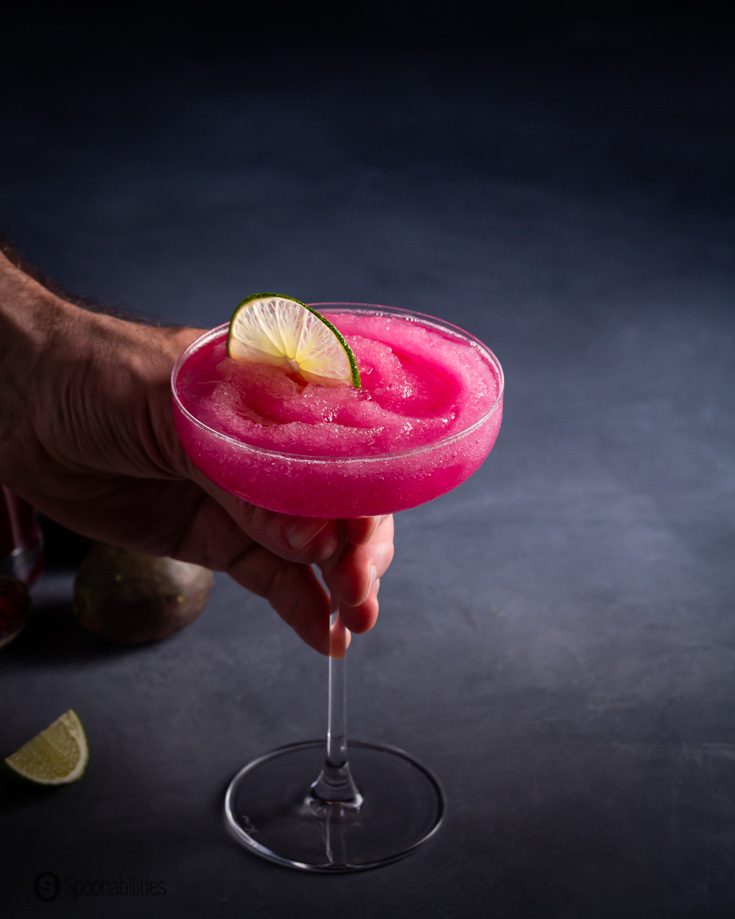 Should you make a Round of Margaritas or a Whole Pitcher?
Let me know if this sounds like you. You put together an inventive cocktail or learn a new recipe online and have some friends over for a round of drinks. All is fun and games until you tire of playing the bartender role. Well, that's when you make a pitcher.
And don't get me wrong, there's nothing like making individual cocktails in a cocktail shaker; you can't beat that. But making a pitcher will save you some trouble, and it's a better alternative for when you're entertaining a large thirsty crowd.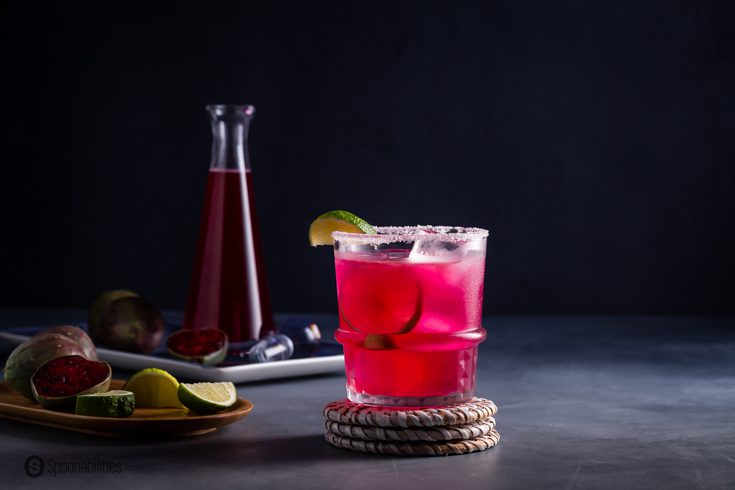 Below, you'll find out how to make a par of prickly pear margaritas, and how to make a pitcher in minutes. Not all cocktails are pitcher material, though. I wouldn't make a pitcher of martinis, but the margarita is noble like that; it's meant to be shared in large volumes!
I hope you get a chance to make this Prickly Pear Margarita. Did you make this or another recipe? Tag @Spoonabilities on Instagram or add a photo or comment on Pinterest, so we can find you!
And we love to hear from you in the comment section below.
Carlos Leo
Your Recipe Concierge!
Want More Recipes?
Here are a few related recipe ideas you might enjoy:
Print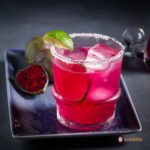 Prickly Pear Margarita recipe
---
Author:

Carlos Leo

Total Time:

5 minutes

Yield:

2

1

x
Description
Make a prickly pear margarita with the classic ingredients of Tequila, Cointreau, and lime juice, along with a very special homemade prickly pear syrup.
---
---
Instructions
Prepare glasses by rubbing a lime wedge around the edge of your glass. Dip in sea salt to coat, and fill with ice.
Add tequila, Cointreau, freshly squeezed lime juice, and prickly pear syrup to a cocktail shaker filled with ice.
Shake for 30 seconds.
Strain into your prepared margarita glasses.
Garnish with a lime slice and serve.
Notes
For a pitcher: Use 2 cups tequila, 1 cup Cointreau, ½ cup lime juice, and 1 cup prickly pear syrup
For frozen margaritas: Add ice to the above ingredients and blend
We partner (affiliate links) with Drizly delivery service, so if you don't have the alcoholic ingredients, you can have them delivered.
Drink responsibly. If you are under the legal drinking age limit for your state or country, this recipe is not for you. Sorry.
Prep Time:

5 minutes

Category:

Cocktail

Method:

Shaken

Cuisine:

Mexican
Keywords: classic margarita, frozen margaritas, margarita pitcher recipe, margarita recipe, tequila drinks, tequila cocktails, Fruity Cocktail
Recipe Card powered by
Suggested Ingredients & Equipment
Links that open in another site, i.e. Amazon, may be affiliate links where at no additional cost to you, as an Amazon Associate we may earn from qualifying purchases, should you decide to purchase the item. Read our Disclosure Policy.