Prickly Pear Syrup is one of those homemade ingredients you didn't know you needed. Awesome simple syrup for both refreshing non-alcoholic drinks and artisan craft cocktails, this four-ingredient recipe is incredibly versatile. You'll also learn a few things about this spiny fruit.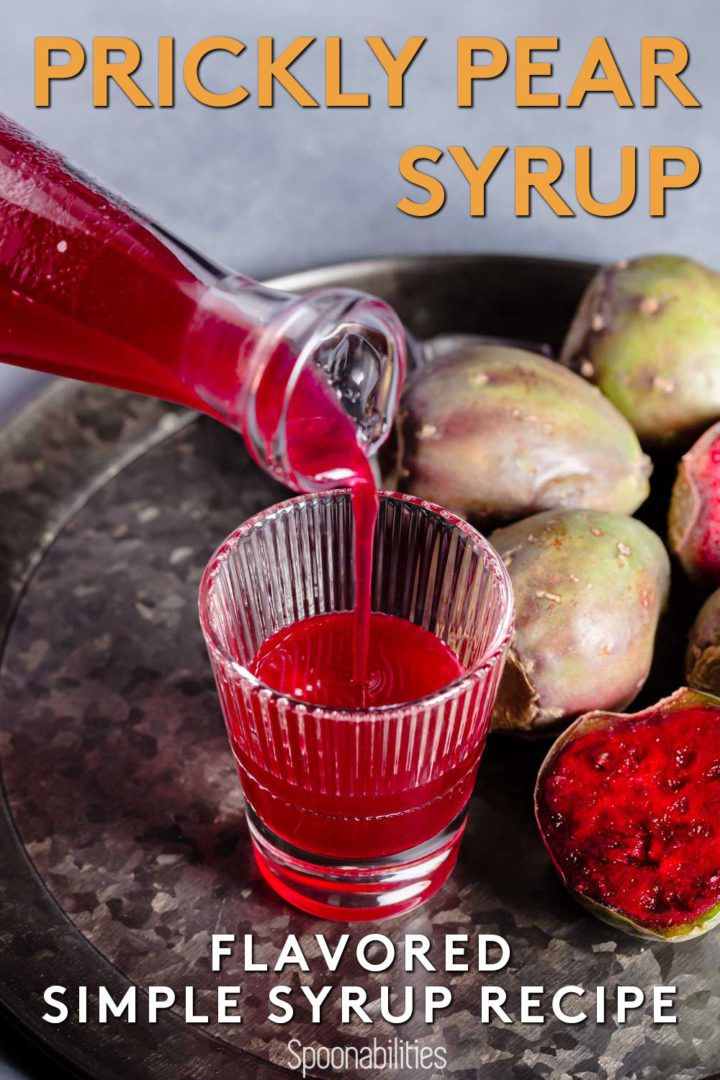 Hello my friends. Prickly pears are amongst the most misunderstood fruits out there. First, because they're spiny, most people are scared to mess around with them. Second, because they have a unique taste! So, how to use them?
A good way of using prickly pears is making prickly pear syrup, which has a longer shelf-life. And if you're wondering what to do with prickly pear syrup, it makes some mean prickly pear margaritas and a refreshing prickly pear sparkling lemonade.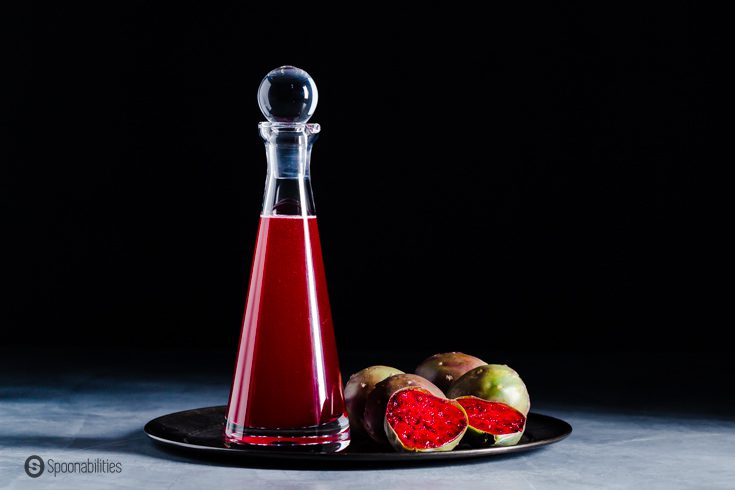 So, what are prickly pears? How do prickly pears taste like, and why do you want to add them to your cooking repertoire? Here's all you need to know.
What is Prickly Pear Fruit?
Native to Mexico's arid landscape, prickly pears are even featured in the country's flag. These thorny produce are the fruit of the prickly pear cactus. You can eat the plant's fruit, but also its juicy, thick pads — those are the famous nopales (fantastic with scrambled eggs, by the way).
Prickly pears, known as 'tunas' in Mexico, are in season in summer and are readily available at Latin supermarkets between June and September. But don't go grab them with your bare hands; each fruit has dozens of prickles with hundreds of hair-like thorns that can irritate your skin. Yes, this is a fruit that fights back, but they're worth the trouble, and as long as you learn how to handle them, you'll be okay. Trust me, you'll learn this one fast!
Drooling over this recipe? Be first to receive new recipes!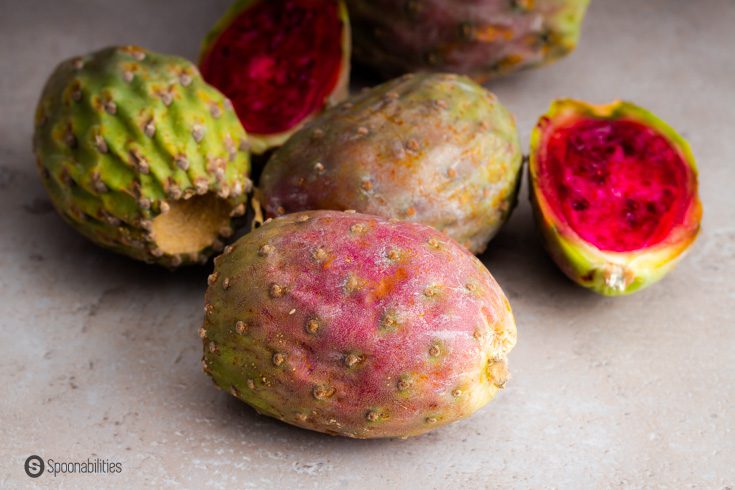 How to Cut a Prickly Pear
If you don't grab a prickly pear as if it would a regular pear, you'll be all right. There are thorns in the fruit's hard peel, but there's always enough room to grab them with your thumb and index finger safely. To cut a prickly pear, you can use several methods. For the recipe below, I grabbed the fruit with a tong and sliced it in half; then, scooped out the delicious pulp.
A traditional way of cutting prickly pears involves cutting the fruit's top and bottom to allow it to stand on the cutting board and making a vertical cut to strip the fruit from its hard skin like a jacket. It peels right off! Folks in Mexico's countryside will just rip the fruit open with their fingers though. And they have no superpowers; they've just learned how to grab them without even looking.
Some FAQs about Prickly Pears
How do prickly pears taste?
For starters, they're watery like watermelons and have hundreds of tiny seeds, which are totally edible and good for digestion. As for the taste, they're somewhat citrusy and beautifully sweet.
How to Use Prickly Pears?
Prickly pears or tunas are just noble fruits. Just peel them and eat them as if they were apples — they're incredibly refreshing. Keep in mind the immense amounts of tiny seeds might be hard to overcome, but it's no biggie. Forget about all-bran cereal; this is dietary fiber right here!

You can also make prickly pear 'Agua Fresca' by blending the fruit with sugar and water or make a fantastic prickly pear syrup with the recipe below to craft a range of summery drinks.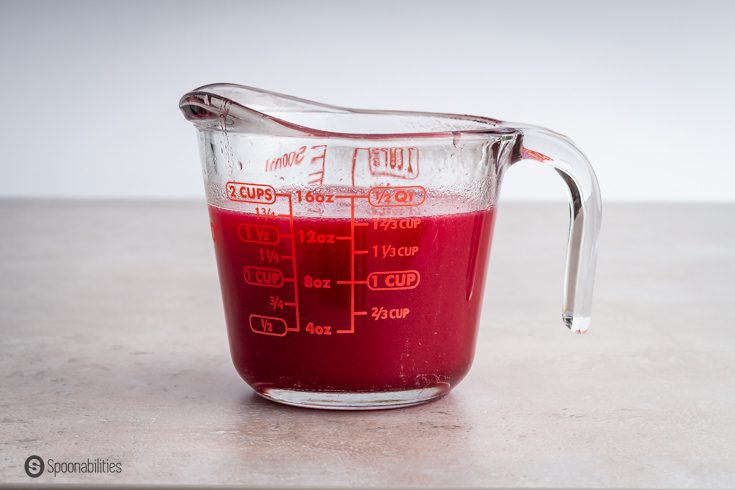 By the way, this syrup will stay fresh for up to 7 days in the fridge, but I guarantee you'll go through a whole batch in a week especially if you make margaritas with it.
I hope you get a chance to make this prickly pear syrup. Did you make this or another recipe? Tag @Spoonabilities on Instagram or add a photo or comment on Pinterest, so we can find you!
And we love to hear from you in the comment section below.
Carlos Leo
Your Recipe Concierge!
Want More Recipes?
Here are a few related recipe ideas you might enjoy:
Print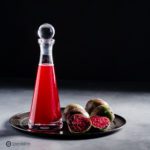 Prickly Pear Syrup
---
Author:

Carlos Leo

Total Time:

40 minutes

Yield:

1

4

1

x
Description
Don't know what to do with those gorgeous, spiny prickly pears? See how to make homemade prickly pear syrup that is a versatile, citrusy syrup with many uses. Margaritas anyone?
---
1 cup

prickly pear fruit pulp

1

-

½

cups water

1 cup

white sugar

5 Tablespoons

lime juice
---
Instructions
Hold the dethorned prickly pears with a tong, and cut them in half with a knife. With a spoon, scoop out the fruit pulp.
Place the prickly pear pulp in a medium saucepan with the sugar and water.
Bring to a gentle boil, then reduce the heat to medium-low and simmer for about 30 minutes.
Remove the saucepan from the heat and let it cool.
Add the syrup mixture into the blender, and blend until smooth.
Pour the blended mixture through a fine-mesh strainer into a sealable container. Add the lime juice and stir to combine.
Seal the container and place it in the refrigerator to chill.
Notes
Use this syrup to make cocktails, juices, or homemade sodas.
Prep Time:

10 minutes

Cook Time:

30 minutes

Category:

Drinks

Method:

Simmer

Cuisine:

Mexican
Keywords: prickly pear, cactus fruit, tunas, simple syrup, fruit syrup, Mexican recipe, prickly pear cactus
Recipe Card powered by
Available via these affiliate links:
Disclaimer: Links that open in another site, i.e. Amazon, may be affiliate links where at no additional cost to you, as an Amazon Associate I earn from qualifying purchases, should you decide to purchase the item. Read our Disclosure Policy.