Mango Piña Colada or Pineapple Mango Colada is a tropical, fruity cocktail that you can make in five minutes and enjoy through a hot summer afternoon. Read on to make a big batch of this tropical mango alcohol drink, and discover where and who invented the pina colada, and what pina colada means in English. We got an easy tip to make a virgin pina colada too.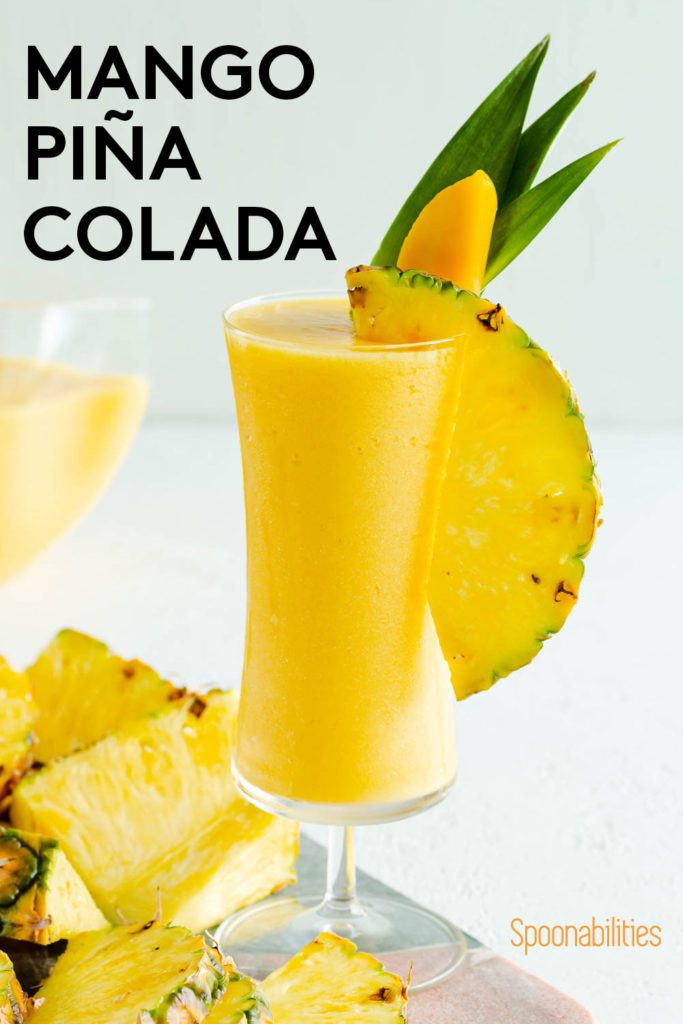 Hello my friends. There are few more tropical drinks like the Pina Colada, and one of them is the Mango Colada. This mango cocktail is one of our favorite fruity drinks, and it's a crowd-pleaser especially when you make a big batch! If you don't like your fruit drinks alcoholic, we're throwing in some tips to make a virgin mango pina colada.
Origins of the Piña Colada
The piña colada was invented in Puerto Rico, but let's start from the beginning. The pina colada has been featured on drink menus since we can remember. It goes back to the 1950s in Puerto Rico, where a bartender at the Hilton, Ramón "Monchito" Marrero, combined coconut cream, pineapple juice and Caribbean rum for the first time. The pina colada was born.
Of course like many other drinks, there are other claims to the invention of the country's national drink, but if it wasn't Monchito who invented the drink, then we salute the anonymous drink mixer who did.
Drooling over this recipe? Be first to receive new recipes!
How to make a Piña Colada with Mango
To make pina colada with mango, you simply add mango pulp to the blender along with the cocktail's regular ingredients. A classic pina colada is nice, but the pineapple juice used in bars can sometimes be too sweet or too tart. That's where mango comes in. The meaty richness in the fruit rounds out the classic cocktail marvelously, especially if you add some fruit pulp along with the juice for a more vibrant tropical cocktail.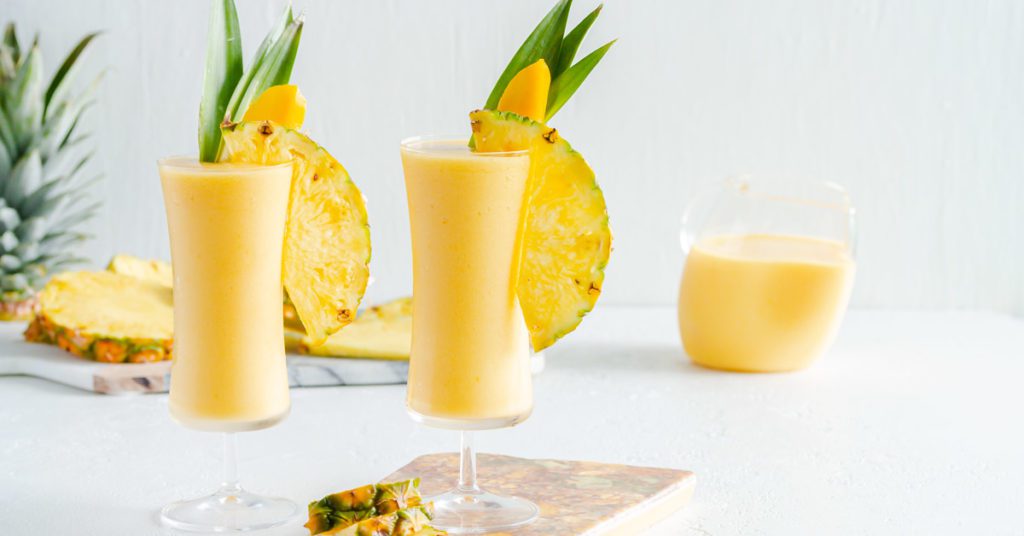 Mango Pina Colada Ingredients
The main ingredients in a mango pina colada are:
frozen mango and pineapple pulp,
coconut cream,
fresh juices,
and a couple splashes of rum
Blended together with crushed ice, they become a wonderful tropical drink to enjoy poolside.
With homemade cocktails, you can really put together a beautiful drink with the best ingredients available.
If we're making Mango Pina Colada at home, then we'll do it right. Bars need to keep their costs low, and they must work fast, meaning sometimes drinks aren't as great as they can be. With homemade cocktails, you can really put together a beautiful drink with the best ingredients available.
We're using frozen pineapple and mango pulp and blending them with both white and dark rum, cream of coconut, pineapple juice and a some lime juice. As a garnish, there's nothing more classic than a few maraschino cherries, a spiky pineapple leaf and a colorful paper umbrellas. That's how you make a Mango Pina Colada Spoonabilities style (minus the umbrella)!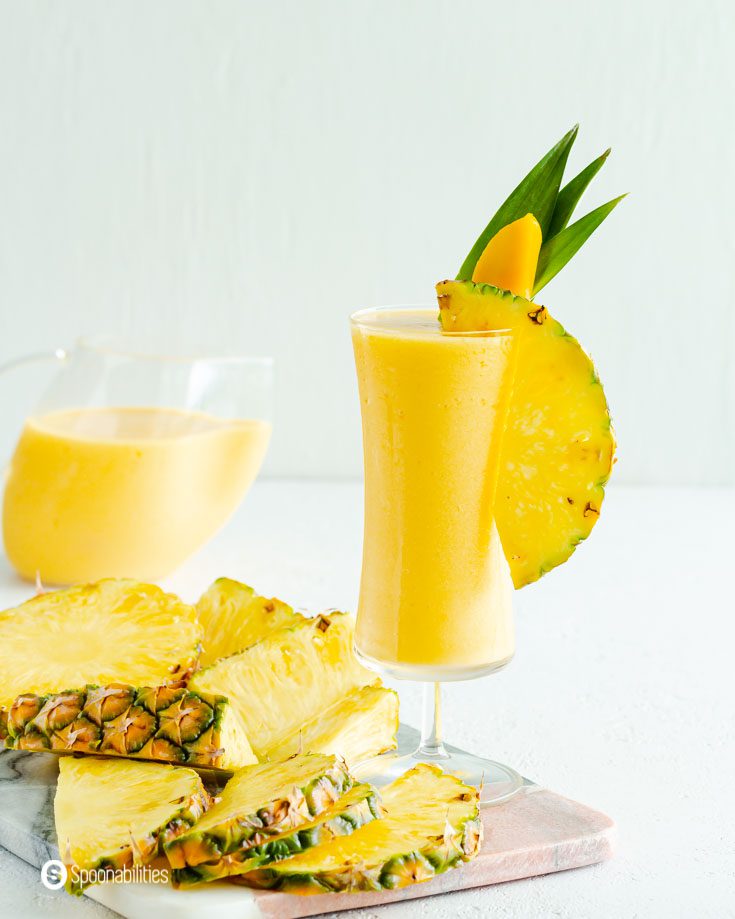 FAQs about Piña Coladas
Where did Piña Coladas come from?
What country invented the piña colada? Piña Coladas are the national drink in Puerto Rico, a tropical Caribbean island known for its humid, tropical climate, fresh fruit, and delicious rum.
Who Created the Piña Colada?
Most experts believe it was Ramón "Monchito" Marrero, a bartender at the Hilton in San Juan, who created the tropical pina colada.
What does Piña Colada Mean in English?
Pina Colada means "strained pineapple," and it's because freshly-made blended pineapple juice is fibrous and chunky, and you must strain it before adding it to the drink. Store-bought pineapple juice doesn't have that problem.
How do you make a Virgin Mango Pina Colada?
That's easy. To make a non-alcoholic pina colada, just leave out the alcohol. All the other ingredients work perfectly together without the alcohol. You'll use less ice when you blend it together, but that's about all you need to know.
Want More Drink Recipes?
Here are a few related recipe ideas you might enjoy:
I hope you get a chance to make this Mango Piña Colada Recipe. Did you make this or another recipe? Tag @Spoonabilities on Instagram or add a photo or comment on Pinterest, so we can find you! And we love to hear from you in the comment section below.
Carlos Leo
Your Recipe Concierge!
Print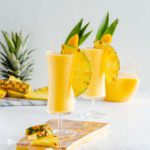 Mango Piña Colada Cocktail
---
Author:

Carlos Leo

Total Time:

5 minutes

Yield:

4

1

x
Description
Frozen mango and pineapple pulp come together with coconut cream, fresh juice, a splash of rum and crushed ice for this summery tropical cocktail.
---
---
Instructions
Place the frozen fruit, rum, pineapple juice, and cream of coconut in a blender and blend on high.
Add handfuls of ice while the machine is running until the drink reaches a slushy, thickened smoothie consistency.
Pour the colada into serving glasses, garnish and serve immediately.
Equipment
Notes
We partner (affiliate links) with Drizly delivery service, so if you don't have the alcoholic ingredients, you can have them delivered.
Drink responsibly. If you are under the legal drinking age limit for your state or country, this recipe is not for you. Sorry.
Prep Time:

5 minutes

Category:

cocktail

Method:

blending

Cuisine:

Caribbean
Keywords: mangonada, mango cocktail, summer cocktails, summer drinks, craft cocktails, home bartender
Recipe Card powered by
Available via these affiliate links:
Disclaimer: Links that open in another site, i.e. Amazon, may be affiliate links where at no additional cost to you, as an Amazon Associate I earn from qualifying purchases, should you decide to purchase the item. Read our Disclosure Policy.