A favorite Hawaiian appetizer has arrived at Spoonabilities: Spicy Tuna Poke Bowl with spicy mayo. This easy and healthy fish salad has a sashimi quality ahi tuna, re-hydrated dry seaweed, quick pickled cucumber & jalapeño, scallions with a citrusy ponzu sauce, micro arugula, avocado, pickled red cabbage, and topped with sesame seed. All this inspired by the open jar of Sriracha Mayo in my fridge that I used instead of making my own spicy mayo.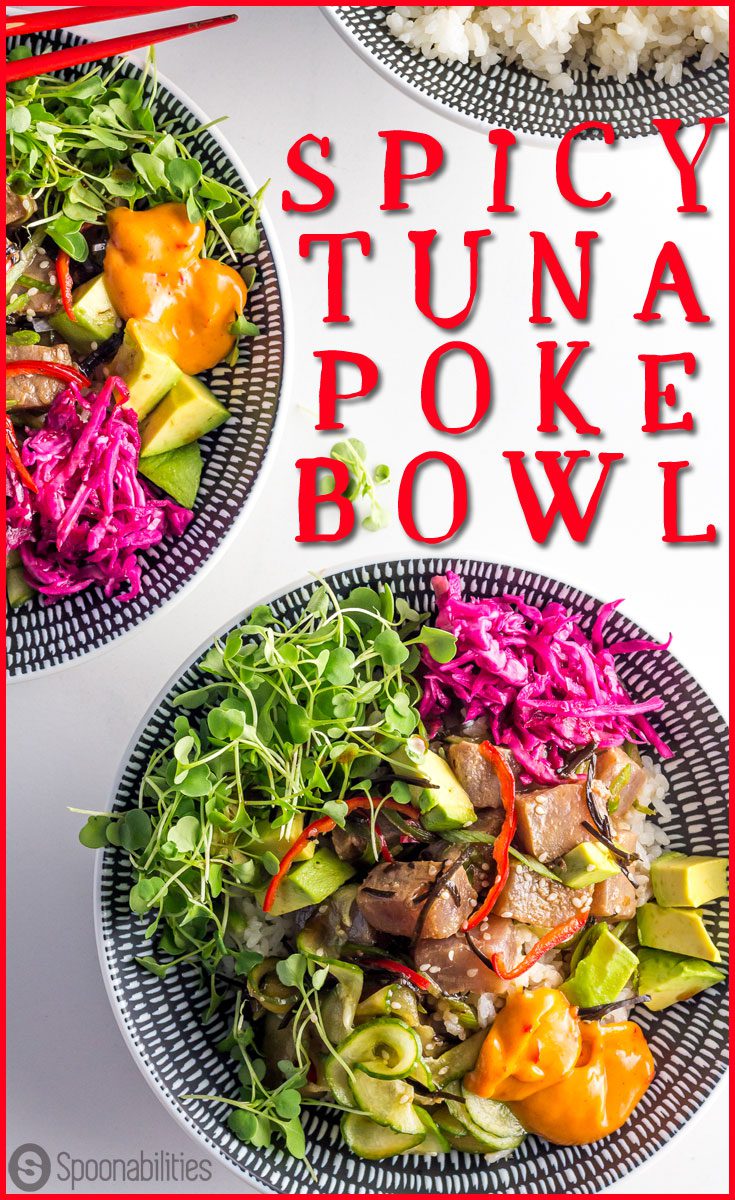 Blog post contains affiliate links. Read our Disclosure Policy
Hi friends. Today I want to share with you what goes through my mind every time I sit to write to you. Throughout the last year, I question myself wondering if what I'm doing is correct, or if someone will find what I'm writing interesting. Despite that, what keeps me pushing to improve my writing and photography every day is my love for food.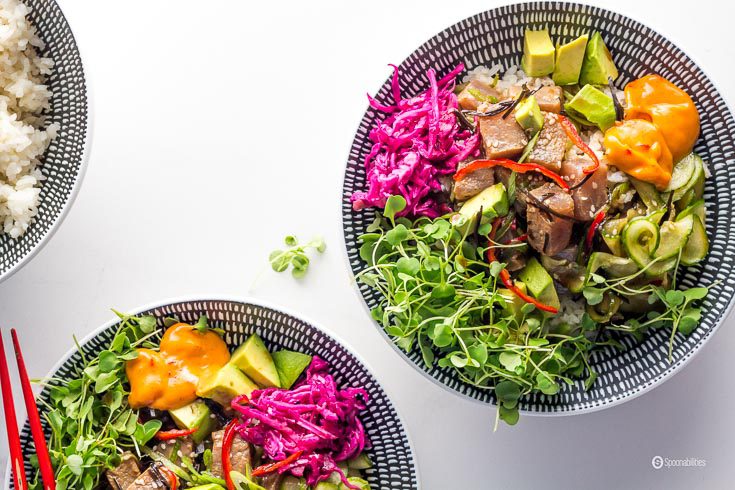 I'm very passionate about food, and I like to experiment with different cuisines from all around the world. Also, I like to challenge myself by doing things out of my comfort zone, which I never thought that I would be doing. One big thing out of my comfort zone is trying to be a food blogger. And I say "trying" because I have never done any writing about anything in my life. Besides that I love to talk, I'm not a good storyteller. But this is something that I want to do, and this blog is my way to express my love for food and to share my experiments in the kitchen.
My writing is simple with a Latin accent, some broken English words, and very humble and honest. I believe if I keep writing, learning and reading, I will get better, and eventually I will get to do what I love as a full-time job. That's my ultimate goal. I enjoy interacting with you on this blog and in social media. My favorite social media platform these days is Instagram, and I love posting stories. If we aren't following each other there yet, please follow Spoonabilities. I would love the see you there.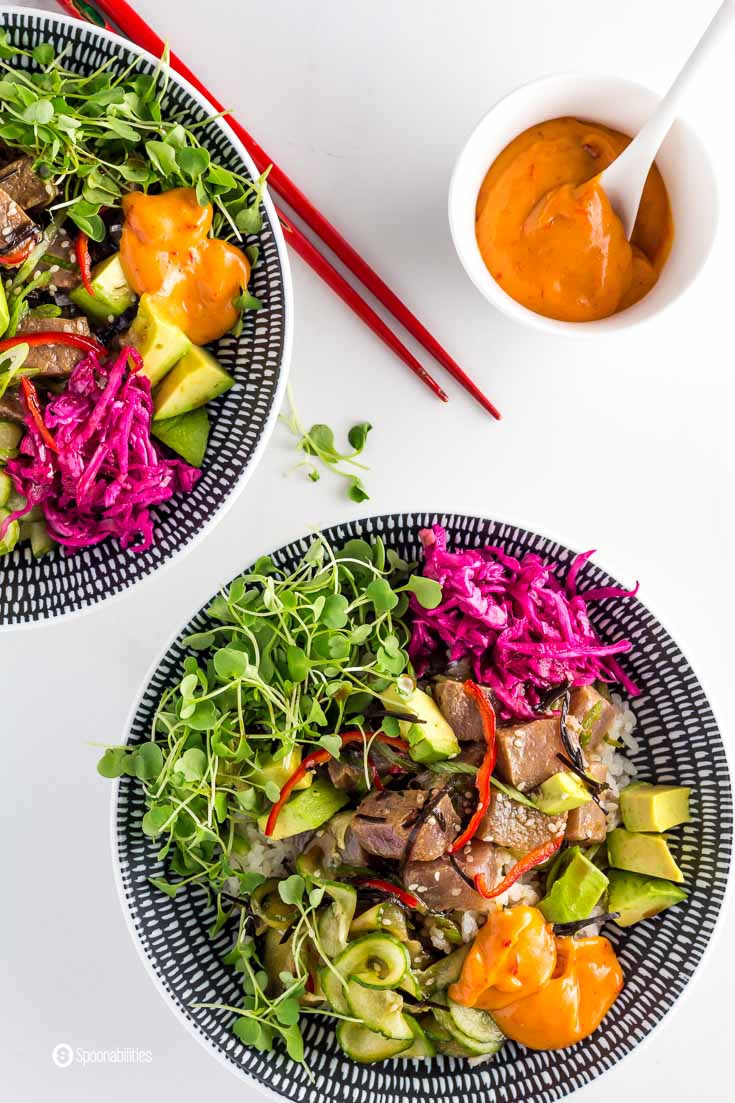 Since we're talking about being out of the comfort zone, Spicy Tuna Poke Bowl is a recipe that I was afraid to even try because of the raw fish element. I first discovered poke bowl at a local restaurant near my home called MyCeviche and I got hooked. Ever since then I wanted to make it. I had so many questions about this trendy food and here are some of them with the answers I found out. I hope this information will help you to know more about this dish, and encourage you to try it at home.
What is Poke Bowl?
Poke Bowl is a traditional Hawaiian salad with raw fish served as an appetizer. The traditional fish used is ahi tuna, which is what this Spicy Tuna Poke Bowl dish uses. You can make a poke bowl in many variations with different sauces and seafood like shrimp, salmon, octopus, and others. Some non-fish variations include making it with tofu or a California Role style.
What does Poke mean?
Poké is the correct spelling with an accent on the "e" and it is pronounced "po-kay" or "poh-keh," not "pok-ee" and definitely not "poke" as in "I'm going to poke you in the stomach." Poké is a raw fish salad and in Hawaiian, the word literally means "to cut or slice into pieces."
Like this recipe so far? Be the first to know when we release new ones!
---
How did the Poke Bowl begin?
Poke started from fishermen in Hawaii cutting off pieces of meat from their fresh catches to eat as a snack while they were out at sea. The poke bowl seasoning comes from Japanese and other Asian influences. Today, you can also find this dish with Mexican, and Peruvian flavors.
Poke bowl has been a traditional dish for centuries in Hawaii and just recently became a hot, food trend in the United States. Poke Bowl is the Hawaiian version of our "one pot meal." The poke bowl is built through layers of flavor in which each layer should be picked carefully. How you choose the ingredients will play a significant role in the final taste of the dish.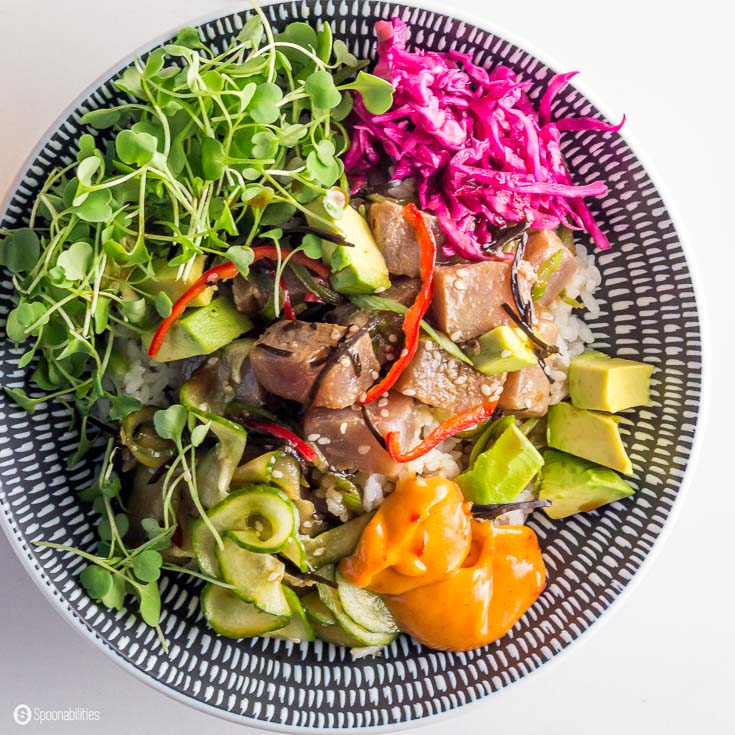 The Layers of Flavor in the Spicy Tuna Poke Bowl
The Rice Layer
As the first layer, rice neutralizes the fishy taste of the raw fish. Choose a short grain rice like sushi rice. See the recipe below for cooking instructions
The Fish Layer
Fresh fish is the most important ingredient in a poke bowl. I highly recommend using the freshest fish you can find, where is available. Always ask your fishmonger if the fish is sushi grade. Ahi tuna, also known as yellowfin tuna, or sushi grade salmon is the most common choice.
When choosing tuna, consider these three things:
Smell - Fresh fish should have a very light fish smell. The more "fishy" is smells, the older it may be.
Color - Fresh tuna should be a bright crimson red and the texture is firm to the touch.
Fat – Fattier fish tastes better.
The Sauce Layer
The sauce is what will give the characteristic flavor to the dish. For this Spicy Tuna Poke Bowl recipe, I chose a citrusy Ponzu Sauce. Ponzu Sauce is a typical citrus-based sauce with soy sauce and toasted sesame oil used in Japanese cuisine. The sauce has a tangy/tart taste with a watery consistency.
For the ponzu sauce, you can buy it at the store, but it's so easy that you can make it at home. To make ponzu sauce, add a citrus juice such as lime, lemon, or grapefruit (or any combination of them); white soy sauce or the regular soy sauce; and toasted sesame oil in a small bowl. If you don't have any of the citrus mentioned above, use any citrus available in your kitchen.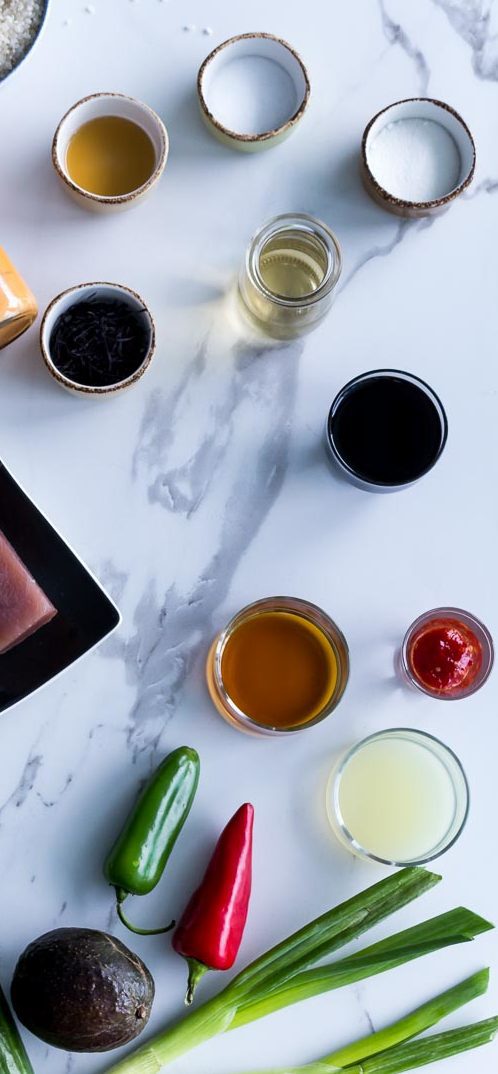 The Toppings Layer
You have a wide open selection to choose from, and the final poke bowl will adapt to your taste. I love to load my Spicy Tuna Poke Bowl with a lot of toppings. The toppings for this recipe are seaweed, Micro Arugula by Bright Fresh, avocado, pickled red cabbage, quick pickled cucumber & jalapeño, scallions and Sriracha Mayonnaise.
The Spicy Mayonnaise Layer
For the spicy mayo, I just had to grab a half jar of leftover Sriracha Mayonnaise in the refrigerator, and I added some chili paste for an extra kick. Another option is to grab your open jar of regular mayonnaise from your fridge and mix in any spicy sauce such as sriracha, hot sauce, or chili paste.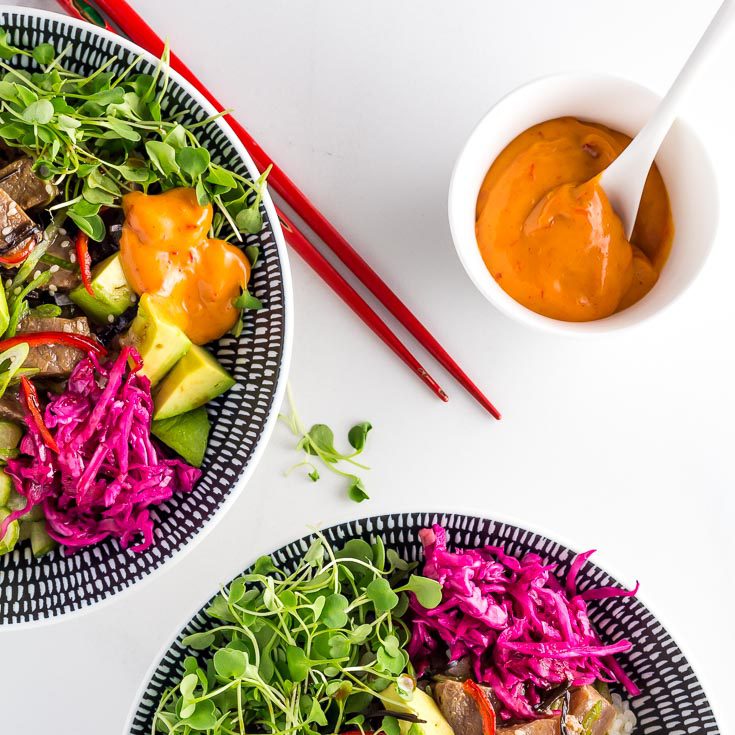 If you've been curious about the Spicy Tuna Poke Bowl, and interested in making one at home, I hope that I've given you the confidence to try this Spicy Tuna Poke Bowl recipe. Don't let the idea of raw fish stop you! Just follow the recipe and you will be so glad that you gave it a go. Next you'll be inviting your friends over to try what you created. Let me know how it went. Did I mention that I'm loving Instagram these days? Post a picture of your poke bowl there with #Spoonabilities and @Spoonabilities. I would love to see what you created.
Have a great week!
Carlos
Your Recipe Concierge
Print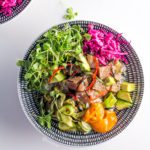 Spicy Tuna Poke Bowl ( Ahi Poké Bowl ) with Sriracha Mayo
---
Author:

Carlos

Total Time:

1 hours 55 minutes

Yield:

4

1

x
Description
Make Spicy Tuna Poke Bowl at home for a healthy and refreshing salad with ahi yellowfin tuna in a quick marinade of ponzu sauce with rehydrated dry seaweed, cucumber, jalapeño, scallions, micro arugula, and avocado with a spoonful of spicy mayo, and topped with sesame seed. Poké bowl is the tasty trend coming to you from the Hawaiian Islands.
---
Main Ingredients:
¾

lbs

sushi grade tuna, cut into ½ inch square pieces. At the time, I was not able to find fresh tuna and I got sashimi quality - yellowfin tuna (frozen) by Sushi at Home at Whole Foods.

2

scallions, thinly sliced

1

cup

pickled red cabbage

1

avocado, chopped

2

cups

Arugula Micro Greens or regular arugula

3 Tablespoons

Sriracha Mayo
Rice:
2

cups

short-grain sushi rice

2

cups

water, for rice
Re-hydrated Seaweed:
2 Tablespoons

dried Eisenia Bicyclis (seaweed). Or you can use any from your local supermarket.

1 Tablespoon

mirin

1 Tablespoons

soy sauce

½ teaspoon

sesame seeds, plus more for serving
Pickled Vegetables:
¼

cucumber, in ribbons made with a Spiralizer (I like English hothouse cucumbers)

1

jalapeño, thinly sliced

¼

cup

unseasoned rice vinegar

1 Tablespoon

sugar

2 Tablespoons

water

1

-

½

teaspoons salt
Ponzu Sauce:
¼

cup

fresh citrus juice (can be lime, lemon, or grapefruit, or any mixture of any citrus juices)

2 Tablespoons

white soy sauce or regular soy sauce

1 teaspoon

toasted sesame oil
---
Instructions
Cooking the rice
Rinse and drain rice in a fine-mesh colander several times until water runs clear. Let sit for 30 minutes.
In a medium pot, add 2 cups water and the rice, season lightly with salt.
Bring to a boil, reduce the heat, cover pot and simmer until tender, about 20 minutes.
Remove from the heat and let sit for 10 minutes. Fluff with a fork; keep warm.
Rehydrated seaweed - Eisenia Bicyclis
Soak the seaweed Eisenia Bicyclis in a small bowl with ½ cup cold water for about 30 minutes until rehydrated and softened, and then drain.
In a small clean bowl, add the rehydrated seaweed to 1 Tablespoon mirin, 1 Tablespoon soy sauce, and ½ teaspoon sesame seed.
Let it sit for 5 minutes and drain.
Brine - pickle vegetables
In another bowl add rice vinegar, sugar, salt, and water. Whisk to combine.
Toss the cucumber cut in ribbons with a pinch of salt and squeeze to release excess water.
Add the jalapeño and cucumber into the brine. Let it sit for at least 10 minutes and up to one hour to pickle.
Drain and squeeze to dry.
Make the ponzu sauce
In a small bowl add the citrus juice, soy sauce, and toasted sesame oil. Set aside.
Assemble the poke bowl
Cut the tuna into ½ inch square pieces.
In a large bowl, toss in the tuna, rehydrated seaweed, pickled cucumber and jalapeño, scallions and ponzu sauce. Taste and add more salt as need it.
Cut the avocado and toss with the tuna mixture.
Add rice into the presentation bowls, top with the marinated tuna mixture, red cabbage, a spoonful of spicy mayo (Sriracha Mayo), a handful of micro arugula, and sprinkle sesame seed on top.
Notes
Vitamin A 4%, Vitamin C 52%, Calcium 6%, Iron 14%, Vitamin B12 29%, Vitamin E 7%, Vitamin K 54%
Prep Time:

15 minutes

Cook Time:

40 minutes

Category:

Lunch

Cuisine:

Hawaiian, Japanese, American
Nutrition
Serving Size:

1 Cup

Calories:

668

Sugar:

2.3 g

Sodium:

799.5 mg

Fat:

19.3 g

Carbohydrates:

84.3 g

Fiber:

4.8 g

Protein:

31.3 g

Cholesterol:

38.8 mg
Recipe Card powered by
Products and Displays Available via these Amazon links:
Disclaimer: Links that open in another site, i.e. Amazon, may be affiliate links where at no additional cost to you, we may receive a small commission should you decide to purchase the item. Read our Disclosure Policy