This Spritz Veneziano is a classic Italian cocktail of Prosecco, bittersweet amaro liqueur, and a splash of soda. Then just garnish this summer bubbly drink with Greek green olives and an orange wedge. Read on to learn what "spritz" is, the origins of the Spritz Veneziano, what exactly is Italian bitters, and what brands you can get with their flavor profile. And we'll share some tips to make your cocktail photos an Instagrammable moment.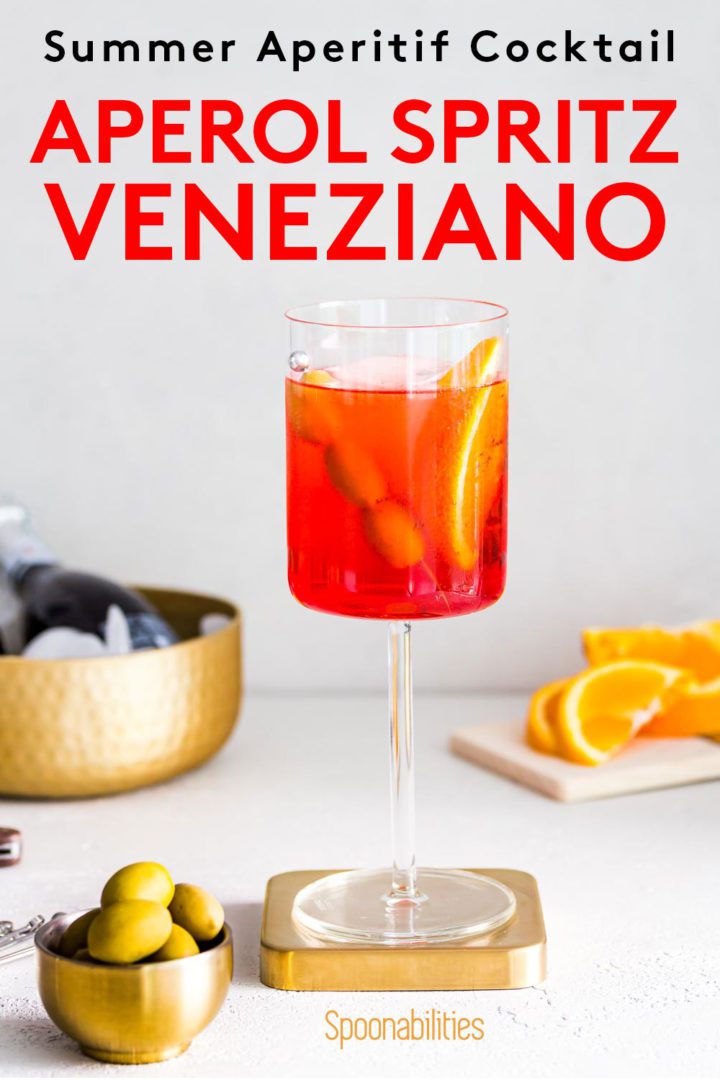 Blog post contains products you can purchase in our online shop, and affiliate links.
Read our Disclosure Policy.
Hello my friends. Today we're making the classic Italian cocktail called the Spritz Veneziano, otherwise known as the Aperol Spritz; the famous fizzy, prosecco-based cocktail with a bittersweet personality that everyone loves during warmer weather. This refreshing sparkling cocktail is the perfect libation for any social occasion as a pre-dinner drink to enjoy in an outdoor setting watching the sunset. The Aperol Spritz cocktail is low in alcohol with a smooth taste and perfect balance of sweetness and bitterness.
There's something about the Aperol Spritz, originally called the Venetian Spritz, that's just charming.
What is a Spritz and when do you drink it?
Spritz is a fizz cocktail. Its bubbles come from soda water, prosecco, some other sparkling wine, or a flavored soda. And the spritz would not be a spritz without a bitter liqueur added, such as Aperol, Campari, or Cynar.
The spritz is low in alcohol, and it should contain no more than two ounces of spirits. This drink preferably is to enjoy as a pre-dinner drink as a late afternoon aperitif welcoming the evening with friends outdoors.
Legend says that Saxons from the Austro-Hungarian countries went down to Venice and added a splash of water, or "spritz" to the region's wines to make them milder and more palatable (different tastes, right?).
The trend caught on and made much better sense when the Italians started adding their own splash of bitter liqueurs to their bubbly Prosecco.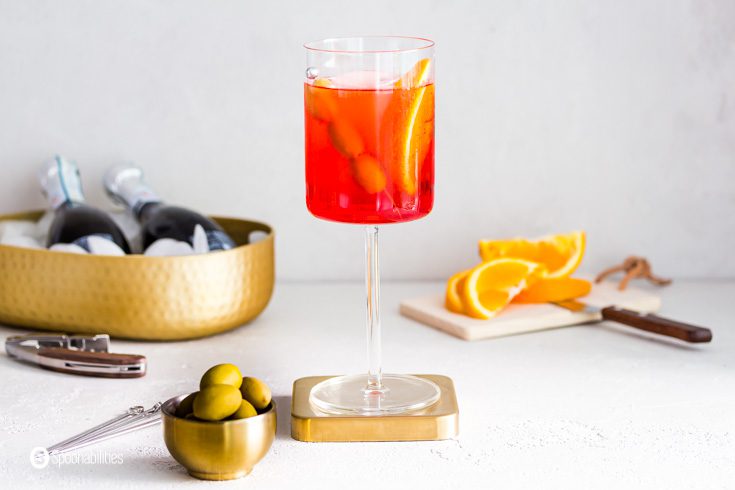 What is an Italian Aperitif?
An aperitif is a light alcoholic beverage such as sparkling white wine or a somewhat bitter drink to get the digestive juices flowing before lunch or dinner. In Italy, aperitifs habitually arrive with a savory bite, sometimes called salatini.
The Spritz Veneziano became popular in the US in 2017, but the drink is much older than that. The Aperol Amari, an Italian bittersweet liqueur, was created in 1919, and the spritzy cocktail, known as the Venetian Spritz, was already fashionable in the 1950s.
The Aperol Spritz Veneziano was ranked the tenth most popular cocktail in the world in 2020. It was only surpassed in fame by the ubiquitous Old Fashioned, Negroni, Mojito, Margarita, and the rest of the gang.
Like this so far? Be the first to know when we release new ones!
---
Amaro, Amari, Aperol; Do I need a Latin lesson?
The simple breakdown is amaro is a bitter liqueur (literally "bitter" in Italian); amari is the plural of amaro, and Aperol is a brand name of amari. Here's a little more about the Amari liqueur family...
Since the middle ages, Europeans, mainly Italian monks, crafted potent elixirs with herbs, roots, barks and spices in what could be the first modern efforts of finding cures for diverse illnesses. They soon noticed their bittersweet (often more bitter than sweet) concoctions were quite tasty too. These liqueurs were baptized 'Amari,' which is plural for bitter. Each amaro comprises dozens of different all-natural ingredients, making them spicy, bitter, aromatic, herbal, flowery and sweet.
Aperol is the most widely available and popular amari, but there are dozens of unique amari in the market that you can use for this Venetian Spritz, and the most common other ones you may have heard of are Campari, Cynar, and Rosso Amaro.
What's the Difference between Aperol, Campari, and Apperitivo Cappelletti?
Aperol is on the sweeter end of the spectrum, which is probably why it is the most popular aperitif worldwide.
Campari is more bitter than Aperol, with a deep red color and a higher alcohol content to boot. It has a bit of cherry and herbal undertones with just a hint of cinnamon (it derives some of its flavor from cascarilla bark)
Cappelletti is not really a "bitters" but a wine-based aperitif that falls somewhere in between Aperol and Campari in terms of bitterness. You can taste a hint of citrus, vanilla, and cola, likely a result of the 'secret' blend of herbs and spices used to make this ruby red aperitif.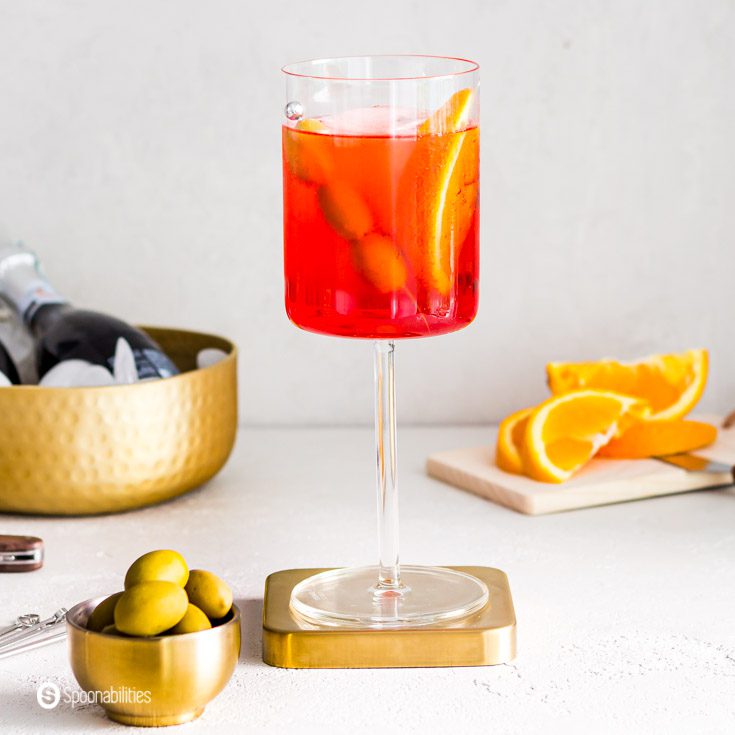 Spritz Veneziano Ingredients: Prosecco, Aperol and Olives
Prosecco is a zippy wine. It can be cheap or uber-expensive, but it's always based on the Glera white grape, a Venetian specialty. The resulting bubbly wine has a unique peachy aroma and a refreshing personality.
Aperol is an Italian bitter apéritif that has gentian, rhubarb, and cinchona, among other ingredients. This bitter has a vibrant orange hue color, and its name comes from the French slang word for aperitif, which is apero.
Hellenic Farms Greek Green Olives. Aperol has hints of orange peel, which is why bartenders add an orange wedge to their spritzes. The herbal earthiness of Aperol also makes olives the perfect garnish. The jumbo green Chalkidiki olives, which we sell in our store, are glorious.
How to Make the Spritz Veneziano Cocktail
This summer cocktail cannot be easier to make. Make this Italian cocktail by combining:
3 parts prosecco
2 parts Aperol
Splash of soda water
Garnish with an orange wedge & a green olive.
Traditionally this spritz cocktail is served in a wine glass with a few ice cubes, but as I said before, feel free to use any stylish glass to capture the perfect Instagrammable moment, and a large ice cube does the trick.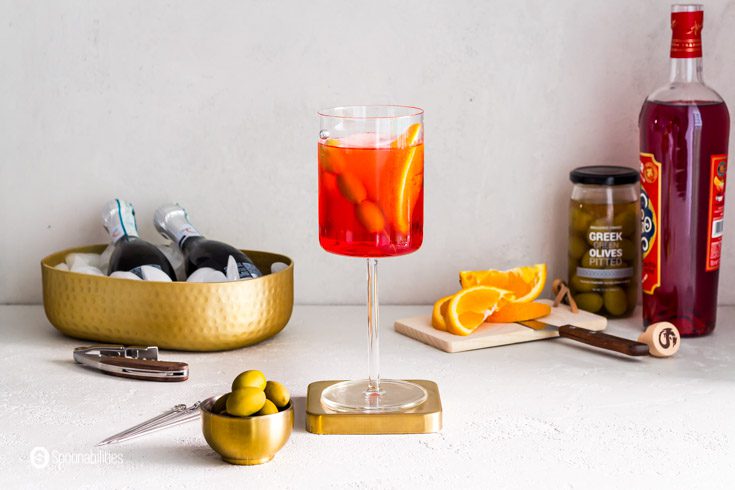 Cocktail Photo Tips for your Aperol Spritz Veneziano
Because making Aperol Spritz for friends and family is always an Instagrammable moment, here are a few photo tips that help you get that #picoftheday.
Use different shaped glasses and wine glasses. Tall and short, thick, and thin, experiment with the available glassware until you get the perfect photo.
Use big ice cubes. The larger the ice cubes, the colder the drink. Larger ice cubes also dilute your cocktail less, and they look better on camera.
Shoot pouring the drink. Of course you need to take an action shot. Take a picture of a friend pouring the Prosecco to capture the rising bubbles.
Have chips or snacks around? Italians love their spritzes with chips and other fried finger food, so have some around. They'll help you build an ambiance for your pictures too.
More Summer Cocktails to try anytime
Since you now have some tips for your cocktail photography, here's your homework LOL. Try making and photographing any of our drink & cocktail recipes including these:
I hope you get a chance to make and photograph this Spritz Veneziano with Green Olive. Did you make this or another one of our recipes? Tag @Spoonabilities on Instagram or comment on this pin so we can find you!
And we love to hear from you in the comment section below.
Carlos Leo
Your Recipe Concierge!
Print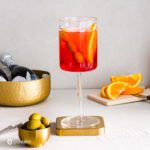 Aperol Spritz Veneziano with Green Olive
---
Author:

Carlos Leo

Total Time:

3 minutes

Yield:

1

1

x
Description
This classic Italian cocktail Spritz Veneziano is a summer bubbly drink with a blend of Prosecco, bittersweet amaro liqueur and splash of soda. Garnish with green olive and an orange wedge. This refreshing cocktail is the perfect pre-dinner drink to enjoy when the day is fading and the night is young.
---
---
Instructions
Pour in the prosecco, the soda water and the Aperol, in that order, in a rock or wine glass over three or four ice cubes.
Gently mix with a bar spoon.
Garnish with an orange half-wheel inside the glass and three olives threaded onto a stick
Notes
We partner (affiliate links) with Drizly delivery service, so if you don't have the alcoholic ingredients you can have them delivered.
Drink responsibly. If you are under the legal drinking age limit for your state or country, this recipe is not for you. Sorry.
Prep Time:

3 minutes

Category:

Cocktail

Method:

mixing

Cuisine:

Italian
Keywords: aperol, aperol spritz, summer drinks, spritz, cocktail recipes, Italian cocktail, aperitif
Recipe Card powered by
Available via these affiliate links:
Disclaimer: Links that open in another site, i.e. Amazon, may be affiliate links where at no additional cost to you, we may receive a small commission should you decide to purchase the item. Read our Disclosure Policy.