This apple olive oil cake recipe made in a bundt pan might just be the most sophisticated take on the classic apple cake. Granny Smith apples, orange zest, freshly toasted cardamom, and vanilla come together for a delicious interpretation of everyone's favorite Italian apple cake. Olive oil is the secret ingredient in this dessert. Read on and learn how to make your own olive oil cake.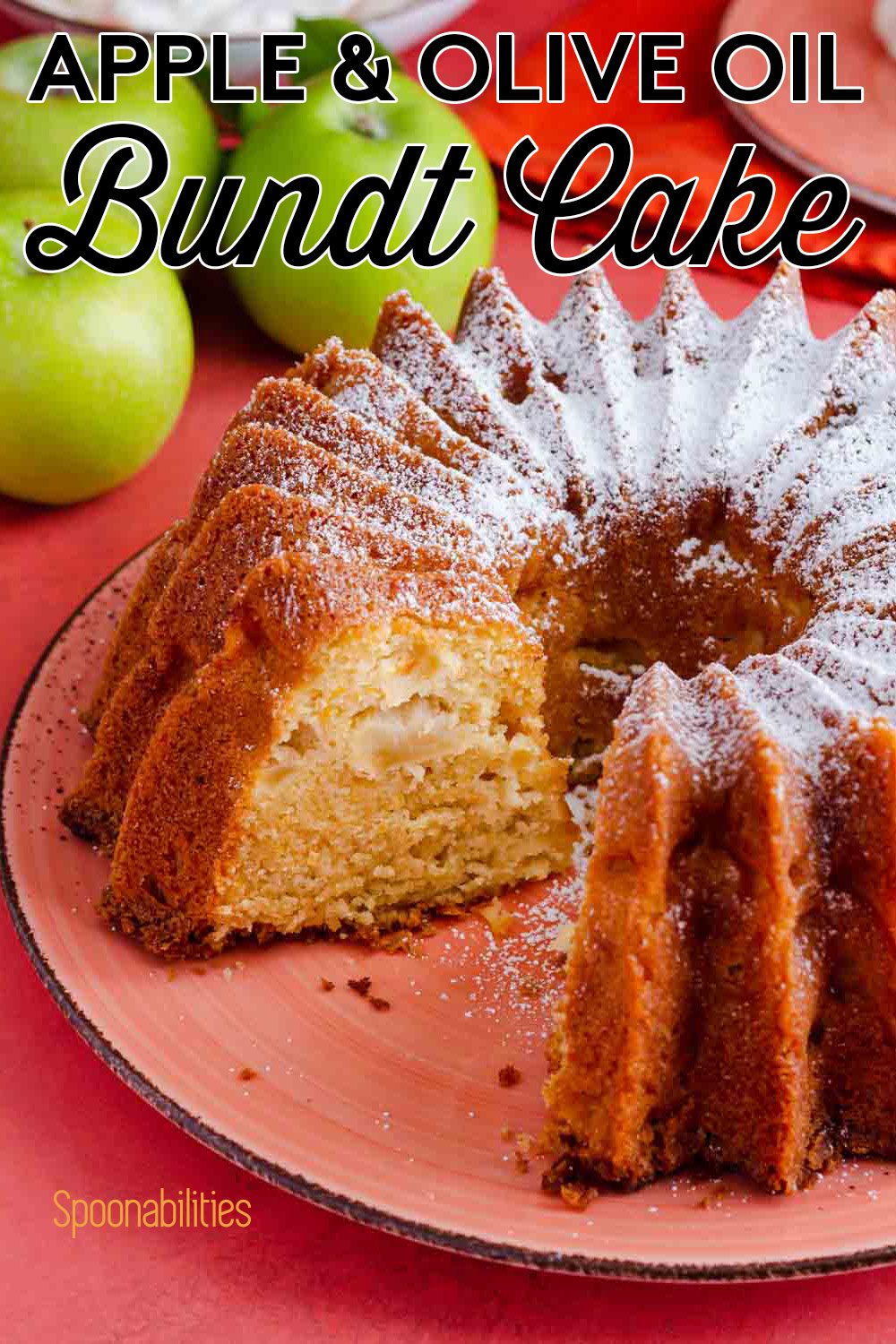 Blog post contains products you can purchase in our online shop, and affiliate links.
Read our Disclosure Policy.
Hello my friends. Did someone say bundt cake? Or maybe I heard apple cake? Well, today we're putting them both together. But there's even another reason why this isn't your regular cake; this cake is made with extra-virgin olive oil. This olive oil cake is aromatic and light; the cake is moist inside with chucks of apples, and has an incredible golden crust outside.
Extra virgin olive oil is a noble ingredient. We already cook with it and add it to everything from salads to soups, so why not bake with it too? I mean, it's one of the healthiest types of fat out there, and nothing beats its silken personality. Last Spring, we made another olive oil cake with my favorite citrus fruit, blood oranges - Blood Orange Olive Oil Cake. Both cakes became my favorite cakes, and I've made both of these desserts more than three times so far.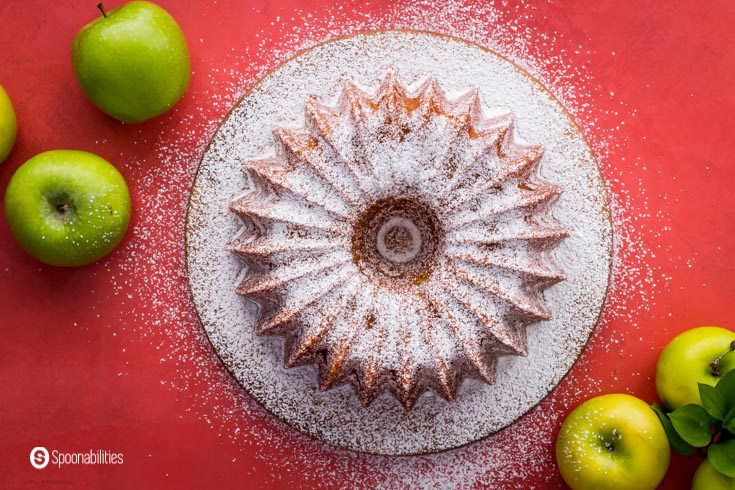 How to Make Apple and Olive Oil Bundt Cake
Okay, how to put together an apple bunt cake and infuse it with olive oil's charm? Let's start by seeing what we'll need.
First, we'll take care of a few green cardamom pods. Toast them for a few minutes in a small fry pan but be careful not to burn them. They just need to be lightly toasted. Then you crack them and take the seeds and crush them in a pestle.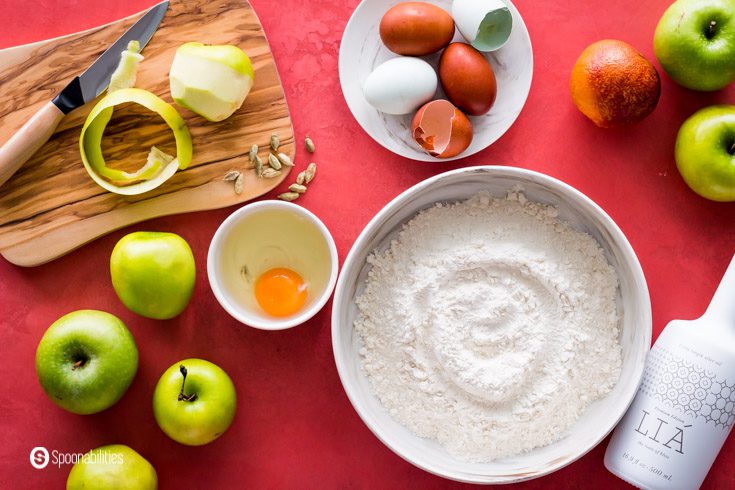 Then there're the eggs. You can't bake a bundt cake without eggs. So we're using four large ones and a few extra yolks. Together with sugar and a pinch of salt, we'll form a light and fluffy batter. Then beat in orange zest, vanilla, and cardamom you just ground.
For this olive oil cake, I highly recommend for you to use a stand mixer and use the whisk attachment.
And now is where the olive oil comes in. With the mixer still running on medium speed, gradually add olive oil in a steady stream, slowing the pour as needed to ensure that the oil is fully incorporated. This step is critical!!!
Then stir in the flour mixture just until it is combined, and do not overmix. Now, throw in the chopped apples and fold them into the batter a few times using a rubber spatula.
Like this recipe so far? Be the first to know when we release new ones!
---
For this olive oil cake, I'm using one of my favorite cake molds, the Nordic Ware Brilliance Bundt Pan, which has such an elegant shape.
Pro Tip: If you want to unmold your cake beautifully without any problems, I recommend using Baker's Joy baking spray. In my many years baking bundt cakes, with this spray I have never had any issues.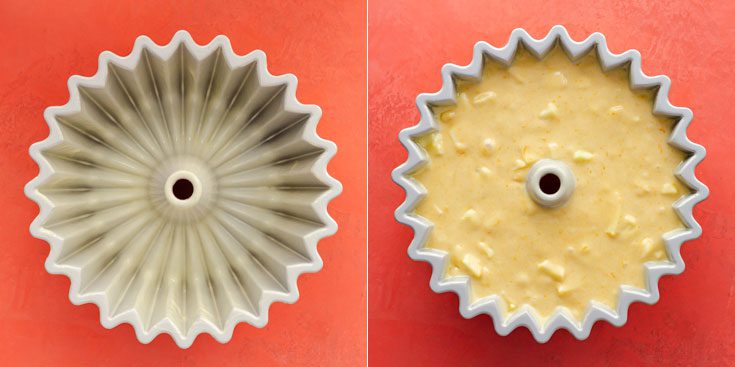 Now back to the olive oil cake batter... Spoon the batter into the prepared bundt cake pan. Bake in a preheated oven until golden brown and a cake tester or a long wooden pick inserted in the center comes out clean - about an hour. I recommend putting an empty tray in the oven rack below just in case the cake overflows.
You'll find the precise instructions in the recipe card.
Do you know what makes this fluffy cake even better? A nice serving of sweetened whipped cream. We're also sprinkling on some powdered sugar for the full effect.
What Kind of Olive Oil and Apples should I use in this Cake?
That's a great question, and the answer is pretty straight forward. Anything you cook is as good as the ingredients you use, so you might want to use something nice for this one.
What you're looking for is a higher quality extra virgin olive oil, preferably from producers that cold-press the olives to extract the purest juice. If you need help, come check out our store's olive oil section. You'll find some great options there. For this cake, we are using our customers' favorite and top seller: LIA Extra Virgin Olive Oil.
As for the apples, I recommend using Granny Smiths, but Pink Ladies work great in baking projects too. I'm using Granny Smith apples because they're sweet, firm, and have a pleasant acidity. But feel free to experiment.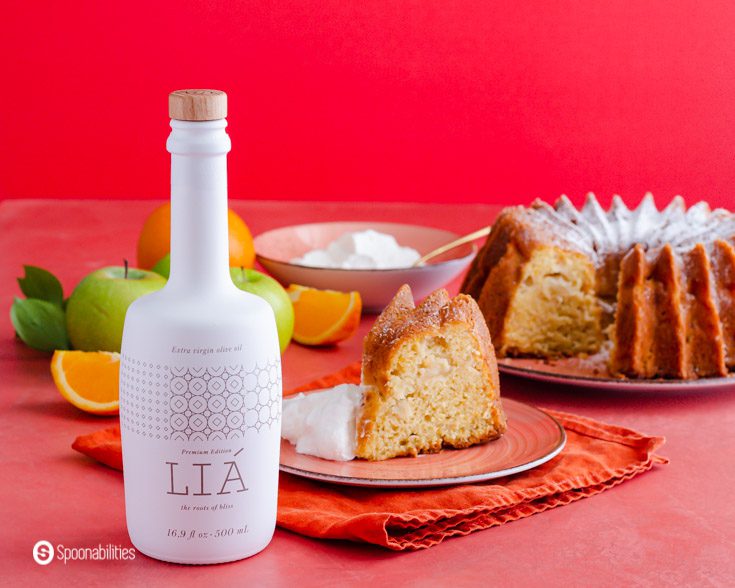 FAQs About Baking with Olive Oil
Now is time for frequently ask questions about how to bake using olive oil.
Can I substitute olive oil in a baking recipe that calls for butter?
Yes, replace butter or margarine for olive oil in almost all baked goods. Pro Tip: Use a 3:4 ratio – 3 parts olive oil is equal to 4 parts butter. For example, if the recipe calls for 4 tablespoons of butter, you will use three tablespoons of olive oil. To substitute any other oil for extra virgin olive oil the ratio is 1:1.
As I've said, you can use olive oil in "almost" all baked goods; however some recipes require solid fats to create a light and fluffy cake. For example, creaminess is made by beating butter and sugar together.
For some recipes, it's better to use a neutral flavored oil where you may not appreciate the delicate flavor of olive oil. But, if you use GOOD quality extra virgin olive oil, you should be fine, and the taste of your baked goods should improve. If you ask my humble opinion, I'll bake anything with olive oil, like these Sourdough Banana Chocolate Chip Muffins I recently made.
If you use a low-quality, cheap, and processed olive oil that you find on the supermarket shelf, the flavor of the oil will overpower your baked goods. Quality always wins! Remember those cheaper olive oils are ultra-processed or blended with other oils to make them economical for the mass consumer.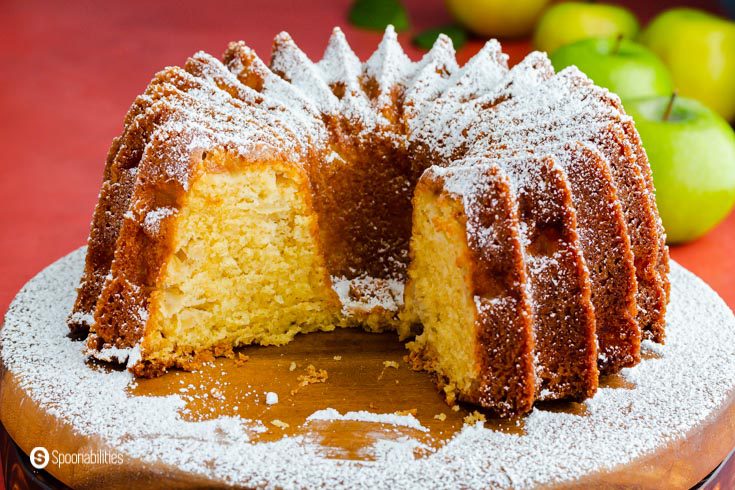 Can you freeze olive oil cake?
Yes you can. Wrap the cake in plastic wrap and then aluminum foil, and to defrost just leave it outside on the counter and in a couple of hours, your cake is ready to eat.
Now we're ready to bake our apple olive oil bundt cake. Get your ingredients together, put on some music, make yourself a cappuccino (or espresso martini), and let's get started!
I hope you get a chance to make this apple olive oil cake. Did you make this or another recipe? Tag @Spoonabilities on Instagram or add a photo or comment on Pinterest, so we can find you!
And we love to hear from you in the comment section below.
Carlos Leo
Your Recipe Concierge!
Do you want more bundt cake recipes?
Print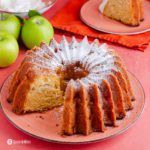 Apple and Olive Oil Bundt Cake
---
Author:

Carlos Leo

Total Time:

1 hour 15 minutes

Yield:

1

2

1

x
Description
This beautiful apple and olive oil bundt cake might look like a classic bundt cake, but it's much more than that. Olive oil, Granny Smith apples, cardamom, orange zest and vanilla come together for an awesome cake ideal for the most memorable occasions.
Adapted from the original recipe created by chef-owner Rachael Coyle at Coyle's Bakeshop in Seattle.
---
Cake pan spray or butter/flour your pan

3

green pods (

¼ teaspoon

) cardamom

1 ⅔

cups

granulated sugar

4

large eggs

2

large egg yolks

½ teaspoon

sea salt

1 tablespoon

orange zest - around 4 oranges

2 teaspoons

vanilla paste

2 ⅓

cups

all-purpose flour

1 tablespoon

baking powder

1

pound

(about 2-3 large apples) Granny Smith apples, peeled and cut into ½-inch pieces

2 tablespoons

powdered sugar

1 ½

cups

lightly sweetened whipped cream, for serving
---
Instructions
Preheat oven to 350°F, and using a 14-cup bundt pan, spray evenly and well with baking spray.
Sift flour and baking powder together and set aside.
Toast the cardamom pods in a small frying pan over medium heat. Stir frequently for about 2 minutes until they are lightly toasted and aromatic. After they cool, crack open the shells and transfer the seeds to a mortar and pestle where you will crush the seeds until they are finely ground. Set aside the ground seeds, and discard shells.
Add sugar, eggs, egg yolks, and salt in a stand mixer bowl, and using the whisk attachment, beat on medium speed for about 2 minutes until light and fluffy. Keep whisking and add in orange zest, vanilla paste, and ground cardamom, stopping to scrape down the sides of the bowl as needed.
Gradually add in olive oil in a slow, steady stream, slowing the pour as needed to make sure the oil gets fully incorporated.
Add the sifted flour mixture to the wet mixture. Using a rubber spatula, fold in the flour until almost completely combined. Then add in the apples and fold just until combined. Spoon batter into prepared pan.
Bake in the preheated oven for 1 hour until golden brown and a long wooden pick inserted into the center comes out clean. Transfer cake pan to a wire rack, and let it cool for 30 minutes still in the pan.
Invert cake onto the wire rack and let it cool completely for about 2 hours.
Sprinkle with powdered sugar, and serve with whipped cream.
Notes
Cake may be wrapped in plastic wrap and stored at room temperature up to 2-3 days... if you have the self-control for that long :)
To freeze: Wrap the cake in plastic wrap and then aluminum foil, and to defrost, just leave it outside on the counter and in a couple of hours, your cake is ready to eat.
Prep Time:

15

Cook Time:

60

Category:

Desserts

Method:

Baking

Cuisine:

Italian
Keywords: apple cake, olive oil cake, apple Bundt cake, olive oil Bundt cake, cake recipe, Italian dessert
Recipe Card powered by
Available via these affiliate links:
Disclaimer: Links that open in another site, i.e. Amazon, may be affiliate links where at no additional cost to you, as an Amazon Associate I earn from qualifying purchases, should you decide to purchase the item. Read our Disclosure Policy.