Margarita slush is the perfect, fun way to get some of your daily intake of vegetables. This green, healthy looking margarita slush comes together in less than 10 minutes by blending traditional margarita ingredients like silver tequila, Grand Marnier, and lime juice with the refreshing flavor of cucumber. Naturally sweetened with a honey-thyme mixture, you can enjoy this margarita slush during happy hour on your porch or balcony this summer, and for a Cinco de Mayo virtual home party, or any holiday get-together.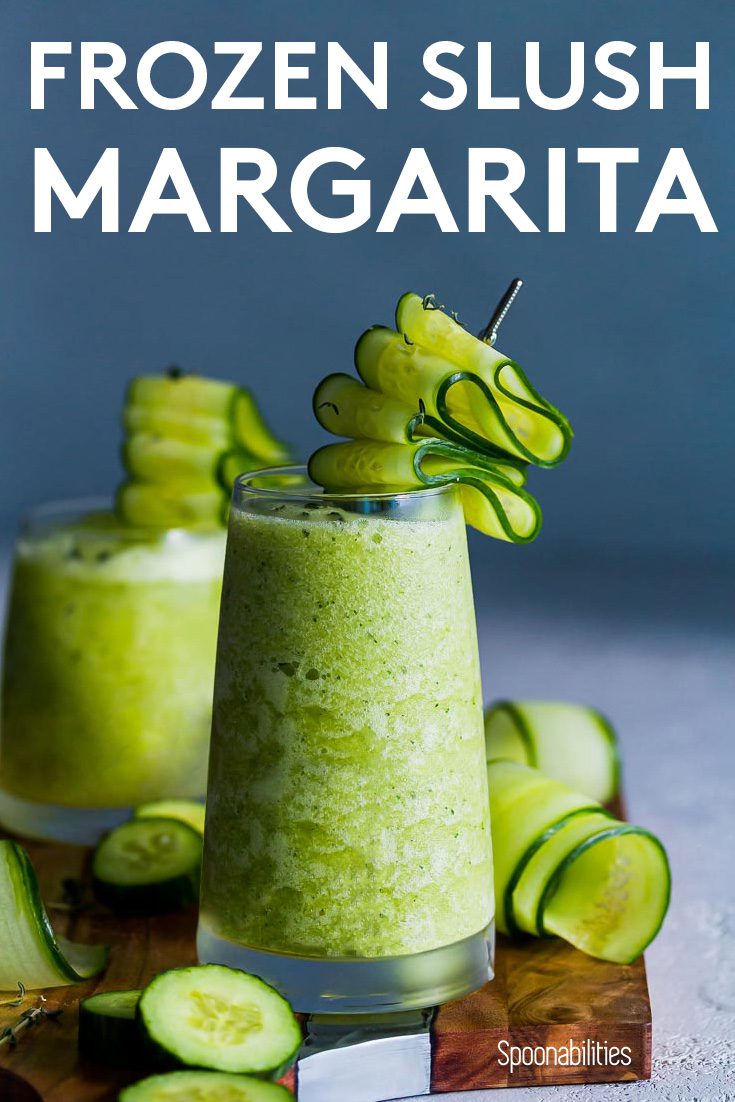 Blog post contains affiliate links. Read our Disclosure Policy
Hello my friends. Knowing how to mix drinks is an underrated skill. You can turn a reunion with friends into a fun party with the right cocktail. And this margarita slush with cucumber, honey, and thyme will definitely have your guests talking for days about this slushy drink.
Sometimes it is the weather that makes you scream for a fresh, boozy drink. That is precisely what happened when I decided to make these mouth-watering cucumber, honey, and thyme margarita slushes. This recipe is inspired by an article from the Cooking Light magazine. Initially, I made this margarita slush only to post on Instagram, but it became the most shared and liked recipe there, so now we want to share it with everyone.
Let me run down this margarita slush recipe for you in detail. Try it out and I am sure you will find it as refreshing and gloriously satisfying as I did, and everyone who follows us on Instagram.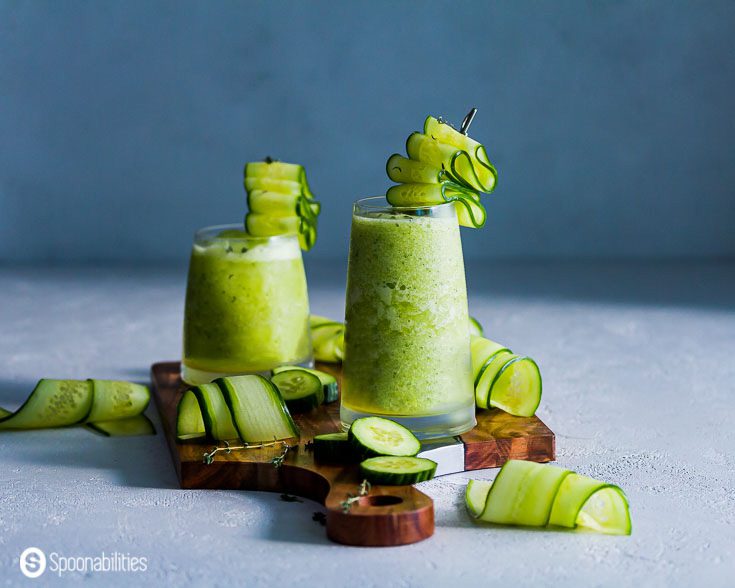 Steps from a Simple Drink to an Exciting Margarita Slush
Margaritas are one of the simplest cocktails in essence: Tequila, triple sec (the economic version of orange liqueur,) lime juice, and simple syrup. With this in mind, you can tweak the recipe to achieve new heights by adjusting quantities of the alcohols, using different brands, or adding other different flavors.
Step #1, you decide if you are making a clinking margarita on the rocks, or a smooth, frozen slush.
Step #2, you choose your liquors. I have a love-hate relationship with tequila. We don't always get along, but with the appropriate mix of other ingredients, we become best friends. Silver Tequila is lighter and more balanced than aged Tequilas that might be too oaky for a fresh drink. I like Reposados and Añejos for cold winter nights. Grand Marnier, which has an authentic Cognac base, is a fantastic way to upgrade the triple sec orange liqueur, so that one is a no-brainer.
Step #3, you add the extras. In this case, refreshing cucumber and aromatic thyme leaves are infused with honey and a couple tablespoons of water. I love this combo - a fresh and beautifully scented pair of ingredients. They go great with gin too.
Am I missing something? Oh yea.. the salt.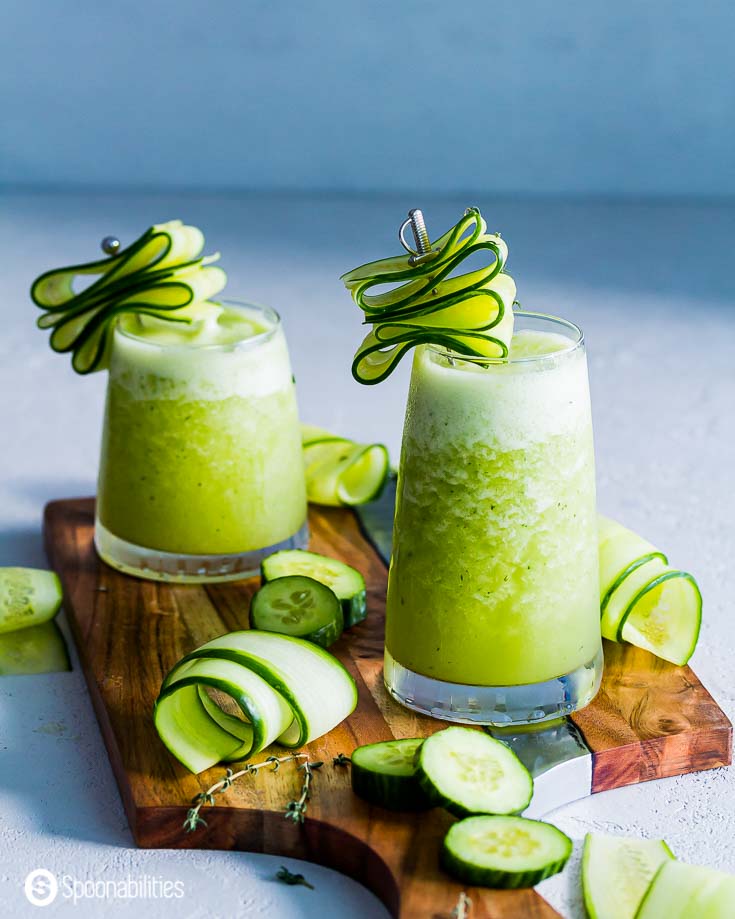 Salt Matters
A margarita without salt is like a salad without dressing; it just doesn't stand out.
Any salt might do the trick, but if you want to make this right, get the good stuff. I use Pure Sea Salt from Messolonghi, Greece, which you can get from our previous Greek supplier, Hellenic Farms. It is an all-natural, unrefined, crystallized sea salt that comes from an unpolluted, environmentally protected area of Greece. This salt does not contain iodine, anti-caking agents, or flow-improvers, and has a subtle scent reminiscent of the sea. It changes my margaritas completely.
I use this salt a lot as my only cooking salt and as a finishing salt, but it is also my go-to salt for bar concoctions too. I use our other flavored salts like smoked paprika on top of my fried eggs or on avocado toast, and sea salt in smoked beechwood for a Roasted Pork Porchetta recipe. You will see this smoked beechwood salt again in another upcoming drink recipe called Grilled Orange Margarita.
Like this recipe so far? Be the first to know when we release new ones!
---
Back to the margarita slush. You usually salt the rim to make your margarita really pop and give it a salty sip. You can also add the salt to the blender as I did in this drink to liven the flavor of the cucumbers. If you like salt on the rim of your glass, but sometimes think it's too much, I just started to salt only half the rim. It's a perfect way to get that salt taste when you want it, and still have a clean part of the glass.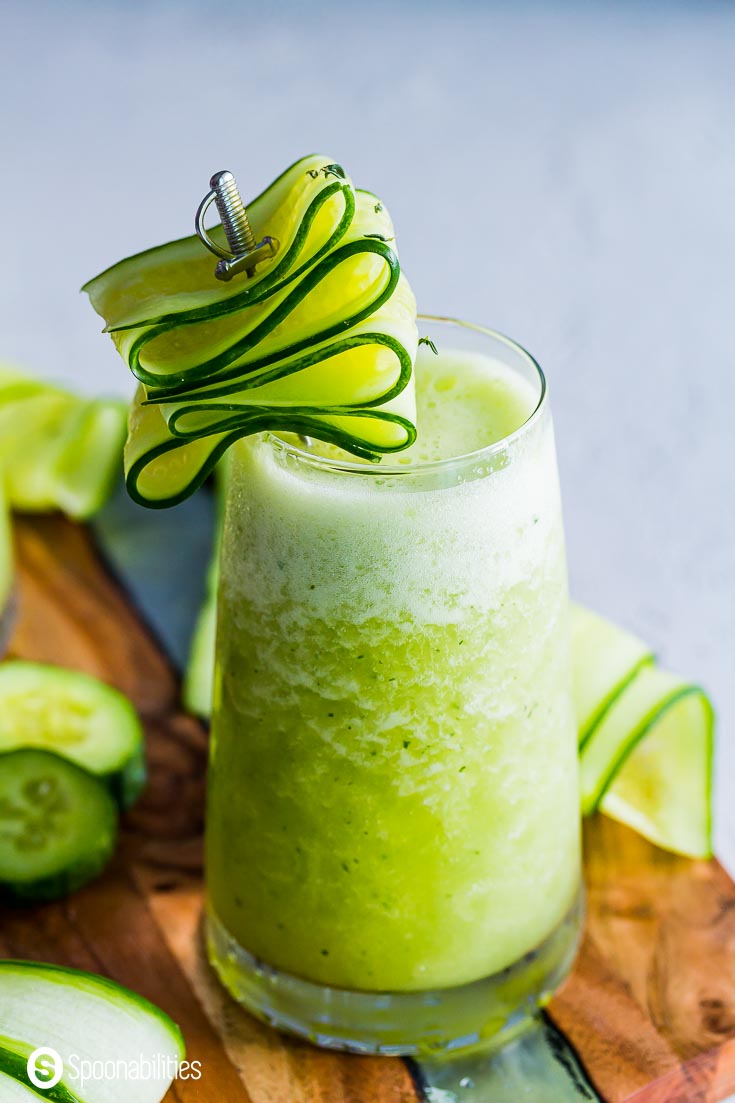 Elevate your Margarita Slush with Honey instead of Sugar
Although there is immense flexibility, cocktails are all about balance. You can throw your best ingredients into the mix, but if there is no balance, you will have failed as a wanna-be mixologist. The strong tequila and the enticing, mouth-puckering lime juice need sweetness to achieve a balance.
When simple syrup does not make the cut, use honey instead. For this alcoholic drink, I use French Lemon Honey by L'Abeille Occitane. The lemon flavor of this honey is attributed to the bees feeding predominantly on lemon flowers; it is exceptionally versatile.
Honey has antioxidant, anti-inflammatory properties, digestive health benefits, and stress management related benefits too. Honey has also been used in natural medicine treatments in different countries.
The bottom line, the Margarita Slush with Cucumber, Honey and Thyme is a big success, but it is also proof that you can mix and match your favorite cocktail ingredients and try new things... like our Tart Cherry Margarita. Mixing drinks is an art, so be creative!
Happy Cocktail Hour! If you make this margarita slush, share with us in the comments below or in social media tagging @Spoonabilities on Instagram and using #Spoonabilities.
Party Responsibly!
Carlos Leo
Your Recipe Concierge
Interested in more Delicious Cocktails? Here are 8 more from our collection:
Print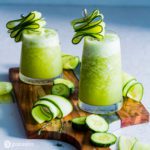 Margarita Slush with Cucumber, Honey, and Thyme
---
Description
This fresh, green looking margarita slush comes together in less than 10 minutes blending traditional margarita ingredients like silver tequila, Grand Marnier, and lime juice together with the refreshing flavor of cucumber. It is also naturally sweetened with a honey-thyme mixture, and accompanied with a rim of Greek sea salt.
If you like this recipe, why not be part of our newsletter community
---
2 Tablespoons

water

1 Tablespoon

Lemon Honey

2 teaspoons

thyme leaves

1

cup

peeled, seedless cucumber

2 Tablespoons

fresh lime juice

⅛ teaspoon

Salt Odyssey Pure Sea Salt

2

oz

Silver tequila

1

oz

Grand Marnier, or Triple Sec
Shaved cucumber for garnish
---
Instructions
Combine water, honey, and thyme in a small microwave-safe dish/cup. Microwave for 15-20 seconds or until honey is dissolved; stir and cool completely.
Combine sliced cucumber, honey-thyme mixture, lime juice, sea salt, tequila, and Grand Marnier in a blender. Add 1+¼ cups ice cubes, and blend until cucumber is pureed and ice is slushy.
Pour into glasses, garnish with shaved cucumber.
Notes
You can substitute the specific type of honey and salt for what you have available at home.
We partner (affiliate links) with Drizly delivery service, so if you don't have the alcoholic ingredients you can have them delivered.
Drink responsibly. If you are under the legal drinking age limit for your state or country, this recipe is not for you. Sorry.
Prep Time:

10

Category:

Drinks

Method:

mixing

Cuisine:

American
Keywords: alcoholic drink, cocktail, beverage, drink, slush, frozen drink, summer drink, drink responsible
Recipe Card powered by
Available via these Amazon links:
Disclaimer: Links that open in another site, i.e. Amazon, may be affiliate links where at no additional cost to you, we may receive a small commission should you decide to purchase the item. Read our Disclosure Policy.