These homemade vegan egg rolls are the appetizer of the moment. Who doesn't love finger food? Cooked in the air fryer, these crispy and golden egg rolls are in good company with a creamy, spicy, and plant-based yogurt garam masala sauce. If that weren't enough to impress your vegan guests, we're filling our egg rolls with innovative Beyond Meat beefy crumbles and a vegan delicacy: vegan fig salami with tikka masala onion. We'll tell you all about this exciting savory treat too.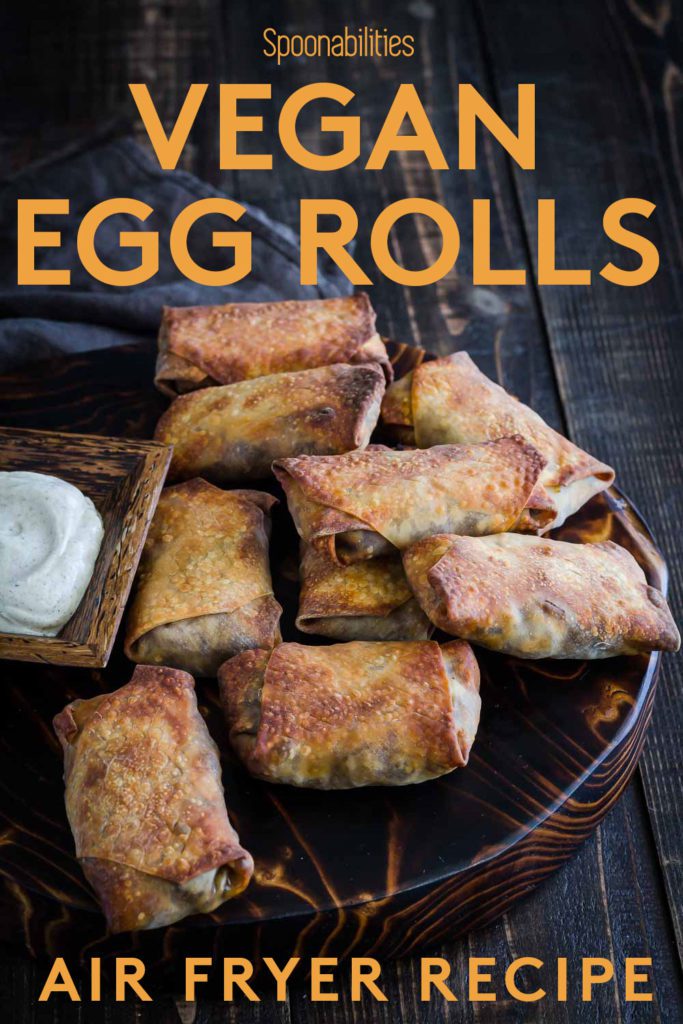 Blog post contains products you can purchase in our online shop, and affiliate links.
Read our Disclosure Policy.
Hello my friends. Let's be honest here, we're not using air fryers as much as we should, and I mean all of us.
Back when the world was black and white, the only way to achieve golden, crispy egg rolls was by bathing them in sizzling oil. Today, we're better off staying clear from deep-fried foods, and using less oil is one of the benefits about air fryers.
Air fryer vegan egg rolls are that crunchy appetizer you were looking to add to your meal rotation, especially if you want to build up your vegan repertoire.
These are no regular rolls; they're vegan egg rolls, which means there're no eggs inside. Instead, we're combining a few unique ingredients.
Have you heard about Beyond Meat products? If you haven't, go check them out. These are plant-based meat substitutes and are taking the vegan food world by storm. Peas, mung beans, fava beans, brown rice, cocoa butter, and coconut oil come together for this exciting product; a big shout-out to these guys.
We're also using Vegan Fig Salami with Tikka Masala Onion, another game-changing vegan delicacy, but I'll explain more about this meaty treat below.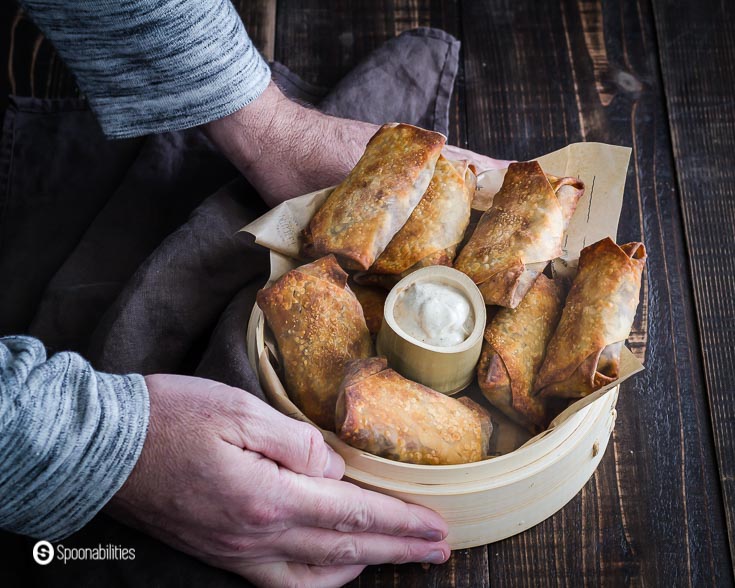 For today's recipe, we're also making a nice dip / sauce for an added level of excitement: yogurt garam masala sauce. You read that right. A creamy and spicy sauce to dip your crispy rolls in to balance their richness. For this gourmet sauce, we're using plant-based styled Greek yogurt, fragrant garam masala powder, ground cumin and ground coriander, and a dash of lime juice will bring it home.
How cool is that? Crackling vegan egg rolls made in our air fryer and a coating of creamy dip. Are you planning a dinner party? Serve these appetizers to your guests as soon as they sit down and complement them with a nice cocktail. May I suggest Spoonabilities' already classic Grilled Pineapple Mojito?
Like this recipe so far? Be the first to know when we release new ones!
---
Four-ingredient Air Fryer Vegan Egg Rolls
These air fryer egg rolls are one of our easy 1-2-3 recipes and you only need to get four ingredients. As the title of the recipe says, it's all vegan with a meaty texture and a combination of savory and sweet flavor. Just to be clear, when we say four ingredients, we are not counting some basic ingredients we know you have at the ready like olive oil and sea salt.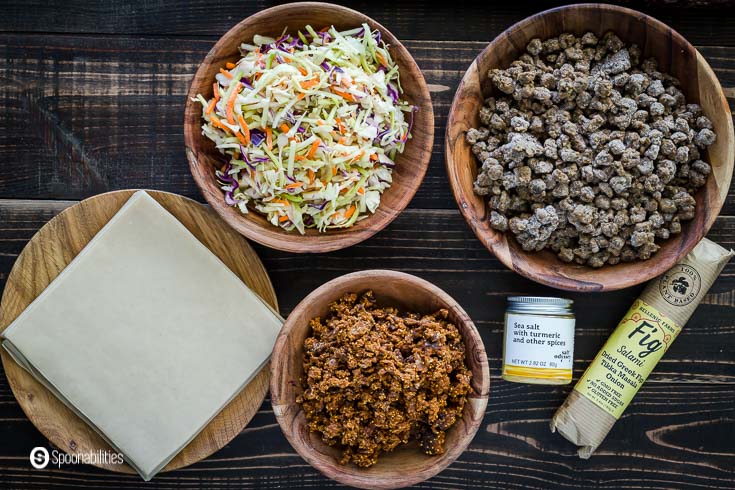 How to Make Vegan Egg rolls
When making vegan egg rolls, the first step is to sauté the veggie slaw and add the beyond meat seasoned with some sea salt. We use our Greek sea salt with turmeric & other spices, but regular salt will work fine too. Then add in the grated Vegan Fig Salami with Tikka Masala Onion. Mix well to combine and let it cool before wrapping the egg rolls.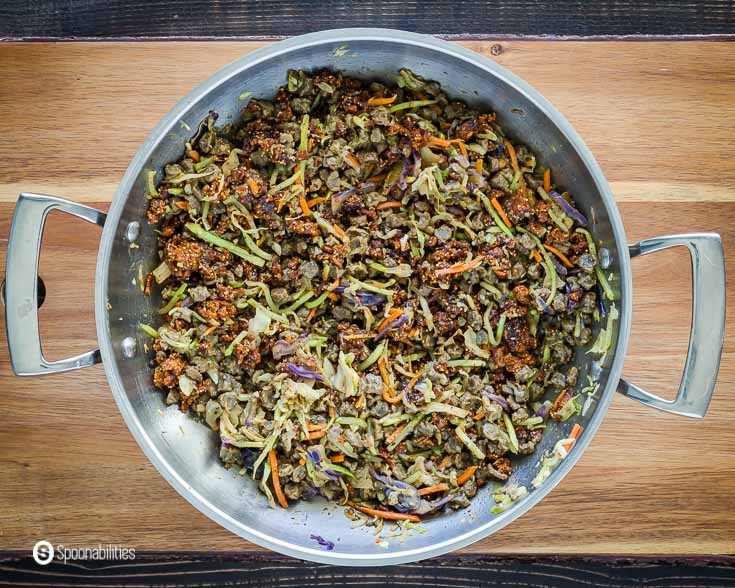 Step by Step of How to Wrap Your Egg Rolls
Set-up your wrapping workstation with a small bowl of water, the egg roll wrappers, and the cooked filling. For easy reference, follow these visual instructions.
Place the egg roll wrapper in the center of your cutting board in a diamond shape with one corner facing you. Add the filling in the wrapper a little bit south of the center.
Pro tip: Make sure your filling is not too wet or your egg rolls will become soggy.
Wrapping Your Egg Rolls:
Moisten the egg roll wrapper's edges, then fold the bottom into the center.
Tuck the right and left sides into the center.
Roll until sealed into the egg roll shape. If it doesn't seal shut, make sure your last edges are moist.
Follow the same steps until you roll out all the egg rolls.
Lightly spray the vegan egg rolls with oil.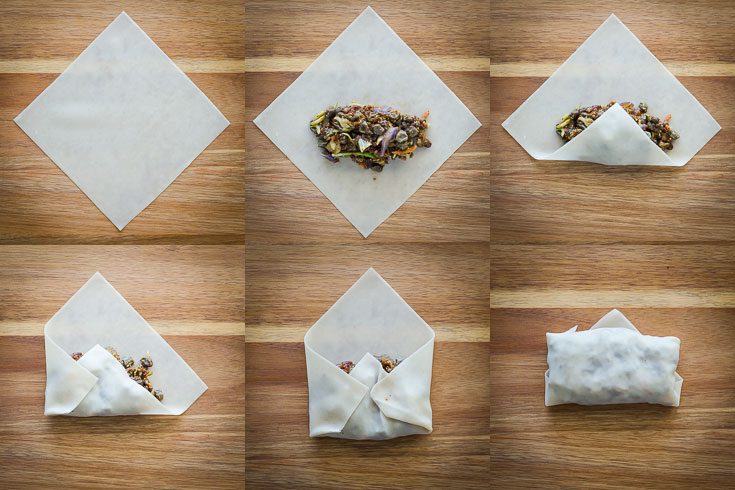 Easy steps on air frying vegan egg rolls
Pre-heat the air-fryer at 400 degrees fahrenheit for five minutes.
Spray the air fryer basket with non-stick cooking spray.
Place the egg rolls in the basket so they don't touch each other.
Cook for 8 minutes on one side and 5 minutes the other side.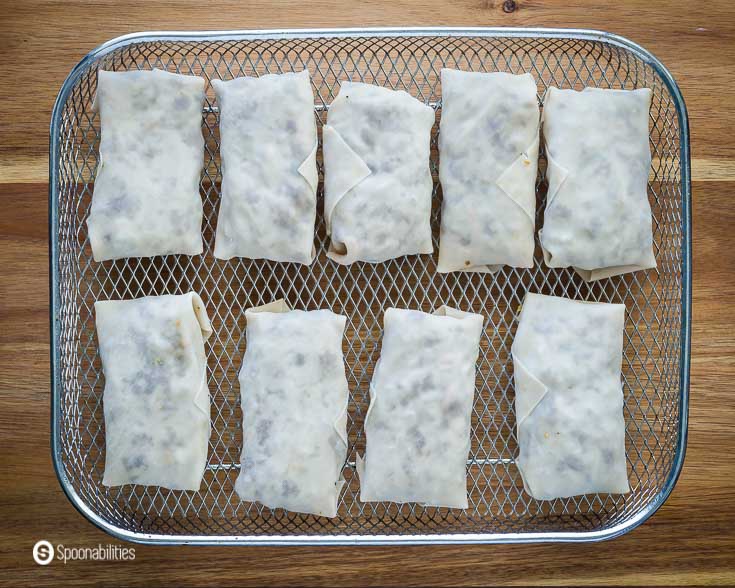 I bet you are asking where can I get those vegan egg rolls wrappers?
Well, these wrappers are in the refrigerated section of your supermarket near the produce section, right next to the tofu and other vegan alternative products.
Can you make these vegan egg rolls ahead a time?
Certainly, you can make the egg rolls ahead a time. Follow the how to wrap instructions except spraying them with oil. Place them in an air-tight container, place a lightly damp kitchen towel over them and close the lid. Put them in the refrigerator, but I recommend not letting them wait there for more than twelve hours before air frying them.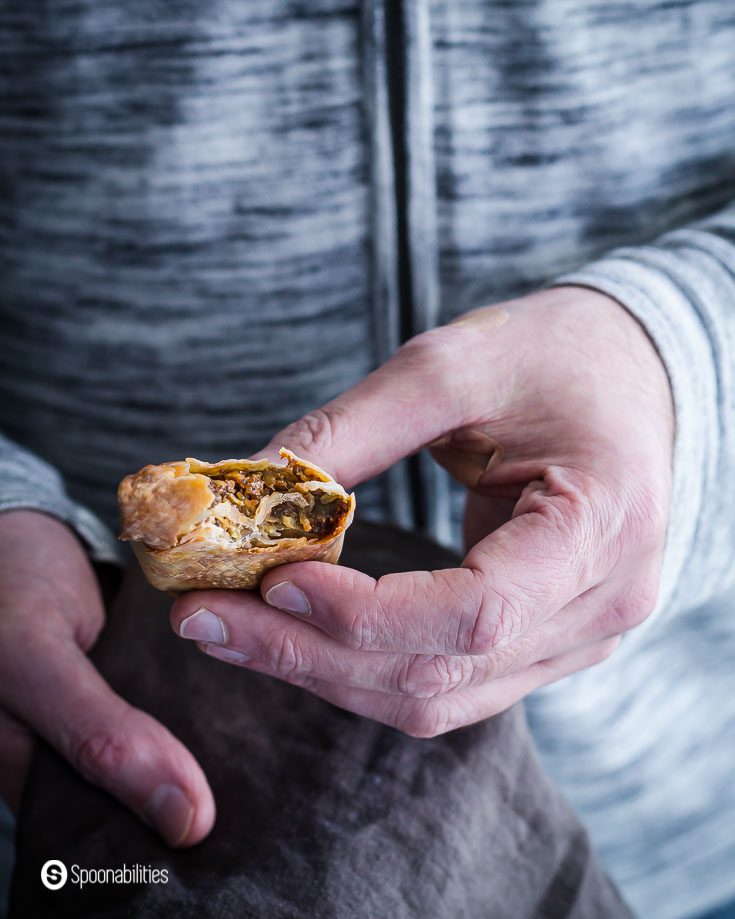 Do you want to freeze the egg rolls instead?
To freeze the egg rolls before cooking, place them on a baking sheet lined with parchment paper, and place the tray in the freezer until they freeze. Then place them in a freezer bag or a container. Freeze for up to three months. You can air fry the frozen egg rolls the same way you cook the freshly made egg rolls.
Ingredients for the Greek Yogurt Garam Masala Dipping Sauce
We are using a plant-based style of Greek yogurt, garam masala, cumin, coriander, and lemon juice for this egg roll dipping sauce. In a small bowl, combine all the ingredients and you are all set to enjoy the crispy air fried egg rolls.
You should have all the ingredients for this egg roll dipping sauce in your pantry, but you can use any store-bought dipping sauce, or you can make your own sauce to your own liking.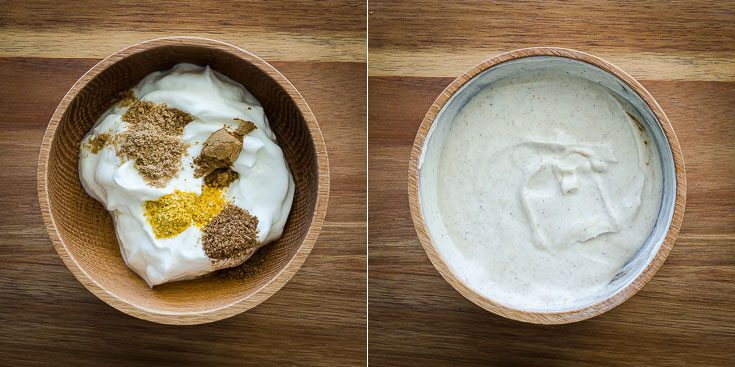 Vegan Fig Salami with Tikka Masala Onion
Don't get me wrong, I love regular salami, but being an obsessive host, I have expanded my cooking repertoire to meet everyone's dietary needs. Having many terrific vegan friends, making non-animal egg rolls was a no-brainer. How to substitute an egg roll filling? Along with veggie slaw and plant-based meat, fig salami is a fantastic alternative.
Hellenic Farms craft this out-of-the-ordinary delicacy, and although there are several presentations, today we're using the Vegan Fig Salami with Tikka Masala Onion. It's an obvious match for our garam masala yogurt dip.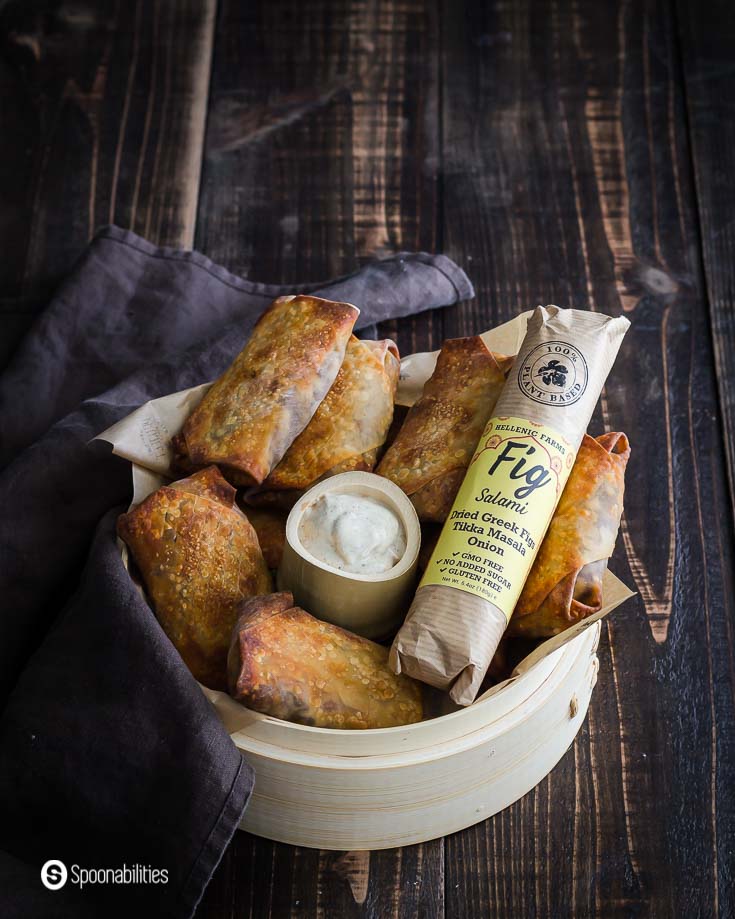 100% plant-based, this savory and spicy salami is made with Greek dried figs, onion powder, coriander, cumin seeds, cinnamon, ginger, chili powder, black pepper, cloves, nutmeg, cardamom, laurel, and anise. It's just heavenly good.
We have 6 different flavors, so you might want to get a few different types of fig salami from our store and find your favorite.
Now, get your ingredients ready and let's air fry some rolls!
I hope you get a chance to make this Air Fryer Vegan Egg Roll recipe. If you do, or you make another recipe, tag @Spoonabilities on Instagram or add a photo or comment on Pinterest, so we can find you!
And we love to hear from you in the comment section below.
Carlos Leo
Your Recipe Concierge!
Interested to see more vegan or vegetarian recipes?
Print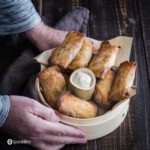 Air Fryer Vegan Egg Rolls with Garam Masala Yogurt Dipping Sauce
---
Author:

Carlos Leo

Total Time:

29 minutes

Yield:

9

1

x

Diet:

Vegan
Description
These golden and crispy two-bite egg rolls are a thing of beauty, especially when served with a yogurt garam masala sauce — that's a creamy and spicy dip, and we use a plant-based yogurt! We're combining coleslaw, Beyond Beef beefy crumbles, and Vegan Fig Salami with Tikka Masala Onion to fill our egg roll wrappers.
---
Vegan Egg Rolls:
Garam Masala Yogurt Sauce:
½

cup

(5oz) Plant-based style Greek yogurt

½ teaspoon

Garam Masala

¼ teaspoon

Ground Cumin

¼ teaspoon

Ground Coriander
Juice of a half of lemon
---
Instructions
Sauté veggie slaw for about 7 minutes. Then add the Beyond Meat and cook for 5 more minutes (follow the bag instructions). Season with salt. Cook for 3 more minutes. Stir in grated salami. Let it cool.
Pre-heat air fryer at 400F for 5 minutes
Place a wrapper in front of you in a diamond style, and put some of the vegetable mixture in a little south of the center. To wrap, moisten the edges of the wrapper, then fold the bottom corner into the center. Then tuck the right and left sides, and roll until sealed into the egg roll shape. If it doesn't seal shut, make sure your final edges are moist.
Spray the basket with oil and the top of the egg rolls.
Bake for 8 minutes on one side, flip and bake for 5 minutes on the other side.
Make the yogurt sauce while the egg rolls are air frying by mixing all the ingredients in one bowl. Adjust any seasoning to taste.
Notes
Oven instructions: Place egg rolls on a baking sheet and bake in a pre-heated oven at 350F for 10 to 15 minutes.
Prep Time:

10 minutes

Cook Time:

19 minutes

Category:

appetizer

Method:

Air Fryer

Cuisine:

Asian
Keywords: air fryer egg rolls, vegan egg rolls, yogurt garam masala sauce, Vegan Fig Salami with Tikka Masala Onion, benefits about air fryer
Recipe Card powered by
Available via these affiliate links:
Disclaimer: Links that open in another site, i.e. Amazon, may be affiliate links where at no additional cost to you, as an Amazon Associate I earn from qualifying purchases, should you decide to purchase the item. Read our Disclosure Policy.