This 10-minute Easy Gazpacho Recipe is a cold soup traditionally made with fresh vegetables and tomatoes in Spain, but this version has the added flavors of Roasted Red Pepper Salsa. Gazpacho is a great alternative to hot soup during the summer months, for a refreshing meal with rich tomato and roasted red pepper flavor.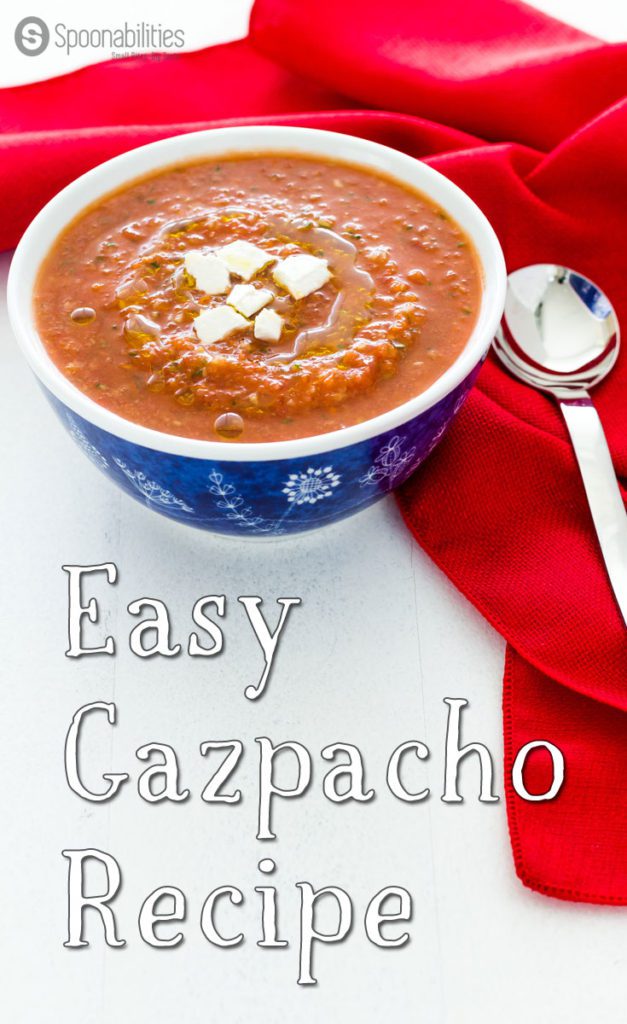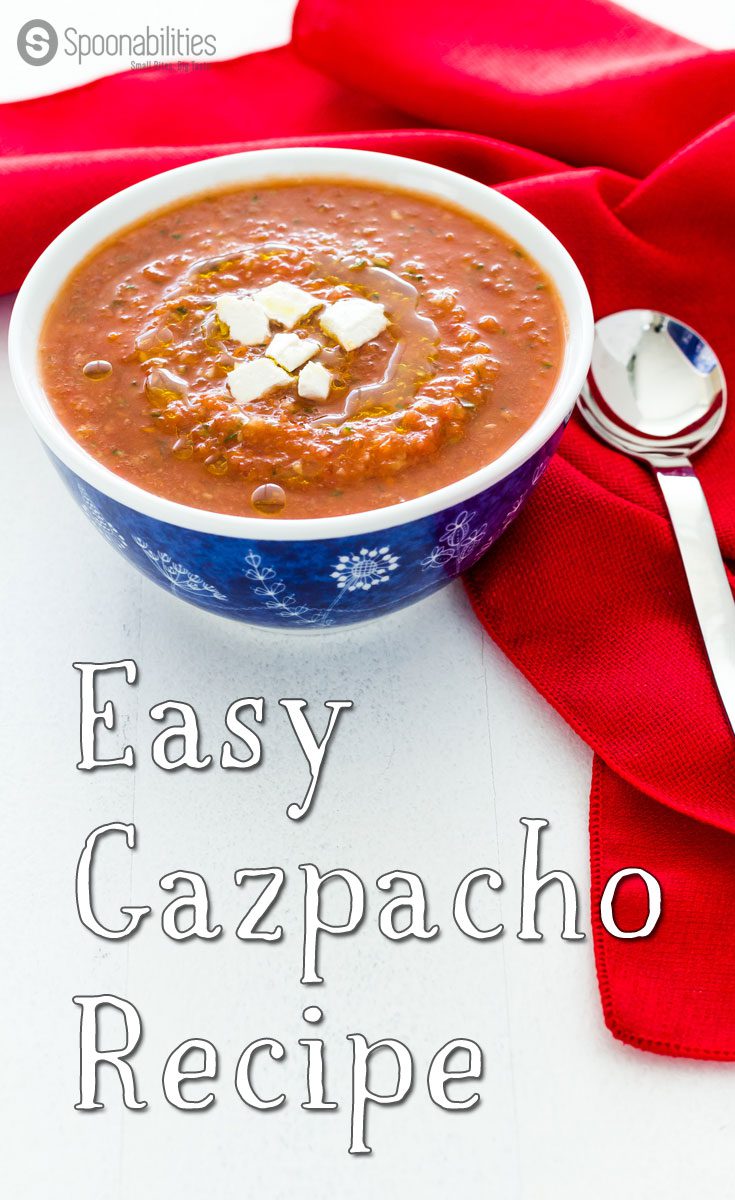 Hello my friends, I have to vent for a little bit because the heat and humidity is just crazy in Miami. There are a lot of things I love about the summer, but the hot weather is not one of them. Most people go out during the summer to the beach, camping, or otherwise spend time outdoors. Instead I prefer to stay in my air conditioned condo for as much time as possible. With all this 90+ degree weather, you will of course find me eating cool dishes like the ice cream I shared with you last week - Homemade Goat Cheese & Raspberry Jalapeño Ice Cream, and my newest addition to my "summer recipe survival kit," loaded with nutrients, and vitamins with tons of health benefits – this recipe for "easy 1-2-3" gazpacho soup. What do you think? It can't get any better than that.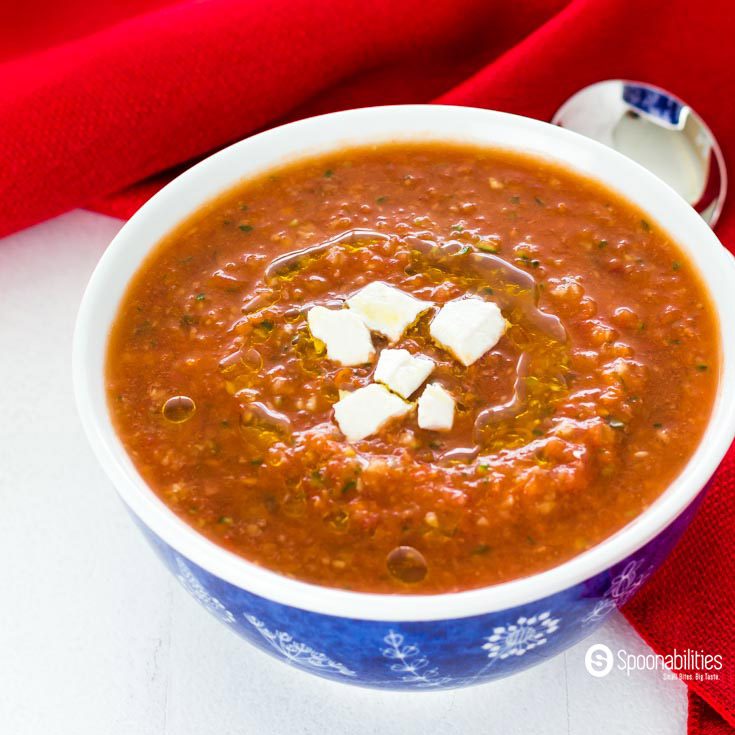 This gazpacho is one of the fabulous and delicious recipes which I first cooked last year during my first year blogging. I went a bit crazy cooking and I made about 15 recipes in less than two weeks. All those recipes have been waiting for a release date in my laptop since then. Some of the reasons why I didn't want to release them sooner is because I felt I was too new at blogging and didn't have enough experience; I was doing things without organization; and I have had a very demanding full-time job with little time dedicated to write; and I felt uninspired because I didn't have much website traffic of people reading my posts.
I also didn't want to release some of the recipes because I felt the photos are not good enough to publish. Last year, I had such a difficult time coming up with ideas to photograph food and come up with a story. This easy gazpacho recipe is an excellent example of my internal struggles because this cold soup tasted SO GOOD, but I think the pictures don't give it justice.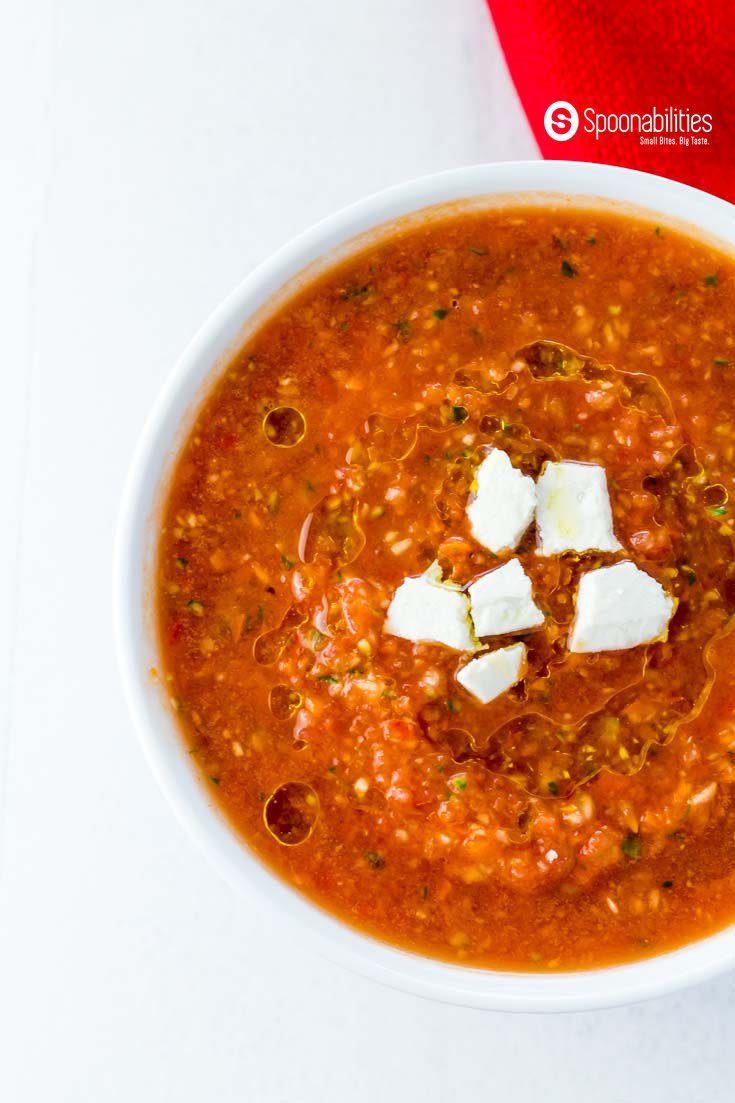 Geoffrey is the one responsible for why those recipes are now being released. And, I know he will be pretty happy to read this comment... "he was right" because he kept telling me the longer I wait to publish those recipes, the better and better I will get at photography, and the more I won't like the old photos, and they will never be released.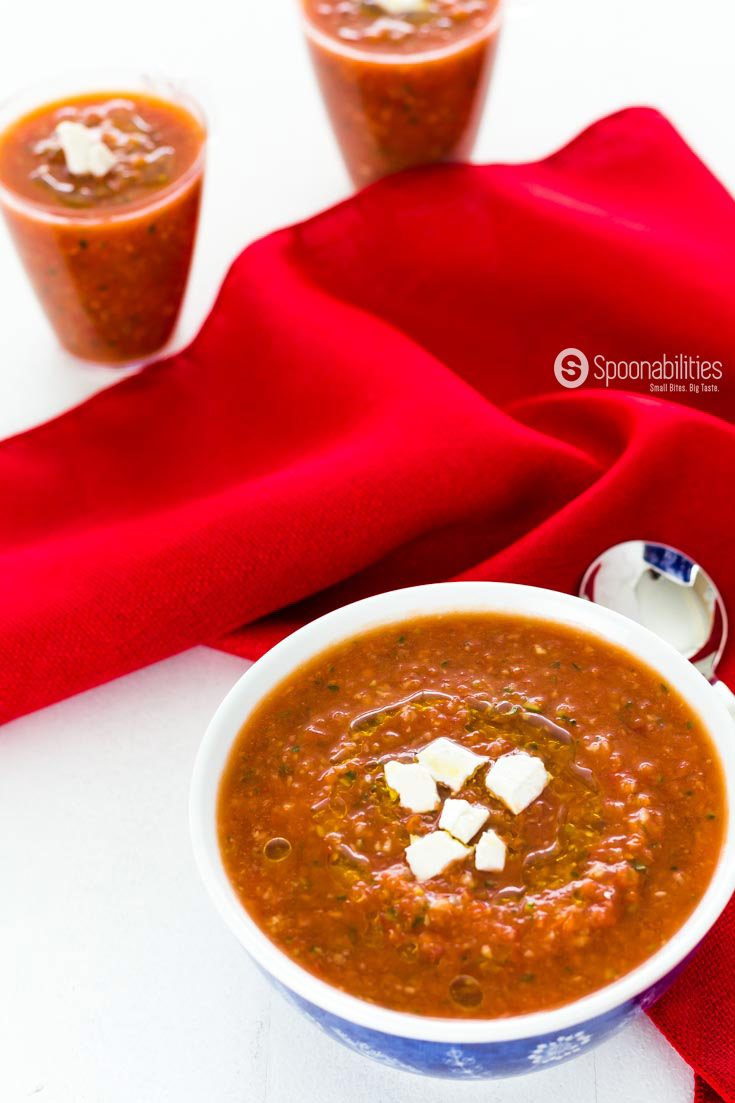 As we speak, I'm printing this recipe because I'm going to remake this cold soup again next week with a twist. I recently opened a jar of Cilantro Lime Salsa and it should be very interesting to compare the taste of the Roasted Red Pepper Salsa gazpacho against the Cilantro Lime Salsa gazpacho. You can make this easy gazpacho recipe with any salsa that you have sitting around in your pantry or at your supermarket, or already open in your fridge. But make sure you pick a good quality salsa with as few preservatives as possible because it won't taste as good without the same freshness. One of Geoffrey's favorite salsas, which you can get almost anywhere is Pace Chunky Salsa, Medium.
This is the first time I cooked and tasted gazpacho. Eating vegetables in a cold soup was an experiment for me, and I was not sure about it. To my surprise, when I tried this cold soup, I really liked it.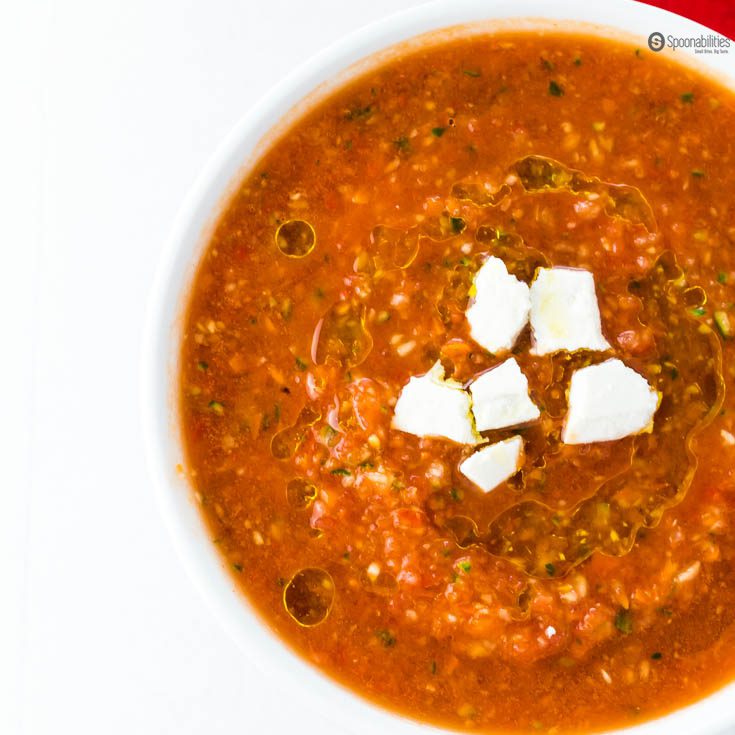 How do you make gazpacho soup?
Making gazpacho is so super easy, and you can make it in less than 10 minutes. Just pull out your food processor or blender, and throw in all the chopped vegetables plus the Roasted Red Pepper Salsa, and Voilà! The next step is to chill it in the refrigerator for at least two hours, but I prefer waiting for mine until the next day. It's a personal preference.
The traditional way to eat gazpacho is with a piece of rustic bread on the side.
Now, here are some healthy facts about gazpacho that I found in the website Solfrio. Click the link if you want to know more details about each of the below benefits.
Gazpacho

prevents colds.

Gazpacho

prevents hypertension.

Gazpacho

slows the aging process.

Gazpacho

increases organism defenses.

Gazpacho

helps you lose weight.

Gazpacho

hydrates your body.

Gazpacho

extends your suntan.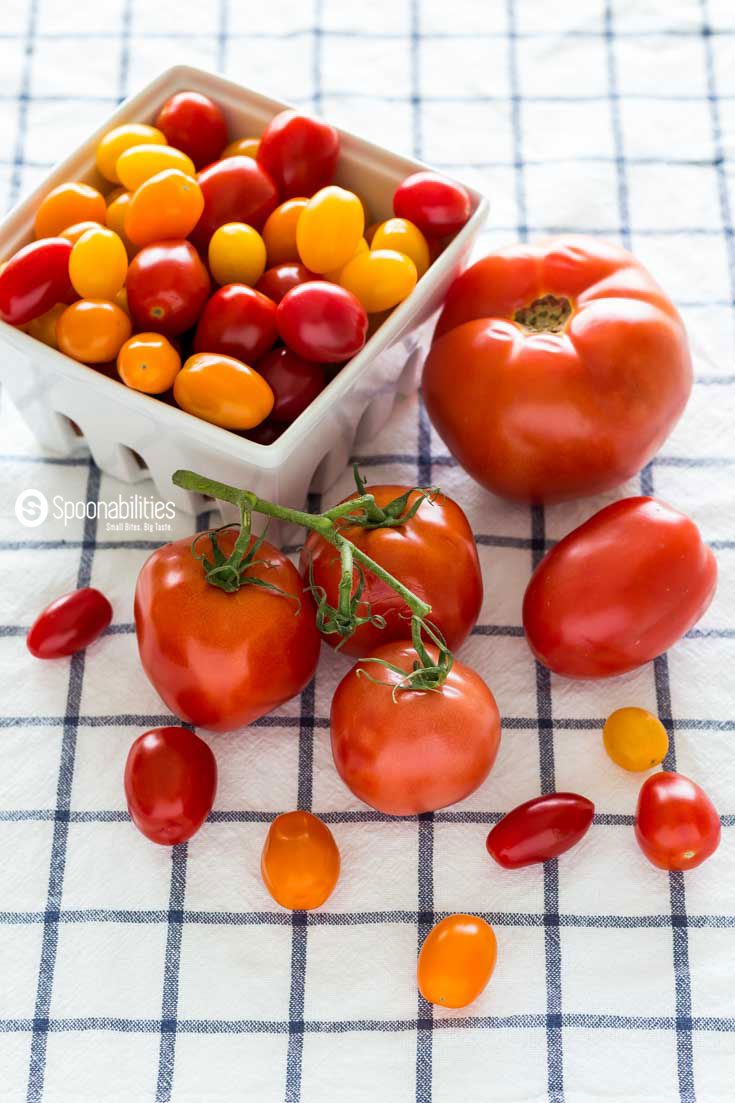 Health benefits of tomatoes
Tomatoes have lycopene which is an antioxidant that provides beneficial protection from prostate cancer in men.
Tomatoes lower the blood pressure
Tomatoes contain carotenoids which is an antioxidant found in vividly colored fruits and vegetables such as tomatoes, carrots and other red and orange foods. Antioxidants play a fundamental role in cleaning up free radicals in the blood system and from body tissues. Also, other carotenoids such as Zeaxanthin are important for eye health and also provide anti-inflammatory properties. Lutein is a carotenoid with anti-inflammatory agents.
For more detailed info go to the Alternative Daily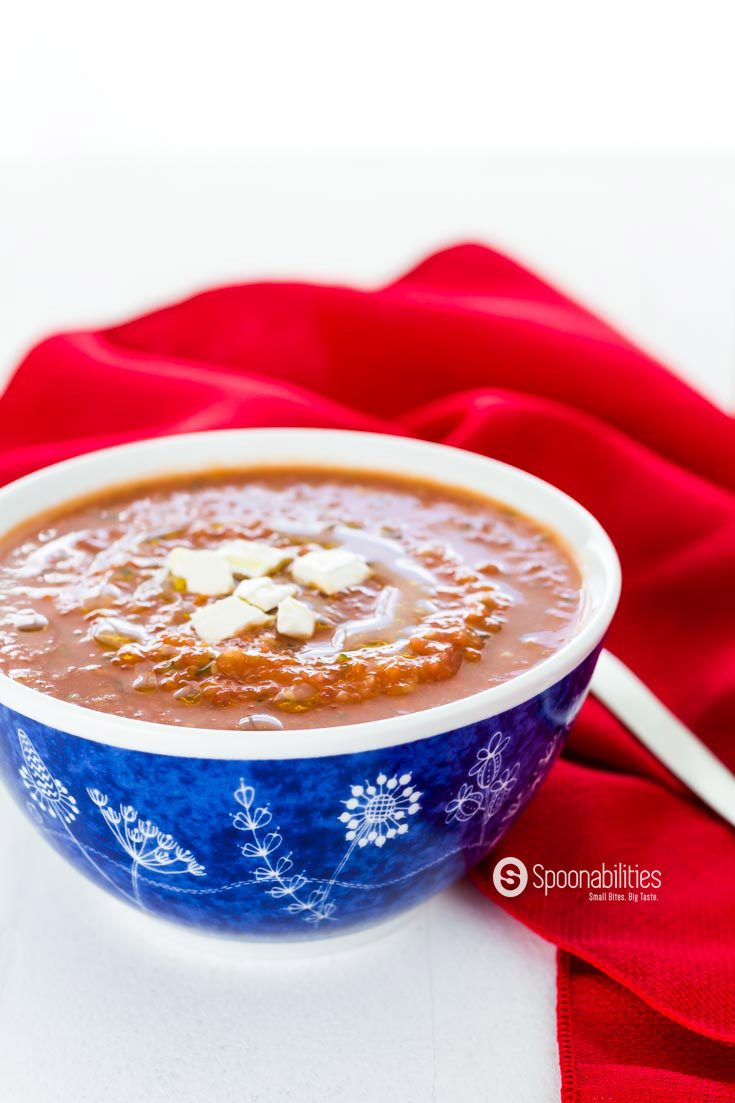 Wines to drink along with your gazpacho
I know we are talking about health benefits, but you can have a glass of wine to complement the flavor of this easy gazpacho recipe. Gazpacho should be paired with a refreshing, cold, young, light, crisp and "un-oaked" white wine, such as:
Sauvignon Blanc
Galicia's elegant versatile white
Dry Italian whites
Manzanilla sherry
Provence rosé
I hope you get to enjoy this easy gazpacho recipe this summer. Also, let me know if you have made something like this before and any recommendations you have for other gazpacho flavors, like this Chilled Peach Soup with Fresh Goat Cheese recipe. All ideas are welcome.
Enjoy this summer!
Carlos
Print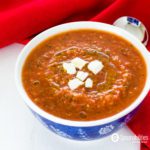 Easy Gazpacho Recipe with Roasted Red Pepper Salsa
---
Author:

Carlos Leo

Total Time:

10 minutes

Yield:

1

0

1

x
Description
This cold soup recipe is originally from Spain and made from fresh vegetables with a rich tomato flavor. In this recipe, we are reinterpreting the traditional chilled Spanish summer soup to include Roasted Red Pepper Salsa, fresh vegetables, and for garnish we used a high-quality Greek Olive Oil by Navarino Icons Eleon, and small cubes of ricotta Salata cheese. This gazpacho recipe is so easy to make that it only takes 10 minutes.
---
---
Instructions
In a food processor, add Roasted Red Pepper Salsa, tomato juice, roma tomatoes, cucumber, lime juice, olive oil and salt.
Blend until you reach the consistency that you prefer: slightly chunky or smooth.
Chill a least for an hour or overnight.
Serve in a bowl, cup or a glass.
Garnish with ricotta Salata and small pieces of tomato.
Notes
You can add more salsa if you want a deeper red pepper flavor
Prep Time:

10 minutes

Category:

lunch

Cuisine:

Spanish
Nutrition
Serving Size:

6

Calories:

113

Sugar:

9.3 g

Sodium:

775.5 mg

Fat:

4.8 g

Saturated Fat:

1.6 g

Carbohydrates:

15.5 g

Fiber:

3.5 g

Protein:

4.7 g

Cholesterol:

7.2 mg
Recipe Card powered by
Available via these Amazon links:
Disclaimer: Links that open in another site, i.e. Amazon, may be affiliate links where at no additional cost to you, we may receive a small commission should you decide to purchase the item. Read our Disclosure Policy