Raspberry Jalapeño ice cream has a creamy texture and flavor with the addition of goat cheese, and some sweetness with a bit of a kick from Raz-Pepper (Raspberry Jalapeno) Preserves. Read on to learn how to make a creamy perfect homemade ice cream base with no eggs.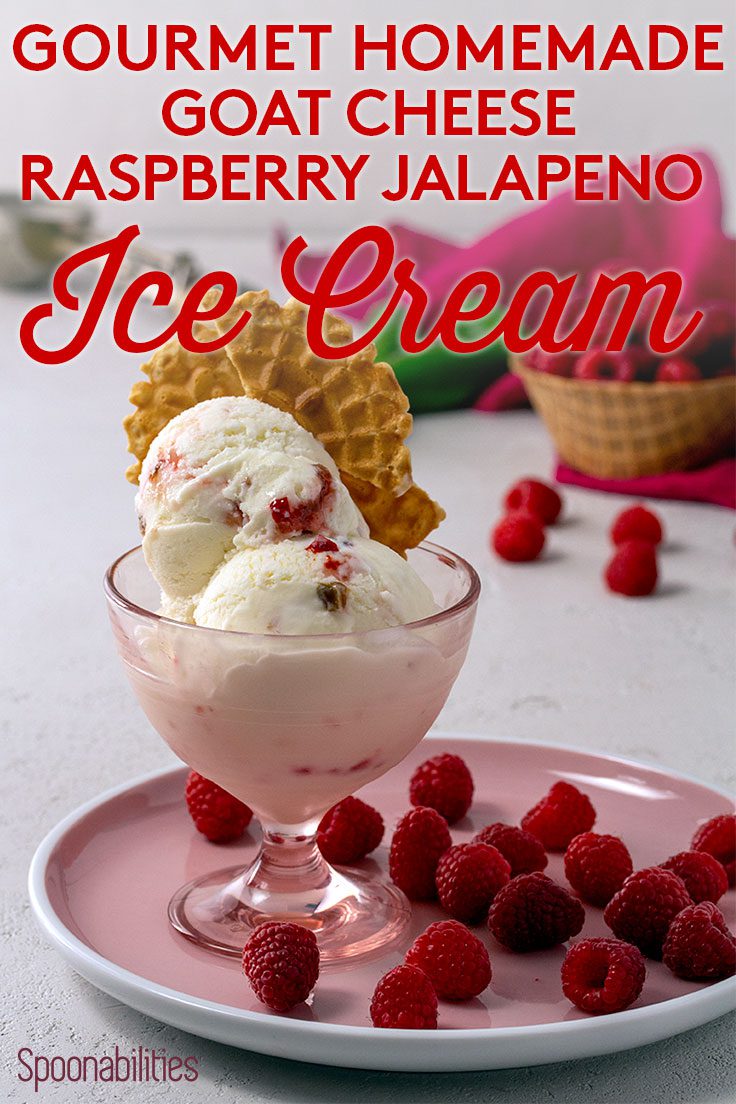 Blog post contains products you can purchase in our online shop, and affiliate links.
Read our Disclosure Policy
Hello my friends. Since the beginning of this year I've been looking forward to the summer season so that I can make some creamy and innovative flavors of ice cream recipes. I knew I didn't want to make popsicles because two years ago I tried to make two popsicle flavors and one of them didn't come out of the popsicle mold. The second one I made, which was Coconut Cream Lingonberry Pops, gave me a bit of trouble, but my husband Geoffrey helped me. Although the popsicles tasted great, they certainly did not look pretty. So, I think the problem here is between me and the popsicle mold?.
Since July is National Ice Cream Month, my initial plan was to release one or two homemade ice cream recipes each week during the whole month of July. But as usual, I was unrealistic thinking that I could handle having a full-time job and in my spare time make all those recipes, take the photographs, and do the writing... all of which are very time consuming. Another obstacle to my original plan is that when I started making and photographing the first ice cream, the month was already almost half over.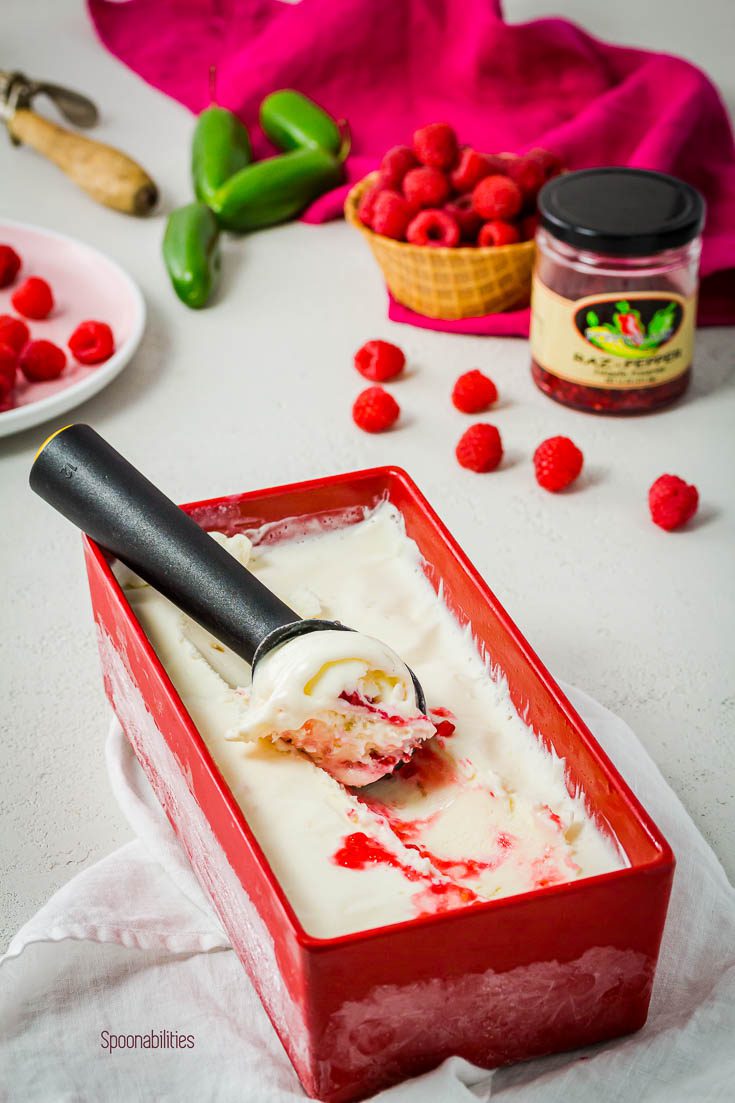 The inspiration for these gourmet ice creams comes from the Salt & Straw cookbook created by the famous Salt & Straw Ice Cream Shop in Portland, Oregon. They continuously open my imagination to how many flavors combinations I can make without being afraid to experiments with unusual flavors. In the cookbook, I found the recipe "Goat Cheese Marionberry Habanero Ice Cream," which inspired me to try that recipe using the raspberry jalapeño preserve we re-introduced into our Spoonabilities shop (click on through to purchase this jam). Although their cookbook is the origin of the goat cheese raspberry jalapeño ice cream, I already knew the combination of goat cheese and raspberry jalapeño was terrific. I had already paired those flavors during the Wine & Cheese Tasting Party that we did a couple of years ago. This flavor combination was a great success with our guests.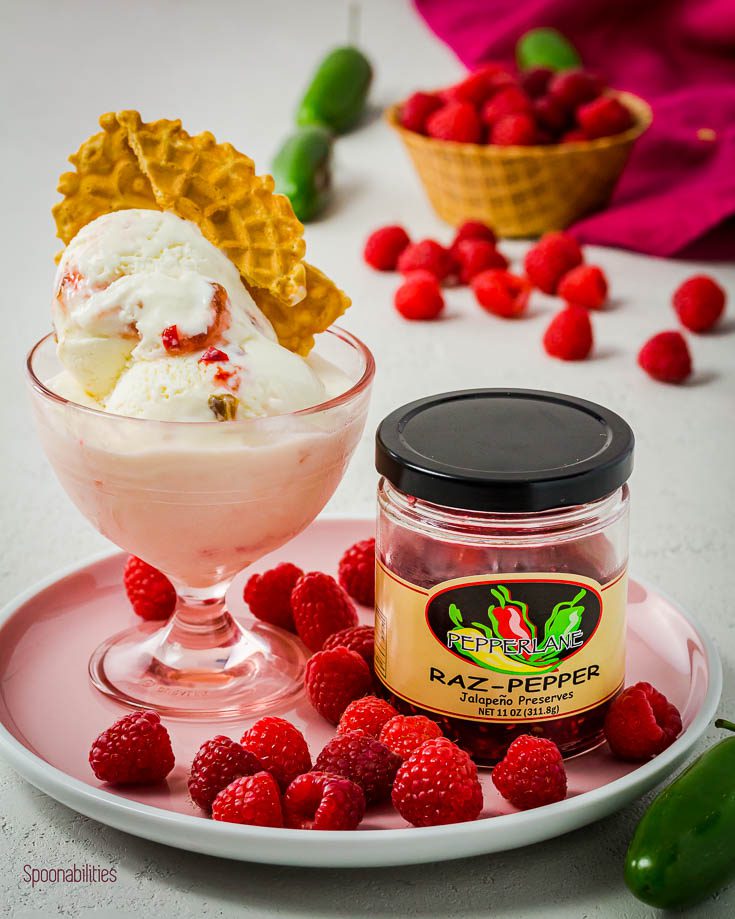 About Raz-Pepper (Raspberry Jalapeno) Preserves
Raz-Pepper Preserves has a vibrant red color from the raspberries. Pepperlane, our small-batch producer, mixes raspberries with jalapenos and sweet red pepper making this mouthwatering Jalapeño Raspberry Jam one of our new most popular and best-selling flavors. In addition to using this delicious jam as a glaze for steak, shrimp, salmon, and scallops, or switching up your next peanut butter and jelly sandwich, use it to make:
Like this recipe so far? Be the first to know when we release new ones!
---
How to make Goat Cheese & Raspberry Jalapeño Ice Cream
After your churning container is in the freezer for 24 hours, we can start making your homemade Raspberry Jalapeño Ice Cream. Take out the goat cheese and leave it on the counter for 30 minutes or until it becomes soft. Then, bring the ice cream base from the refrigerator and add the more delicate goat cheese. For this part, you will use a stick blender to help incorporate the cheese completely with the base. Stir in lemon juice and pour the mixture into the ice cream maker bowl and turn on the machine. Churn for about 22-25 minutes until the base turns into a soft-serve texture. The exact time in the ice cream maker will depend on each machine/brand.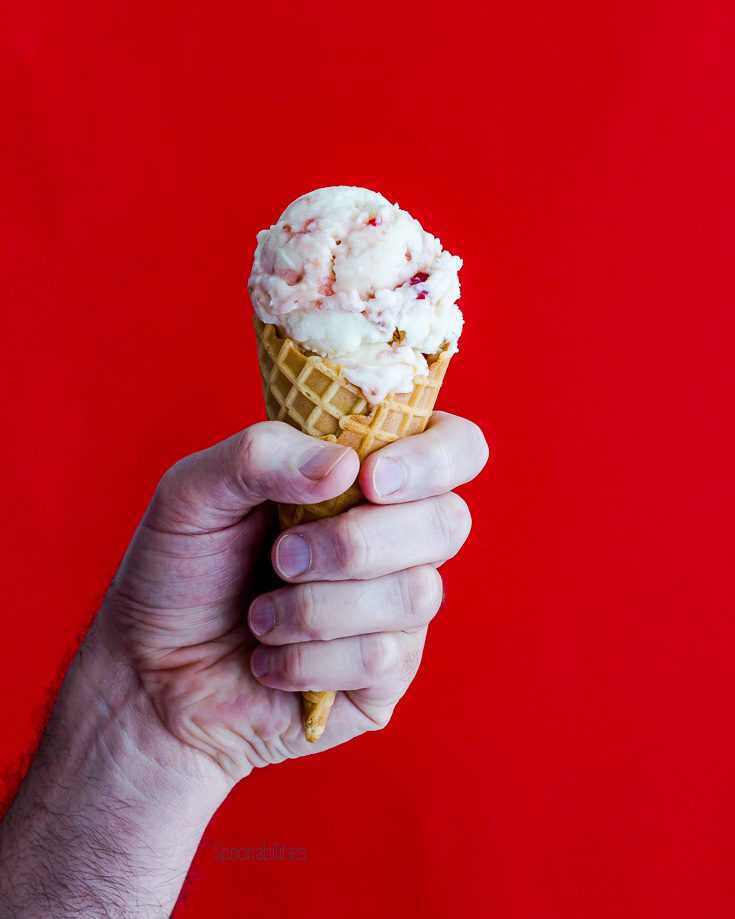 Open the jar of Raz-Pepper Preserves and using a fork, stir to help loosen the jam so it's easier to spoon into the ice cream. Using an ice cream container or a freezer-friendly container, in alternating layers, add a layer of the soft ice cream and then a generous spoon of the raspberry jalapeño preserve. When you finish this process, cover the raspberry jalapeño ice cream with parchment paper and press softly against the ice cream to help the paper to adhere to it. Then cover with a lid. In my case, I use an ice cream container without a lid, and I use plastic wrap to cover on top of the parchment paper. Place the container in the freezer for at least 6 hours. Try to control yourself and don't start grabbing secret personal spoonfuls before 6 hours is up. Ideally, it should freeze over night. I was smart enough to make the ice cream at about 8:00pm at night, so we had no choice but to let it freeze overnight. If I made it in the morning, who knows what time Geoffrey would have been sneaking spoonsful.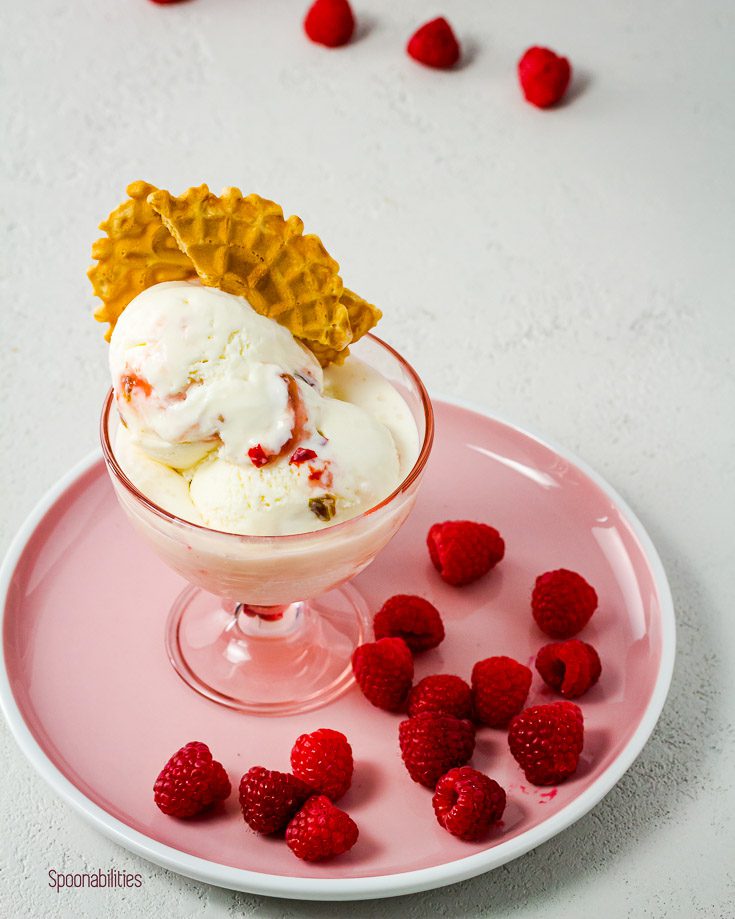 More Ice Cream Recipes You Will Love
I will leave you with some other super delicious semi-homemade ice cream recipes that we have made, and a special blog post about 3 Fun & Tasty Ice Cream Toppings. Give them all a try:
I hope you get to make this delicious recipe for Homemade Goat Cheese & Raspberry Jalapeño Ice Cream or one of the other recipes above. Leave me a comment below with what you think about this recipe, and let me know if you will give it a try. Share this recipe with your social media friends and tag us @spoonabilities and use the hashtag #Spoonabilities. Thank you.
Wishing your Tasty Happenings,
Carlos Leo
Your Recipe Concierge!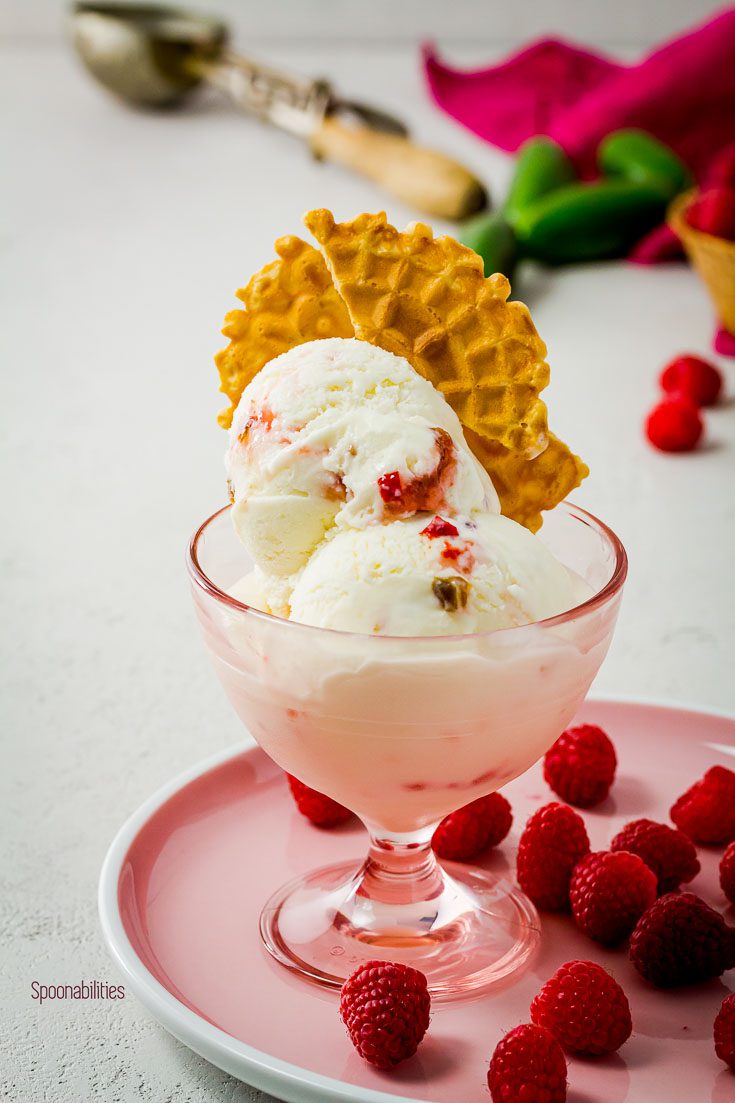 Print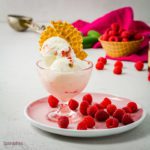 Homemade Goat Cheese & Raspberry Jalapeño Ice Cream
---
Author:

Carlos Leo

Total Time:

6 hours 42 minutes

Yield:

1 Pint

1

x
Description
Goat Cheese & Raspberry Jalapeño Ice Cream is a winning combination of sweet fruity flavor and a bit of heat. The base of this gourmet ice cream is heavenly and creamy with the flavor of goat cheese, and we use Raz-Pepper (Raspberry Jalapeno) Preserves to infuse some sweetness, fruitiness and hint of heat. Recipe inspired by Salt & Straw cookbook.
If you like this recipe, why not be part of our newsletter community
---
---
Instructions
Combine the ice cream base, goat cheese, and sea salt in a bowl and use a stick blender to completely incorporate the cheese. Put the mixture back in the freezer for 15 minutes until is cold again.
Pour the mixture into an ice cream maker and turn on the machine. Churn just until the mixture has the texture of soft serve (22-30 mins).
Stir the Raspberry Jalapeno Preserve with a fork to loosen it. Using a freezer friendly container that is large enough, quickly alternate spooning layers of the mixture and generous layer of the Raspberry Jalapeno Jam.
Cover with parchment paper, pressing it to the surface of the ice cream so it adheres, then cover with a lid. It's okay if the parchment hangs over the rim, and you can use plastic wrap to cover if your container doesn't have a lid. Store it in the coldest part of your freezer (farthest from the door) until firm, at least 6 hours. It will keep for up to 3 months, but you will surely devour it before then.
Notes
Vitamin A 22%, Vitamin C 14%, Calcium 31%, Iron 5%, Vitamin D 26%, Vitamin B12 8%, Vitamin E 4%, Vitamin K 3%
Prep Time:

20 minutes

Cook Time:

22 minutes

Category:

Dessert

Method:

freezing

Cuisine:

American
Nutrition
Serving Size:

1 cup

Calories:

392

Sugar:

28.3 g

Sodium:

377.6 mg

Fat:

23.8 g

Carbohydrates:

32.3 g

Protein:

13 g

Cholesterol:

69.2 mg
Recipe Card powered by
Available via these Amazon links:
Disclaimer: Links that open in another site, i.e. Amazon, may be affiliate links where at no additional cost to you, we may receive a small commission should you decide to purchase the item. Read our Disclosure Policy