Your new favorite way to cool down during the summer is here! Coconut Cream Lingonberry Pops have three ingredients for an easy, fast and refreshing treat for the whole family. These creamy ice cream-like popsicles (paletas) are made with coconut cream, 100% organic Vermont maple syrup and Lingonberry Fruit Spread.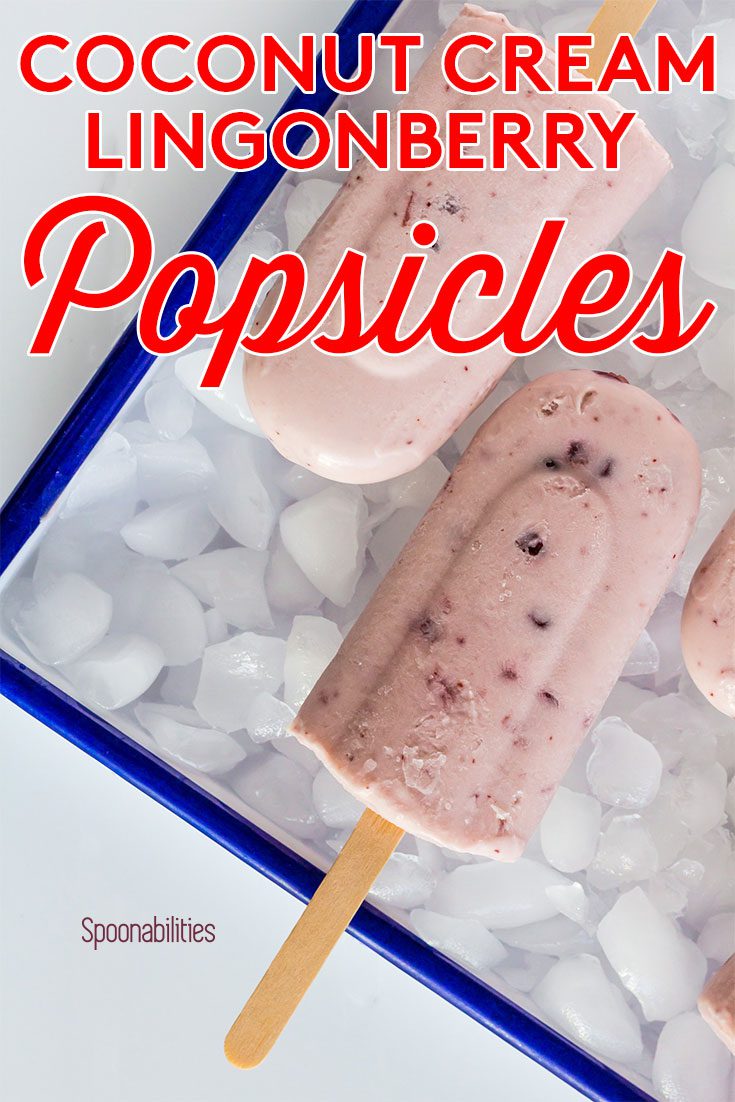 Blog post contains affiliate links and products you can buy in our online shop.
Read our Disclosure Policy
The pre-Lingonberry Pops, Apricot Fruit Spread Popsicle experiment
Our very first experiment in making popsicles was with Apricot Preserve, Grand Marnier and organic gluten-free powdered sugar for which the prep-work pictures look pretty nice and the taste was amazingly delicious. But, the final pops ended up being a beautiful mess because the pops didn't hold together and melted right away after they were taken out of the molds. It was a bummer. :) I don't know what happened.  Also according to Geoffrey, the water was too hot trying to get them out of the molds, and we probably put a "little extra" Grand Marnier in there too, maybe. I will keep trying until I find the perfect combination for next summer's popsicle season.
I'm planning to buy new mini molds made out of silicon or maybe this one which is a larger size ice cream bar mold, which I found on Amazon. With these kinds of molds, you won't need to use warm water to take the pops out of the mold. Right? Easy? I hope so.
Here are some pictures from the Apricot Popsicle Experiment.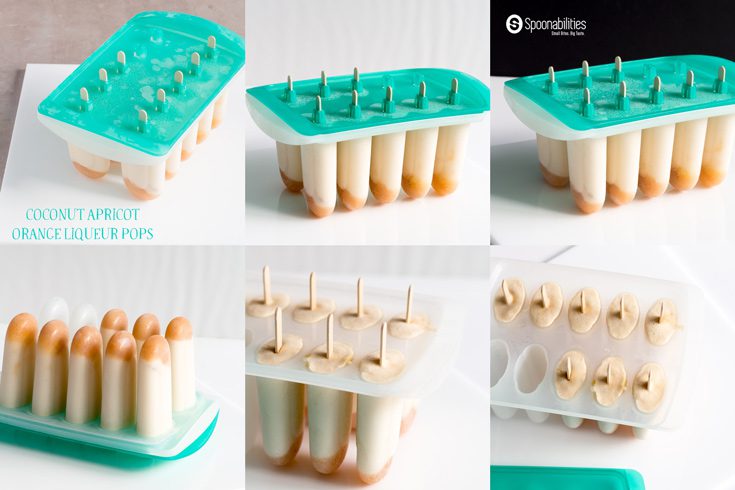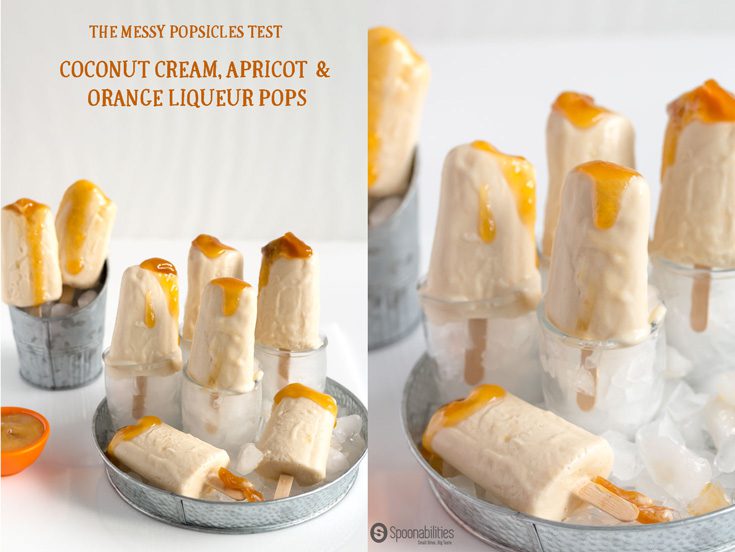 On the other hand, the Coconut Cream Lingonberry Pops was an absolute success. They have a creamy, sweet and fruity taste and the best part - they hold their shape nicely. For most of the pictures I'm posting in this recipe, Geoffrey is the photographer behind those beautiful images. He did a fantastic job!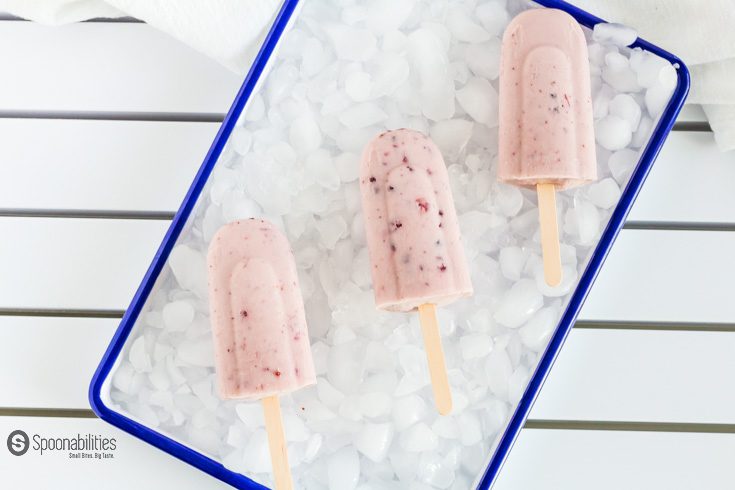 This Lingonberry Pops recipe is another "no-recipe" dessert.  It is so simple to make, I feel embarrassed calling it a recipe. You just need to mix together the coconut cream, maple syrup, and the Lingonberry Fruit Spread, and pour it in the paleta molds. Then insert the sticks and leave it for at least 8 hours.
Like this recipe so far? Be the first to know when we release new ones!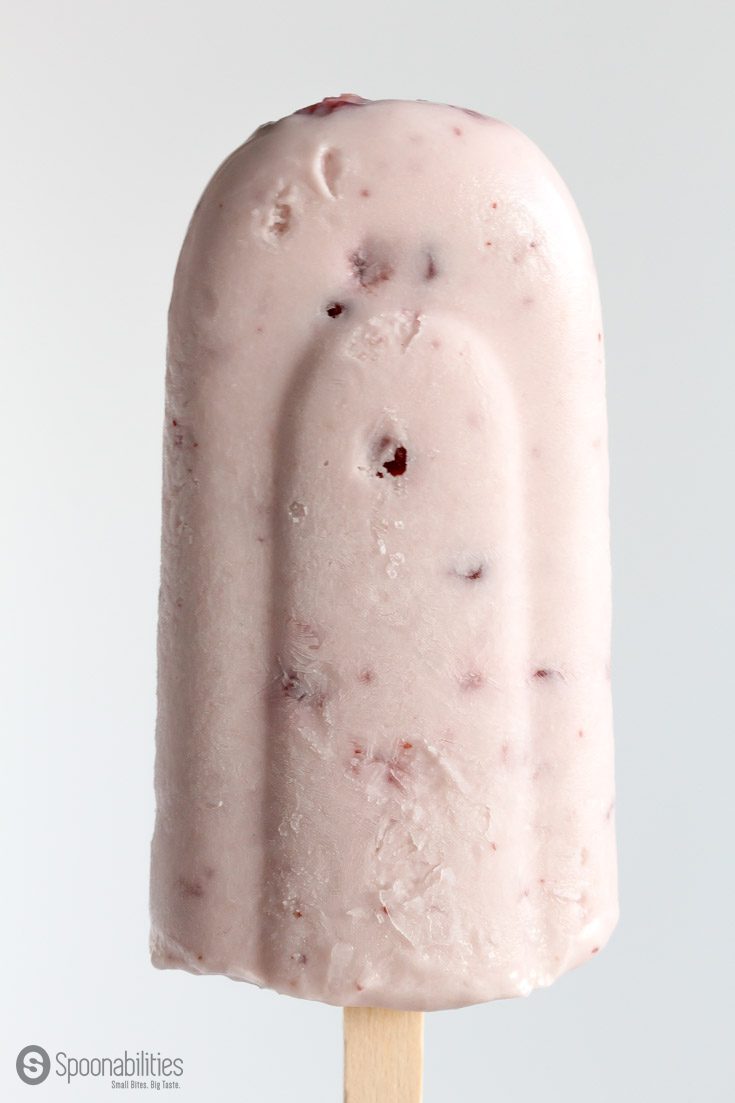 I wanted to make these Lingonberry Pops as "healthy" as possible, and also take into consideration everyone's tastes and dietary restrictions.
All the ingredients of these "Easy 1-2-3" Lingonberry Pops are:
Gluten Free
Vegan
Dairy-Free
Paleo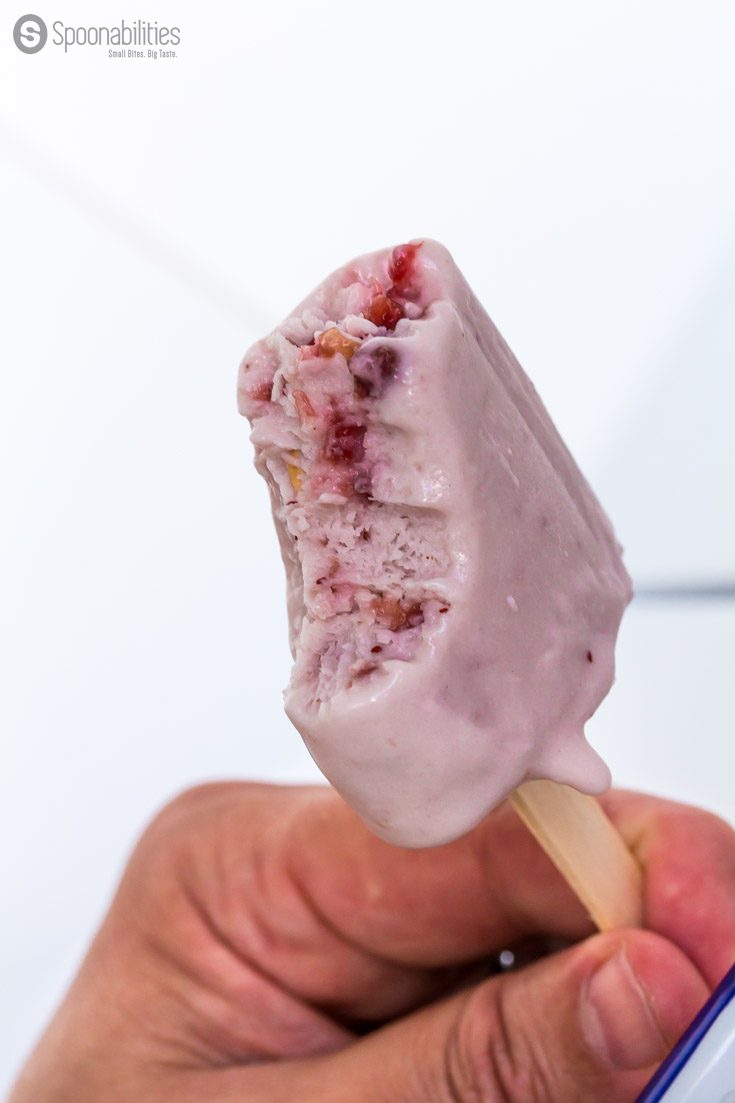 Now, here is my dose of healthy facts about the ingredients in this Lingonberry Pops recipe:
What are Lingonberries?
Lingonberries have grown in the wild in northern Europe, America and Asia. They look very similar to huckleberries or cranberries, and the taste is tart and slightly sweet. You probably know about lingonberries from your trips to the cafeteria while shopping at IKEA sampling their famous Swedish meatballs. But, you might be surprised about different desserts you can make with lingonberries like Lingonberry Cake.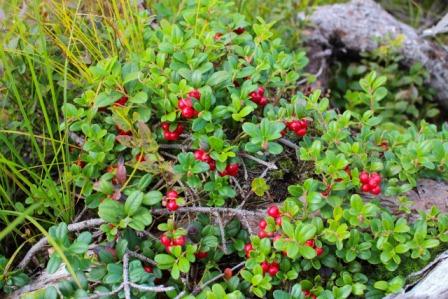 Benefits of the Lingonberry:
Great source of antioxidants
Good remedy for inflammation
Cancer protection
Reduces age spots
Like cranberry, they work beautifully to relief urinary tract infections.
Weight loss and control diabetes. In a study, including lingonberry in the diet had reduced the insulin & the blood sugar levels of participants more than the test groups. Researchers determined lingonberry is an option to treat diabetes as well as control weight gain and obesity.
The above information was compiled from NCBI & healthy focus.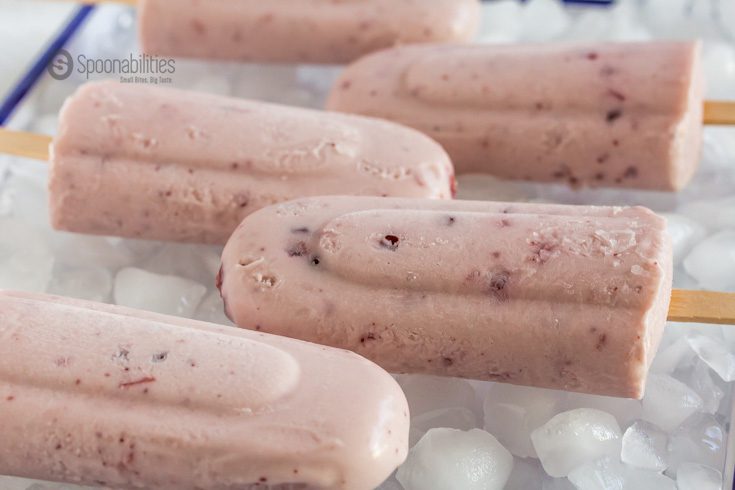 Removing Lingonberry Pops from the molds
Making these Lingonberry Pops is SO EASY, but removing them from the molds can be a bit more difficult, even frustrating without the right amount of patience. To remove the popsicles from the molds, run the molds under luke-warm water for about 45-60 seconds. Some people say that it's better to dip paleta molds in a warm water bath so that the entire mold has the temperature reduction uniformly.  After 45-60 seconds, firmly pull the pops out without loosening the stick.  If they do not come out (relatively) easy, run them under the water for another 30 seconds. Keep repeating this process until they "pop" out.  Be careful not to run them under hot water, or for too long, or they will melt and lose their shape right away.  Yes, I learned that the hard way – see the Apricot Popsicle experiment above.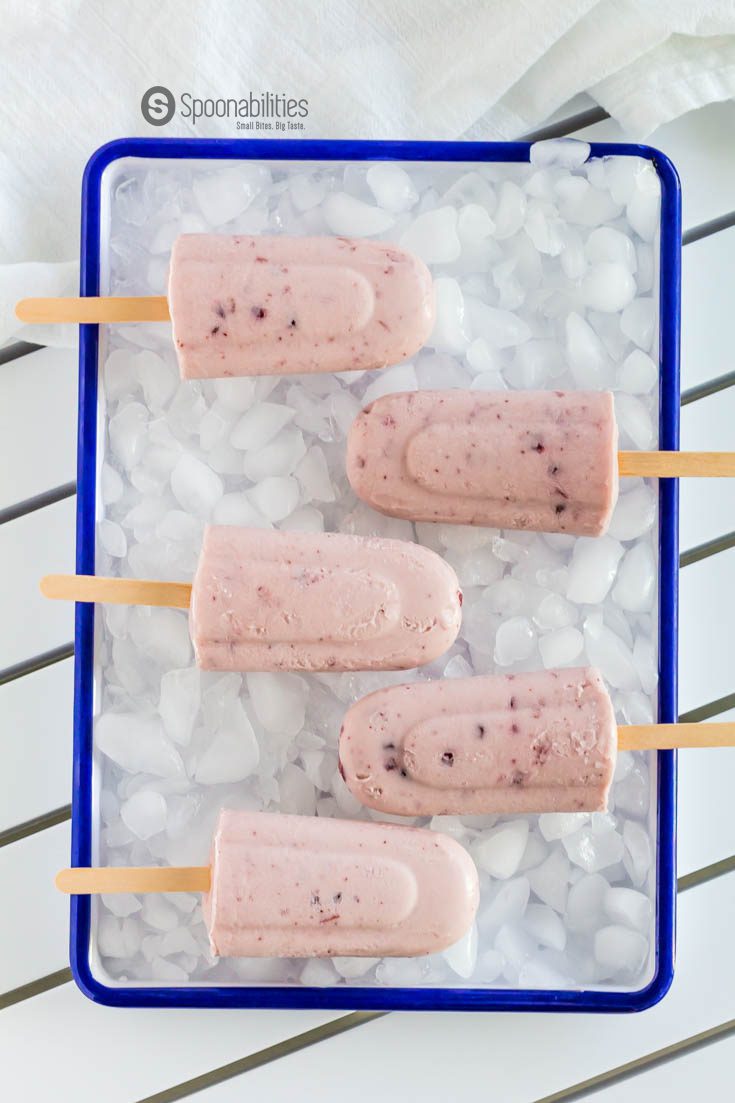 Once you get them out of the molds, you can also refreeze them until you are ready to serve them.  You can put them in individual plastic bags and then stack them in the freezer.  If your family doesn't know you made them yet, I recommend hiding them in the back of the freezer until you are ready to announce their arrival.
Happy summer my friends!
Carlos
PS - If popsicles are not your thing, then thank you for reading this far, and, also check out some of our "real" ice cream recipes:
Print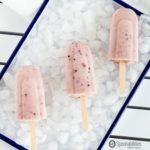 Coconut Cream Lingonberry Pops
---
Author:

Carlos Leo

Total Time:

8 hours 5 minutes

Yield:

7

-

8

Pops

1

x
Description
Lingonberry Pops is one of the fastest and easiest recipes for popsicles. Coconut Cream Lingonberry Pops are creamy, sweet, and refreshing. After the first bite eating these pops, you your taste buds will ignite as you bite into the small Lingonberry fruit for a light, crunchy sensation. These pops are the new summer favorite in this house – a cooling dessert that is Vegan, Gluten-Free, Dairy-Free & Paleo.
---
---
Instructions
Combine in a bowl the coconut cream, maple syrup, and the Lingonberry Fruit Spread.
Mix well but do it gently to don't break the small pieces of fruit from the jam.
Fill up the popsicle molds and insert the sticks. I got this Popsicle Maker Set with Wooden Sticks that will hold the sticks so you can put them in right away, but there are other molds which recommend letting it freeze for an hour before inserting the sticks.
Let them freeze at least 8 hours before you taste this popsicle heaven... overnight if you can wait that long
Remove from molds and enjoy (see removal instructions above if needed)
Prep Time:

5 minutes

Category:

Dessert

Cuisine:

International
Recipe Card powered by
Available via these Amazon links:
Disclaimer: Links that open in another site, i.e. Amazon, may be affiliate links where at no additional cost to you, we may receive a small commission should you decide to purchase the item. Read our Disclosure Policy