Fresh Stuffed Squash Blossoms are filled with rich & creamy burrata and Kalamata Olive & Oregano Spread. The olive spread is produced in Greece and is made of simple Mediterranean flavors including Kalamata olives, oregano, Greek EVOO, vinegar and salt. The final touch of this recipe is a slight drizzle of EVOO direct from Greece using Melies extra virgin olive oil. This recipe is so easy, how could it not be one of our 'Easy 1-2-3 recipes'?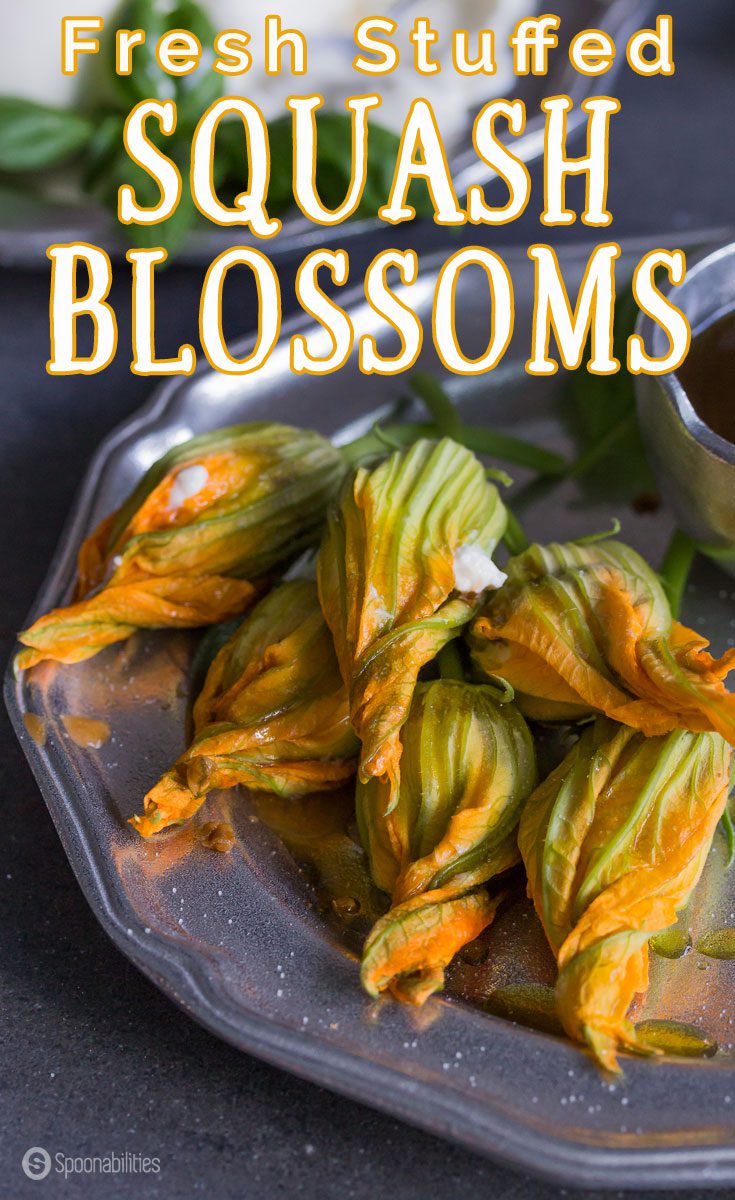 Blog post may contain affiliate links. Read our Disclosure Policy
Hello my friends. This week I'm extending the feeling of summer as late as possible with the lovely bright orange yellowish color from these squash blossoms, and easing into fall with a darker, moody background in the photos.
For a while I have seen a lot of recipes and pictures of fresh stuffed squash blossoms, and most of them are being stuffed with many different kinds of cheese like ricotta, goat cheese, feta and fresh burrata like this one. However, most of those recipes are fried, baked and even put into a frittata or other cooked dishes.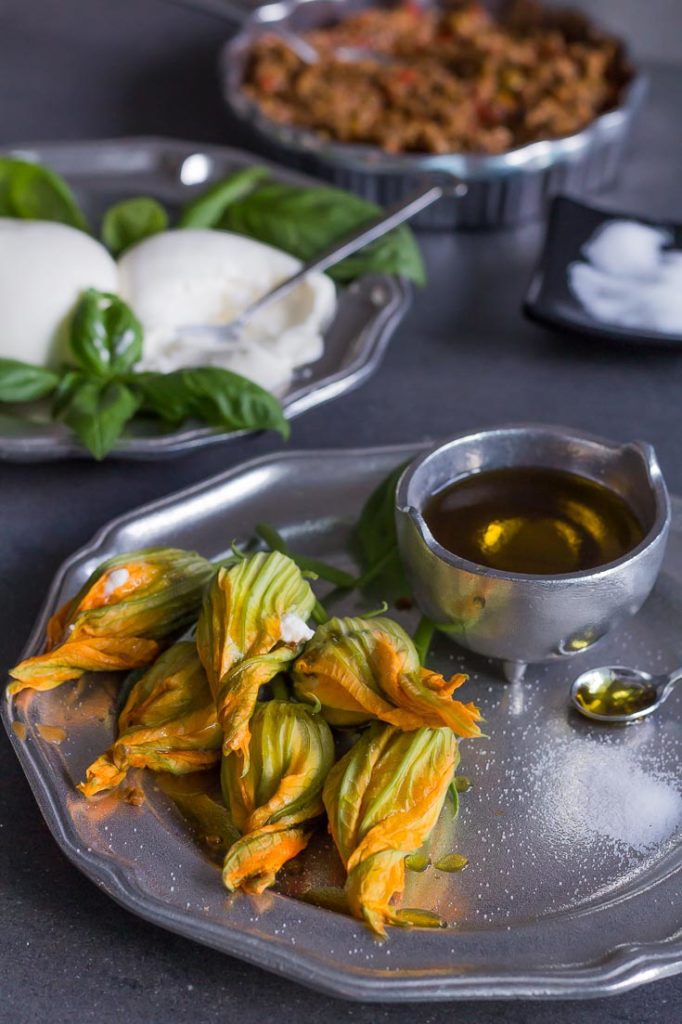 When I received a gift box from BrightFresh with their amazing MicroGreens, I was so happy to see that they included squash blossoms. The blossoms have such a beautiful and delicate texture, and I also wanted to showcase their subtle, delicate, light and airy flavor, as well as the raw quality of this edible flower in its most pure and natural way.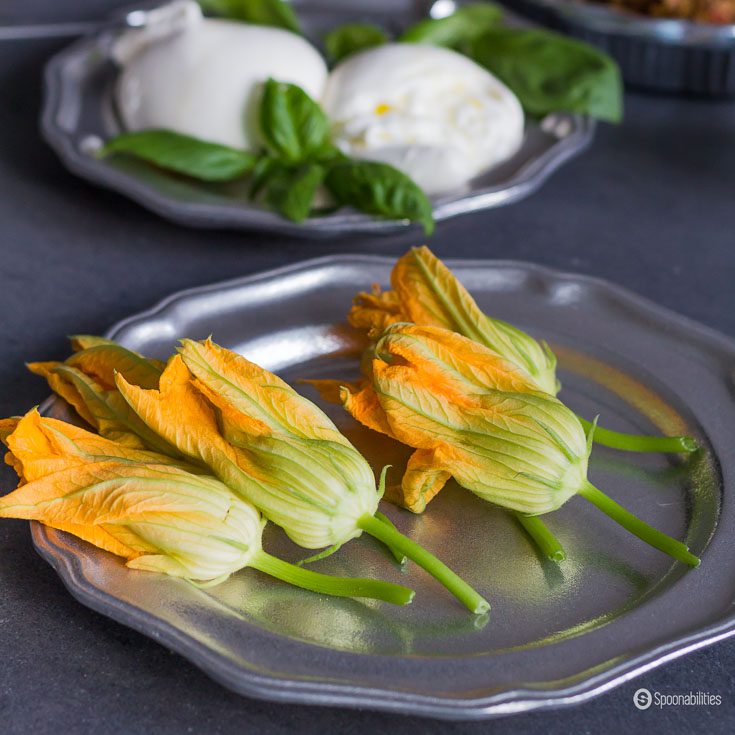 These fresh stuffed squash blossoms in their natural state will look fantastic on your table as an elegant appetizer, and you will impress your guests.
Step-by-Step video: Fresh Stuffed Squash Blossoms
Note: When this video was made we used Black Olive Tapenade. Since then we upgraded the dish to use Kalamata Olive & Oregano Spread from Greece.
Squash blossoms are available in late spring and summer. They are grown in perfect weather conditions in California. Some resources I found said that the blossoms and other edible flowers should be eaten right after you buy them from the farmer's market because their shelf life is very short. But, the squash blossoms I received from BrightFresh lasted for two weeks until I was ready to make this recipe. I was very impressed with the Bright Fresh products because all the micro greens were still looking fresh after what I thought would be a longer period of time. Usually, when I get MicroGreens at the supermarket they last no more than three days.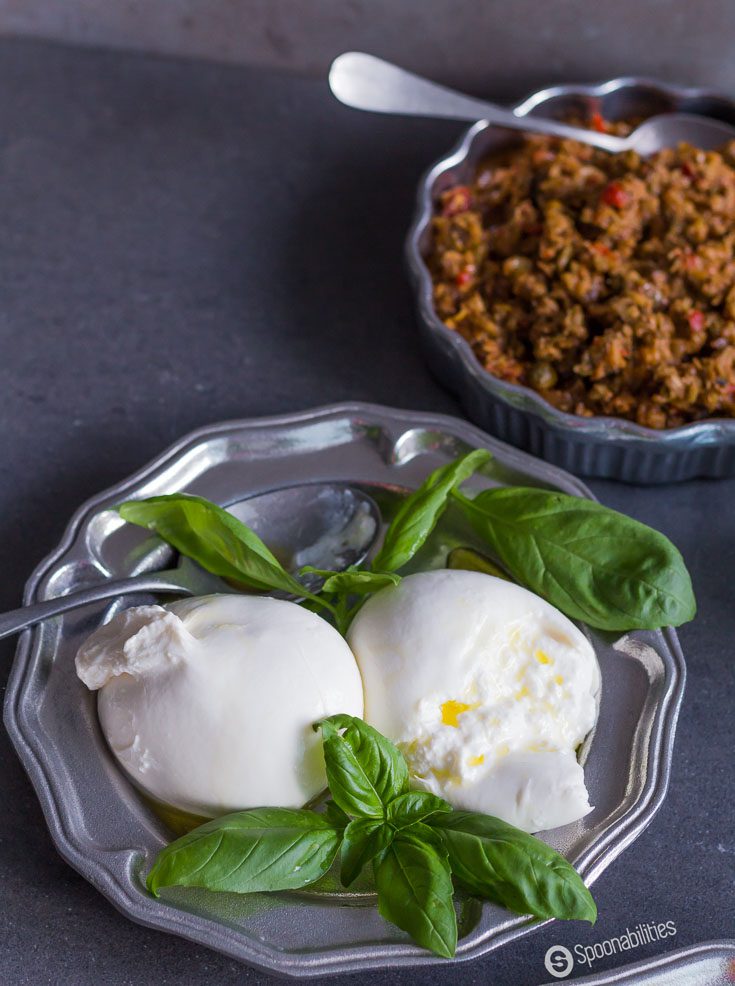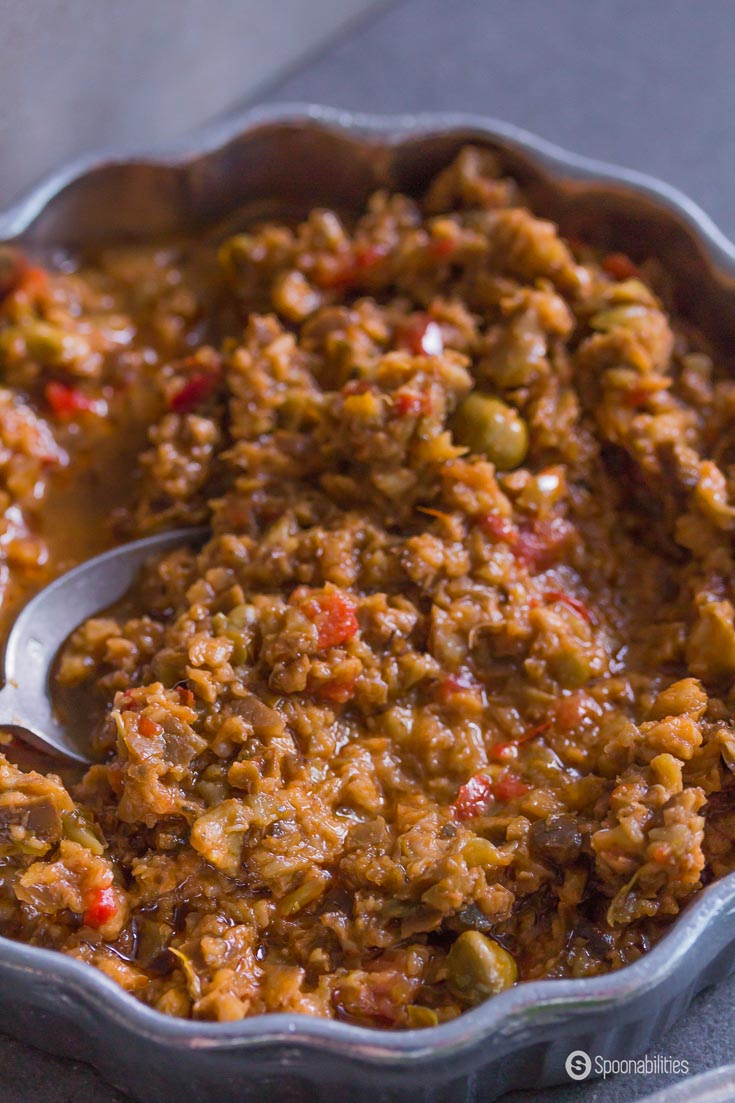 By the way, this is not a paid promoted post for Bright Fresh. I am just very impressed with the quality of their products. If you missed the other fantastic recipes this past August using different #BrightFreshMicroGreens please check out these:
I'm looking forward to getting more squash blossoms or other edible flowers so that I can learn to cook, bake, and fry them. I want to find out what the flavor is like from each of those different cooking techniques. Do you have a good edible flower recipe I should make? Tell me about your favorite recipe in the comments below.
Have a fantastic week.
Carlos Leo
"Your Recipe Concierge"
Print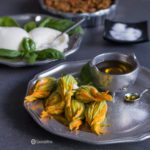 Fresh Stuffed Squash Blossoms with Burrata & Kalamata Olive Spread
---
Author:

Carlos Leo

Total Time:

15 minutes

Yield:

4

1

x
Description
Fresh Stuffed Squash Blossoms are filled with rich & creamy burrata and Kalamata Olive & Oregano Spread. This appetizer recipe is easy, and no cooking needed. The olive spread is from Greece with simple, wholesome Mediterranean flavors like kalamata olives, oregano, EVOO, and vinegar. For the final touch, slightly drizzle on some Greek extra virgin olive oil (EVOO).
The squash blossoms in their raw state will look beautiful in your table with the vibrant orange-yellow color of this edible flowers.
---
---
Instructions
Carefully open each petal of the squash blossom, holding the bottom with your other hand.
Fill each squash blossom with one Tablespoon of burrata cheese and ½ Tablespoon of Kalamata Olive & Oregano Spread.
Close the petals and gently twist the top to close the filling inside.
Place on a serving plate and sprinkle with a dash of salt. (This is optional because the tapenade already has salt.)
Drizzle on some extra virgin olive oil, and serve.
Notes
Vitamin A 2%, Vitamin C 2%, Calcium 3%, Iron 1%, Vitamin B12 1%, Vitamin E 3%
Cook Time:

15 minutes

Category:

Appetizer, Salad

Cuisine:

Italian
Nutrition
Calories:

36

Sodium:

256.1 mg

Fat:

3.5 g

Protein:

1 g

Cholesterol:

3.6 mg
Recipe Card powered by