This Gin Prosecco Cocktail will change your mind about sparkling wine cocktails. This champagne cocktail is made with gin, chamomile tea, tangerines, white balsamic vinegar, and topped off with prosecco. It is not what you expect, but you will be surprised how wonderful it tastes. If you also want to know the difference between champagne, prosecco and sparkling wine, keep reading.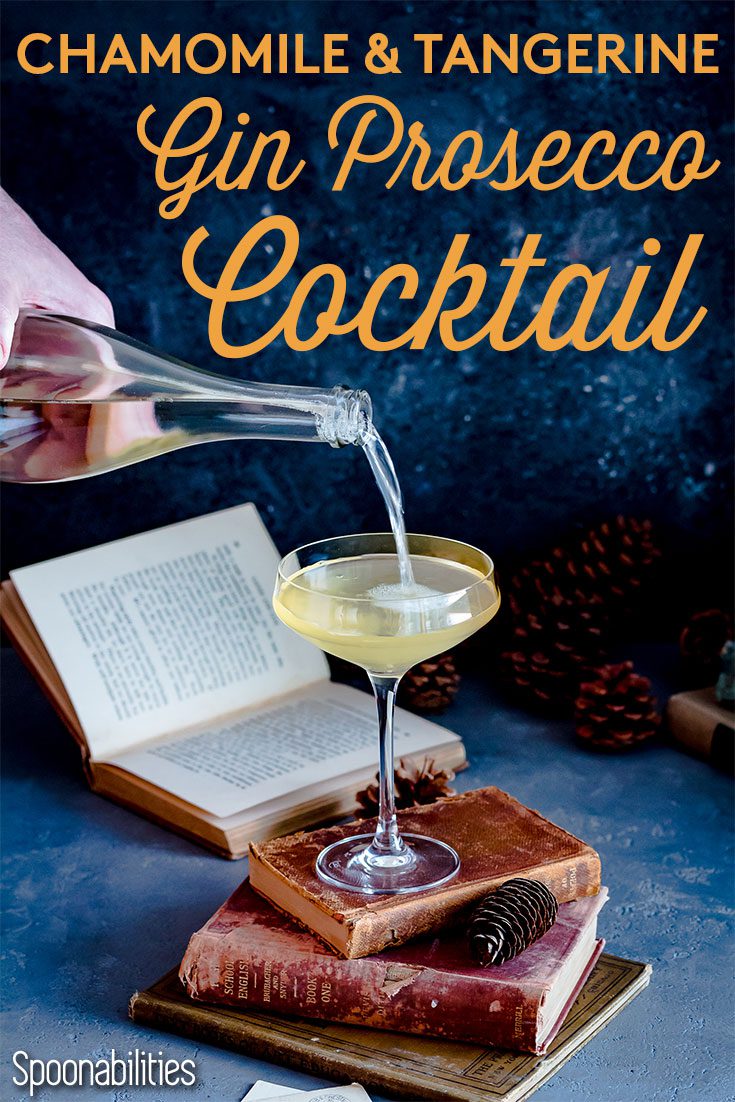 Blog post contains affiliate links. Read our Disclosure Policy
Hello my friends.
Well, here's a good sign... We made this drink last weekend. Today I was thinking about how to start this blog post, and my mouth started watering. Since the base of the drink is pre-made, we have some of the chamomile and tangerine syrup leftover in the refrigerator. So, for inspirational purposes only, I went to the kitchen and made us another round of these Gin Prosecco Cocktails.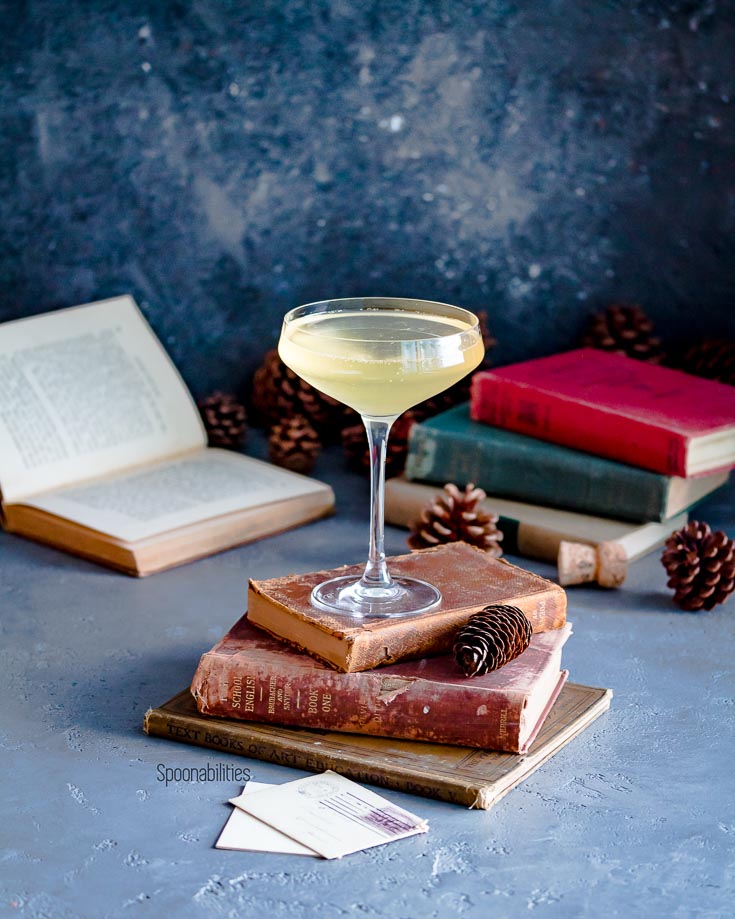 When I first came across this drink recipe, I was a bit skeptical. Many liquor-champagne cocktails often have too much champagne in them, and many floral/fruit based cocktails have too much flowery taste to them. And, most of all, seeing the white balsamic vinegar put up a red flag. But life is about taking chances, right? Am I glad we took the chance! This Gin Prosecco Cocktail has just the right balance of gin, chamomile, tangerine, and sparkling wine.
White balsamic vinegar in a cocktail?
Did you ever have white balsamic vinegar in a cocktail before? We haven't until we tried this sparkling wine cocktail. The tart white balsamic vinegar and the prosecco create a nice balance with the sweetness of the tangerine, and the floral chamomile. However, for our first attempt at making this cocktail, there was a little too much vinegar, so we adjusted the quantity down a little. That first initial taste was "oh, there's vinegar in here." After the proper adjustments, the taste was more like "Mmm, there's something interesting in this cocktail that I can't quite put my finger on." That's just the right mixture. The vinegar we use is Navarino Icons White Balsamic Vinegar which we have in our Spoonabilities shop.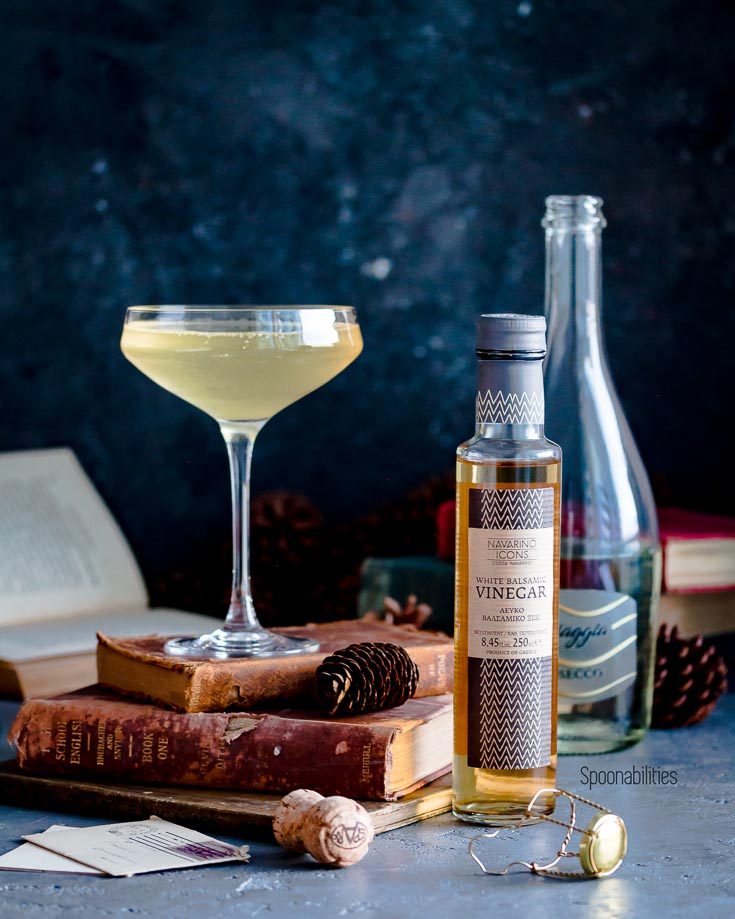 Easy to make sparkling wine cocktail
This champagne cocktail is so easy to make when your guests arrive. You can pre-make the tangerine chamomile syrup, and even pre-make the alcohol, vinegar syrup base. It will keep well in the refrigerator for about four days. For the syrup, you make a simple syrup of sugar and water. When you remove it from the stove you add in the chamomile teabags and tangerine juice and zest. That's it. You can keep this syrup in the fridge for about a month. For the base, you just combine the gin, syrup and vinegar. You can keep that mixture in the fridge for about four to five days. Then when you are ready to serve, just pour the base in champagne glasses or flutes, and top off with the prosecco. For this cocktail, we use Spiaggia Prosecco. If you can't find that brand, try Cinzano Prosecco.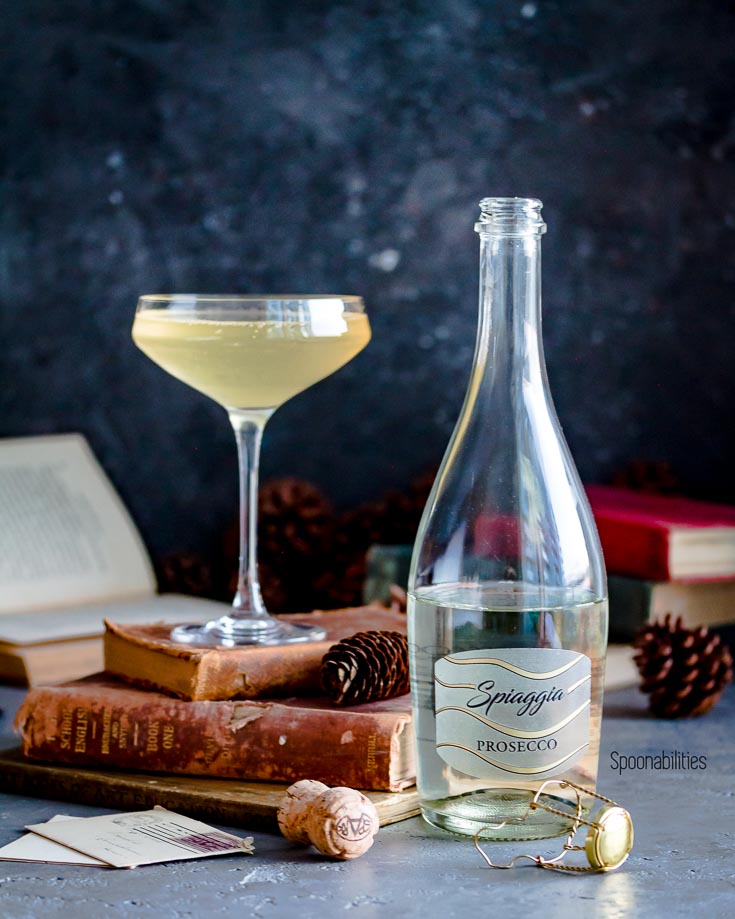 What is the Difference between prosecco, champagne, and sparkling wine?
Speaking of the prosecco we used, we have thrown around the words prosecco, champagne, and sparkling wine in this post like they are all the same thing. Do you know the difference? In layman's terms, for the non-bartender or the non-sommelier, I guess you could say they are the same. But it's a bit more complex than that. Let's start by saying that Sparkling wine is a wine with significant levels of carbon dioxide in it, making it fizzy. So essentially champagne, prosecco, cava, and similar bubbly wines are all sparkling wine. Do you remember way back to grammer school geometry where you learned that all squares are rectangles, but not all rectangles are squares? Well, it's the same with sparkling wine. Technically, the only sparkling wines that can call themselves champagne are those from the Champagne region of France. Likewise, Prosecco is made in Italy, and Cava is made in Spain.
Like this recipe so far? Be the first to know when we release new ones!
---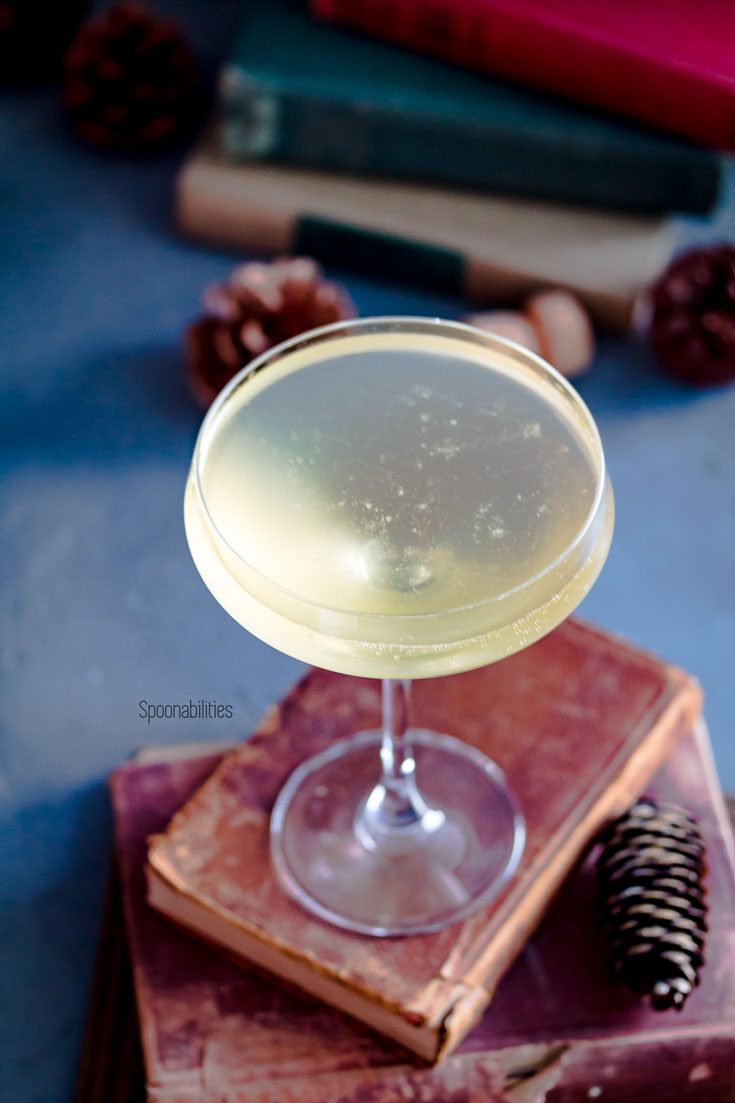 Five differences between prosecco, champagne, and sparkling wine
Besides the location of the grapes and production of the sparkling wine, there are four other factors that separate champagne from prosecco, and from other sparkling wines:
Different Grapes.

Similar to the location where they are produced, champagne, prosecco, and other sparkling wines are created with the grapes of that specific region.

Different Production

. The producers of champagne use a labor and time intensive procedure where the bubbles are created in the same bottle the wine is later served in. Prosecco's carbonation is done in stainless steel tanks before bottling.

Different Flavors

. Because of the different grapes and the different fermentation processes, champagne, prosecco and other sparkling wines all have their own unique flavor profiles.

Different Prices

. This factor is probably the most obvious. True champagne can begin at around $40/bottle, and is usually saved for special occasions. Prosecco and general sparkling wines are much more affordable options especially for mixed drinks and cocktails like mimosas, bellinis, and this Gin Prosecco Cocktail.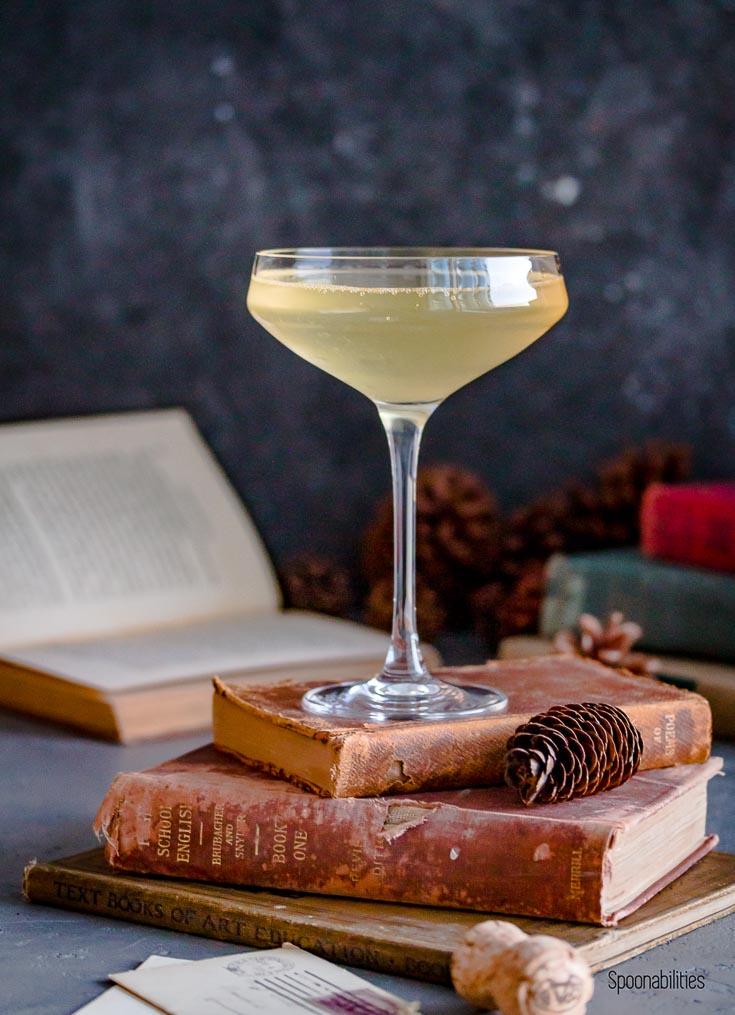 Gin Recommendations from the non-gin drinker
Ok, full disclosure... I have never been a gin drinker. Up until a few months ago, I actually have not had gin since I was in high school. I knew even back then that of all the different alcohols, vodka was my drink of choice. Gin was one of the ones that I disliked for sure. My sister-in-law Suzanne recently made Carlos and I a cocktail with Hendrick's Gin, elderberry liqueur and tonic. It was way better than my high school memory. Who knows what (cheap) brand of gin I tried back then. Anyway, for this Gin Prosecco Cocktail, and with no extensive gin experience, and no benefit for mentioning them, I would recommend using Hendrick's Gin (as per Suzanne), Bombay Sapphire (as per my best friend Russ), or Tanqueray.
What else can I make to finish the bottle of Prosecco?
You know with our theme of "No Jars Left Behind" we love to give you some ideas for using the leftover bottles of ingredients in every recipe we share with you. For the prosecco we are working on two more drink recipes called "French 75," and "23 Skidoo," which we will share on the blog soon. In addition to that, prosecco and most sparkling wine is great for making mimosas and bellinis. You are probably very familiar with mimosas which are one part "champagne" and one part citrus juice, most commonly orange juice. I like making mimosas 2 parts prosecco and 1 part orange juice, and whenever possible mixing half OJ and half pineapple juice. A bellini is less commonly known but is essentially champagne and a nectar juice like peach juice or even pear juice. Oliver's Bistro, one of our favorite restaurants, makes a plum wine bellini which I get whenever I'm there. Experiment and have fun.
Well, that about does it for today. I hope you will try this Gin Prosecco Cocktail with Chamomile & Tangerine. You will be pleasantly and refreshingly surprised. Again, don't let the white balsamic vinegar throw you off. It balances everything nicely. Give it a try and let us know how you like it. Leave us a comment on this post below, or on Facebook, or Instagram at @Spoonabilities.
Have a great week,
Geoffrey & Carlos
Your Recipe Concierge
Interested in more Delicious Cocktails? Here are 6 from our collection:
Print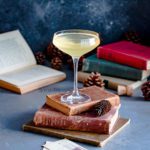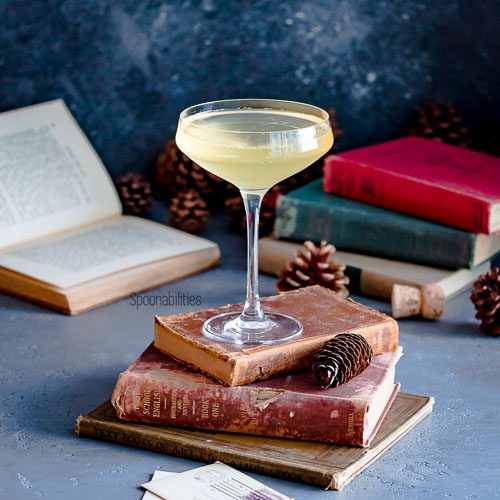 Gin Prosecco Cocktail with Chamomile & Tangerine
---
Author:

Carlos Leo

Total Time:

42 minutes

Yield:

4

serving

1

x
Description
This Gin and Prosecco Cocktail will change your mind about sparkling wine cocktails. Made with chamomile tea, tangerines, and white balsamic vinegar. It is not what you expect, but you will be surprised how wonderful it tastes. Recipe adapted from Elana Lepkowski at Serious Eats.
---
Syrup Ingredients:
1

cup

sugar

¾

cup

water
Zest of

2

tangerines, white pith removed

¼

cup

tangerine juice
Alcohol Base Ingredients:
(2 parts) Dry Gin, like Hendrick's Gin, Citadelle, Bombay Sapphire, or Tanqueray.
(2 parts) pre-made chamomile-tangerine syrup
Making the Cocktail:
Dry sparkling wine, like Spiaggia Prosecco. (chilled) If you can't find that brand, try Cinzano Prosecco
---
Instructions
Tangerine-Chamomile Syrup:
Mix sugar and water in a sauce pan over medium heat. Bring to a light simmer, stirring until sugar is dissolve. Remove from heat and add tea bags, and tangerine juice and zests. Let sit for 6 minutes, and then take out the tea bags. Cover and let cool for an additional 30 minutes. Strain out the zest. You can keep the syrup in an airtight container in the refrigerator for about a month.
Alcohol Base:
Combine gin, syrup, and white balsamic vinegar in a cocktail mixing glass. Stir to mix. You can keep in the fridge for about 4-5 days if making ahead.
Making the Cocktail:
Pour 3oz of the base into a Champagne cocktail glass or flute. Fill glass with prosecco (about 3-4oz.). Add more prosecco to taste
Notes
Drink responsibly. If you are under the legal drinking age limit for your state or country, this recipe is not for you. Sorry.
We partner (affiliate links) with Drizly delivery service, so if you don't have these ingredients you can have them delivered
Prep Time:

10 minutes

Cook Time:

2 minutes

Category:

cocktails

Cuisine:

Mixology
Recipe Card powered by
Available via these Affiliate links:
Disclaimer: Links that open in another site, may be affiliate links where at no additional cost to you, we may receive a small commission should you decide to purchase the item. Read our Disclosure Policy.