THE BEST Jalapeño Cheddar Cornbread which can be formed as a cake or as muffins. This cornbread has a rich, savory flavor with a touch of sweetness. For this recipe, I use fine ground polenta instead of cornmeal for a better texture, sharp cheddar, chili flakes and brown butter for a deeper flavor. Serve this cornbread with a drizzle of honey glaze, a sprinkle of smoked paprika sea salt, and a schmear of brown butter for a scrumptious toasty/nutty flavor.
Blog post may contain affiliate links. Read our Disclosure Policy. All photographs are copyright Carlos Leo, Spoonabilities
Hello my friends. This week's recipe is very special for us because we discovered this Brown Butter Jalapeño Cheddar Cornbread in one of our favorite restaurants in Miami. It was also the same venue where we celebrated our wedding in 2015. We started going to the Rusty Pelican Restaurant for their Sunday brunch long before we were planning our wedding. One of the reasons we kept going there is for their famous Jalapeño Cheddar Cornbread with honey glaze & chili salt.
There are many things that we love about going to the Rusty Pelican besides their delicious food. They have a stunning view of the Miami downtown skyline and the Biscayne Bay, and the best part is that no matter where you sit, you can enjoy the beautiful view. Their best asset is their employees with top-notch service. During one of our visits early in 2015, we met the lovely restaurant manager, Wanda. That day we had just finished visiting some venues for our wedding, and decided to relax a bit at our favorite restaurant. We told Wanda it had been difficult for us to select a venue because we wanted to have an outdoor wedding near water, but we don't want our guests to suffer from the hot and humid Miami weather in early October. We also realized we ran the risk of it raining during an outdoor wedding. Geoffrey joking said to her; "we want an outdoor wedding but with air conditioning." Wanda asked if we knew The Rusty Pelican hosted weddings on their second floor. We didn't. She recommended for us to check it out and gave us the name of their event coordinator, Ana Maria. Our search was over! Ana Maria coordinated our wedding, and she was outstanding!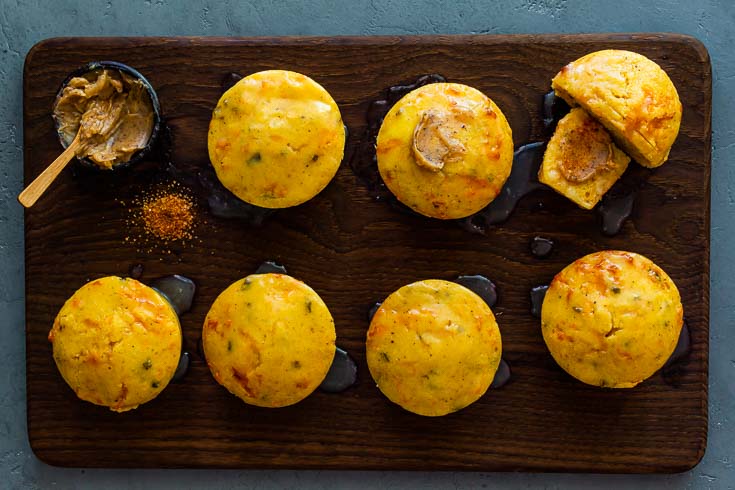 Back to the cornbread... After our wedding, during one of our visits, we asked Ana Maria if she thought we could get the recipe for their famous Jalapeño Cheddar Cornbread so that we could share it here on Spoonabilities.com. She didn't think it would be a problem and gave us the contact information for Chef Jim Pastor. Two days later we received a surprise e-mail from the chef with the recipe! We were so happy because we want to share this recipe with you, and, now we can make it anytime we want at home 😊.
Of course, as always, I made some adjustments to this cornbread recipe, and I used a few similar ingredients to previous recipes like Pressure Cooker Short Ribs with brown butter mashed pumpkin-cauliflower. For example, for the cornbread batter, the original recipe asks for regular melted butter, and I'm substituting with Brown Butter from Black & Bolyard. This brown butter gives such a great nutty touch along with some smoked chili flakes. Also, if you look well in the photos, you will notice some red sparkles which give such a high contrast of color to the bright yellow cornbread.
Receive new recipes when they are ready!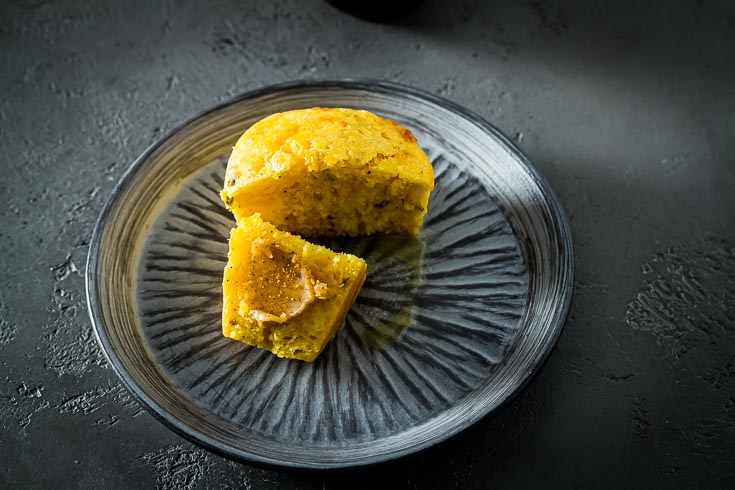 Gourmet Brown Butter
I know you probably heard me before say that I love the delicious, rich, and complex flavor of the brown butters from Black & Bolyard. This brown butter adds some extra richness to the Jalapeño Cheddar Cornbread along with the jalapenos. I used to make homemade brown butter, but nothing beats this already made brown butter. Not only is it shelf stable with no added salt, but it also is so much easier to just grab a spoonful from the jar without having to go through all the trouble and dirty dishes of making your own. Plus, you don't have to wonder if you made enough of the homemade version for your recipe.
How to make Brown Butter Jalapeño Cheddar Cornbread
Step #1: Chop and Sauté the Jalapeño
First, you need to chop the jalapeño, remove the seeds, and sauté it in olive oil (I use Greek EVOO Hellenic Farms PDO Sitia Crete) until the jalapeno becomes soft. Then set aside to cool down.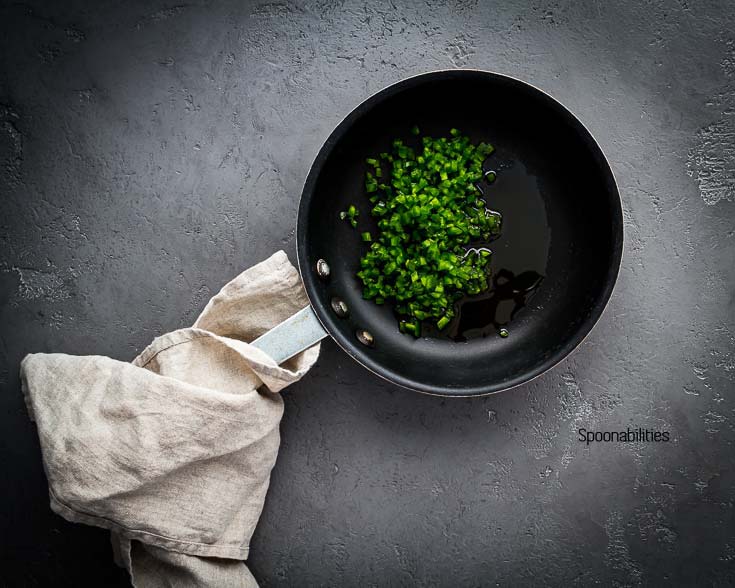 Step #2: Separate Dry Ingredients & Wet Ingredients
Have two mixing bowls ready; one with the three wet ingredients (sour cream, milk, and eggs), and another with the dry ingredients (fine ground polenta, all-purpose flour, sugar, baking powder, and salt).
Step #3: Grate the Cheddar Cheese
Grate your cheddar cheese, and melt the brown butter.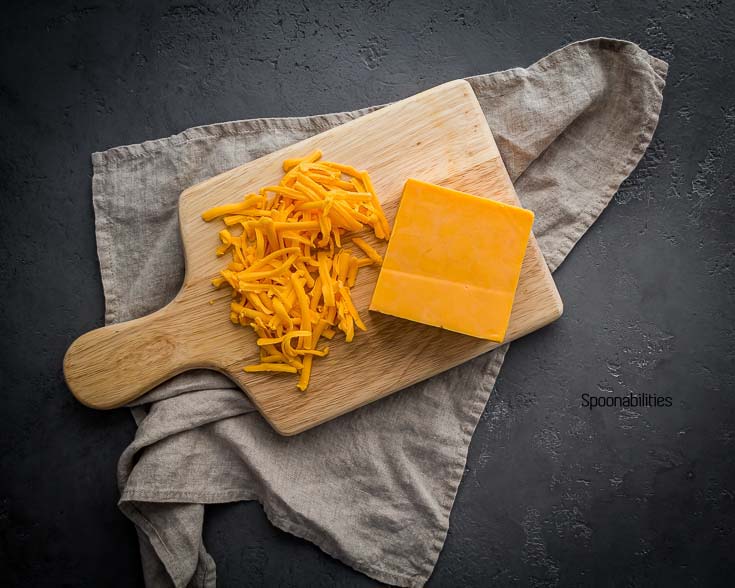 Step #4: Combine Ingredients
Gently fold the wet ingredients into the dry ingredients. Then add to the mixture the melted brown butter, red chili flakes, sautéed jalapeno, and the cheddar cheese. Combine well.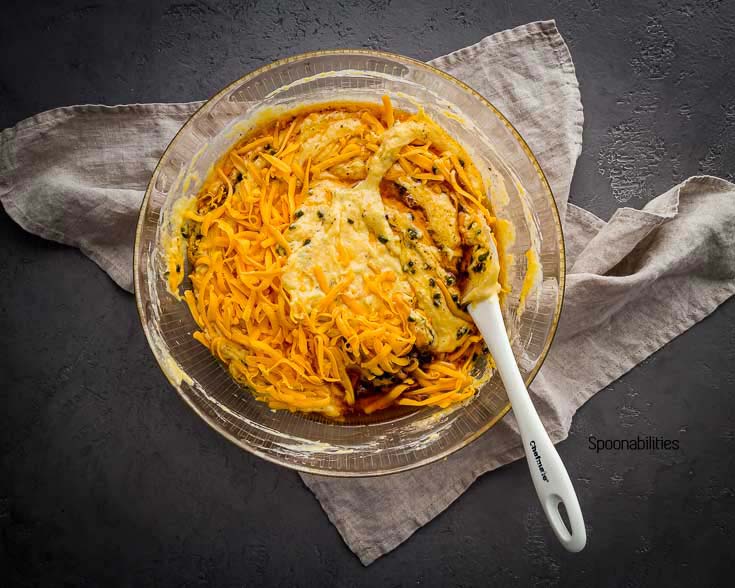 Step #5: Add Batter to Mold and Bake
Add the batter the mold(s) and bake. See the recipe card for different baking times and instructions for using muffin molds (12 minutes), and a charlotte cake pan (25 minutes). After the pan comes out of the oven, let them cool.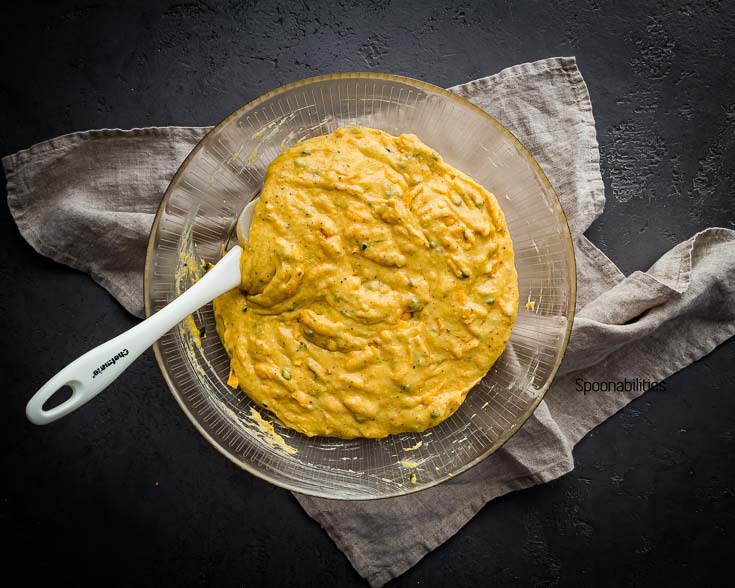 Bake Jalapeño Cheddar Cornbread as a Cake or Muffins?
As you can see in the photos, I made this jalapeño cheddar cornbread recipe both in a muffin tin and also in the charlotte cake pan. The first day I baked the cornbread in a silicone muffin mold, and they came out perfectly. But when I was photographing the cornbread muffins, I was not getting inspired. I was using artificial light which didn't help get the look I had in mind. I decided to stop, take a break and re-think if I want to continue shooting something that I will not be proud of. So the next day I made the cornbread again, and looking at my cake mold collection, I saw the interesting shape of the charlotte cake pan. Automatically my mind pictured the cornbread with the shiny honey graze using natural backlighting. I decided to show both shooting styles to you, so do let me know your feedback.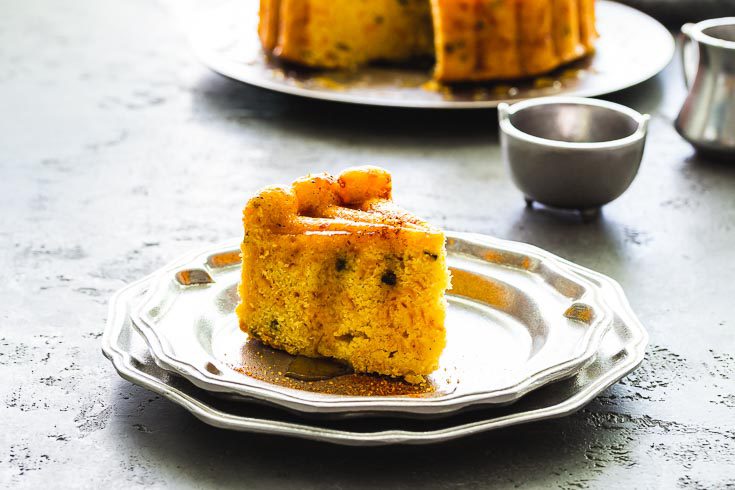 Topping your Jalapeño Cheddar Cornbread
The best part of this jalapeño cheddar cornbread is the playfulness of the two toppings with their combination of flavors. On the one hand is the sweetness of the honey glaze, and on the other hand the salty touch with smoked paprika sea salt. You will get a heavenly sweet/savory bite of cornbread that you will not be able to stop eating.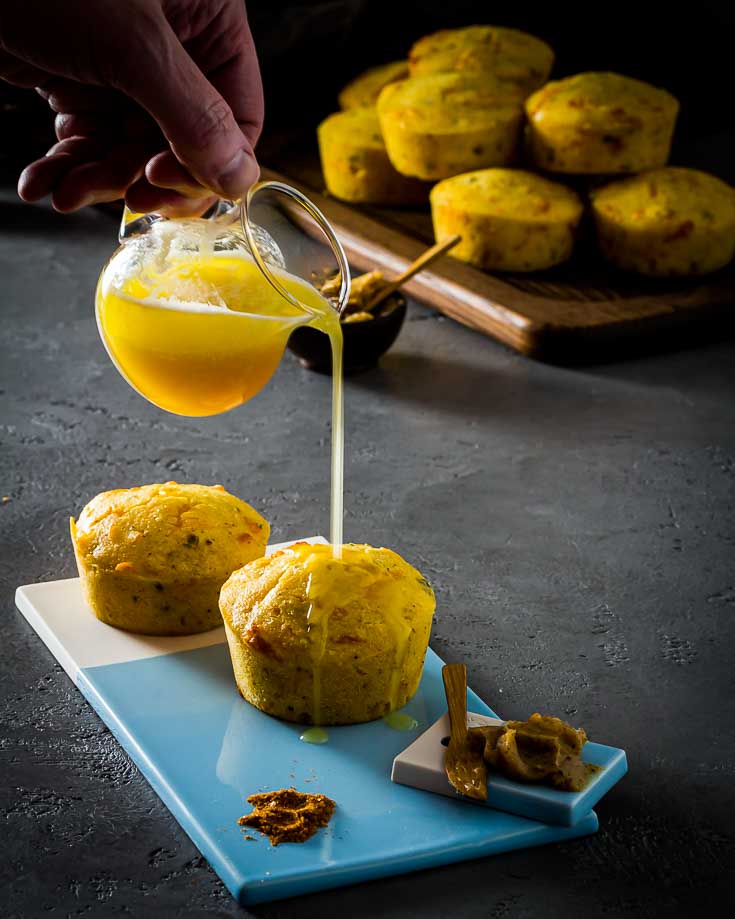 For the honey glaze, melt the butter, add the honey, and stir until the honey gets loose, and both ingredients get well combined. You can use any honey, but for this recipe I use Provence Flowers Honey that is a delightful combination of honey with floral notes and a creamy texture.
For the salt, I have to be honest. I'm very biased because I'm genuinely in love with Greek sea salt with smoked paprika. I use this salt every day to top my avocado toast, put it in eggs, in vinaigrettes, or with fish.
Recipe Notes:
You may think two jalapenos is a lot, but it's not. The heat diminishes a lot after you sauté the chopped jalapeno peppers. You can even add a third one if you wish.
For this cornbread, you can use cornmeal, but polenta is better and gives such a great texture.
You can use muffin tins, a cake mold, or you can bake it in a skillet... or go with the traditional bread loaf pan.
Baking time for muffin tins is 12 minutes, and in a cake mold or in a skillet is 20-25 minutes.
This cornbread can be outside without getting dry for 4-5 days. Make sure you cover it properly.
You can also freeze the jalapeno cheddar cornbread and save some for later.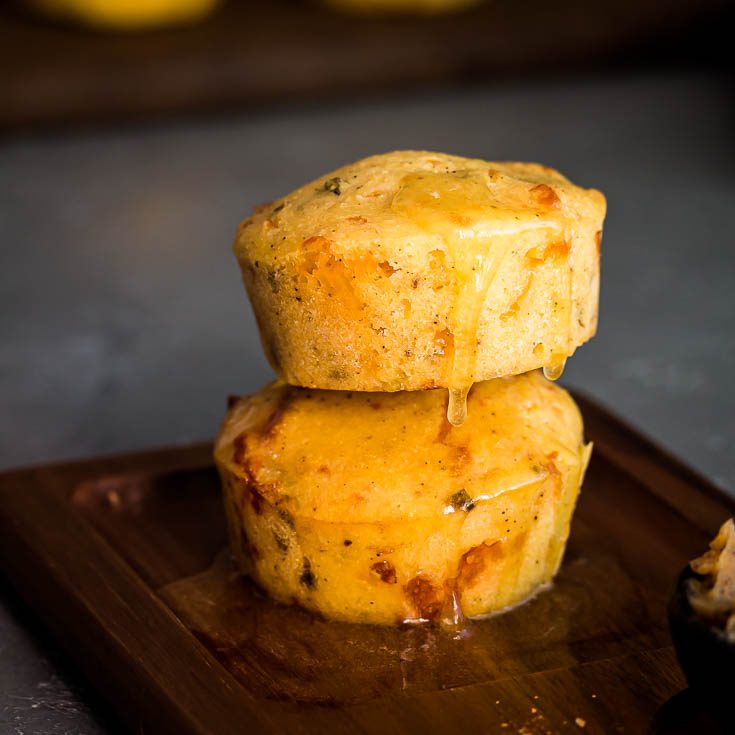 This is THE BEST Jalapeno cheddar cornbread that you will ever have, and I hope you get to make some soon. Let us know in the comments how yours comes out, and share this recipe on social media tagging us @spoonabilities and use the hashtag #Spoonabilities.  Until next time...
Wishing your Tasty Happenings,
Carlos Leo
Your Recipe Concierge
Print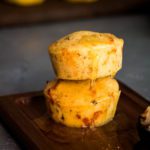 Brown Butter Jalapeño Cheddar Cornbread with Honey Glaze
---
Description
Formed as a cake or muffins, Jalapeño Cheddar Cornbread has a rich, savory flavor with a touch of sweetness. This cornbread has fine ground polenta, brown butter, and sautéed diced jalapeno. Serve with a drizzle of honey glaze, and eat by spreading more brown butter and a pinch of smoked paprika sea salt.
---
---
Instructions
Cornbread:
In a small frying pan with 1 Tablespoon of olive oil, sauté the jalapeno until soft.
Mix all the dry ingredients (polenta, flour, sugar, salt and baking powder) in a large bowl.
Mix all wet ingredients (sour cream, eggs and milk) in a separate bowl, except for the melted brown butter
Add the wet ingredients to the dry, folding in gently.
Fold in the butter, smoked chili flakes, jalapeno and cheddar cheese.
Spray muffin tins or cake mold with non-stick spray, and place mixture in mold.
Bake at 350 degrees for 12 minutes for the muffin tins; or 20-25 minutes for the Charlotte Cake Pan.
Check cornbread with a knife or toothpick and make sure it comes out clean
Honey Glaze:
In a small saucepan, add the butter and honey until it's melted and mix together
Glaze each muffin before serving.
Serve with smoked paprika sea salt on the side and a spread of brown butter.
Prep Time:

10

Cook Time:

12

Category:

: Bread, Side Dish

Method:

Bake

Cuisine:

American, Southern, Thanksgiving
Keywords: jalapeno honey cornbread, cheesy jalapeno cornbread, cheesy jalapeno recipe, jalapeno cheddar cornbread, jalapeno cornbread recipe, southern cornbread, southern cornbread recipe
Recipe Card powered by
Available via these Amazon links:
Disclaimer: Links that open in another site, i.e. Amazon, may be affiliate links where at no additional cost to you, we may receive a small commission should you decide to purchase the item. Read our Disclosure Policy