We recently closed our gourmet product shop, and we're sorry we no longer carry brown butter. BUT WAIT! We are still partnering with Black & Bolyard, and they agreed to give you a 10% discount.
If you landed here from our Pinterest product photography board, tell us about your project on our photography services page.
To receive 10% off, Subscribe to our recipe newsletter, and We'll send you the special code
"*" indicates required fields
Use the form above to receive your 10% discount, or shop at Black & Bolyard without the discount.
More about Black & Bolyard Brown Butters
If you landed on this page "by accident" and are curious about brown butter and its many uses, here is some information about Black & Bolyard brown butter, and some recipes that we made using it.
Brown Butter is slightly caramelized, deeply toasted version of ordinary butter that brings incredible layers and depth of flavor to a wide variety of both savory and sweet recipes.
Black & Bolyard is proud to be the first to market this incredible ingredient that has been used by chefs and cooks around the world for centuries. Our initial blog post welcoming Black & Bolyard to our online pantry gives you more information on who they are.
In addition to their original brown butter, Black & Bolyard make Salted Honey Brown Butter with unsalted butter, wildflower honey, and sea salt. Black Truffle Brown Butter is a truffle lover's dream, mixing brown butter with aromatic Italian black truffles.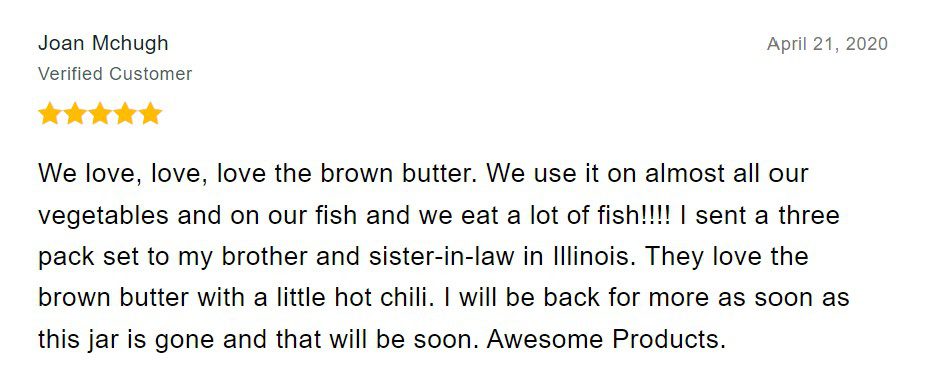 Recipes using Brown Butter
Brown butter is great on toast, roasted vegetables, steamed fish, and here are a bunch of recipes we've made with brown butter:
If you read this far, and you are interested in getting some brown butter, here is the form again to receive your 10% discount:
"*" indicates required fields