Pumpkin Bread Pudding is the way to celebrate that Pumpkin Season is here! Top with either Salted Caramel Sauce or Cinnamon-infused Vermont Maple Syrup ...or BOTH.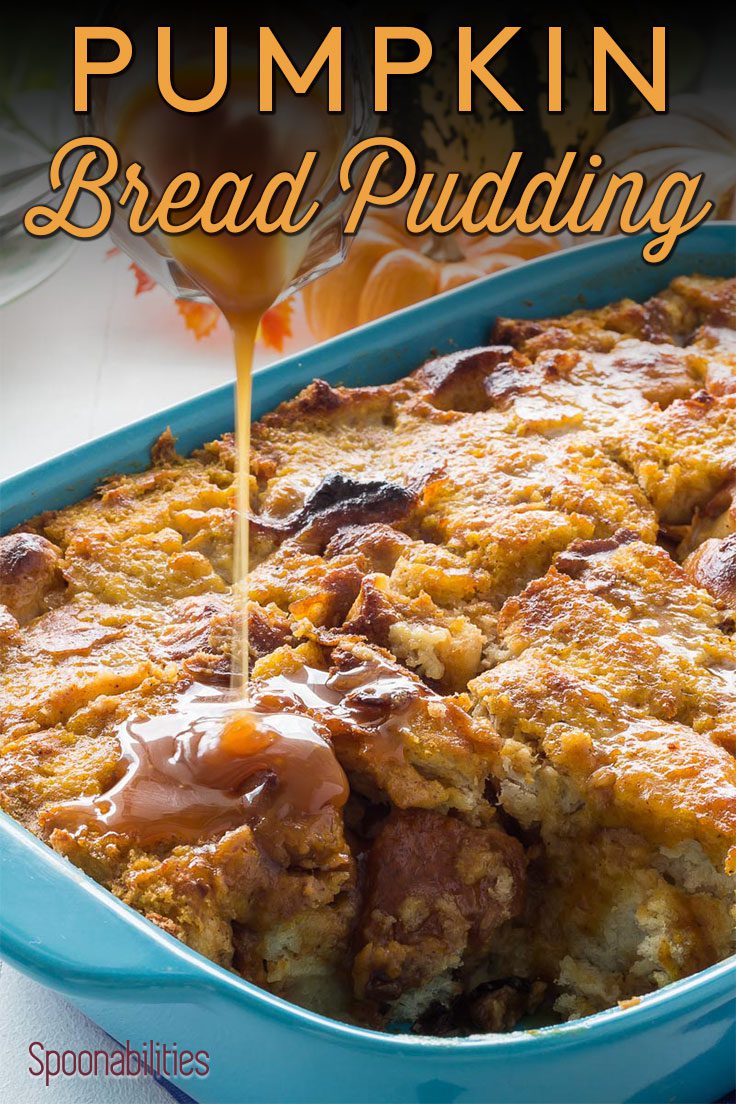 Blog post contains affiliate links. Read our Disclosure Policy
Hello my friends,
Fall is here ... and that means Pumpkin Season! To celebrate I made Pumpkin Bread Pudding with both Caramel Sauce, and Cinnamon-infused Vermont Maple Syrup.
Fall is the Season of Celebration.
The season of Autumn is very special for me. October 13th is my Birthday. But the celebration doesn't stop there. This year, Geoffrey and I are celebrating the 15th year of our journey together, and on the 18th is our wedding anniversary ❤️‍. I know this October is a very exciting month. Geoffrey is taking me again to brunch at the Rusty Pelican Restaurant, which is where we got married last year.
My Favorite Dessert:
Bread Pudding with Caramel Sauce.
Bread Pudding is one of my favorite desserts but if you have been reading along, you will notice I have many favorite desserts. Last year I did a similar bread pudding recipe with brioche and Salted Butter Caramel Spread (which is ) but I forgot to write down and share the recipe. This time I wanted to make a bread pudding recipe again but be sure to use seasonal products with a little touch of my Caribbean flavor.
This is my first time cooking with pumpkin, and love it because you can make any kind of dish like drinks, desserts and savory recipes. This pumpkin bread pudding recipe is easy and quick to make. I reserve the leftovers for breakfast where sometimes I like to pour on some coffee creamer and the Cinnamon-infused Vermont Maple Syrup. Then later, for dessert eat the pudding with the Salted Caramel Sauce. What an indulgent day!
Besides the Salted Butter Caramel Spread, we have available several flavored Goat's Milk Caramel Sauces from Fat Toad Farms. For this recipe, there are a few caramel sauces we recommend (and sell in our shop). They are either Cinnamon Caramel Sauce, or Vanilla Bean Caramel Sauce. We also have a Fat Toad Farms "You Pick" two-pack so you can select your favorite flavors out of the eight possibilities.
We don't have a video yet of me making this bread pudding recipe, so for now, check out this one from Tasty... but be sure to make ours ;)
Bread Selection for Bread Pudding
When making bread pudding, in my recipe I like to use buttery bread like brioche, croissant or challah bread. Those breads are made with eggs and butter which gives a rich and flavorful flavor to any recipe. The only down side is those bread are not cholesterol friendly, but once in a while is ok, right?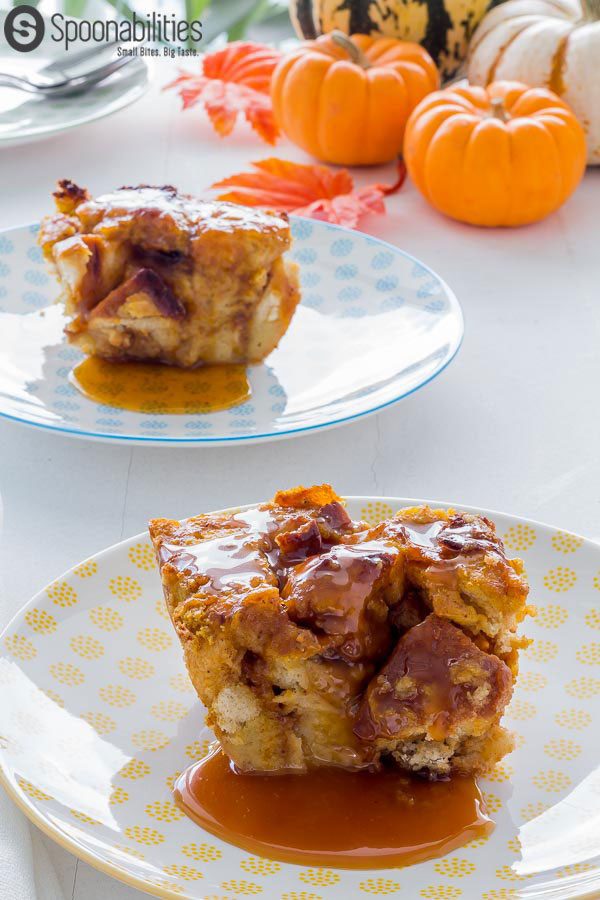 Canned Pumpkin Puree is available all year round.
Adding pumpkin puree and coconut milk to the bread pudding gives another layer of a natural sweetness. With the combination of the warm spices, it's the perfect way to start the Fall season. This Pumpkin Bread Pudding recipe is out of this world!
In preparing for this recipe, I bought the brioche in the beginning of the week to let it get dry and a bit hard. Ok, what I really did was call Geoffrey and have him stop and buy it on his way home from work. If you don't want to wait for the bread to harden, put it in the oven and bake for 8 minutes until it gets golden and crispy like croutons. This process is important if you want the bread to better soak in the custard. Harder bread is the way to go.
Like this recipe so far? Be the first to know when we release new ones!
---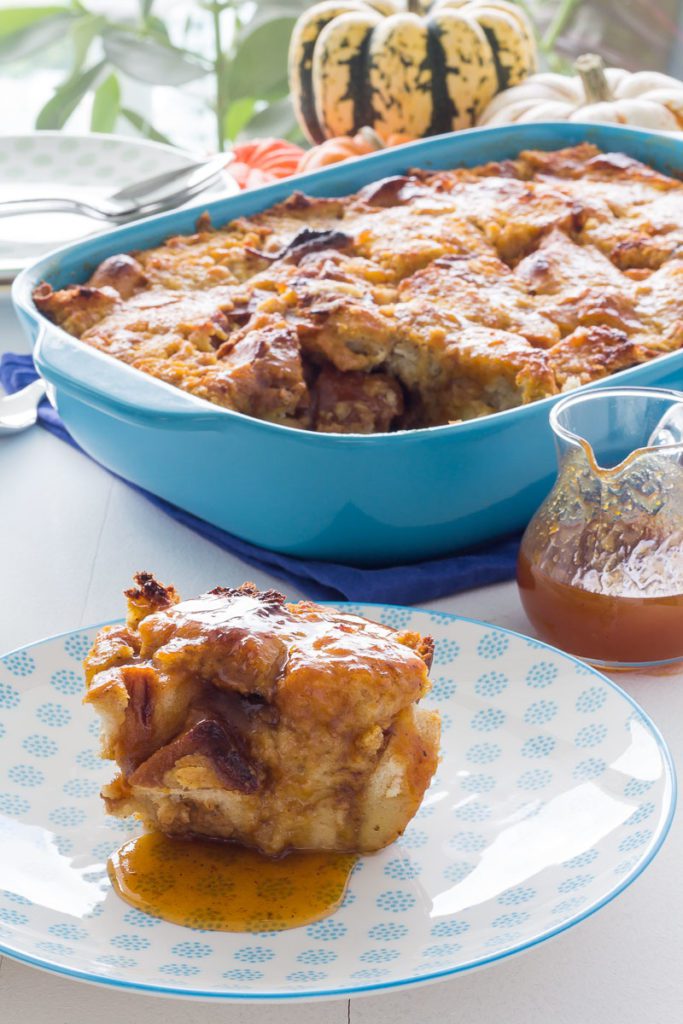 Pumpkin Bread Pudding with Caramel Sauce
After you cut the bread in cubes, put them in a buttered baking dish and set aside. Then in a large bowl, whisk the egg and sugar until it becomes fluffy. Now, you can add the rest of the ingredients and mix well. Pour the custard over the bread and with your hands push down gently to make sure every piece of the bread gets moist. Set aside for 10 minutes to let the bread soak up the custard.
Bake for 30 minutes. Right after you take it out of the oven, pour some of the Caramel Sauce, or the Cinnamon-infused Maple Syrup, all over it. Both are wonderful!
Happy Autumn!
Carlos
UPDATE: This recipe is part of our special compilation of "8 Sweet Pumpkin Spice Recipes you are going to want to make." If you love pumpkin spice like we do. Check it out. One is Pumpkin Tiramisu that you won't want to miss!
UPDATE: This recipe is also part of our special group of caramel sauce recipes called 6 Creamy Dreamy Caramel Sauce Recipes You will Crave All Year Long.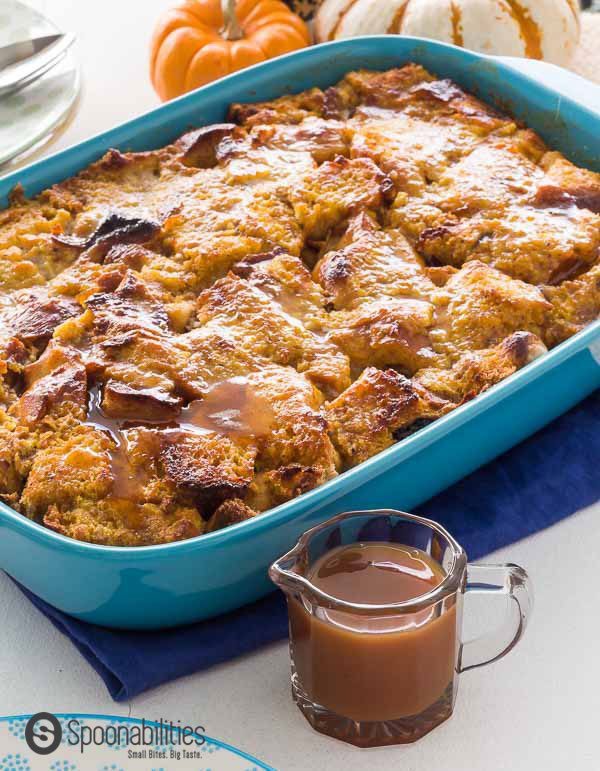 Print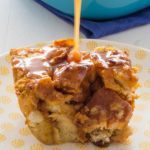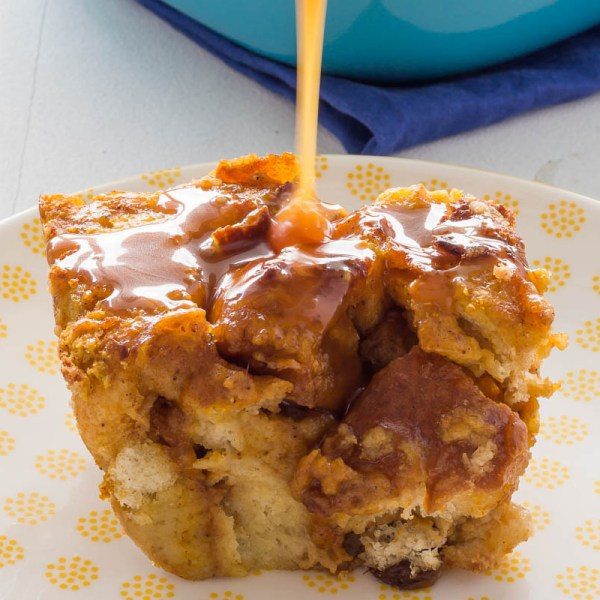 Pumpkin Bread Pudding with Caramel Sauce
---
Author:

Carlos Leo

Total Time:

45 minutes

Yield:

1

0

1

x
Description
Pumpkin Bread Pudding is the way to celebrate that Pumpkin Season is here! Top with either Caramel Sauce or Cinnamon-infused Vermont Maple Syrup... or BOTH.
---
6

cups

1-inch cubes Brioche

2

cups

cube Lady Fingers

½

cup

granulated sugar

4

eggs

1

cups

milk

½

cup

coconut milk

¾

cup

whipping cream

1

cup

canned pumpkin

¼ teaspoon

cardamom

½ teaspoon

ground allspice

½ teaspoon

ground nutmeg

½ teaspoon

cinnamon

¼ teaspoon

salt

¼ teaspoon

ground cloves

¼

cup

butter, cut into pieces
(optional) Cinnamon-infused Vermont Maple Syrup
---
Instructions
Preheat oven to 350 F. Butter a baking dish
In baking pan, place the brioche bread and the Lady Fingers. Set aside.
In a large bowl, beat granulated sugar and eggs with an electric mixer on medium speed for 1 to 2 minutes until has a fluffy consistency.
Add milk, coconut milk, whipping cream, pumpkin, cinnamon, cardamom, allspice, nutmeg, salt, and cloves; beat until combined.
Pour the pumpkin mixture over the bread mixture. Press down softly with your hands to help moisten every piece of bread.
Let stand about 10 minutes or until bread completely soaks up the liquid. Sprinkle the ¼ cup butter pieces over top.
Bake about 30 minutes or until set and brown on edges.
Cool on a wire rack for 30 minutes.
Serve with warm Salted Butter Caramel Spread.
Prep Time:

15 minutes

Cook Time:

30 minutes

Category:

Dessert

Cuisine:

International
Nutrition
Serving Size:

1 cup

Calories:

480

Sugar:

13 g

Sodium:

377 mg

Fat:

26.1 g

Saturated Fat:

14.1 g

Carbohydrates:

54.7 g

Fiber:

1.7 g

Protein:

9.7 g

Cholesterol:

145.4 mg
Recipe Card powered by
Available via these Amazon links:
Disclaimer: Links that open in another site, i.e. Amazon, may be affiliate links where at no additional cost to you, we may receive a small commission should you decide to purchase the item. Read our Disclosure Policy.