Cherry Pumpkin Scones is a fall-inspired pastry recipe, perfect to eat as a breakfast, snack or for an afternoon tea. These scones are slightly crumbly, and still soft with a crunchy topping of pumpkin seeds roasted in bourbon-infused maple syrup. The glaze on these pumpkin scones is heaven with a mix of sweet & citrus from the blood orange and the super delicious maple syrup and powdered sugar. "No jars left behind" by using a leftover can of pumpkin puree and an already open bottle of Vermont pure bourbon-infused Maple Syrup.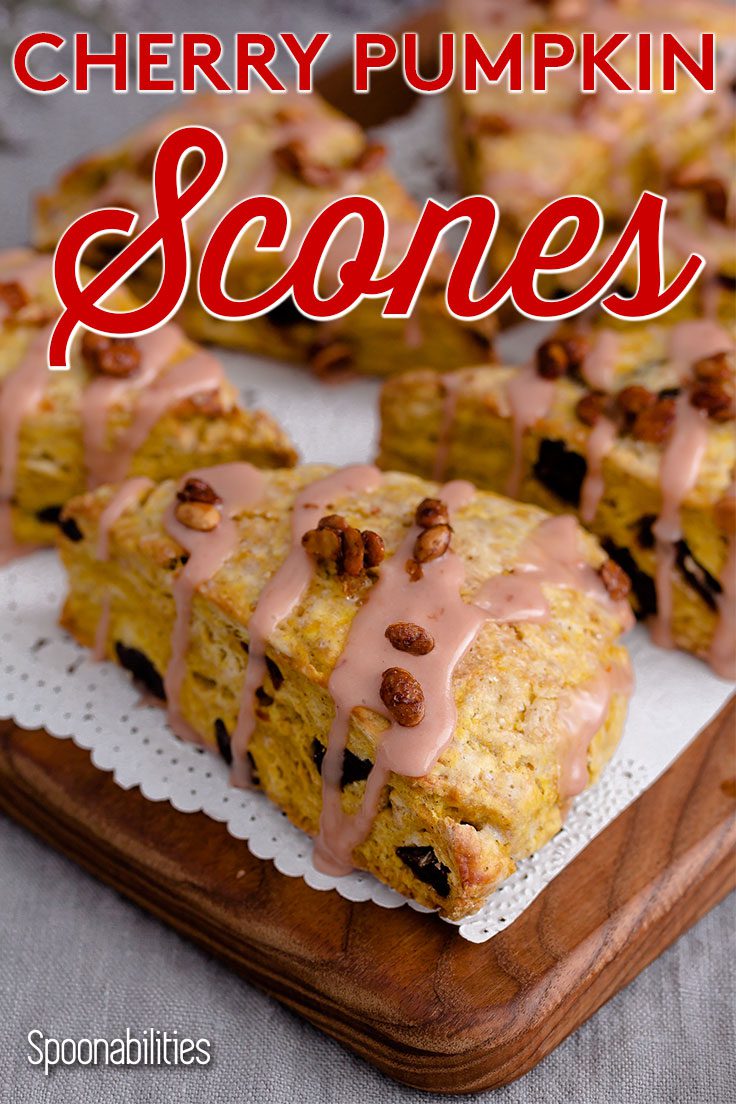 Hello my friends. It has been a busy couple of weeks, and I didn't have the chance to write my first blog post of the Autumn season until recently. As I mentioned in my previous post, I planned to publish two recipes per week, but sadly it's not happening right now. The good thing is I already have three recipes done with pictures all ready to be released. And, it will be all about pumpkin dessert recipes, and they taste SO GOOD. I cannot wait for you to try them, and I just want to publish them all at once:).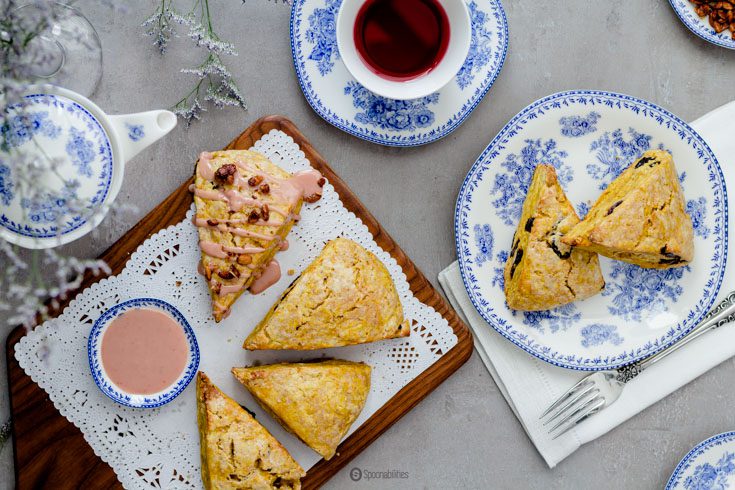 Right now I'm on a plane on my way back to Miami from Chicago after three days of training at the corporate office of my full-time employer. The weather in Chicago was fantastic; feeling the cool weather of the fall season. But I was surprised that I didn't see too many trees/leaves with the fall colors. To be honest, I was a bit disappointed because since here in Miami we don't have the opportunity to enjoy the changes of the seasons, I was looking forward to it in Chicago.
I don't know if I told you before that October is my favorite month of the year. Do you know why? My birthday is October 13!!! Happy birthday to me….!!!! Besides my birthday, the 16th is Geoffrey and my anniversary of being together, AND the 18th is our wedding anniversary too. I can't believe how fast time flies.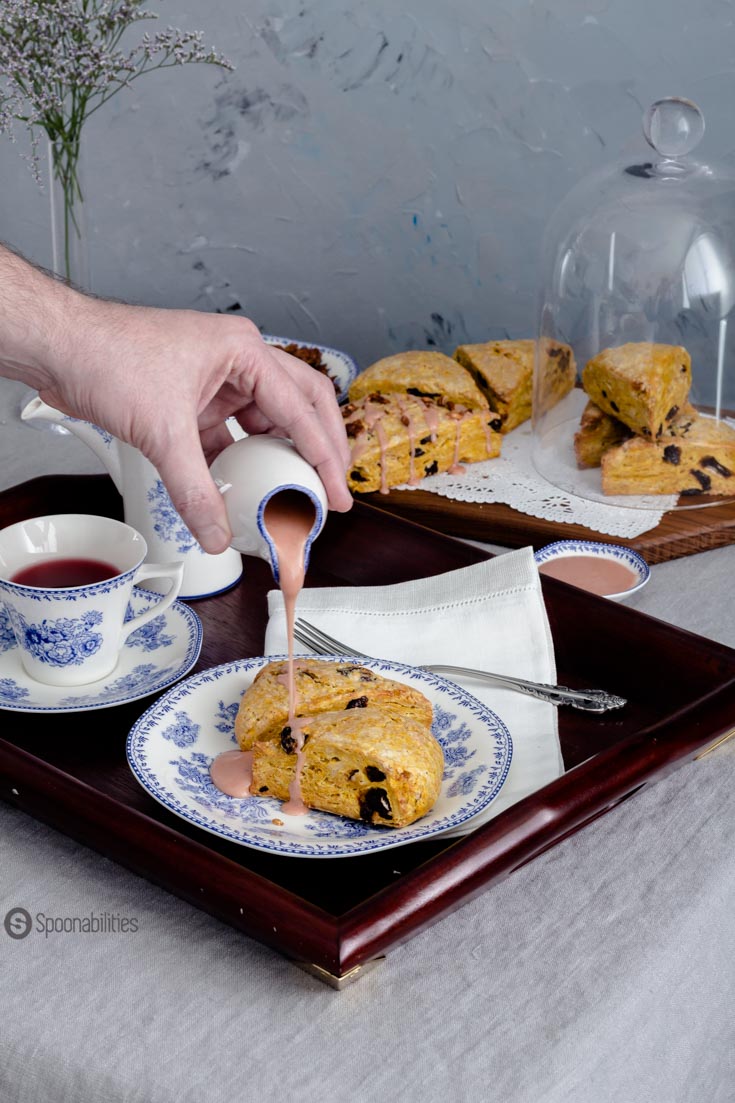 Ok... that's enough talking about me. Let's go to my kitchen and find out the details of my super delicious Cherry Pumpkin Scones with a beautiful pink citrusy glaze made with blood orange, powdered sugar, and maple syrup. This glaze is incredibly tasty, and I added a crunchy and nutty touch with pumpkin seeds roasted with a bit of sugar and a couple tablespoons of bourbon-infused maple syrup. But, if you don't have bourbon-infused maple syrup, just omit it from the recipe, or use regular maple syrup (not pancake "syrup"). I will give you an alternative glaze that will be easy to make with some staple items that you probably have laying around in your fridge or pantry waiting for this recipe to be made.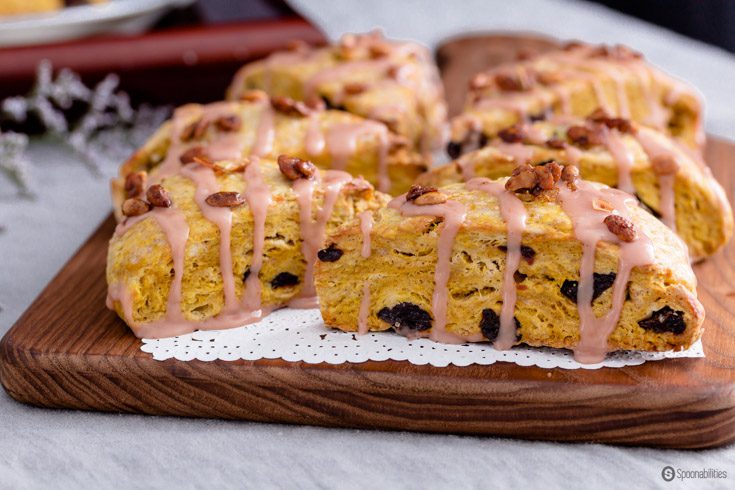 First, I wanted to share a couple of things I learned while I was making this recipe. The first thing I discovered is that scones are originally from England and this pastry is traditionally served during tea time. The second thing I found out is that the classic British recipe is very different from the American recipe.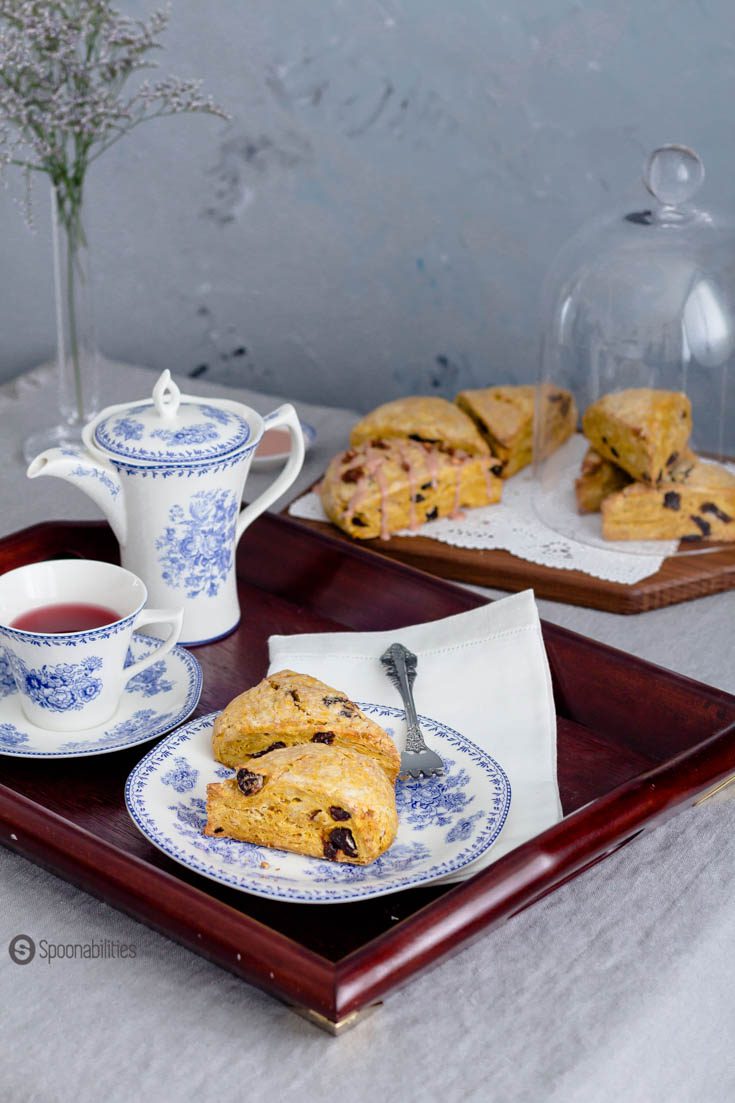 What's the difference between British Scones and American Scones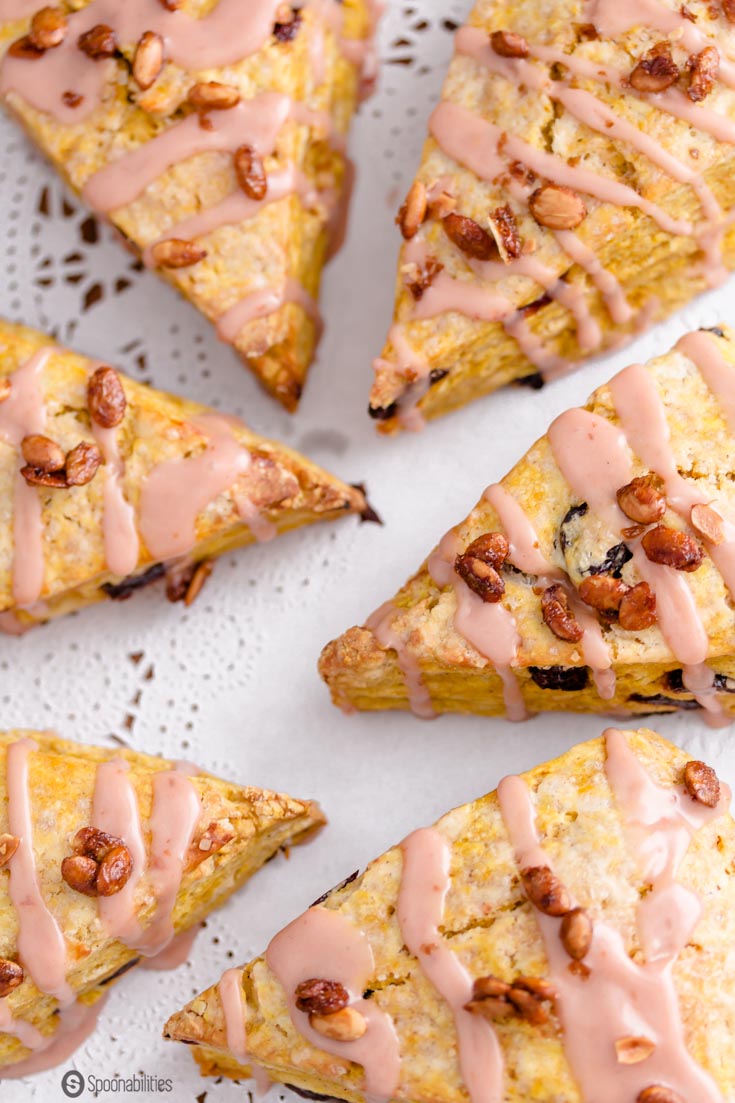 Traditional British scones have flour, a little touch of sugar, baking powder, butter, milk or cream, seldom an egg, and perhaps currants or raisins. The scones in England are generally served hot. The Brits cut them and spread with butter or clotted cream, and jam or fruit spread. American scones are much sweeter, bigger, with spices like cinnamon, and moister than the British recipe. But, the American version is still flaky because we add more butter. The American scones can be eaten without adding a spread or any other topping.

These Cherry Pumpkin Scones are best eaten fresh right out of the oven, but you certainly can store them in an airtight container for the next two days. I think after two days the scones become a little bit dry. But most likely there won't be any left after two days;)
Here is a little video from making these scones: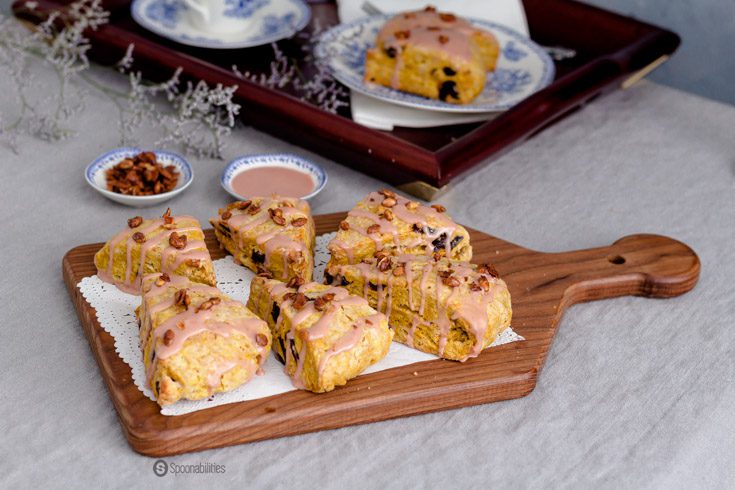 Scone Recipe Ingredients, Leftovers and Substitutions
Since I have been testing some pumpkin recipes since early September, I have a lot of half empty jars in my refrigerator and pantry. So I didn't have to go to the supermarket for these Cherry Pumpkin Scones. I made the scones with a leftover can of pumpkin puree, already open jar of Vermont maple syrup, and an open container of pepitas (pumpkin seeds). My original idea was to make these pumpkin scones with cranberries. However I also already had an open jar of dried cherries, which also happens to be Geoffrey's favorite fruit. So, I switched for the dried cherries. If you don't have blood oranges, you can use regular oranges. I made these scones with blood orange because I've had them on my mind, and they had some at my last visit to the farmer's market. Besides, "blood" orange is perfect for the Halloween season anyway, right?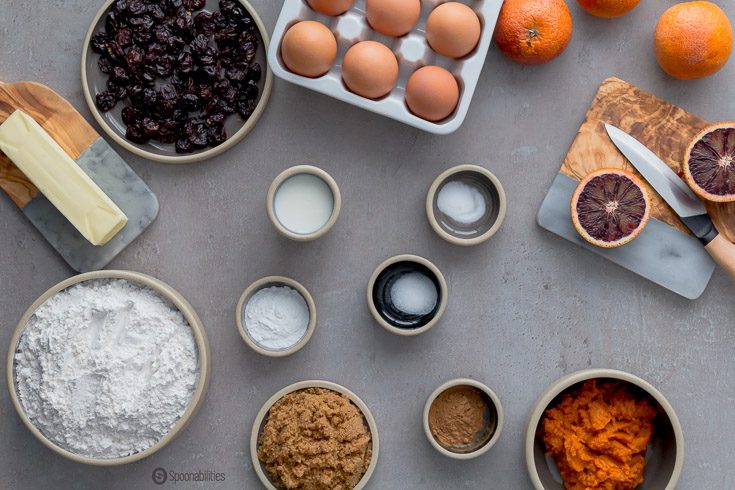 Easy & Important Steps for perfect Pumpkin Scones

These Cherry Pumpkin Scones are very easy to make, but it's essential to follow some steps to get the perfect scone texture and crumbliness.
Keep the butter and the liquid ingredients cold in the refrigerator, even after you cut it in small cubes, until you are ready to mix it with the flour mixture. Mix using a pastry cutter until resembling coarse crumbs.
The flour mixture has flour, brown sugar, baking powder, pumpkin pie spice, baking soda, and salt. Then, add the cherries and toss well.
TIP: Put the pastry cutter and the bowl in the freezer for about 10 minutes before you start to make the scones. This step is not necessary, but helps to keep the butter cold. Remember the pieces of cold butter are what will create the flaky dough.
Do not overwork the dough. After you stir the wet ingredient, just mix until is moistened.
When you knead the dough on the pastry board, do it gently, pressing it for ten strokes or until dough is smooth.
Wrap the dough in plastic and keep it in the refrigerator overnight.

The benefits of resting and refrigerating dough for scones will allow the scones to rest, and help to relax any gluten developed during the kneading process. The same benefit happens with pizza dough when you let it rest overnight.
Another benefit of this process is it bakes up taller, smoother, and with crispier edges.
The next day, the dough will be easier to cut into a better symmetrical form and more attractive shape.

If you have the opportunity to use European-style butter, it will be better because this butter has a lower water content.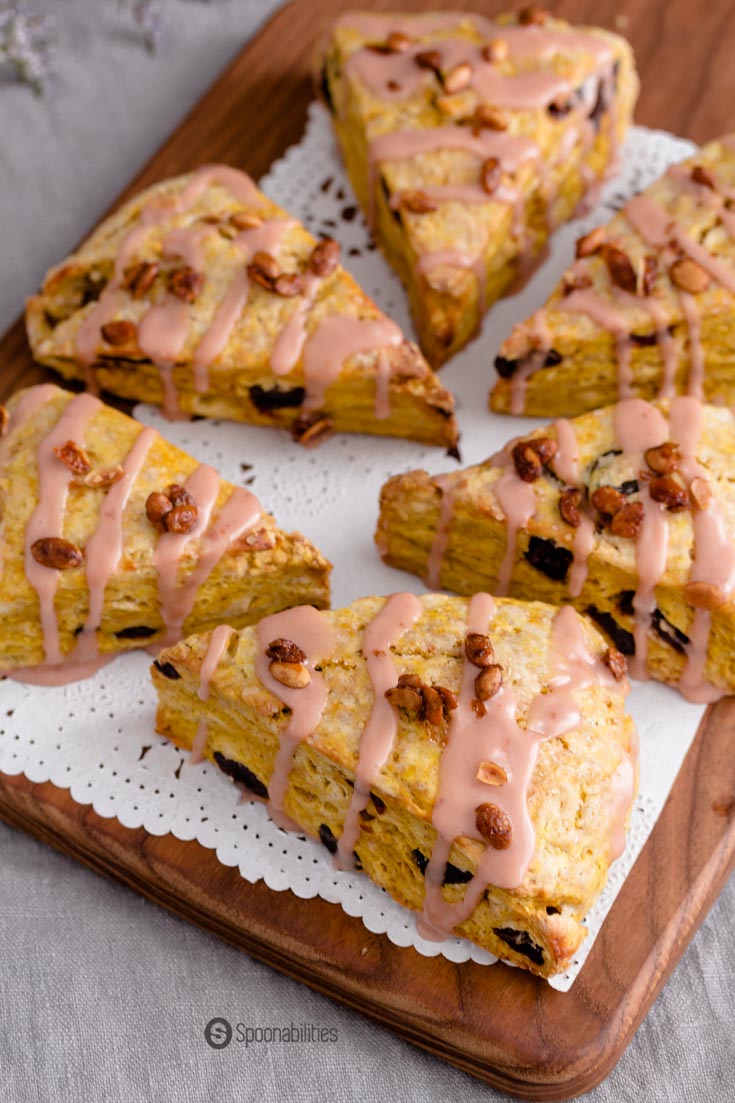 The recipe card below will show you all the steps for these cherry pumpkin scones including making the glaze and roasting the pumpkin seeds. And if scones are your thing, check out Sourdough Scones with Brown Butter Maple Glaze.
More Recipes for Pumpkin Lovers
If you are into pumpkin as much as I am, here are a couple more pumpkin recipes and also two compilations of many pumpkin recipes:
I declare the whole month of October a full month of celebration... not just for Pumpkins and Halloween, but for my birthday too. I'm doing a lot of traveling for business so I feel like I'm missing some happy birthday joy. I'm more than happy to hear any "spontaneous" happy birthday month wishes...hint, hint.
Have a wonderful October everyone!!
Carlos Leo
"Your Recipe Concierge"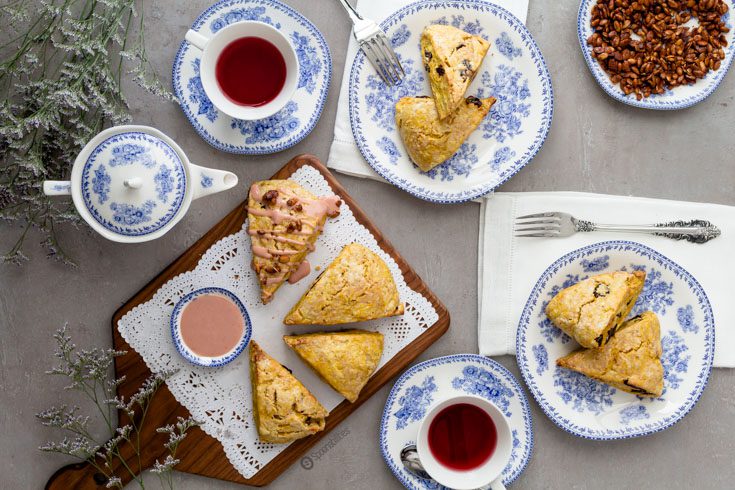 Print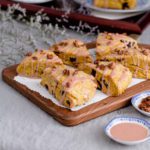 Cherry Pumpkin Scones with Blood Orange Maple Syrup Glaze
---
Author:

Carlos Leo

Total Time:

55 minutes

Yield:

8

large scones

1

x
Description
This fall-inspired Pumpkin Scone recipe is elevated with sweet & tart dried cherries. These scones are moist, soft but still slightly crumbly, and drizzled with a sweet and citrusy glaze made with blood orange and bourbon-infused maple syrup. The final touch is a sprinkle of roasted spiced pumpkin seeds.
---
For the Scones:
For the Glaze:
2

cups

powdered sugar

2 teaspoons

finely grated blood orange peel

2 Tablespoons

blood orange juice

4 Tablespoons

Bourbon-infused Vermont Organic Maple Syrup
[for alternative glaze, use regular orange juice, orange peal, and omit the syrup]
For the Topping of Maple Pumpkin Seeds (Pepitas):
2 Tablespoons

Bourbon-infused Vermont Organic Maple Syrup

½

cup

salted & toasted pepitas
---
Instructions
The day before:
In a large bowl, stir together flour, brown sugar, baking powder, pumpkin pie spice, baking soda, and salt.
Using a pastry blender, cut in the ½ cup butter until mixture resembles coarse crumbs.
Add dried cherries and toss well. Set aside.
In a small bowl, stir together the egg, buttermilk, vanilla paste and pumpkin.
Add the pumpkin mixture all at once to the flour mixture. Using a spatula, stir just until combined.
Turn dough out onto a well-floured surface. Knead dough by folding and gently pressing it for 10 strokes or until dough comes together and is smooth. Be careful not to overwork the dough.
Wrap the dough in plastic and keep it in the refrigerator overnight.
The next day:
Preheat oven to 425 degrees F.
Roll the dough on a floured pastry board into an 8-inch wide and 1½"-thick circle. Cut into 8 wedges.
Place scones on a large baking sheet lined with parchment paper.
Brush scones with buttermilk and sprinkle with raw cane turbinado brown sugar.
Bake for 20-25 minutes or until golden. Insert a toothpick into the center, and if it comes out clean with no wet crumbs, they are ready.
Remove scones from baking sheet. Let cool for 5 minutes before spreading with glaze.
For the glaze:
In a small bowl, stir together powdered sugar, maple syrup, blood orange peel, and the blood orange juice until well combined.

For alternative glaze, omit the maple syrup if you don't have this ingredient, and you can also use regular orange juice and orange peal.

Spoon glaze over warm scones, spreading evenly. Sprinkle with some of the maple pepitas and, if desired, additional blood orange peel. Serve warm.
Maple Toasted Pepitas:
Preheat oven to 325 degrees F. Line a small baking pan with parchment paper; set aside.
In a small bowl combine maple syrup & salted & toasted pepitas; mix well to combine.
Spread the mixture in the prepared baking pan.
Bake for 15 to 20 minutes or until light brown and crisp, stirring every few minutes.
Let cool on baking sheet. Makes about 1 cup.
Notes
TIP: I freeze the pastry cutter and bowl to help the butter to stay cold.
Store remaining Cherry Pumpkin Scones in an airtight container for up to two days (if you don't eat them by then).
You can make the Maple Pepitas the day before also
Store remaining pepitas in an airtight container at room temperature for up to 2 weeks.
Use maple pepitas on cheesecake, muffins, salads, or just to snack on.
Prep Time:

30 minutes

Cook Time:

20 minutes

Category:

Breakfast

Method:

baking

Cuisine:

British / American
Nutrition
Serving Size:

1 scone

Calories:

531

Sugar:

54.2 g

Sodium:

270.1 mg

Fat:

16.4 g

Carbohydrates:

90.2 g

Fiber:

2.7 g

Protein:

8 g

Cholesterol:

50.8 mg
Recipe Card powered by
Available via these Amazon links:
Disclaimer: Links that open in another site, i.e. Amazon, may be affiliate links where at no additional cost to you, we may receive a small commission should you decide to purchase the item. Read our Disclosure Policy