This Pumpkin Cream Cheese Muffins, a Starbucks copycat recipe, are even better than the originals (in our opinion)! I'm sure you've seen these before; pumpkin muffins are as popular in fall as turkey. We grab one of these from our local Starbucks coffee shop whenever we're there in September and October, and wait for them the whole year long. Let me tell you about my take on the now-famous pumpkin cream cheese muffins, and tell you what hot drink to go with them you can make at home too.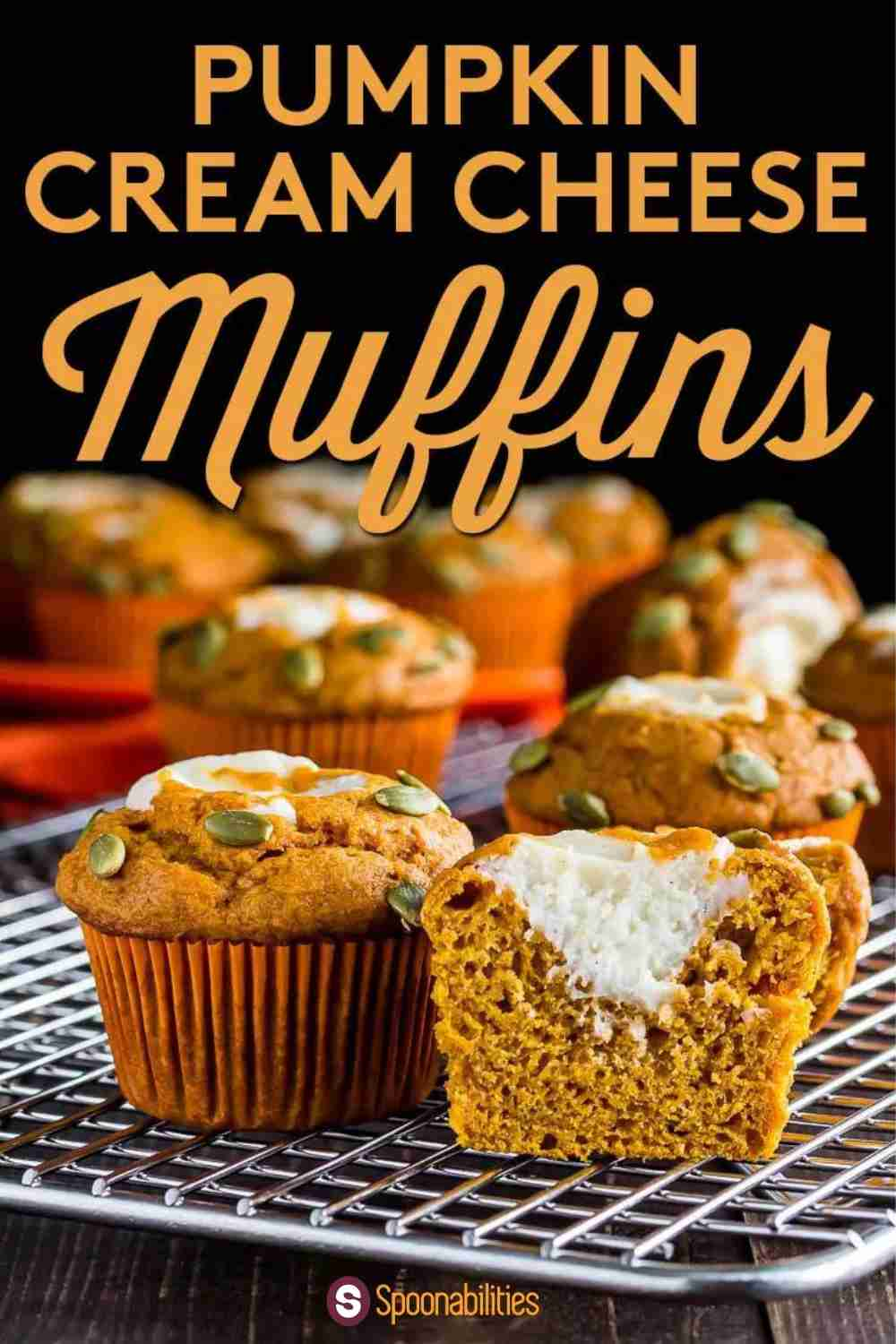 Hello my friends.
If you haven't tried pumpkin cream cheese muffins before, where have you been? Imagine a soft, moist muffin seasoned with warm brown spices and a sweet, velvety cream cheese filling. How delicious does that sound? Now multiply that by ten. Pumpkin muffins are the very soul of autumn. Cream cheese icing and filling are tasty all-rounders. Together, they're the sweeties that seal the deal for an indulgent breakfast recipe you can't say no to.
Jump to:
Is Geoffrey the only one obsessed with the pumpkin cream cheese muffins at Starbucks? Every year from September 1 to October 31, he is in there either drooling or purchasing. There was one year Starbucks decided not to carry them, but we guess they saw their quarterly profits dip from us not being able to eat them, so they brought the muffins back the following year.
Making these muffins is a fantastic project to turn your baking switch back on for the fall season. And you'll want to make a few batches because as soon as your friends and family get even the slightest whiff of the aromas coming out your oven, they'll be all over your new favorite muffins.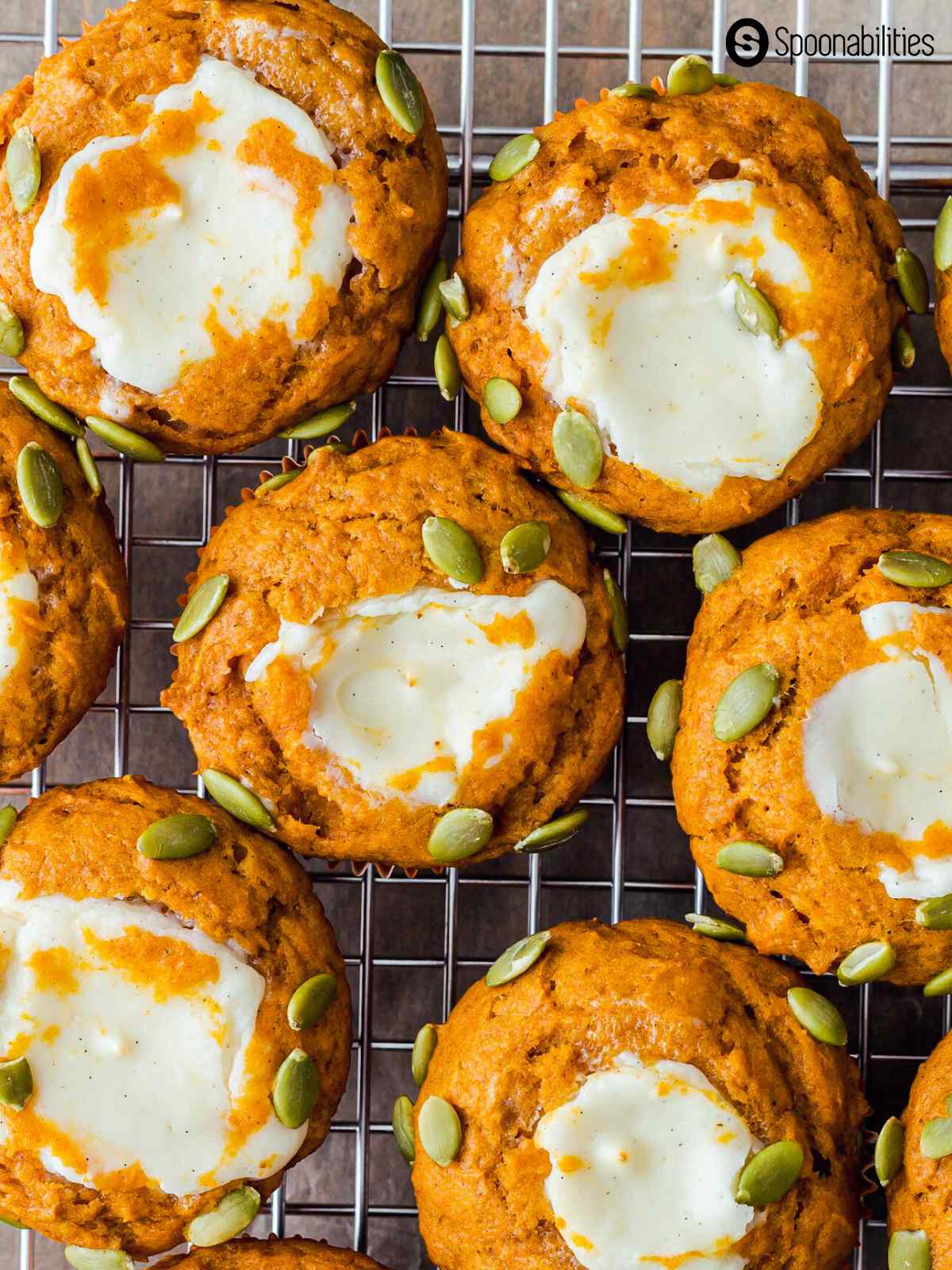 Important Ingredients for Pumpkin Cream Cheese Muffins
We're using a whole can of pumpkin puree for this one, and the fragrance of the season, pumpkin spice. We're talking about the famous mixture of cinnamon, nutmeg, ginger, and cloves. To tell you the truth, you can make your own pumpkin spice blend, and it's fun. You can tweak the proportions to your taste, but you'll find great ones on sale too, especially at this time of the year.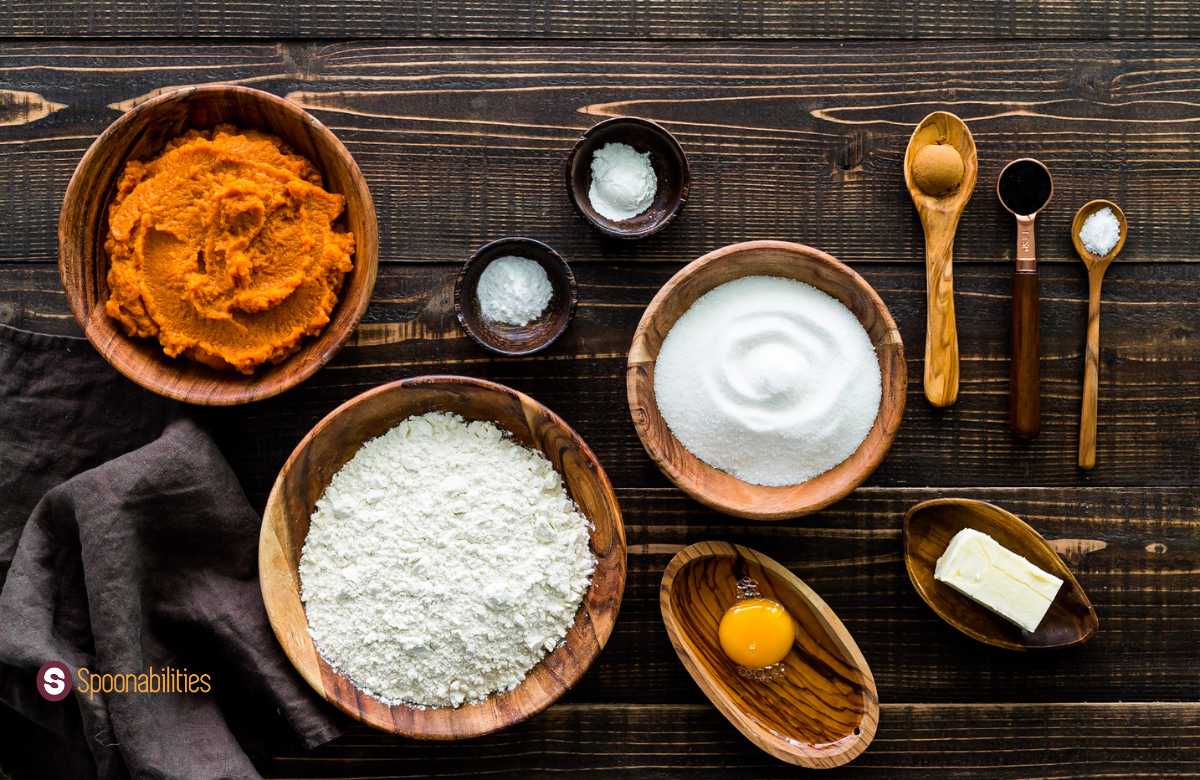 Today we're baking a whole 12-piece batch of pumpkin muffins because you'll want to share these, so bring out your large mixing bowl, some all-purpose flour, sugar, baking powder, baking soda (we're using both), and lots of butter! That'll do the trick.
I do want to put stress on using high-quality vanilla. If there's a time to use vanilla bean, that time is today. Otherwise, use vanilla extract, but make sure it's the real deal! Personally, for all our recipes we use vanilla paste which has a higher quantity of vanilla bean than extract.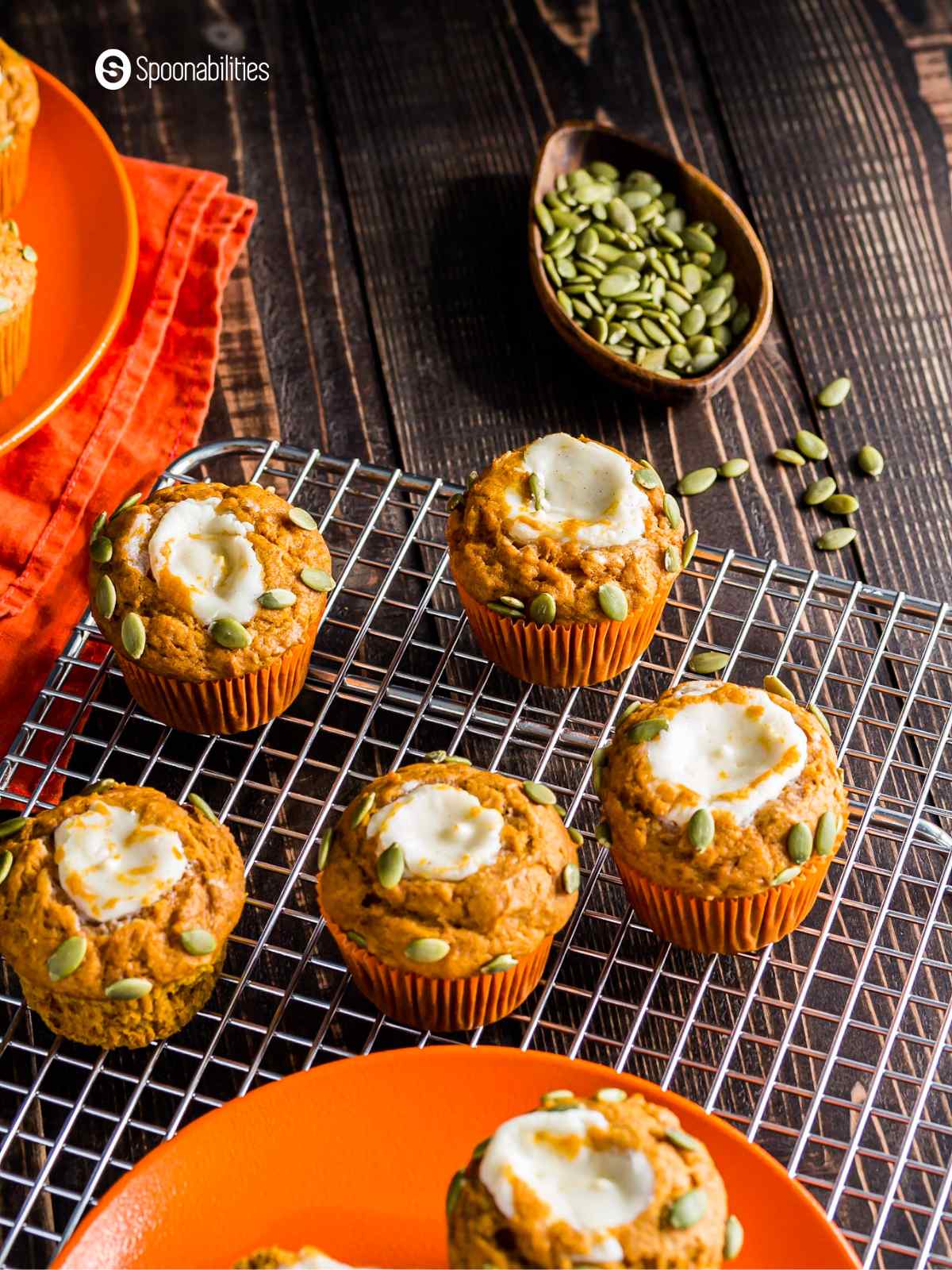 As for the filling, you'll get this one on your first try. It's so easy to make, and the versatile cream cheese filling will prove itself useful in many other baking projects. We're working on a pumpkin roll that uses it, and a carrot cake too. It's one of my go-to frostings for when I'm in a hurry, not to mention that it's Geoffrey's favorite and I get in trouble if I don't let him lick the bowl.
The time for filling your pumpkin muffins with your cream cheese mixture will come, and if you don't have a piping bag around, which is totally understandable, use a Ziplock bag and cut off a small corner. You'll be surprised how well that works.
Like this recipe so far? Be the first to know when we release new ones!
---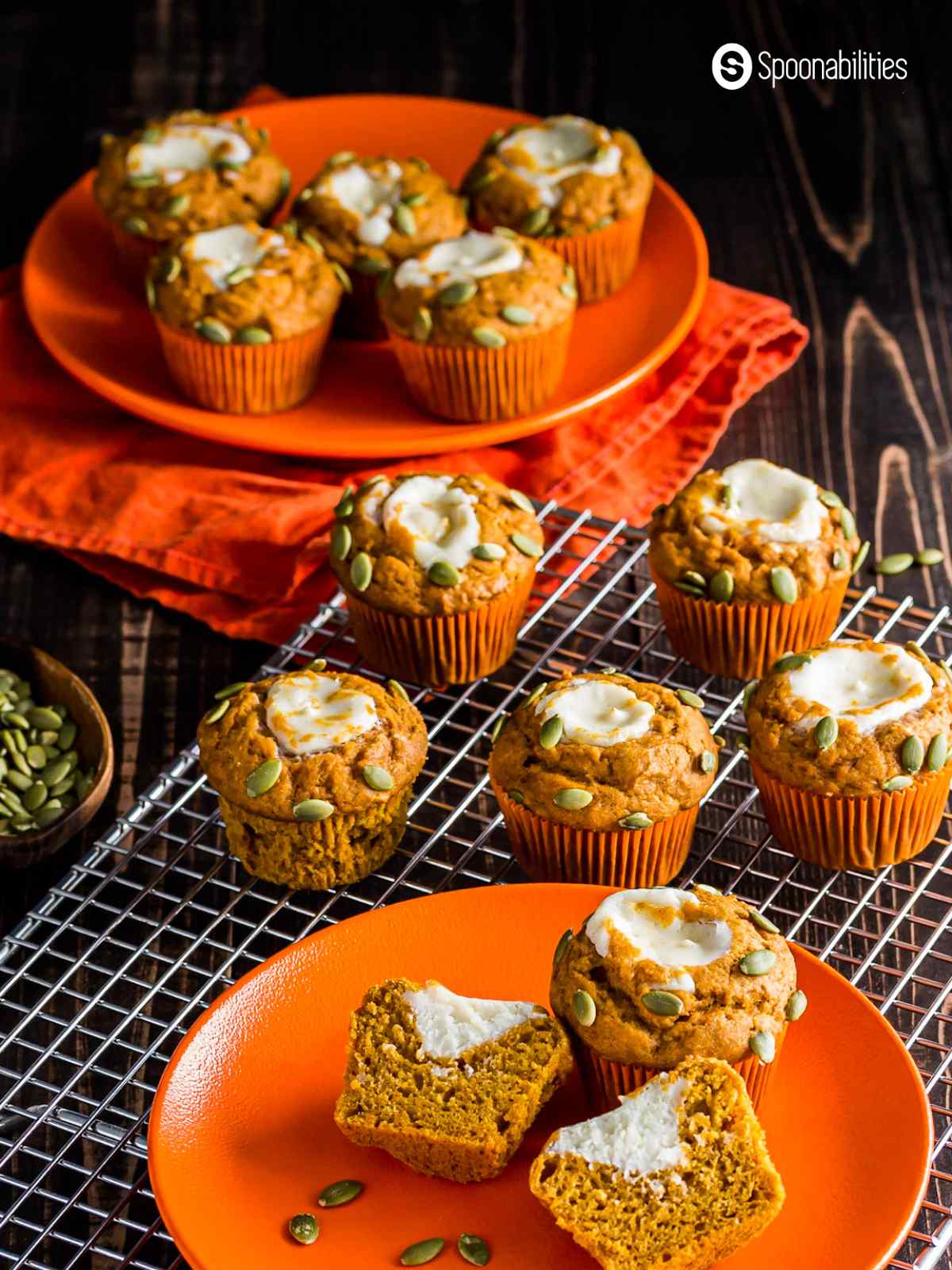 Drinks with Pumpkin Cream Cheese Muffins
Pumpkin muffins are super satisfying to make and share, and they're even better when paired with the right drink. Here are two Spoonabilities classic drinks that will pair beautifully with them.
Spiced Spanish Hot Chocolate
Remember this one? This is my favorite hot drink since I discovered it in Barcelona. I usually pair it with churros, but you know what? Spiced Spanish Hot Chocolate is delicious with autumn-flavored treats too. The cinnamon, nutmeg, and vanilla mirror the flavors in the pumpkin muffin fabulously.
Pumpkin Spice Mocha
For a more traditional approach, make yourself and your loved ones a hot or cold pumpkin spice mocha. It's meant to be enjoyed with today's muffins. You already have the spices, right? And with a nice addition of cinnamon-infused organic Vermont maple syrup, you know you've got something special.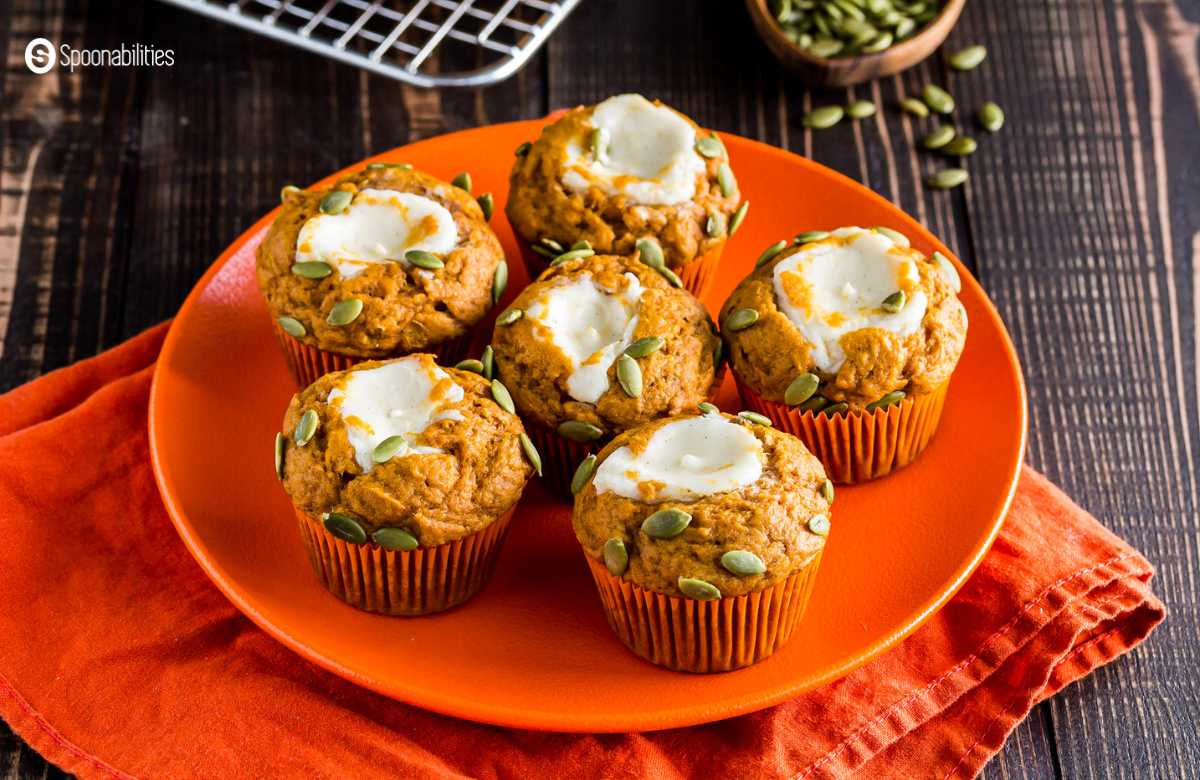 These pumpkin muffins are amazingly moist with warm spices and filled with a vanilla cream cheese filling. They are the perfect fall breakfast, and afternoon snack, and dessert! And they are better than the Pumpkin Cream Cheese Muffins from Starbucks because they are homemade, you can adjust the spices to your own liking, and you don't need to leave the house to eat them... just make sure you make plenty of them.
If muffins are your thing, check out these:
I hope you get a chance to make these Pumpkin Cream Cheese Muffins. If you have or any of our other recipes, please do tag @Spoonabilities on Instagram and leave a like or comment on this Pin, so we can find you! We'd also love to hear from you in the comment section below.
Happy Start of Pumpkin Season,
Carlos Leo
Your Recipe Concierge!
Print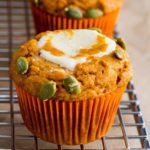 Pumpkin Cream Cheese Muffin Recipe
---
Author:

Carlos Leo

Total Time:

30 minutes

Yield:

1

2

1

x
Description
Pumpkin Cream Cheese Muffins is a Starbucks copycat recipe. But ours are better. You know why?...because they are homemade, and you don't have to leave the house. Pumpkin puree, pumpkin spice, and a luscious cream cheese filling make these the baking treats of the Fall season.
---
1

+½ cups all-purpose flour

¾

cup

granulated sugar

1 teaspoon

baking powder

1 teaspoon

baking soda

¼ teaspoon

sea salt

1 teaspoon

pumpkin spice

1

+½ cup (1 can of 13 oz) pure pumpkin puree

¼

cup

unsalted butter, melted and cooled

1 teaspoon

vanilla bean paste or extract

1

egg lightly beaten

2 teaspoons

toasted pumpkin seeds for garnish
Cream Cheese Filling
4

oz

cream cheese, softened

½ teaspoon

vanilla bean paste or extract

1 teaspoon

all-purpose flour

3 Tablespoons

granulated sugar

1 teaspoon

milk
---
Instructions
Making the Muffins:
Preheat oven: Preheat oven to 350F, and prepare muffin baking trays with paper muffin cups to hold 12 muffins.
Mix dry ingredients: In a large bowl, whisk together the flour, sugar, baking powder, baking soda, salt, and pumpkin spice.
Mix wet ingredients: In a separate medium-sized bowl, whisk together the pumpkin, melted butter, vanilla, and egg.
Combine: Make a well in the middle of the dry mixture and pour the wet mixture into the bowl. Stir with a large spoon until just combined and there are no dry pieces.
Fill muffin trays evenly with the mixture.
Making the Cream Cheese Filling: 
Blending: In a medium-sized bowl, mix all the ingredients using a hand or stand mixer on medium speed until smooth.
Filling: Place mix into a piping bag (or a Ziplock bag and cut off a small corner). Place the piping bag into the muffins one at a time and fill insides with the cream cheese. Evenly distribute cream cheese mixture along with all the muffins, leaving a little dollop on top of each.
Distribute the pumpkin seeds evenly around the outsides of the batter if desired.
Bake for 18-20 minutes until a toothpick inserted into the bread part of the muffins comes out mostly clean.
Cool for 10 minutes and then take them out of the muffin tray and place on a wire rack to cool completely.
Notes
You can store muffins in a container with a lid for a couple days, or in the refrigerator, and warm before eating.
These muffins don't freeze well.... like you'll have any leftover to freeze LOL!
Prep Time:

10 minutes

Cook Time:

20 minutes

Category:

Breakfast

Method:

Bake

Cuisine:

American
Keywords: Pumpkin muffins, cream cheese filling, cheesecake filling, pumpkin muffins with cream cheese swirl, fall baking, fall dessert, pumpkin recipes, pumpkin spice, dessert with pumpkin, Starbucks Copycat, Pumpkin Cream Cheese Muffin
Recipe Card powered by
Available via these affiliate links:
Disclaimer: Links that open in another site, i.e. Amazon, may be affiliate links where at no additional cost to you, we may receive a small commission should you decide to purchase the item. Read our Disclosure Policy.
Ready to Fall into Pumpkin Season? Check these other recipes out: