Pumpkin Rice Pudding is my to-go dessert or breakfast that I like to make during the Fall. We take the classic Dominican rice pudding recipe, "Arroz con Leche", and step it up a notch by adding fall flavors and warm spices like pumpkin puree, pumpkin pie spice, and Vermont maple syrup. We are also adding some ingredients from my mom's recipe like coconut milk, coconut flakes, and evaporated milk. In this post, learn what is the best rice to make rice pudding, learn the story of my love of this sweet rice dessert, and finally learn how to achieve the perfect creaminess.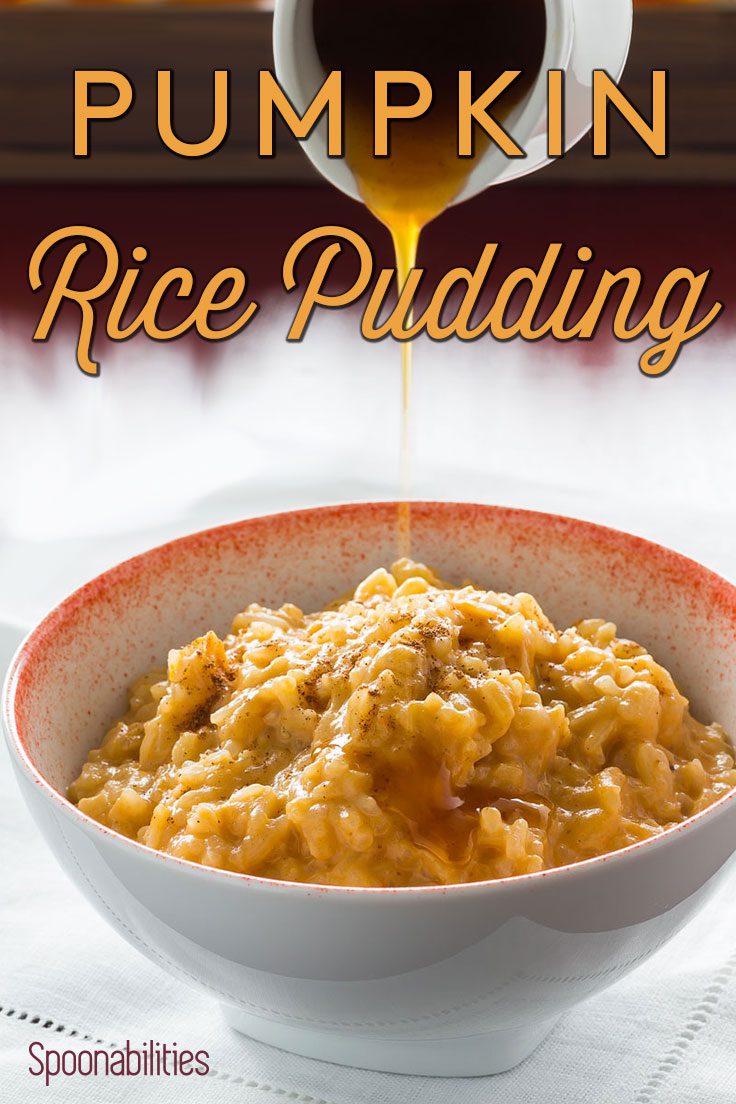 Recipe post may have affiliate links; read our disclosure policy. Photographs ©Carlos Leo, Spoonabilities
Hello my friends. If you want to know what my ultimate comfort food is, today is the day. I'm making my childhood all-time favorite dessert, rice pudding, aka Arroz con Leche. For this recipe, I'm adding seasonal ingredients that add an additional layer of flavor and create the most delicious, creamiest bowl of goodness. This Pumpkin Rice Pudding recipe is made with some of my favorite ingredients like coconut milk, coconut flakes, evaporated milk, and pumpkin puree.
When I think about rice pudding, it reminds me of my childhood, my mother, and my grandmother. They both knew what to cook to make me a happy kid. However, this family tradition continued throughout my adult life. After I moved in with my grandmother to be close to the college campus, rice pudding was the official "welcome home" dish that my mother made when I came back home during the weekends. Still to this day my mom cooks rice pudding whenever I go back to the Dominican Republic. And of course I developed my recipe for rice pudding from both of them.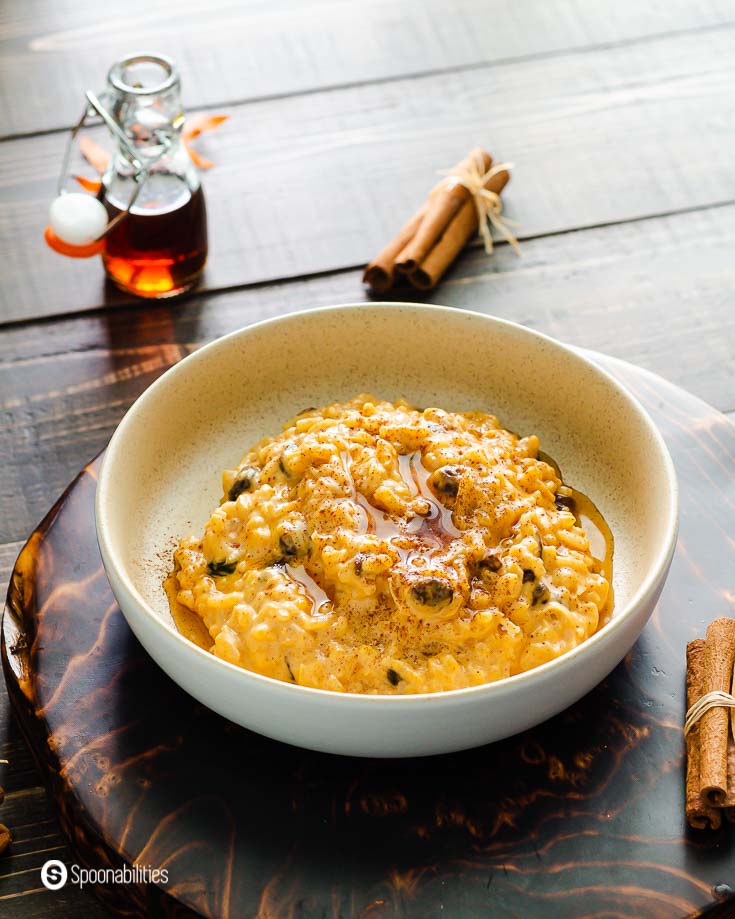 I was very traditional with my rice pudding recipe, until today. By adding the pumpkin puree, I discovered a new layer of Fall flavor and creaminess. Geoffrey didn't have the chance to eat more than two small cups of this Pumpkin Rice Pudding because I ate all. I made it one night, and by the time he came back from work the next day, he didn't find anything left. I ate all of it during the day for breakfast, a snack, and lunch. It was a full carbohydrate, sugary, rich, no-diet day. I know, I will have to hit the treadmill and the rowing machine pretty hard if I want to stay at the same weight. The thing is that it has been a little tough for me lately because this is the season of the year to cook or bake fall dessert and holiday treats – and I love them all!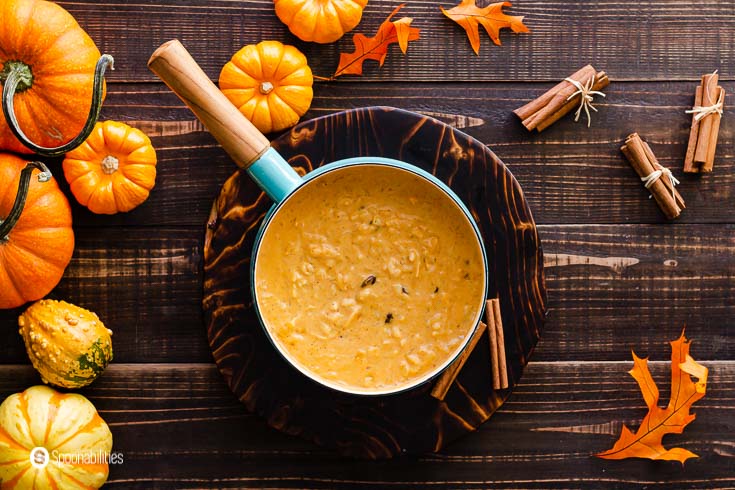 Like this recipe so far? Be the first to know when we release new ones!
---
How to Make the Best Pumpkin Rice Pudding
This Pumpkin Rice Pudding recipe is extremely easy and quick to make. The key ingredients for this rice pudding are Arborio rice, pumpkin puree, evaporated milk, whole milk, coconut cream, unsweetened coconut flakes, a cinnamon stick, cardamom, Vermont maple syrup, sea salt, raisins, and pumpkin pie spice.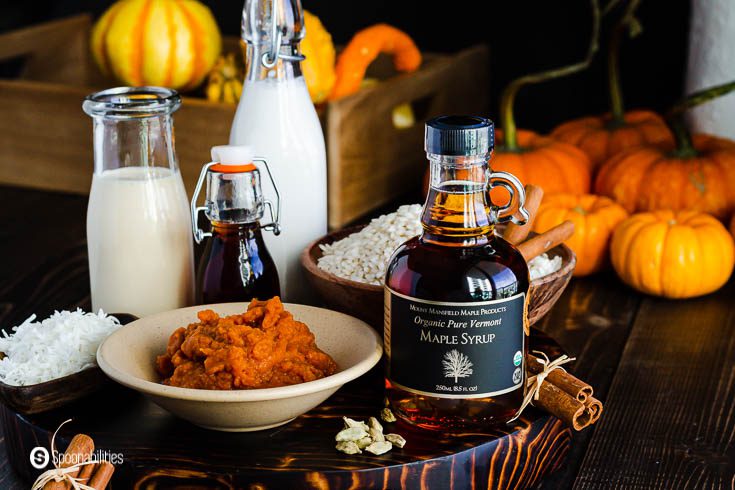 In a medium saucepan, combine the rice, milk, sea salt, and cinnamon stick. Bring to a boil over medium-high heat, stiring to prevent the rice from sticking and the milk from boiling over.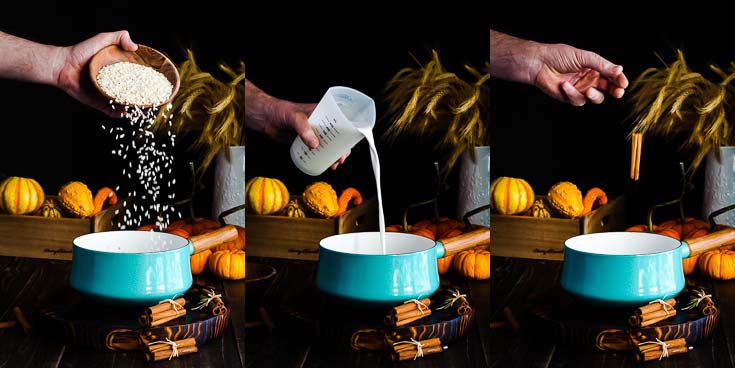 Reduce the heat to medium-low and cook for about 25-30 minutes or until the rice is soft. Stir throughout the process to prevent the rice from sticking to the pan.
Then add the pumpkin puree, evaporated milk, coconut cream, cardamom, vanilla paste, coconut flakes, pumpkin pie spice, raisins, and Vermont maple syrup.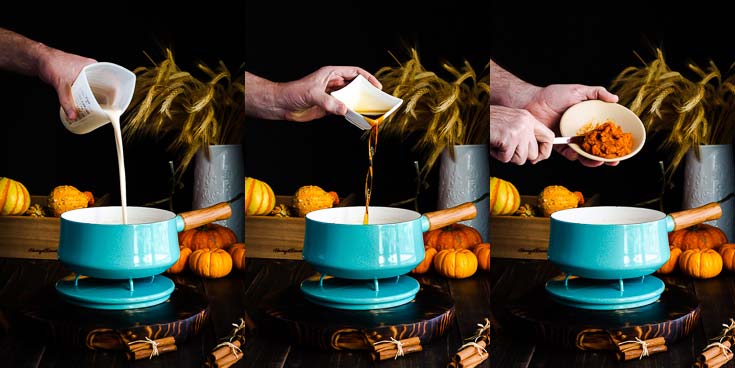 Mix well to combine and continuously stir until you get the consistency that you like. I like to stop cooking before it gets too thick because the pumpkin rice pudding will get thicker after getting cold.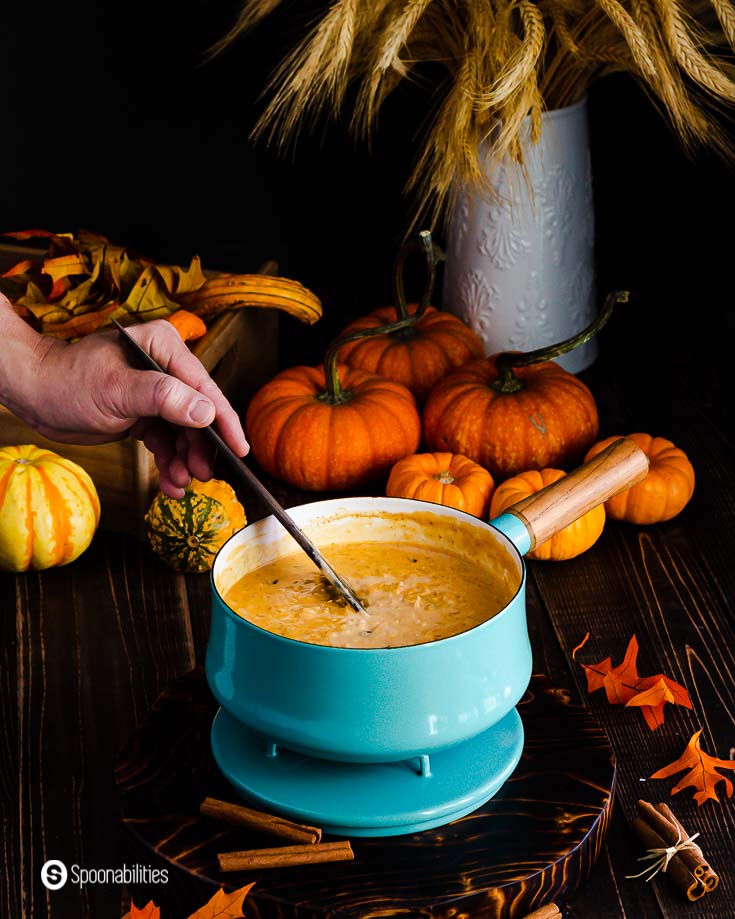 Serve the rice pudding in a bowl with a drizzle of Vermont maple syrup and a sprinkle of cinnamon, nutmeg, or pumpkin pie spice.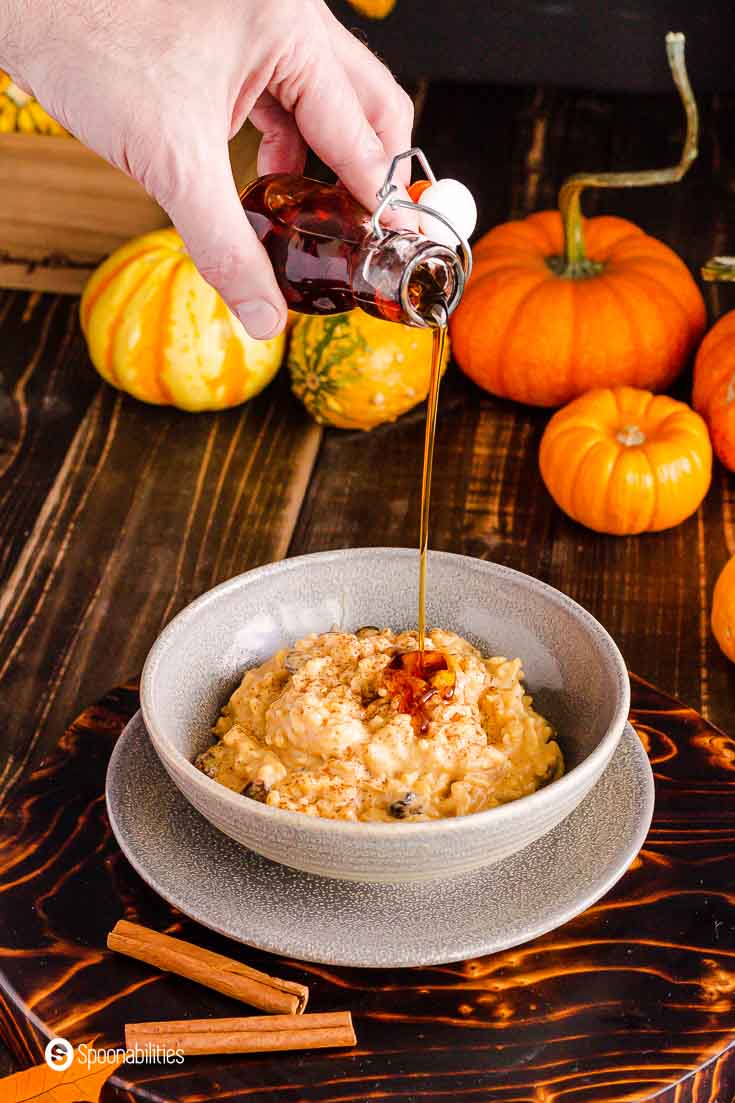 Pro Tips How to Get the Creamiest Rice Pudding
The following tips will apply to the classic rice pudding recipe, pumpkin rice pudding or any other flavor of rice pudding.
Rice: The best rice to achieve the creamiest rice pudding is a short grain rice; my preference is Arborio rice. This type of rice has higher starch. See comparison information below about different types of rice.
Milk: The original recipe is from my mother and she uses three types of milk: evaporated milk, whole milk, and coconut cream or coconut milk. The combination of the three kinds of milk add a more complex flavor. Also, if you notice I don't use water to cook the rice. Cooking the rice with the milk, plus the starch from the Arborio rice is the key to get a perfect creamy rice pudding. By the way, adding the coconut cream will give you a richer pumpkin rice pudding.
When to add the sugar or the sweetness: The best time to add the sugar to the rice pudding is after the first 25 minutes when the rice is soft. If you add the sugar at the beginning, the rice will stay hard. I don't use sugar for this recipe as I prefer to use a natural sweetener like Organic Vermont Maple Syrup which is available at our shop.
Salt: Salt is a crucial element for sweet or savory dishes to enhance the flavor. When you add a small amount of salt to desserts, it reduces the bitterness and increases the sweetness. For savory dishes, you add more salt to suppress the sweetness and enhance the dish's savory umami flavor.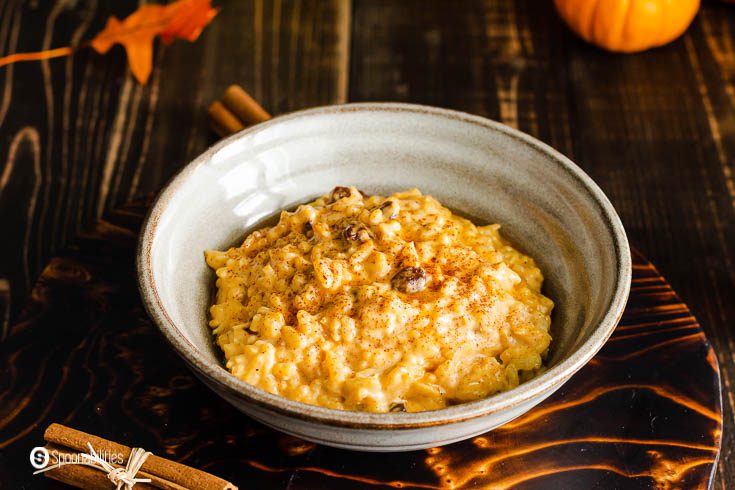 Difference Between Short-Grain Rice, Medium-Grain Rice, and Long-Grain Rice
Rice comes in three sizes: short, medium, and long-grain. Each variety has unique characteristics and works best in a specific dish or the person's taste.
Short-grain rice varieties like Arborio rice, bomba rice, and sushi rice are similar in length and width, and take on a sticky texture when cooked. Perfect for paellas, rice pudding, sushi, and risotto. Arborio rice is high in amylopectin starch, which is what gives risotto its creamy texture. It's chewy, firm, and creamy all at once. Arborio rice is Gluten-free.
Medium-grain rice varieties are double the size of the short-grain rices, and become moist and tender when cooked. This type of rice produces moist, tender, slightly chewy grains. It's usually fluffy and moist just after it's done cooking, but clumps and solidifies as it cools. This medium-grain is another good option for rice pudding.
Long-grain rice is the largest variety of rice. When you cook this rice, it is fluffy and tender. Before cooking, you should rinse well to remove some of the starch. If you don't do it, the result will be sticky and clumpy. The most common varieties are jasmine rice and basmati rice.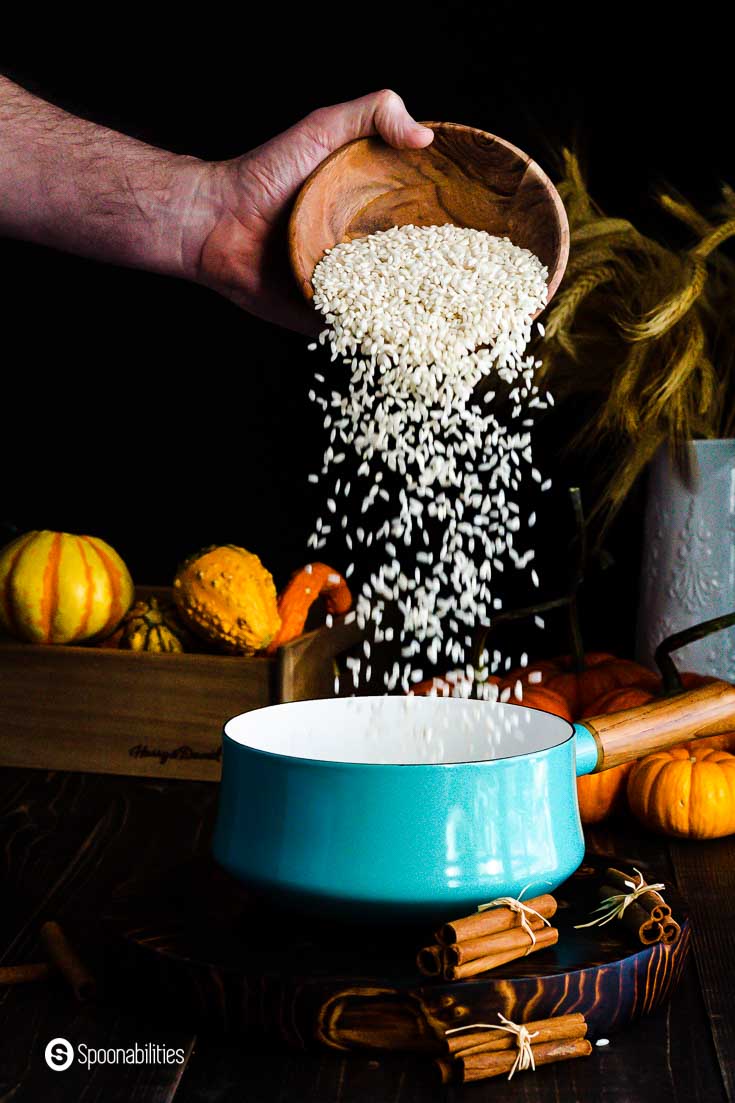 What Is Rice Pudding?
Rice pudding is rice cooked with milk, sugar and in some cases spices like cinnamon and clove. While the rice cooks, it releases starch that thickens the milk and creates tender grains of rice which is what gives the creaminess.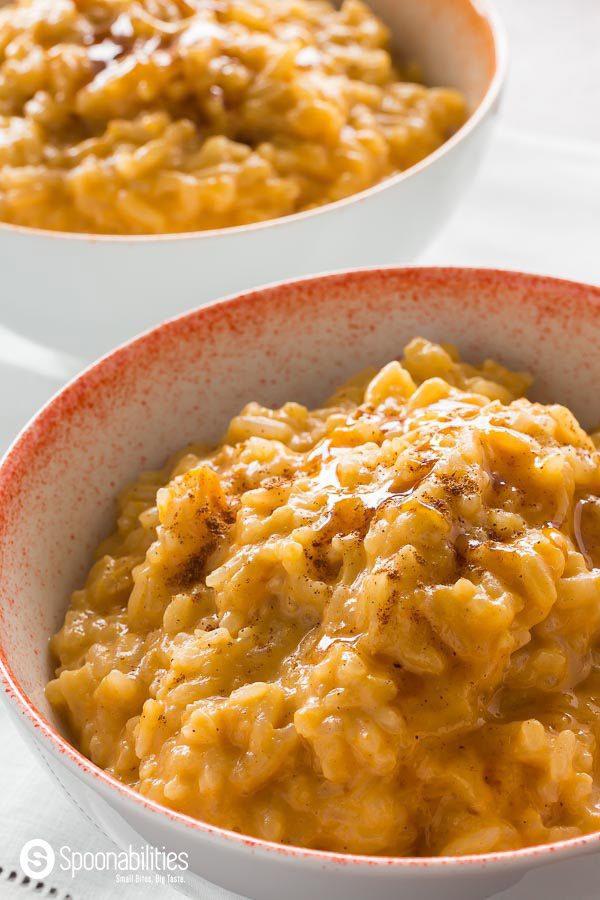 I love to eat my pumpkin rice pudding by pouring some maple syrup on top. If you eat it the next day, you can add some coffee creamer and the maple syrup for an indulgent breakfast or dessert. On top you can sprinkle some ground cinnamon or toasted coconut flakes as a garnish.
This rice pudding recipe is part of our special compilation of "8 Sweet Pumpkin Recipes you are going to want to make." If you love pumpkin spice like we do, check it out. If you haven't noticed, I'm still celebrating the Pumpkin season and even more recipes are coming!
I hope you get a chance to make this Pumpkin Rice Pudding recipe. Did you make a recipe? Tag @Spoonabilities on Instagram or add a photo or comment on Pinterest, so we can find you! And we love to hear from you in the comment section below.
Happy Pumpkining!
Carlos
Your Recipe Concierge
Looking for more pumpkin recipes?
Here are some of our favorites pumpkin desserts.
Print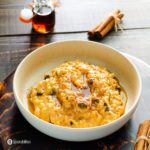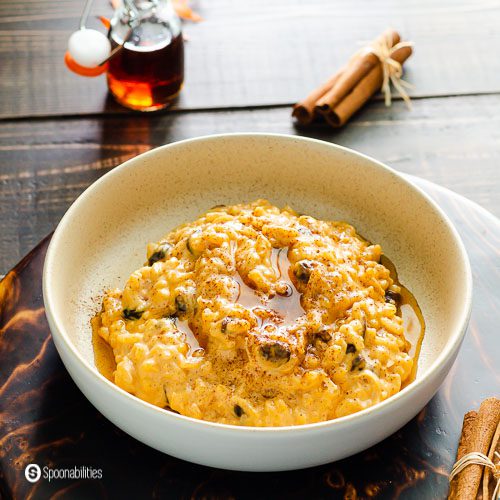 Pumpkin Rice Pudding Recipe with Coconut Milk
---
Author:

Carlos Leo

Total Time:

45 minutes

Yield:

8

1

x
Description
You will LOVE this Pumpkin Rice Pudding Recipe with coconut milk & Vermont Maple Syrup. Fall-flavored breakfast or dessert with pumpkin puree, evaporated milk, pumpkin pie spice, cinnamon, coconut flakes, and raisins. It's a Gluten-Free recipe.
---
---
Instructions
Combine: In a medium saucepan, combine the rice, milk, sea salt and two sticks of cinnamon. Bring to a boil over medium-high heat, stirring often to prevent the rice from sticking and the milk from boiling over. Then, reduce the heat to medium-low.
Cook for 25-30 minutes or the rice is soft. Stir throughout the process to prevent the rice from sticking to the pan.
Add the pumpkin puree, evaporated milk, coconut milk, cardamom, vanilla paste, coconut flakes, raisins, and maple syrup.
Mix well and continue cooking, stirring often. Cook until the rice is cooked completely and rice pudding gets creamy, soft, and a bit thicker. Add more milk if necessary. Remember after the rice pudding gets cold, it will thicken more. I recommend to stop cooking before all the liquid is gone.
To Serve: Place the Pumpkin Rice Pudding in a small bowl, sprinkle cinnamon and pour on some maple syrup.
Prep Time:

5 minutes

Cook Time:

40 minutes

Category:

Dessert

Method:

Stove

Cuisine:

International
Nutrition
Serving Size:

1 cup

Calories:

283

Sugar:

20.2 g

Sodium:

79.8 mg

Fat:

10.9 g

Saturated Fat:

8.9 g

Carbohydrates:

42.9 g

Fiber:

1.2 g

Protein:

4.8 g

Cholesterol:

9.1 mg
Keywords: rice pudding, pumpkin dessert, pumpkin puree, fall dessert, Dominican dessert, pumpkin pie spice, pumpkin spice rice pudding, sweet rice, Arborio rice, coconut milk, comfort food, dessert, pudding, Gluten-Free
Recipe Card powered by
Available via these affiliate links:
Disclaimer: Links that open in another site, i.e. Amazon, may be affiliate links where at no additional cost to you, as an Amazon Associate I earn from qualifying purchases, should you decide to purchase the item. Read our Disclosure Policy.