Swedish meatballs, like those at IKEA, are iconic. What exactly are Swedish meatballs? You'll learn all you need to know about these Scandinavian meatballs and how to make them, as well as the deliciously creamy lingonberry sauce they swim in.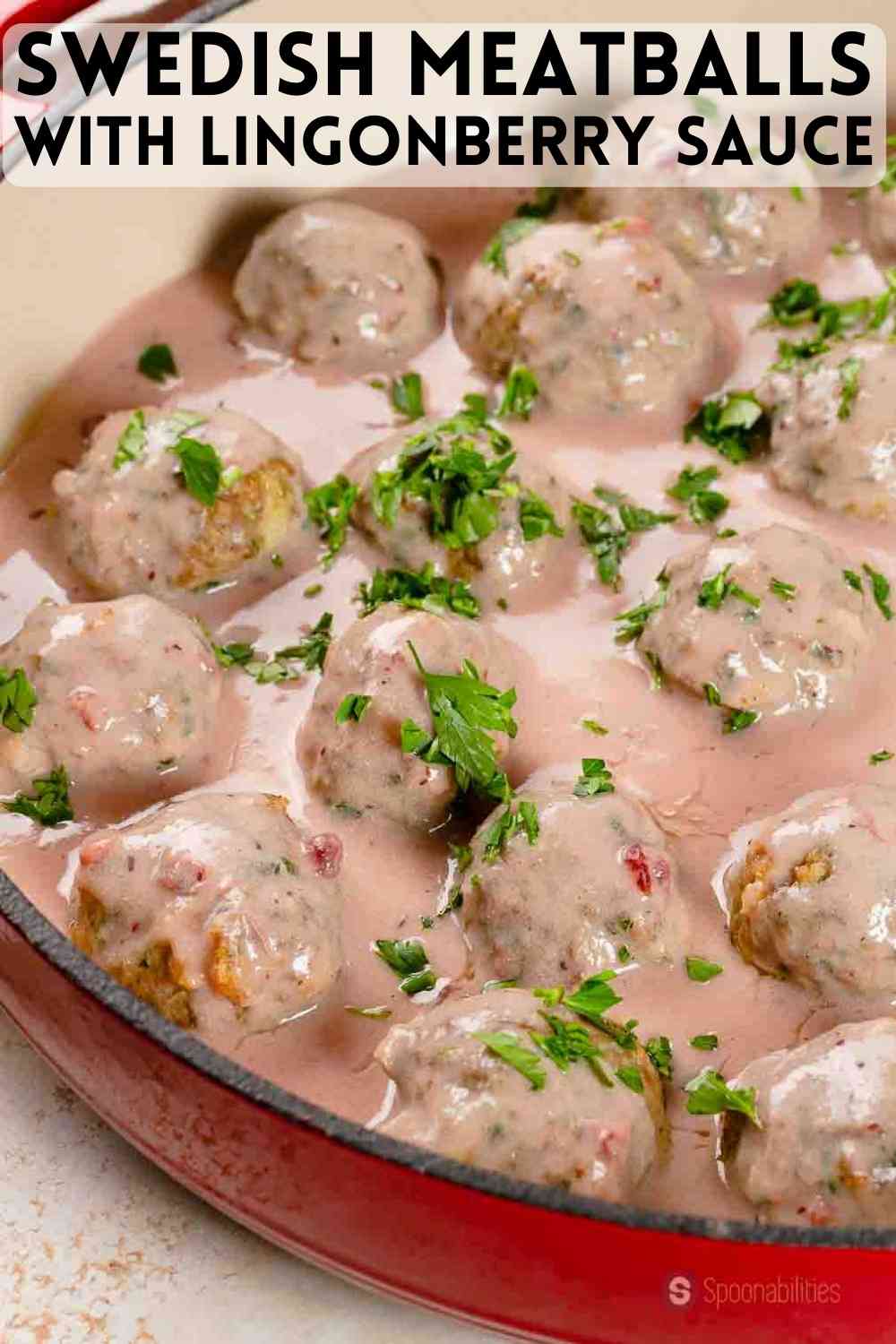 Hello my friends. Every country and culture has its meatballs. After all, rolling ground meat in your hands is not rocket science. Still, meatballs are authentic, meaty two-biters that take us all to a special place. Meatballs taste like home.
Not all meatballs are created equal, though. Some are on another level, and it's hard to argue some of the most exciting ones are the Swedish meatballs. These beauties are served with a creamy gravy made with lingonberry jam. That's what we call comfort food! Here's our Swedish meatballs recipe and all you need to know about the famous Scandinavian dish.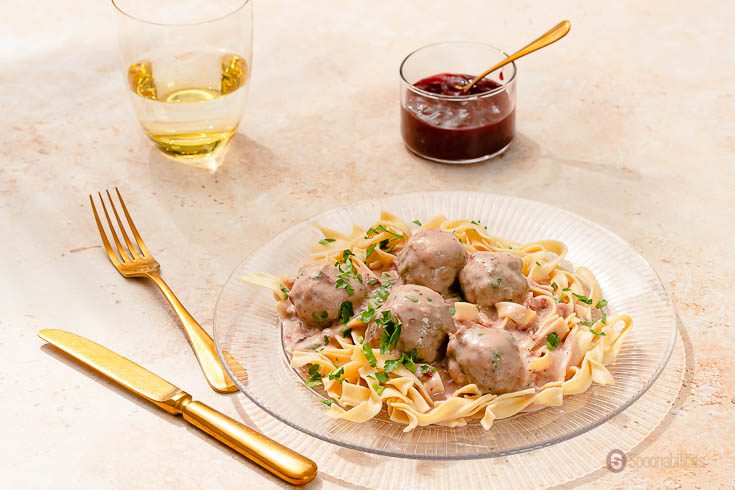 Swedish Meatballs, How Swedish are they?
Before I tell you how I make my Swedish meatballs recipe and share a creamy Swedish meatballs sauce recipe, I thought I could give you a conversation topic for the next time you make these beauties for friends. Swedish meatballs might not be as Swedish as we thought.
We can thank IKEA for popularizing the creamy meatballs we now love. And although meatballs have been a thing in Sweden for at least three centuries, they might have been invented elsewhere. Legend says that Swedish King Charles XII discovered these seasoned meatballs on a diplomatic trip to the Ottoman Empire sometime around 1700, and the royal chefs might have picked up the recipe and taken it back home. Yes, Swedish meatballs are Turkish, but Swedish cooks have certainly perfected them!
Like this Swedish Meatball recipe so far? Be the first to know when we release new ones!
---
What Components Make up Swedish Meatballs?
A Mix of Meats
Swedish meatballs or köttbullar "meat buns" are always made with a combination of meats. Veal, pork, beef, and turkey are all traditionally used to create two-bite-sized meatballs, firm enough to handle the heat but still juicy. I like using equal parts ground beef and pork.
Combine the ground meat with a breadcrumb and seasoning mixture (see below). An egg helps keep the meaty bites together.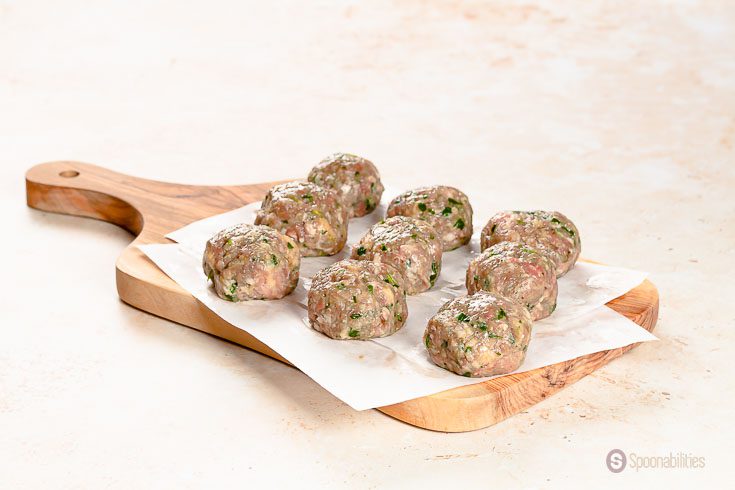 The Meatball Seasonings
Seasoning the meat before rolling the meatballs is also typical, and here you can unleash your creativity. For me, grated shallots and garlic, ground caraway seed, parsley, salt, and pepper do the trick. If you don't feel to do much work, you can add the shallots, garlic, and parsley to a small food processor.
The Lingonberry Sauce
The right Swedish meatballs sauce recipe makes the dish. For this one, we'll make a light roux with flour and butter and give it richness with chicken stock, fat-free sour cream, and some fat-free milk. This recipe was updated in mid-2022 to make it lighter in fat and calories. Adding a dash of pickle juice really makes the difference! And I always flavor the sauce with a few tablespoons of an exceptional ingredient: Lingonberry Jam.
Lingonberry Jam
What makes Swedish meatballs extraordinary is the contrasting combination of a creamy sauce and tart Lingonberry jam. You'll have a hard time making this one from scratch; luckily, there are several artisan spreads available; I use this Lingonberry Fruit Spread. Swedish meatballs are amongst my favorite lingonberry recipes.
Let's Make this Swedish Meatballs Sauce Recipe!
With all the basics covered, it's time to check out today's lingonberry sauce for meatballs recipe. It goes without saying, Swedish meatballs are a fantastic weeknight meal, but they're also an inviting appetizer for when having friends over. These meatballs are so good they'll fit for the most memorable occasions. Really, they're even date night material.
You might also be surprised to see all the different desserts you can make with lingonberries like Hazelnut Lingonberry Cake and Coconut Cream Lingonberry Pops.
We love this recipe so if you have any questions about it, leave me a comment below and I'll be sure to get back to you. Also, when you make it, we'd love to see how it turns out. Share your photo and tag @Spoonabilities on Instagram or comment on this Pin.
Wishing you Tasty Happenings,
Carlos Leo
Your Recipe Concierge!
Print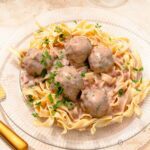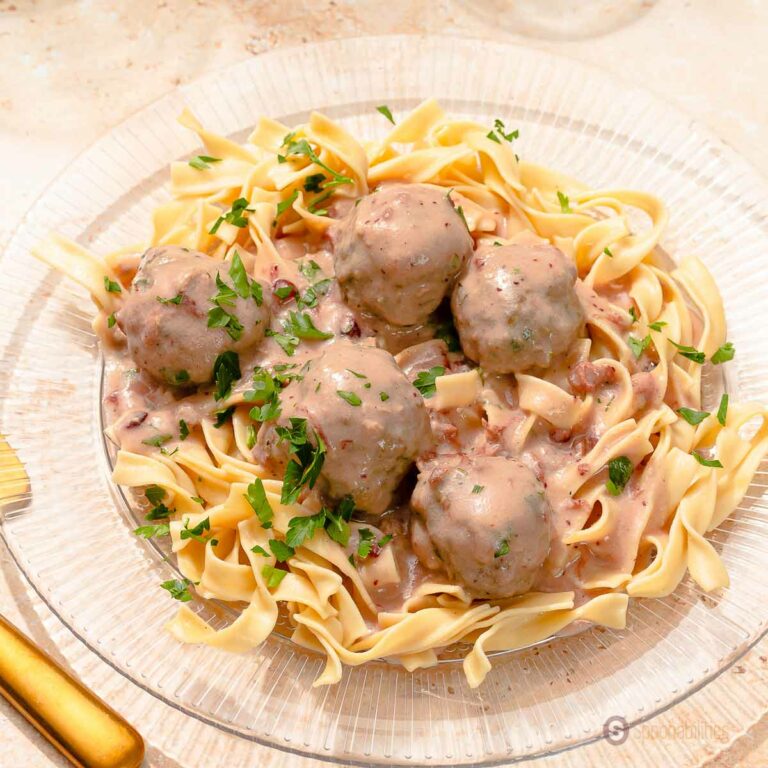 Swedish Meatballs with Lingonberry Sauce
---
Author:

Carlos Leo

Total Time:

45 minutes

Yield:

1

8

1

x
Description
Not all meatballs are created equal, and one of the most exciting ones are the Swedish meatballs. These beauties are served with creamy gravy with lingonberry jam. I serve this meatball as an appetizer with toasted country bread and Lingonberry Fruit Spread.
If you like this recipe, why not join our newsletter list.
---
Swedish Meatball Ingredients
1

pound

85/15 ground beef

1

pound

ground pork

½

cup

breadcrumbs

3

grated shallots

3

grated garlic cloves

2

large eggs

1 teaspoon

toasted and ground caraway seeds (or store-bought ground caraway seeds)

⅓

cup

chopped flat-leaf parsley, plus more for garnish

1 teaspoon

Kosher salt

¼ teaspoon

ground black pepper
Lingonberry Sauce Ingredients
3 Tablespoons

unsalted butter

2 Tablespoons

all-purpose flour

1

-

⅓

cups

beef broth

½

cup

fat-free sour cream

⅓

cup

fat-free milk

2 Tablespoons

pickle juice

¼

to

½

cup

Lingonberry Fruit Spread, plus more for serving
---
Instructions
Preheat the oven to 380F degrees
Place the ground beef and ground pork in a large mixing bowl with the breadcrumbs. Then add the grated shallot, grated garlic, eggs, ground caraway seeds, chopped parsley, salt, and pepper. See notes below.
Mix well using your hands but don't overmix. Use an ice cream scoop to make the balls and roll it around in your hands to shape it into small-sized meatballs, or medium-sized if you prefer bigger meatballs. Continue forming the meatballs and putting them on a baking sheet.
Bake the meatballs on the baking sheet in the oven for about 13 minutes.
Heat on the stove a large saucepan with the butter. When the butter is melted, add the flour and whisk for a couple of minutes until the flour is cooked.
Pour the beef broth in slowly and keep whisking until the sauce is smooth.
Add the fat-free sour cream, fat-free milk, and pickle juice. Simmer until the sauce gets thick and creamy. It takes a minute or two. If it gets too thick, add more beef broth (remember when the sauce is cold will get thicker). See notes below.
Add the Lingonberry Fruit Spread until combined. You can start adding ¼ cup first and taste to your liking. I found that ½ cup was perfect for a touch of sweetness.
Add the meatballs with the dripping from the baking dish to the saucepan and simmer for a couple of minutes until the meatballs are heated through. Sprinkle with chopped parsley and transfer to a serving bowl.
Serve the Swedish Meatballs with additional lingonberry jam on the side, and with cooked egg noodles or mashed potatoes. You can also serve as an appetizer with toothpicks.
Notes
You can use the food processor to save time by chopping the garlic, parsley, and shallots very fine.
In step 7, I recommend if you want more sauce to add extra beef broth. After you add the meatballs, you cannot add more liquid. You will be sorry for not adding more liquid earlier.
Prep Time:

15 minutes

Cook Time:

30 minutes

Category:

Dinner, Holiday, Appetizer

Method:

baking

Cuisine:

Swedish
Keywords: köttbullar, Scandinavian recipes, lingonberry sauce for meatballs, lingonberry jam recipe
Recipe Card powered by
Products and displays used in this recipe:
Links that open in another site, i.e. Amazon, may be affiliate links where at no additional cost to you, as an Amazon Associate we earn from qualifying purchases, should you decide to purchase the item. Read our Disclosure Policy.