Hazelnut Lingonberry Cake is one of our favorite recipes with jam. We love the crunchiness from the hazelnut crumb mix and the sweet tartness from lingonberry jam, which you will be able to taste in the different layers of the cake. Learn how to make a fluffy lingonberry cake with the loveliest crumb and the most berry-licious flavor. We'll also learn more about the unusual lingonberry, how lingonberries taste, and how to use them.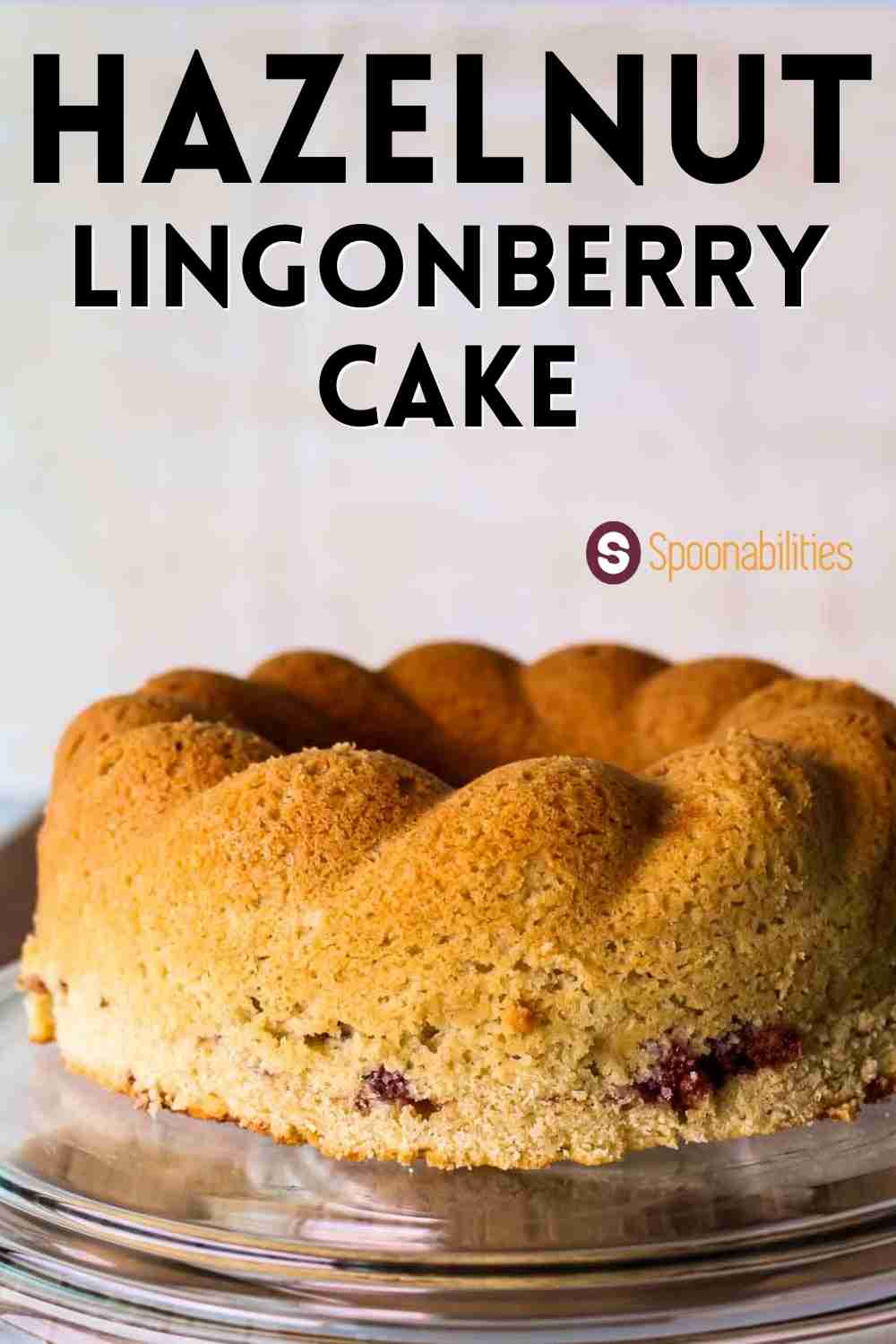 Hello my friends. You're undoubtedly familiarized with blackberries, strawberries, and cranberries, but lingonberries are not all that common. What's the deal with this sweet and addictively tart fruit? Let me tell you a bit more about my affair with lingonberries and why we have a bunch of lingonberry recipes on this site.
If you're curious about how lingonberries taste, one "famous" recipe using lingonberries is Swedish meatballs which we also made the recipe for you. If you've ever been to the little restaurant at IKEA then you know what we're talking about.
What is Lingonberry?
Lingonberries are part of the heather family of plants and grow in America, Europe and Asia, but only up north in the Arctic cold, where no other berry thrives. Lingonberries have grown in the wild in northern Europe but most famously in the lands of Scandinavia.

They look very similar to huckleberries or cranberries, and you might have heard people call lingonberries foxberries, bearberries or mountain cranberries, but they're all the same brightly colored fruit.
What does a lingonberry taste like?
When you think about the taste of lingonberries, think of tart cherries and cranberries. Lingonberries have a sour acidic taste, but they're slightly sweet as well. You'll find them fresh in late summer and fall — the longer the berries hang, the sweeter and less bitter. 
Is Lingonberry Jam the way to go?
Since finding fresh lingonberries is not particularly easy, the best way to treat yourself to the Nordic fruit is in Lingonberry jam. After lingonberries are picked, they are cooked like cranberries and sweetened to reduce the tart flavor. The fruit is mashed with sugar to preserve their nutrients. Although we don't sell lingonberry jam here at Spoonabilities, we do have a few resources below to help you find some, and our favorite is Lingonberry Fruit Spread from Scandinavian Delights.
Video of Interesting Lingonberry Facts
Like this recipe info so far? Be first to know when we release new ones!
What Goes Into a Lingonberry Cake?
Lingonberry jam, just like any other jam, is easy to incorporate into a wide variety of cakes. Cake baked in a tube or Bundt pan is the perfect means to give lingonberries a stage to shine. My favorite? I like the lingonberry taste in mildly flavorful cakes, like pound cakes and sponge cakes.
Below, you'll find a fun recipe for lingonberry cake, and you don't need any special ingredients besides the lingonberry jam. Eggs, sugar, flour, vanilla extract - you know the drill. The jam, though, will turn a regular cake into something else entirely!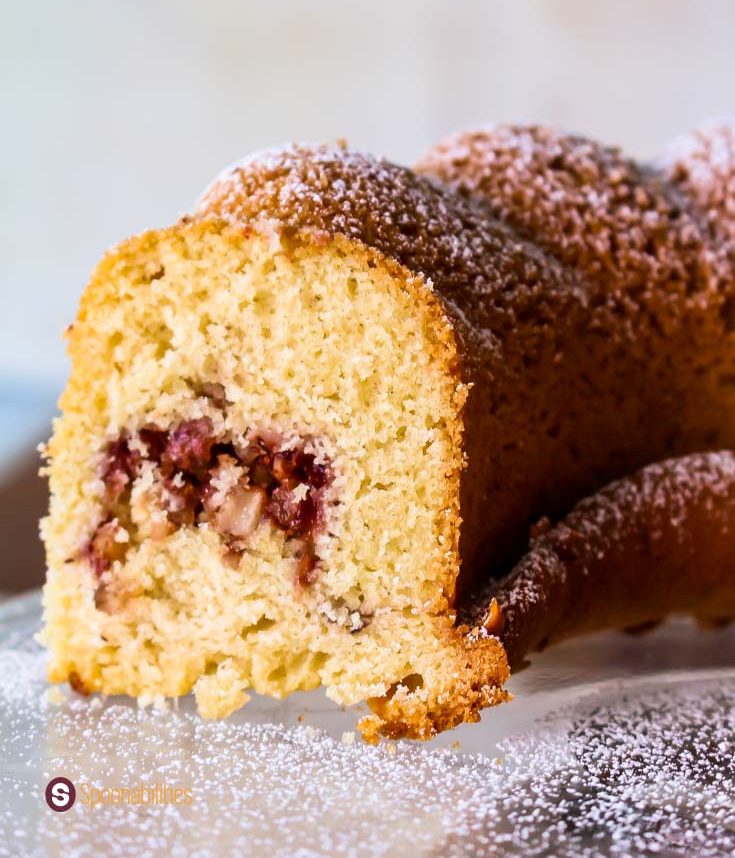 When to Make Lingonberry Cake?
Lingonberries' flavor is deliciously compatible with seasonal food, especially fall specialties. A lingonberry cake can be a great way to end Thanksgiving dinner on a sweet note.
Having said that, the vibrant fruit in a light, fluffy bread is also great in warm weather. Serve lingonberry cake dusted with confectioners' sugar and a pitcher of iced tea, especially if it's sunny outside, and you'll see what I mean.
And if you don't feel like baking today, know that having lingonberry jam around is not such a bad idea. It's a fantastic spread for toast, and even a topper for ice cream, but that's another story.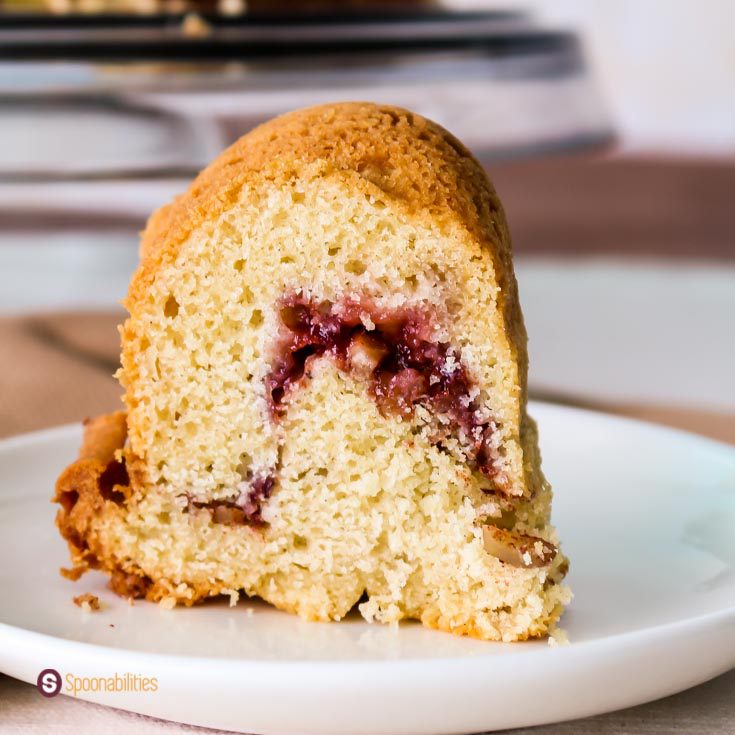 If you love lingonberries too, another dessert recipe to try are Coconut Cream Lingonberry Pops.
What are your favorite ways of using lingonberries? Let us know in the comments below, and if you make this lingonberry cake recipe, let us know by tagging @Spoonabilities on Instagram or comment on this Pin so we can see it.
Happy baking!
Carlos Leo
Your Recipe Concierge
Print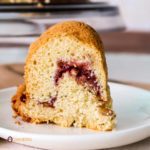 Lingonberry Cake with hazelnut lingonberry filling
---
Description
Hazelnut Lingonberry Cake brings out the best lingonberry taste from the crunchiness of the hazelnut crumb mix and lingonberry jam center, to the different layers of flavor in the cake.
If you like this recipe, why not join our newsletter list.
---
2

+¾ cups flour

1

cup

buttermilk

1

cup

sugar

1 teaspoon

vanilla

1 teaspoon

baking soda

½

cup

chopped hazelnuts or almonds

½ teaspoon

baking powder

½ teaspoon

salt

1 Tablespoon

sugar

1

cup

room temperature butter

1

+½ teaspoons cinnamon

2

beaten eggs

¼

cup

Lingonberry Fruit Spread
---
Instructions
Heat oven to 350 F.
Sift together flour, sugar, baking soda, baking powder and salt into large bowl.
Cut butter into small pieces. Then using two knifes, cut the butter in the flour mixture until it is coarse crumbs. Split the crumb mixture in half.
To one half of the mixture, add beaten eggs, buttermilk and vanilla and beat with electric mixer until well blended.
To the other half of the mixture, stir in chopped nuts, 1 Tablespoon sugar, and cinnamon.
Spoon ⅓ of the batter into greased 9 or 10-inch tube pan.
Spoon ½ of the jam over center of batter and sprinkle with ⅓ of the crumb/nut mixture.
Repeat layers.
Top with remaining batter and sprinkle with remaining crumb/nut mixture.
Bake 45 to 50 minutes until toothpick inserted in center comes out clean.
Cool 10 minutes; remove from pan. Cool completely on wire rack.
Prep Time:

15

Cook Time:

50

Category:

dessert

Method:

baking

Cuisine:

Scandinavian
Keywords: bundt cakes, cake with jam, jam filled cake, lingonberry recipes
Recipe Card powered by
Products used available on Amazon:
Disclaimer: Links that open in another site, i.e. Amazon, may be affiliate links where at no additional cost to you, we may receive a small commission should you decide to purchase the item. Read our Disclosure Policy
Want More Cake Recipes?
Here are a few related recipe ideas you might enjoy: