Spiced lamb meatballs are full of flavor from fresh herbs & spices like mint, cilantro, parsley, cumin, turmeric, paprika, oregano, onion & garlic. Serve these spiced meatballs as an appetizer on a bed of Greek yogurt and piquillo pepper pesto, and garnish with fresh herbs. Excellent appetizer recipe made in 15 minutes, and can be made the day before your party.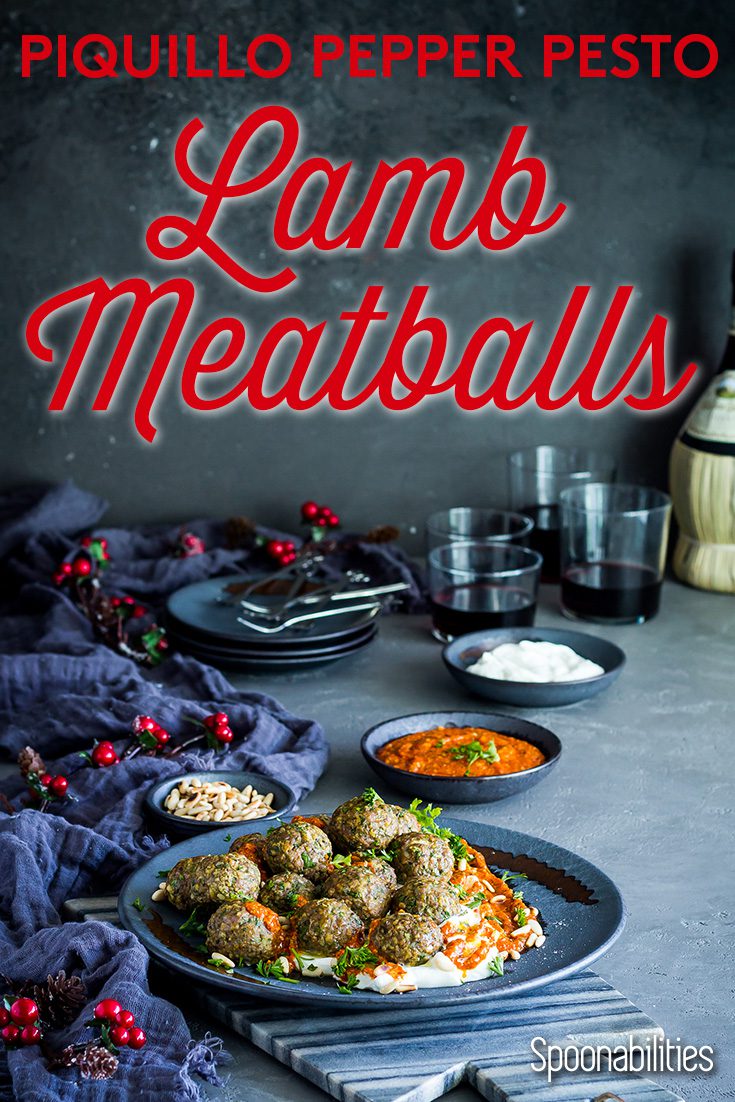 Blog post contains affiliate links. Read our Disclosure Policy
Hello my friends. This year has gone too fast. But at the same time, I'm very excited to welcome the new year with open arms and full of hope for the great things that are waiting for us next year. Our Instagram presence is growing; we are creating more friends; and partnering with fantastic producers. We love to see all of you interacting with us through your comments on our recipes, contest giveaway entries, and mentioning you like my photography ?. Recently I noticed you love to see drinks cocktails like the recent Gin Prosecco Cocktail recipe. I have to tell you that I enjoy making those cocktails a lot, and love even more photographing those tasty drinks. Let me know what else you would like to see from us, either in the comments below, or on Instagram or Facebook. I want to provide the things you are looking for when you visit us here.
This week I was visiting my mother for the holidays in the Dominican Republic. I felt the need to connect and spend quality time with family. It's important to give love and be with your loved ones as much as you can. You never know what can happen in the future. Love of and from family renews your energy, lifts your spirits, and helps you value life more.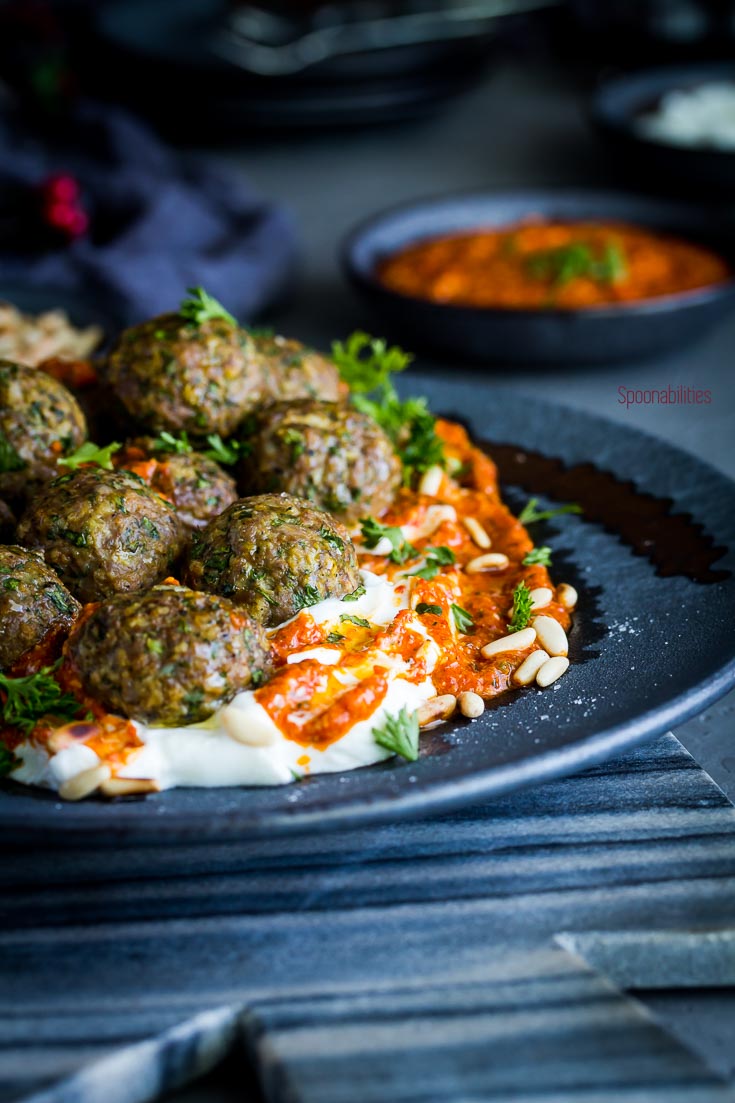 Now, let me tell you that I am super excited to talk about these Spiced Lamb Meatballs with Piquillo Pepper Pesto because they are super delicious and very flavorful. The combination of the plain Greek yogurt and the piquillo pepper pesto are the perfect match for this spiced lamb meatball recipe. I was trying to find the right words to describe the flavor, but it's a bit difficult to find. But, let me try… With the combination of the spices and herbs, and the perfect cooking time, you don't get the distinctive taste and smell from the lamb. I know a lot of people don't like to eat lamb because lamb has a certain smell and taste. When you bite into these spiced lamb meatballs, you get the different flavors of cilantro, parsley, and the best matching herb for this kind of meat, mint. But what elevates these lamb meatballs are the aromatic spices with Middle East influences like cumin, turmeric, paprika, and oregano.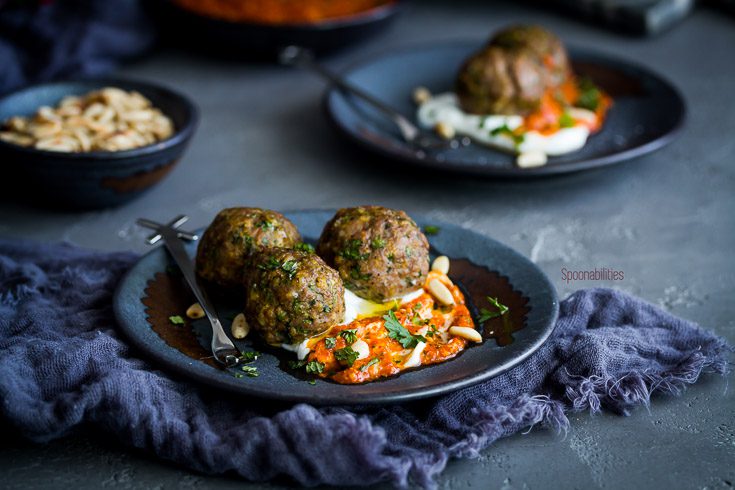 For me, this is the first-time I have made pesto from piquillo peppers, and I love it. This piquillo pepper pesto took the meatballs to another level of perfection. The taste of piquillo pepper is sweet, a bit spicy, and smoky. When they are roasted, their natural flavor intensifies. This pesto is the perfect accompaniment for these spiced lamb meatballs with the smokey, sweet pepper flavor along with the tangy Greek yogurt.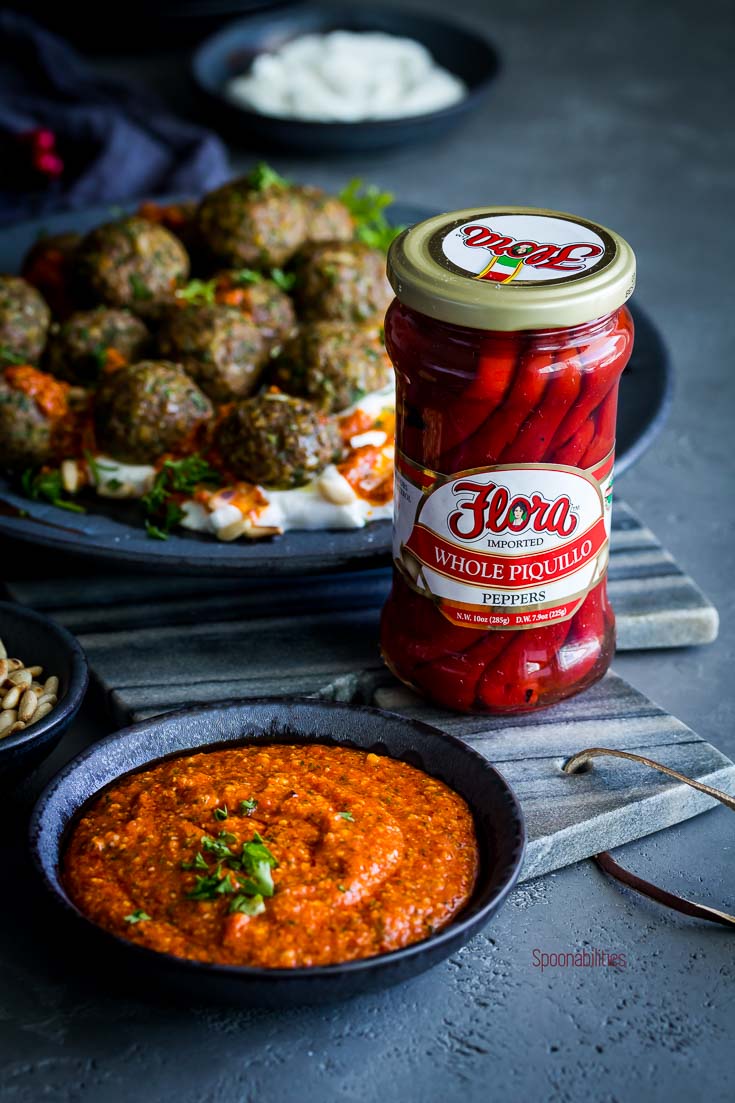 The whole piquillo peppers that I use are from Flora Fine Foods. These piquillo peppers were made in Peru and don't contain artificial flavors, fats or cholesterol. Peru is well-known for their fertile lands and production of great varieties of peppers, potatoes, corn, and other products.
More Recipes made with Flora Fine Food
If you haven't read (or made) the other recipes made with Flora Fine Food products, after you read this post, check out the following mouthwatering recipes inspired by Italian & Mediterranean food:
FAQS: Things to know about Piquillo Peppers
Q: What does "Piquillo" mean?
A: Piquillo in Spanish means "little beak."
Q: Where do piquillo peppers come from?
A: Piquillo peppers are originally from Spain and you will find this Spanish pepper in most traditional Spanish dishes and tapas. These peppers are grown in the northern region of Spain called Navara Region. Lately other countries have started to grow them, like Peru.
Typically piquillo peppers are hand-picked during two harvests in September and December. They are roasted over hot coals, which gives them a distinct sweet, spicy flavor. They are more similar to bell peppers than chili peppers, despite their small size. They are then peeled and grilled again for extra flavor and texture, then marinated with salt, pepper and olive oil. Then de-seeded by hand before being packed into jars or tins for sale.
Q: What do piquillo peppers taste like?
A: Piquillo peppers are sweet and succulent with a smoky, tangy taste obtained from the slow-roasting process. When you slow roast the pepper, it concentrates and intensifies the natural flavors and cooks away much of the water in the pepper.
Q: In which cuisine are piquillo peppers an essential ingredient?
A: These peppers are well-known for being stuffed with cheese, and stuffed with salted cod puree, and made into a simple sauce using just olive oil, salt and the peppers. This sauce can be used with fresh fish like cod. You can use these peppers just like you normally would roasted red peppers - in salads, on a cheese board, or on a crusty bread with salt and olive oil. And of course, you can make piquillo pepper pesto like I did in this recipe.
Q: How hot are piquillo peppers?
A: They don't really have heat.
Q: Where can you find piquillo peppers?
A: You can find piquillo peppers in a specialty food store, and brands like Flora Fine Foods are making this product available in your regular supermarket. Check this link to find out where you can find Flora Fine Foods
How to make Spiced Lamb Meatballs
First, take the ground lamb out of the refrigerator and let it sit at room temperature while you prepare the rest. Meanwhile, grate the onion and garlic, and chop the cilantro, parsley, and mint.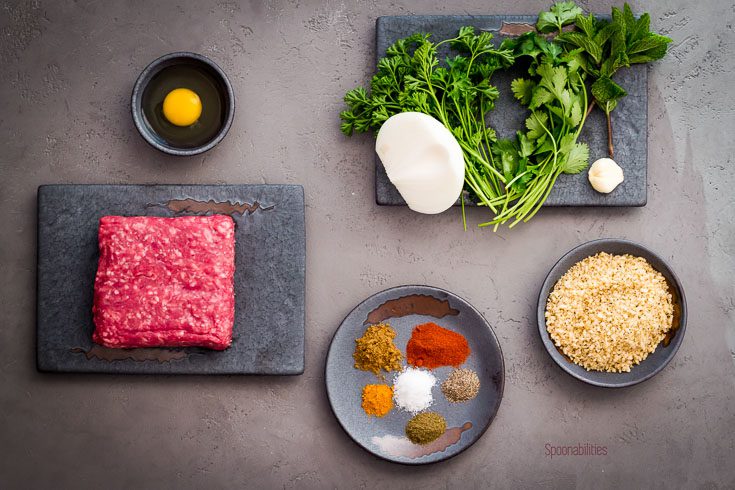 Add those to a large bowl with the egg, panko breadcrumbs, cumin, turmeric, paprika, oregano, salt, pepper, and olive oil. Add lamb and mix with your hands until evenly distributed. Set the oven to 425F.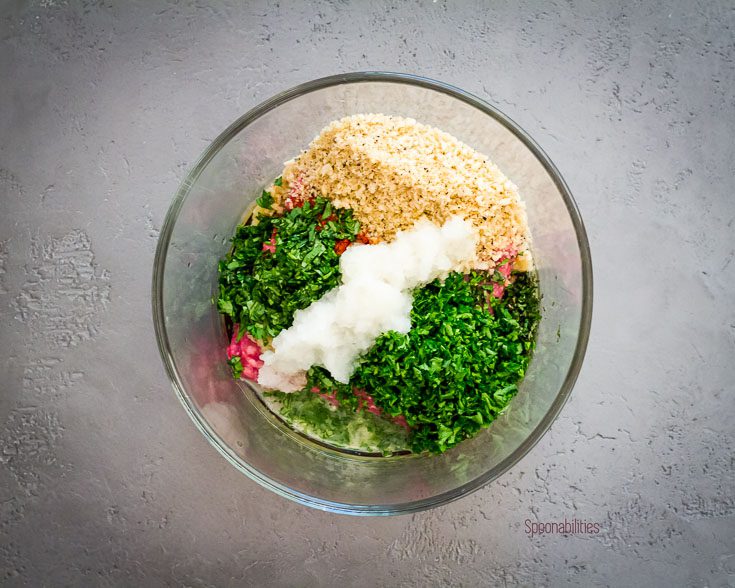 Using a small ice cream scoop, scoop the lamb mixture and place them on a lined baking tray. You should have about 21 balls. Remember, these meatballs will be served as an appetizer, and the size should be bite size. You can make these spiced lamb meatballs in a larger shape if you plan to serve them as a main dish. Take each ball and roll in your hands until you form a nice meatball. Cook the lamb meatballs in the oven for 10 minutes. Set aside while you make the piquillo pepper pesto.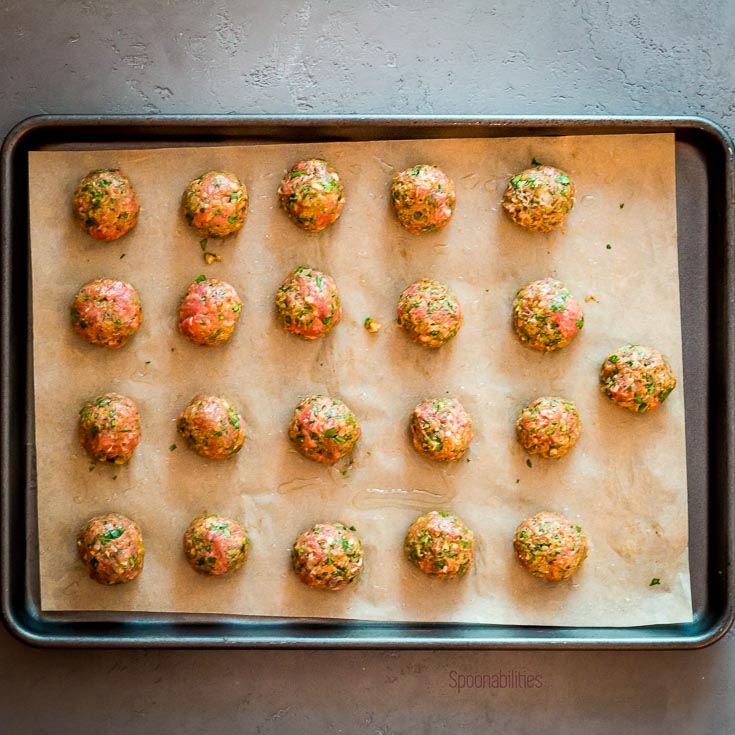 How to make Piquillo Pepper Pesto
This pesto is super easy to make like any other pesto sauce. In a food processor add the piquillo peppers, pine nuts, garlic, grated parmesan cheese, parsley, salt and pepper. With the processor running, slowly pour the olive oil in through the feed tube, and process until the pesto is thoroughly pureed. The puree process takes just about a minute. Use the piquillo pepper pesto right away. Any leftover can be stores in the refrigerator in an airtight container, or in the freezer with a thin film of olive oil on top.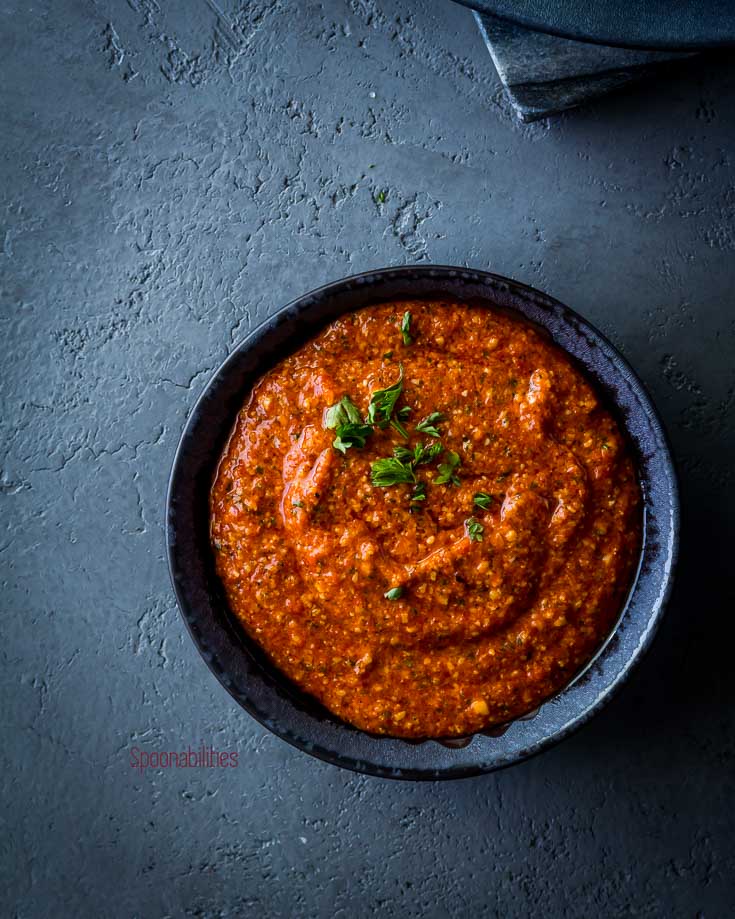 Now, this is the fun part.... it's time to plate the dish. On a large platter, spread the Greek yogurt in a half moon shape. Then, place the lamb meatballs on top of the yogurt, and drizzle on the piquillo pepper pesto. I added some extra virgin olive oil, and garnished with chopped parsley, mint and toasted pine nuts. I recommend including two separate dishes with more pesto, and Greek yogurt, to allow your family and/or guests to add more if they want.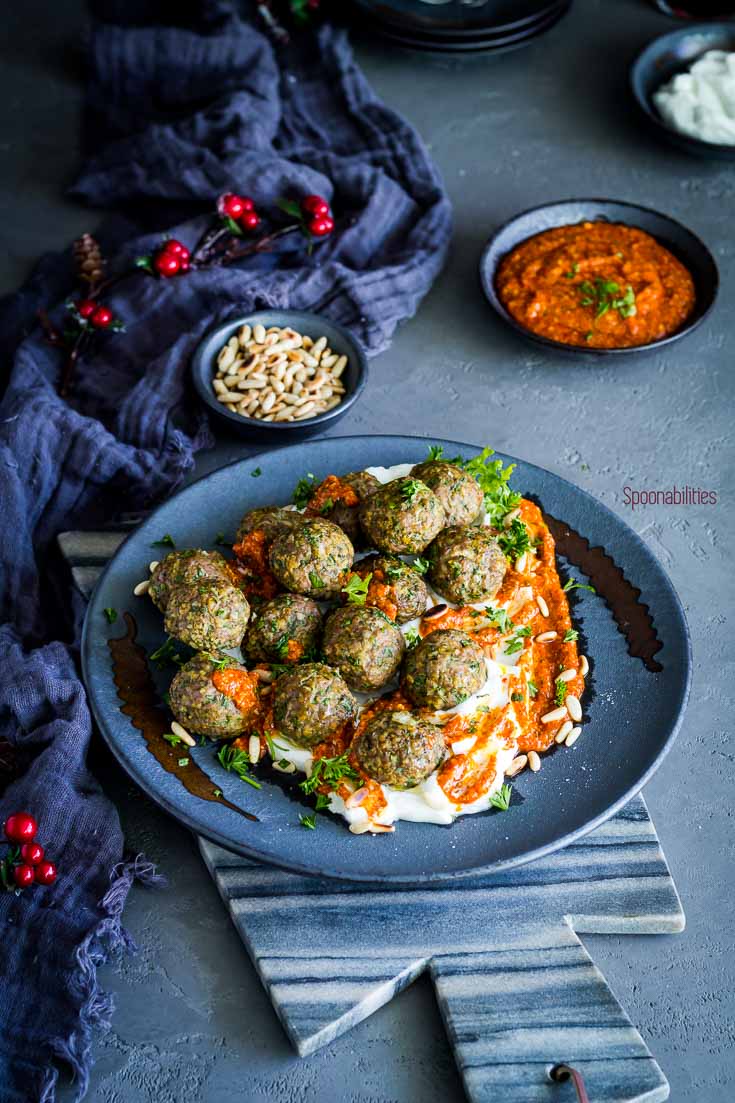 20 ways to use your leftover pesto
Keeping with our theme of "No Jars Left Behind," I can't let you go without giving you some ideas of what to do with your leftover ingredients, and turn them into a delicious new dish. But honestly, I believe your guests will love this lamb meatball recipe, and the pesto recipe so much they will eat them all?. Here are some ideas of dishes you can make:
Use the left over piquillo pepper pesto as a pasta sauce with penne, gnocchi, tortellini, or even zucchini noodles. Add some lamb meatballs if you have any leftover (doubtful)
Spiced lamb meatball subs (submarine sandwiches, hoagies). Add some peppery arugula, crumbled feta cheese, and a good amount of the piquillo pepper pesto
Grilled chicken or a steak topped with the piquillo pepper pesto
Polenta, a fried egg, microgreens, and a spoonful of piquillo pepper pesto
Flat bread or pizza using the piquillo pepper pesto as the sauce
Create a dip with Greek yogurt, piquillo pepper pesto and a sprinkle of feta cheese
Turkish egg but instead of using chili oil, add the piquillo pepper pesto. To make Turkish egg, use the left-over Greek yogurt as a base on your plate, and add a fried egg and top with pesto
Potato salad and use the pesto and yogurt as the dressing
Grill some vegetables and add the pesto
Soup with the pesto as a delicious garnish
Bake into bread
Pesto grilled cheese: use manchego cheese, Jamón serrano or Jamón ibérico, pesto & arugula
Grill or bake Greek cheese Halloumi topped with pesto
Serve pesto on a bruschetta
Roasted potatoes with pesto
Quinoa salad with chicken and veggies
Pesto soup
Pesto quesadilla
Burger with pesto dressing
Pesto salad dressing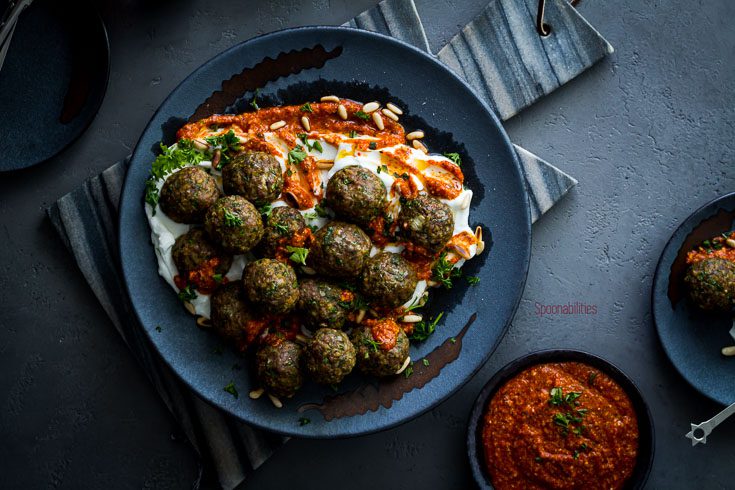 For the table setting for this Spiced Lamb Meatball appetizer, use some small plates, fork picks, and cocktail napkins. These spiced lamb meatballs pair well with an Italian red wine like a chianti. This appetizer recipe is a great addition to your New Year's party table, or any holiday event!
Want More Lamb Recipes?
If you are a lamb lover like me, check out two other recipes using ground lamb:
Thank you for all your support during this past year! Let's create a positive and successful year ahead. Happy New Year!
Carlos
Your recipe concierge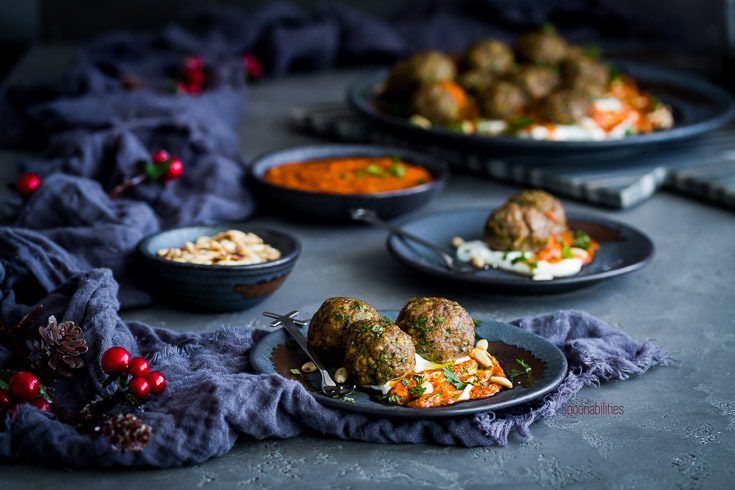 Print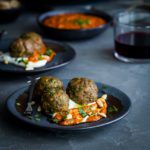 Spiced Lamb Meatballs recipe with Piquillo Pepper Pesto
---
Author:

Carlos Leo

Total Time:

20 minutes

Yield:

21

Lamb Meatballs

1

x
Description
Spiced lamb meatballs can be made in 15 minutes, and ahead the time you want to serve them. Mediterranean flavors of fresh herbs and spices give these meatballs such an amazing flavor. This lamb meatballs recipe is perfect as an appetizer or as a main dish. Serve on a bed of Greek yogurt with a piquillo pepper pesto.
---
For Meatballs: 20-21 meatballs
1

lb

. ground lamb

½

cup

panko breadcrumbs

1

large egg

1 Tablespoon

chopped fresh mint

¼

cup

finely chopped parsley

2

-

½

Tablespoons chopped fresh cilantro

½ teaspoon

ground cumin

¼ teaspoon

ground turmeric

1 teaspoon

paprika

½ teaspoon

oregano

1 teaspoon

kosher salt, plus some extra

⅛ teaspoon

ground black pepper

1

garlic clove, grated/smashed

½

of small onion, grated

2 Tablespoons

Extra Virgin Olive Oil
For Piquillo Pepper Pesto:
1

jar (10oz) Piquillo Peppers

¼

cup

pine nuts, toasted

3

garlic cloves

½

cup

grated Parmesan cheese

¼

cup

fresh parsley, roughly chopped

½ teaspoon

salt

¼ teaspoon

pepper

½

cup

(at least) Extra Virgin Olive Oil
For Plating:
Plain whole-milk Greek yogurt
---
Instructions
Meatballs:
Place a rack in the upper third of the oven; preheat to 425°F.
Combine all the meatball ingredients in a large bowl and mix together. Add lamb and mix with your hands until evenly distributed.
Gently roll lamb mixture into 1½" diameter balls (about the size of a golf ball). You should have about 20-21. I use a small ice cream scoop like this one. Place meatballs on a rimmed baking sheet.
Bake meatballs until browned and cooked through - about 8–10 minutes.
Piquillo Pepper Pesto:
Add all ingredients except the olive oil in a food processor and combine.
With the processor running, slowly pour in the olive oil and process until the pesto is thoroughly pureed - about a minute. Reserve for assembly. If pesto is a bit thick, just add more olive oil. Taste pesto; season with more salt if needed.
Plating:
Spread yogurt over plates and divide pesto and meatballs on top.
Notes
Do Ahead: Pesto can be made 2 days ahead; cover and chill. Meatballs can be formed 2 months ahead; freeze on baking sheet until firm, about 2 hours. Then transfer to a freezer bag and keep frozen.
Vitamin A 2%, Vitamin C 36%, Calcium 8%, Iron 7%, Vitamin D 2%, Vitamin B12 9%, Vitamin E 1%, Vitamin K 13%
Prep Time:

10 minutes

Cook Time:

10 minutes

Category:

Appetizer

Cuisine:

Mediterranean
Nutrition
Serving Size:

1 lamb meatballs

Calories:

150

Sodium:

313.7 mg

Fat:

9 g

Carbohydrates:

11.2 g

Fiber:

1.2 g

Protein:

6.8 g

Cholesterol:

26 mg
Recipe Card powered by
Available via these Amazon links:
Disclaimer: Links that open in another site, i.e. Amazon, may be affiliate links where at no additional cost to you, we may receive a small commission should you decide to purchase the item. Read our Disclosure Policy
Looking for more Appetizer Recipes?