Mediterranean flavor inspired Zucchini Noodles with artichoke pesto. This healthy recipe is easy and quick to make in under 30 minutes. We added a touch of summer with some homemade roasted cherry tomatoes.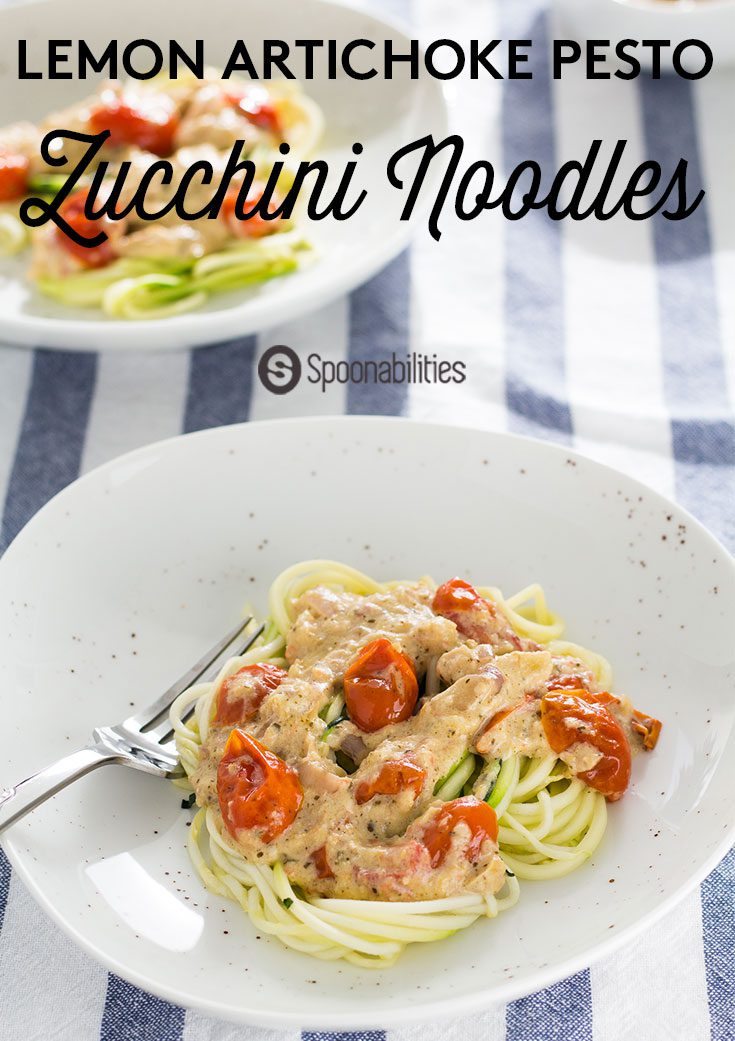 Recipe post may contain affiliate links. Read our Disclosure Policy
Hello my friends. I am so excited to finally release this week's zoodle recipe. This super healthy and super easy recipe using zucchini noodles has a few ingredients, but is packed with summer flavor.
This is the first recipe that I have released on the Spoonabilities blog using zucchini noodles. However, zucchini noodles are not a strange ingredient in our home since I discovered the Zucchini Noodle Maker (spiralizer) over a year ago. Vegetables have been re-introduced in our meals in a new, fun way, and just like finding fun new ways to get your kids to eat their vegetables, the spiralizer has helping us eat our daily vegetables too. Besides zucchini, I like to make noodles with beets, squash, sweet potatoes, carrots, butternut squash and cucumber. I also just discovered that I can make noodles with chayote. So that's the next one to try.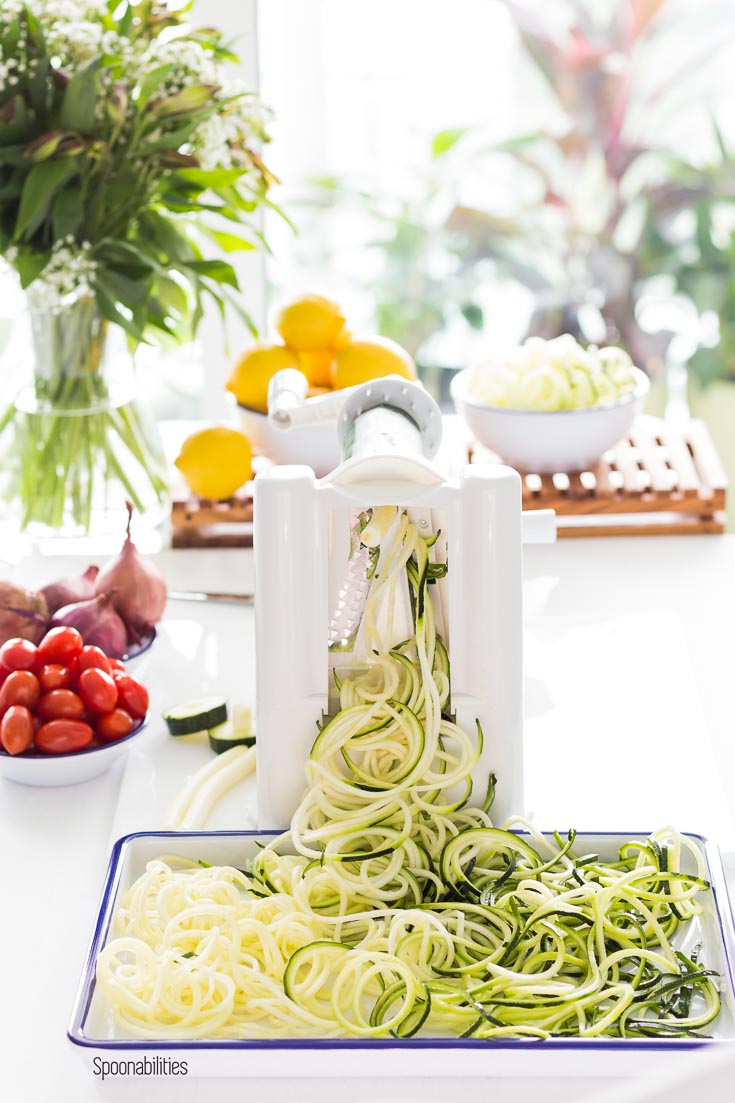 Equipment to Make Your Zucchini Noodles
I currently own three different spiralizers, and I'm still evaluating the pros and cons of each one. I have the original World Cuisine 3-Blade Vegetable Slicer/Spiralizer from Paderno with three blades:
the straight blade to make long ribbons, shreds, or c-cuts and half slices,
the shredder blade for spiral strands in the shape of spaghetti, and
the chipper blade for a thicker strand like bucatini.
As you may know, for thinner shaped pasta like spaghetti, serve with thinner or lighter sauces, and for the thicker shapes, you serve with heavy sauces like bolognese.
The second spiralizer model that I have is the electric model from Hamilton Beach. I got this machine last December and I don't know yet if I love it. But it does make the job easier and faster. The last spiralizer I have is the latest model from Paderno with six different blades for straight, wavy, ribbon, and julienne cuts to create vegetable strands & zucchini noodles (⅛" & ¼"). What I like about this model is the compact size and separate storage for the blades. I have hardly tested this machine yet, but I'm already pretty sure it will become my favorite noodle maker.
Watch this video to see How to Spiralize with the Paderno 4-Blade Spiralizer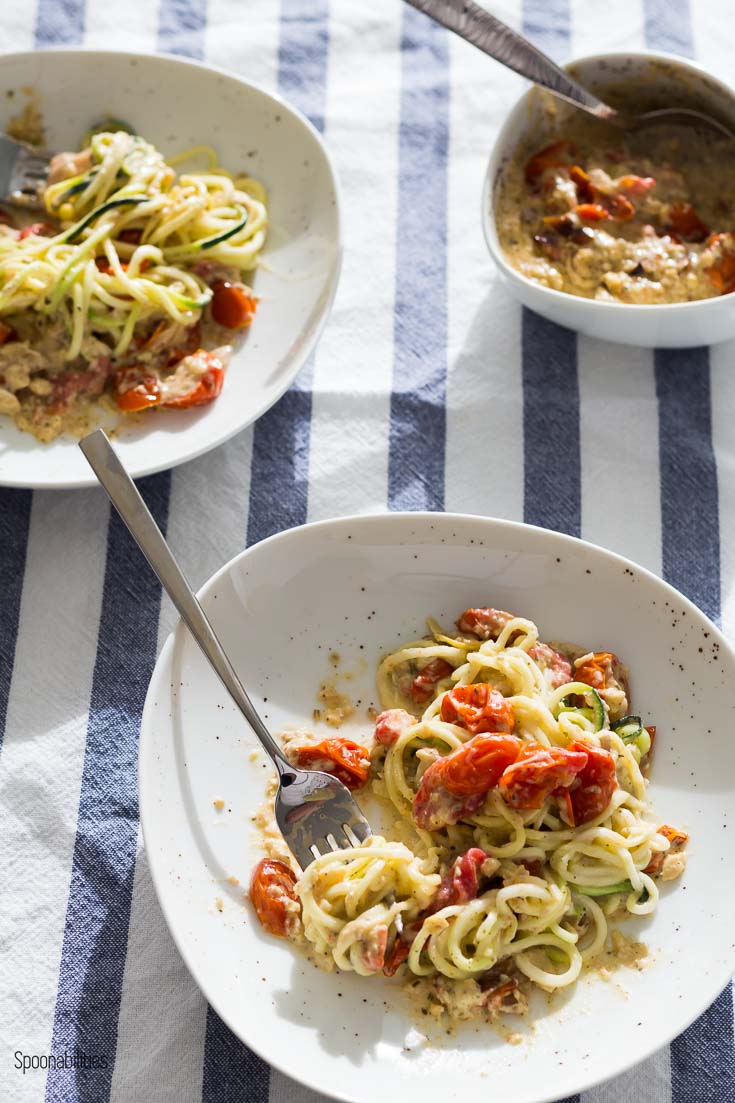 No Jars Left Behind…
I developed this recipe when I was planning my weekly meal prep. The first thing I do before planning is look in the refrigerator for any half jars left from previous recipes. One of the jars I found was the Artichoke Pesto which we have in our Spoonabilities shop. But, you can also use any brand that you find at your closest supermarket. Sometimes when I don't have any idea what to cook, I grab one of the open half-empty jars from the refrigerator and start from there. Usually 98% of the time the result is pretty tasty. I hardly ever get to repeat recipes because I always forget to write them down as I'm making them. This zoodle recipe is an exception.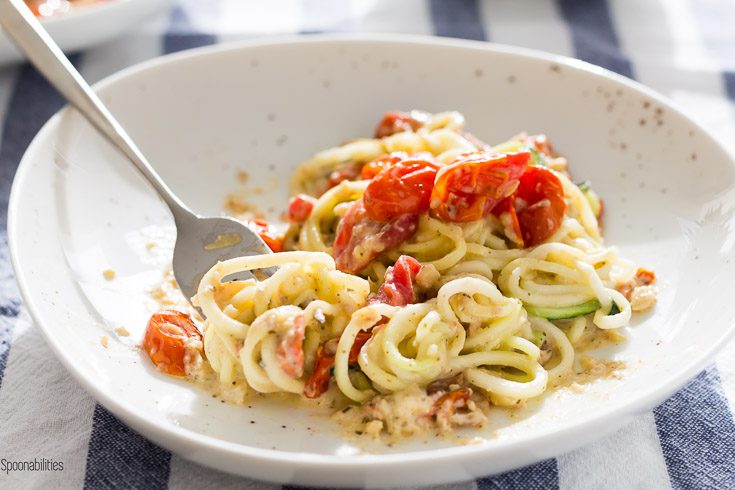 How to Cook Zucchini Noodles
Before I found this technique, I tried other ways to cook zucchini noodles which I didn't like because the dish ended up watery, or not crispy enough, or the raw texture didn't go with the sauce. The best way to cook Zucchini Noodles is after you spiralize the zucchini, put them in a small bird's nest on a lined baking sheet. Set the oven to 450 degrees and cook the zucchini noodles for about 5 minutes. The water content will be reduced, the texture will be soft but still a bit crispy. The texture will be like regular pasta, and will hold better with the Artichoke Pesto.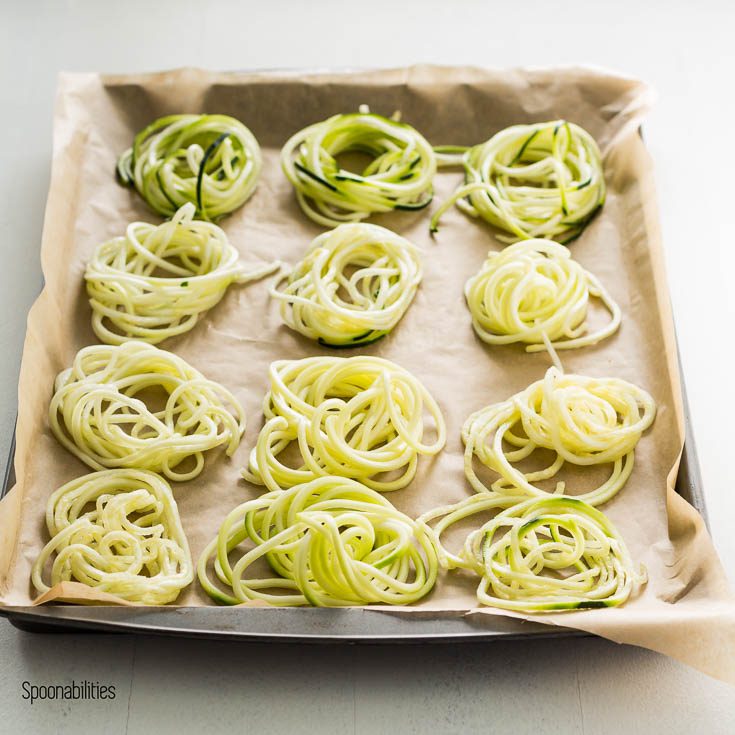 If you are not going to eat all the zucchini right away, place the noodles in a container with a paper towel. The zucchini noodles will stay fresh for around five days. If you don't mind eating zucchini every day, besides artichoke pesto, you can use the leftovers with different sauces like a lemony vinaigrette, a basil pesto, a light tomato sauce (see note below), an avocado cream sauce, a cashew cream sauce, and a cacio e pepe sauce. All these sauces are still light and healthy-ish.
Roasting & Using Cherry Tomatoes
The other fresh summer element of this recipe is roasted cherry tomatoes which give a burst of the tomato flavor. Just place a pint of cherry tomatoes on a baking sheet with shallots, garlic, olive oil, oregano, balsamic vinegar, and salt & pepper. Roast around 15-20 minutes. In a medium mixing bowl add the roasted cherry tomatoes, the jar of Artichoke Pesto, 2 teaspoons of lemon zest, and ¼ cup of grated asiago cheese. Combine with the zucchini noodles and mix well until you get the delicious sauce on every zoodle. When I roast tomatoes for a recipe, I like to double the quantity to keep it the refrigerator and add it to other recipes throughout the week. One of the sauces I like to make is a quick tomato sauce from the roasted cherry tomatoes, oregano, olive oil, garlic, and salt & pepper to taste, and then blend it using a hand blender.
If you want to add protein to your meal, you can add shrimp, or grilled or roasted chicken which will go perfectly with the zucchini noodles, Artichoke Pesto and Roasted Cherry Tomatoes sauce.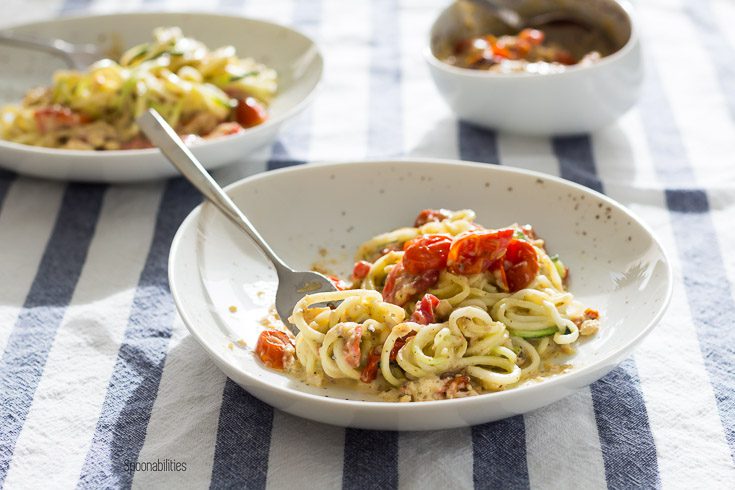 Zucchini Noodle Health Benefits
Zucchini should be the first ingredient on your list when you are planning a healthy diet. Zucchini has a high-water content so this makes them low in calories. Zucchini is also low in carbs, fat, & sugar. Zucchini is also known as courgette in other parts of the world. I found these nutritional characteristics of zucchini during my educational search for my zoodle recipes:
The skin on the zucchini is a great supply of dietary fiber, which reduces constipation.
Great source of potassium which helps reduce blood pressure and heart rate
Helps maintain blood sugar levels. Zucchini is a good vegetable for diabetics.
Good source of nutrients like manganese which helps produce healthier skin.
Contains Vitamin B9; and antioxidants like vitamin C & A which fight off oxidative stress that can lead to cancer.
Good supply of Lutein which protects the eye tissues from sunlight damage.
Contains folate which is important because it plays a role in DNA synthesis and repair, encourages cell and tissue growth, and limits the risk of neural tube birth defects
For another recipe with the wonderful benefits of zucchini, try Grilled Corn Zucchini Orzo Salad with Goat Cheese & Seared Scallops.
If you get to make this recipe, share your feedback in the comments below or share your photos on social media using the hashtags #spoonabilities and tag us @Spoonabilities.
Carlos
Your Recipe Concierge
Print
Zucchini Noodles with Artichoke Pesto & Roasted Cherry Tomatoes
---
Author:

Carlos Leo

Total Time:

35 minutes

Yield:

4

serving

1

x
Description
Zucchini noodles is a summer recipe inspired by the Mediterranean flavors of artichoke pesto, lemon, asiago cheese, and roasted cherry tomatoes. Great for weeknight meals, this recipe is ready under 30 minutes.
---
Roasted Cherry Tomatoes with Artichoke Pesto
Zucchini Noodles
2

large zucchinis. Wash & dry
---
Instructions
How to Make the Roasted Cherry Tomato Mixture:
Preheat the oven to 400 degrees F and position rack in the middle.
Wash & dry cherry tomatoes. Slice the tomatoes in half lengthwise.
Place the cherry tomatoes on a lined baking sheet, and toss with olive oil, salt, pepper, balsamic vinegar, & garlic. Note: add the whole clove of garlic in the tray and chop it after is out of the oven.
Roast for about 15-20 minutes, until tomatoes are soft.
Leave the oven on and increase the heat to 450 degrees.
Transfer the tomatoes to a medium bowl and chop the roasted garlic. Spoon out the whole jar of the artichoke pesto, and add the lemon zest, and asiago cheese. Mix until combined.
How to Make the Zucchini Noodles:
Preheat the oven at 450 degrees. Note: We cook the zucchini in the oven to help remove the moisture, and soften the noodles.
Cut the two ends from the zucchinis. For a shorter noodle, cut the zucchini into thirds. Or what I usually do is after I spiralized the zucchini, I cut it into my desired length.
Spiralize the zucchini as you typically do in your zucchini maker or spiralizer. For this recipe, I recommend the ⅛" or ¼" julienne blades.
Place the zucchini noodles on a lined baking sheet, forming into small nests. See the picture above.
Place the baking sheet into the preheated oven for about 5 minutes.
Presentation:
Place three zucchini nests on a small plate or bowl and spoon the roasted cherry tomatoes and artichoke pesto mix onto the zucchini. Serve.
Prep Time:

10 minutes

Cook Time:

25 minutes

Category:

Dinner, Lunch

Cuisine:

Mediterranean
Recipe Card powered by
[products ids="2954,47616,47675"]
Available via these Amazon links:
Disclaimer: Links that open in another site, i.e. Amazon, may be affiliate links where at no additional cost to you, we may receive a small commission should you decide to purchase the item. Read our Disclosure Policy