If you are a guacamole fan, you are about to discover the best guacamole recipe ever. This quick and easy recipe uses some incredible fresh ingredients like ripe avocado, lime, cilantro, jalapeño, bacon, charred corn and cotija cheese. Serve with your favorite cheese tortillas, quesadillas, on toast with hard-boiled egg, in a sandwich or deviled eggs.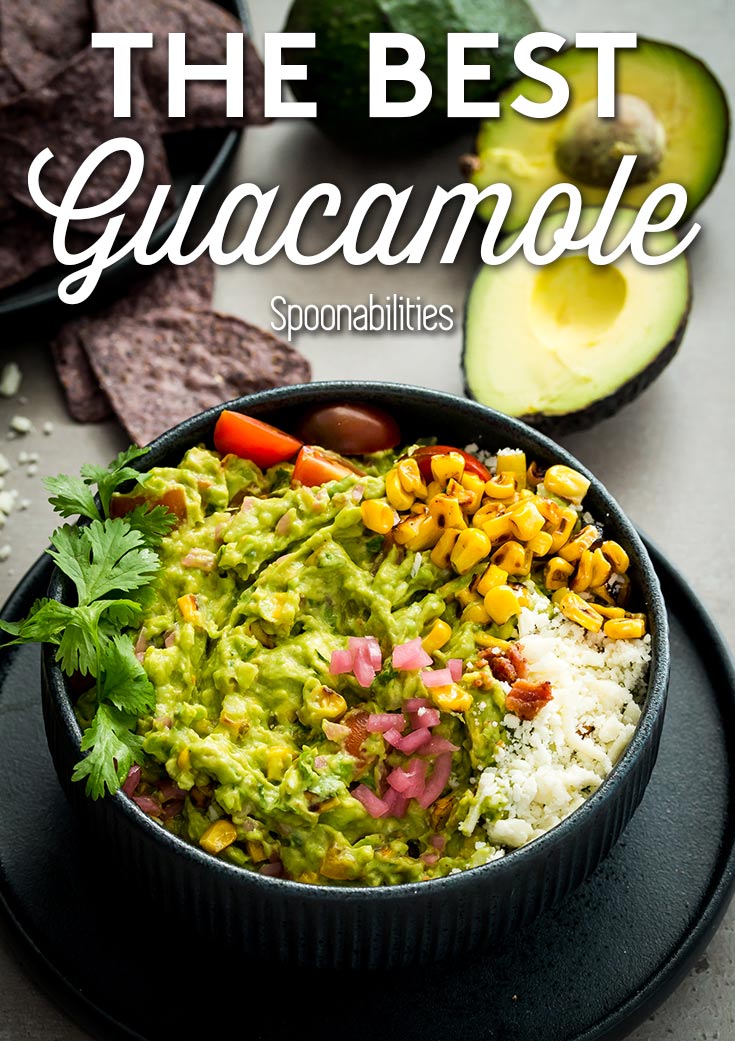 Blog post contains products you can purchase in our online shop, and affiliate links.
Read our Disclosure Policy
Hello my friends. It has been a while since I wrote a post to you. To be honest with you, I have been uninspired as well as busy at my full-time job. Also, I love Instagram because it gives me inspiration to look at amazing photos, and interesting stories from my fav bloggers. But at the same time, it can be disappointing because I don't see our @Spoonabilities account growing or our posts getting that many likes. I know social media is more complicated than it seems, and Instagram keeps changing their algorithm. It now seems harder for a smaller account like ours to grow.
Enough with my complaining. Let's talk about food because this is the reason why you are here. Today it's all about the best guacamole recipe with charred corn & bacon. It was so good that I made it twice this week!... so far. Oh, and if you would rather a vegan Mexican appetizer, head on over to our Best Vegan Nachos with Fig Salami & Cashew Dip recipe.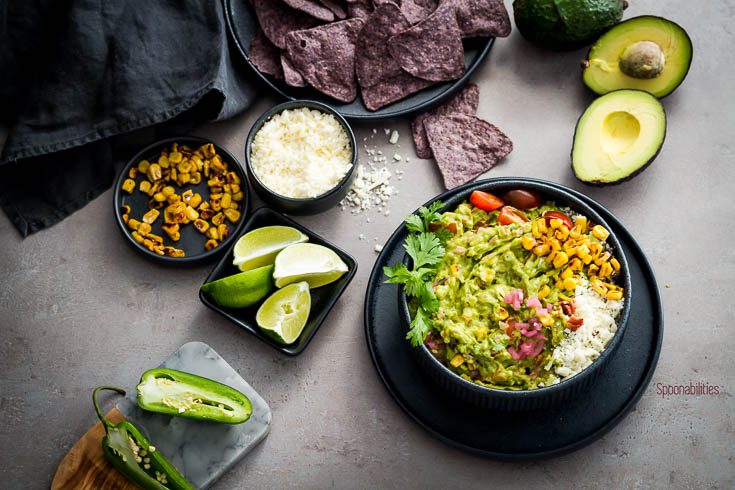 Two weeks ago, Geoffrey and I went to a sports bar/restaurant called Tap42, and we ordered their Bacon & Sweet Corn Guacamole. It was amazingly delicious. So, I said I must make this recipe and share it on the Spoonabilities blog. I realized May was just around the corner and need to release it before Cinco de Mayo because I didn't have anything else ready to celebrate this Mexican festivity. I was planning to keep the name of the recipe, but my version was way better, and therefore I decided to name it "The Best Guacamole Recipe."
How to make The Best Guacamole Recipe?
For this recipe, I'm using my basic guacamole recipe which has cilantro, white onion, lime juice, cumin, jalapeño and sea salt. The additional ingredients I used to transform this basic guacamole recipe into the best guacamole recipe are ground coriander, cayenne, sweet corn, cherry tomatoes, bacon and cotija cheese. This recipe won't take you more than 15 minutes to put together, without counting the pickled red onion for the topping that I made two days before and pre-cooking the bacon.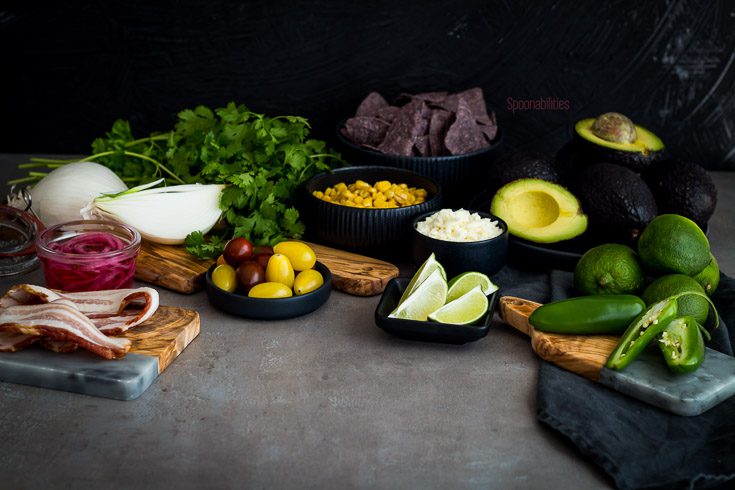 I cooked the bacon in the oven 30 minutes earlier. I made the pickled onions two days before I did the guacamole. You can find the instructions on the recipe card below. In this recipe I used frozen corn and I defrosted it for two minutes in the microwave and drained any water. Place the corn in a small frying pan over medium-high heat and let it sit there, without touching it, until it starts to char. Stir and char the other side.
I recommend keeping the seasoning at a minimum for this recipe to let the avocado flavor shine. The seasoning used are sea salt, ground cumin, cayenne and ground coriander. For me the amount of seasoning was perfect, but you may want to add a little more salt or other seasoning as you see fit. I didn't add more because I was planning to use a salty chip and the cotija cheese is a bit salty too. But make sure you do use some salt because the salt brings out the best flavor in the guacamole.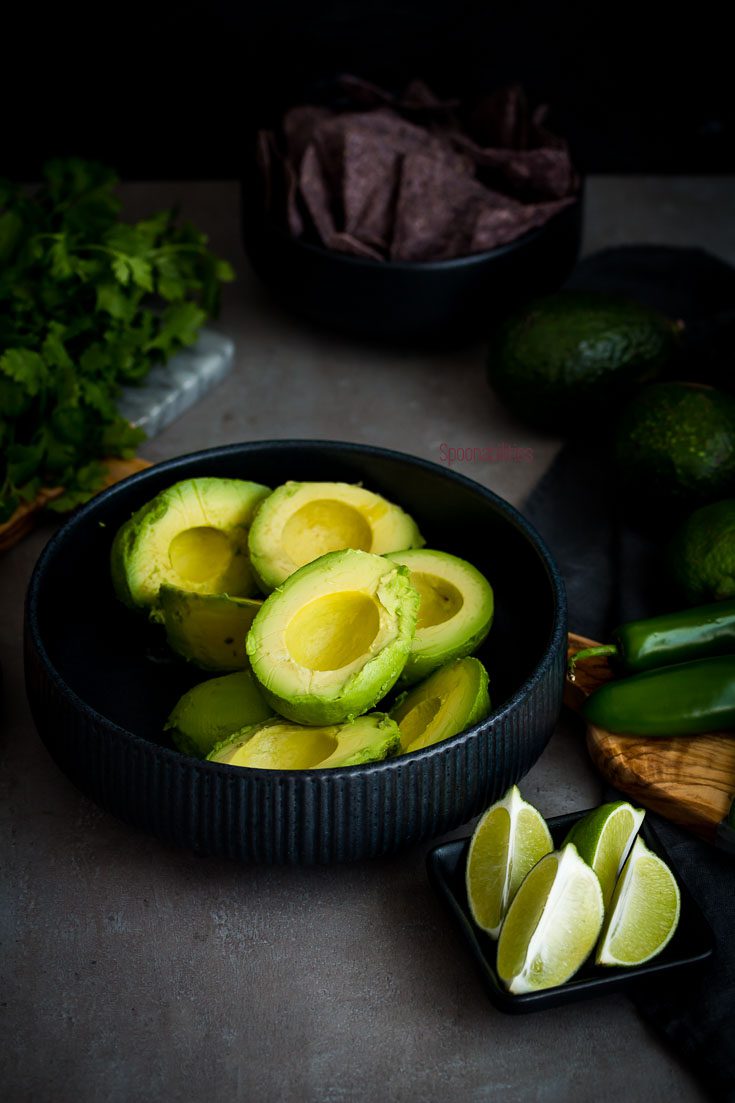 First, spoon out the meat of the avocado into a small bowl. To mash the avocado, I use a potato masher and I keep the texture in small chunks. Then, add lime juice, ground coriander, ground cumin, a pinch of cayenne pepper, sea salt, chopped white onion, cilantro, and jalapeño. Also, add half of the charred corn and I keep the other half to put it as a garnish. I add most of the crispy pieces of bacon, and I leave some to use as a garnish as well.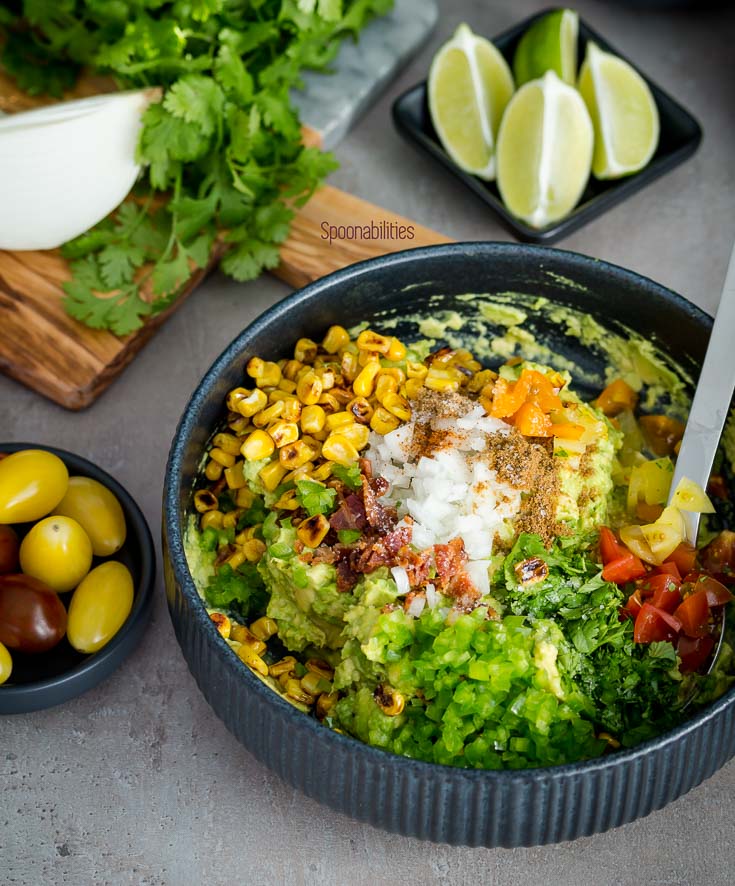 The texture of this guacamole is both chunky and creamy, with bites of crispiness from the corn and bacon. The flavor is a mild spice but very flavorful. I certainly will make this recipe for our next gathering with friends or during my sisters' upcoming visit in August. I'm undoubtedly sure they will love this guacamole, and they will confirm my statement that this is the best guacamole recipe that they ever tasted! ?.
Like this recipe so far? Be the first to know when we release new ones!
---
I served the guacamole in a medium bowl and topped with chopped pickled red onion, crispy bacon pieces, charred corn, cilantro, cherry tomatoes, cotija cheese and your chip of choice. You will notice in some of the pictures that I went a little overboard with the toppings, and you can hardly see the guacamole. So, in the middle of the photoshoot, I re-arranged the toppings to showcase the beautiful green color of the avocado. I plated the guacamole in a stunning bowl from one of my favorite brands in the restaurant/hotel market, Bauscher from their new playground collection. They are always so kind to send me samples to use in my photoshoots. What a nice perk ?.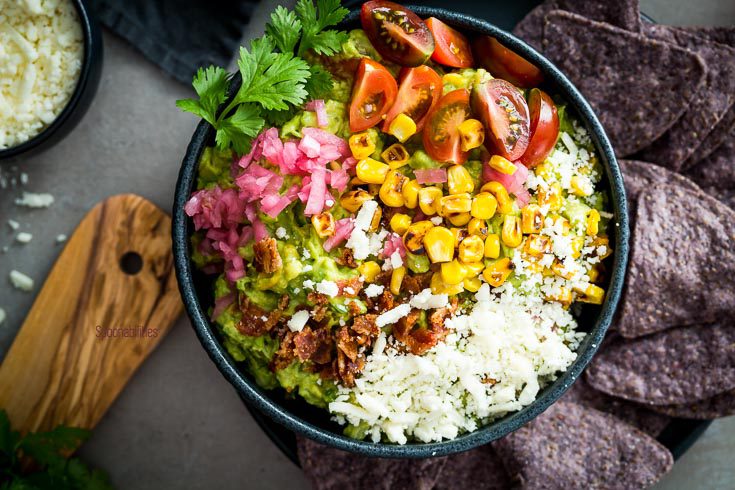 How to pick the perfect avocado for the best guacamole recipe
When I go to the store, I pick an avocado that is still firm, has a dark green color, without any soft spots, and with a small root on the top. The tiny root will give you a sign when the avocado is ready. After I come back from the supermarket, I leave the avocado on the counter or if I want it faster, put the avocados in a brown bag. On the third day all the avocados will be ready at the same time. You can confirm if the avocado is ready by touch, but my way is to touch the little root head. If the piece comes out easily, the avocado is ready.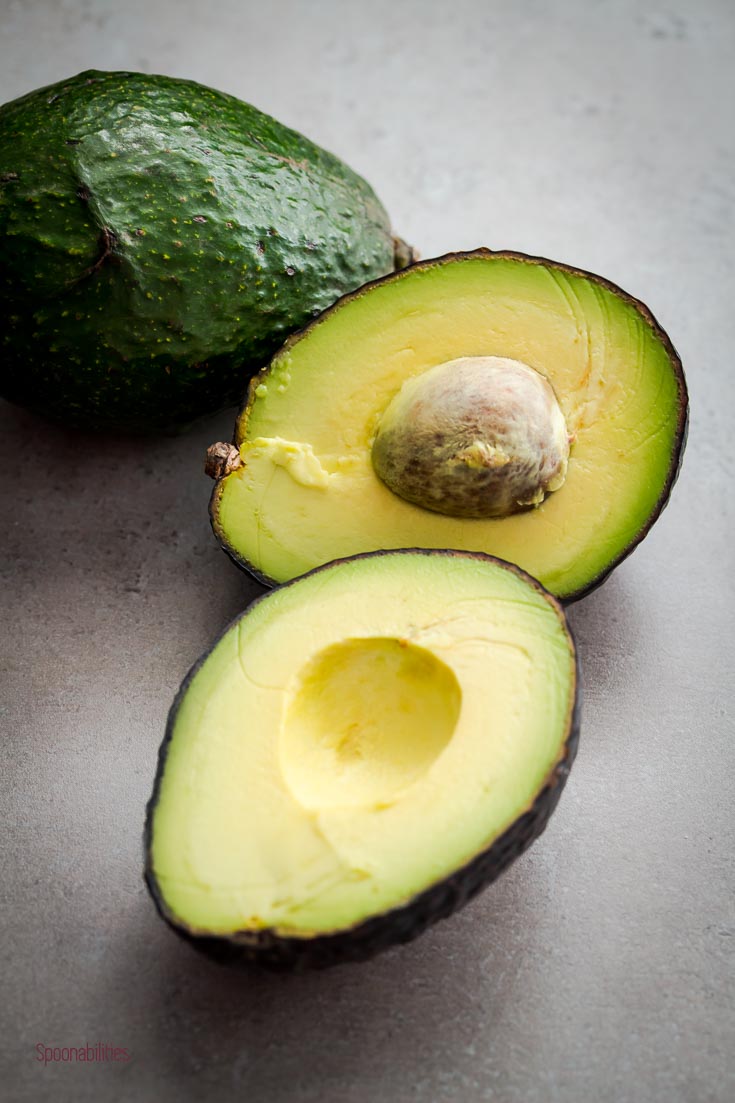 How to keep the best guacamole fresh without turning brown
I learned this tip recently from a fellow blogger, Lisa from downshiftology, in her recent Instagram story, which she learned from The kitchn. Put the leftover guacamole in a plastic deli container and flatten out the top and make sure to suck all the air out. Add a thin layer of filtered water on top - enough to cover the guacamole, and put it in the refrigerator. The idea is to prevent the guacamole from oxidizing in the open air. I meant to take a picture after the third day, but I obviously forgot. You have to trust me that it worked.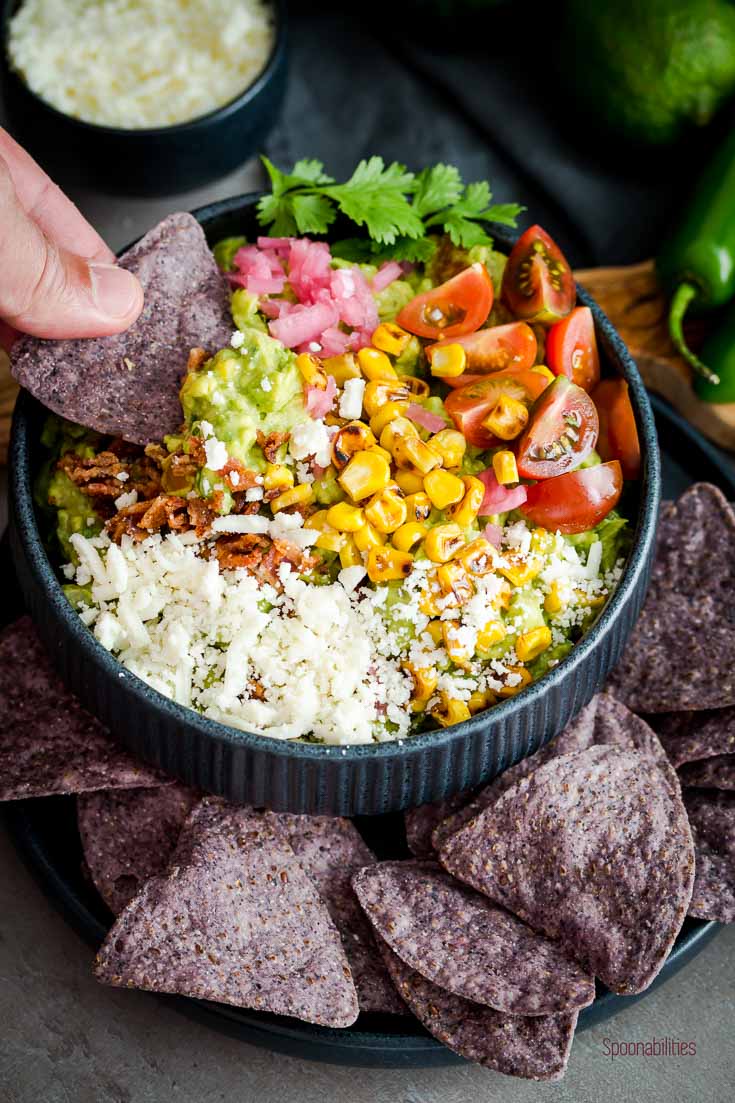 The Guacamole will last three days in perfect condition using this tip. I think it could even last four days, but in real life this recipe for the best guacamole means it will probably be gone the second day. Geoffrey was at his mother this week, so I had to control myself so I could share with him the best guacamole I ever made. You can use the same tip to store cut avocado in the fridge with or without the pit. The old trick of putting lime juice doesn't work that well for me if you try to keep the cut avocado for more than a day in the fridge. Personally, if I cut an avocado for myself, I will eat the whole avocado, and never have a half to save for later.
I hope you get to try this tip and the best guacamole recipe!
Happy Cinco de Mayo!
Carlos
Your Recipe Concierge
UPDATE: This recipe is part of the 9 Mexican food recipes to celebrate Cinco de Mayo
Looking for more Appetizer Recipes?
Print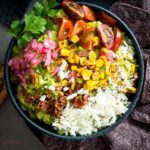 Best Guacamole Recipe with Charred Corn & Bacon
---
Author:

Carlos Leo

Total Time:

35 minutes

Yield:

2.5 Cups

1

x
Description
For this recipe I use a classic guacamole recipe and I transform it into the best guacamole recipe by adding ground coriander, crispy bacon, charred corn and cotija cheese. Serve with your favorite cheese tortillas, quesadillas, on toast with hard boiled egg, in a sandwich or deviled eggs.
---
4

medium ripe halved and pitted avocados

3 Tablespoons

lime juice

2 Tablespoons

finely chopped white onion

¼

cup

finely chopped fresh cilantro

1

finely chopped, seeds and ribs removed jalapeño

¼ teaspoon

ground coriander

½ teaspoon

ground cumin

1 teaspoon

Sea Salt from Messolonghi Click to order from our shop
Pinch cayenne pepper

¼

cup

cotija cheese

½

cup

thawed & drained, then charred, frozen corn

2

strips bacon

2 Tablespoons

pickled red onion

5

chopped cherry tomatoes
for serving: tortilla chips
---
Instructions
Cooking the bacon:
Preheat the oven to 400°F.
Arrange the 2 strips of bacon on a baking sheet. Use aluminum foil as a liner. If you have an oven proof rack, you can put it between the bacon and the aluminum foil
Bake until the bacon is deep golden-brown and crispy; about 15 to 20 minutes. But, make sure you start to check the oven after the first 10 minutes.
Remove the bacon and leave it outside to cool down. Crumble in small pieces.
Char the corn:
Place the corn in a small frying pan on high heat. Leave it alone for a couple of minutes until you see them get a char, and then stir to get the other side the same way. Leave it aside to cool down.
Making the best guacamole:
Cut the avocados lengthwise. Remove the pit with a knife and spoon-out the meat. Place it in a small bowl and mash the avocado with a potato masher. Leave the avocado in small chunks.
Add the seasoning: lime juice, salt, ground cumin, ground coriander, cayenne, chopped cilantro, chopped jalapeño, and chopped onion. Mix well.
Add half of the crumbled bacon and half of the charred corn. Mix until is well combined.
Presenting the guacamole:
Place the guacamole in a small bowl with a wide opening.
Garnish with the other half of the charred corn & crumbled bacon.
Sprinkle on cotija cheese, chopped cilantro and the chopped pickled red onion.
Notes
Vitamin A 2%, Vitamin C 50%, Calcium 4%, Iron 2%, Vitamin B12 2%, Vitamin E 9%, Vitamin K 5%
Prep Time:

15 minutes

Cook Time:

20 minutes

Category:

Appetizer

Method:

mixing

Cuisine:

Mexican
Nutrition
Serving Size:

10 serving

Calories:

159

Sugar:

3.4 g

Sodium:

335 mg

Fat:

12.5 g

Carbohydrates:

10.7 g

Fiber:

5.9 g

Protein:

3.8 g

Cholesterol:

6.7 mg
Keywords: Mexican appetizer, Mexican dip, guacamole dip, Mexican dip, party dip, tortilla chip dip
Recipe Card powered by
Print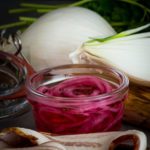 Quick-pickled Red onion
---
Author:

Carlos Leo

Total Time:

10 minutes

Yield:

16 oz

jar

1

x
Description
Pickled red onions are so easy to make, and once you do it the first time, you will end up keeping some in your refrigerator all the time. There are so many dishes you can put pickled red onions on.
---
1

thinly sliced medium red onion - I use a mandolin

1 teaspoon

coriander seed

1 teaspoon

black peppercorn

1 Tablespoon

sugar

1 ½ teaspoons

Pure Sea Salt

½

cup

of hot water

½

cup

apple cider vinegar
---
Instructions
Thinly slice the red onions with a mandolin or with a knife.
Prepare a mason jar. I use Luigi Bormioli Lock Eat jars.
Combine in the jar the apple cider vinegar, hot water, coriander seed, black peppercorn, sugar, sea salt.
Whisk until the salt and sugar is dissolved.
Place the thinly sliced red onions in the jar. Make sure the onions are covered completely. The onion that I had was too big. So, I doubled the pickle liquid.
Let it sit on the counter until it has cooled completely. Then cover with the lid and put it in the refrigerator.
Prep Time:

10 minutes

Category:

Condiment

Method:

pickle

Cuisine:

International
Keywords: pickled vegetables, pickled onion
Recipe Card powered by
[products ids="48854, 47675,48856"]
Available via these Amazon links:
Disclaimer: Links that open in another site, i.e. Amazon, may be affiliate links where at no additional cost to you, we may receive a small commission should you decide to purchase the item. Read our Disclosure Policy.