Ham and Cheese Croissant is one of my all time favorite breakfast sandwiches, and although this recipe is not actually making croissants at home, this recipe is so easy that it's one of our "Easy 1-2-3" recipes. In a matter of minutes you can have ham and cheese crescent rolls for breakfast without getting out of your pajamas.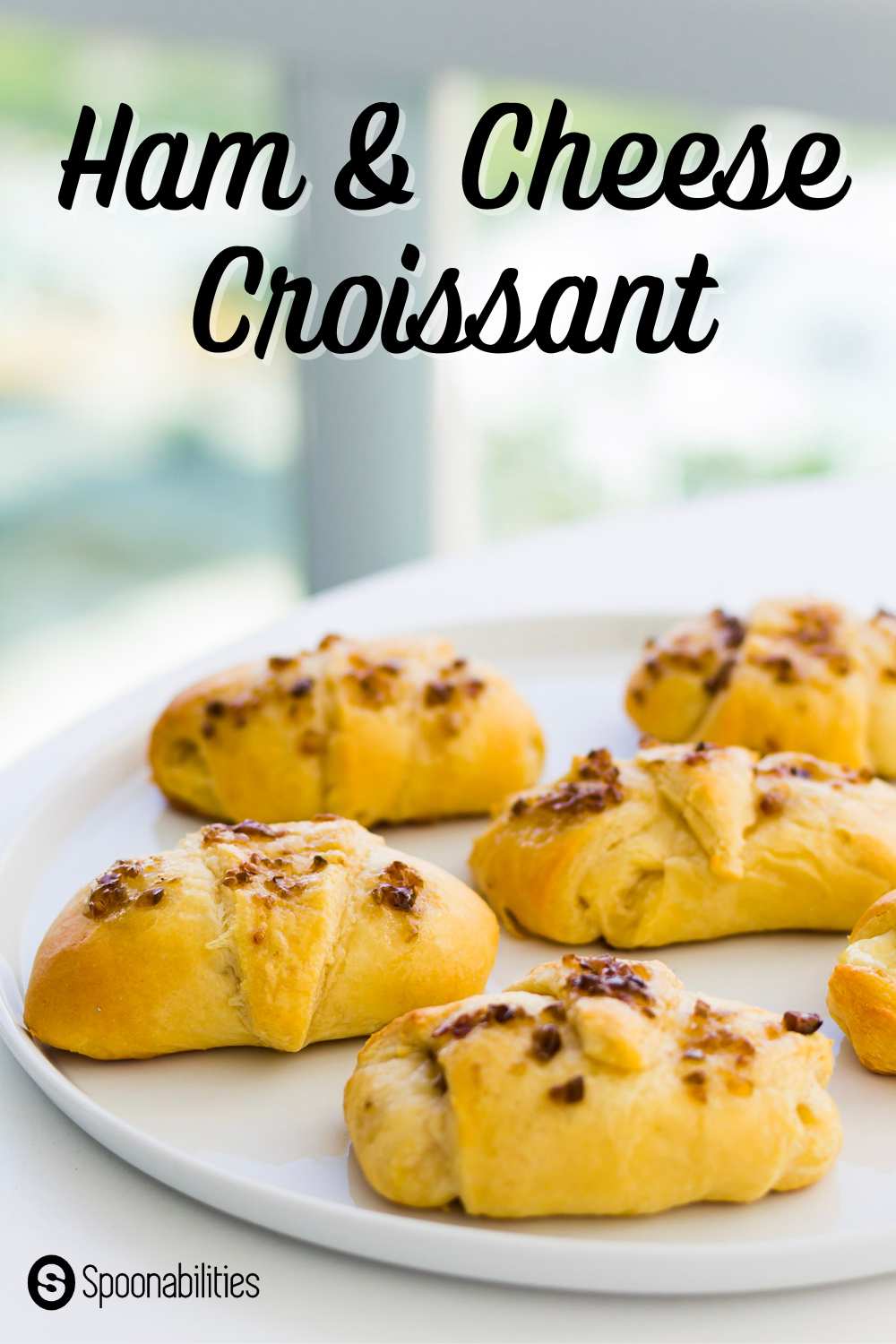 This morning I woke up and wanted to make some more of the chocolate croissants that I made two weeks ago. I already had the large crescent rolls in the fridge, and was amazed at how easy that recipe was to make last time. I went to the kitchen and pulled out the crescent rolls. Then I realized I had finished all the chocolate chips this week. It's difficult to keep chocolate in our house. We put it in a container with nuts and raisins that we eat as a snack all week. Besides that, I'm a "chocoholic" and Carlos is a "nutoholic."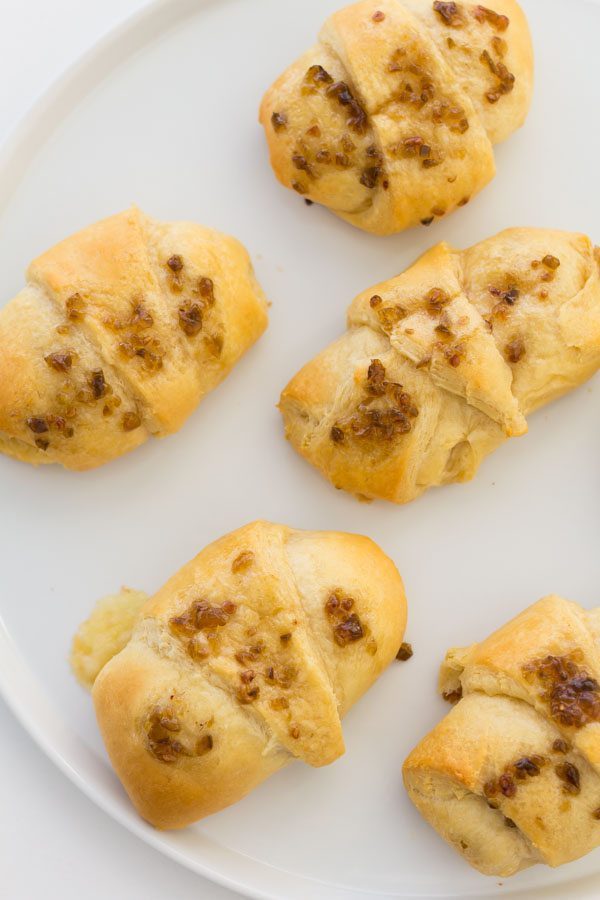 My Favorite Breakfast Sandwich, the Ham and Cheese Croissant
When I'm out and about and want breakfast, one of my favorite breakfast sandwiches is a ham and cheese croissant. The one I get most of the time is the slow roasted ham and swiss sandwich from Starbucks. I'm a gold card member and there's a Starbucks literally directly across from my office building. Yes, it gets expensive, but what can I say. The ham and cheese croissant breakfast sandwich I like the best is at La Provence, and most recently at 8 ½ Caffè & Bottega near our Miami condo. It's a large flaky croissant with ham, cheese, and an egg omelet inside, with a side salad. I love ham, and I love cheese, and I love croissants. Need I say more about why I love this breakfast sandwich so much??
Leftover Ham, Brie cheese and Jam
Back to MY kitchen… I remembered that I had some left over brie, and some left over Raz-Pepper Preserves from the Baked Brie in Puff Pastry with Jalapeno Raspberry Jam and Almond Butter that I made last weekend (another very simple yet delicious "Easy 1-2-3 Recipe"), and I just took a package of ham out of the freezer yesterday. PERFECT! One of the advantages and benefits of Spoonabilities is that each of our products are extremely versatile. They can be incorporated into many different recipes, and, we have many different recipes that can substitute many of our different products. One of the ideas that sparked the creation of Spoonabilities was that Carlos would buy a specific product for a particular recipe, and then it would remain in the refrigerator without another use. We specifically want to help you by giving you recipes to use that forgotten jar all alone sitting in your refrigerator.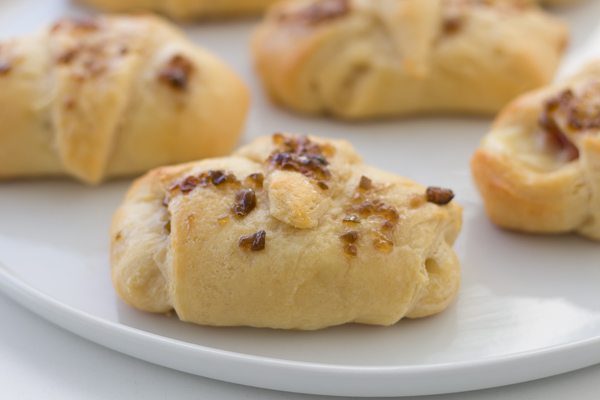 Ham and Cheese Croissant is an Easy 1-2-3 Recipe
Carlos left with the dogs to take them for a walk. I told him to hurry because these Ham and Cheese Croissant were not going to take long. I opened and rolled out the dough triangles. Then cut the remaining brie into square slices. Each triangle got 2 squares of brie and a half piece of ham rolled up. I rolled up the little blankets of goodness and put them on the baking tray.
This time I was sure to tuck in the ends of the dough at the beginning of rolling them up. When I did the chocolate croissants, some of the chocolate and jam melted and escaped the roll. This time everything was going to stay inside for me (I mean us) to eat. Then I brushed some of the Raspberry Jalapeno Preserves from Pepperlane on top. Brushing the jam on top would also help to brown the crescent rolls in the oven. Into the oven they went for 18 minutes.
TIP: Just out of the fridge, the jam is a little thick for brushing on top, so heat it in the microwave for 10-12 seconds first.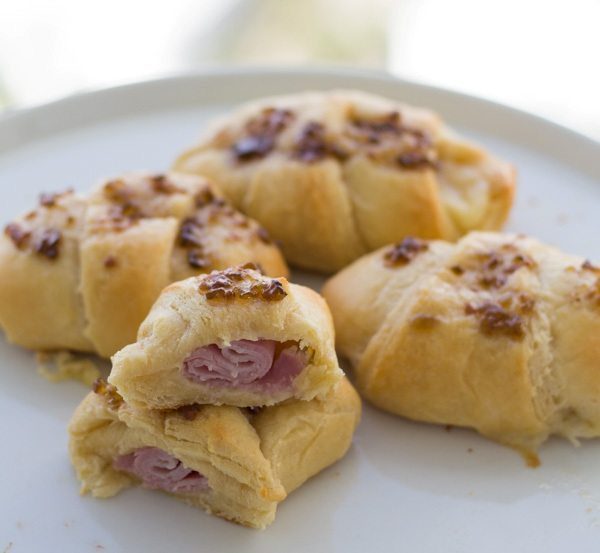 In the time it took for Carlos to take the dogs out and come back, (and for me to check my Facebook notifications) they were ready!!
TIP: I also realized last time that since the crescent rolls have filling, they could use some extra time in the oven than the package says for unfilled crescents. This time I added 2 minutes to the max instruction time. They came out perfect with a light golden brown color. As long as I keep doing cardio at the gym, I may make these cheese and ham croissants every week… and the chocolate croissants too!
Recipes with a Jam Filling
Here are some more recipes that have a jam filling:
Hope you enjoy these Ham & Cheese Crescent Rolls as much as I do, and get a chance to make them, or any and all of the recipes above!
Warmest Regards,
Geoffrey
Your (other) Recipe Concierge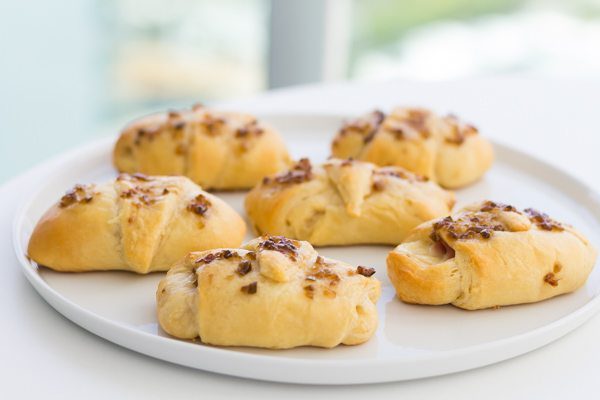 Print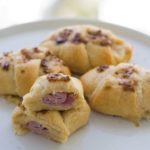 Ham and Cheese Croissant / Crescent Rolls
---
Description
Try this very easy and simple Ham and Cheese Croissant / Crescent Roll recipe for a yummy breakfast. One of our "Easy 1-2-3" Recipes. In addition to Raz-Pepper Jam, you could top with any other jam. Other suggestions are below.
If you like this recipe, join our newsletter.
---
1

can store-bought large crescent rolls
small wheel of brie (or use any cheese you have)
package of sliced ham
---
Instructions
Preheat the oven according to the instructions on the package. Pillsbury recommends at 375 degrees
Gently unroll the crescent rolls.
Into each roll spread ½ Tablespoons jam, ½ piece of cheese, and ½ slice of ham.
Roll up the crescent rolls and place them on a parchment-lined baking pan or cookie sheet.
Brush tops with additional jam
Bake according to instructions. Pillsbury recommends between 9-12 minutes.
Allow cooling at least 5 minutes before serving.
Prep Time:

10 minutes

Cook Time:

12 minutes

Category:

Breakfast

Method:

Baking

Cuisine:

French (inspired)
Recipe Card powered by
Available on Amazon:
Disclaimer: Links that open in another site, i.e. Amazon, may be affiliate links where at no additional cost to you, we may receive a small commission should you decide to purchase the item. Read our Disclosure Policy.