Death by Chocolate cake has three full layers of a decadent and fluffy chocolate cake. Each cake layer is further moistened with a raspberry jam & brandy wash, and brought together with a buttery smooth chocolate filling, then the whole cake is completely covered and topped with a silky whipped chocolate ganache. This Death by Chocolate Cake is then decorated with semi-sweet chocolate curls and white chocolate shards for a dramatic effect.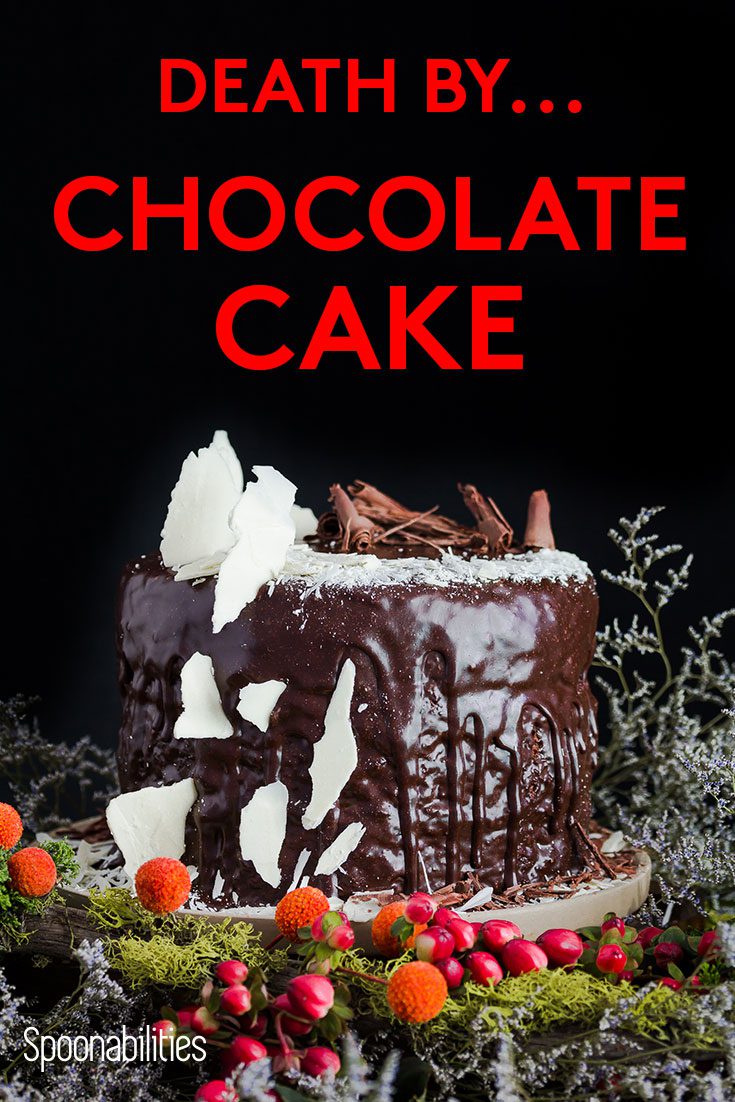 Blog post contains affiliate links. Read our Disclosure Policy
Hello my friends, and Happy Holidays! I know many of you are traveling this week celebrating Christmas with your family. This is the time of the year to enjoy and recharge the family love. We hit the road with the girls and are spending a couple days with Geoffrey's mom in Boynton Beach. She is hosting a big celebration with friends & family to appreciate and have gratitude for life and family. From all of us, we wish you a happy and wonderful holiday season!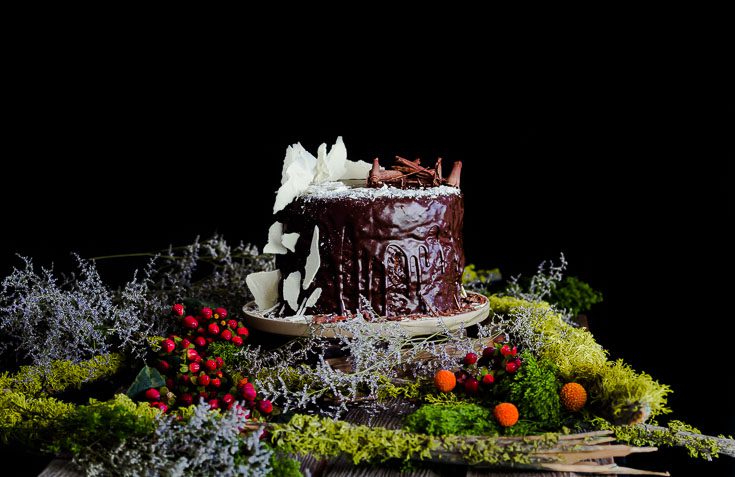 Death by Chocolate cake was the very first cake I made when I started to learn how to cook almost ten years ago. I found the original recipe in Martha Day's cookbook "Glorious Desserts." I found this cookbook at the old Boarders bookstore where they used to have piles of books on sale. I was a bit obsessed with buying cookbooks back them. At some point, I had over 100 different cookbooks, many of which I donated before we moved to our new home. That being said, I still have stacks of them in my office and storage.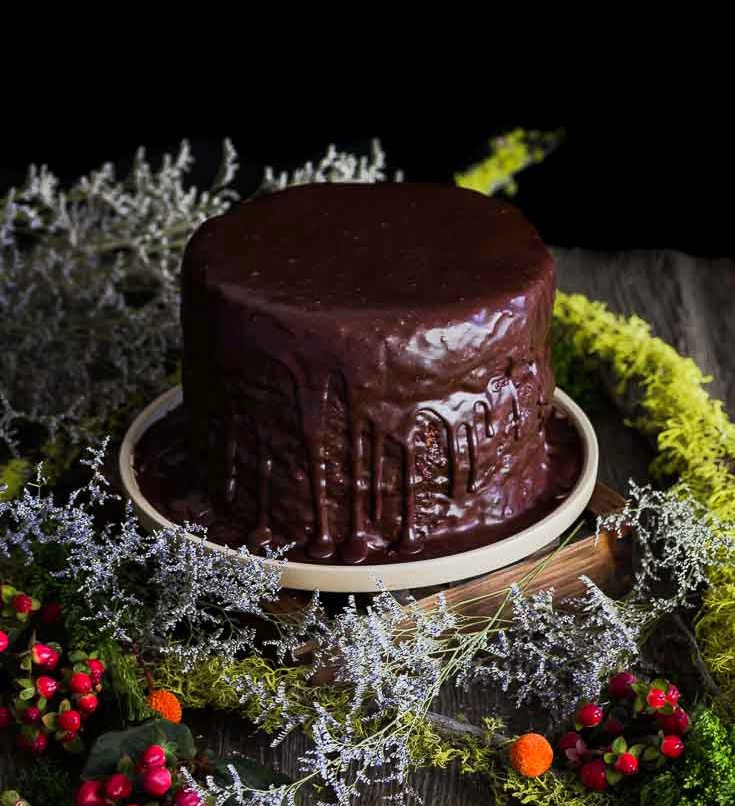 This is the third time I have made this rich, decadent chocolate cake. This dessert is an overload of chocolate indulgence. The key is to use dark chocolate, and for a deeper chocolate flavor, I added some instant coffee to the batter. It is difficult to find the right words to describe this wondrous chocolate cake, but the best way I can describe it is "Melt-In-Your-Mouth" because when you bite into it, this cake literally melts chocolaty goodness in your mouth!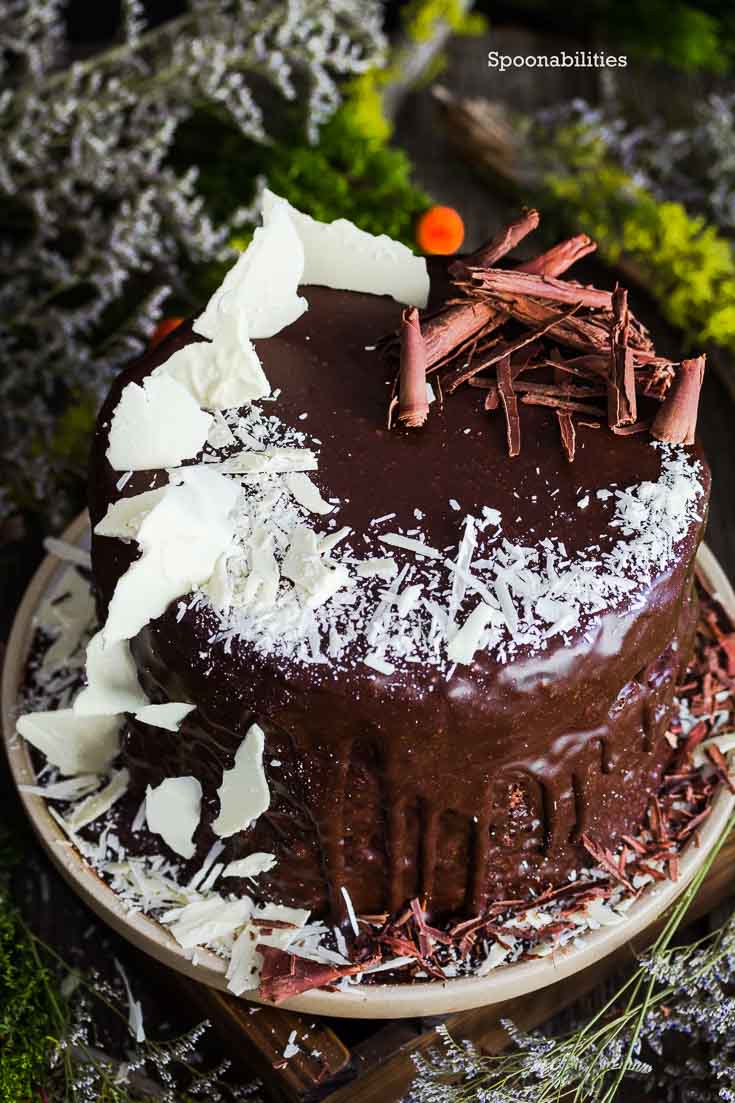 Consisting of three full cake layers, each cake stack is moistened by brushing the top of each layer with a warm raspberry jam and brandy sauce. Then each layer is stacked between and rich dark chocolate filling. Then it's finished (not including the decorating) with a whipped silky chocolate ganache. This cake is for YOU chocoholics! It's chocolaty perfection will satisfy your biggest chocolate craving.
The chocolate cake batter is prepared in three different stages. First, place dark chocolate and milk in a saucepan and heat gently until smooth. Remove from the heat, beat in sugar and vanilla, then cool. In another bowl beat egg yolks & cream and add them to the chocolate mixture. Sift flour and baking powder into the chocolate mixture and fold in. In another bowl whisk egg whites until stiff; fold into the batter. In the recipe card below, you will find the complete process to make this chocolate cake to perfection!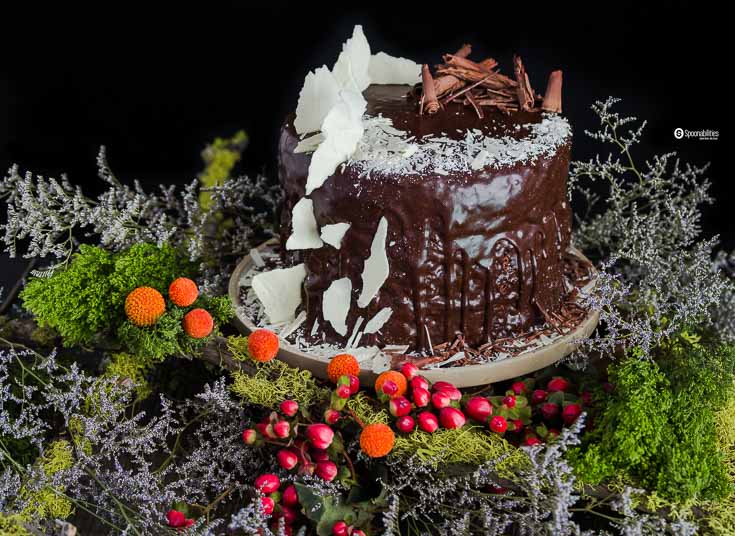 I double the recipe this time because I wanted to create a tall dramatic cake. The recipe asks you to bake the cake in one pan and cut it into three parts. But I decided to separate the (doubled) batter into three cake pans. You could do the same thing without doubling the recipe because this cake is incredibly rich.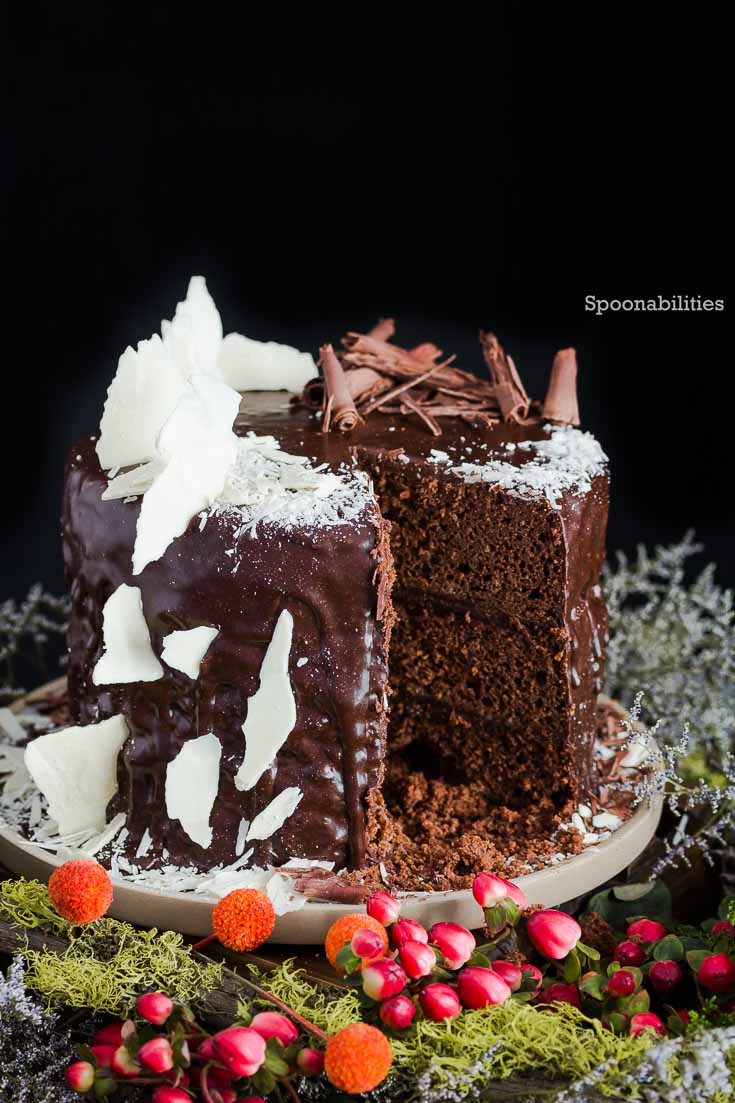 During this "doubling the recipe and being out of practice making this cake" process, I made a couple of mistakes, and I was lucky to catch them in time and they didn't affect the end result. The first mistake was that I forgot to add the sugar and vanilla during the early stage; and the second error was when I was making the filling I added all the ingredients at once in the saucepan when I was melting the chocolate. So, the correct steps to make the filling is to melt the dark chocolate, three tablespoons of brandy and the butter in one saucepan; and then in another sauce pan, the raspberry jam with one Tablespoon of brandy. But don't worry - the first batch didn't go to waste because Geoffrey made some cute chocolate spoons and chocolate bites with the Tea Cakes and Candies Pan mold. Oh, I almost forgot, the pan I used for the cakes was not the best one either because it didn't have straight edges. So, I had to fix it by cutting all the extra edges and make it an evenly round cake. Therefore, the cake doesn't look smooth outside. Make sure you use a cake pan that has straight edges (doesn't fan out at the top). Looking back at all the mistakes I made, the final cake turned out spectacular. Note to self – follow the recipe!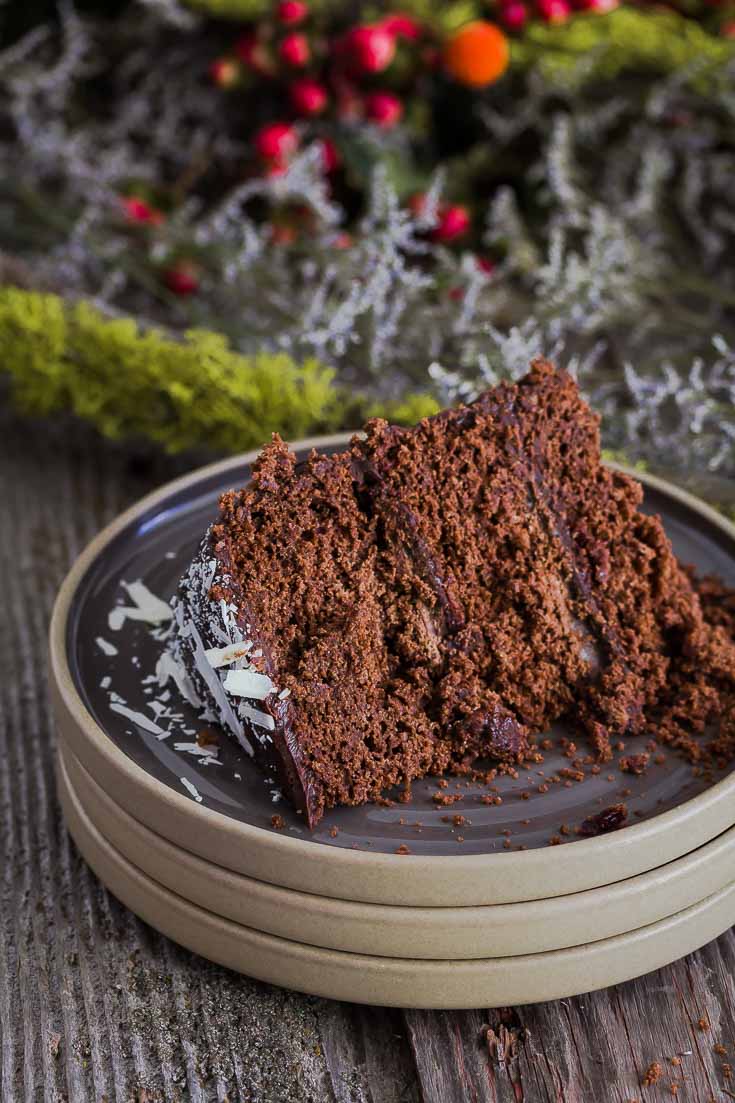 Here is a fun fact about Death by Chocolate. The name "death by chocolate" is a marketing term created by the Bennigan's restaurant chain to feature their chocolate desserts, especially those with dark chocolate or cocoa as the primary ingredient. This name has been trademarked, and it's due to expire next year. Hmm, maybe I should not be naming this cake "Death by Chocolate," but it is certainly "to die for." Also, this chocolate cake was created by Marcel Desaulniers, an award-winning and decorated chef. He is a bestseller author and creator of several luscious chocolate desserts made at Colonial Williamsburg's Trellis Restaurant including recipes for "Double Mocha Madness," "Death by Chocolate," chocolate wedding cake, chocolate chip cookies, white chocolate ice cream, "Chocolate Temptation," and "Chocolate Dementia."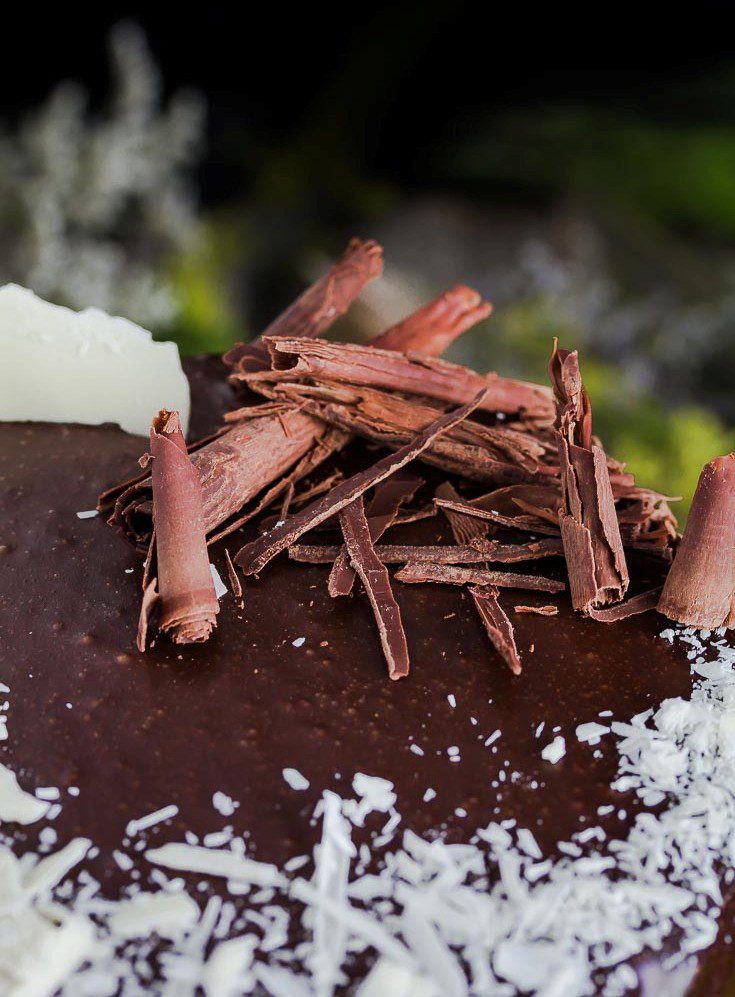 For the photo shoot, right from the beginning I had a clear idea that I wanted to use a lot of flowers and some wooden branches with green moss for a rustic and forest type scene. The big challenge I had was to decorate the already troubling cake with dark chocolate and white chocolate curls. Well the white chocolate didn't curl and they turned out to be more like crystal shards. I decided to place the cake in my little set and hope for the best. It turned out looking perfect for the set I created. Geoffrey told me that the cake reminds him of "Game of Thrones." He said the tall dark cake is the great wall with white ice shards stuck out the side of it, and white chocolate snow dusting the top. The whole "set" is very rustic and the cake can be both the great wall and a castle from the HBO series. What do you think?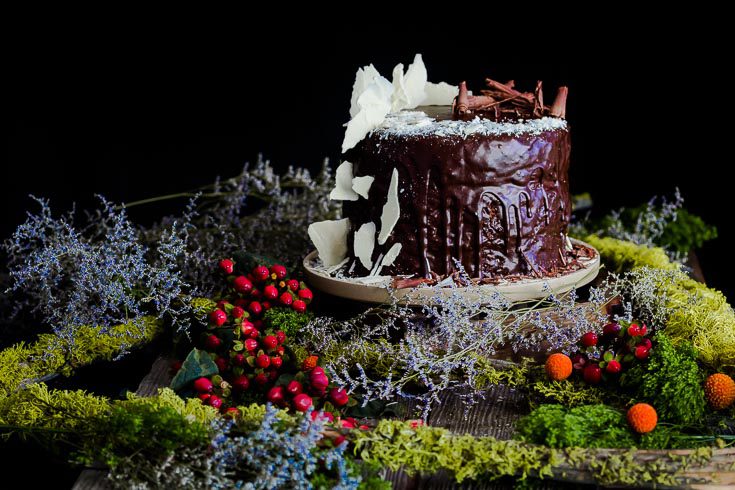 If cakes are your craving, then check out some more cake recipes I made via the links below:
I hope you try this over-the-top chocolate cake recipe and indulge yourself in this super-rich & luscious dessert called Death by Chocolate.
Merry Christmas, Happy Holidays & Happy New Year!
Carlos
Your Recipe Concierge
Print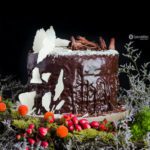 Death by Chocolate Cake
---
Author:

Carlos Leo

Total Time:

1 hour 20 minutes

Yield:

16

-

20

servers

1

x
Description
Death by Chocolate Cake has three layers of delicious chocolate cake that melts in your mouth. Each cake layer is further moistened by brushing on a raspberry jam & brandy sauce, then stacked between a chocolate filling, and surrounded and topped with a rich dark chocolate ganache. Don't forget the chocolate curls on top!
Adapted from Martha Day's cookbook "Glorious Desserts."
---
For the Cake:
8

oz

. dark chocolate chips

1 Tablespoon

instant coffee

½

cup

unsalted butter

⅔

cup

milk

1 ¼

cups

light brown sugar

2 teaspoons

vanilla extract. I prefer to use vanilla bean paste. Click to order on Amazon.com

2

separated eggs

⅔

cup

sour cream

2

cups

self-rising flour

1 teaspoon

baking powder
 For the filling:
 For the topping: whipped chocolate ganache
1

cup

heavy cream

8

oz

. dark chocolate chips
 For the chocolate curls:
4

oz

. semi-sweet chocolate chips

4

oz

. white chocolate chips
---
Instructions
Preheat the oven to 350 F.
Grease and line the bottom of a deep 9-inch springform cake pan.
 To make the cake batter:
Place the chocolate chips, butter, and milk in a saucepan. Heat gently until smooth. Remove from the heat, beat in the sugar, instant coffee, and vanilla, then cool.
Beat the egg yolks and cream in a bowl, then beat into the chocolate mixture.
Sift the flour and baking powder into the chocolate mixture and fold in.
Whisk the egg whites in a bowl until stiff; fold into the chocolate batter.
Scrape into the prepared pan and bake for 45-55 minutes or until a toothpick comes out clean.
Cool in the pan for 15 minutes, then invert to a wire rack to cool.
Carefully slice the cold cake into thirds across the middle to make three even layers.
 To make the filling & ensemble:
Warm the raspberry jam in a small saucepan, with 1 Tablespoon of brandy. Then brush all of it on two of the layers. Note: Brush into the side of the cake that is cut.
Heat the remaining brandy in a saucepan with the chocolate and butter, stirring, until smooth. Cool until it begins to thicken.
Spread the bottom cake layer with half of the chocolate filling, taking care not to disturb the jam-brushed filling.
Top the bottom cake layer with a second cake layer, jam side up, and spread with the remaining filling. Top with the final layer and press lightly. Let set.
 Make and apply the ganache topping:
Heat the cream and chocolate together in a saucepan over low heat, stirring frequently, until the chocolate has melted. Pour into a bowl, let cool, then whisk until mixture begins to hold its shape.
Spread the top and sides of the cake with the chocolate ganache.
Decorate with the semi-sweet chocolate curls and white chocolate shards.
 How to make chocolate shards & curls.
Place a small baking sheet in the refrigerator one hour before or in the freezer 15 minutes before.
Melt the semi-sweet chocolate chips in the microwave, in a small bowl.
Pour the melted chocolate onto the baking sheet. Spread the chocolate evenly and thinly until hardened. If needed, set it in the refrigerator for 5-10 minutes.
For Curls: Starting from the edge and using a spatula, scrape chocolate into curls. If chocolate is too hard, let it sit at room temperature for 1 to 2 minutes. If it gets too soft, return it to the refrigerator for a few minutes.
For Shards: Allow to fully harden in the refrigerator for 10-15 minutes. Crack into shard pieces.
Notes
Vitamin A 16%, Vitamin C 1%, Calcium 11%, Iron 12%, Vitamin B12 2%, Vitamin E 3%, Vitamin K 5%
Prep Time:

25 minutes

Cook Time:

55 minutes

Category:

Dessert

Method:

Baking

Cuisine:

American
Nutrition
Calories:

449

Sugar:

34.6 g

Sodium:

191 mg

Fat:

28.9 g

Carbohydrates:

49 g

Fiber:

2.9 g

Protein:

4.2 g

Cholesterol:

57.4 mg
Keywords: chocolate cake, decadent dessert, chocolate, cake recipe, layer cake, 3 layer cake
Recipe Card powered by
Available via these Amazon links:
Disclaimer: Links that open in another site, i.e. Amazon, may be affiliate links where at no additional cost to you, we may receive a small commission should you decide to purchase the item. Read our Disclosure Policy.