Lemon Tart Recipe has a classic sweet-tart lemon curd filling with a not-so-classic almond shortbread crust, served with mascarpone cream. Read on for step by step instructions, and to learn what "par baking" is, some lemon filling options, and what exactly is curd.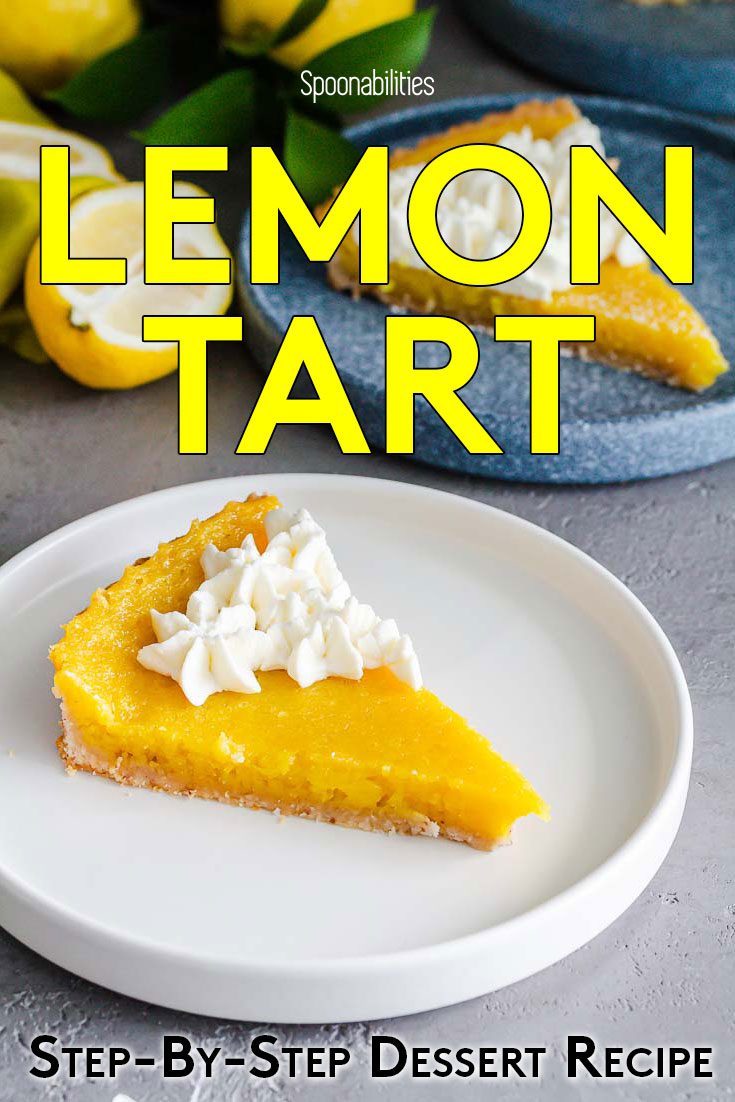 Blog post contains products you can purchase in our online shop, and affiliate links.
Read our Disclosure Policy.
Hello my friends. We all hold a special place in our hearts for the lemon tart. We're making a lemon tart recipe to commemorate all the get-togethers out on the terrace or patio. Of course, you're familiar with the classic creamy, citric tart (tarte au citron). Still, if you're not, we're talking about a buttery pie crust filled with creamy, custardy, and tangy filling aromatized with lemon zest and lemon juice.
This one won't be a regular tart. Today we're making a not-so-classic lemon tart recipe; we're baking a lemon tart with an almond shortbread crust. Close your eyes and picture a lemony, luscious, and not too sweet filling, poured over chewy yet buttery texture from the almond shortbread crust, beautifully decorated with piped Mascarpone cream. That's food for the soul right there.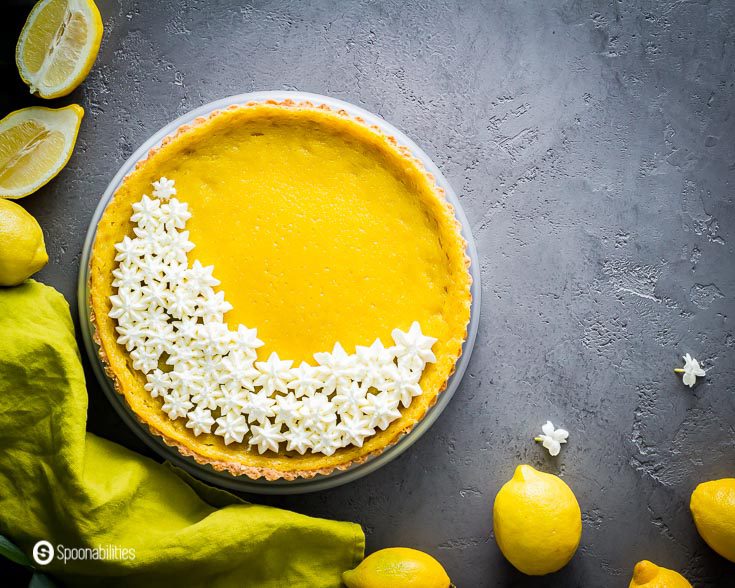 The almond crust is crumbly, buttery, and nutty, and contrasts with the creamy and tart filling nicely. The almond shortbread crust makes all the difference because an almond-scented crust made with flour, sliced almonds, and almond extract is wonderfully crackling and nutty. It gives this tart an added textural dimension. For this tart, we par baked the crust. What does that mean? I'll let you know.
3 Steps To Make This Lemon Tart Recipe:
Make the almond shortbread crust - Photo instructions ahead.
Make the lemon curd or buy already made lemon curd like this one in our shop 😊.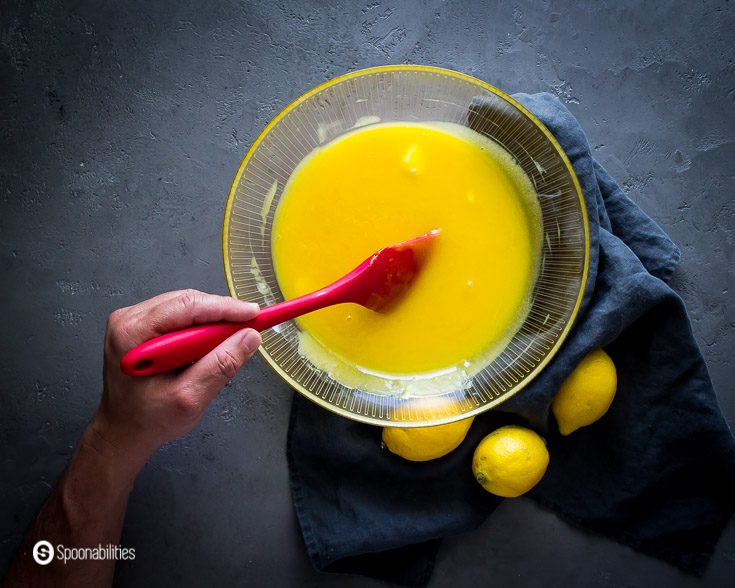 Bake the lemon tart
Then as an option, you can add toppings like the mascarpone cream, whipped cream, lemon candy, lemon slices, or just dust it with powdered sugar.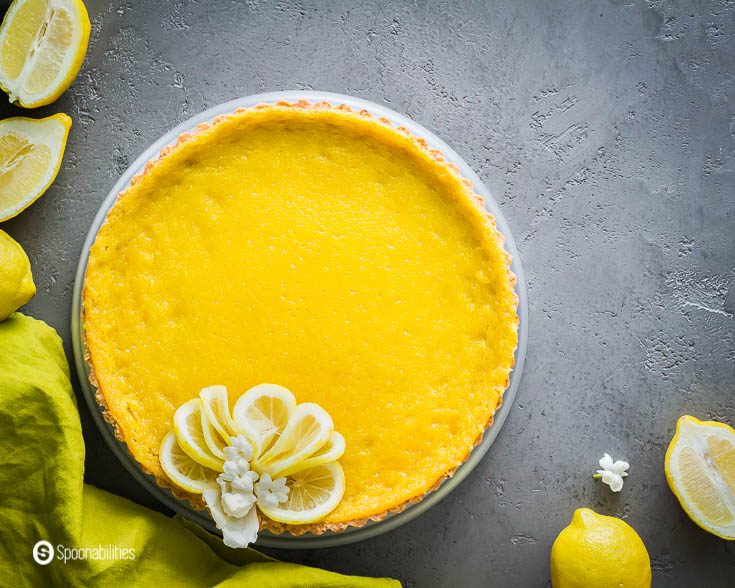 What is a Par Baked Pie Crust (Blind Baking)?
Par Baking means that you will partially bake an empty pie crust without a filling. You will typically par-bake a pie crust if the filling that you are using takes less time to bake than the crust. Blind baking a pie crust also prevents soggy pie bottoms. Some of the pies with par-baked shells are quiches and this Époisses Ham Apple Tart, custard pies, and cream pies such as chocolate cream pie, banana cream pie, coconut cream pie, pumpkin pie, and this lemon tart recipe.
The almond shortbread crust recipe is a bit tricky as there are many elements involved, but most of the work is done for you by your food processor. You'll need a bit of patience to spread the dough in your mold though, but put on some music, and you'll soon realize it's really soothing!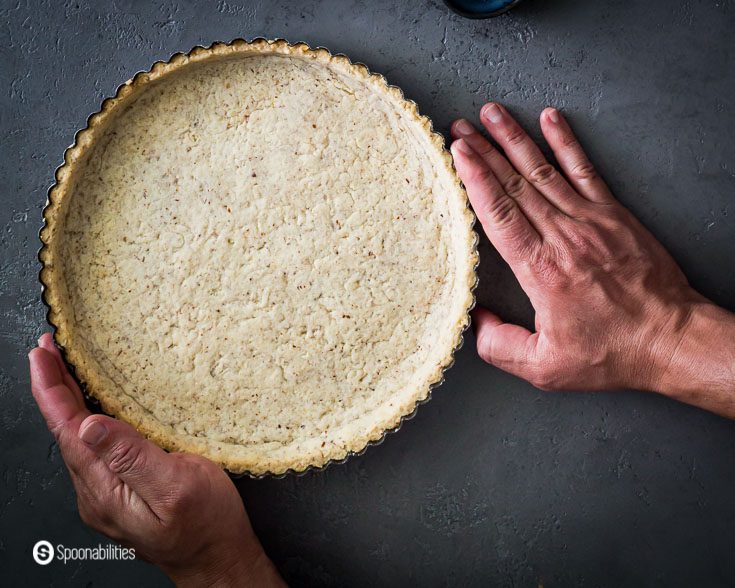 Like this recipe so far? Be the first to know when we release new ones!
---
Here is a collage with the different steps for this almond shortbread crust.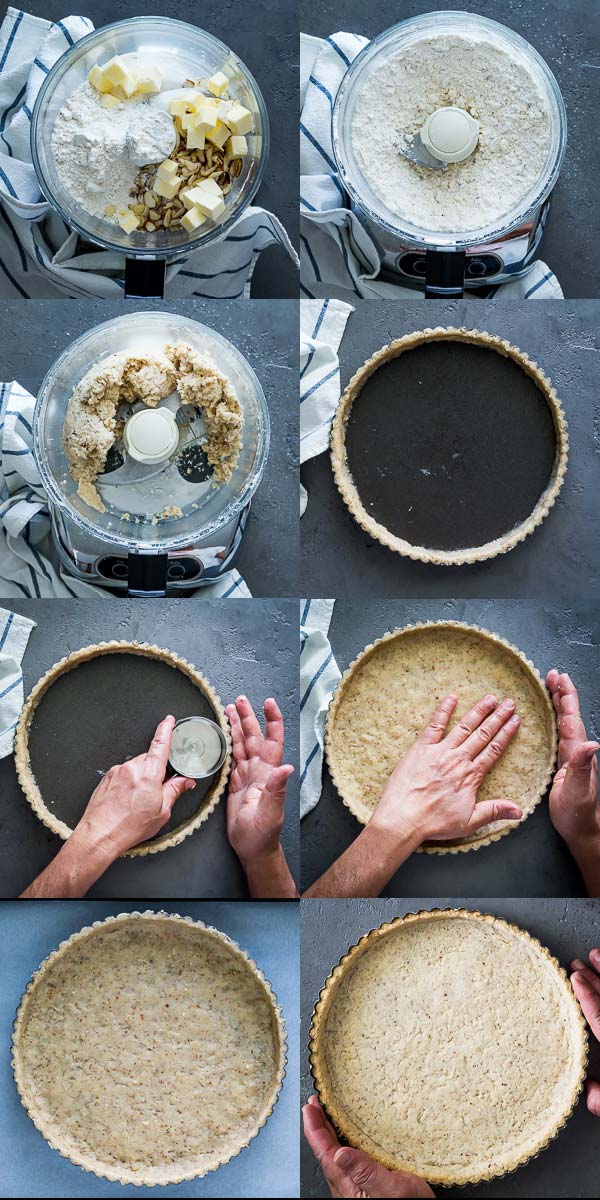 All the hard work is worth it once you see your bright yellow lemon tart coming out of the oven. You have plenty of options for decorating it including Mascarpone cream, whipped cream, creme fraiche, or even just lemon slices.
What's a Lemon Tart Recipe without Lemon?
I haven't talked to you yet about the most important ingredient in this lemon tart... lemons.
Most of the citrus aromas will come from a whole tablespoon of grated lemon zest, but classic lemon tarts are also flavored with lemon juice. This citrus filling is bursting with fresh lemon flavor. There are three ways to get this done.
Lemon Juice and Lemon Zest mixture. This is the method in a traditional French style lemon tart recipe.
L'Epicurien Lemon Curd . This is a super easy yet flavorful shortcut. The only thing you need to make is the crust, or if you want something quick and super easy, just buy a frozen crust at the store, and you will have a lemon tart in no time.
Amoretti Natural Lemon Artisan Flavor. The Amoretti flavoring gives the tart a charming, rather Sicilian personality that pairs nicely with the crust's almond flavor.
You'll be all right if you use really ripe lemons. However, we want to provide in our recipes different options of how you can make them if you don't have the exact ingredient. At the end of the day, a lemon tart is an act of love. You really have to put your heart into it. The result is not just a perfect summer dessert, but it also gives a genuine sense of achievement for cook aficionados and home bakers.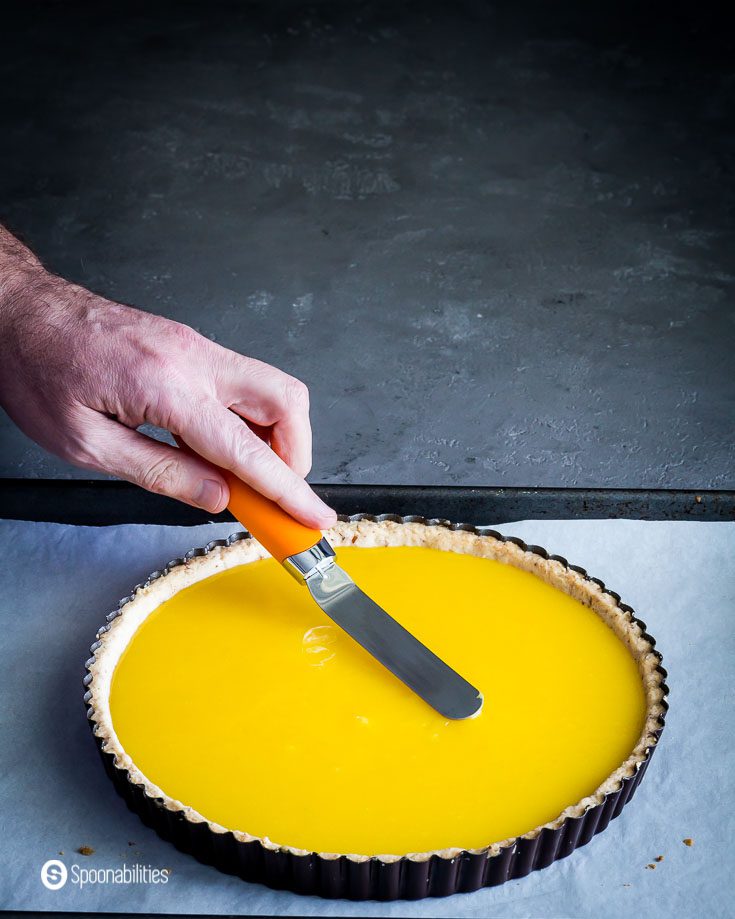 What is Curd?
Curd is a fruit dessert spread usually used to spread on baked goods or toast instead of jams. Also, you can use it as a filling for pies, cakes, pastries, or tarts. You can use it to top pancakes, waffles, cheesecake, or muffins. Curd usually is made with citrus fruit or other fruits and flavors like pistachio.
Lemon curd's ingredients are egg yolks, sugar, lemon juice and zest, which are gently cooked together until thick and then mixed with lots of butter to make it rich and creamy. When is cools, it forms a thick, soft, smooth, delicious spread.
I love any desserts with citrus flavors, and this is why this not-so-traditional French-style lemon tart is a favorite in our house. The luscious lemon curd filling is delicious with the chewy yet crumbly, buttery texture of the almond shortbread crust.
Ready? Let's make ourselves this gorgeous lemon tart with almond shortbread crust.
I hope you get a chance to make this lemon tart recipe. When you make it, tag @Spoonabilities on Instagram so we can find you! And we love to hear from you in the comment section below.
Carlos Leo
Your Recipe Concierge!
It's almost Fall and pumpkin season. Here are some delicious sweet pumpkin recipes:
Print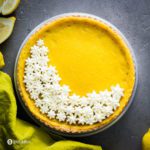 Lemon Tart Recipe | Step by Step Dessert
---
Author:

Carlos Leo

Total Time:

50 minutes

Yield:

1

2

1

x
Description
This Lemon Tart recipe has the right sweetness and citrus tart flavor with a classic lemon tart's perfect texture. Still, the almond shortbread crust takes it to the next level. This tart is an act of love and will swoon your loved ones with a heartwarming tart reminiscent of summer.
---
Crust Ingredients
1

cup

all-purpose flour

½

cup

sliced almonds, toasted

¼

cup

sugar

6 Tablespoons

cold butter

½ teaspoon

almond extract

¼ teaspoon

Sea Salt

3 Tablespoons

cold water
Filling Ingredients
10 Tablespoons

unsalted butter, sliced

1 Tablespoon

finely grated lemon zest

1

+½ cups granulated sugar

⅛ teaspoon

Sea Salt

4

large eggs

2

large egg yolks

3 Tablespoons

Amoretti Natural Lemon Artisan Flavor (See notes for alternatives)
OPTIONAL Mascarpone Cream Topping Ingredients:
1

cup

whipping cream

8

oz

mascarpone cheese, room temperature

½

cup

powdered sugar
A pinch of Xanthan gum to help stabilize the cream
---
Instructions
Directions for Crust
Prep: Position a rack in the center of the oven and preheat to 350F, and spray oil on a 9-inch removable bottom fluted tart pan.
Blend: Add into a food processor, the flour, almonds, sugar, butter, almond extract, and sea salt. Cover and pulse until blended. Gradually add water, 1 tablespoon at a time, pulsing until mixture forms a soft dough.
Form the crust: Add half of the soft dough to the tart pan and start pressing it into the sides evenly (see photo collage above). Add remaining dough and press into the bottom, keeping the top edge of the sides level. [See Notes section for "Crust Rolling Tips"]
Bake: Place the tart crust on a baking sheet and bake for 15 minutes. After 15 minutes, take the tart out of the oven and gently press down the bottom and the sides, using a flat measuring cup. Place the tart back into the oven. Bake for additional 10 minutes. The crust will be partially baked, but if it's too soft, bake it for another 5 minutes or so.
Remove the crust from the oven. While it's still hot, do the previous step using a measuring cup to gently press down the bottom and the sides.
Cool: Let it cool down on a wire rack.
 Directions for Lemon Curd
Preheat: Lower the oven temperature to 325F degrees.
Add the sliced butter with the lemon zest to a glass mixing bowl. Place a strainer on top. Set aside.
Whisk: Using a heavy-bottomed saucepan over medium-low heat, whisk together the eggs, egg yolks, sugar, Amoretti Natural Lemon Artisan Flavor, and salt to combine. [Alternative: Instead of the Amoretti Natural Lemon, add ¾ cup lemon juice and 1 extra tablespoon grated lemon zest.]
Stir: After it is well combined, switch to a heat-proof silicone spatula and keep stirring constantly, making sure you scrape the bottom and sides to prevent lumps or stickiness. Lower the heat to low during the last two to three minutes of the process. This whole process will take around 10 minutes. Set your timer.
Check the temperature using an instant-read thermometer, which should be around 160-165F after the 10 minutes is up. Remove from the heat.
Strain: Pass the curd through the strainer on the bowl with the butter that we set up in step #2. Use a spatula to help the process along. Do not press down too hard; very gently.
Stir the curd with the butter until the butter has dissolved completely.
Pour the lemon curd into the crust. Using an off-set spatula, even out the top. Before you take it to the oven, gently tap the mold on the countertop to release any air bubbles.
Bake for 20-25 minutes. Check after 20 minutes. The consistency should be firm and solid like Jell-o

If it's too watery, it is undercooked and needs more time.
If it cracked, it's over baked.

Chill for 4 hours or overnight is even better. After it is cool, remove from the mold.

Tip: Gently place the tart on top of an upside-down bowl and the round side ring will come right off.

Cut: Place the tart on a flat round plate. Using a sharp knife, cut into wedges.
Serve with mascarpone cream, whipped cream, or a dollop of crème fraiche. You can also sprinkle with powdered sugar.
Optional Mascarpone Cream Directions:
Whip: In a large mixing bowl, with an electric mixer on medium to high speed, beat the whipping cream, xanthan gum, and powder sugar until stiff peaks form.
Add Mascarpone: Add the soft mascarpone cheese until is well combined. Do not over mix.
If you want, you can do the decoration use a pastry bag and make little stars like shown in the photo.
Notes
Filling Alternatives:
Add ¾ cup lemon juice & 1 extra Tablespoon grated lemon zest instead of Amoretti flavoring
Use 2 jars of Lemon Curd as the full filling recipe
Crust Rolling Tips:
Using a flat bottom measuring cup will help you mold the sides better.
Your fingers will be your best tool for spreading the dough on the bottom of the mold.
Be patient and use your fingers to evenly distribute the dough in the mold (see photo). This process could easily take you 10 minutes to make it look even and pretty.
The tart can be refrigerated overnight but it doesn't freeze well.
Make the crust ahead a time and keep it in the fridge until you are ready to bake it.
It's better if you let the lemon tart cool completely before slicing. The filling firms up and it will be easier to cut through the tart. You can make individual serving if you have mini tart molds.
Prep Time:

40

Cook Time:

40

Category:

Dessert

Method:

Bake

Cuisine:

French
Keywords: lemon curd, citrus curd, fruit curd, French dessert, custard dessert, citrus dessert, tart crust recipe, shortbread crust, almond crust, pie filling, tart filling, curd, egg dessert, mascarpone cream, summer dessert, pistachio curd
Recipe Card powered by
Available via these affiliate links:
Disclaimer: Links that open in another site, i.e. Amazon, may be affiliate links where at no additional cost to you, we may receive a small commission should you decide to purchase the item. Read our Disclosure Policy.