Crispy Veggie Pizza with Olive Bruschetta has only one thing in common with standard pies. They're both delicious and downright satisfying. Be prepared to be startled because we are making pizza, the Spoonabilities way. Not all pizzas are created equal, and these are proof of it.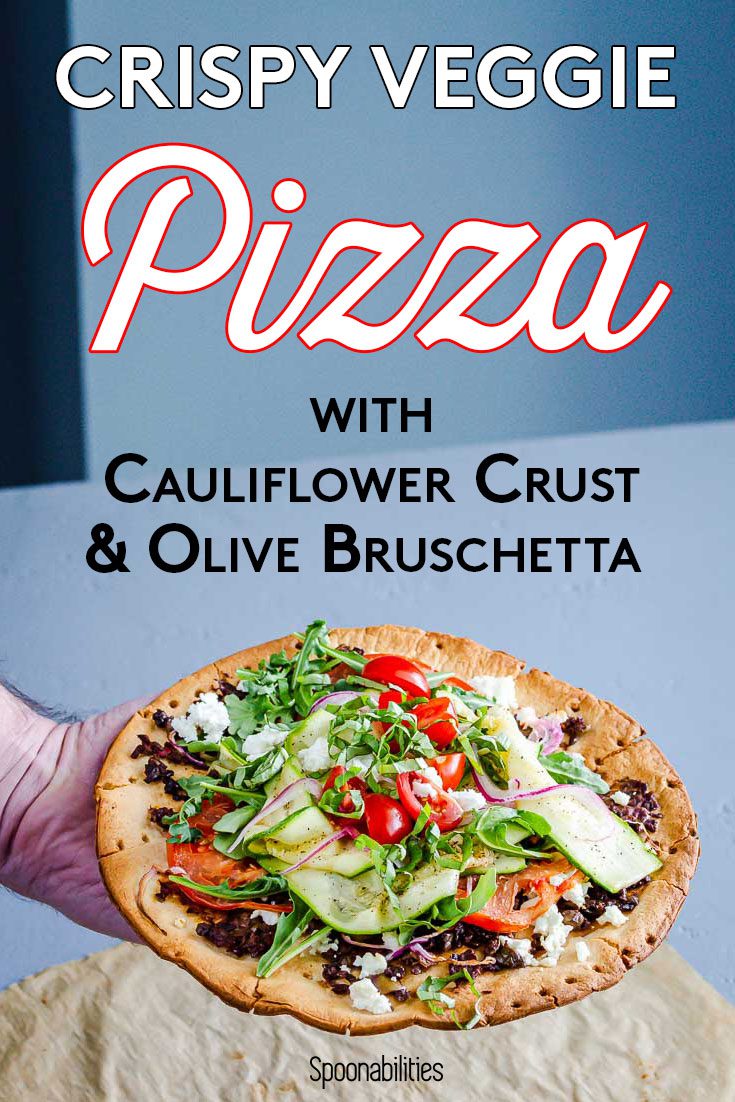 Blog post contains products you can purchase in our online shop, and affiliate links.
Read our Disclosure Policy.
Hello my friends.
Did someone say pizza? That's right! Today we're making crispy veggie pizza Spoonabilities style; decadently satisfying, colorful, and healthy-ish. This crispy veggie pizza recipe has cauliflower pizza crust and olive bruschetta as a base, along with feta crumbles, and a combination of cooked tomatoes and fresh cherry tomatoes, thinly sliced red onions, arugula, and a lightly seasoned zucchini ribbon salad. And as a final touch, we sprinkle on some basil chiffonade.  All these ingredients have stratified textures and entwined flavors that make it much more than the sum of their parts.
Like all great dishes, the idea behind these pizzas started with Geoffrey and I urgently needing a worthwhile midnight snack that wouldn't compromise our weight goals. (BTW, our goal is to go down in weight, not up.) A couple of store-bought cauliflower pizza crusts became a white canvas for creativity.
Bouncing around ideas resulted in a healthier pizza with all the heartiness of baking vegetables and a salad's freshness. We're topping our pizzas with both cooked and raw vegetables for a merger of flavors and textures that will really make you rethink what pizza should be. Let's get right into this crispy veggie pizza!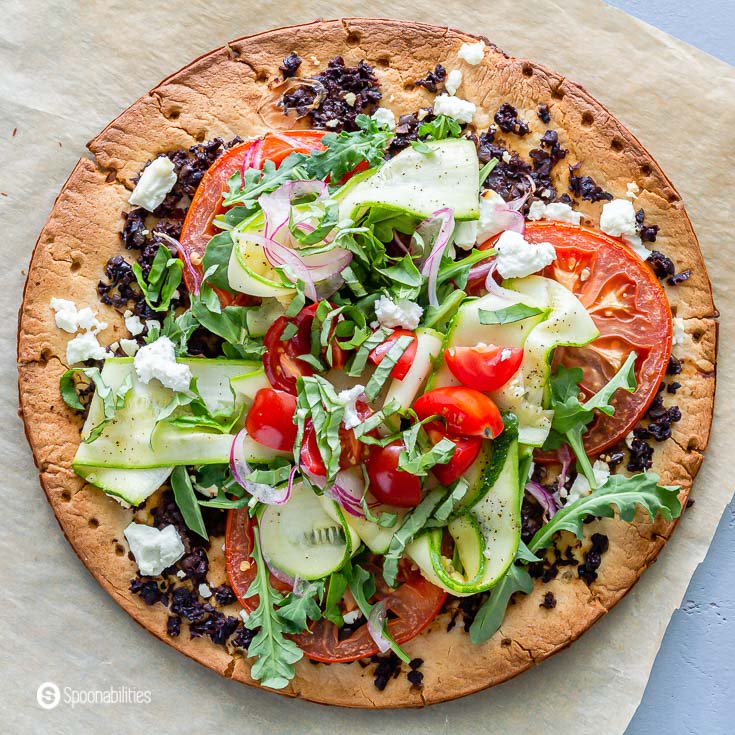 Cauliflower Pizza Crust is the Healthier Choice
The cauliflower pizza crust is just what you need for a satisfying pizza without all those extra carbs. If you think about it, pizza is not at all unhealthy fast food, it's all vegetables, meats, and cheese, which are all nourishing things. The dietary problem with regular pizza is all that bread and extra toppings! So, having decided on the cauliflower pizza crust, we moved on to the sauce.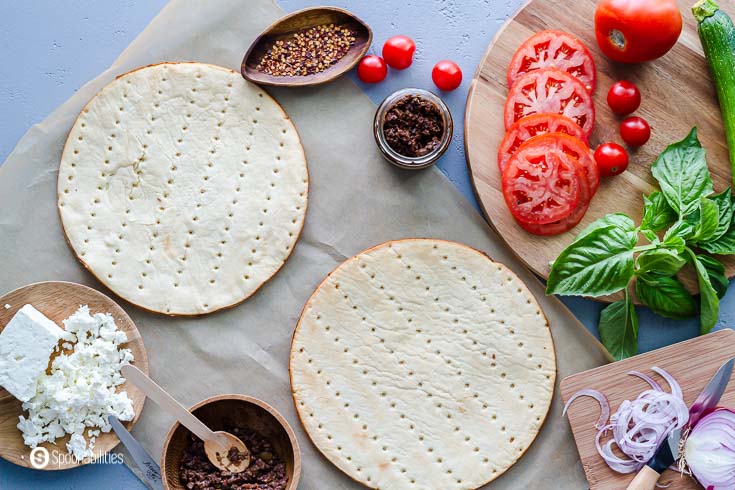 Like this recipe so far? Be the first to know when we release new ones!
---
Tomato sauce is for some unexplainable reason not compatible with cauliflower pizza crusts, at least for me. But a hearty Greek olive bruschetta, that's another story. We use Navarino Icons Olive Bruschetta Spread that, by the way, you can buy in our online shop.
For cheese, feta. And as for the toppings, use anything you have on hand. We topped our pizzas with fresh basil and arugula, smoked chili pepper flakes, cherry tomatoes, and the tangiest and mouthwatering vinaigrette-pickled zucchini ribbons.
I can't even write this without drooling, so let's keep going!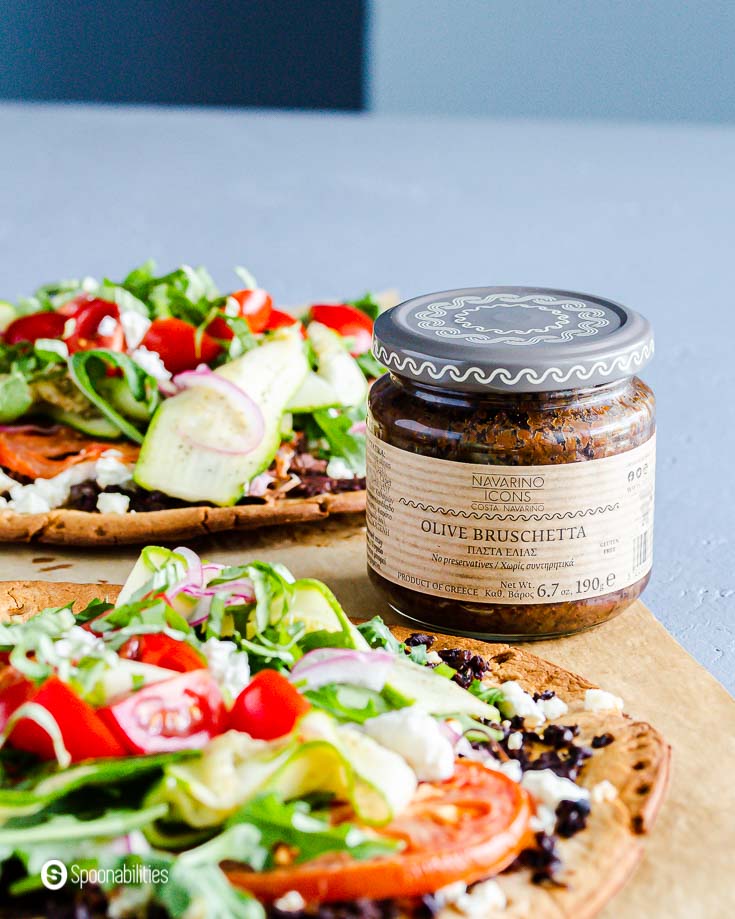 The Holy Trinity of Crispy Veggie Pizza
After trying this recipe countless times, we've determined a few ingredient families that just make veggie pizzas work. We're jokingly calling them the holy trinity of crispy veggie pizzas.
Cheese: Mozzarella is king when it comes to regular pizza, but there are so many other veggie-friendly options. This time we use briny, crumbly feta that adds a new dimension to the pizza. If feta is not in your wheelhouse, think past mozzarella. How about burrata, or queso fresco? They really add something special to veggie pizzas.
Vegetables and Herbs: Throw in all types of vegetables, of all colors, textures, and flavors. It's your pizza, so use what you love. In this case, we add tomatoes two ways; tomato slices as the base before going into the oven, and halved fresh cherry tomatoes after the pizza is baked. We always try to add both cooked and uncooked veggies for different texture and flavor. All leafy greens, for example, should be added after the pizza is baked. For this pizza we are using arugula and basil chiffonade.
Pickled Veggies: Vegetables are tasty, sure, but sometimes they need a push to make them stand out. This time we add vinaigrette picked zucchini ribbons to the pizza. Think sliced carrots, cucumbers, or in this case, zucchini, just tossed with vinegar and olive oil. They add a tang to every pizza bite.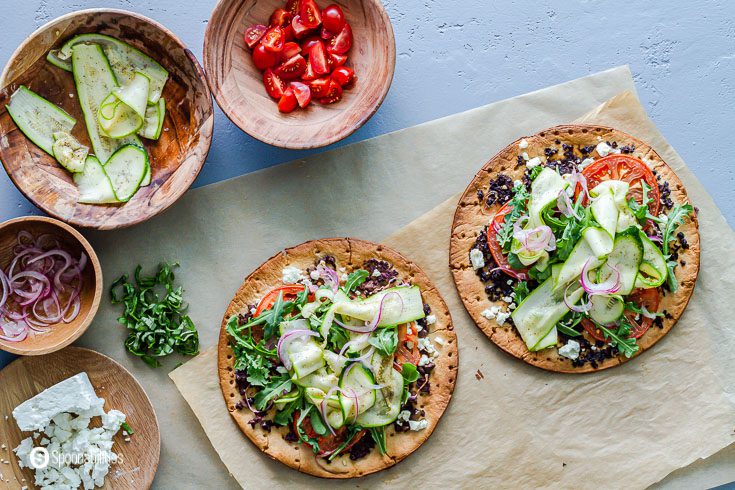 Step By Step to Layer This Vegetable Pizza Recipe
Rather than describe all the steps to you of how we layered all the ingredients for this pizza, don't you think it's better to show you?
We start layering the pizza spreading the olive bruschetta, then the crumbled feta cheese, followed by the tomatoes.

We continue by adding the thinly sliced red onion and sprinkle smoked chili flakes. Then, we bake the pizza.

After we bake the pizza, we start adding the fresh vegetables starting with the arugula, the vinaigrette-tossed zucchini ribbons, and more red onions.


Now we have a healthy-ish pizza with both baked and fresh vegetables, and you're ready to get started on yours. Let's make some tasty crispy veggie pizza. The most famous food on earth revamped.
I hope you get a chance to make this crispy veggie pizza with cauliflower crust and olive bruschetta. When you're done, take a picture and tag @Spoonabilities on Instagram so we can see it! And we love to hear from you in the comment section below.
Carlos Leo
Your Recipe Concierge!
Do you need more appetizer ideas? Here we have more options.
Print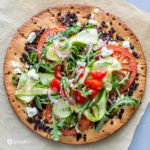 Crispy Veggie Pizza Recipe with Olive Bruschetta
---
Author:

Carlos Leo

Total Time:

27 minutes

Yield:

4

1

x
Description
This veggie pizza recipe has a crispy cauliflower pizza crust with Greek olive bruschetta as a base, then tomato slices, and red onions. We top this pizza with fresh feta, arugula, cherry tomatoes, and vinaigrette-tossed zucchini. This low-carb cauliflower pizza crust is versatile, and you can add so many other colorful veggies. The result is light and airy pizzas as nutritious as they are crave quenchers.
---
Zucchini pickled salad
Pizza
Pizza toppings
1

cup

arugula

½

cup

cherry tomatoes, halved

¼

cup

fresh basil, chopped / chiffonade
---
Instructions
Preheat oven to 400°F with oven rack in top position.
Stir together vinegar, extra virgin olive oil, ¼ teaspoon oregano sea salt in a medium bowl. Stir in zucchini; let stand at room temperature for 10 minutes.
Prep pizza: Place two pizza crusts on a baking sheet and spread the olive bruschetta over them. Sprinkle evenly over the crusts the feta cheese, slices of tomato, red onion, and top with smoked red pepper flakes.
Bake on top rack until slightly crispy, following the box instructions. I baked it for 12 minutes. Remove from the oven and let cool for 2 minutes.
Add the Toppings: Top the pizza with arugula, the zucchini mixture (remove excess liquid), red onions, cherry tomatoes, basil, and a little extra feta cheese. Serve.
Notes
This pizza veggie pizza is very versatile. You can use any vegetable that is in season.
Besides our Olive Bruschetta, you can use any other pesto or bruschetta that you have on hand.
Remember to have a combination of cooked and fresh vegetables to add brightness to this pizza.
Prep Time:

15

Cook Time:

12

Category:

Appetizer

Method:

Bake

Cuisine:

Mediterranean
Keywords: vegetable pizza, cauliflower pizza crust, vegetarian pizza, low-carb pizza, healthy pizza, Mediterranean pizza, feta cheese, zucchini recipe, cauliflower recipe, olive bruschetta, pesto sauce, appetizer, easy pizza recipe, semi-homemade
Recipe Card powered by
Available via these affiliate links:
Disclaimer: Links that open in another site, i.e. Amazon, may be affiliate links where at no additional cost to you, we may receive a small commission should you decide to purchase the item. Read our Disclosure Policy.