Dominican Arepa Dulce de Maiz is a sweet cornmeal cake made with fine cornmeal, three kinds of milk (coconut milk, evaporated milk & whole milk), brown butter, raisins, pumpkin puree, brown sugar, cinnamon, and pumpkin pie spice. This Dominican dessert is also called Arepa Dominicana, Torta Dominicana or "Torta Cibaeña."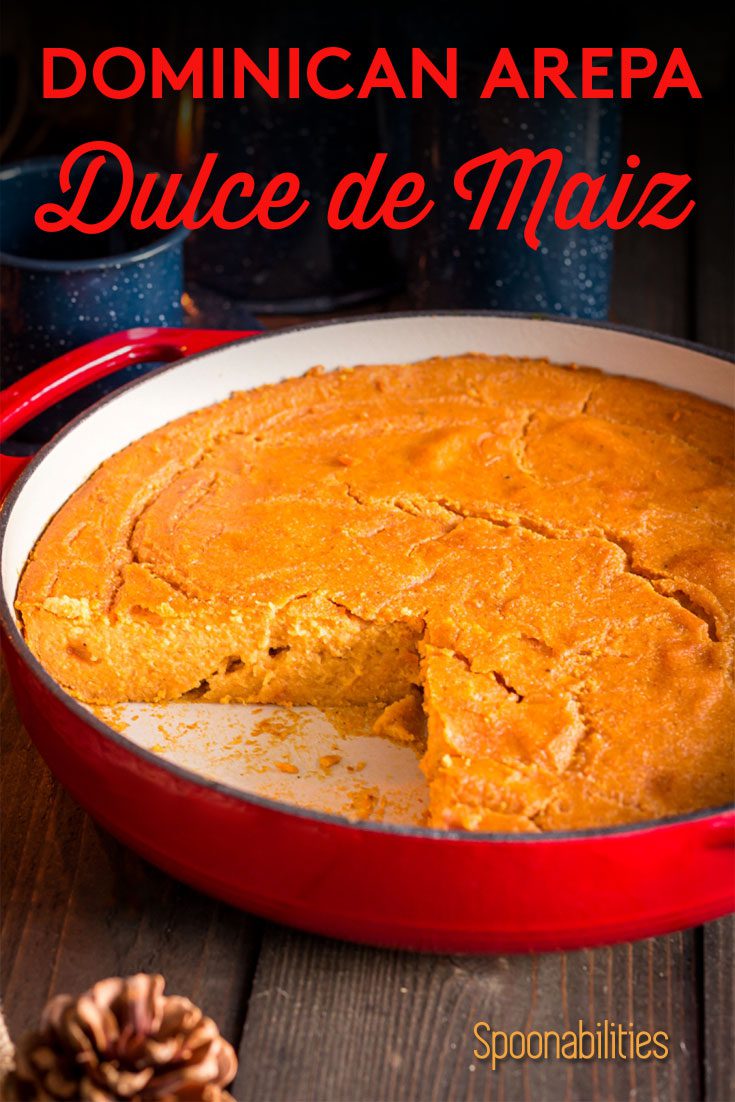 Blog post contains products you can purchase in our online shop, and affiliate links.
Read our Disclosure Policy
Hello my friends. I'm super excited to bring you one of my childhood favorite desserts, Dominican Arepa. There are two variations of this Dominican recipe: Arepa Salada, which is a Dominican savory cornbread; and Arepa Dulce de Maiz, which is the recipe featured in this post. You will find the name "arepa" is a ubiquitous dish in Latin American cuisine, but each country has its own variation. Still, the Dominican arepa is characterized by being sweet, moist, and dense with a cinnamon flavor and pieces of raisins. During this post, you may hear me referring to the Dominican arepa as cornmeal cake, arepa dulce de maiz (sweet cornbread), Dominican cornbread, torta Dominicana or Cornmeal Dominican Cake. They are all different names for this mouth-watering Dominican dessert.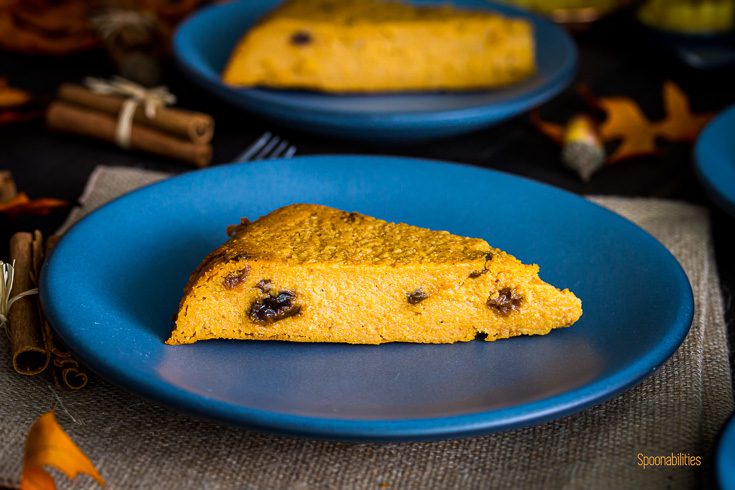 Not The Arepa You Think
In the United States, if you ask for an "arepa," most likely you will get the Colombian, Venezuelan, or central American version which is a plain corn disk either cut in half and filled with other food, or food is put on top similar to a Mexican chalupa.
I grew up eating both variations of the Arepa Dominicana, but my ultimate favorite is arepa dulce de maiz (sweet cornbread). The recipe I'm sharing with you today is inspired by the family recipe that my mother and grandmother used to make for us when I was a kid. However I made some additions to adapt it to the American Autumn culture like pumpkin, pumpkin pie spice and brown butter. The traditional recipe only has coconut milk and whole milk, but my mother likes to do this cornmeal cake using a combination of whole milk, coconut milk, and evaporated milk. So this is the same combination that I'm using in this recipe. Who am I to argue with mom, right? You will find that this recipe will have different variations from one region to another, and from one family to another, but the basics are always the same.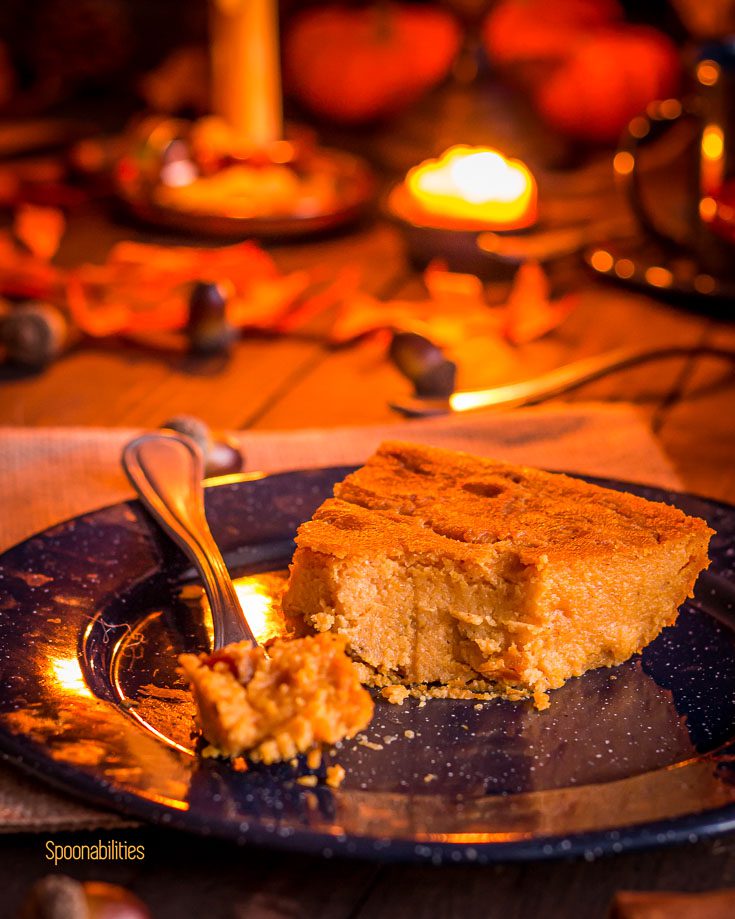 Even though this Dominican Republic recipe is a sweet version compared to other countries, we eat it for both breakfast and dessert. When I was growing up, I was more exposed to the Dominican savory cornbread version because my aunt Miguelina used to make that recipe every week, and she was well known for her arepas. I used to walk to her house during the weekend just to have a piece of that savory Dominican arepa with hot chocolate or coffee.
Making Torta Dominicana in an Anafe
The way my aunt Miguelina used to make this Torta Dominicana was in the anafe - a charcoal-burning stove which you could also describe as a portable stove heated with coal. The traditional way to cook the arepa is to light coal on fire in the anafe, and put the pot on top of the coals. The last part of the cooking process you put a lid on the pot and then put hot coals on top of the pot. The idea is to simulate an oven. This method is still being used in the countryside of the Dominican Republic.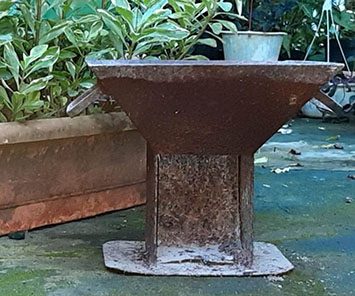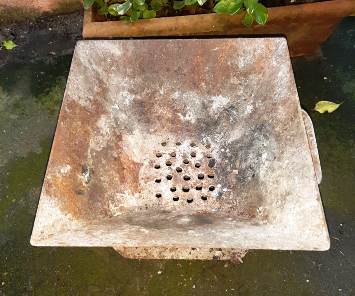 To be honest, when I started writing this Spoonabilities blog and recipes, I didn't know I would be making Dominican recipes because when I was living in my country, I didn't know how to cook except some simple desserts I made when I was a kid. I guess it was a sign of what I would be doing today. In my family everyone knew how to cook except me because I was spoiled by everyone. This year I decided to make more Dominican recipes because a surprising percentage of readers that come to Spoonabilities.com come looking for Dominican desserts. So thanks to you I have to pull out the dusty family recipe book and then of course add my own twists.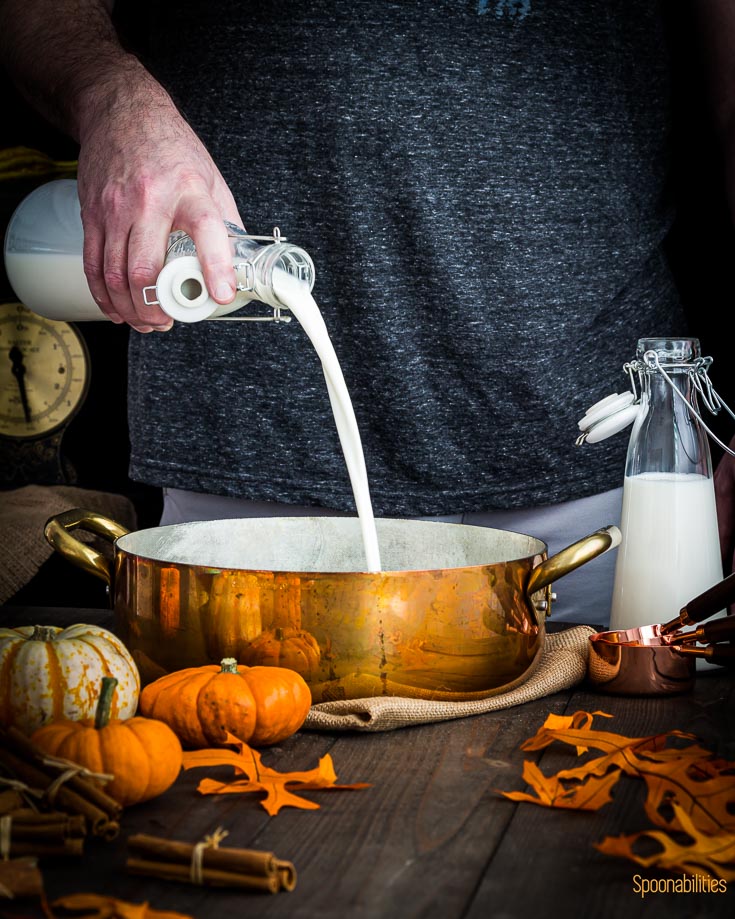 How to make Dominican Arepa Dulce de Maiz
Making Dominican Arepa is super simple with two main steps. For the first step, use a 3 quart pot and add the following ingredients: brown butter, cornmeal, whole milk, coconut milk, evaporated milk, pumpkin puree, salt, sugar, & pumpkin pie spice. After everything is combined well, add the cinnamon sticks. Heat the pot on the stove at medium heat. Keep continually stirring to prevent lumps or that the batter sticks to the bottom of the pot. You will be surprised that the batter gets thick pretty fast - the average time is around 5-7 minutes. When the mixture starts to boil, lower the heat and continue stirring until you reach a consistency like grits. Remove from the heat and take out the cinnamon sticks. Then mix the raisins with a teaspoon or two of flour, and stir them into the pot. The flour will prevent the raisins from sticking together and sinking to the bottom. Now for the second step, use a buttered enamel cast iron casserole dish, a glass baking dish, or even a cake mold, and add the cornmeal cake mixture. Bake at 350ºF for about 45 minutes or until a toothpick comes out clean.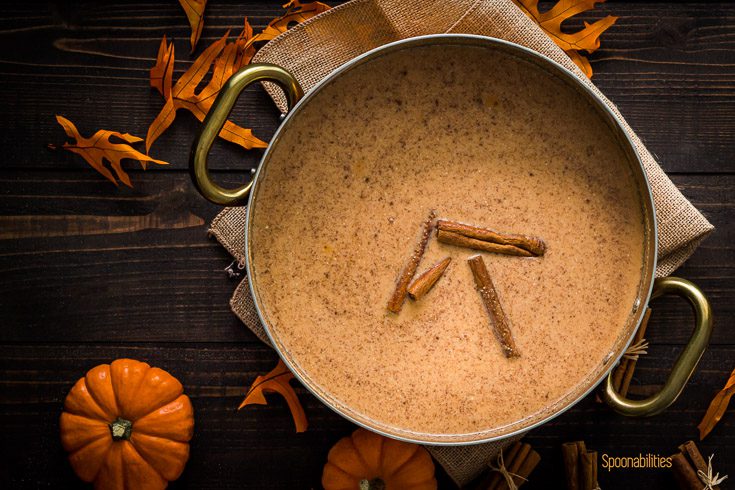 Is Dominican Arepa a One-Pot Recipe?
You can certainly use only one pot because this is how we do it in my country. But the only problem is that you won't be able to butter the pot before you put it in the oven. PRO TIP: I highly recommend waiting several hours after its done cooking before you decide to unmold the arepa. When the cornmeal cake is cold it is easy to get out in one piece. If not, you will have the same experience as me when I took it out while it was still warm and I was not able to get it out in one piece. I knew this might happen because I have done arepa many times in the past, but I was so anxious to take the photos before the natural light went away... and eat it.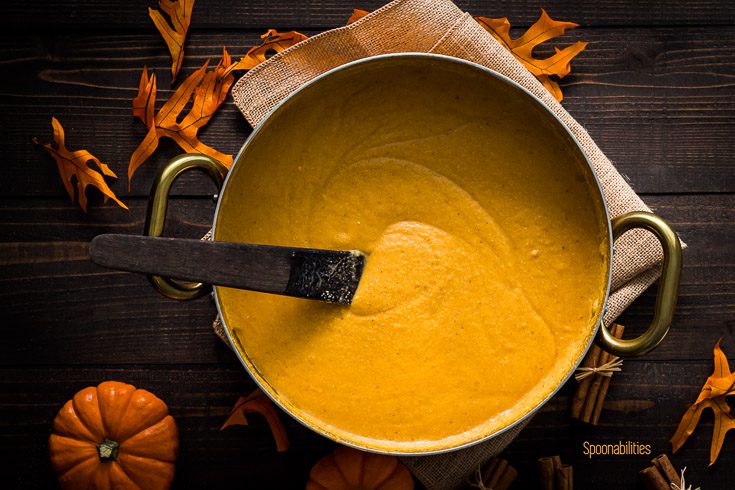 Dominican Arepa can be eaten at room temperature or even cold, but the best way is warm with a nice cup of coffee or hot chocolate. Geoffrey likes to put a little coffee creamer on top, but the cornmeal coconut cake is so moist that I don't think you need anything else.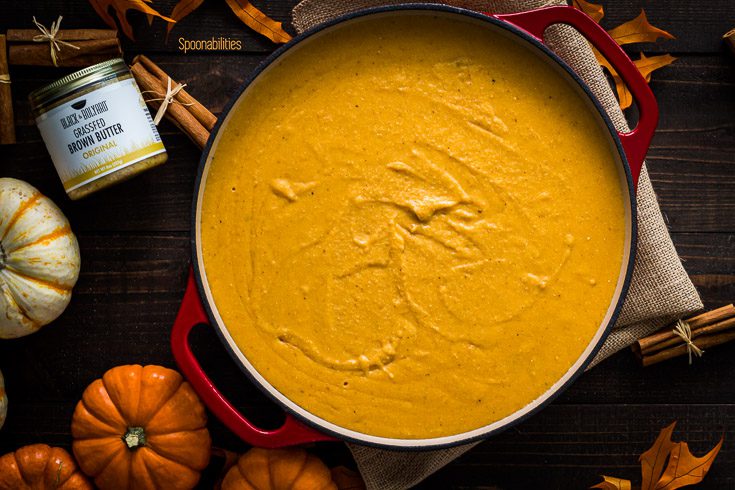 No Jars of Brown Butter Left Behind
As you may know, our motto here at Spoonabilities is "No Jars Left Behind." We want to make sure that you have ample recipes and ideas for every product in your refrigerator and pantry so that nothing expires or gets forgotten. You may also notice that for last week's recipe pumpkin pasta sauce as well as this week's recipe, I am using our new brown butter collection available at our online shop. I cannot tell you enough what a life-changing experience it is to have a shelf-stable product like this available all the time. The best part is that after you open the jar, you don't need to refrigerate this brown butter. You will find it just a spoon away to spread on bread or toast, or use in any of your cooking situations where butter is called for. Below are just a few of the many possibilities for using Black & Bolyard Brown Butter.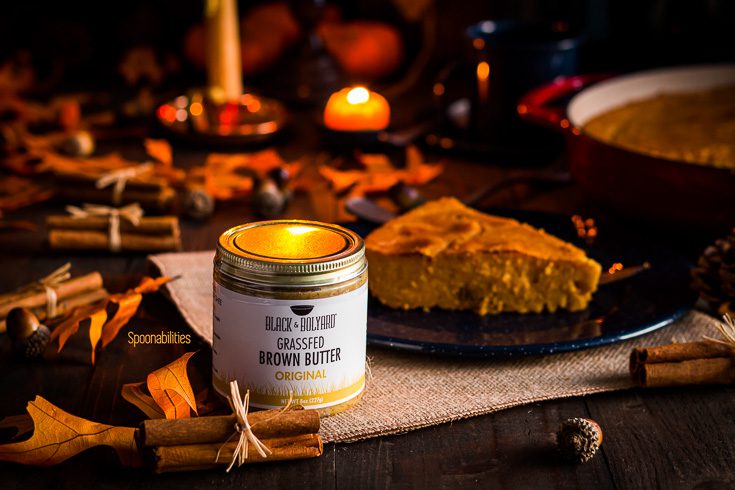 What can I make with Brown Butter?
Spread on toast along with your favorite jam or fruit preserve
Fry an egg
Sauté some veggies
Pan-fry chicken, fish or steak
Use in your next baking experiment where unsalted butter is used, like Peanut Butter Cookies
Mix in mashed potatoes, or try in Mashed Pumpkin-Cauliflower
For Thanksgiving, use it to butter the turkey with herbs
Cook with the Brussels sprouts or other vegetables
In the summertime, I use it for a cool dessert recipe called Caramel Corn Ice Cream with Vanilla Caramel Swirl
Use the brown butter as a sauce as a finishing touch over meat or fish
Add a spoon into warm rice or risotto, polenta, or any grain
If you are into experimenting, use brown butter in vinaigrettes or to make granola
Spread it on top of pancakes or waffles
Toast/bake some chickpeas with smoked paprika
Toss with popcorn
Make grilled cheese
Use as a dip for lobster or crab where you would normally use melted butter
Spread on bread for your lobster or shrimp po-boy, or any other sandwich
Roast potatoes or make croutons
The possibilities are limitless of how you can use Black & Bolyard Brown Butter.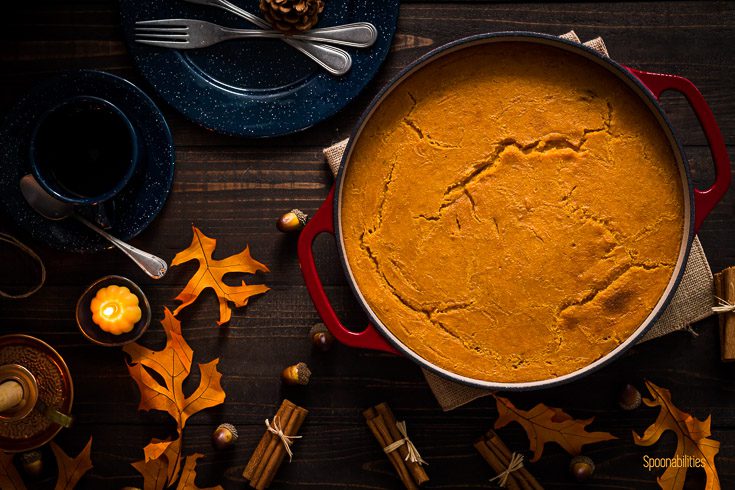 What does Arepa Dominicana taste like?
If I have to compare the Dominican Arepa with other desserts, I will say it is a combination of a cheesecake and a regular cake, with a similar texture of my pumpkin magic cake. This cornmeal cake is rich, dense, yet moist with a beautiful nutty touch from the brown butter, sweet but not overly sweet, with a very accentuated cinnamon flavor. The raisins give the perfect touch in every bite. For this recipe I added three ingredients to the traditional recipe in order to make a special arepa with a Fall vibe. Those special ingredients are the brown butter, pumpkin spice mix, and pumpkin puree.
More recipes from the Dominican Republic
Of all the Dominican Republic desserts, I know you will love this recipe. Tell me in the comments below what you think about this recipe – with 5 stars, I hope. Are you going to make it? I really want to know. It's easy, so you can do it. Share this recipe with your friends, and please tag us @spoonabilities and use the hashtag #Spoonabilities.
Wishing you Tasty Happenings,
Carlos Leo
Your Recipe Concierge!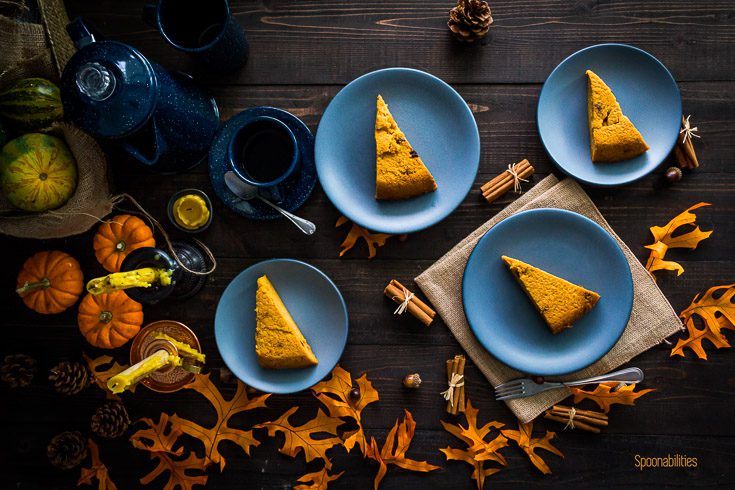 Print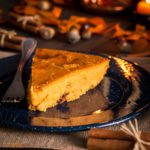 Dominican Arepa Dulce De Maiz | Cornmeal Coconut Cake with Pumpkin | Torta Dominicana
---
Author:

Carlos Leo

Total Time:

1 hour 2 minutes

Yield:

8

1

x
Description
Dominican Arepa Dulce De Maiz is a traditional dessert recipe from the Dominican Republic. This cornmeal coconut cake, also known as torta dominicana, is a moist, dense and sweet, almost pudding cake made with 3 types of milk, cinnamon and raisins. We take it to the next level with brown butter, pumpkin puree and pumpkin pie spice.
---
---
Instructions
Heat oven to 350ºF. Butter an enameled cast iron casserole or baking dish
In a large pot, add the whole milk, evaporated milk, coconut milk, pumpkin puree, brown butter, cornmeal, salt, sugar, and pumpkin pie spice. After everything is combined, add the cinnamon sticks.
Put the pot with the mixture on the stove over medium heat, stirring constantly to avoid sticking - about 5-7 minutes. The mixture will cook quickly, so don't take your eyes off the pot.
When the mixture starts to boil, lower the heat and continue stirring until you reach a consistency like grits. Remove from the heat, and remove the cinnamon sticks.
Mix raisins with a Tablespoon of flour and shake off the excess. This will prevent raisins from sticking to each other and sinking to the bottom of the cake. Add to the mixture and combine.
Pour mixture on previously buttered enameled cast iron casserole or baking dish and bake uncovered for about 45 minutes to an hour, or until a toothpick comes out clean. It should be golden brown on top.
Let it cool down to room temperature completely before removing from the pan. See notes
Serve with hot chocolate or coffee.
Notes
Bake in an enameled cast iron casserole, in a baking dish, or in a cake mold or spring mold.
Use fine cornmeal
I highly recommend waiting several hours before unmolding the arepa. When it's cold it is easy to get out in one piece. If you are impatient like me, expect not to have one nice round cake.
If you want a vegan option: use nut or soymilk instead of the whole milk and instead of butter uses a nut butter.
Vitamin A34%, Vitamin C18%, Calcium28%, Iron27%, Vitamin D39%, Vitamin B126%, Vitamin E3%, Vitamin K13%
Prep Time:

7

Cook Time:

55

Category:

Dessert, Breakfast

Method:

Stove & Oven

Cuisine:

Dominican
Nutrition
Serving Size:

1 slice

Calories:

585

Sugar:

54.4

Sodium:

254.8

Fat:

23.7

Carbohydrates:

89.9

Fiber:

4.9

Protein:

10

Cholesterol:

17.5
Keywords: Dominican Arepa, Dulce De Maiz, Cornmeal Coconut Cake, Torta Dominicana, Dominican Republic desserts, cornbread, dominican dessert
Recipe Card powered by
Available via these Amazon links:
Disclaimer: Links that open in another site, i.e. Amazon, may be affiliate links where at no additional cost to you, we may receive a small commission should you decide to purchase the item. Read our Disclosure Policy.