Peach Mango Rum Punch is this week's fruity paradise cocktail that comes in a pitcher, perfect for a party. This summery drink is infused with tropical and exotic flavor with an added touch of Thai flavor from lemongrass. Naturally sweetened from the peach and mango, and L'Abeille Occitane Provence Flowers Honey, this big batch cocktail is topped with club soda, and garnished with basil and a peach wedge.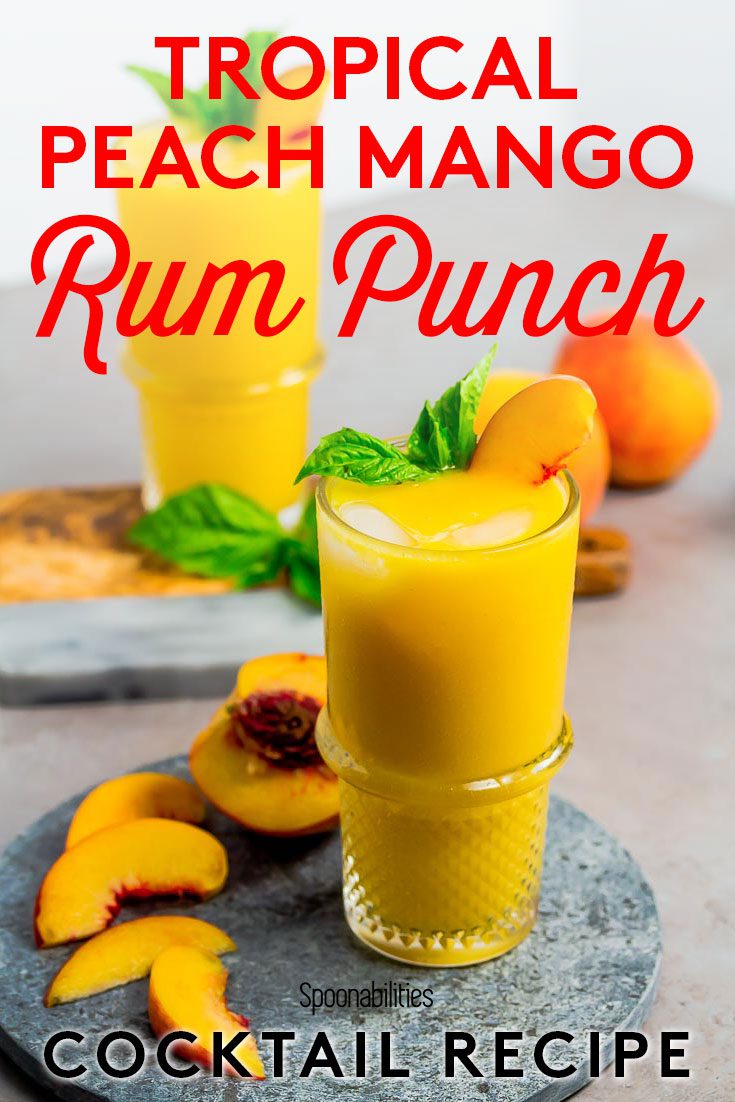 Blog post contains products you can purchase in our online shop, and affiliate links.
Read our Disclosure Policy.
Hello my friends.
Please take a minute and look at this picture, and I know you'll be tasting this rum punch already!
Every year, as soon as I feel the warm summer breeze on my face, I get the urge to make fun, colorful tropical drinks and share them with friends. It's the tropical bartender inside my head screaming for margaritas, mojitos, and of course, rum punch. I'm from the Caribbean, and we drink a lot of cocktails made with rum.
But you know me, and you know I love giving classic recipes a twist, and in this case, bringing a Thai feel to a Caribbean classic. You'll love the tropical peach mango rum punch, not only because it's d-lish, but because it's quite healthy-ish for a boozy drink.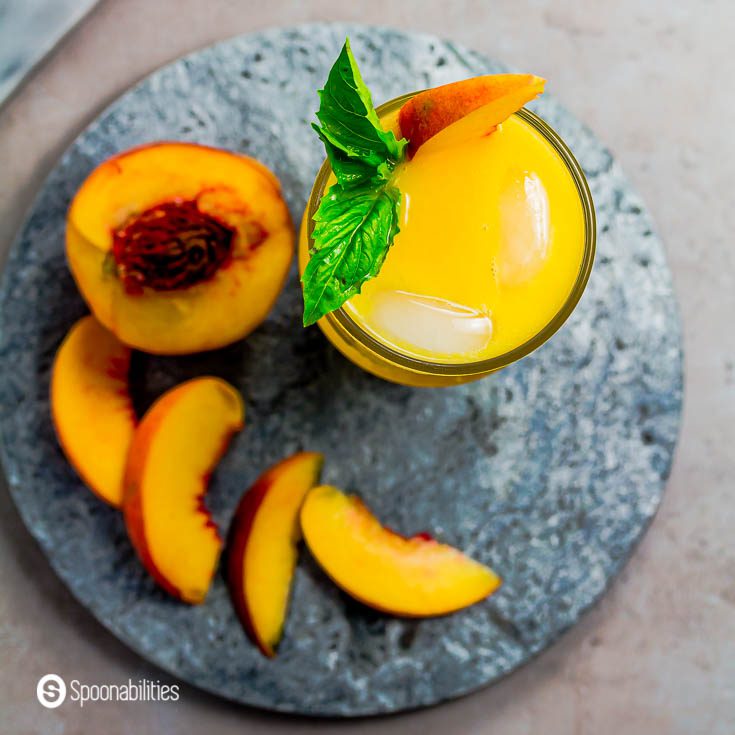 Is Peach Mango Rum Punch a Healthy Cocktail, really?
All-natural peaches have both high levels of soluble fiber and antioxidants. Fiber aids digestion and antioxidants in the form of beta-carotene, which your body turns into vitamin A, protects your eyes and boosts your immune system. Add to that a massive amount of vitamin C from the lime juice, and you won't feel so bad after a few rounds of the tasty drink. After all, what's a healthy lifestyle without some fun?
Do you know mango can help healthy digestion? Mangoes contain enzymes that aid the breakdown and absorption of protein. Also, the mango flesh contains prebiotic dietary fiber which helps feed good bacteria in the gut and keeps the digestive tract working efficiently.
We're also using honey as a sweetener, which is better for you than simple syrup. Proper honey, like L'Abeille Occitane Provence Flowers Honey, adds enticing flowery aroma to the drink, and you can buy it in our store!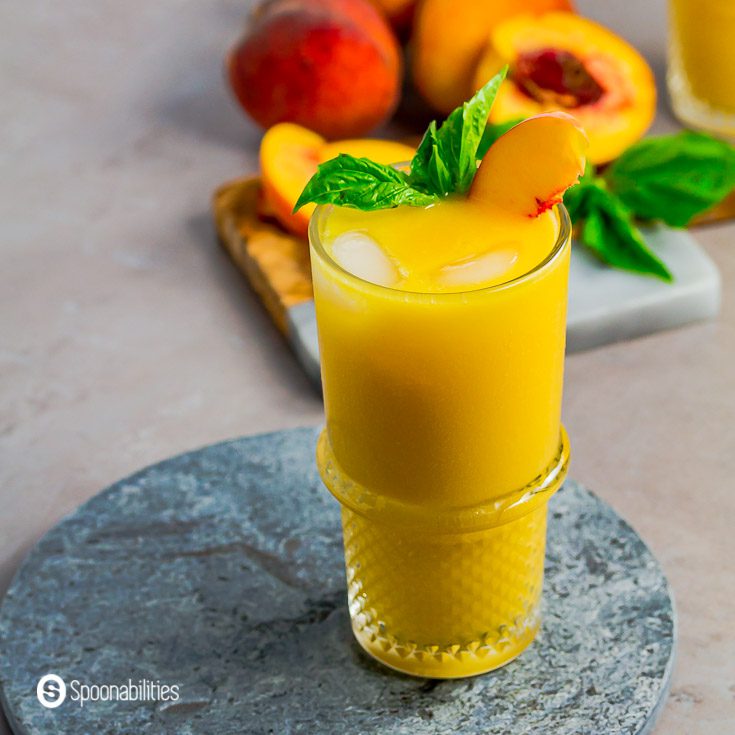 Thai Flavors Meet Caribbean Rum
Then we have the Thai ingredients, lemongrass paste, and sweet Thai basil as a garnish. If you cannot find Thai basil, use regular basil.
Although on opposite sides of the earth, the Caribbean and South East Asia have many similarities. It's the tropical climate and abundant fresh fruit; it's the need for refreshing drinks and the festive spirit of their people. Am I talking about the Caribbean, or Thailand? Exactly. At least that's what I was looking to imprint in this rum punch, and I hope you feel that connection, but you'll be the judge of that.
Like this recipe so far? Be the first to know when we release new ones!
---
What rum should you use?
Rum is one of the most complex spirit categories around because, unlike whiskey or gin, there are no rules.
Many tropical countries make rum: The Dominican Republic, Barbados, The Philippines, Guyana, Cuba, and Jamaica are the most quality-minded and accessible, so look for something from one of these countries. Haiti and Martinique Rums are entirely different spirits, they're distilled with the same prestigious process as Cognac, and you're better off enjoying these on the rocks. Never in a fruity cocktail.
Rum is then classified between white, aged, and spiced. And for this recipe, I recommend using something aged but not for long, and being from the Dominican Republic, of course I'm going to recommend Ron Barcelo Rum Anejo. You'll find different brands depending on where you live, so find a nice amber-hued rum, not too cheap, not too expensive, and you'll do just fine.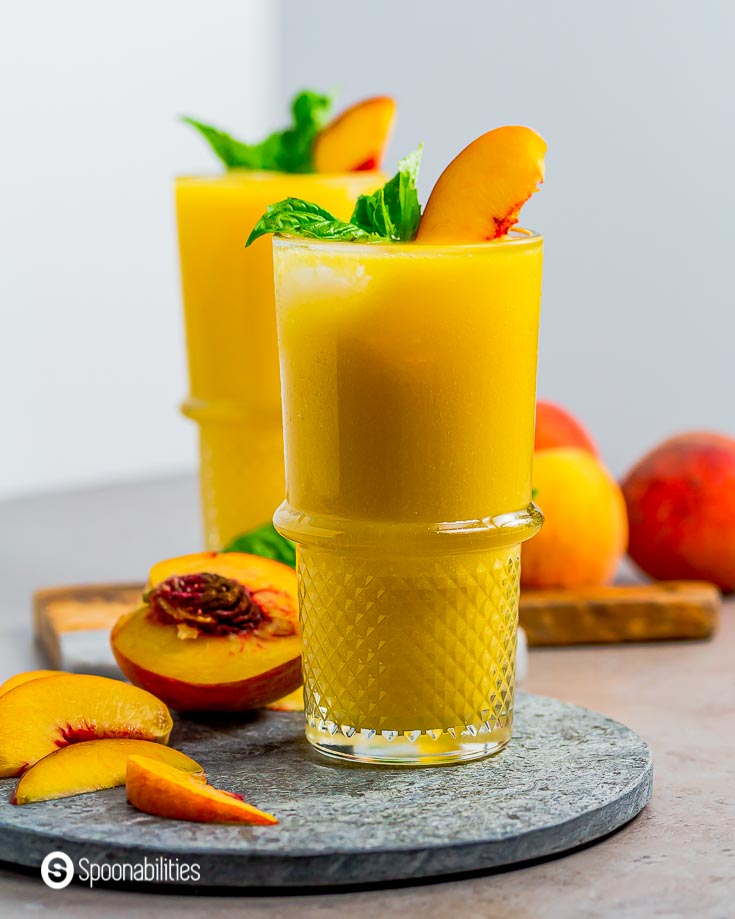 How to make Tropical Peach Mango Rum Punch
Making this rum punch is straight forward and easy to prepare. First, in a blender, combine peaches, mangos, lemon juice, water, honey, and lemongrass paste. Blend until smooth, about 1 minute. Pour the peach-mango mixture into a pitcher. Add the rum, top with club soda, and give it a quick stir. Serve in highball glasses filled with ice, and garnish with fresh basil and peach wedge or slice. If not serving right away, you may need to stir again before serving if it separates at all.
Looking for more Tropical Cocktail Recipes?
and if you have some leftover peaches, why not try a Chilled Peach Soup with Fresh Goat Cheese.
A Final Word of Advice: Tropical Peach Mango Rum Punch has the unique trait that it is meant to be shared. That's why it's always made in large batches. Tropical drinks bring people together and give everyone a much-needed break from the blistering sun. With this in mind, it's hard not to love summer! Let us know who you are sharing your rum punch with, and share your creation by tagging @Spoonabilities and using the hashtag #Spoonabilities.
Salud!
Carlos Leo
Your Recipe Concierge!
Print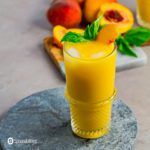 Tropical Peach Mango Rum Punch
---
Description
Peach Mango Rum Punch is a big batch tropical cocktail that you make in a pitcher. This summer drink is infused with tropical and exotic flavor, and is naturally sweetened from the fruits and L'Abeille Occitane Provence Flowers Honey, and is topped with club soda, and garnished with basil and peach.
Adapted from Cooking Light
---
---
Instructions
In a blender, combine peeled and sliced peaches and mangos, fresh lemon juice, water, honey, and lemongrass paste. Blend until smooth, about 1 minute.
Pour peach-mango mixture into a pitcher. Add rum and club soda. Gently stir until combined.
Serve in a highball glasses filled with ice. Garnish with fresh Thai basil or sweet basil.
Notes
We partner (affiliate links) with Drizly delivery service, so if you don't have the alcoholic ingredients you can have them delivered.
Drink responsibly. If you are under the legal drinking age limit for your state or country, this recipe is not for you. Sorry.
Prep Time:

10

Category:

Cocktails

Method:

blending

Cuisine:

Caribbean
Keywords: alcoholic drinks, tropical cocktails, Thai cocktails, large batch drinks, big batch cocktail, tropical drinks, cocktails in a pitcher
Recipe Card powered by
Available via these affiliate links:
Disclaimer: Links that open in another site, i.e. Amazon, may be affiliate links where at no additional cost to you, we may receive a small commission should you decide to purchase the item. Read our Disclosure Policy.