This lush pistachio ice cream is tasty and creamy. It has a blissful floral aroma and taste from the saffron and rosewater, and the pistachio flavor is fully achieved by using sweet pistachio cream. Find out what inspired me to make this ice cream recipe and how easy it is to make.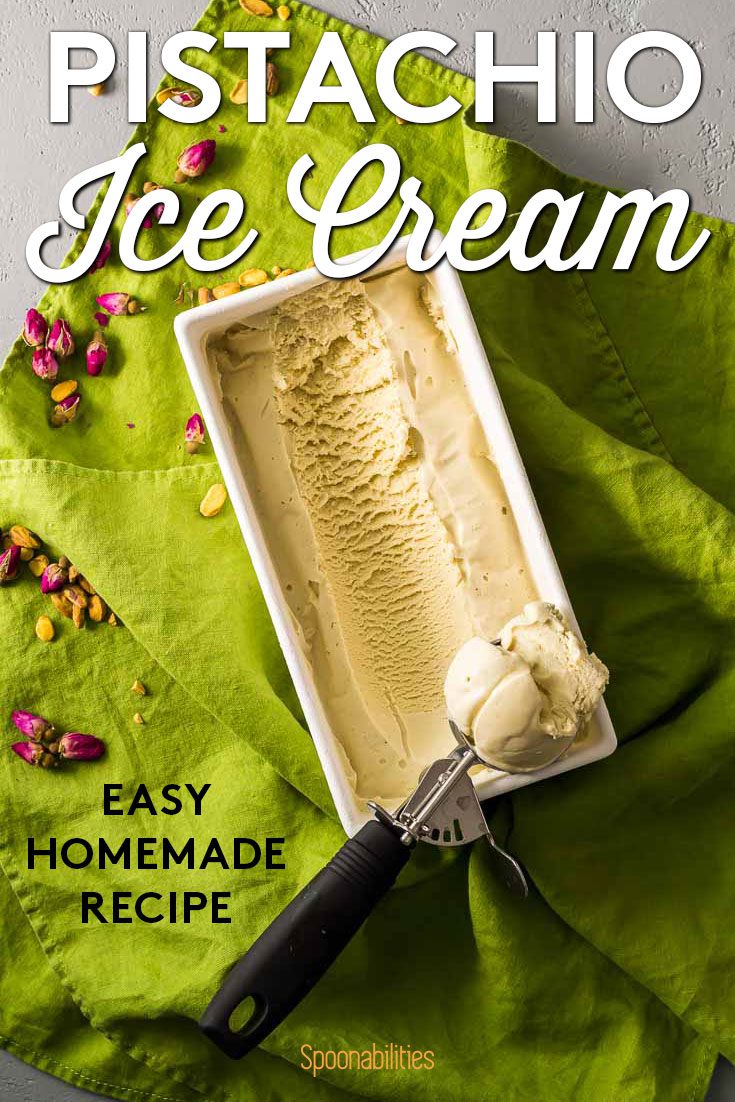 Blog post contains products you can purchase in our online shop, and affiliate links.
Read our Disclosure Policy.
Hello my friends.
The inspiration for this week's ice cream recipe comes from the Persian ice cream called Bastani. I developed a similar ice cream flavor last year, hoping to release the recipe this summer, but we stopped carrying the product used for that recipe. Luckily, early this summer we introduced a new product called Sweet Pistachio Cream, and as soon as I tasted it, I knew it would be perfect for this Persian inspired ice cream.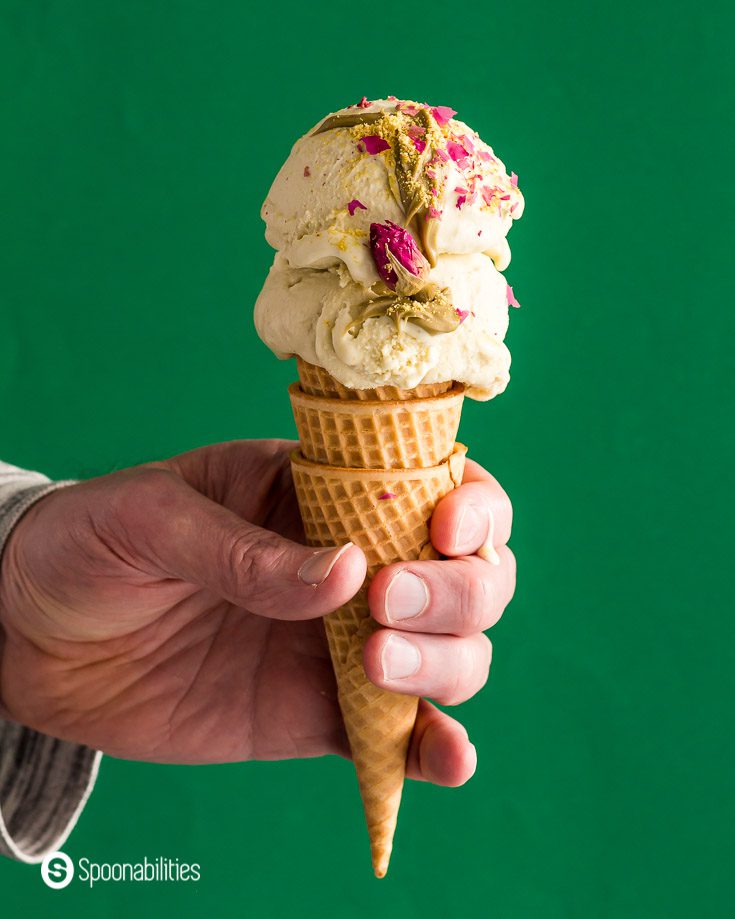 I first thought to incorporate the rosewater and the saffron into the ice cream base, and then after it churned use the sweet pistachio cream as a swirl. But when the pistachio cream touches the ice cream base, it freezes and won't have the swirl effect. So instead I mixed the pistachio cream when I was heating the ingredients, and by doing it this way the cream incorporates better into the base. And, the flavor of pistachio is more pronounced.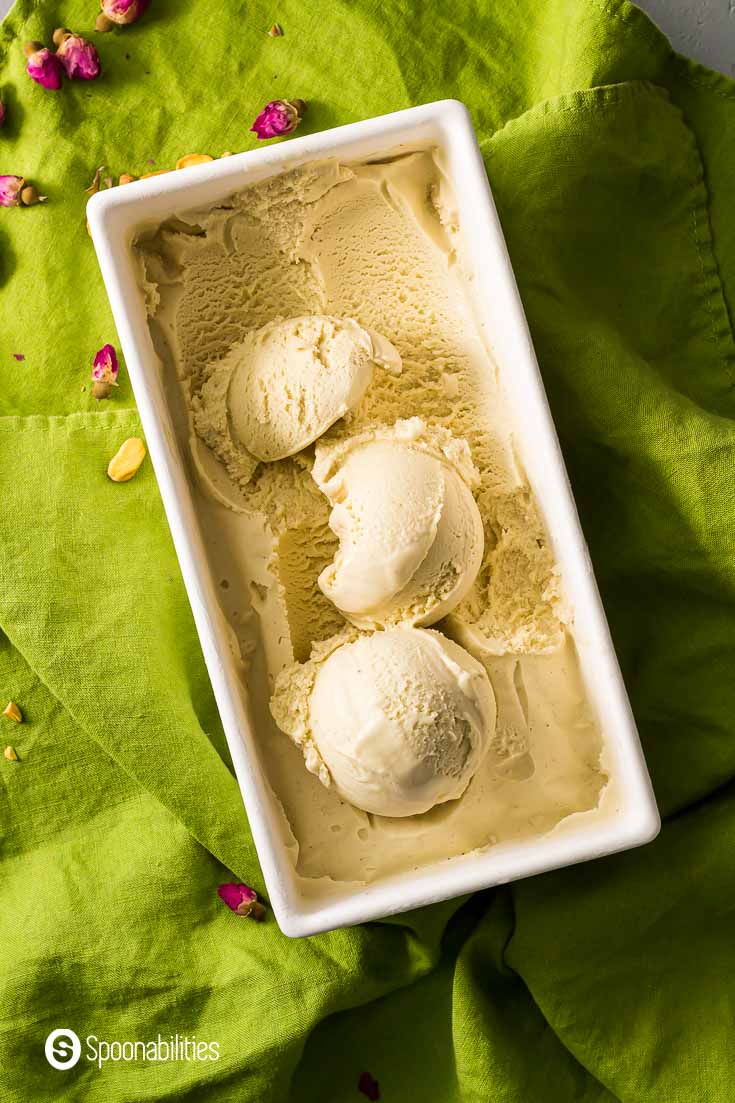 A Secret and Full Disclosure
I have to tell you a secret. I made a mistake making this ice cream, and I didn't realize it until I was typing the recipe preparing the blog (and tasted the ice cream). I can't believe that I misread my recipe, and didn't realize it until after it was completely made. Has this ever happened to you before? Full disclosure: the recipe calls for ½ cup of sweet pistachio cream, and somehow I used the wrong measuring cup and only put in ¼ cup. The final flavor of the pistachio was light, and the rosewater was too prominent.
Pistachio Ice Cream almost not a Pistachio Ice Cream
Guess what? This incident was the perfect excuse to make it again. I stopped the presses and re-tested the recipe with the ½ cup of sweet pistachio cream, and reduced the rosewater from 4 teaspoons to 3 teaspoons. Don't get me wrong; I could have left the ice cream how it came out the first time because I love the floral flavor, and it was PERFECT for my taste. But I decided to make it again because this is a pistachio ice cream recipe, not a rosewater ice cream recipe. Plus I need to be able to explain the final flavor to you, and have another excuse to eat more ice cream. Tough decision, right? 😊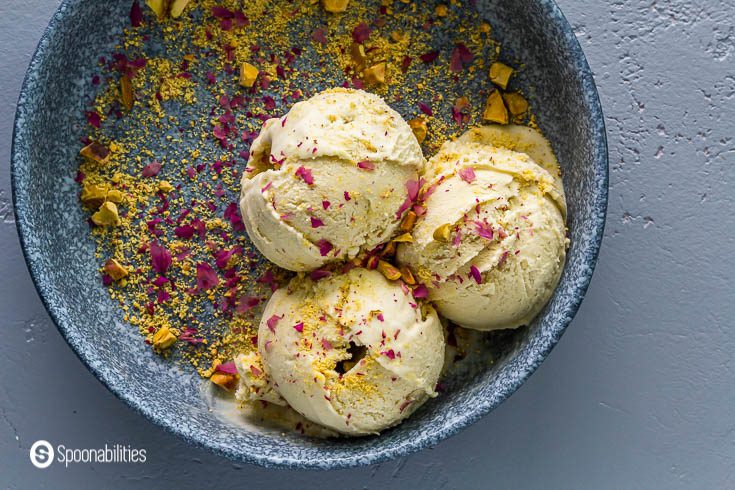 Like this recipe so far? Be the first to know when we release new ones!
---
Geoffrey says his vanilla ice cream base is easier to make because he doesn't have to heat anything. I do heat some ingredients, but only for a couple of minutes, and I make the whole ice cream base in under 5 minutes. I will tell you soon how I make it. Talking about the ice cream base, the traditional Bastani Iranian ice cream is made using milk, eggs, sugar, rose water, saffron, vanilla, and pistachios. They also use salep - flour made from orchid tubers. Bastani also contains flakes of frozen clotted cream. The ice cream base for this recipe however is eggless! You can read more about the ice cream base ingredients and why they create an excellent ice cream in the recipe Pear & Blue Cheese Ice Cream with Pear Preserves, Apricots & Honey.
How to make Pistachio Ice Cream with Rosewater & Saffron
First, measure your ingredient correctly, not like me.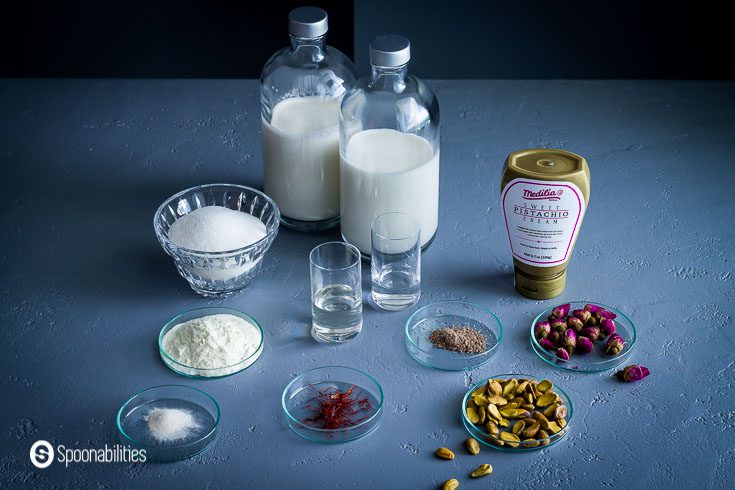 Then in a small bowl, mix the sugar, dry milk powder, xanthan gum, and cardamom.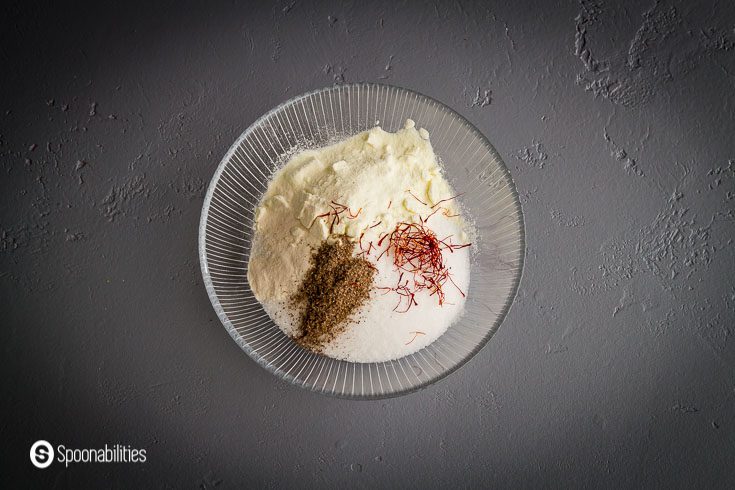 In a medium saucepan, add the milk, corn syrup, and the sugar mixture. Stir for a couple minutes and add the sweet pistachio cream and whisk vigorously until smooth.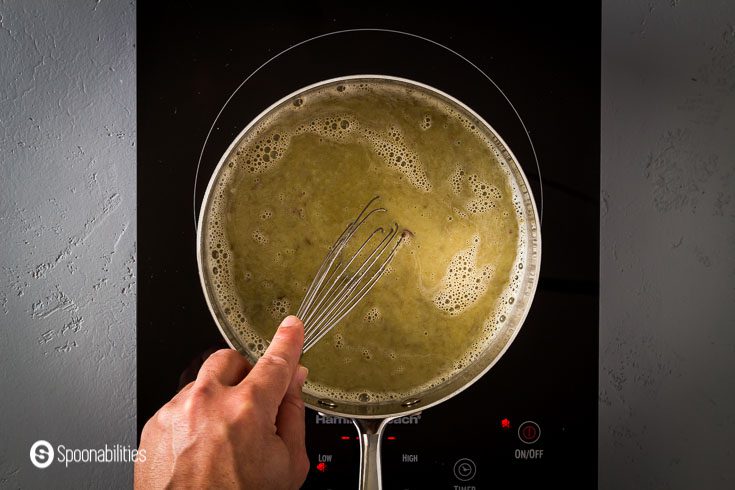 Remove from the heat and add the heavy cream and the rosewater. Whisk until it is thoroughly combined.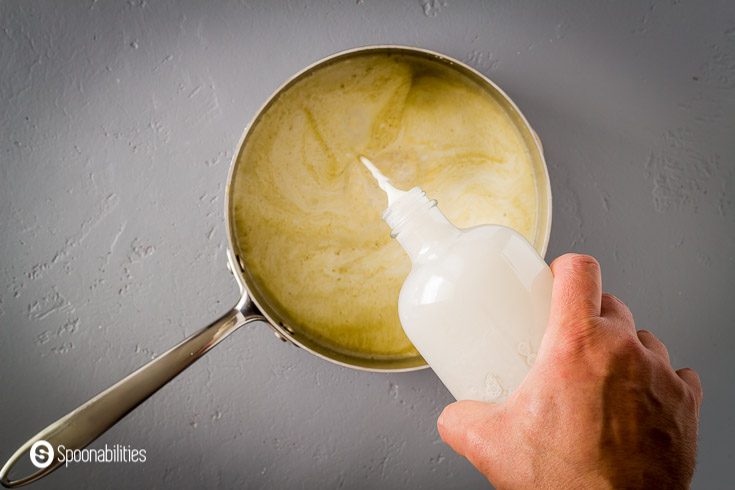 Strain the mixture through a fine-mesh sieve or colander into a 32 ounce deli container. Close with the lid and let the ice cream base "age" in the refrigerator overnight. This process will give the proteins in the milk time to relax. As a result, your ice cream will have a smoother texture and a more robust milky flavor.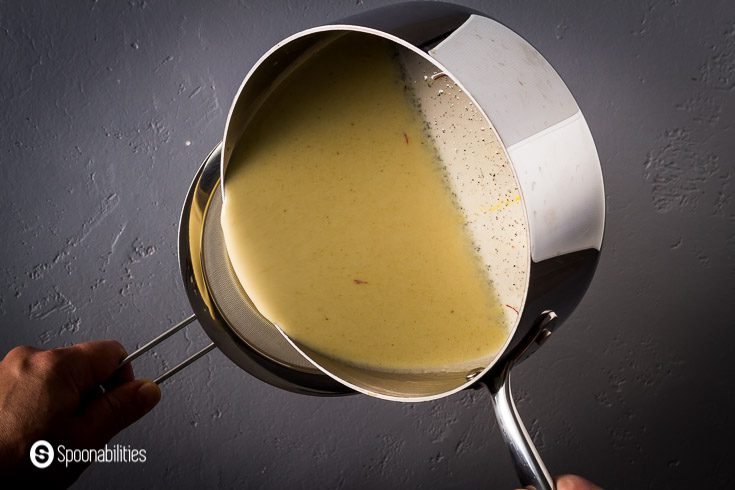 The next day, pour the pistachio ice cream base in the ice cream maker. Churn for about 25 minutes. Check your machine manual; each machine may have different times.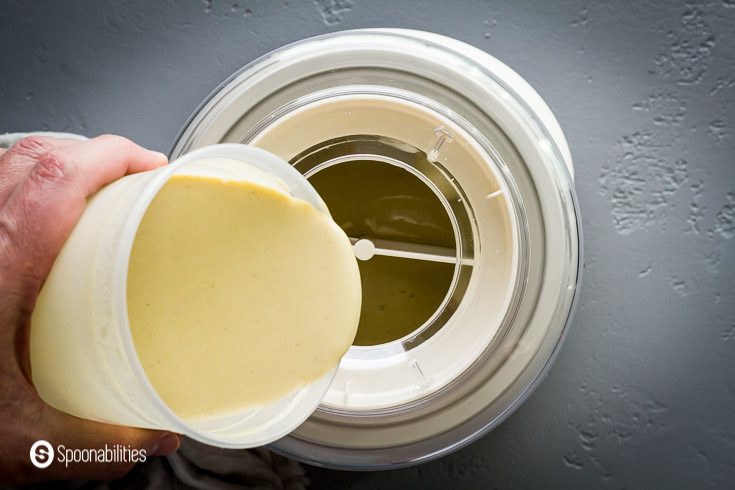 Store the ice cream in a freezer-safe container. Cover with parchment paper and place in the freezer for at least 8 hours or overnight.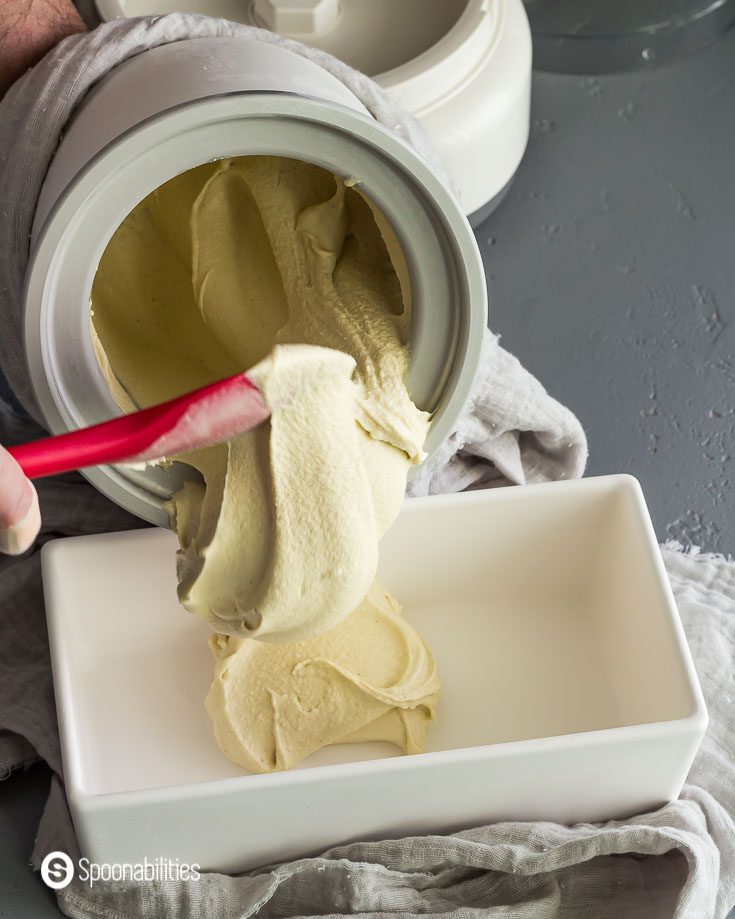 This pistachio ice cream looks and tastes so creamy and beautiful. The taste is sublime with the subtle flavor and aroma from the saffron and the floral essence from the rosewater. All those sweet-smelling flavors combine with the sweet pistachio cream to transport you to the Iranian culture. This Pistachio Ice Cream with Rosewater & Saffron is the ultimate summer treat.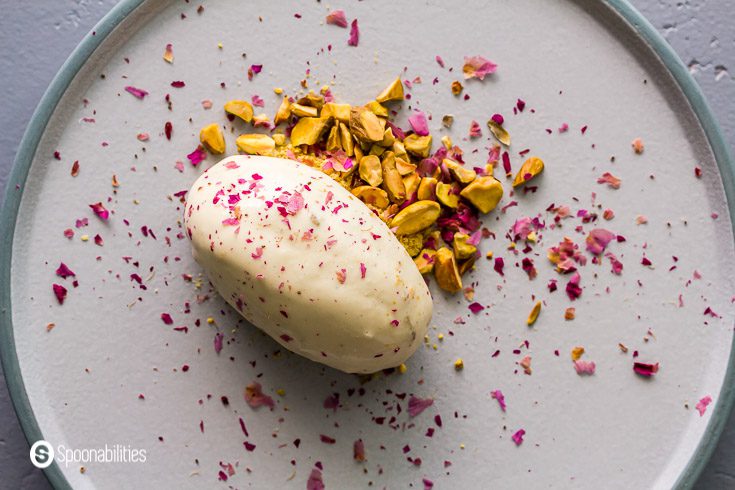 Ice Cream, Ice Cream; We Want Ice Cream
This week we have been eating a lot of ice cream, including the flavor for next week, which is toasted coconut brown butter ice cream. How does that flavor sound to you? Between last year and this year, we have about 12 different flavors of ice cream here at Spoonabilities. Here is the short list of my personal favorite ice cream flavors:
Let us know if you get to make this pistachio ice cream, or any of our other ice cream flavors. If pistachio is your jam but don't want to do ice cream, try your hand at our Pistachio Tiramisu Cake with Whipped Mascarpone Cream & Cardamom Syrup. No matter what you make today, share your creation with us by leaving a comment below or on social media tagging @Spoonabilities and using the hashtag #Spoonabilities.  We can't wait to hear from you!
Happy Ice Cream Month!
Carlos Leo
Your Recipe Concierge!
Print
Pistachio Ice Cream with Rosewater & Saffron
---
Author:

Carlos Leo

Total Time:

8 minutes

Yield:

6

1

x
Description
This creamy pistachio ice cream looks luscious and rich, and the floral aroma and taste of the saffron and rosewater blend with the sweet pistachio cream to transport you to the Iranian culture. Inspired by the Iranian ice cream called "Bastani," this ice cream is eggless with a more pistachio forward flavor including the use of Sweet Pistachio Cream.
---
---
Instructions
Combine the sugar, dry milk, saffron, ground cardamom and xanthan gum in a small bowl and stir well.
In a medium-size pot over medium heat, pour in the corn syrup and stir in the whole milk. Add the sugar mixture and sweet pistachio cream, and immediately whisk vigorously until smooth. Cook the mixture, stirring often and adjusting the heat if necessary to prevent a simmer, until the sugar has fully dissolved - about 3 minutes. Remove the pot from the heat.
Add the cream and rosewater. Whisk until fully combined. Strain the custard through a fine-mesh sieve into the bowl.
Transfer the mixture to an airtight container and refrigerate until well chilled, at least 6 hours, or for even better texture and flavor, 24 hours. Stir the base back together if it separates during the resting time.
Pour the mixture into an ice cream maker and turn on the machine. Churn just until the mixture has the texture of soft serve (20-30 mins).
Quickly transfer the ice cream into a freezer-friendly container.
Cover with parchment paper, pressing it to the surface of the ice cream so it sticks, and then cover with a lid. It's okay if the parchment hangs over the rim. Store it in the coldest part of your freezer (farthest from the door) until firm, at least 6 hours. It will keep for up to 3 months.
Serve with crushed dried edible roses, crushed pistachio, and more sweet pistachio cream.
Notes
If not using right away, the base can be stored in the fridge for up to 1 week or in the freezer for up to 3 months. Just be sure to fully thaw the frozen base before using it.
Prep Time:

5

Cook Time:

3

Category:

Dessert

Method:

Churn

Cuisine:

Iranian
Keywords: frozen dessert, Persian ice cream, Bastani, saffron ice cream, rosewater ice cream, summer treat, summer dessert
Recipe Card powered by
Available via these affiliate links:
Disclaimer: Links that open in another site, i.e. Amazon, may be affiliate links where at no additional cost to you, we may receive a small commission should you decide to purchase the item. Read our Disclosure Policy.