Mint iced tea has never been so exciting. We're infusing the crowd-pleasing summer drink with fresh strawberries, and it's gorgeous. We're also talking about how to handle fresh mint, the difference between peppermint and spearmint, and the best way to store fresh herbs.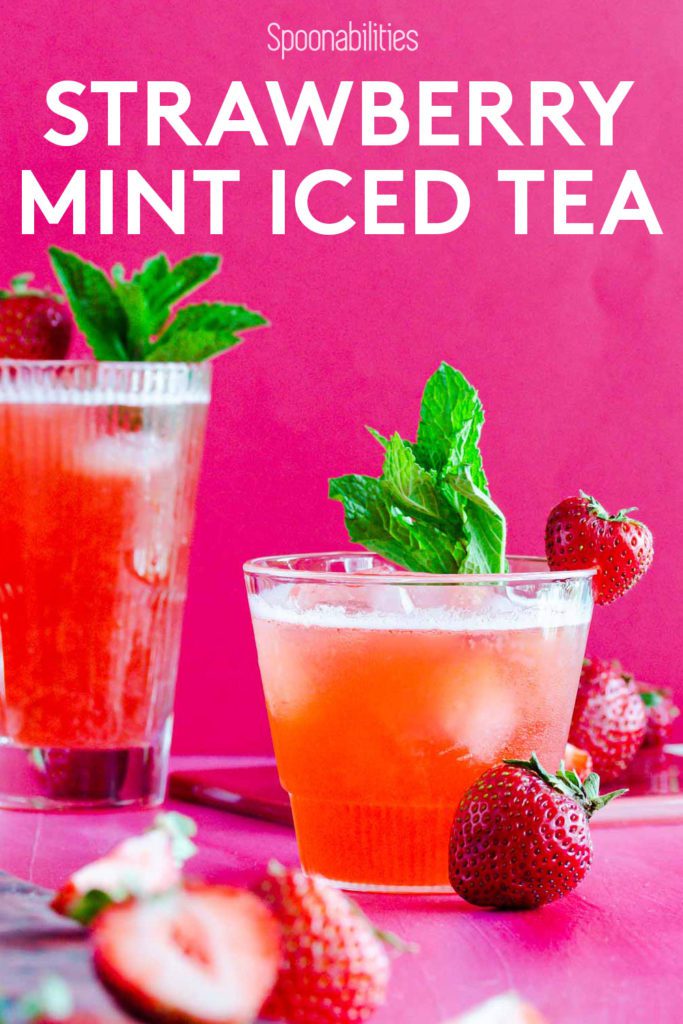 Hello my friends. Mint iced tea can take many forms, and our favorite is without a doubt, the strawberry mint iced tea. Strawberries make anything better, right? When fresh strawberries and peppermint sprigs come together, you get sweetness, tartness, and awesome herbal aromatics — just what you want in a drink: a big-batch pitcher of summer refreshment.
How do you make a large batch of sparkling strawberry mint iced tea?
Get your hands on fresh strawberries; they're easy to find all year round. You also need some fresh peppermint sprigs, and for a six-serving batch of this herbal tea, you'll need a cup of granulated sugar and sparkling water too. You want to cook the strawberries with the sugar to create a sweet purée that will later blend smoothly with the bubbly water. That's it! Check the recipe card for the step-by-step instructions.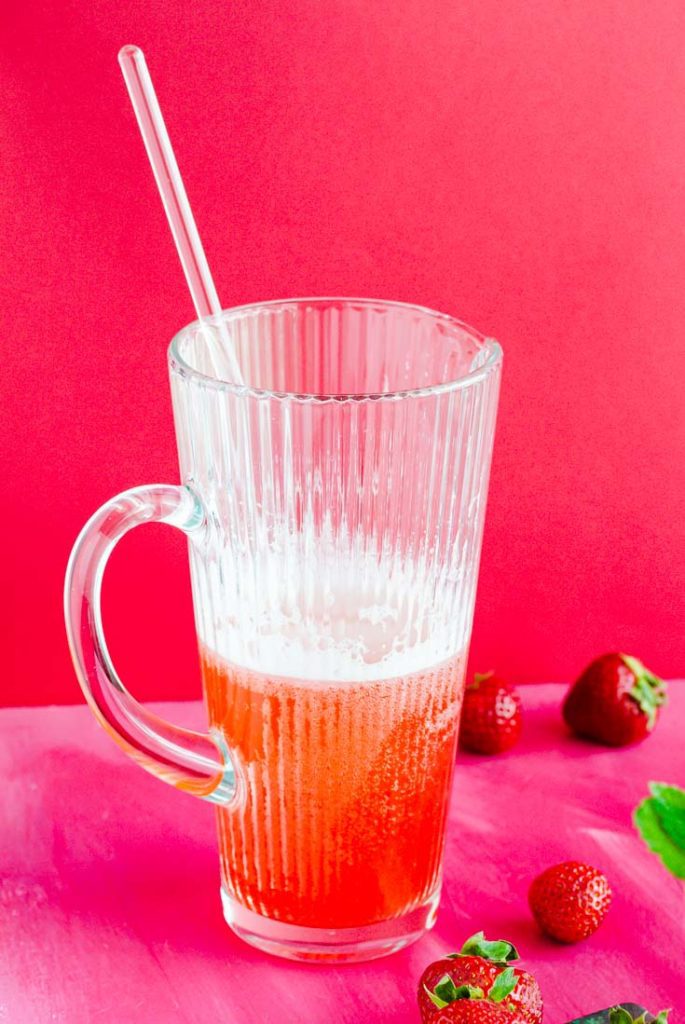 Infusing fresh mint into the strawberry mixture
The secret behind using fresh mint leaves is making sure they're fresh. Then slap them to release their aromatic oils. After that you can throw them into your strawberry purée for fantastic results. A fragrant and tasty, refreshing drink!
Why do we slap the fresh mint leaves before putting them in the strawberry mixture, you ask? Aromas in herbs come from the plants' oils, and that oil is trapped in the leaves' cells. By slapping the leaves with a good clap, you release those oils, making the herbs so much more aromatic. Try it with all fresh herbs, including the basil leaves you use to top your pasta.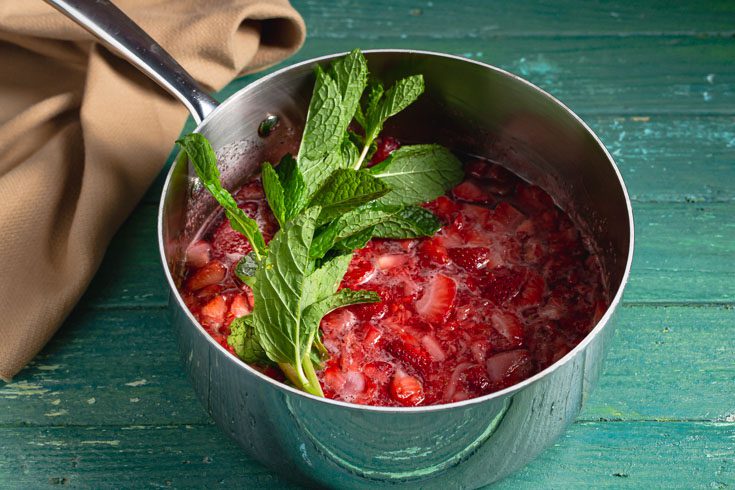 Like this recipe so far? Be first to know when we release new ones!
By the way, once you have the mint-infused strawberry purée, you also have a fantastic cocktail mixer for tropical, fruit-flavored cocktails, or even the beginnings of a yummy strawberry ice cream. For the cocktail, just add gin, vodka, or white rum, and you'll get yourself a strawberry-flavored, boozy drink!
Why is herbal iced tea good?
Is iced herbal tea good for you?
Does drinking unsweetened tea count as water?
Whoa, hold your horses. These are some most common questions around herbal iced tea, and these are the answers:
Yes, herbal iced tea is good because it's thirst-quenching and delicious. Herbal tea is also good for you because fresh ingredients are better than artificial flavors. Yes, you can hydrate yourself with unsweetened mint tea, but once you add the strawberries or sugar, you're talking about a sweetened drink, which has calories. So, it will add to your calorie count.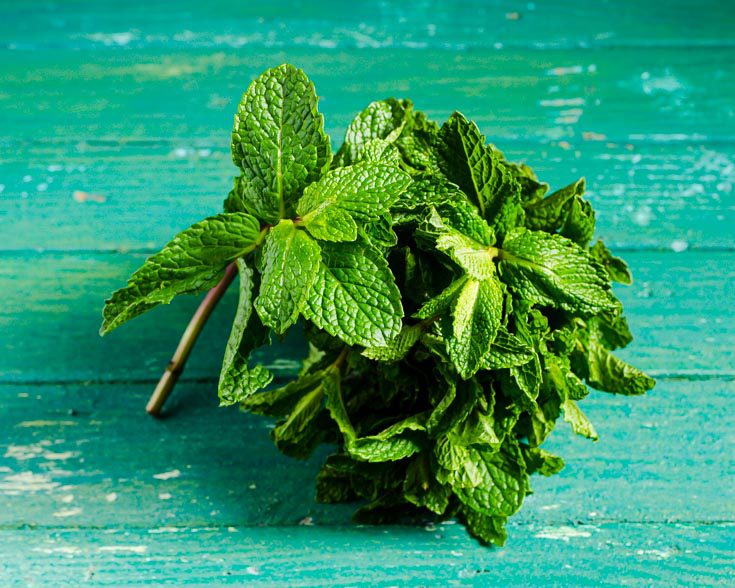 FAQs about Mint
What are the Benefits of Fresh Mint?
Mint leaves are good for your digestive health, relieve the symptoms of irritable bowel syndrome, and even improve your brain functions! Of course, fresh mint leaves alone are no substitute for any needed medicine.
What's the Difference between Peppermint & Spearmint?
Both these aromatic herbs are part of the mint family, and there's no significant difference between them besides their intensity. Spearmint's relatively mild flavor comes from the chemical ingredient carvone which is naturally found in most essential oils. Both have menthol in them, but peppermint contains a higher menthol content (40% versus .05% in spearmint).

Mint adds bright and bold flavor to your recipes. In savory dishes, spearmint is usually the herb of choice; however, peppermint is the favorite herb for sweet recipes as it pairs well with chocolate and citrus flavors.
How do you Make Mint Last Longer in the Fridge?
If you want to store mint leaves in the fridge, store them in an air-tight container covered with a paper towel. Vacuum-sealed bags are ideal but not necessary.
Another method I use is a glass filled with ¼ cup of water; place in the fresh mint sprigs and cover with a plastic bag on top. The plastic bag will protect the leaves from the cold air, and the water will keep the herbs fresh and hydrated.
How do you get the Best Mint Flavor out of Mint Leaves?
Just slap those fresh mint leaves before using them, or chop them coarsely, or muddle them in the bottom of the glass like you would do while making a mojito. This is no rocket science; just release those aromatic oils trapped in the leaves.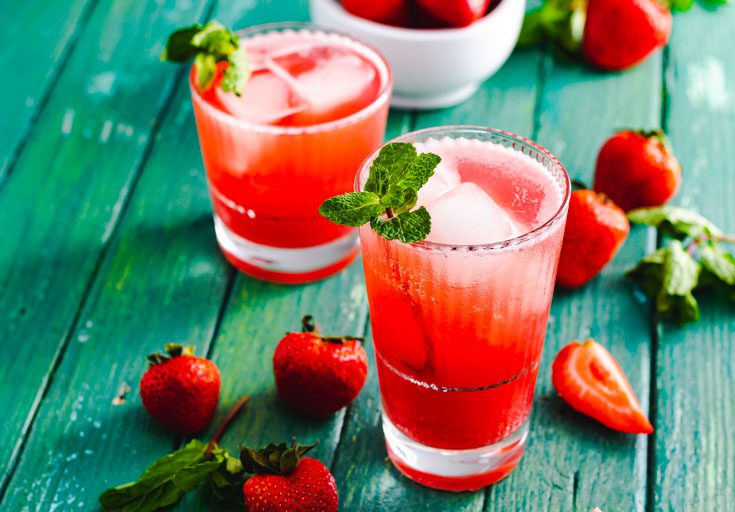 I hope you get a chance to make this Sparkling Strawberry Mint Iced Tea. You can never have enough iced tea recipes up your sleeve, and this strawberry mint iced tea will undoubtedly become one of your favorites!
Did you make this or another recipe? Tag @Spoonabilities on Instagram or add a photo or comment on Pinterest, so we can find you! And we love to hear from you in the comment section below.
Carlos Leo
Your Recipe Concierge!
More Fruity Drinks for the Summer
If you're thirsty for some more fun summer drinks and cocktails, check these out.
Print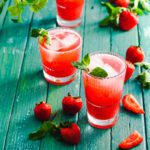 Sparkling Strawberry Mint Iced Tea
---
Author:

Carlos Leo

Total Time:

20 minutes

Yield:

6

1

x
Description
Fresh strawberries, mint sprigs, sugar and carbonated water are all you need to put together a pitcher of this summer favorite. Strawberry mint iced tea will keep you refreshed all summer!
---
2

cups

hulled and roughly chopped fresh strawberries

1

cup

granulated sugar

8

peppermint sprigs

6

cups

chilled sparkling water

6

fresh whole strawberries with tops
---
Instructions
Place strawberries and sugar in a small saucepan; smash or muddle using a bar muddler or wooden spoon. Cook mixture over low heat for about 5-7 minutes, stirring occasionally, until sugar melts.
Put each peppermint sprig in the palm of your hand, and give it a good slap to bring out the natural peppermint oil. Stir peppermint sprigs into strawberry mixture; remove from heat. Let to cool to room temperature, about 15 minutes.
Remove and discard peppermint sprigs from strawberry puree. Blend the mixture in a blender and then pour through a fine mesh strainer into a half-gallon pitcher. Stir in sparkling water.
Fill 6 highball glasses with ice; pour strawberry mixture evenly into glasses. Slice a small slit in each of the whole strawberries and garnish each glass rim with one of them, and/or a sprig of mint.
Prep Time:

15 minutes

Cook Time:

5 minutes

Category:

drinks

Method:

blend

Cuisine:

International
Keywords: carbonated Mint Tea, herbal tea infusions, summer refreshing drinks, big batch drinks, fizzy tea, fizzy iced tea, fizzy strawberry mint tea
Recipe Card powered by
Available via these affiliate links:
Disclaimer: Links that open in another site, i.e. Amazon, may be affiliate links where at no additional cost to you, as an Amazon Associate I earn from qualifying purchases, should you decide to purchase the item. Read our Disclosure Policy.