The ratio for traditional vinaigrette is a simple and fast recipe that is infinitely repeatable, and endlessly customizable. Once you nail the foundation for this vinaigrette, you'll be whipping up unique, homemade variations like a pro.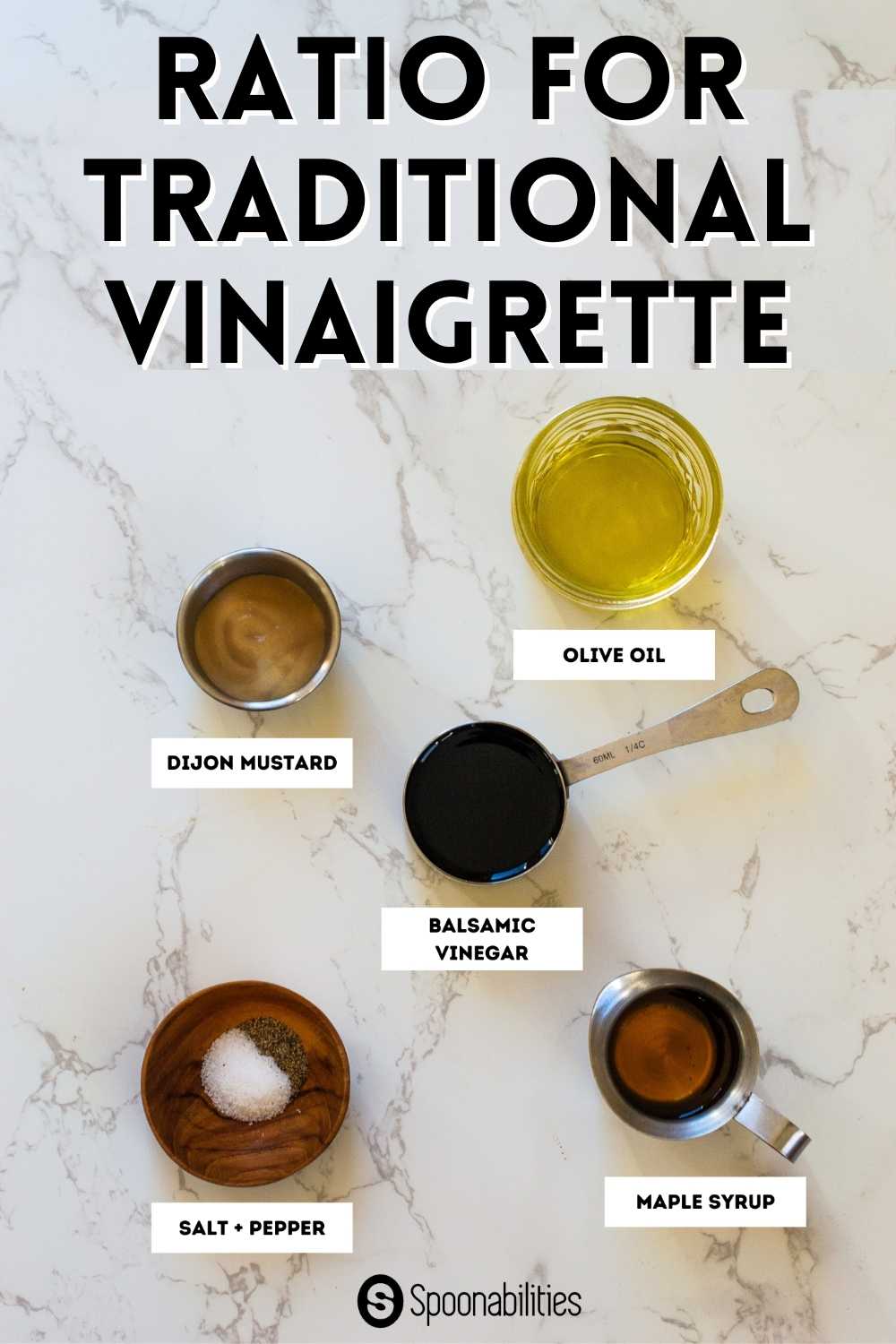 A vinaigrette will dress almost anything from tossed greens to grilled veggies, poached fruits to dips, marinades, and more.
The good news is that all vinaigrettes are founded on a pretty simple formula, which can be lightly modified to create thousands of delicious variations.
We spoke with Jasmine Mattey, who graduated at the top of her culinary school class, to better understand what makes a traditional vinaigrette tick. In this recipe, you'll find her thoughts, instructions, and a few pro tips on how to take the ratio for traditional vinaigrette and run with it.
Here are a few others that we've already tested and love. Use our Fig, Jalapeño Raspberry, Honey Mustard, and other vinaigrette variations as inspiration.
A Powerful Vinaigrette Formula
A traditional vinaigrette was one of the first recipes taught in my culinary school curriculum, probably because it's so flexible. If you can master this simple ratio, the possibilities of what you can create from it are virtually endless.
Whether you like to keep yours simple or pack it with new and unexpected flavors, vinaigrette can be the highlight of a wide variety of dishes.
The vinaigrette we know and love today dates back to 1694 France. But oil and vinegar dressings have actually been around much longer than that. There's evidence that the Babylonians were dressing their greens this way nearly 2000 years ago.
The Ratio for Traditional Vinaigrette
The ratio for traditional vinaigrette is 3 parts oil and 1 part vinegar, plus a dash of salt and pepper.
All of the ingredients are whisked together to create an unstable emulsion and served immediately. But who wants to remix their dressing every time they use it?
Thus the stable vinaigrette was crafted. It includes an emulsifying ingredient to keep the dressing combined. This addition also opened the door for tweaks to the ratio, exciting flavors, and surprising combinations.
The recipe I'll share with you uses equal parts oil and vinegar, an emulsifying ingredient, some seasoning, and a bit of sweetener. All your tastebuds will engage when introduced to this flavorful, umami-rich condiment.
My advice is to follow the basic measurements in the foundation recipe, first. Once you understand the basics then break all the rules! Experiment with your favorite flavors to customize a vinaigrette that's unique to you.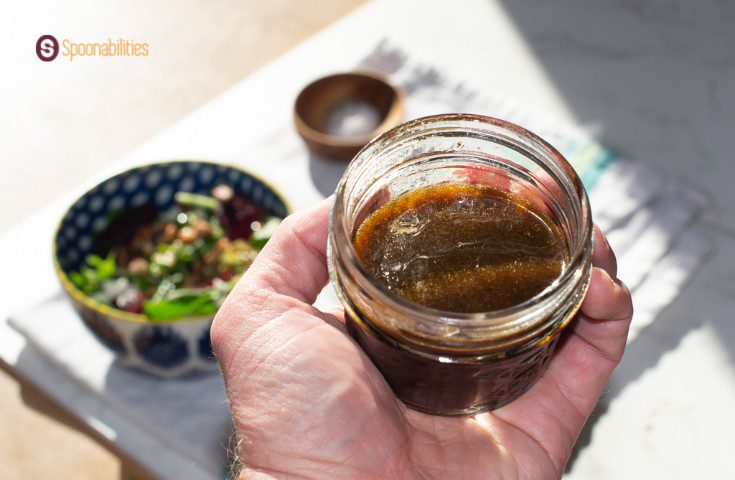 Traditional Vinaigrette Ingredients
Extra Virgin Olive Oil - Choosing an excellent olive oil doesn't have to be difficult. But remember, the quality of the oil will set the stage for the quality of the vinaigrette. That's why the guys at Spoonabilities love the LIA brand olive oil from Hellenic Farms.
Vinegar - The type of vinegar you use will drastically dictate the flavor of your vinaigrette. You'll often find Red Wine Vinegar or Apple Cider Vinegar in a traditional vinaigrette.
Dijon Mustard - This is the emulsifying ingredient in this recipe. Mustard includes a stabilizing compound, lecithin, which works to keep the vinaigrette combined. A traditional Dijon mustard will lend a tangy, slightly spicy nuanced flavor to a basic vinaigrette.
Honey - The perfect vinaigrette needs a hint of sweetness to balance out the vinegar's tang. You can't go wrong with classic honey, but you can experiment with other flavors too.
Salt & Pepper - All the best recipes need to be seasoned, and this vinaigrette is no exception. Keep it simple with some freshly ground black pepper and some pure sea salt.
For a satisfying gourmet taste, just about all these products you can get from Hellenic Farms, our Greek gourmet food partner, at a special Spoonabilities discount. And of course you can find the ingredients at your local supermarket.
Drooling over this recipe? Be first to receive new recipes!
Easy Vinaigrette Instructions
Whisk together all of the ingredients in a small bowl until well combined.
PRO TIP: Add all the ingredients to a lidded jar, and shake it vigorously for an easier way to incorporate and emulsify the vinaigrette.
Taste the vinaigrette and tweak the ingredients as necessary. For example, add more oil to lighten the flavor. Incorporate more mustard for a thicker, spicier dressing. Mix in more salt and honey, or add a combination of herbs and spices.
Use the vinaigrette to drizzle over salad greens, veggies, and fruits. Or, use it in dips, marinades, pasta or potato salad. The possibilities are endless.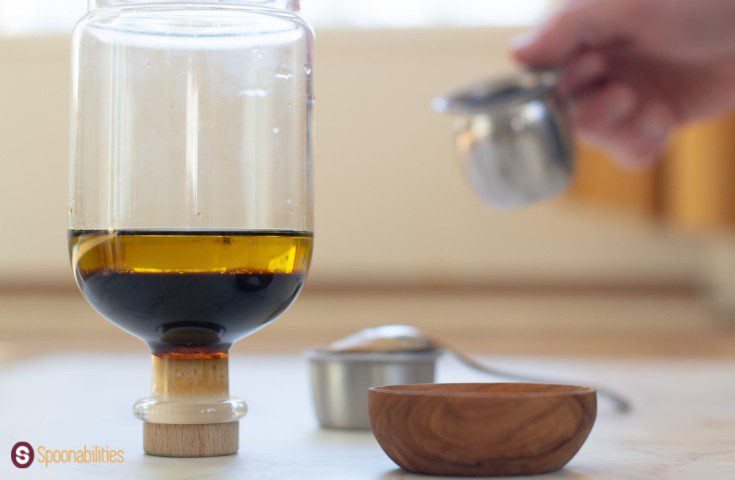 How to Fix or Adjust the Vinaigrette Flavor
This is truly a simple recipe with simple fixes. First, always taste your vinaigrette before pouring it over your salad or veggies. Then, tweak it as necessary.
How do I fix a vinaigrette that separates?
If you have an immersion or high-powered blender, you can whizz together the separated ingredients. Otherwise, begin by making a new emulsion of oil, vinegar, and mustard. Then stream the separated vinaigrette into the new base while constantly stirring.
What if my vinaigrette is too sour and tangy?
Quickly lighten overwhelming acidic flavors by adding more oil to the vinaigrette. Or, you can add a creamy element like blending in Greek yogurt or a ripe avocado.
How do I fix a vinaigrette that is too bitter?
Sweetness counteracts bitterness, so try whisking in more honey, or the sweetener you are using.
How do I adjust a vinaigrette that is too salty?
An extra dollop of sweetener will balance out the salty flavor.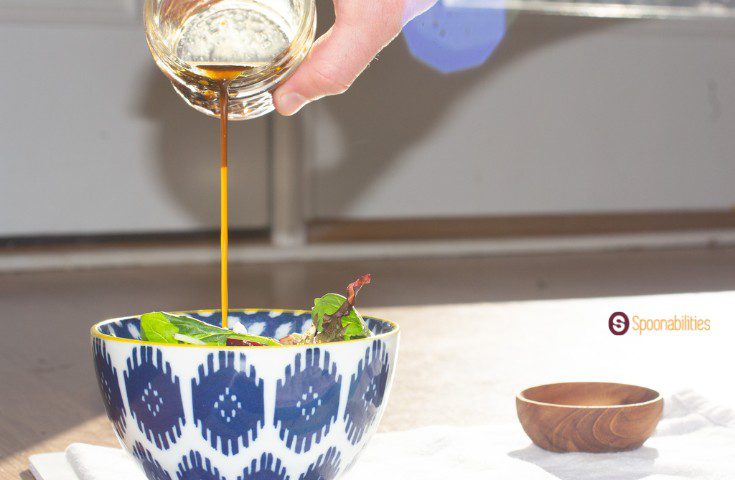 Experiment With Vinaigrette Variations
As long as you keep the ratios the same, you can substitute and swap out any of the components in this recipe. With an endless list of possibilities, you'll never get tired of this tried-and-true recipe.
Use Another Vinegar - There's a wide world of vinegar out there - wine vinegar, fruit vinegar, rice vinegar, and more. My favorite vinaigrette uses Balsamic vinegar. Try new flavors, and you might discover a new favorite combo.
Try a Different Mustard - Experiment with different mustard flavors for an easy way to customize your dressing. For example, Raspberry Wasabi Mustard or Smokey Onion Mustard are surprising and delicious in a vinaigrette.
Swap the Sweetener - Aside from swapping out the flavor of honey, you could change up the sweetener altogether. Maple syrup, date syrup, and even agave all work well.
Experiment with Flavored Salts - There are plenty of unique salt blends to flavor your vinaigrette, from Paprika or Smoked Beechwood, to Turmeric, Sesame and other herby blends.
Add Herbs - Try adding your favorite dried herbs and spices. Oregano, rosemary, or smoked chili flakes are excellent options. Or toss in some minced garlic, a splash of lemon juice, or a spoonful of your favorite jam.
Again, follow the basic measurements in the recipe below. Once you understand the basics then break all the rules! Experiment with your favorite flavors to customize a vinaigrette that's unique to you.
But do tell us what you create by leaving a comment below, and if you share your unique vinaigrette on your favorite social media platform, please tag @Spoonabilities on Instagram or comment on this Pin.
We can't wait to see what you come up with!
Print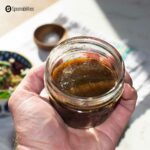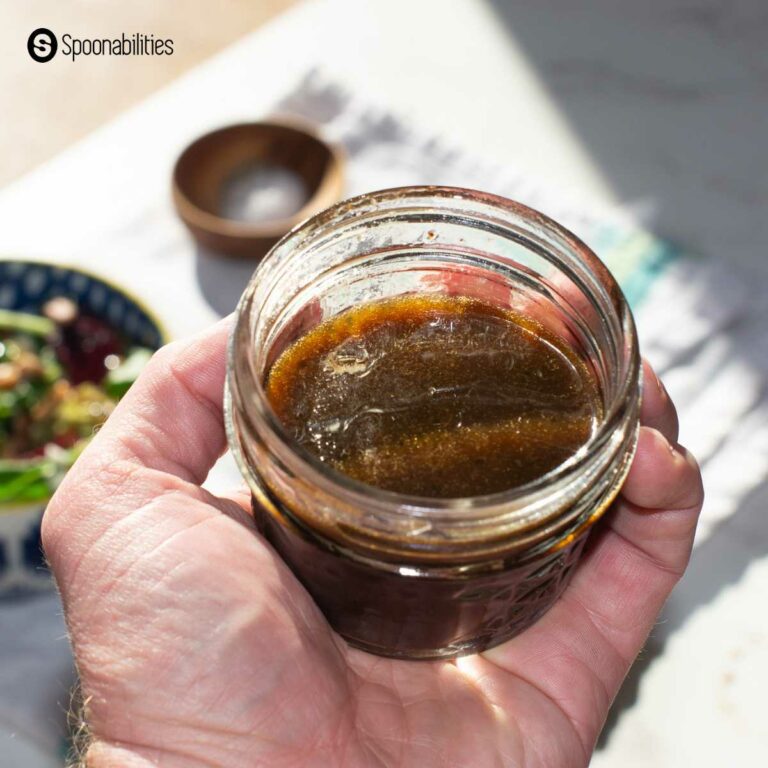 The Perfect Ratio For A Traditional Vinaigrette
---
Description
A traditional vinaigrette with the perfect ratio is simple, fast, infinitely repeatable, and has endlessly customizable options.
If you like this recipe, why not join our newsletter to know about future ones.
---
---
Instructions
Whisk together the olive oil, vinegar, mustard, honey, salt, and pepper in a small bowl until well combined.
Taste the vinaigrette and adjust the seasoning to your liking, adding more salt, pepper, honey, or vinegar as needed.
To use the vinaigrette, simply drizzle it over your favorite salad greens and toss it to coat.
Notes
You can also add other ingredients to your vinaigrette, such as minced garlic, chopped fresh herbs, or a splash of lemon juice.
Prep Time:

5 minutes

Category:

salad dressing

Method:

whisking

Cuisine:

French
Keywords: salad dressing, perfect vinaigrette, versatile salad dressing,
Recipe Card powered by
Available via these Amazon links:
Disclaimer: Links that open in another site, i.e. Amazon, may be affiliate links where at no additional cost to you, we may receive a small commission should you decide to purchase the item. Read our Disclosure Policy.