When it comes to making salads, one of the most important elements is the dressing. A good salad dressing can take a simple salad to the next level adding flavor, texture, and nutrition. One of the best salad dressings to try is honey mustard vinaigrette, which is not only delicious but also easy to make. In this recipe post, we will show you how to make a butter lettuce and pear salad with honey mustard vinaigrette, a perfect recipe for any occasion.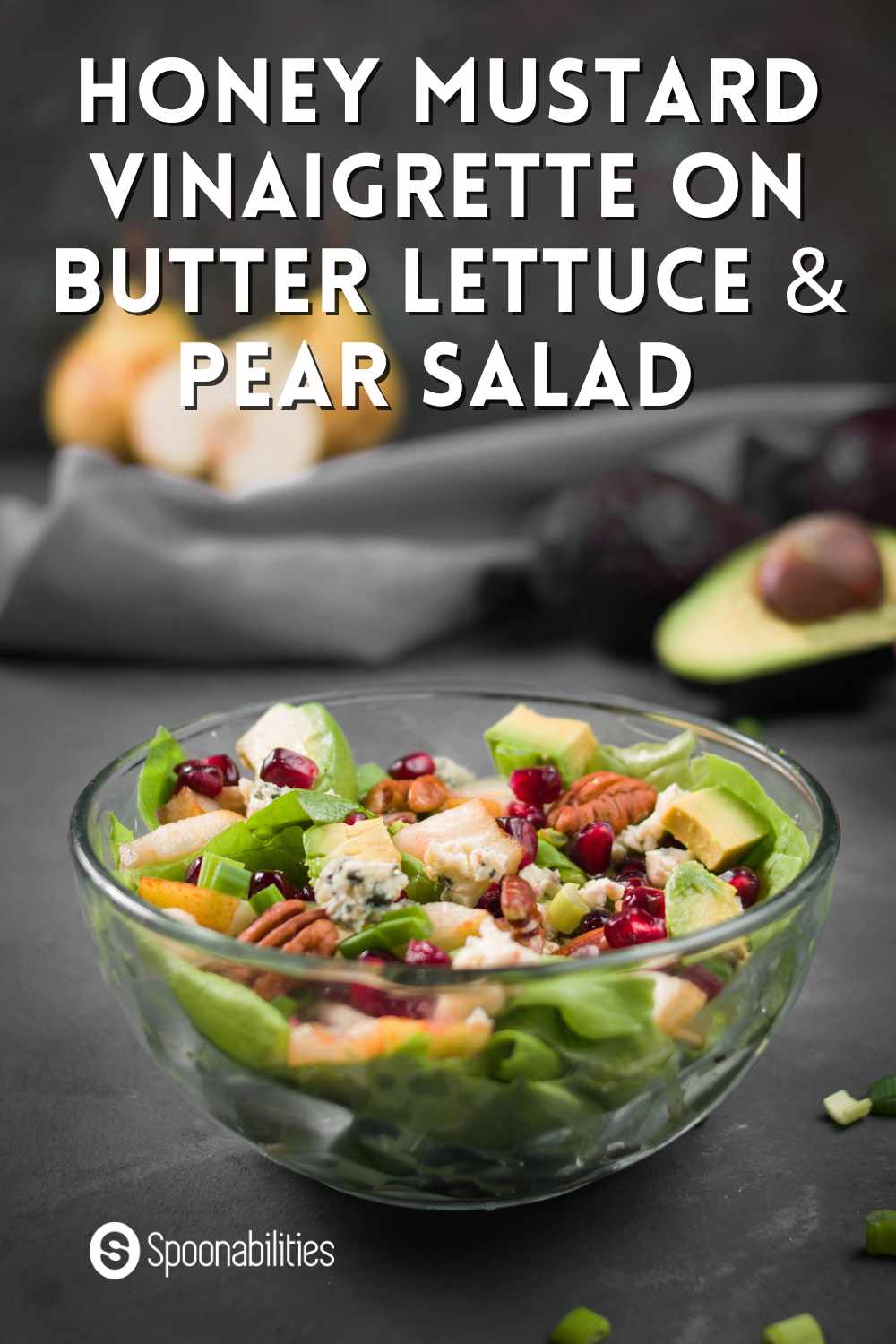 Hello my friends. I like eating salads, but I love comfort food like mashed potato or pasta:). The best way to be excited about salad is playing with seasonal produce and fruits, adding crunchy toasted nuts, and experimenting with unusual combinations of flavors beyond the ratio of a traditional vinaigrette. But first, in case you're not sure, let's discuss vinaigrettes.
Jump to:
What is a Vinaigrette?
Basically, a vinaigrette is a type of salad dressing that's made by mixing oil, vinegar, and seasonings together. Vinaigrettes are emulsions, the apparently impossible combination of oil and water, or in this case, vinegar. Three parts of oil to one part of vinegar is a classic way to add flavor to salads, and it's really easy to make at home.
You can customize the flavors to your liking by using different types of vinegar, like balsamic or apple cider, and different types of oils, like olive oil or avocado oil, and it's the herbs and spices that make vinaigrettes unique. Vinaigrettes are a great alternative to bottled dressings, which can be full of preservatives and additives. Plus, they're generally healthier since you can control the ingredients and the amount of added sugar.
Benefits of Honey Mustard Vinaigrette
Honey mustard vinaigrette is a healthy and flavorful salad dressing that can add a lot of nutrition to your salad without adding extra calories or unhealthy fats. This dressing is made with high-quality ingredients such as honey, mustard, extra virgin olive oil, and apple cider vinegar, which provide a range of health benefits.
For example, honey has antibacterial properties and is an excellent source of antioxidants, while mustard contains minerals such as magnesium and selenium. Olive oil is high in heart-healthy monounsaturated fats, and apple cider vinegar is a natural appetite suppressant.
When it comes to making a healthy and flavorful honey mustard vinaigrette recipe, it's essential to balance the flavors of sweet and tangy. You can do this by using the right ratio of honey, mustard, and vinegar, and by adding a pinch of salt and pepper to taste. The dressing should be emulsified, meaning that the ingredients are evenly mixed and blended.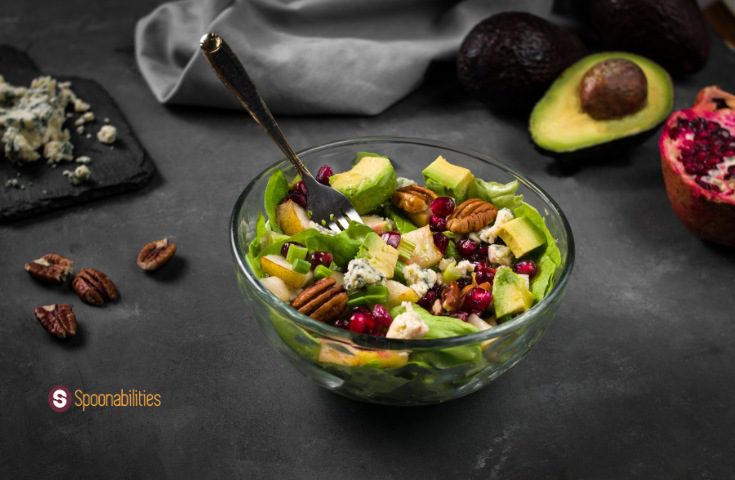 Ingredients for your Honey Mustard Vinaigrette
As always, we recommend high-quality ingredients. They make the difference in any dish or dressing you are making.
Extra virgin olive oil, a staple in any salad dressing, is rich in healthy monounsaturated fats, which are great for heart health. It also adds a smooth, fruity flavor to the vinaigrette that balances the tanginess of the vinegar and mustard.
Honey mustard gives the dressing a perfect balance of sweetness and tanginess. The mustard adds a slightly spicy note to the dressing, which pairs well with the sweetness of the honey.
Apple cider vinegar to add a tangy and slightly sweet flavor to the dressing. It's an excellent substitute for white vinegar, which can be too harsh in some dressings.
Sea salt and freshly ground black pepper are essential for seasoning the dressing and salad. The salt brings out the flavors of the ingredients, while the pepper adds a little bit of heat and depth.
To make the best honey mustard vinaigrette recipe, it is essential to use high-quality ingredients. Look for honey mustard that is made with natural ingredients and has no added sugars or preservatives. Similarly, use an apple cider vinegar that is of good quality, and for the extra virgin olive oil, we recommend a high-quality EVOO like the Greek olive oils you can get from Hellenic Farms. These ingredients will not only enhance the flavor of the dressing but also provide added health benefits.
Making the Honey Mustard Dressing
Now that we have all our ingredients, it's time to make the dressing. This honey mustard vinaigrette is easy to make and takes only a few minutes.
In a mason jar, or my favorite, a Luigi Bormioli Lock-Eat Handy Jar, or other container with a tight-fitting lid, add the honey mustard, apple cider vinegar, extra virgin olive oil, sea salt, and fresh ground black pepper. Shake the jar several times until everything is blended and emulsified, and then set it aside.
It's best to make the dressing first so that the flavors can meld together while you prepare the salad. Give the jar a final shake before pouring the dressing over the salad.
Drooling over this recipe? Be first to receive new recipes!
Short Video of Vinaigrette Instruction Steps
A while back we made this salad with pumpkin honey mustard. Here's a little video of what we did.
Ingredients for the Perfect Butter Lettuce & Pear Salad
When it comes to creating a perfect salad, the ingredients you use are key. For this butter lettuce & pear salad with honey mustard vinaigrette recipe, we've carefully selected ingredients that complement each other's flavors and textures, resulting in a satisfying and delicious dish.
Boston lettuce is what we recommend using for the base of the salad. Its delicate leaves have a mild, slightly sweet flavor that pairs well with the other ingredients. Tear the lettuce into bite-size pieces to make it easier to eat.
Pear adds a juicy sweetness to the salad, and the crunch of its flesh contrasts with the softness of the avocado and blue cheese.
Blue cheese provides a sharp, tangy flavor and a creamy texture that complements the sweetness of the pear and the spiciness of the dressing.
Avocado adds a rich, creamy texture and a subtle nutty flavor to the salad. It's also an excellent source of healthy fats, fiber, and vitamins. We don't make a salad without avocado!
Pomegranate seeds bring not only a nice bright red color to your salad, they are rich in antioxidants and flavonoids, both of which are known to prevent free radicals from damaging your cells, and may help to prevent prostate, breast, lung, and colon cancers.
Green onions add a mild, sweet onion flavor and a pop of color to the salad. They're also an excellent source of vitamins and minerals.
Pecans provide a nutty crunch to the salad and are rich in healthy fats and fiber. Toasting them in a dry skillet brings out their flavor and makes them even more delicious.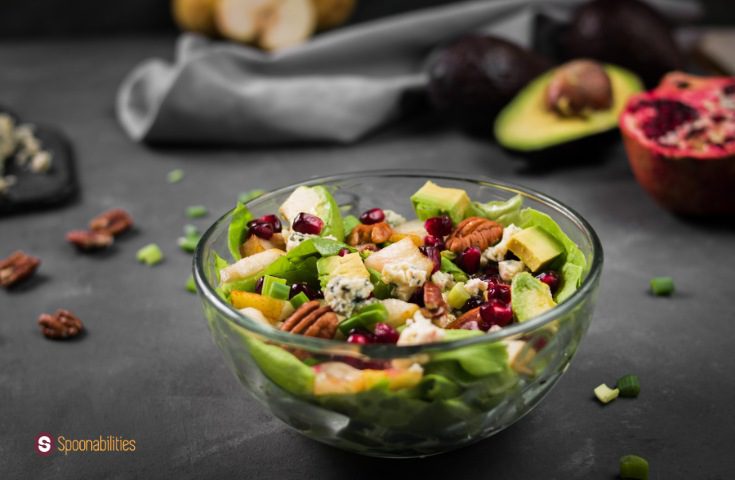 FAQs: Vinaigrette Frequently Asked Questions
Is there a difference between honey mustard dressing and honey mustard?
Yes, there is a difference between honey mustard dressing and honey mustard. Honey mustard is a condiment made by mixing honey, mustard, and other seasonings. It is often used as a dipping sauce for chicken, fish, or pretzels. On the other hand, honey mustard dressing is a salad dressing made by mixing honey mustard with vinegar or oil to create a thinner consistency. The dressing is intended to be poured over salad greens.
Is vinaigrette healthier than dressing?
Vinaigrette is generally considered a healthier choice than traditional salad dressings. Vinaigrette is typically made with vinegar or lemon juice, which contains fewer calories and fat than creamy dressings. Additionally, vinaigrettes are often made with heart-healthy oils such as olive oil. However, it's important to note that not all vinaigrettes are created equal. Some store-bought vinaigrettes may contain added sugar or preservatives, so it's essential to check the label before purchasing. Making your vinaigrette at home with fresh ingredients is the best way to ensure that it's a healthy choice.
Can I substitute the blue cheese in this recipe?
Yes, you can substitute blue cheese with other types of cheese if you don't like or have blue cheese on hand. Feta cheese, goat cheese, or gorgonzola cheese would all be delicious in this salad. If you're vegan, you can omit the cheese or use a vegan cheese alternative. The key is to choose a cheese that complements the flavors of the other ingredients in the salad.
Serving the Salad
When it comes to serving the salad with the honey mustard vinaigrette, there are a few things to keep in mind to ensure the best taste and presentation.
You'll want to portion out the salad into individual bowls or plates. Aim for around 1-2 cups of salad per serving, depending on your appetite.
It's important to dress the salad correctly. Pour the honey mustard vinaigrette over the top of the salad, using about 2-3 tablespoons per serving. You can also serve the dressing on the side if you prefer, so guests can dress their own salads.
To ensure the dressing is evenly distributed throughout the salad, gently toss the ingredients together with salad tongs. Be careful not to over-toss the salad, as this can cause the delicate ingredients to break down and become mushy.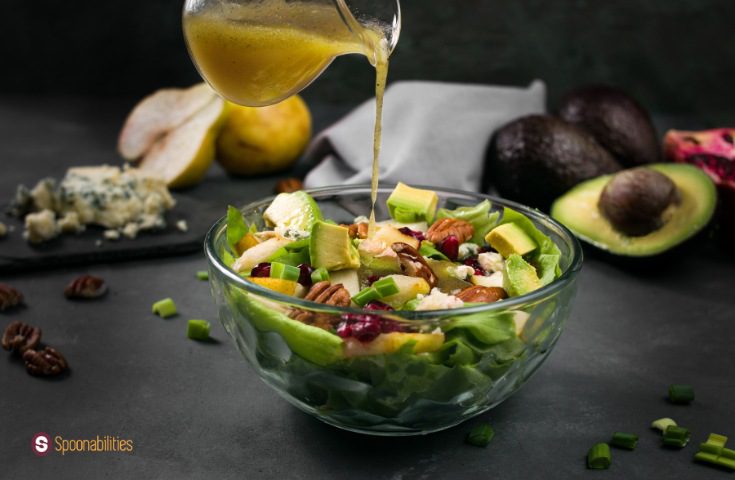 Storing the Salad and Dressing
If you have leftover salad and honey mustard vinaigrette, it's important to store them separately to maintain the freshness of the ingredients. Place the salad in an airtight container and store it in the refrigerator for up to 2-3 days. Be sure to remove any excess moisture from the container before storing to prevent wilting. We like to wrap a paper towel around the salad to help.
The honey mustard vinaigrette can also be stored in an airtight container in the refrigerator for up to a week. Shake well before using and taste to ensure that the flavors haven't changed during storage. If the dressing has thickened or separated, you can revive it by whisking in a small amount of water or olive oil.
When you're ready to eat the leftover salad, simply toss it with fresh dressing to revive the flavors and texture. Keep in mind that the avocado may brown slightly over time, but it's still safe to eat as long as it doesn't have a foul odor or taste.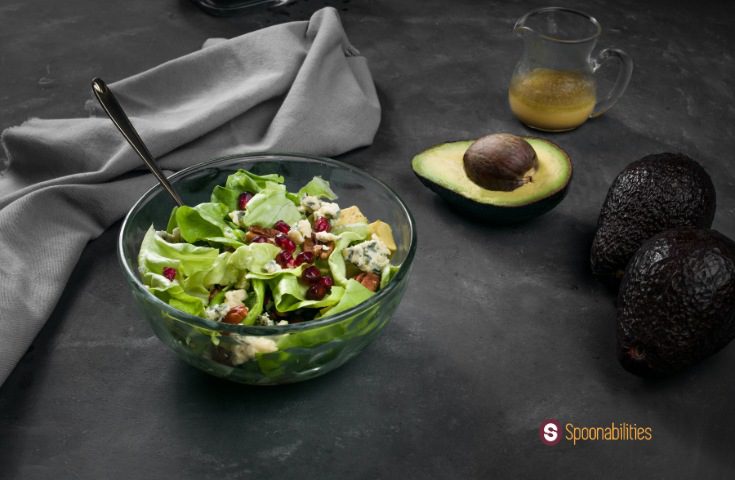 Possible Mistakes to Avoid
When making honey mustard vinaigrette, there are a few mistakes that you might make that could affect the final taste of the dressing. Here are some possible mistakes to avoid:
Not emulsifying the dressing properly. The honey mustard vinaigrette can separate easily, so it is important to emulsify the dressing thoroughly by shaking it in a mason jar or whisking it in a bowl. If the dressing is not emulsified properly, it will not coat the salad ingredients evenly, and the flavors will not meld together as they should.
Using too much or too little honey mustard. The recipe calls for 1+½ teaspoons of honey mustard, which is just the right amount to balance the tangy flavor of the apple cider vinegar and the creaminess of the avocado. Using too much honey mustard can overpower the other ingredients, while using too little will result in a bland dressing.
Over-toasting the pecans. While toasting the pecans can enhance their flavor, be careful not to burn them. Over-toasting the pecans can make them bitter and ruin the taste of the salad.
Vinaigrette Easy Substitutions
You'll find a tried and tested honey mustard vinaigrette recipe below and our original way to put it to work – on a butter lettuce and pear salad. But here are some basic rules to make the vinaigrette dressing your own.
Acid. Vinegar is the most common acidic ingredient in salad dressings. For a richer and sweeter flavor, you can substitute balsamic vinegar for the apple cider vinegar. Also, experiment with lemon, orange or lime juices for fruitier dressings.
Oil. Extra virgin olive oil is hard to beat, but sesame oil and any neutral vegetable oil work just fine. Find your favorite!
Emulsifier. These ingredients help bind vinegar and oil for a somewhat stable mixture. If you don't have honey mustard, you can use Dijon mustard instead. Just add some honey to balance the flavors. If you don't have honey, you can substitute maple syrup for a similar sweetness. The most common other emulsifiers for salads are egg yolks, mayo, tahini, and even mashed avocados.
Add-ons. Here's where you have permission to go wild. Shaved Parmesan, bacon bits, crushed nuts and all the herbs and spices in your cabinet have a place in vinaigrettes.
Pro Tip: When making a vinaigrette, follow this ratio 3:1:1. That's three parts oil to one part vinegar, and one part emulsifier. There's no rule for additional ingredients, so go for it!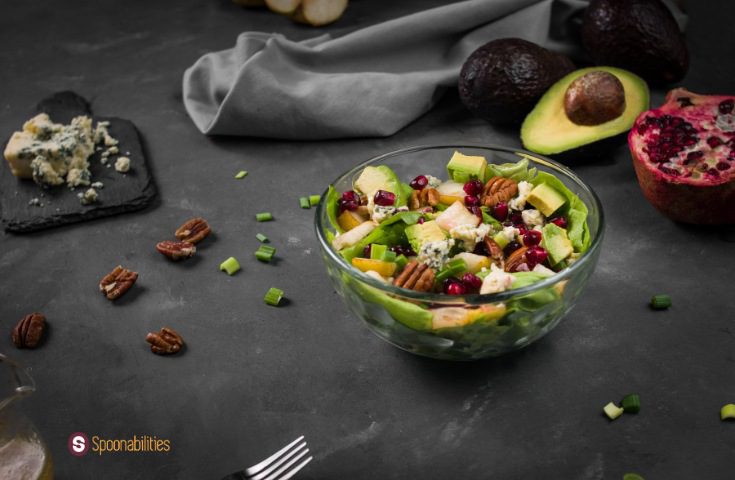 Pairing Dishes and Drinks
This honey mustard vinaigrette pairs well with a variety of dishes, from chicken to vegetables, and can even be used as a marinade for fish. Here are some suggestions for pairing dishes and drinks:
Grilled chicken, steak, or salmon: The tangy and sweet flavors of the vinaigrette complement the smoky flavors of grilled chicken or salmon. Serve the salad as a side dish or add the protein in the salad for a more filling main course.
Roasted vegetables: The vinaigrette adds a burst of flavor to roasted or grilled vegetables such as sweet potatoes, beets, and carrots. Give some life to hearts of palm, artichoke hearts, roasted leeks, or grilled asparagus. Drizzle the dressing over the vegetables just before serving.
Sparkling white wine: A crisp and light sparkling white wine such as Prosecco or Cava complements the sweetness of the pears and the tanginess of the blue cheese.
Give the Vinaigrette a Try and Let Us Know
This honey mustard vinaigrette recipe is a versatile and delicious dressing that can elevate any salad. With its sweet and tangy flavor and creamy texture, it is the perfect complement to a variety of salad ingredients. But also try pouring it over a rotisserie chicken salad. You get the idea - vinaigrettes are fantastic, and it's time we start adding them to everything!
Be sure to let us know what you think in the comments below, and we love to see your personal variations by tagging us @Spoonabilities on Instagram or drop of photo or comment on this Pin.
Happy Vinaigrette-ing,
Carlos Leo
Your Recipe Concierge!
Print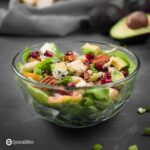 Honey Mustard Vinaigrette Recipe on Butter Lettuce & Pear Salad
---
Author:

Carlos Leo

Total Time:

25 minutes

Yield:

4

1

x
Description
This honey mustard vinaigrette recipe is a tangy and sweet dressing made with a blend of honey mustard, apple cider vinegar, and extra-virgin olive oil. It's perfect for drizzling over a butter lettuce & pear salad or any other green salad for a burst of flavor.
If you like this recipe, join our newsletter to know about future ones.
---
3 Tablespoons

extra virgin olive oil

1 ½ teaspoons

honey mustard

3 Tablespoons

apple cider vinegar

½ teaspoon

sea salt
fresh ground black pepper

1

head of bite-size torn pieces of Boston lettuce

1

peeled, cored and chopped pear

3

oz

. crumbled blue cheese

1

peeled, pitted and diced avocado

⅓

cup

pomegranate seeds

½

cup

thinly sliced green onions

½

cup

pecans
---
Instructions
Toast the pecans in a dry skillet until the pecan fragrance comes out. Set aside.
Make the vinaigrette: Add the honey mustard, apple cider vinegar, olive oil, salt and pepper in a mason jar. Shake several times until is all blended and emulsifies. Set aside.
Build the salad: In a serving bowl, place in layers the lettuce, pears, blue cheese, avocado, pomegranate seeds and green onion.
Pour the salad dressing over the greens. Sprinkle on some chopped pecans.
Prep Time:

25 minutes

Category:

Salad Dressing

Method:

emulsifying

Cuisine:

American
Keywords: salad dressing, honey mustard recipes, salad recipe, pear salad, butter lettuce salad
Recipe Card powered by
Ingredients & Equipment Available via these links:
Links that open in another site, i.e. Amazon, may be affiliate links where at no additional cost to you, as an Amazon Associate we earn from qualifying purchases, should you decide to purchase the item. Read our Disclosure Policy.