Ice cream is enjoyed by millions and comes in almost a million flavors. What do they all have in common? They all start with an ice cream base mixture. This homemade eggless ice cream base recipe will give all your homemade ice creams a wonderful beginning.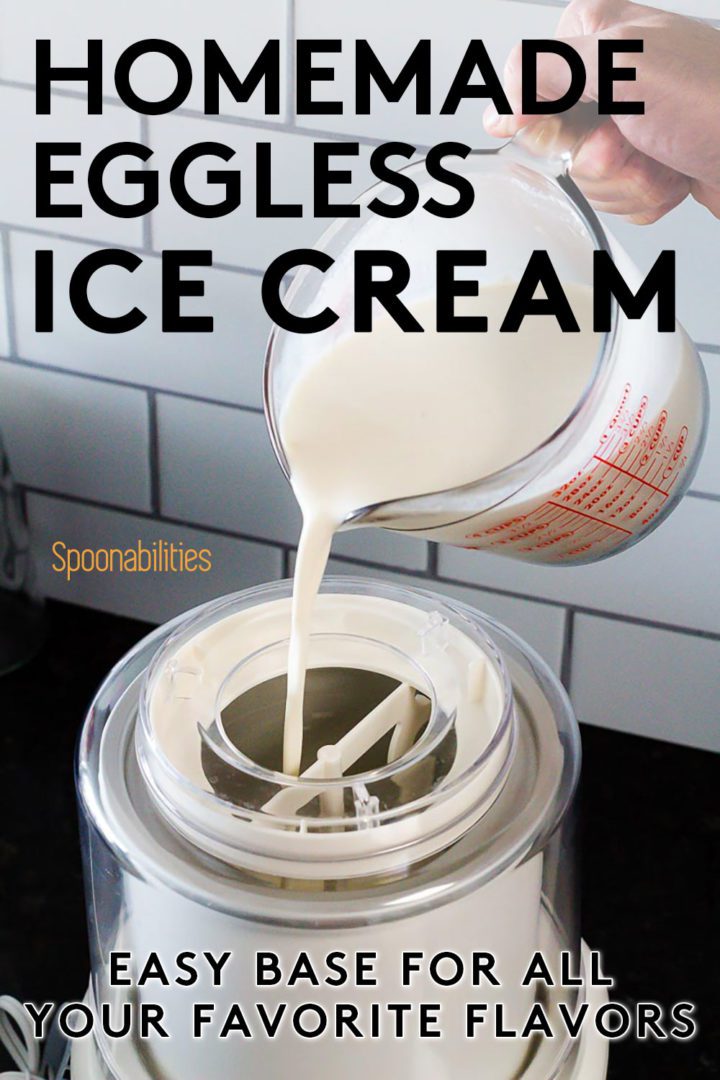 Hello Friends. What is your favorite flavor of ice cream? Mine is chocolate peanut butter. Well, no matter what your favorite is, before you add the flavoring, it has to start with an ice cream base. We have two ice cream bases here for you. The one below gives the best flavor. It's easy and eggless, but does require you to turn on the stove. If you want one that is simple and "no heat," check out this Easy Vanilla Ice Cream Base.
Why does Ice Cream Taste So Good?
Ice cream tastes so good because besides the various flavorings that make up each individual ice cream flavor, they all contain carbohydrates and fat. For the same reason we all prefer chocolate cake over Brussels sprouts, we all love ice cream. The fat content of ice cream by itself is not very appealing to our taste buds, but it is the vehicle that accentuates all the other flavors. If you've ever tasted a flavoring (like vanilla or chocolate) without any fat content, you will wonder why it doesn't taste that good. But add in the fat, and it's wonderful. There is actually a chemical connection that happens where the fat makes the flavor shine. It's also the reason why the low-calorie, low-fat, low-carb option in the freezer section is not as appealing as real ice cream.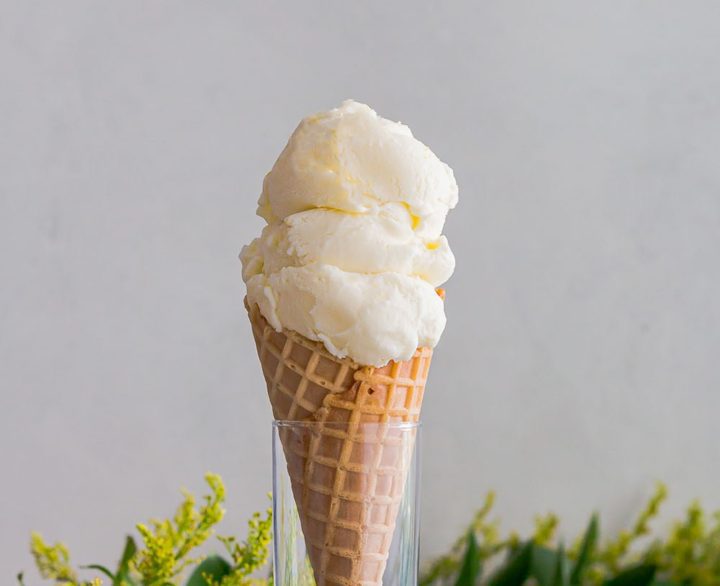 Carefully Calibrated Creamy Ice Cream Base
This homemade ice cream base is not your typical base. It's more similar to that found in old-fashioned ice cream shops. "What might read as an arbitrary list of ingredients is in fact a formula that yields a carefully calibrated ratio of ice cream's main components, approximately 58% water, 17% fat, 11% milk solids, and 14% of sugar, by weight," says Tyler Malek in the Salt & Straw Ice Cream Cookbook. He goes on to say "less fat means a denser texture and flavor that hits your palate more quickly." The base is a starting point which you will dilute when adding the flavoring before churning. The ingredients for this base are sugar, dry powder milk, xanthan gum, light corn syrup, whole milk, and heavy cream." As you can see, the base we are using is eggless.
Less fat means a denser texture and flavor that hits your palate more quickly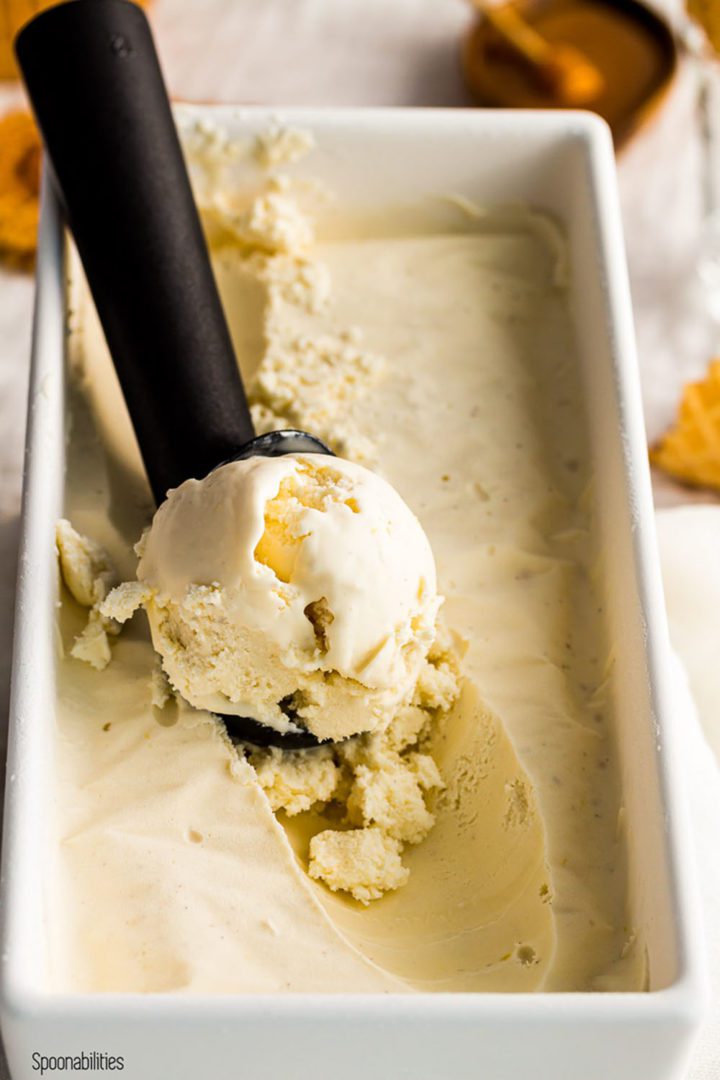 Chilling Your Eggless Homemade Ice Cream Base
It's essential to chill the base for at least 24 hours for a better texture. You can store the ice cream base in the refrigerator up to a week before making the ice cream. If you aren't yet ready to make the ice cream, you can hold the base in the freezer up to three months. Just remember to thaw the base before making the final ice cream. See the recipe card for complete instructions.
Make sure to freeze the ice cream churning bowl for 24 hours, or follow the manufacturer instructions. I recommend covering the bowl with plastic wrap to prevent any other possible smell from the freezer getting in there, or anything falling inside that could affect the final deliciousness of your gourmet homemade ice cream.
Like this recipe so far? Be first to know when we release new ones!
Ice Creams You Can Make with this Eggless Base
Here are some of the homemade ice cream recipes we made with this eggless base: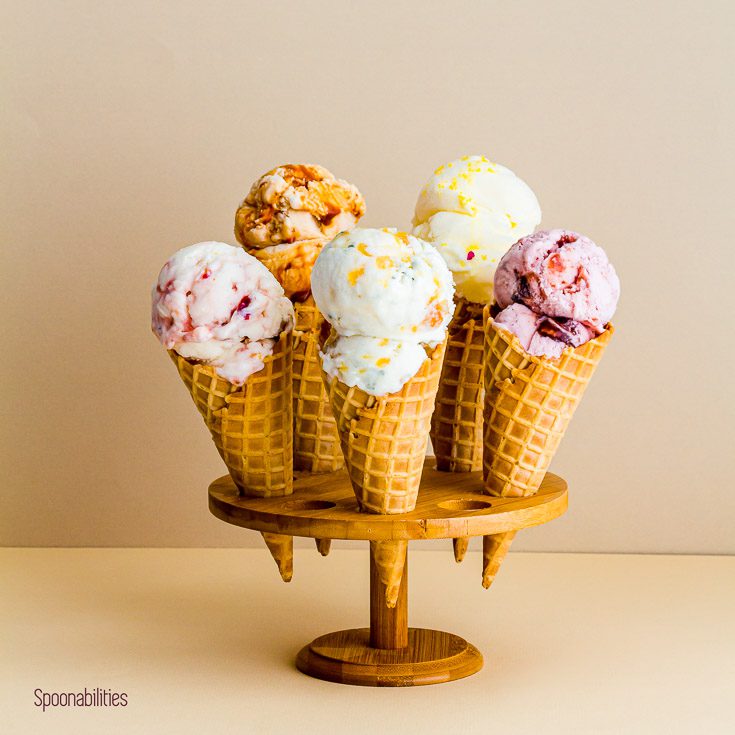 Summer is the time for ice cream, or if you are in Florida it's just about any day of the year. We hope you get a chance to make your own homemade ice cream. It's worth waiting for the freezer to do it's work.
If you get to make any of the ice creams above using this eggless base, and especially if you venture out and make your own flavor, let us know below in the comments, or tag @Spoonabilities on Instagram or add a photo or comment on Pinterest, so we can find you! We would love to hear what creation you come up with. Enjoy!
Carlos & Geoffrey
Print
Homemade Eggless Ice Cream Base
---
Author:

Carlos Leo

Total Time:

10 minutes

Yield:

3 cups

1

x
Description
What do all ice creams have in common? They all start with an ice cream base mixture. This Homemade Eggless Ice Cream Base Recipe will give all your homemade ice creams a wonderful beginning, just add whatever additional flavoring you choose.
---
½

cup

granulated sugar

2 Tablespoons

dry milk powder

¼ teaspoon

xanthan gum

2 Tablespoons

light corn syrup

1

+⅓ cups whole milk

1

+⅓ cups heavy cream
---
Instructions
Combine the sugar, dry milk, and xanthan gum in a small bowl and stir well.
Pour the corn syrup into a medium pot and stir in the whole milk. Add the sugar mixture and immediately whisk enthusiastically until smooth.
Set the pot over medium heat and cook, stirring often and adjusting the heat if necessary to prevent a simmer, until the sugar has fully dissolved, about 3 minutes. Remove the pot from the heat.
Add the cream and whisk until fully combined.
Transfer the mixture to an airtight container and refrigerate until well chilled, at least 6 hours. For a better texture and flavor, chill for 24 hours. Stir the base back together if it separates during the resting time.
Notes
The base can be stored in the fridge for up to 1 week before churning, or in the freezer for up to 3 months. Just be sure to fully thaw the frozen base before using it.
Prep Time:

10 minutes

Category:

dessert

Method:

churning

Cuisine:

International
Keywords: no egg ice cream, base for ice cream, ice cream base
Recipe Card powered by
Available via these affiliate links:
Disclaimer: Links that open in another site, i.e. Amazon, may be affiliate links where at no additional cost to you, as an Amazon Associate I earn from qualifying purchases, should you decide to purchase the item. Read our Disclosure Policy.