Watermelon Cocktail Vodka Punch is a refreshing take on the classic cosmopolitan. Without a doubt, this drink was the quintessential chick cocktail many years ago. It's still out there, but has lost some of its charm. It's time to give the tall, classy ruby-red drink a revamp by making it large batch.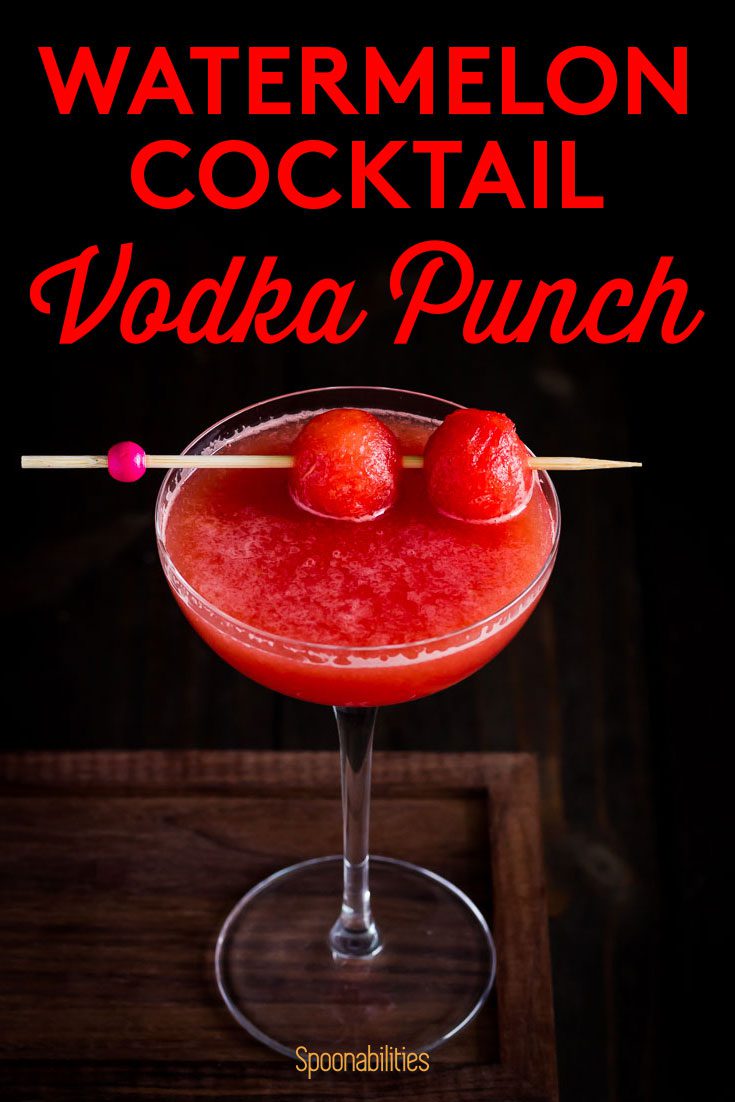 Blog post contains products you can purchase in our online shop, and affiliate links.
Read our Disclosure Policy.
Hello my friends. The Cosmo cocktail is one of our favorite cocktails, and when Geoffrey and I met, this cocktail was our go-to drink every time we went out to the bars or clubs, sometimes on the rocks for easy dancing ;). Since then, we have shifted into tonic drinkers with vodka or gin. This summer, in our new reality, we have been having a lot of time on our hands to explore different alcoholic drink recipes. For this one, we decided to go "old school" and revamp the classic Cosmo into a watermelon cocktail vodka punch that is made in a big batch.
We like to enjoy our Saturday evenings having a great charcuterie board with some cocktails. But we found ourselves interrupting our special moment trying to prepare another drink. So by doing this watermelon cocktail in a large batch, we save time. It's great for parties with your friends too (when that happens again) so that you can enjoy your friends and not be making drinks all night.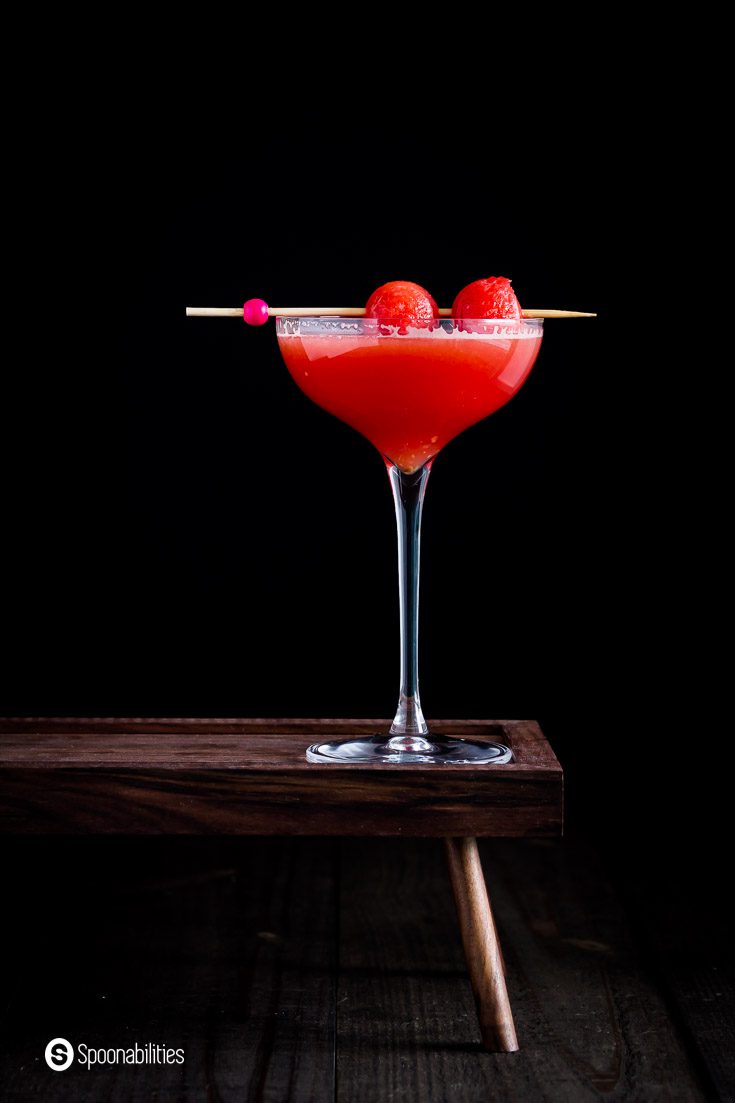 Why Do We Love the Watermelon Cocktail Vodka Punch?
To explain why we love this Watermelon Cocktail Vodka Punch, we need to go back to the beginning and tell you why the world loves the Cosmo. The classic Cosmopolitan is an easy cocktail with a long history. It achieved the height of its popularity in the 1990s with the show "Sex and the City." The pink-hued Martini was a favorite of the characters on the show.
According to Gary Regan, who authored a highly researched and revered book called "The Joy of Mixology," and other books and articles about liquors and mixed drinks, the original Cosmopolitan was created by bartender Cheryl Cook. She developed the original formula in 1985, while she was working at the bar called The Strand in Miami's South Beach. For her creation, she used citrus-flavored vodka, a splash of triple sec, a drop of lime juice, and a splash of cranberry which gives the pretty recognizable pink color, and topped with a curled lemon twist.
Today's watermelon vodka cocktail is an alternative version of the classic Cosmo that takes using fresh, all-natural ingredients to a new level. Watermelon is as red as the fruit gets, and its flavor takes you to a warm tropical place. It not only makes the drink refreshing, because watermelon has high water content, you get maximum hydration at the same time. Just don't report us to the FDA with that statement. :) Close your eyes, have a sip of this watermelon cocktail vodka punch, and you can almost feel the white sand under your feet.
Like this little bit of cocktail history? Know when new recipes are released!
---
Let's Get Set Up to Make Our Watermelon Cocktail Vodka Punch
Making the Watermelon Juice
Since we're talking about all-natural ingredients, we're making our own watermelon juice. Get yourself a sweet round watermelon, cut the top and hollow it out. You'll need a bit of patience, but you want to keep the watermelon intact. It will make for the most beautiful punch bowl, which is also a great conversation starter, by the way. A quick note before you make the juice with all your watermelon - make sure you save some pieces to garnish your cocktails.
I know you don't want to hear this, but you should remove the seeds from the pulp. A fork often works better than a spoon. Still, removing the seeds is serious work. Trust me; it's well worth it. The white seeds can stay, just remove the dark ones. I should say that both white and dark seeds are edible and packed with fiber, so if you don't mind a gritty texture, you can leave the seeds. Pro Tip: buy a seedless watermelon. They still have the white seeds in them, but you don't have to fish out the black ones. Once ready, blend the fruit until smooth and then strain it with a fine mesh to remove any gritty texture.
Simply Making Simple Syrup
We're also making simple syrup, which is extremely easy to make and versatile for crafting drinks, which is just an equal part of water and sugar. Simmer until the sugar dissolves. Remove it from the heat, and let it cool before you put it into the final container. I like to use this mixology barset from Luigi Bormioli.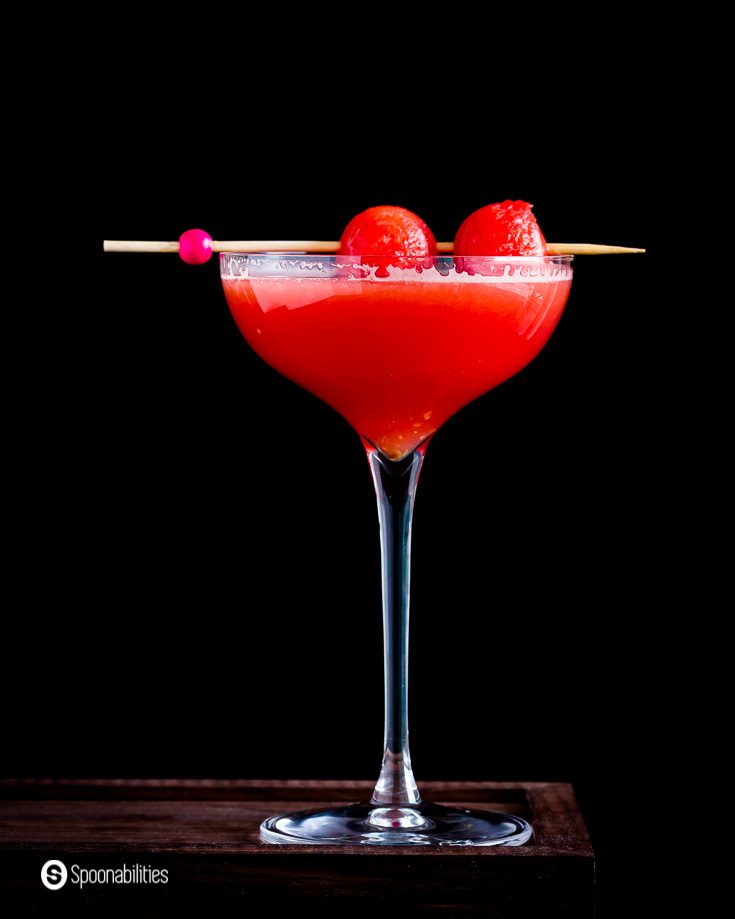 The Right Glass for the Job
Finally, make sure you serve this Watermelon Cocktail Vodka Punch to your guests in tall martini glasses. The cocktail's color really shows through in a tall glass. Finally, use a double-sided melon baller to scoop out pretty watermelon balls and use as a garnish along with a cocktail pick.
Ready? Let's get started making this big batch watermelon Cosmo variation, and don't worry; all the hard work will pay off. These all-natural, made-from-scratch watermelon Cosmos will swoon everyone, and you won't be spending all your time mixing drinks all night.
For a complete summer outdoor experience, serve this 21st-century rendition of the ever-popular Cosmo with skirt steak tacos or with colorful and fresh stuffed squash blossoms. Just-say-summer two biters that will get the party started.
If you are interested in more big-batch punch recipes, check out:
Then of course you can check out all the rest of our alcoholic drinks and recipes including a Watermelon Mai Tai if you are still thirsty.
Do you enjoy our cocktail recipes? Tell us what kind of drinks you would like to see from us. We would love to hear from you. You know what we also like? Seeing your creations you are sharing with us on social media. Thank you for tagging @Spoonabilities and using our hashtag #Spoonabilities.
Happy Summer!

Carlos Leo
Your Recipe Concierge
Print
Watermelon Cocktail Vodka Punch
---
Author:

Carlos Leo

Total Time:

15 minutes

Yield:

1

0

1

x
Description
This Watermelon Cocktail Vodka Punch recipe is a take on the classic Cosmo cocktail with a refreshing twist. Instead of making individual servings, think ahead and save time by setting yourself up with a big batch, and enjoy the whole night with this refreshing cocktail and your friends.
---
3

cups

vodka

3

cups

watermelon juice

1

cup

fresh lime juice

½

cup

simple syrup (directions below)
For garnish: Watermelon balls
---
Instructions
Make the Watermelon Juice: place the watermelon pieces in a blender, and blend until smooth. Strain using a fine mesh strainer.
Make the Simple Syrup: Combine 1 cup of white sugar and 1 cup of water in a small saucepan and bring to a boil. Cook, stirring, until the sugar dissolves. Remove from the heat and let cool completely. Makes about 1.5 cups.
Make the Punch: Pour the vodka, watermelon juice, lime juice and simple syrup into a large pitcher, and stir.
Serve in a hollowed-out watermelon or punch bowl, and pour into punch glasses or cocktail glasses with a ladle.
Notes
Keep the simple syrup covered in the refrigerator for up to 1 month.
We partner (affiliate links) with Drizly delivery service, so if you don't have the alcoholic ingredients you can have them delivered.
Drink responsibly. If you are under the legal drinking age limit for your state or country, this recipe is not for you. Sorry.
Prep Time:

10 minutes

Cook Time:

5 minutes

Category:

cocktail

Method:

mixing

Cuisine:

USA
Keywords: cosmopolitan, classic cocktail, watermelon Cosmo, watermelon cosmopolitan, watermelon vodka cocktail
Recipe Card powered by
Available via these affiliate links:
Disclaimer: Links that open in another site, i.e. Amazon, may be affiliate links where at no additional cost to you, we may receive a small commission should you decide to purchase the item. Read our Disclosure Policy.