Bourbon Peach Iced Tea is the perfect summer drink recipe. Tasty and utterly refreshing, this fruity big-batch cocktail is just what you need on a hot summer day. Learn how to make a pitcher of Bourbon Peach Iced Tea from scratch with ripe peaches and a splash of your favorite American Bourbon. We're also talking all about Bourbon and the right tea for this refreshing drink.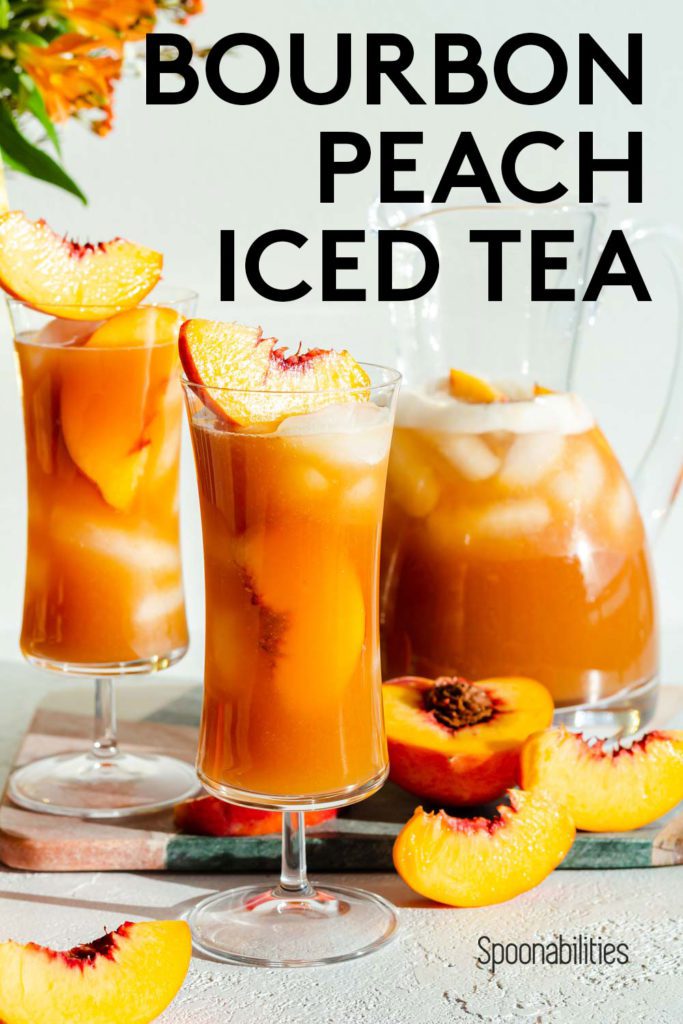 Hello my friends. Peaches are in season during the warmest months of the year. It's only natural to make use of the ripe pitted fruits and fix some kind of refreshing drink. Why not a tea? Peach tea is super popular! You can even find it in powdered form. Of course, nothing beats making a big-batch cocktail like Bourbon Peach Iced Tea from scratch with natural fruit.
Origins of Peach Tea
Let's start from the beginning. Both peaches and black tea arrived in America with the first British ships. Peach trees immediately felt right at home in Maryland, Virginia, Georgia, and South Carolina, and eventually became a Southern staple. Did you know the meaty fruits are actually originally from China?
Black tea is also a Chinese specialty, but as you recall, it was the British who brought it in crates to America. But who first flavored their iced 'sweet tea' with peaches to create the famous Southern drink? We'll never know, but the recipe below is an homage to these unsung heroes. This is a great summer evening drink, summer party cocktail, or just a warm-day drink so special.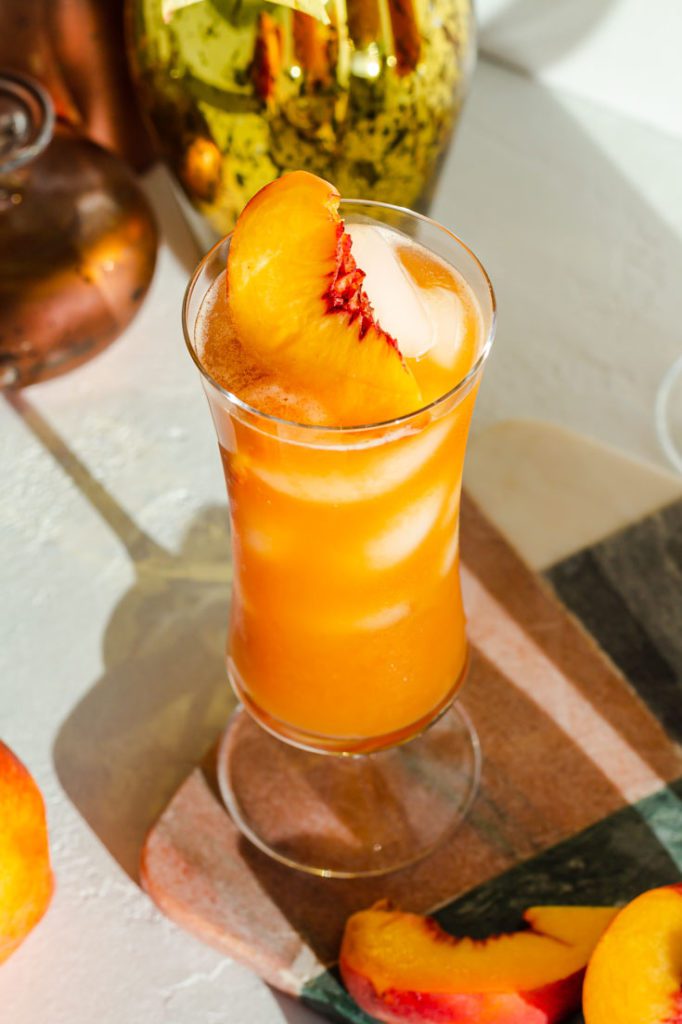 How do you make bourbon peach iced tea from scratch?
It is so easy to make a big-batch pitcher of peach iced tea from scratch, most of your time will be just waiting time; waiting for the peaches to simmer and the tea to steep.
First you must simmer the peaches with sugar and water for about ten minutes, and when cool, slightly purée the peach mixture in a blender. Strain the peach puree through a fine mesh and set aside in a large pitcher.
At the same time the peaches are simmering, in a tea kettle boil some water and add the black tea bags into the hot water and steep for ten minutes. After you discard the tea bags, add the brewed black tea to the pitcher with the peach puree mixture.
Like this recipe so far? Be first to know when we release new ones!
Then add cold water and finally the bourbon, and stir. Serve in an iced tea glass or the glass of your preference, and garnish with some fresh mint or some peach slices. It's easier than you can imagine; that's why Geoffrey and I always have a cold pitcher of peach iced tea in the fridge!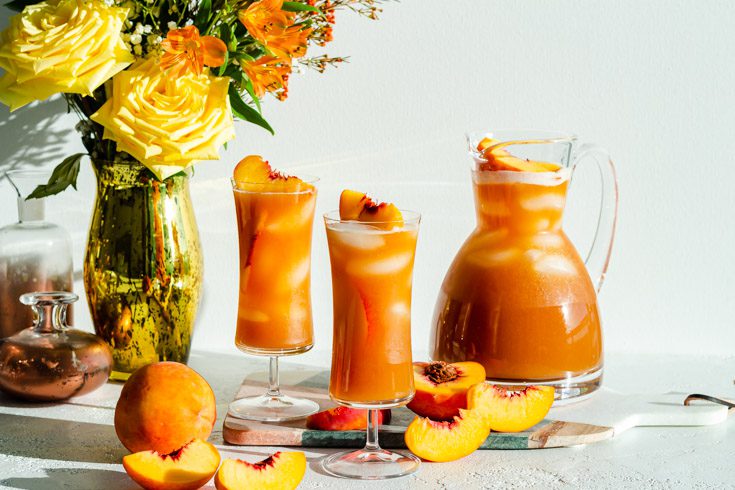 Some FAQs about Peach Iced Tea & Bourbon
What does peach tea taste like?
If you haven't had peach tea before, definitely try this recipe right away. Essentially peach tea is sweet but not cloying, peachy and summery, but nicely balanced by the black tea's pleasant bitterness. That's what you can expect from every glass of ice-cold peach iced tea.
What tea goes well with Bourbon?
Bourbon is a brown spirit, so it's bold and woodsy. You need equally intense tea, meaning black tea, to keep up with the malted spirit. Earl Grey is particularly compatible with American bourbon for its citrus undertones.
Is Bourbon the same as whiskey?
No, Bourbon is a type of whiskey. It must be made in America with at least 51% corn. Other whiskeys, like Scotch, are dryer and not as fruit friendly.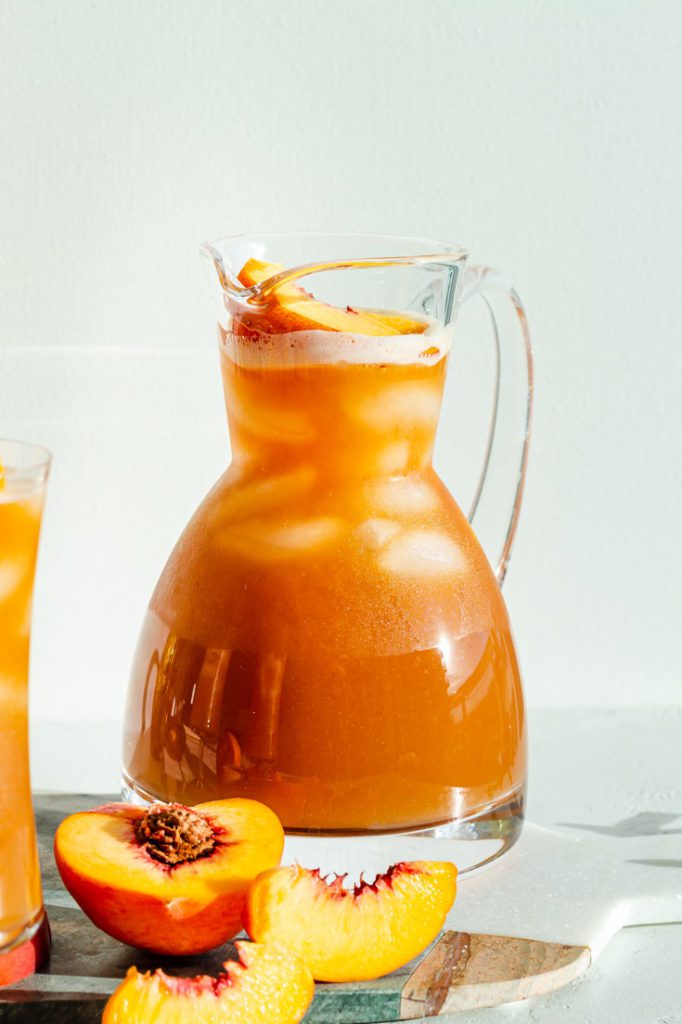 Love Peaches?
If you love peaches as much as we do, you may want to check out these other recipes, posts, and products:
I hope you get a chance to make this Bourbon Peach Iced Tea. Did you make this or another recipe? Tag @Spoonabilities on Instagram or add a photo or comment on Pinterest, so we can find you! And we love to hear from you in the comment section below.
And we love to hear from you in the comment section below.
Carlos Leo
Your Recipe Concierge!
Print
Bourbon Peach Iced Tea
---
Author:

Carlos Leo

Total Time:

20 minutes

Yield:

1

0

1

x
Description
For a large pitcher of Bourbon Peach Iced Tea, you'll need ripe peaches, sugar, water, black tea bags, and some Bourbon. For better results, prepare everything the day before and keep the components cold in the fridge.
---
2

chopped fresh ripe peaches

1 ½

cups

granulated sugar

8

black tea bags

2

cups

bourbon

9

cups

, divided, water
Garnish with peach slices
---
Instructions
Add the chopped peaches, sugar, and 1 cup of water in a saucepan. Set over medium-high heat until sugar dissolves. Reduce the heat and simmer for about 10 minutes, stirring frequently. Let it cool slightly.
Place the peach mixture in a blender and puree. Pour through a fine mesh strainer into any container that can hold 4 cups.
Boil 3 cups of water. Pour the boiled water in a 3+ cup heat-proof container and add the tea bags. Steep the tea for 10 minutes, and then discard the tea bags.
Combine the peach puree, black tea, bourbon, and 6 cups of cold water in a large pitcher.
Serve in tall glasses over ice. Garnish with peach slices.
Notes
I prepare everything the day before serving and allow each component to get cold in the refrigerator.
We partner (affiliate links) with Drizly delivery service, so if you don't have the bourbon, you can have it delivered.
Drink responsibly. If you are under the legal drinking age limit for your state or country, this recipe is not for you. Sorry.
Prep Time:

5 minutes

Cook Time:

15 minutes

Category:

cocktail

Method:

steeping

Cuisine:

Southern American
Keywords: Southern sweet tea, Recipe for iced tea, pitcher iced tea, alcohol with iced tea, iced tea and Bourbon, Southern drink, ingredients for iced tea, how to make iced tea, iced tea peach
Recipe Card powered by
Available via these affiliate links:
Disclaimer: Links that open in another site, i.e. Amazon, may be affiliate links where at no additional cost to you, I earn from qualifying purchases, should you decide to purchase the item. Read our Disclosure Policy.
Chamomile Pear Vodka Punch. Talking about fruity cocktails, for a different refreshing drink or tea-infused drink, this fantastic flowery punch will keep your thirst quenched. You'll learn how to infuse vodka with pears and chamomile, too!
Mango Piña Colada Cocktail. If you're not a tea person, this drink is the ultimate tropical paradise packed with sweet flavors that will transport you to the white sandy beaches of the Caribbean.
Watermelon Mai Tai Cocktail. This tiki cocktail is easy to make with just a few ingredients and is perfect for someone who craves a little sweet fruity delight.