Salted Maple Pie is as seasonal as pumpkin spice. It's the perfect fall dessert, the ideal winter comfort food, but most importantly the most symbolic holiday dessert you can make. A buttery pie crust with a soft maple syrup filling flavored with vanilla and livened by the gentle touch of flaky sea salt. We'll also learn all about pure dark maple syrup, and if you have ever had real maple syrup.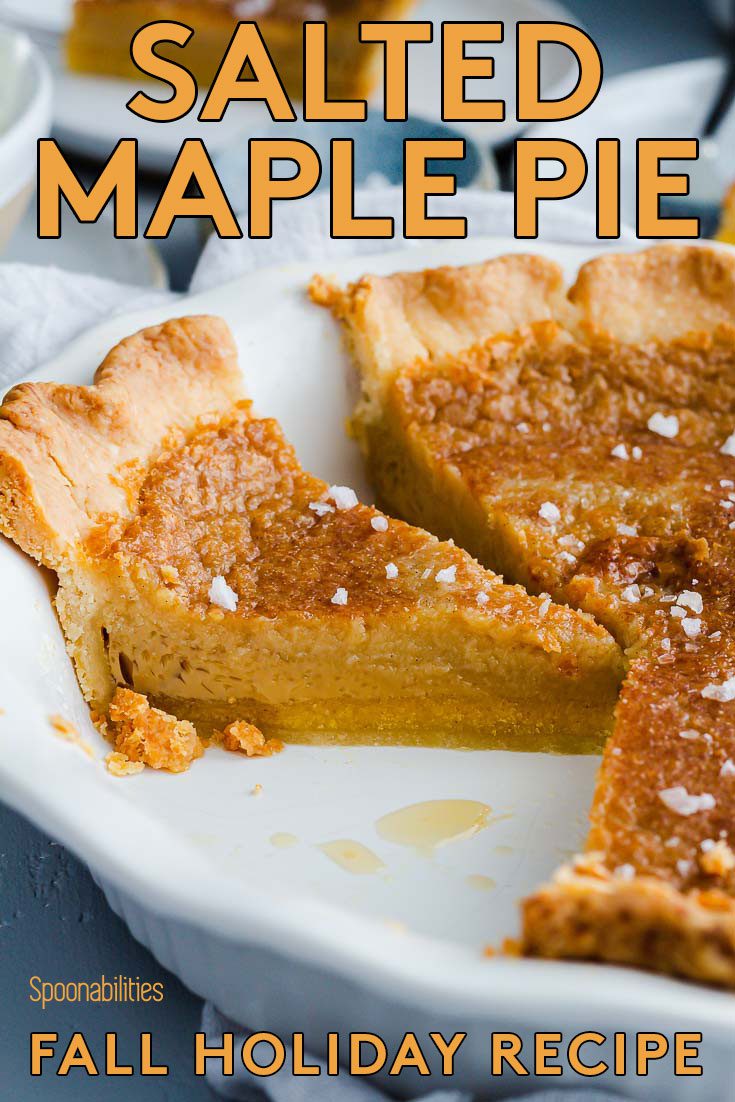 Blog post contains products you can purchase in our online shop, and affiliate links.
Read our Disclosure Policy.
Hello my friends. How's your holiday season going? Today we're jazzing it up a bit with a super seasonal dessert; an authentic holiday dessert that will make you want the season to last forever.
How does a buttery pie crust, maple syrup, fine polenta, vanilla paste, and heavy cream sound? Well, that's about all you need to make today's Salted Maple Pie. Of course, we can't forget about the pinch of flaky sea salt that will brighten all the sweet, warm flavors. I call this a winter dessert, but for Geoffrey, this one's fantastic all year long. If you do make the pie, let me know if you agree with him.
Anyway, we're making a pie, and that means making the pie crust from scratch. If you've never made one before, you'll have tons of fun. It takes some patience, but it's incredibly rewarding. If you want to use a store-bought pie crust, that's fine as well. But if you've got a food processor on hand, you'll soon see making your own pie crust is super easy.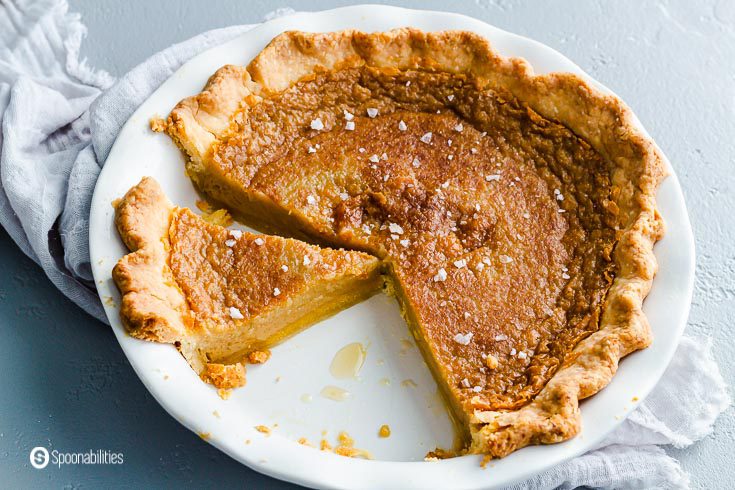 For the filling, and this is where it gets interesting, we're using lots of butter, some brown sugar, eggs, heavy cream, vanilla paste, and the last ingredient is definitely the most important — dark pure robust Vermont maple syrup.
Did you know most syrups labeled as maple syrup are not the real deal? Actually, authentic maple syrup is very special, and may be kind of expensive, but totally worth it. Let me tell you more about it after I tell you how to make this pie.
Like this recipe so far? Be the first to know when we release new ones!
---
This salted maple pie uses a traditional chess pie filling with a few changes.
What is Chess Pie?
Let's start by saying if you've ever had a nut pie, like the most popular pecan pie, then you've had a chess pie before. The chess pie is a classic Southern pie with a single (bottom, not top) crust and a filling made with butter, eggs, flour and sugar. Some chess pies include an ingredient to help stabilize it. For example, we are using fine polenta, and others may use cornmeal.
Besides the salted maple pie and the pecan pie already mentioned, some other chess pie flavors are lemon, coconut, and chocolate. And if you're curious about where the name "chess" pie comes from, you are in good company. Nobody really knows. Different theories include slang for "cheese pie" because of the eggs and butter; pies that came from a "pie chest" which was a piece of furniture where pies were kept before refrigerators were invented, and slang from "just pie." Take your pick.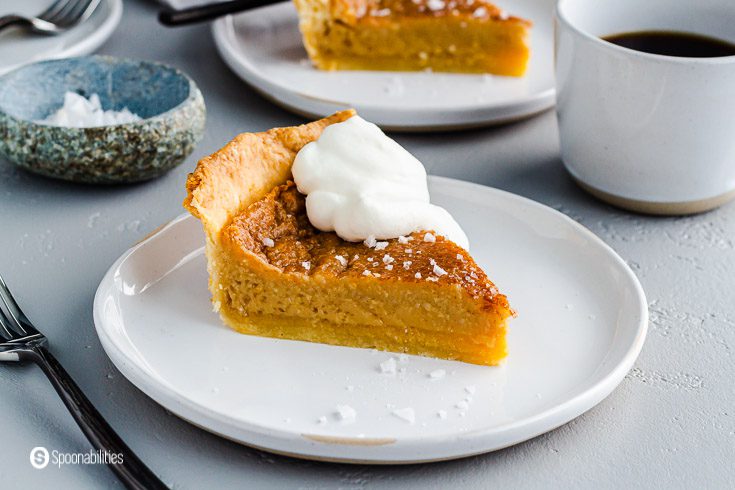 How to Make Salted Maple Pie
You will be making this salted maple pie in two easy steps: First you will make all-butter pie crust (that's the name, it's not only butter), and then the custard maple syrup filling. The most important step for you is to have all your ingredients ready at the right temperature. Check the detailed instructions in the recipe card.
Make the All-Butter Pie Crust
In a food processor, combine the flour, sugar, and salt. Add the butter and pulse ten times until the butter is pea size. Add cold-water and pulse ten times again until the mixture is crumbly.

Dump the dough mixture in the center of a towel, grab the four corners, twist, and press the dough into a ball. Then flatten the dough with your hands and a rolling pin, until you form a 13" round.

Transfer the dough to the pie plate, and cut any extra overhanging dough over an inch. Tuck any additional overhanging between the dough and the rim of the pie dish.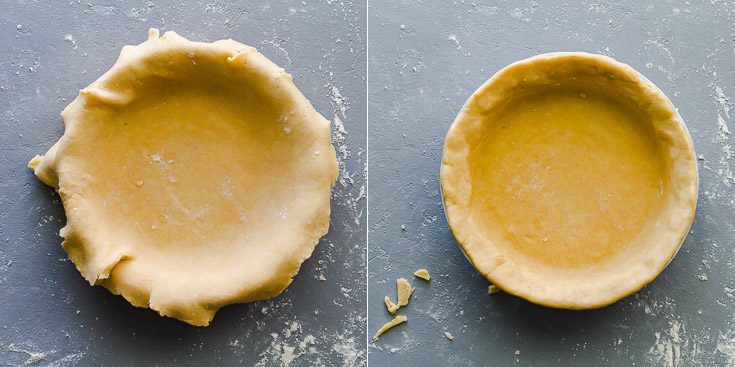 Crimp the dough's edges using a finger from one hand to push the dough from the outer edge between your inside fingertips of the other hand. Repeat following along the rim until the entire pie crust is crimped.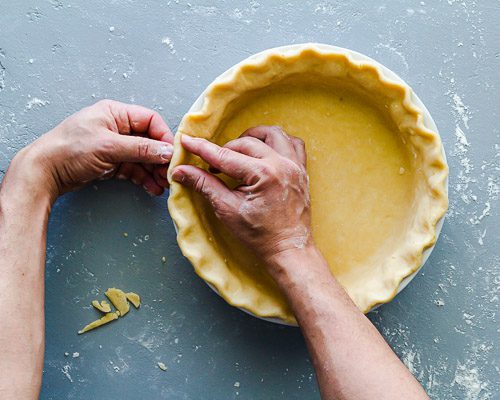 Chill the all-butter pie dough for a least 30 minutes.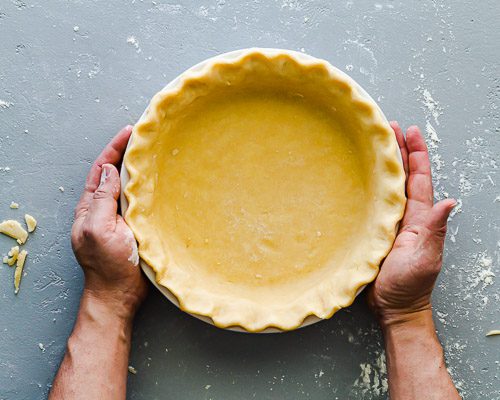 Make the Salted Maple Pie Filling
Combine the cooled melted butter with the dark robust maple syrup. Whisk in the brown sugar, fine polenta, and sea salt.

Crack the eggs in a separate bowl and add the heavy cream and the vanilla paste. Whisk until combined and then slowly pour the mixture into the maple mixture and whisk to combine.

Line a baking tray with parchment paper and place the pie shell on the tray. Pour the salted maple pie filling into the pie dish. Put the tray in the oven and bake for an hour.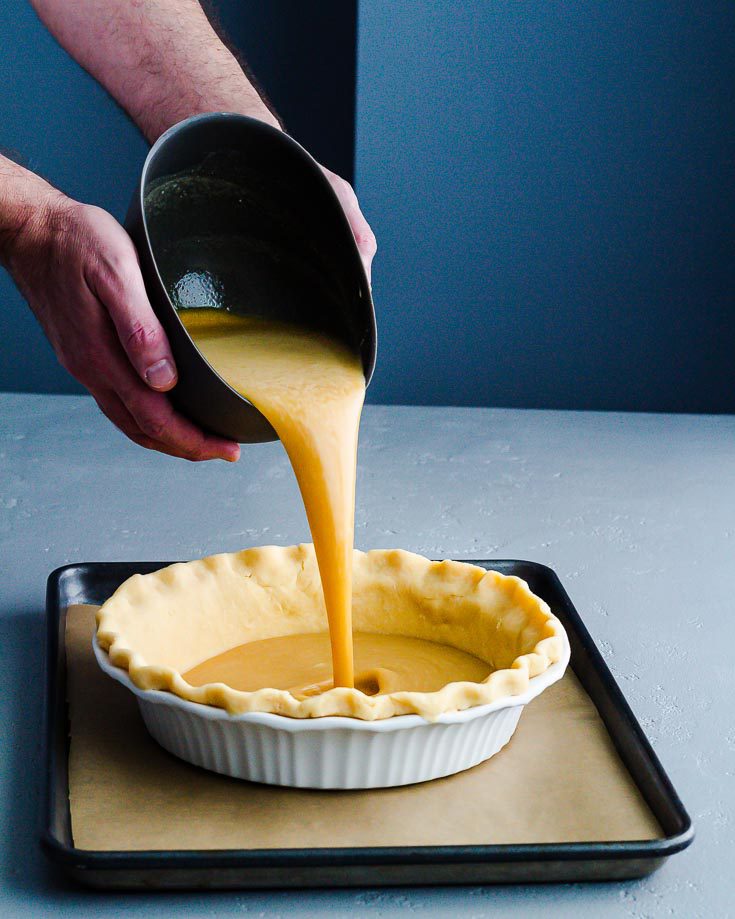 You will notice after an hour the edges will look puffed, and the center jiggles only slightly when shaken. Don't worry. It will continue to set as it cools. Remove from oven onto a cooling rack to cool for about 6 hours.
After six hours, sprinkle with flaky sea salt and serve. I use Natural Sea Salt Flakes from Greece.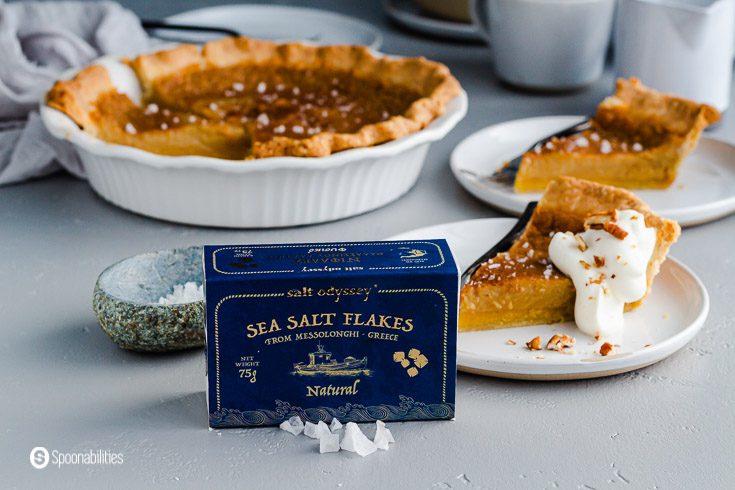 I have to tell you this salted maple pie is rich with a unique taste of sweet and salty, complete with the buttery, flaky crust. It should be eaten with whipped heavy cream or whipped crème fraiche. I recommend to not over sweeten the cream because the whipped cream will help counterbalance the sweetness of the salted maple pie. For example, I use ½ cup of heavy cream and two tablespoons of powdered sugar, or you can buy whipped cream already made.
Have you ever had Real Maple Syrup?
Have you ever had real, pure maple syrup? Your immediate answer is probably "of course." Oddly enough, most syrup in the supermarket is just corn syrup and water flavored as the real thing. It's not. Check the ingredients of the next bottle of syrup you get at the supermarket. If it says anything except "maple syrup" you will know.
Unlike honey, which comes from beehives, maple syrup is the sweet sap of maple trees. To get syrup from a tree, you must wait until the tree is between 30 and 40 years old, and then each tree produces around 9 to 13 gallons of sap per season. It might sound like a lot, but it's not. That's why maple syrup can be expensive.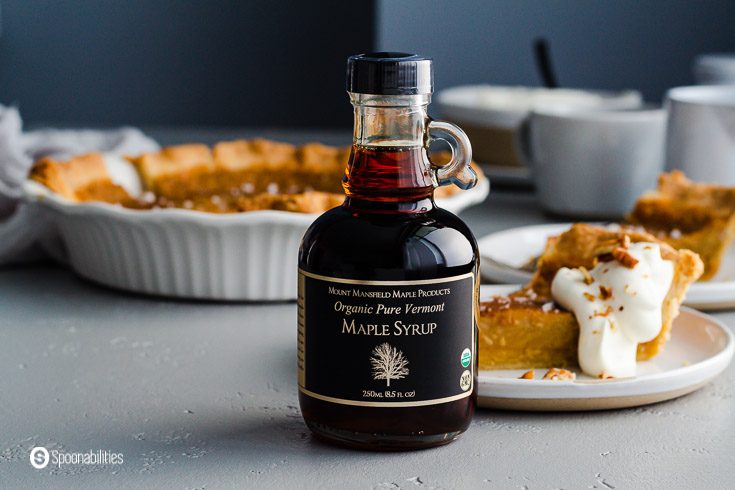 Maple syrup used to be classified in the USA as "Grade A" and "Grade B"; Grade A being lighter in color and milder. Grade B was for many the good stuff, since its golden-brown color and intense, molasses-like flavor is incredibly rich.
Today all maple syrup is classified as "Grade A" because consumers used to think "Grade B" was of lower quality, and not just a difference in color/taste. Now maple syrup is classified as "Grade A Golden Delicate", "Grade A Amber Rich", and "Grade A Dark Robust." For today's Salted Maple Pie recipe, we recommend looking for a maple syrup that is "Grade A Dark Robust." Leave the lighter syrups for tomorrow's pancakes. We have both in stock by the way ;)
Can Pies be Frozen?
Yes you can freeze pie, but with a few exceptions. Pies that have cornstarch or gelatin in the filling cannot be frozen. First, the pie must be fully cooked. Then wrap in plastic wrap and place it in a plastic freezer bag, squeezing all the air out of the bag. Make sure you label the bag with the name of the pie and the date. To thaw the salted maple pie, let it thaw in the refrigerator for 24 hours and then remove the plastic wrap.
What pies can be frozen?
Fruit pies, as long as they aren't thickened with cornstarch
Chess pies like pecan pie, and this salted maple pie
Sweet potato pie
Pumpkin pie
Any baked custard pie
Nut pies
Which Pies Can't Be Frozen?
Some kinds of pies can't be frozen because the freezing and thawing process breaks down the ingredients in the filling.
Chiffon pies and lemon meringue pie because the filling is thickened with whipped egg whites. The freezing and thawing process will cause the egg whites to become rubbery.
Custard pies made with cornstarch where the filling is cooked on the stove and thickened with cornstarch.
Pies or tarts topped with fresh fruit because the fruit will get brown, wet, and generally unappetizing when thawed.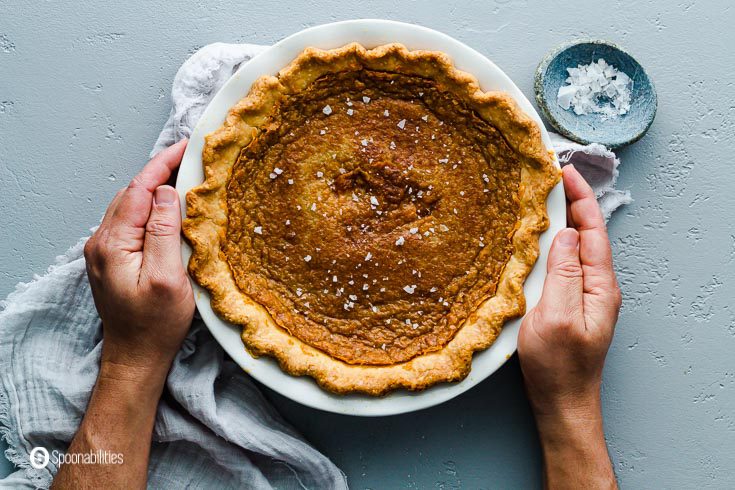 Looking for more Pies & Tarts?
I hope you get a chance to make this Salted Maple Pie. It's a wonderful dessert you can whip up for Thanksgiving dinner, and you can make it ahead of time the day before. Did you make this or another recipe? Tag @Spoonabilities on Instagram or add a photo or comment on Pinterest, so we can find you!
And we love to hear from you in the comment section below.
Carlos Leo
Your Recipe Concierge!
Print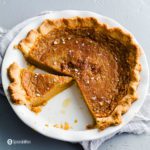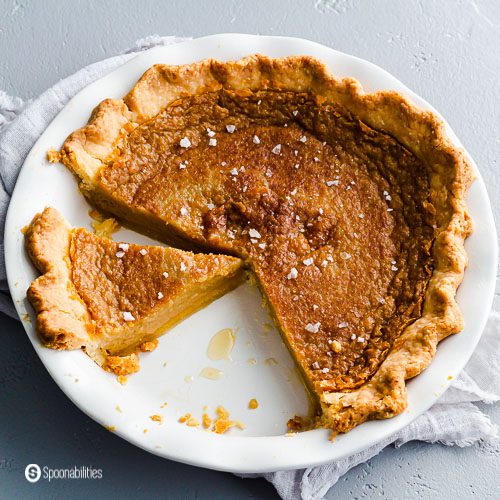 Salted Maple Pie Recipe | Sister Pie Cookbook
---
Author:

Carlos Leo

Total Time:

1 hour 30 minutes

Yield:

1

0

1

x
Description
A perfect fall and winter dessert, the salted maple pie embodies the essence of the holiday season. This is a comforting maple syrup pie on a buttery crust, styled with vanilla and livened with some flaky sea salt for a seasonal pie no one can refuse.
Recipe adapted from the Sister Pie cookbook and tips for the pie crust from Alexandra's Cook
---
All-Butter Pie Crust:
1

+¼ cups all-purpose flour

1 tablespoon

sugar

¼ teaspoon

sea salt

8 tablespoons

cold and cubed unsalted butter

¼

cup

ice water
Salted Maple Pie Filling:
1

+¼ sticks melted and cooled unsalted butter

1

cup

Dark Robust Maple Syrup

½

cup

packed light brown sugar

¼

cup

fine polenta (or fine yellow cornmeal)

¼ teaspoon

sea salt

3

large eggs at room temperature

1

large egg yolk at room temperature

¾

cup

heavy cream at room temperature

1

+¼ teaspoons vanilla paste
Garnishes:
Whipped cream
Chopped pecans
---
Instructions
Make the pie dough:

Pulse to combine the flour, sugar, and salt in a food processor. Add the cold cubed butter, and do ten quick pulses until butter is the size of peas.
Add ice water and pulse again about ten times until the mixture is crumbly but still holds together when pinched.
Lay down a clean towel on a work surface and dump the crumbly dough mixture into the center of the towel. Grab the four corners of the towel together and twist and press the dough into a ball.

Form the dough into pie plate:

Place the dough on a lightly floured work surface, and use your hands to flatten the ball. Using a rolling pin, roll out the dough into a 13" round. Use as much flour as needed to prevent the dough from sticking, and every few rolls, flip the dough over.
Transfer dough to a 9" pie plate, and trim off the extra dough that hangs over, but leave at least an inch overhanging.
Tuck the overhanging edges under, between the pie plate's rim and the dough. Crimp the edges of the dough by using a finger from one hand to push the dough from the outer edge to between your inside fingertips of your other hand. Repeat following along the rim until the entire pie crust is crimped.
Chill the dough in the refrigerator until firm around 30 minutes.

Preheat your oven to 350°F.
Make the filling:

Combine the melted cooled butter and maple syrup in a medium bowl.
Whisk in the brown sugar, polenta, and sea salt.
Mix the eggs and egg yolk in a separate medium bowl. Add the cream and vanilla, and whisk until combined.
Pour the egg mixture into the maple mixture and whisk just until combined.

Place the pie plate on a parchment-lined baking tray. Pour the filling into the pie shell.
Bake: Transfer the baking tray with the pie on it to the oven and bake for one hour, until the edges are puffed, and the center jiggles only slightly when shaken. It will continue to set as it cools.
Remove the baking tray from the oven and transfer the pie to a wire rack to cool for 4 to 6 hours.
Sprinkle generously with flaky sea salt once fully cooled and at room temperature. Slice, top with whipped cream and chopped pecans, and serve.
Notes
If you start to see some oily liquid on top of the pie while the pie is cooling, put a paper towel on top to suck up the liquid. Do it as many times as you need to get most of the liquid. But this is optional!
Store leftover pie, well wrapped in plastic wrap or under a pie dome, at room temperature for up to 3 days
Prep Time:

30

Cook Time:

60

Category:

Dessert

Method:

Baking

Cuisine:

American
Keywords: pie recipe, thanksgiving dessert, maple syrup recipe, maple syrup dessert, holiday dessert, American dessert, Southern dessert
Recipe Card powered by
Available via these affiliate links:
Disclaimer: Links that open in another site, i.e. Amazon, may be affiliate links where at no additional cost to you, as an Amazon Associate I earn from qualifying purchases, should you decide to purchase the item. Read our Disclosure Policy.